A VISIT FROM MY DAUGHTER TO CELEBRATE HER 18TH BIRTHDAY
My daughter was only 17 when we relocated to Portugal on 31/12/19. She stayed in the U.K and moved in with her dad. The plan was for her to complete her schooling and A Level exams so it was only supposed to be for a 6 month period. We had planned on her visiting us in April 2019 and June/July/August before she relocated to Nottingham for university. Little did we know Covid-19 would strike and mess up all our plans for her to visit. I have missed Teanna so much and going from living with my daughter 24/7 to not seeing her for nearly 8 months has been difficult. No number of video chats can compare with an actual mother and daughter hug.
With flights re-opening and the ease of lock down we re-booked her flight out for mid August. A 2 week trip from Bristol to Porto to see our new home and explore Portugal together. Although Teanna has Portuguese heritage and a ridiculously long Portuguese surname, she has only ever visited areas within the Algarve so we had a fantastic time exploring together. We made the sign below and held it at arrivals at the airport which she found funny. The airport was empty and I did look a right idiot with my handmade sharpie pen sign. You can tell neither one of us has an artistic bone in our bodies (ha ha). I wanted to write "Welcome home from rehab, 6 months sober!" on the inside but I resisted (ha ha). No disrespect to those who have completed rehab. I decided on her name, welcome, "hug me first" and "I love you to the moon and back" as this is our mother and daughter phrase also to make her laugh we wrote "We are so glad we adopted you" as this is a standing joke between us as we were once asked right in front of her if we had adopted her from Africa WTF! I did shed a few tears when I saw her come through the arrivals. My baby girl almost 18 years of age and officially an adult. I am so proud of her for passing her driving test and obtaining A, B, B grades in her recent A Level exams. Next step university, to study Psychology.
Porto airport
Itinerary
I took some time planning an Itinerary as we only had 2 weeks together and hubby could not take the full 2 weeks off of work so we had to maximise our time together as I won't see her until Christmas after this visit. As well as showing her our old casa and little rural village I wanted a mixture of nature, culture and city visits. Due to Covid-19 we haven't visited many tourist attractions yet so most of our visits will be a first for us all. I wanted to plan something special for her actual 18th birthday and tried to book the Douro river wine tasting and private picnic but unfortunately they only run from Tuesday-Saturday so we booked it for the Saturday instead. I'm quite good at planning stuff so hubby left all the planning and booking to me. There are so many fantastic places to see in Portugal and it was so difficult to narrow it down and only pick a few. I took into account distance and did not want more than a 2 hr drive each way in our old car. I have a back disability so find it difficult to be in the seated position for too long as it exasperates my pain. We are so lucky as we live very close to the Serra de Estrela mountains (1 hr 15 mis) each way. Toll roads are quicker but cost and the non toll roads have more scenic views along the way. There were a couple of trips that were more than a 2 hr trip one way and in this case we stopped off to view another attraction or to a restaurant for brunch to break up the journey and give our old car and my back a little rest. We love exploring places by ourselves and are not keen on group tours with strangers and tour guides. I purchased a great walking city tour App (GPSmyCity). I arranged the following:
Tuesday 18th Aug – Collect from the airport late evening, late dinner in Porto.
Wednesday 19th Aug – Settle in, view casa, garden and village, Jog around our village & Avô River Beach PM. Evening BBQ in our garden, watching the sun set.
Thursday 20th Aug – Coimbra – Walking tour and shopping.
Friday 21st Aug – Serra de Estrela.
Saturday 22nd Aug – Figueira da Foz.
Sunday 23rd Aug – Piodão including the river beach, Foz d'Egua river beach, Fraga de Pena waterfall and Poço da Broca .
Monday 24th Aug – Loriga river beach, Seia, Serra de Estrela and a 2nd visit to Poço da Broca.
Tuesday 25th Aug – Porto – Walking tour including Gaia, Molhe beach and shopping.
Wednesday 26th Aug – Nazaré – Walking tour and beaches.
Thursday 27th Aug – Tomar – Convento do Christo (Convent of Christ), Castelo de Tomar (Castle) and Agroal river beach.
Friday 28th Aug – Aveiro – Walking tour (The Venice of Portugal) and Costa Nova beach.
Saturday 29th Aug – Douro Valley including wine tasting and private picnic at Quinta do Pôpa.
Sunday 30th Aug – Teanna's 18th Birthday – Walking tour of both Braga & Guimarães, birthday lunch and dinner meals out and birthday cake – night hotel (O Pimpao) to be close to Peneda-Gerês National Park.
Monday 31st Aug – Peneda-Gerês National Park.
Tuesday 1st Sept – A few hours in Porto PM then the airport.
Presents:
I set up JISA's for both of my children so they had a little wad of cash for when they turned 18. Hopefully the money will help Teanna out whilst at university as the maintenance loan in the U.K is ridiculous. Her rent is £6000 per year and this leaves her the grand sum of £10 per week to live on! How is a student supposed to survive on £10 per week? For everything including food, travel, phone, personal items, clothes, club associations, sports etc. I let Teanna choose a present whilst we shopped on one of our walking city tours. She chose a beautiful watch and she also asked for swimming lessons. My children had swimming lessons very young and I assumed that they could at least swim a length but Teanna's confidence in the water is low. She did have a couple of frightening near drowning experiences as a child so she is not a confident swimmer. We visited a few river beaches during her trip and her aim is to return next summer and jump into the rivers from the high rocks! Hubby made birthday pancakes for breakfast.
Belated birthday gifts from a second cousin
Just look at this amazing blanket that my cousin Lorne crocheted during lock down for Teanna's 18th birthday! It will come in very handy to snuggle at university. She also gave her loads of little gifts with significant meaning and a letter explaining each gift. Such a sweet thought and she spent a huge amount of her personal time during lock down on this unique gift. Some of the other gifts were 2 silver necklaces, yoga and pilates books, a lockable diary, budget planner and many more gifts that I have forgotten as I have a poor memory (ha ha).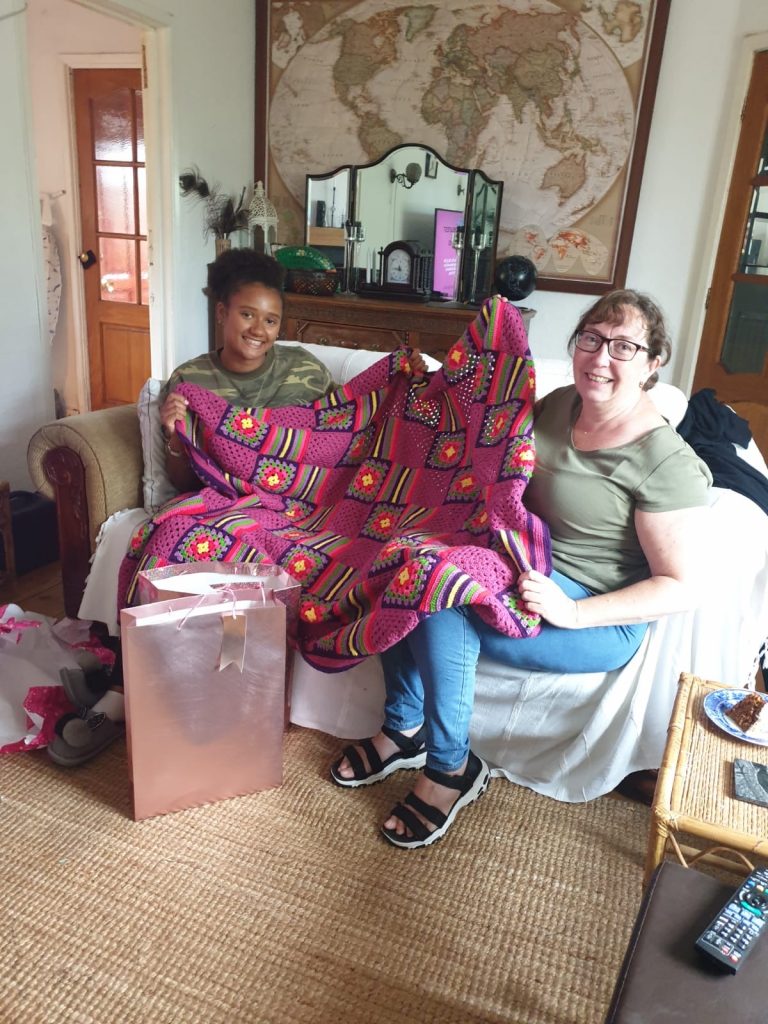 Birthday lunch in Braga (1st legal alcoholic drink!)
They didn't have cocktails so we had to have sangria.
Birthday cake
This cake had so much whipped cream inside, I am sure it is supposed to feed 10 but it actually fed us 3 (ha ha). We went back for multiple portions. We stayed in a hotel overnight with no fridge so the cake would have gone off if we left it overnight. That's my excuse anyway and I'm sticking to it!
Chilling at Casa Valhal
Flights
The Easyjet flight here for my daughter was very quiet and she had a row of seats to herself. Porto airport was eerily quiet too. The flight back to Bristol, U.K from Porto on the 1st September was a different story. Although the airport was again quiet the flight was fully booked and delayed as 9 people had to disembark as they had overbooked. My daughter was asked if she wanted to stay until the 5th September! She had a middle seat and passengers either side of her who removed their face mask to eat, which is allowed. This did worry me as not much social distancing going on. We could not have timed the flights better as Teanna did not have to quarantine upon her return to U.K as she travelled 18th Aug – 1st Sept. This meant she could return to her PT job and venture out to buy essential items for university, which is great.
Overview
We had fantastic family time together and as well as all the tourist attractions and visits we had some time to chill out at our casa and enjoy the simple pleasures in life such as cooking on the BBQ together, watering the garden plants, picking vegetables for Milo the bunny to enjoy, picking and eating figs for the first time, meeting the locals and having her first LEGAL alcoholic drink in Portugal (ha ha). We even went on one jog together and I showed her my usual route. I had heaps of fun winding her up by saying things like "Don't wear shorts jogging as the all the snakes will attack your legs" and "Shut the windows at night or the scorpions will eat you alive in bed". I also didn't tell her about Mr yappy dog so she nearly wet her pants when he started barking at her on our jog (ha ha).
Most days we woke early, showered, ate breakfast, packed a picnic and headed off on our daily adventure. We then ate our evening meal out most evenings at restaurants/cafes. It only rained once on our Coimbra walking tour so it wasn't too bad. I do really feel for my daughter as this was supposed to be her year. The year she left Post 16 and headed off to university and she missed out on so much. Her end of study holiday to Spain with her friends was cancelled along with Post 16 prom. Her driving test was cancelled multiple times too and she didn't even get to take her A level exams after studying so hard. I am so proud of her and I hope that one day in the future when she has children of her own she will look back and say "My 18th was in 2020 Covid year but I celebrated it with my mum and stepdad in Guimarães and Braga and it was epic". I was quite anxious about all our day trips as we haven't left the house much since Covid. We have only just started venturing out to river beaches. I really had nothing to worry about as most places were really quiet with so few visitors. I tried to plan a minimal amount of time inside enclosed spaces. You will see from the photos that no place we visited was rammed packed with people and the beaches were very tranquil and a lovely experience.
I am going to miss Teanna so much but I have already booked for her to visit at Christmas. Universities have different half term breaks to schools so I managed to get her a really cheap flight out in December to stay for 2 weeks and return home in time for New years Eve so she can celebrate with her friends. I also booked myself a visit to Bristol, U.K in December so I can fly back to Portugal with her. I am already thinking about what I can cram in my hold case. What do I want to bring back to Portugal? A Christmas pudding is definitely on the list (ha ha). I am hoping we can plan a couple of days is Lisbon (which is where her dad is from) and return to the Serra de Estrela and go skiing in the mountains. There is an amazing spa hotel up the mountains and I really want to visit. I have never been skiing before. I was quite a good figure skater when I was younger but I know skiing is a different skill altogether and with my bad back and poor balance, anything could happen! Let's hope I don't break a leg! (ha ha). We also hope to visit both Madeira and the Azores next summer.
Every day trip was absolutely amazing. I probably scheduled too much in the 2 week period as we were all knackered by the end! It is really hard to try and pick a favourite out of all the places we visited as they were all so great yet different. Personally for me I think the Serra de Estrela, Peneda-Gerês National Park and the Douro Valley trips were my top 3 favourite and Bom Jesus sanctuary was my favourite religious, historical and cultural place that I have ever visited in my lifetime, it literally made me cry, in a good way. I cannot begin to describe some of spectacular places that literally took my breath away. I am so lucky to live in such a beautiful country with so much to offer. I will never ever take these magnificent places for granted. One thing I find absolutely fascinating is I can embark on a city tour where I am expecting to see just chapels, monuments, bridges etc. but there is so much nature and wildlife too. Most city tours have a beach close by or a stunning park right in the centre of a city. The parks here are huge and often have boating lakes with ducks, amazing architecture, fauna and flora and they are so immaculately clean. The same happens with nature, you can be walking through the national park amongst a forest to view a waterfall, then you stumble upon a little quaint village with a chapel to explore, I love this!
We also had a lovely afternoon, just the two of us floating on the Avô river beach so this has now become my absolute favourite local river beach. The only mishaps we endured were a flat tyre one day and I fell at a waterfall and nearly broke my arm! Apart from these 2 minor misfortunes, we had the best time ever. I tried my very best to take as many photos of Teanna as I possibly could without getting on her nerves. I also tried to be in at least 1 photo per day with her. I hate having my photo taken and I didn't take any make-up with me on the trip and my hair was a right mess every day but I don't care. The important fact is that I have photos to look back on and see us together. It doesn't matter if I look a mess or overweight, nobody actually cares!
The photo below is my favourite out of all the photos that I took. It just represents Teanna and her enthusiasm for life. She may be 18 now but she loves to jump in the air like a 5 year old and encouraged us to join in. This photo is Peneda-Gerês National Park. She encouraged us to have a go whilst we were visiting Serra de Estrela, obviously from ground level for health and safety reasons as I am very accident prone. Adrian wouldn't join in at first so did his 'air jump' at a quieter location. He looks like a crazy man and I just look like a sack of spuds (ha ha). At least I can say I have jumped in the air up the Serra de Estrella mountains at a very high altitude!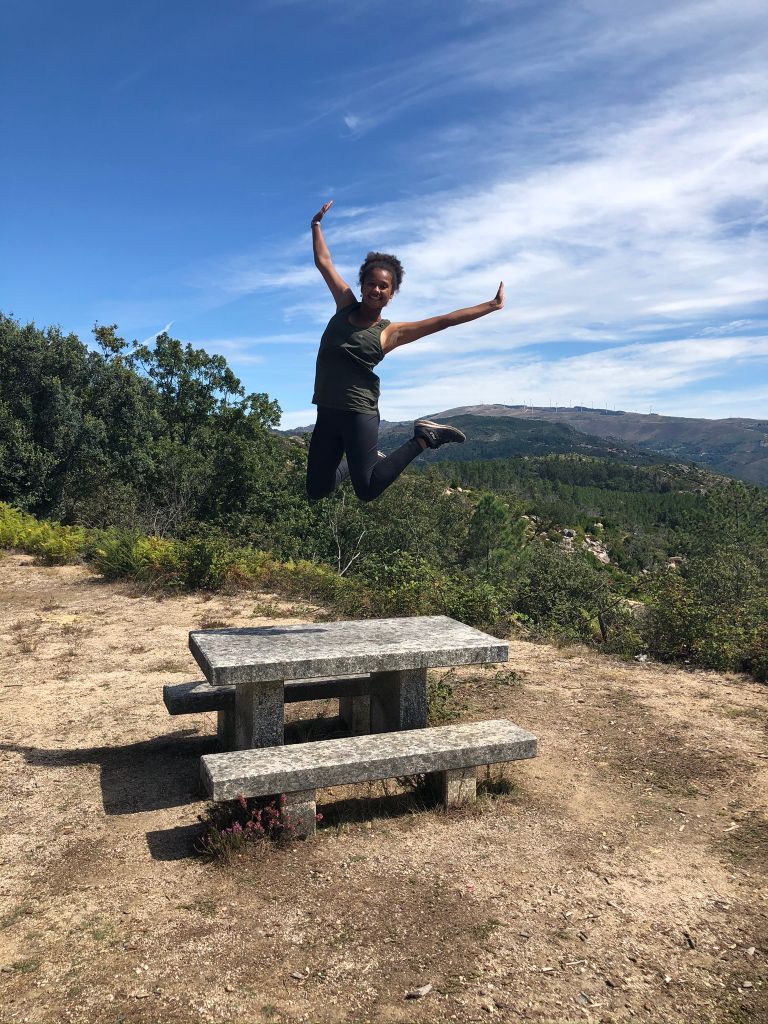 To avoid making this post really long I have made a gallery of photos from our 2 week family adventure. I will have these completed very soon.
I hope you will enjoy the photos and it inspires you to visit some of these beautiful places one day XXX