CELEBRATING HUBBY'S 50TH BIRTHDAY (SPA WEEKEND AT GRANDE HOTEL DE LUSO & BUÇACO FOREST)
Hubby celebrated his 50th birthday in Portugal! I had elaborate plans for a mini vacation to Madeira and the Azores. My grand idea had to be abolished when we both contracted Covid for the first time just weeks before his big day. 2023 delivered many milestone birthdays for our family. My daughter Teanna turned 21, my son Josh turned 30 and hubby turned 50. I am just a few short months younger than hubby and I will celebrate my 50th in March 2024 next year. Due to our Covid misfortune and my pending private surgery in November 2023 we have decided to put our celebratory trip on hold and go in Spring or Summer of 2024. This gives me plenty of time to plan and make it an extra special trip of a lifetime.
You are only 50 once so I still wanted to arrange something special for hubby on his actual birthday. We are still both exhausted and recovering from our nightmare of Covid so I didn't want to travel too far away from home. It's really hard finding something romantic and unique as we have visited so many incredible local places already. I did try to book a night in a wine barrel combined with a vineyard wine tasting experience but there was no availability. I also explored adrenaline fueled options including a fun tandem zip wire adventure but then I decided that it was probably best if we didn't embark on such a risky dangerous sporting activity where we could easily injure ourselves so close to my surgery date and I would just get bored watching hubby from the side lines.
The weather in October has been spectacular for this time of year and we experienced a mini heatwave of temperatures over 30 degrees. Unfortunately Portugal presented rain showers the week leading up to hubby's birthday weekend so my Plan B of a sensational sunset SUP boarding trip to Serra da Estrela also had to be scrapped. I was running out of options fast and had to explore inside fun which limited me a lot. We have not long returned from a relaxing Mountain Spa day trip where we sampled a wonderful thermal Celtic circuit. We had so much fun so in the end after much debate because I'm indecisive as hell, I decided to book a Spa weekend away in Luso. I initially wanted to book the Buçaco Palace Hotel because the architecture is breathtaking and who wouldn't want to spend a night in a palace in the middle of a National Forest once inhabited by monks? Then I read quite a few horrendous reviews about the hotel not living up to its 5 stars. Apparently the rooms are uncomfortable, cold and outdated so I rapidly changed my mind. I decided against it as I didn't want to spend €160 of hubby's hard earned cash on a basic room that is old and tired as he already has a wife that fits that criteria (ha ha). This was just the cost for the room for a 1 night stay with no dinner or added extras. I would love to view the inside of the Palace Hotel so thought it might be nice to return for lunch in the near future but the reviews for the restaurant are equally as bad. One reviewer said that the restaurant has absurd prices and that they charge €60 for a €7 bottle of wine and €41 for a main dish that wasn't that good. Another reviewer said the lunch menu is pretentious and the meals were very poorly prepared, tasteless and not fresh. This guest paid €105 for two people (with due care when ordering), for a very poorly prepared meal which in their opinion wasn't even worth €25. What an absolute shame for a beautiful Country that I now call home and is well known for its gastronomy and great food.
Instead I decided to book the Grande Luso Hotel. There were several different packages to choose from but I selected the Zen Package. We have already visited the Luso Thermal Spa back in October 2020 and spent a night at the Aurora Guest House celebrating hubby's 47th Birthday. The spa is connected via a tunnel between the two adjoining buildings but we have never stayed in the posh 4 star hotel. On our 2020 visit to the Luso Thermal Spa it was Covid times so we only got to experience the Aqua Sensations (Thermal water circuit) as all the sauna and steam room facilities were closed. The Zen Package included: 1 nights stay in a double standard room, welcome drinks in the bar upon arrival, dinner in the restaurant with wine, water and coffee, complimentary robes and slippers in the room, access to the Wellness Centre (Gym, Olympic sized outdoor pool and inside pool) and a 60 min Aqua Sensations circuit at Termas de Luso. The 1 night stay Zen Package costs a total of €164 which is fantastic value when you consider that the Spa circuit is €30 each and dinner is €25 per person. This makes the hotel room a mere £54 including breakfast which is spectacular value.
Grande Hotel de Luso (Resort & Spa)
We left our home around 10:00 and arrived at 11:00. There is free parking at the hotel and plenty of available parking bays. We were amazed that our room was available at 11:00 as Check-in isn't usually until 14:30. The 2 ladies on reception were extremely friendly and polite. We took a quick look at our room (Number 314) then headed to the Spa for our allocated time slot.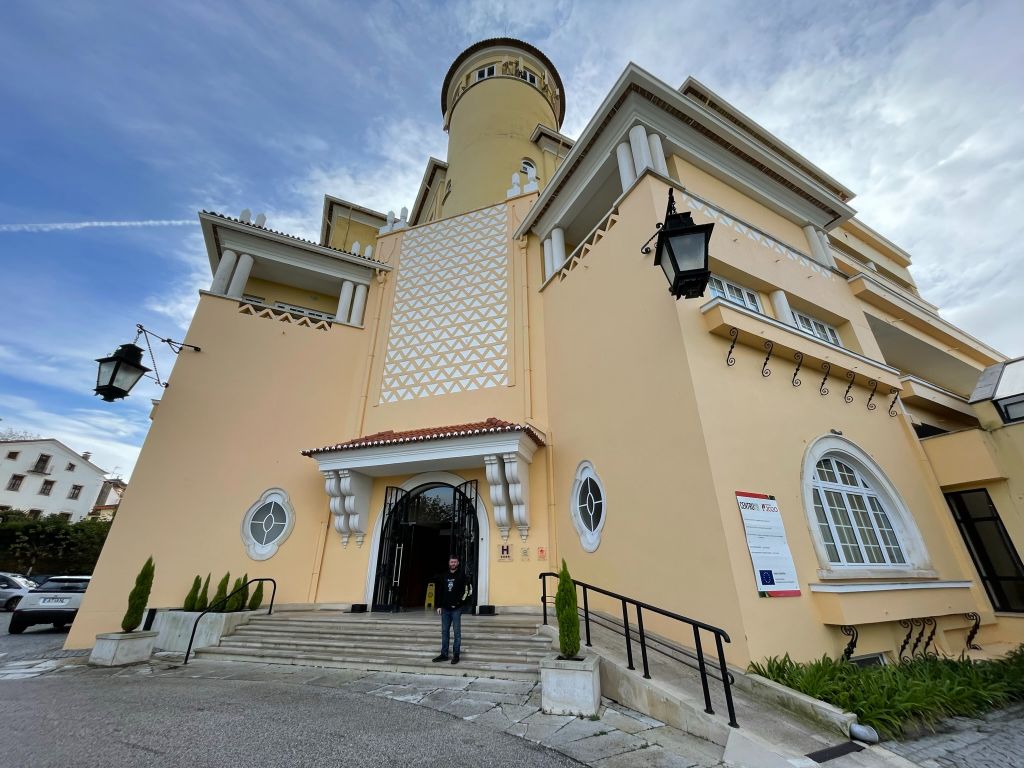 Hotel Information
Check in from 14:30
Check out until 12:00
Restaurant & Bar
Buffet breakfast 7:30-10:30
Lunch 12:30-14:30 Cost per person, water included €25
Dinner 19:30-21:30 Cost per person, water included €25
Pools (Floor -1) 8:00-13:00 and 15:00-20:00
Indoor swimming requires the use of a swimming cap and swimming pool slippers.
Rental of towel €1:50
Rental of bathrobe €5 (Ours was complimentary in the room)
Gym 7:00-13:00 and 14:30-21:00
Hotel Room & Balcony View
We were both very impressed with our spacious renovated modern room and view from our 3rd floor balcony. I made a request for a special room as it was hubby's birthday and we got the end room with a corner view of the pool and Luso. It was clean, spacious and even had a mini fridge. My only complaints are that it's 2 single beds pushed together not a double so if you're a couple who anticipate getting jiggy then don't fall down the crack (ha ha). The mattress was so rock solid hard that I didn't sleep much. At around 4am I switched the sheet and duvet around so I was laying on top of the duvet to provide a little added softness and comfort. The room is also very dark as there is no overhead lighting, just bedside lamps.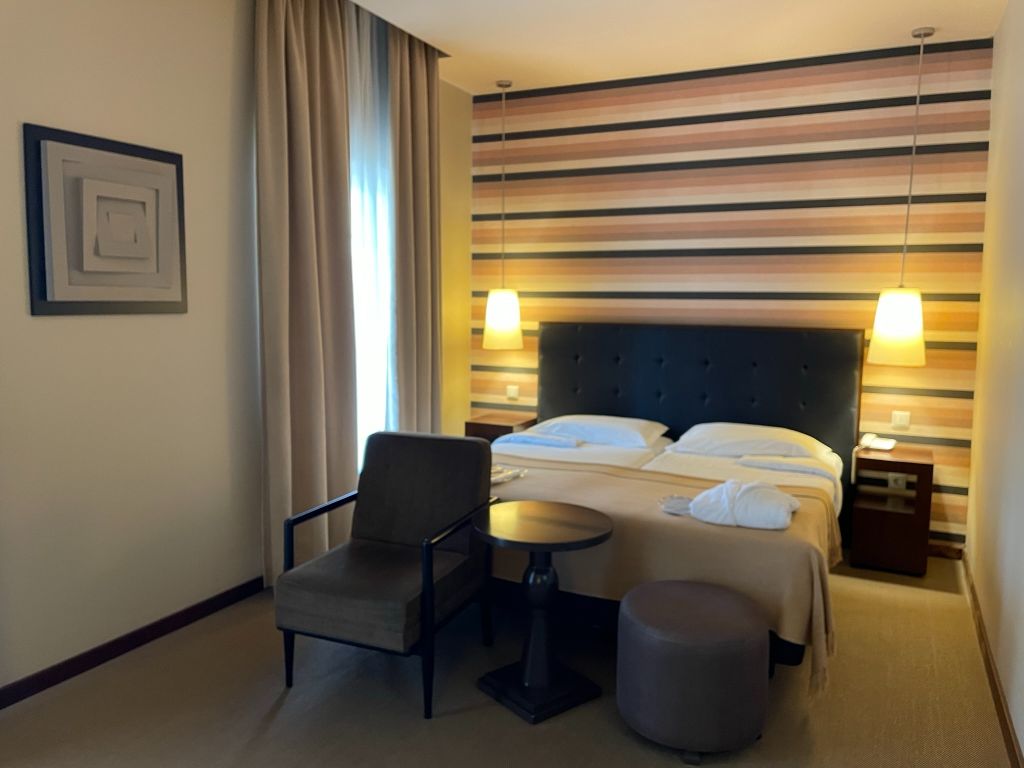 Termas de Luso (Thermal Spa)
Termas de Luso (Luso Thermal Spa) is located in the Parish of Luso, Mealhada and our journey took just over 1 hour from our casa. As the Luso Spa is closed on Sundays in October we had to visit on Saturday. We were initially offered 18:20 but that was a pretty inconvenient time seeing as we had to get ready for dinner so I asked for an earlier time slot and was given 11:30. On Saturdays the Luso Spa is open 10:00-13:00 and 15:00-20:00. The hotel is connected to the spa via a tunnel. There are lounge beds in the tunnel and hubby took full advantage of having a little lie down and relax on the way back to our room because it's his birthday weekend so why not! (ha ha).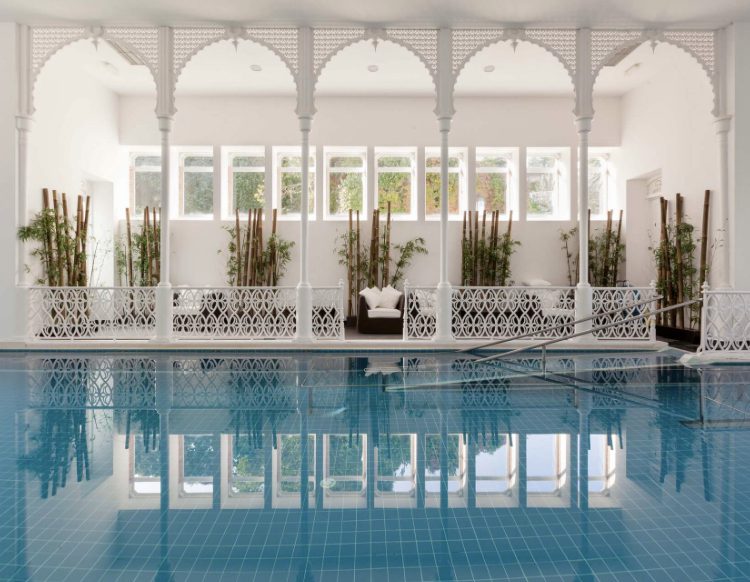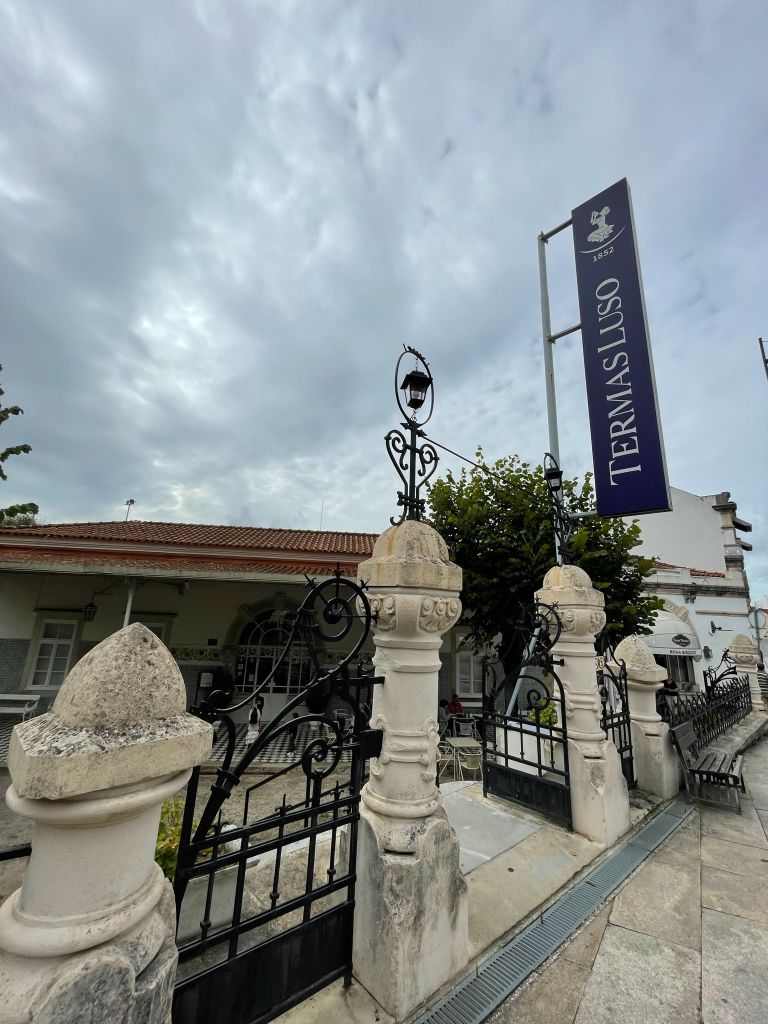 Nature & Location
The Hotel and Termas de Luso is surrounded by the indescribable beauty of Serra do Buçaco and it offers fantastic facilities which allowed us to relax, revitalise and rejuvenate in an environment of complete tranquility, comfort and elegance. The proximity to the National Forest of Bucaço offers exuberant nature, as the backdrop. The hotel's privileged location also allows for other interesting activities such as wine tasting in one of Bairrada's wine cellars, the unique experience of participating in the harvests or even a little unusual mountain biking in the Vineyard. This is the view I took on hubby's birthday, from the highest location at Buçaco Forest (High Cross).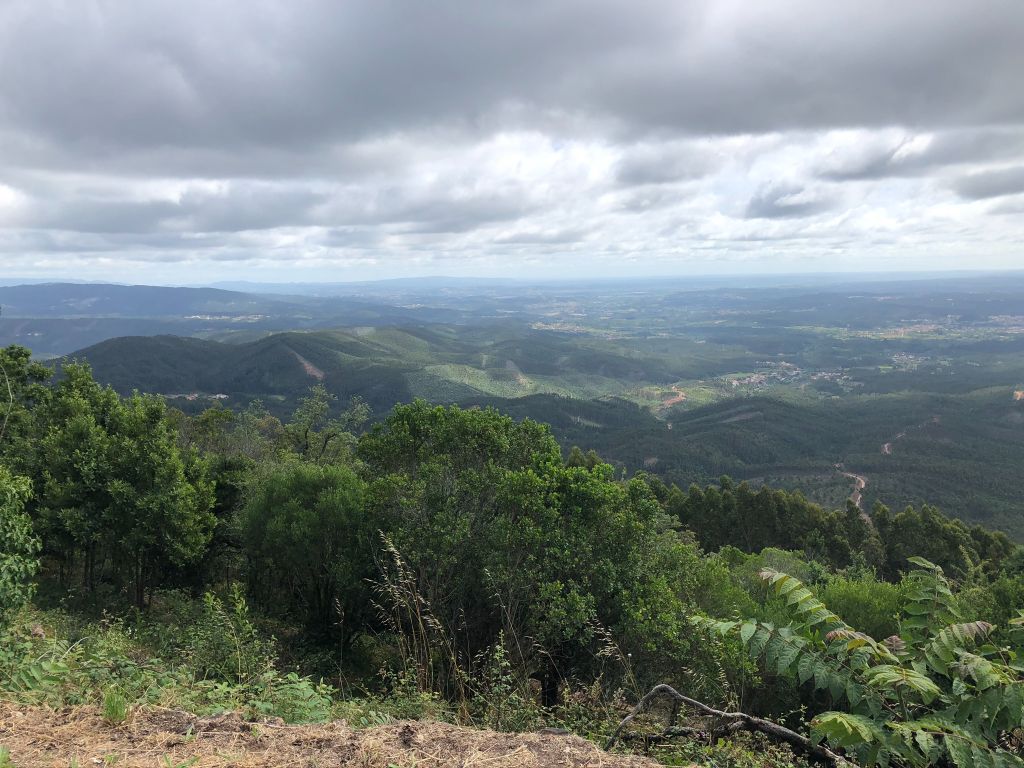 Origin and Formation
The Natural Mineral Water of Luso is an exceptional resource that originates from rainwater infiltrated in the Serra do Buçaco, in rocks formed, almost exclusively, by quartz, called quartzites. The topography of the quartzites allows them to benefit from high orographic rainfall. These rocks, which were very compact when they were formed, more than 400 million years ago, developed a dense network of interconnected fractures, which allow the storage and circulation of water.
This hydrogeological vocation, combined with the great thickness of the series, surrounded by practically watertight rocks, explains the concentrated flow of notable underground water resources. After infiltration, the water makes a deep circuit, estimated to reach more than 500 metres deep, causing the water to heat well above 30ºC. We call this circuit an aquifer and it corresponds to the deep circulation of the Natural Mineral Water of Luso. This Aquifer ends in the town of Luso, through the interposition of an impermeable geological barrier that forces the concentrated rise of water at a temperature of around 28ºC.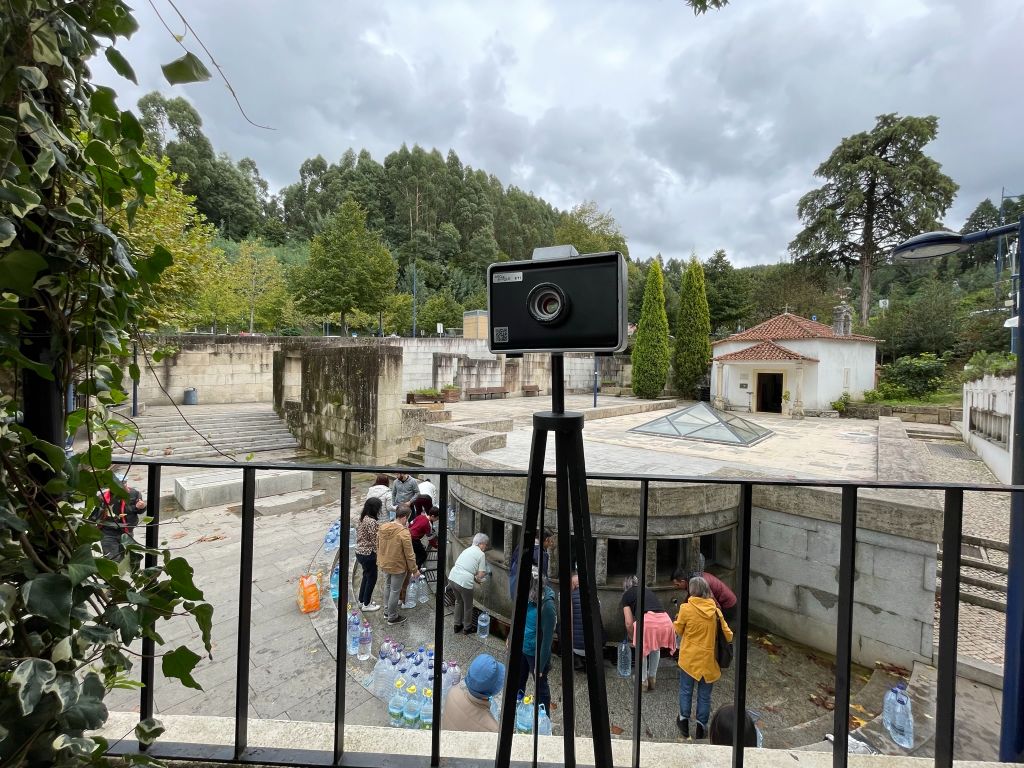 New Swim Caps
Our existing cheap swim caps from Decathlon are not only horrendous looking but they are so tight to the point where they kind of cut my circulation off and I get rather dizzy and disorientated, they are also not waterproof. With our ever increasing spa visits and with swimming caps being compulsory in Portugal I decided to treat ourselves to more expensive swim caps. Are they more fetching than our previous caps? Hell no but at least I can breathe and I don't feel like my head is wedged in a tight vice (ha ha). It turned out that they are not actually that waterproof. Here we are modelling our new caps in Decathlon car park (ha ha).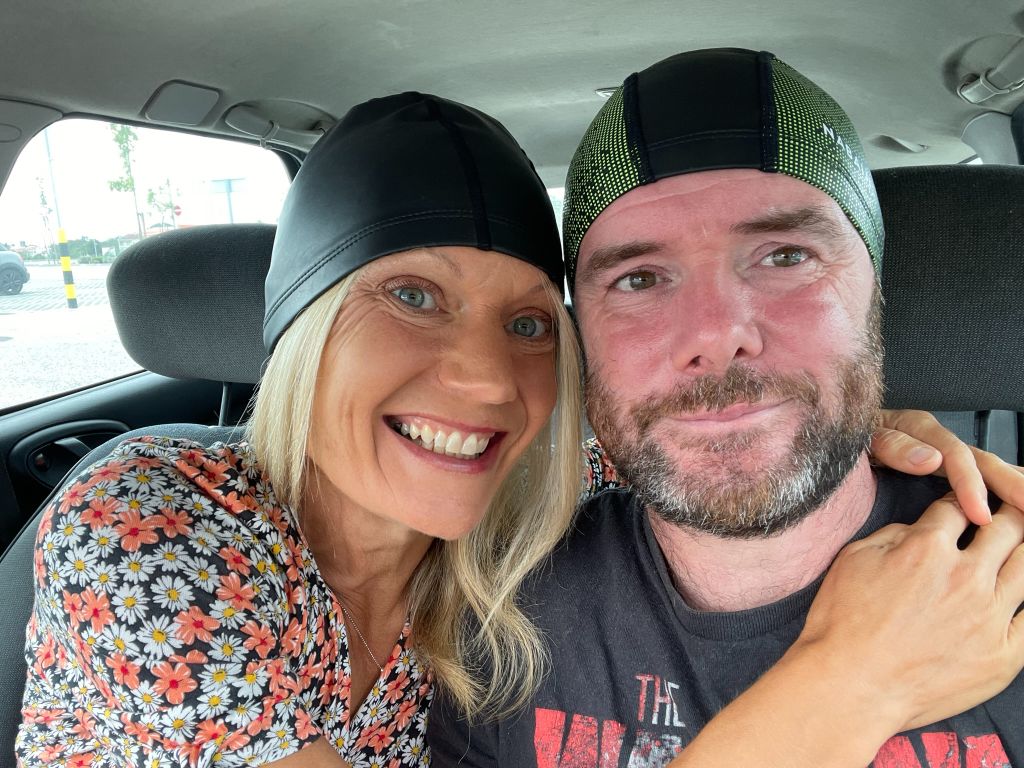 The Unicorn Swim Cap
I really wanted the pretty in pink unicorn cap but hubby said it was in the children's section and that I need to act my age 49 ½ and not my shoe size which is 4 ½ (ha ha).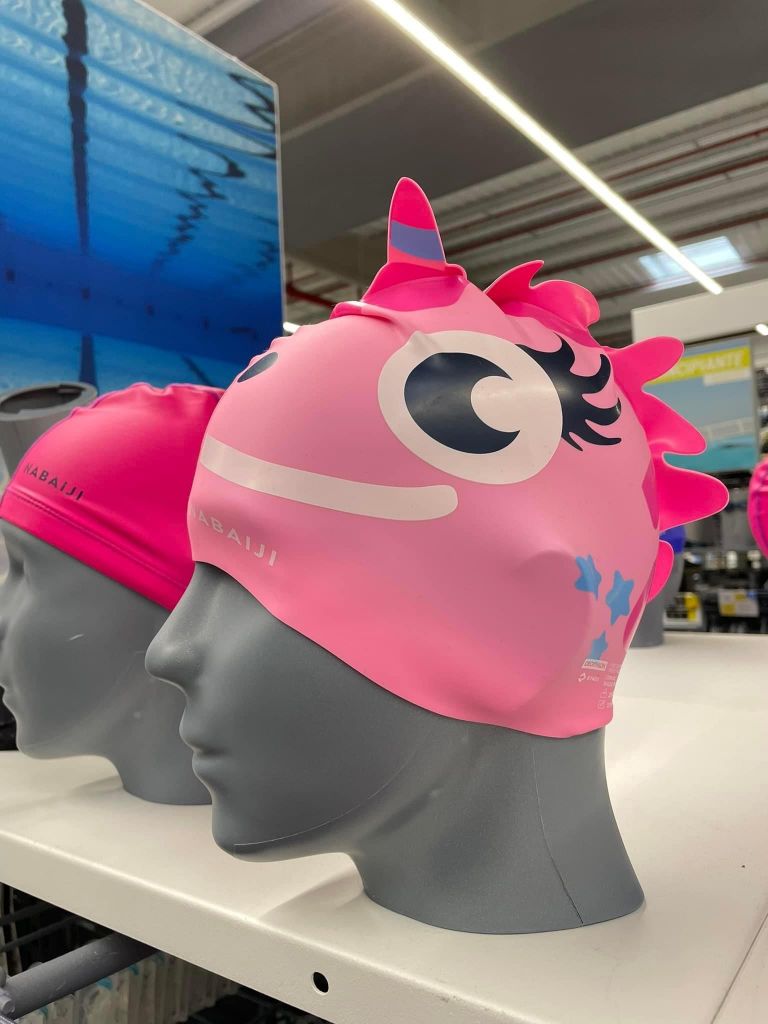 The Aqua Sensations Circuit
The Aqua Sensations circuit consists of a bathing and heat experience which explores the therapeutic benefits of Luso thermal water. There is an Interactive swimming pool with different types of jets and underwater hydromassage beds, Sauna, Hammam, Ice Fountain, Swiss Shower and Sensations Shower as well as a Relaxation Room with ambient music where you get to sample different drinking waters of Luso. I have already shared a blog post from our previous visit to this spa and you can find it here: https://casavalhal.com/a-birthday-trip-to-termas-de-luso/
We had a tranquil relaxing hour at the Spa and it was great to try out the sauna and steam room as this was prohibited on our previous visit. I sampled an Ice Fountain for the very first time. I am glad that the member of staff explained how to use it as I probably would have eaten the ice like a slush puppy (ha ha). The correct procedure is to get all hot and sweaty in the sauna then step outside and scoop ice to rub all over your body then disregard it on the floor. There may have been a mini ice fight whilst Helena sang "Ice ice baby" by Vanilla Ice (ha ha). I certainly felt the therapeutic value of the water as well as the physical forceful power of the various vigorous jets which shoot hot water into body parts I didn't even know existed (ha ha). There were only a few people at the spa and they staggered the entrance times so it felt spacious for guests. We had the whole sauna and steam room to ourselves and for the later part of our session the other people disappeared so we also had the whole pool area to ourselves too. I really enjoyed the powerful underwater jets which massaged my achy legs and pounded my cellulite covered thighs. I was expecting to emerge from the water looking like a serene mermaid with slimmer toned thighs and give Claudia Schiffer a run for her money but it didn't happen (ha ha). Hubby liked the underwater massage lounge chairs and pretty ever changing coloured lighting.
My only complaint is that 60 minutes is not enough time and a member of staff alerts you when your time is up so unfortunately there is no sneaking any extra free time. Also you don't get to sample different flavoured waters in the relaxation room. You are just handed a bottle at the very end of the session. I was so thirsty when I arrived so I asked for some water. The lady explained that it is usually given at the end but gave me one anyway. The flavours to choose from are strawberry, lemon or natural (non flavoured). There was also a bit of a queue and waiting at reception when we arrived. There were 2 other groups of guests who were filling out the medical forms at the reception desk which is compulsory prior to any visit. If you haven't visited in the last month you need to complete a new form. We already completed ours in advance and emailed them back but we still had to wait a few minutes as there was only one member of staff on reception. You are advised to arrive 15 minutes prior to your appointment time and thankfully we did. In all fairness the member of staff was multi tasking and trying to deal with all of us simultaneously and did her best, bless her.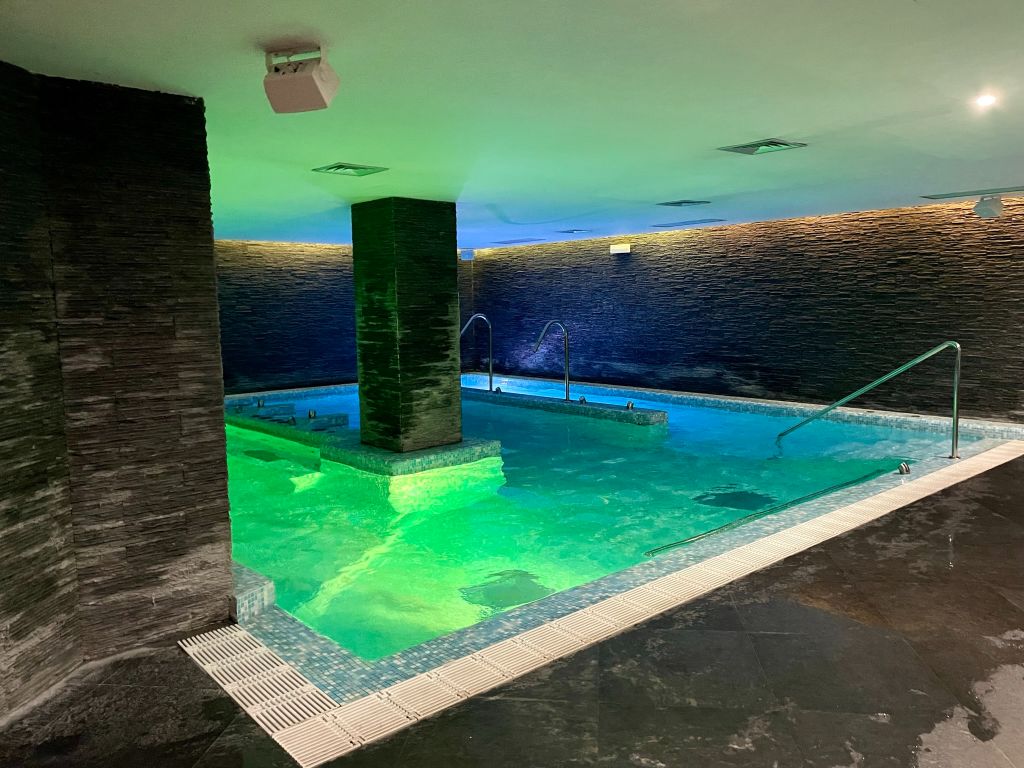 Rest, Relax & Recuperate
The underwater massage loungers were wonderful and hubby's favourite area.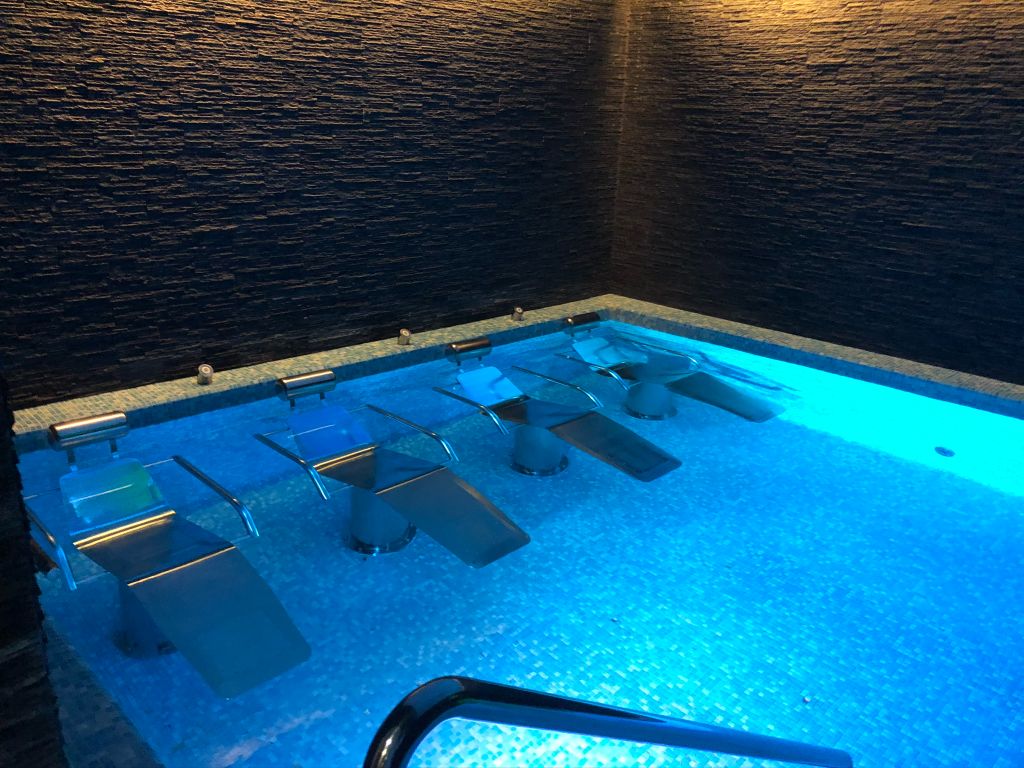 Spa Selfies
The man has one pose as usual (ha ha).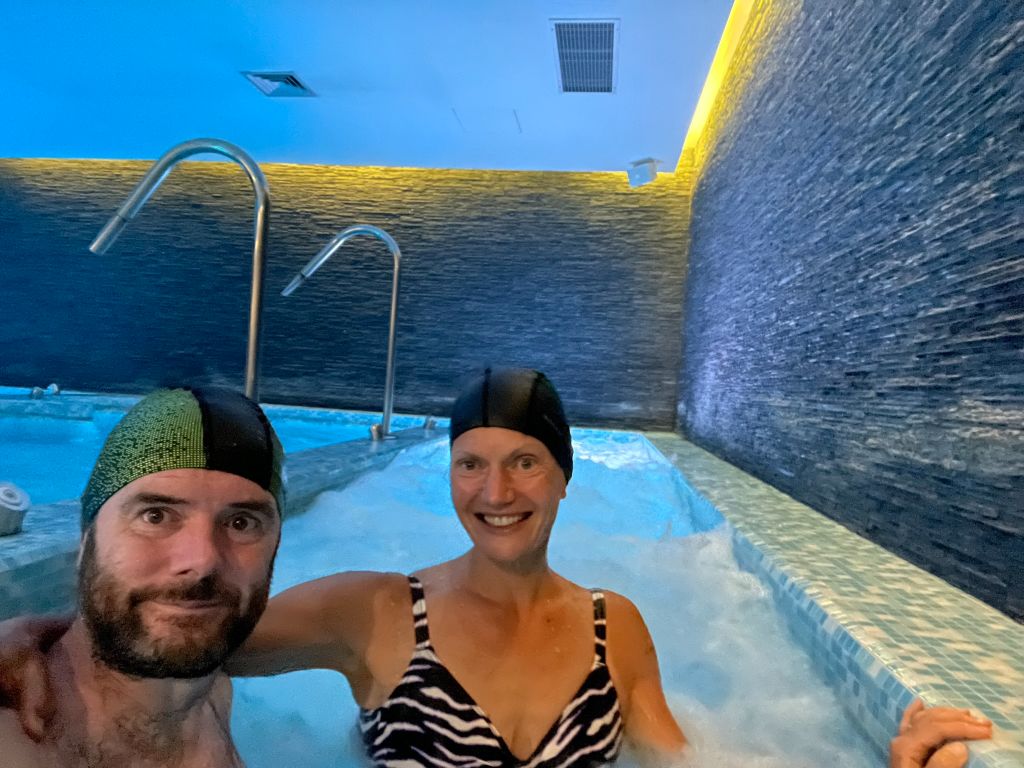 Radiant Robes
The height of fashion (ha ha).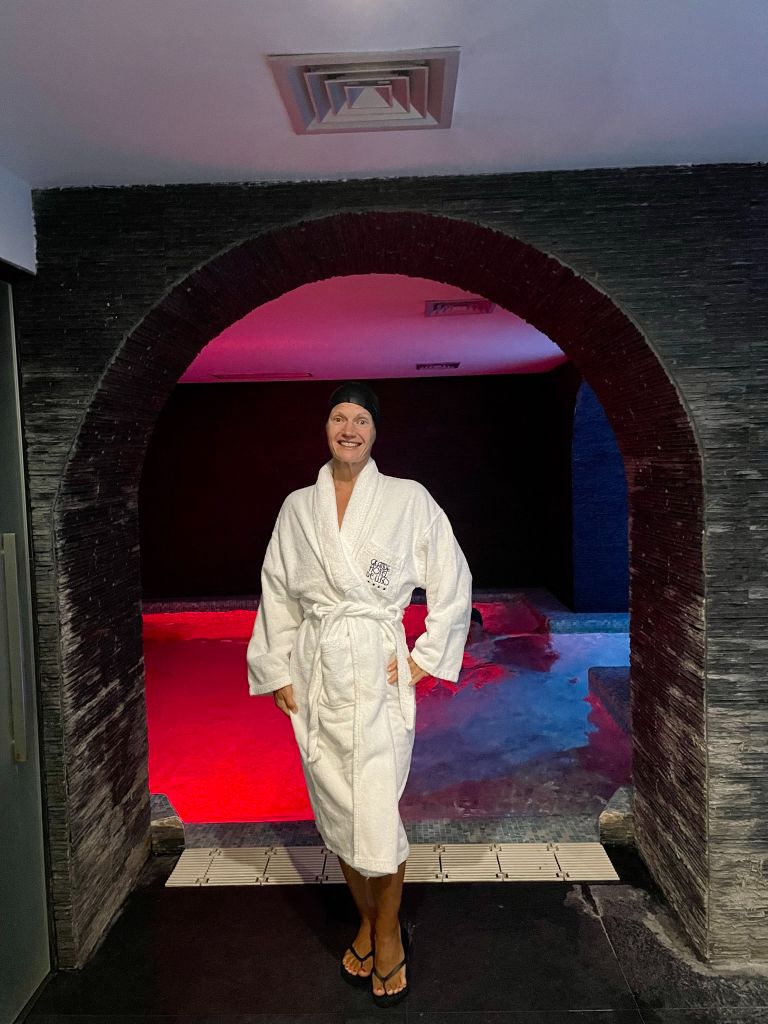 Female Changing Rooms
You get given a locker key and towel, no deposit is required. We were instructed to bring our robes from the hotel room.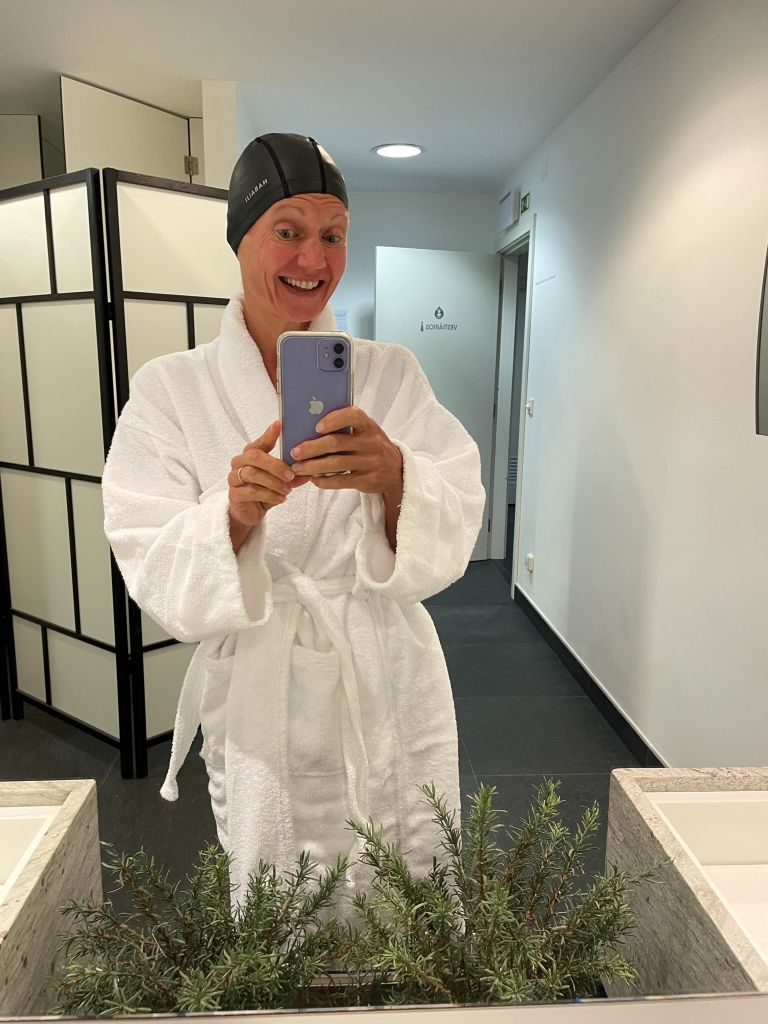 Tunnel of LOVE
The tunnel connecting the hotel to the spa is short but hubby was so relaxed after his spa experience that he had to stop mid way for a little lie down (ha ha).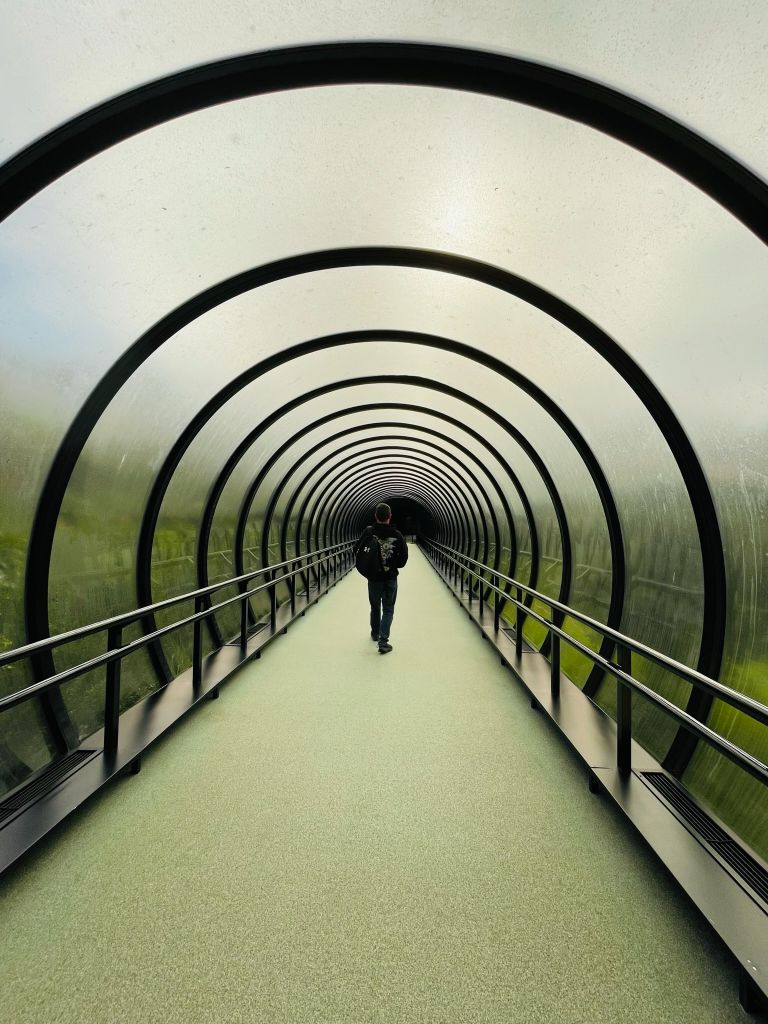 Fonte de São João (Fountain)
After our swim we took a walk around Luso and visited the famous water fountain to fill up our water bottles in preparation to hydrate us for our alcoholic drinking session. I came prepared like a boy scout with a 6 litre empty bottle. The water is said to have magnificent healing properties and it really does taste so pure, delicious and is a refreshing change from my usual tap water, I totally get the hype. There is always a queue at this fountain and people go crazy for this free water. They bring multiple huge litre bottles and fill them up one by one. It's funny to see people struggling to carry them back to their cars. There is pretty tiling on the walls surrounding the fountain that tells an ancient story of the donkeys, inhabitants of the land. At the beginning of the century, they used donkeys either to transport visitors to the forest or to transport water to other locations.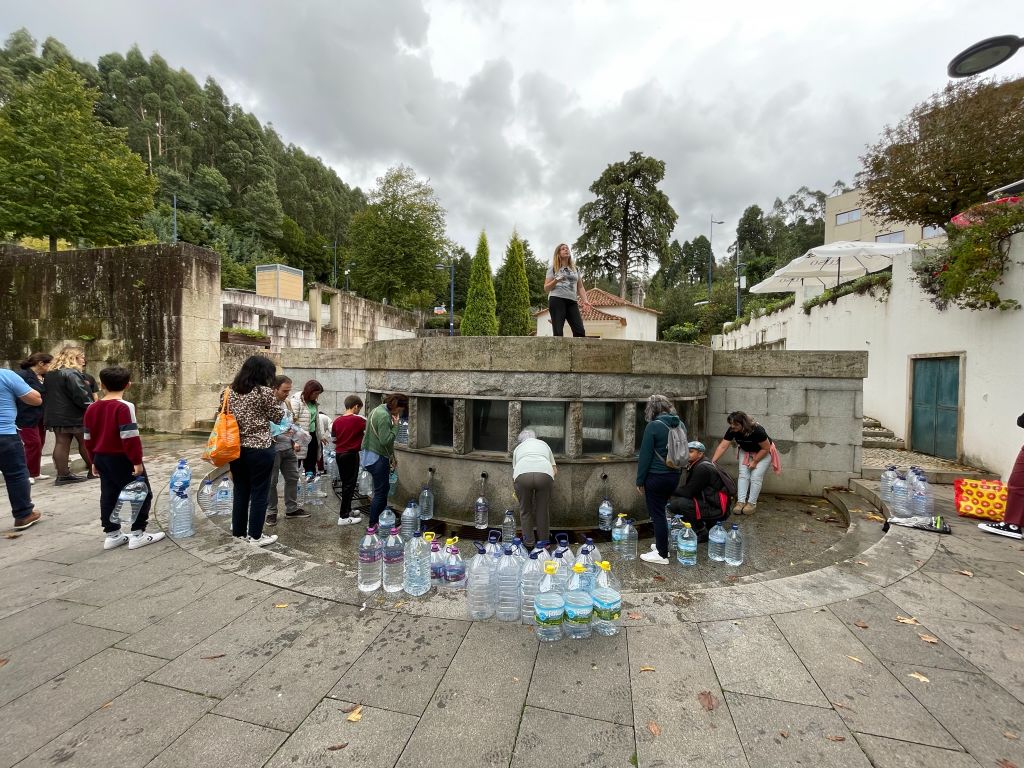 It's the Thought that Counts (Gym Fail)
After our spa session and walk we decided to hit the gym for an hour before lunch. We got dressed and ready to sweat but the gym closed at 13:00 so we changed outfits and got drunk instead (ha ha). We also ate a yummy lunch to soak up the booze. What is funny is the fact that the old me used to pack gym clothing in my luggage when I ventured on holiday and it would never leave my suitcase or see the light of day. On this occasion my sporty attire made it outside of my case and even on to my body but it didn't get very far (ha ha). As hubby said "We had good intentions, we tried and it's the thought that counts."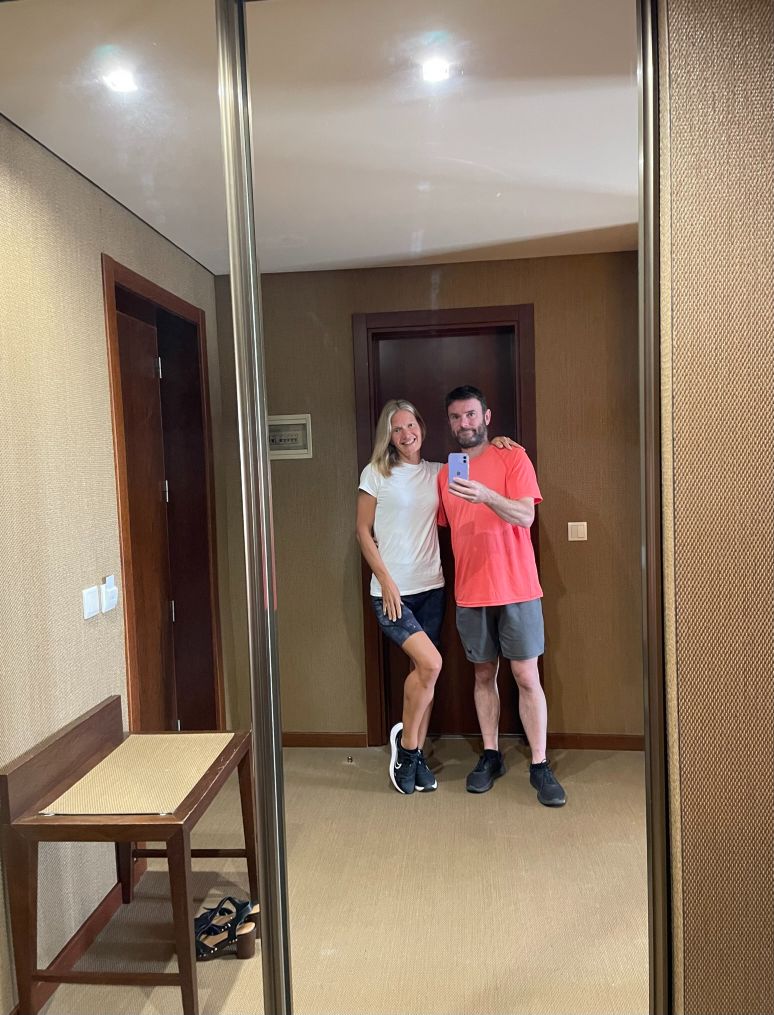 Hotel Leisure Facilities
After lunch we decided to have a wander around the hotel to see all the facilities. The outside pool is very impressive and Olympic size! I am not an Olympic swimmer, just a sparkling princess mermaid Helena. It was a tad cold so I didn't brave the diving board on this occasion but we made full use of the inside pool. It's a rare treat that we splurge our cash on an overnight hotel stay so I like to try everything on offer, especially if it is free as I'm a frugal lass. We found a games room with snooker, a chapel and a few relaxing lounge rooms. The whole hotel is truly stunning and spotlessly clean.
Outside Pool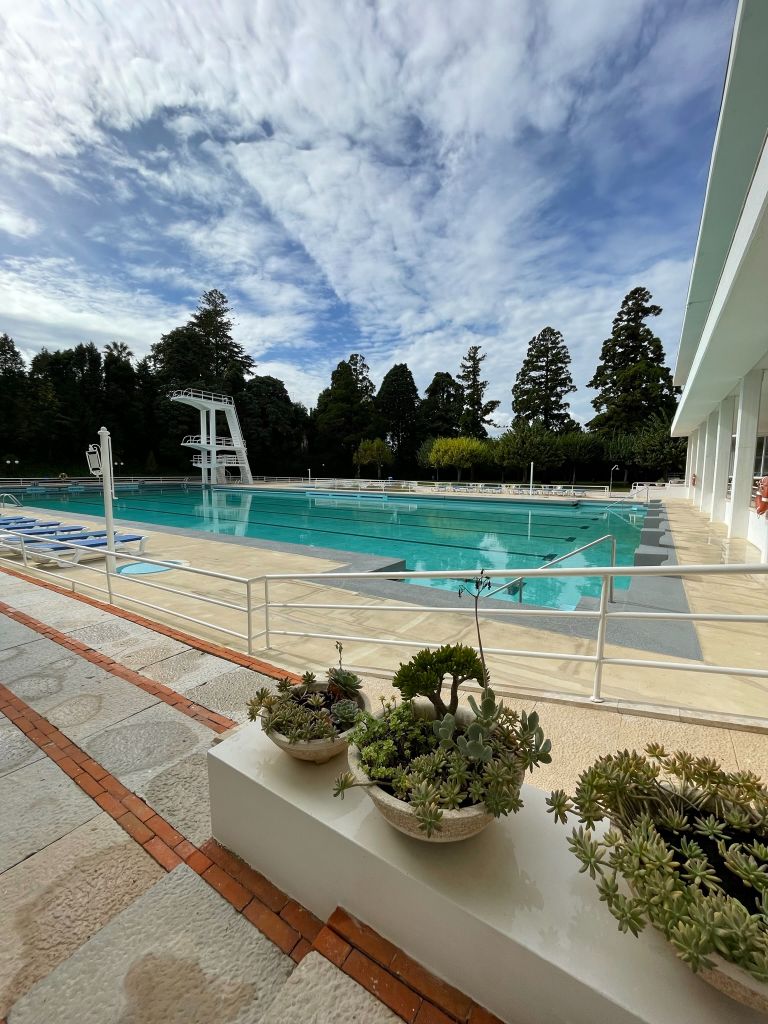 Hotel Model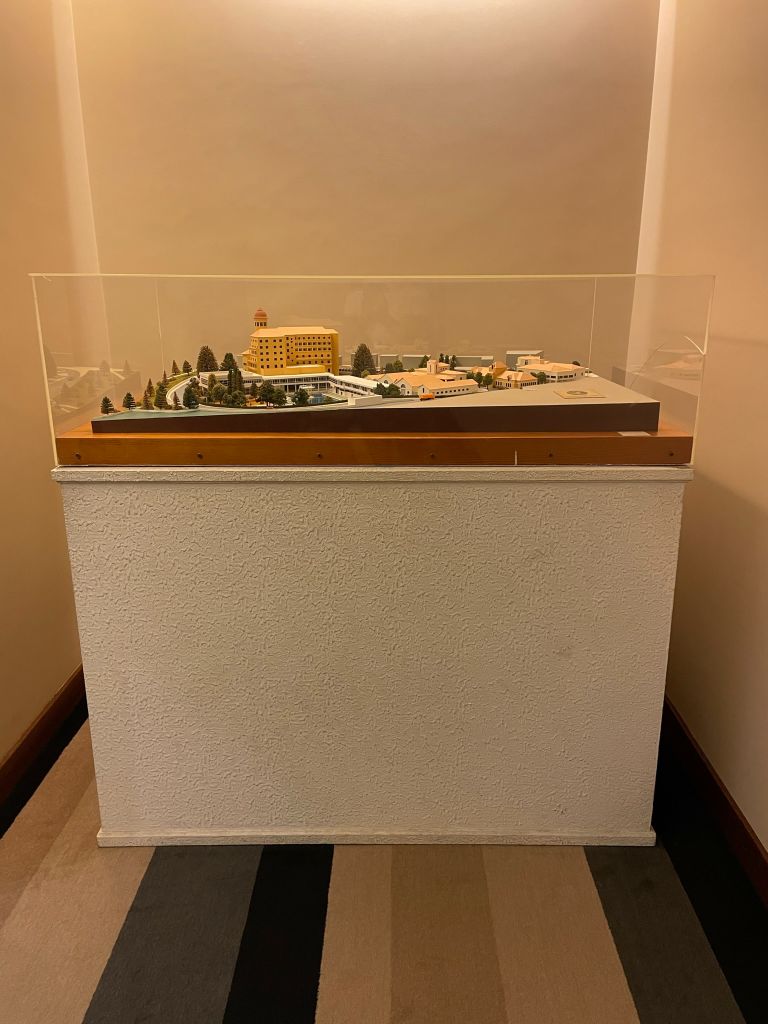 Inside Pool
The inside pool opened at 15:00 after lunch and I was surprised to only find one couple there with their small child. Pure heaven and it's heated to a perfect temperature.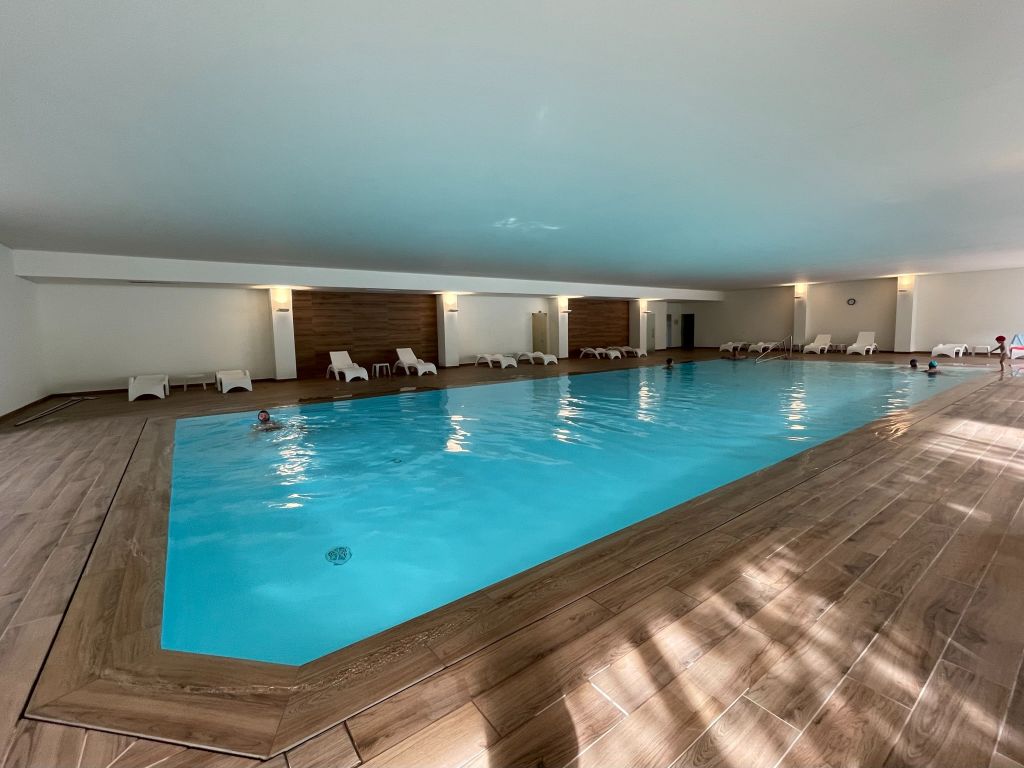 Pool Selfies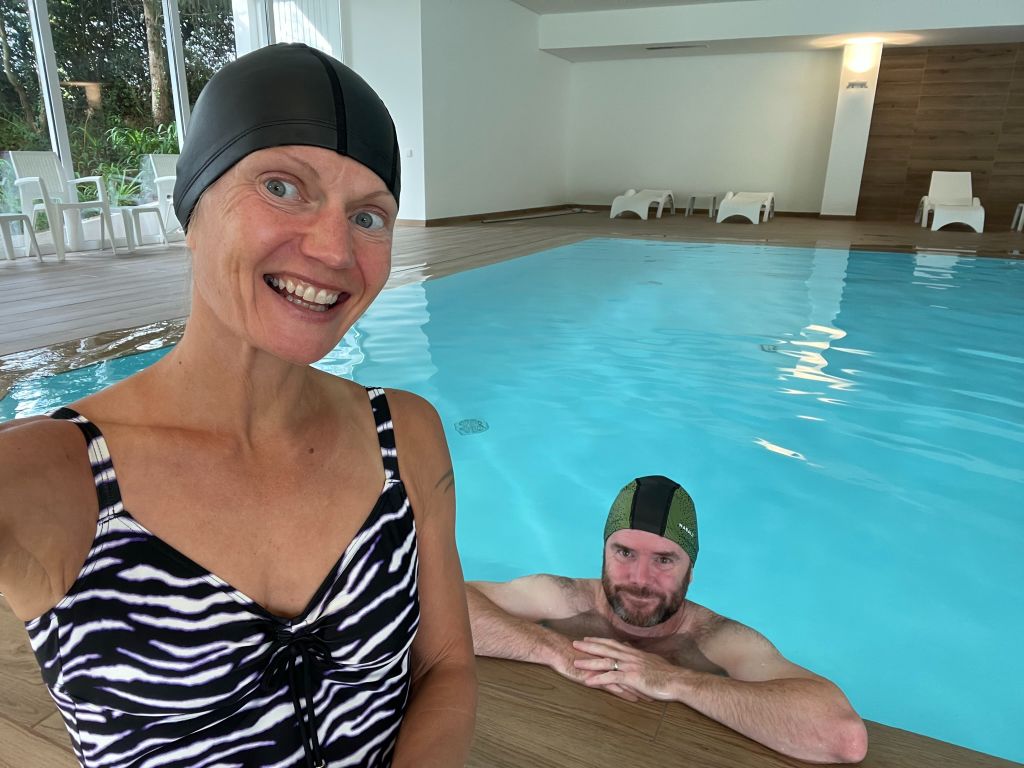 Mermaid Helena
Hotel Interior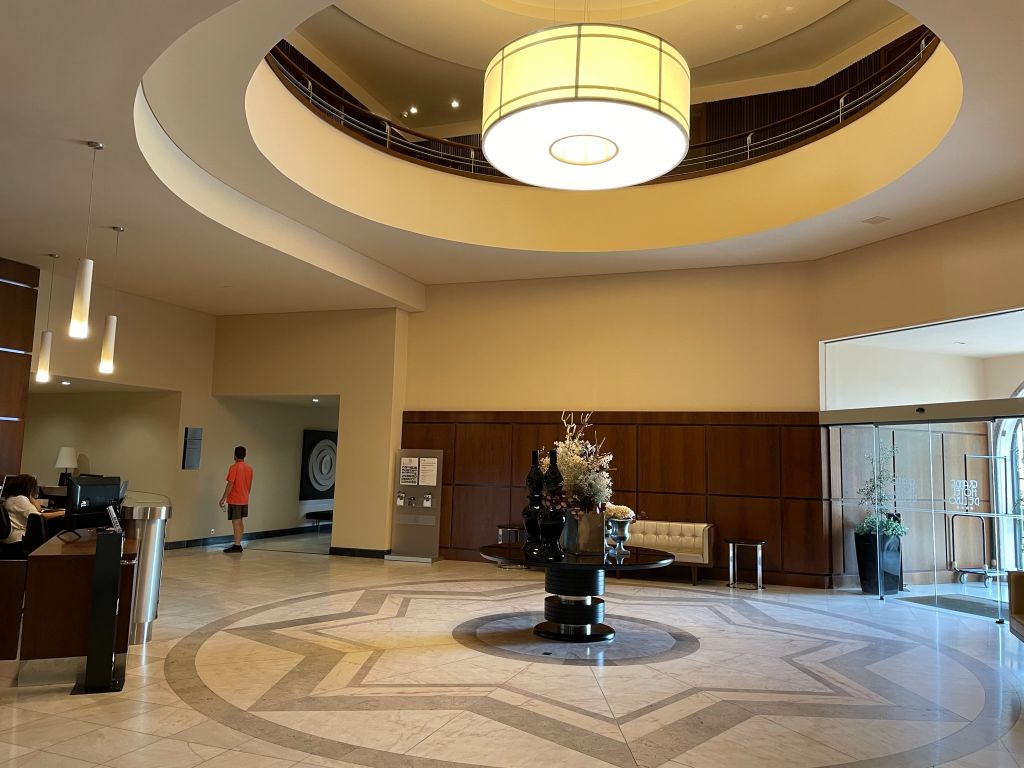 Cartwheel Down the Corridor & Stripy Races
The hotel is rather fond of stripes, it gave me a Las Vegas casino vibe (ha ha). This is the corridor that led to our room which was the very last room at the end. It was a long walk when alcohol is involved. We had a fun drunken race on Saturday night. The Mr & Mrs Challenge was to speed walk heel to toe back to our room. I was at an unfair disadvantage as hubby's feet are bigger than mine so I cheated and started to run. I really wanted to cartwheel down the corridor but I didn't want to flash my knickers so I ran and danced instead (ha ha).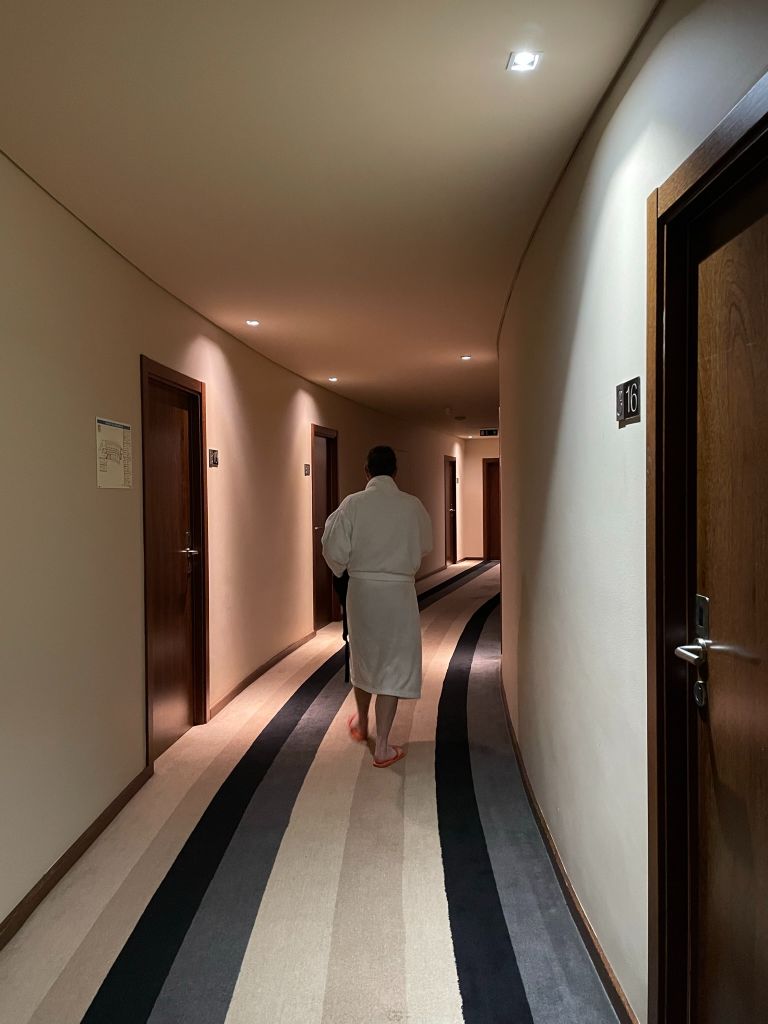 Spa Slippers
The complimentary slippers in our room were hilarious. Neither one of us could work out how to assemble them. It was worse than a flat pack Ikea furniture experience. I think you required at least 2 A levels to work it out. Hubby managed to find the correct method after a long puzzled 5 minutes of trying various methods (ha ha). The first photo is the floor and the second one is the wall. We were led on the bed so I told hubby to stick his feet in the air. He is not very flexible so struggled to keep them up for the photo but at least his robe stayed intact and he didn't flash his birthday suit (ha ha).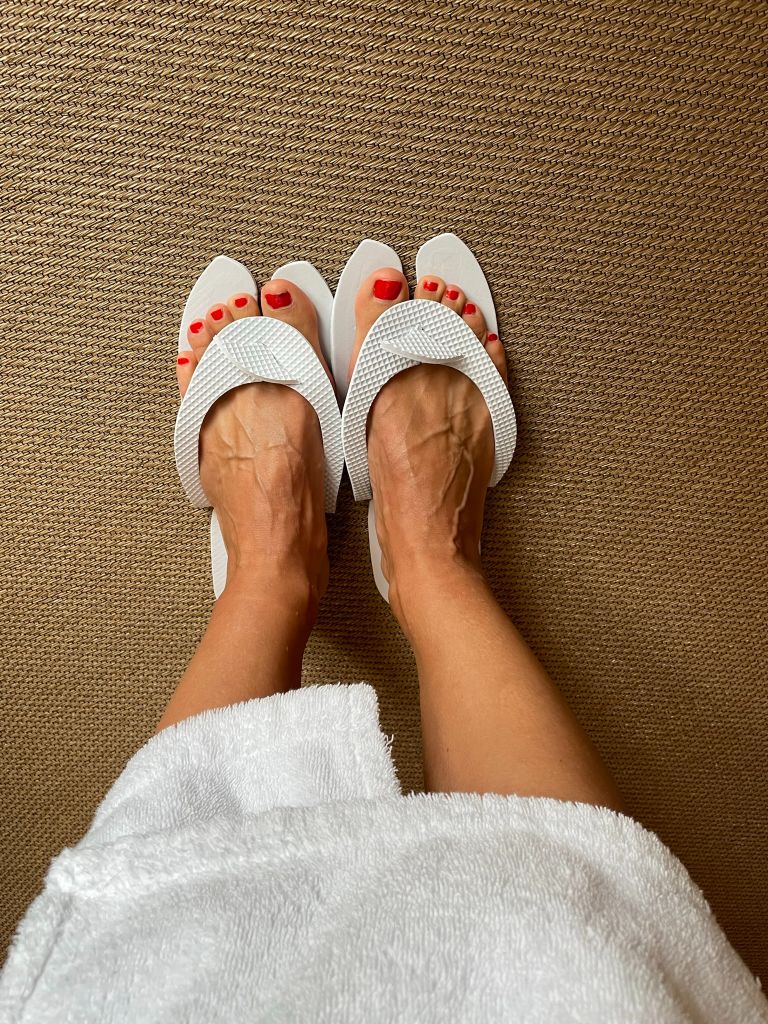 Happiness is a Piece of Cake, and we Share It
How absolutely amazing is hubby's cake? I usually buy my cakes from a local bakery, the delivery bread van or supermarket but this time I reached out to a lovely local lady who makes the most fabulous sweet treats. I didn't want to buy a big cake as there are just the 2 of us and if it's in the house I will eat it all. The design was a total surprise as Lyn asked what hubby's hobbies are and I replied: Electric guitar, frogs and giraffes as favourite animals and Ugly Kid Joe (Hard rock) as his favourite band. I forgot all about cycling and paddle boarding (ha ha). Look how wonderful this cake is, so adorable! The frog is the cutest thing I've laid eyes on in ages! The time and effort that went into this design is beyond belief and she only charged me €5. I also purchased a Candy Cake from Hussel in a Halloween theme as hubby loves all things spooky and scary. I am slightly ashamed to say that we polished off the whole cake in one short weekend (ha ha).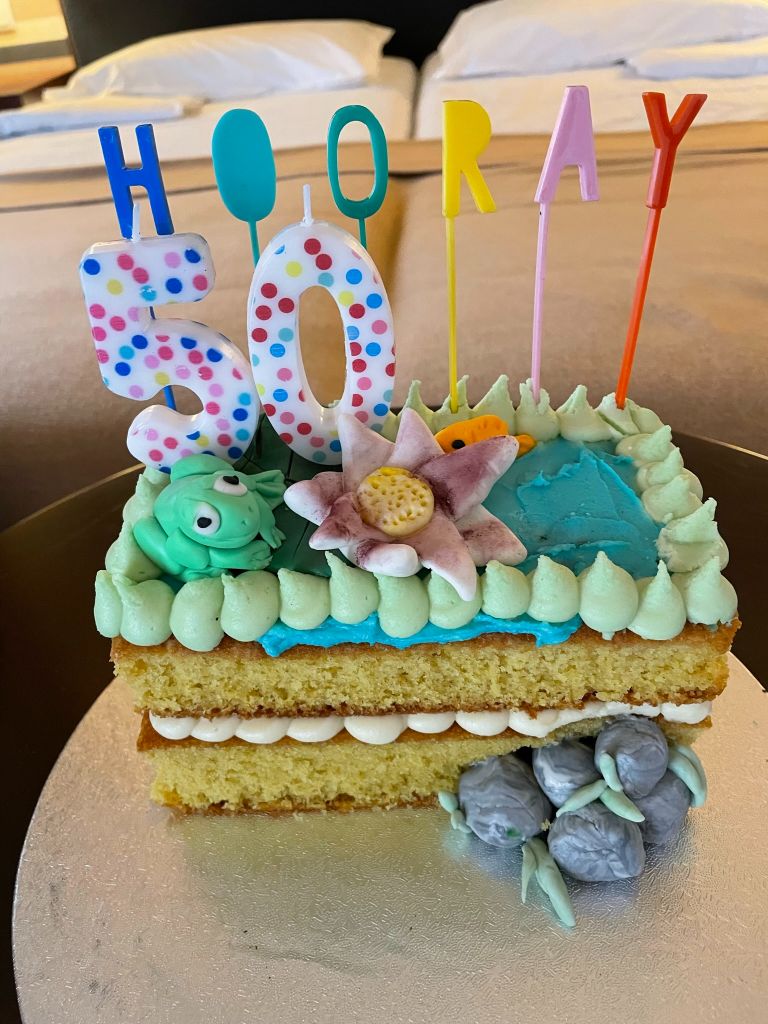 Balcony Birthday Boy
After our swim session we headed back to our room to eat cake. We were going to light the cake candles in our hotel room but thought we might set off the fire alarm and cause an emergency evacuation so we relocated to the balcony. I sang Happy Birthday to hubby and he blew out his candles and made a wish.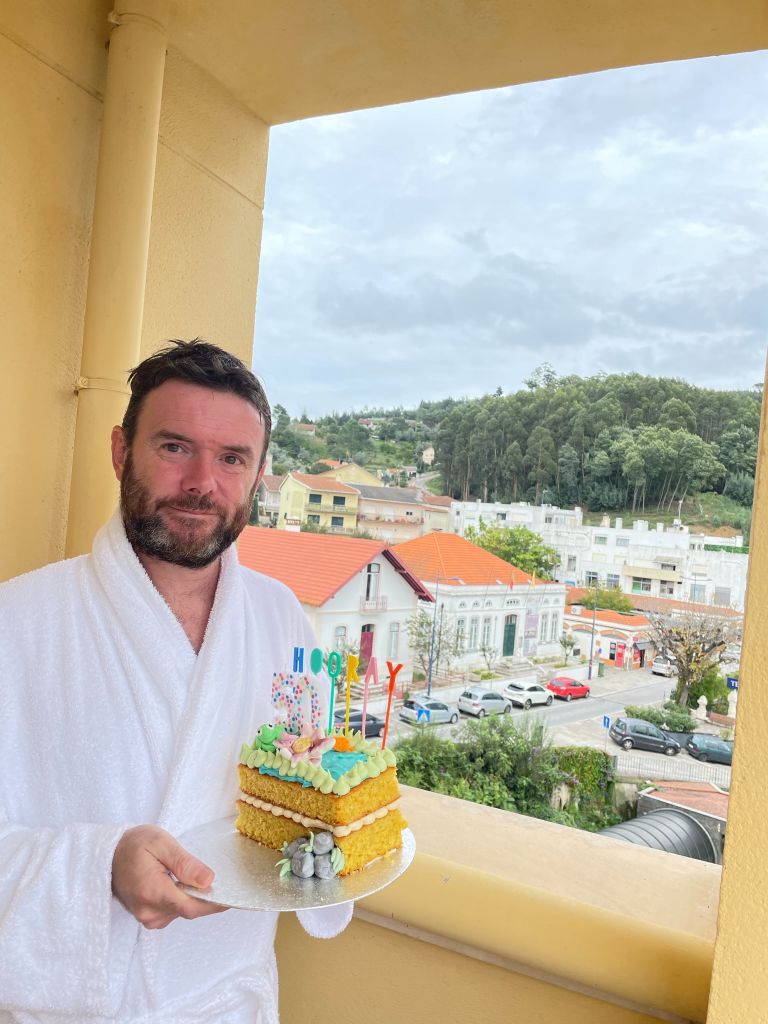 Birthday Boy
The grandad does certainly not look 50.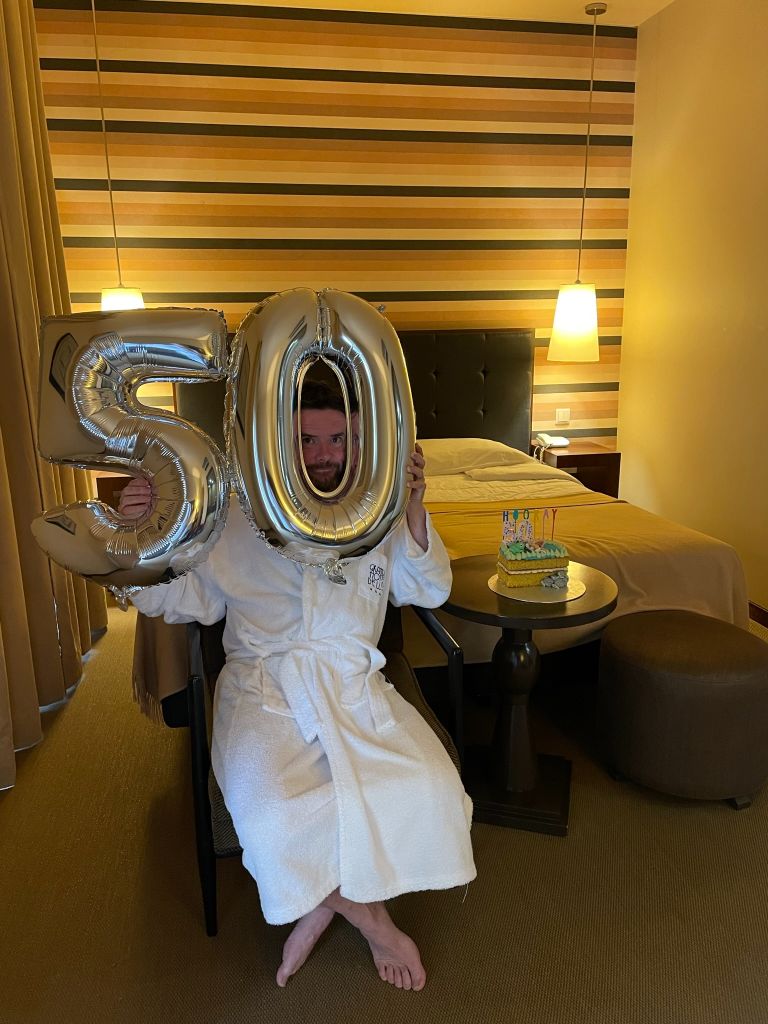 Turn your Frown Upside Down
My hilarious hubby turned the number upside down so now he is 20 (ha ha). I think he looks closer to 20 than 50 because I keep him forever young. Never mind the numbers, I know one thing for sure, I turned his life upside down the day I met him and he has been trying to find an escape route ever since but failed (ha ha). He who is of a calm and happy nature, will hardly feel the pressure of age.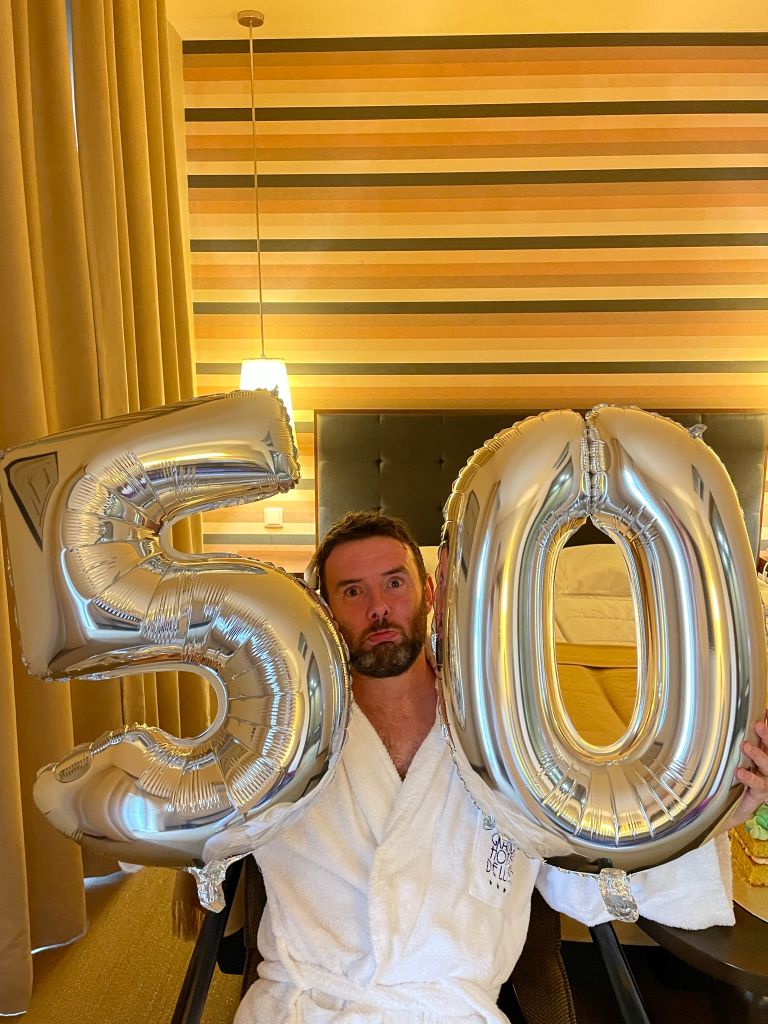 Bubblicious Bubble Bath
We took a saucy couples bath with lots of sweet smelling bubbles and ate our cake in the bath because why the hell not! Hubby got the rough deal and was positioned at the tap end (ha ha). I did swap over with him at half time but only because it was his birthday weekend. The frog is made from icing and edible.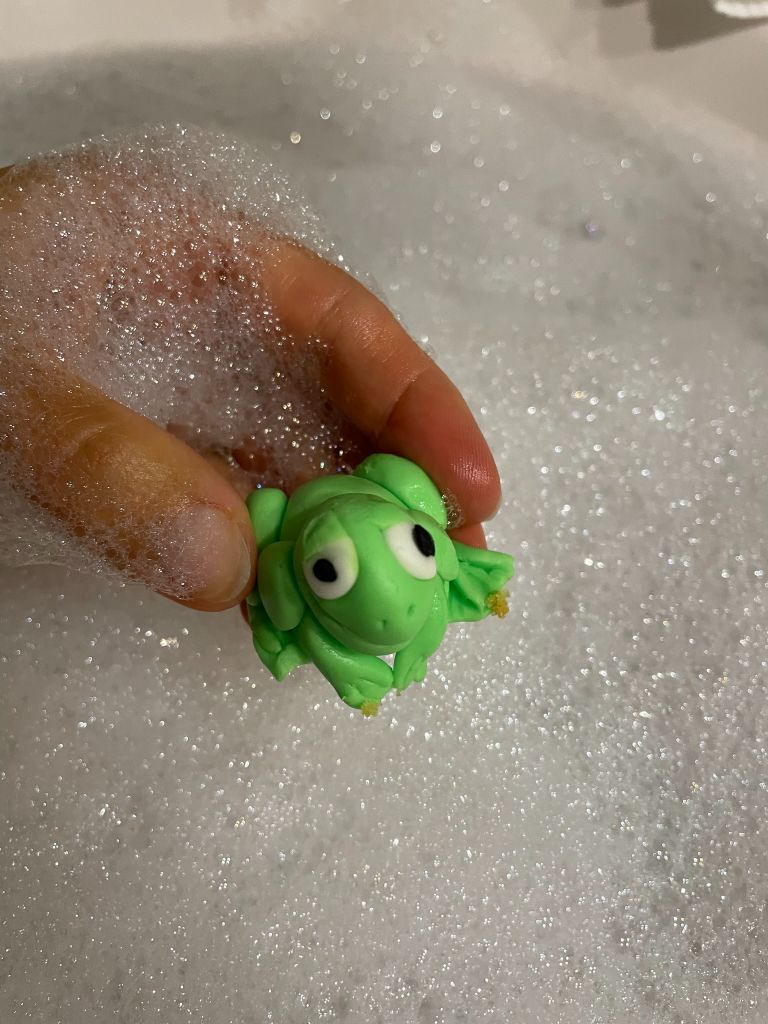 Portuguese Plugs (Helena's Hair Fail)
I wanted to make myself look pretty for dinner in the restaurant. When I say I wanted to look pretty I just mean I will look semi-average by throwing on a frock and some shoes as hubby is used to viewing me in dirty gardening leggings, vest top and old trainers with the not so added bonus of being braless because there is no point dressing up for my chickens as I only get covered in dirt when I garden and I like my bappers to feel free (ha ha). I packed my hair straighteners and make-up bag as well as my bargain UK charity shop find (Pre-loved £5 floral dress) and high heels. Then I discovered that I forgot to pack a travel plug adapter! My GHD straighteners are ancient and from the UK – which sounds a lot like me (ha ha). They have a UK plug so I need a convertor for them to work. I was absolutely gutted as my new waterproof swim cap is not actually waterproof, it lied and 50% of my hair got soaked in the spa and pool. My hair is slightly curly so any water or moisture instantly transforms me into Curly Sue with added fluff and frizz.
The worst part is that I didn't even pack my round blow dry brush, just a vent brush as I pre washed my hair, blow dried and straightened it in the morning. My plan was to just run my straightening irons through it and go. I sent hubby down to reception to see if they had an adapter I could loan but they didn't have the right one. I was very sad but the nearest Worten was over a 30 mins drive away and I wasn't missing dinner for straight hair. I tried my best to dry it straight with the hotel hair dryer but it was pointless. I just want to apologise in advance for the absolute state of my barnet in every single photo. I could have shied away from the camera but I embraced my fluffy hair and smiled through my pain. Hubby said I looked lovely but he would say that if I wore a black bin liner over my head (ha ha). At one point during dinner I was scanning the room to try and find a Portuguese lady or man with a poker straight mane of hair so I could ask to borrow their hair straighteners for 10 minutes. I was going to offer hubby as a trade off for their straighteners (ha ha). This is the best I could do with my hair under the mitigating circumstances. At least the rooms are pretty.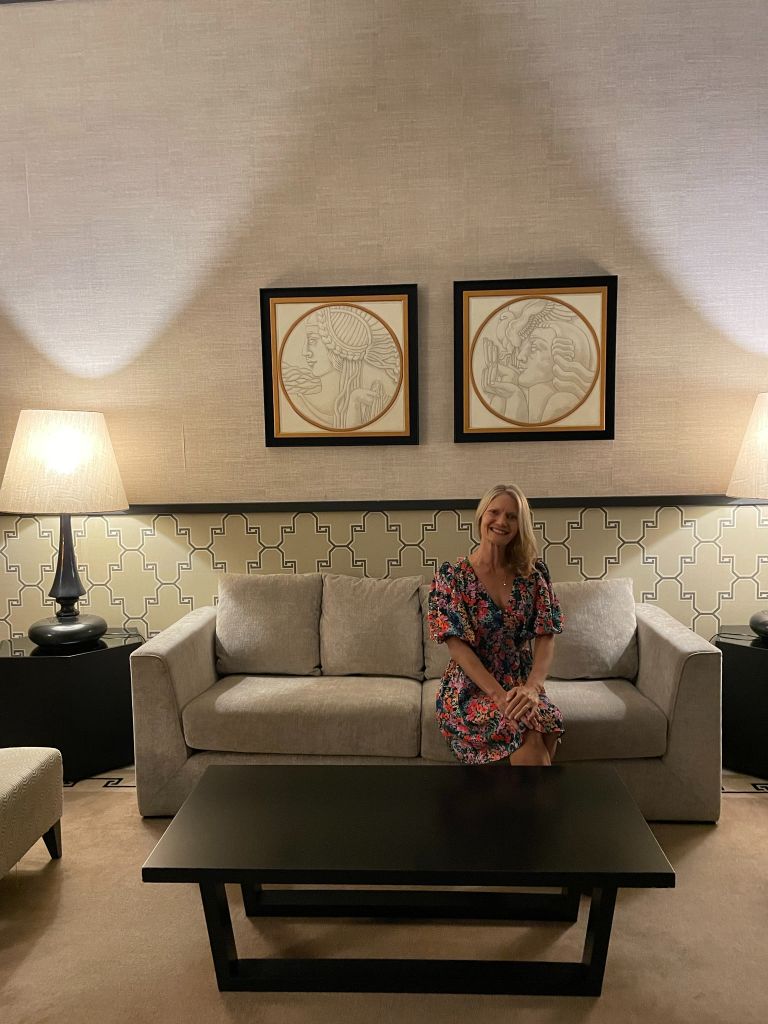 Balcony Balloons by Night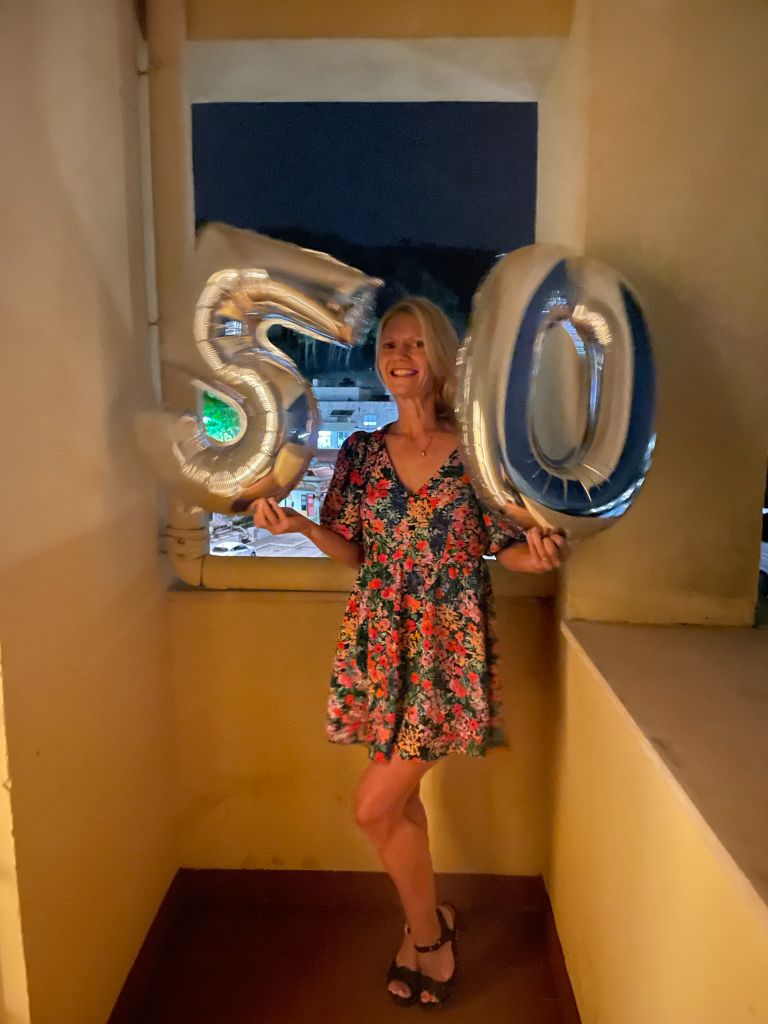 Birthday Cheer (Welcome Drinks in the Bar)
We enjoyed pre dinner drinks in the restaurant bar. The lounge area is lovely. Hubby ordered a beer and I had a sparkling white wine which was rather powerful and potent like me (ha ha).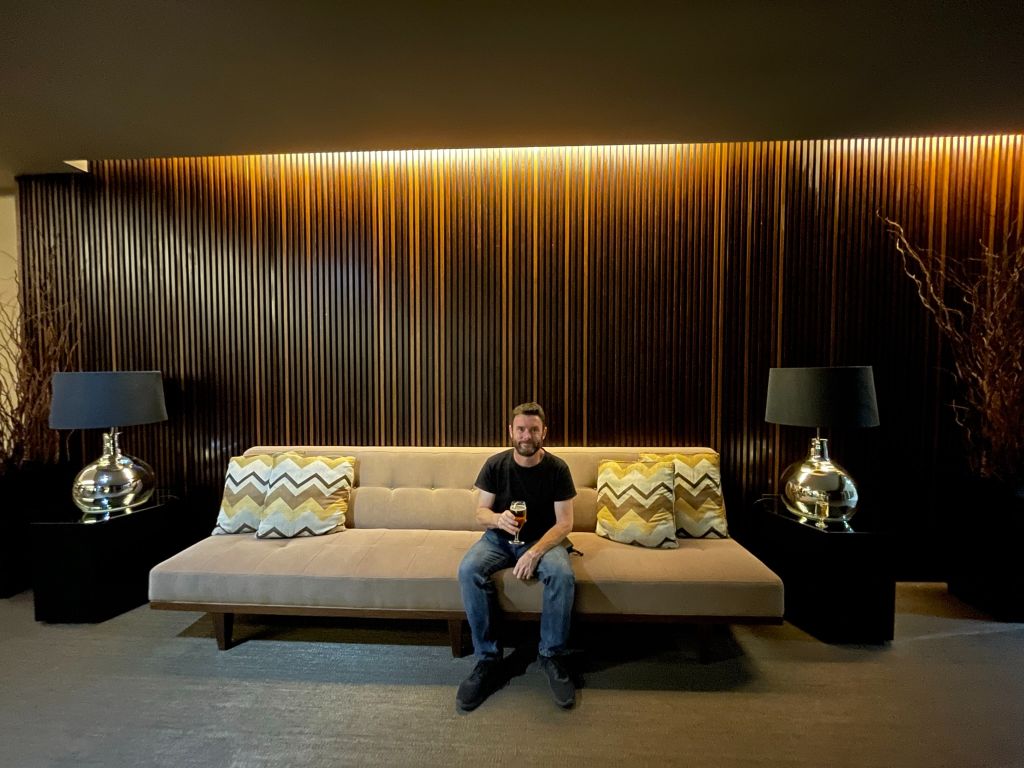 Pre Dinner Selfies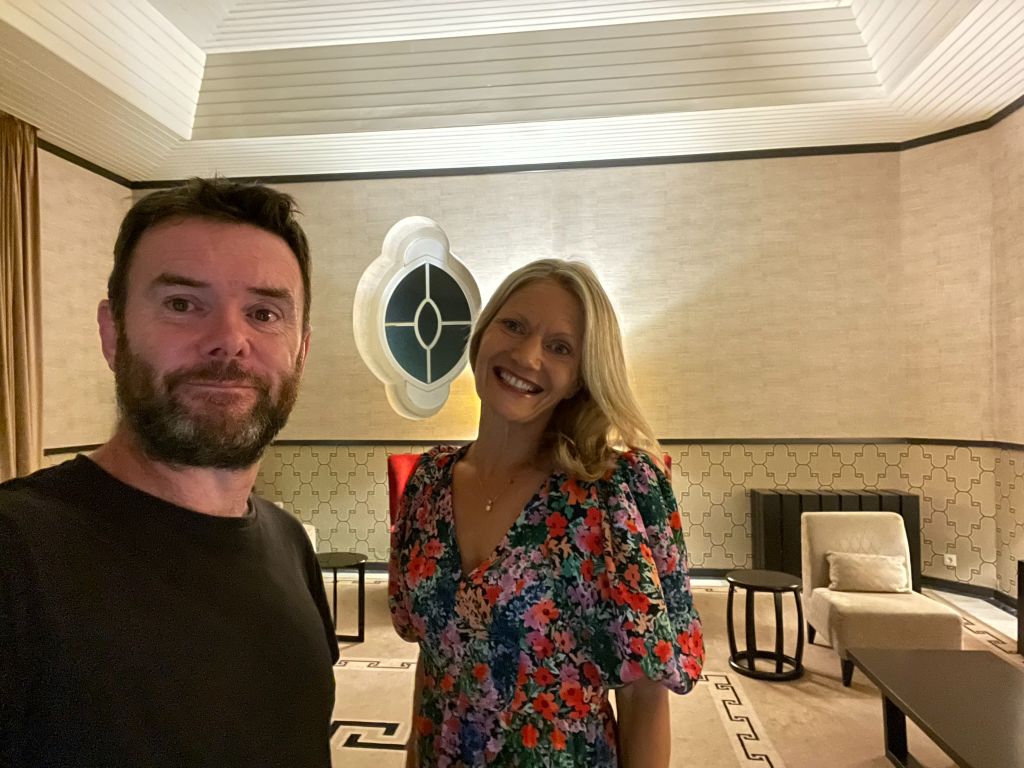 Pre Birthday Dinner (Hotel Restaurant)
The dinner buffet was excellent and we got to taste local food and the gastronomy of Bairrada which is one of the most famous culinary regions in Portugal. In 2016 the magazine "WINE – A Essência do Vinho" awarded Mealhada as the Best Gastronomic Destination in Portugal and I can certainly see why. Roasted suckling pig is a culinary delight from this region. I was shocked to arrive at our reserved table and be offered a whole bottle of red or white wine as I assumed that we would just get offered a glass of house red or white with our meal. I didn't realise that the Zen package included a full bottle. We quickly polished it off and we may or may not have ordered a second bottle (ha ha).
The selection of starters was huge and I sampled most of it because I'm greedy. The mushroom soup was very tasty, hubby hates mushrooms so he declined the soup. Main course options were rump steak with a mustard sauce, pork tenderloins with lemon and orange, grilled cuttlefish and a chestnut dish for the veggies and vegans. I tried it all except the veggie/vegan option. I pushed myself out of my comfort zone and sampled the cuttlefish. We are not huge fish fans and only regularly eat salmon and tuna so I was very brave. I've never seen this type of fish on a menu before. My only experience of cuttlefish is my mum buying cuttlefish bone in the 80's for my budgie (ha ha). If it's good enough for Chirpy the budgie it's good enough for Helena the human. That poor budgie became deaf from me playing my ghetto blaster music too loud. I still feel guilty today! The fishy verdict is in! Luckily I only took one tiny piece because it was beyond disgusting and tasted like the outer rim of rubber sink plug with a strong hit of fish (ha ha). Hubby was very pleased he passed it by. Dessert was delicious and we somehow found room for a small slice of most Portuguese cakes as well as fresh fruit. After dinner I really needed a caffeine fix but it was a tad difficult trying to flag down a waiter. They seemed very busy clearing tables and I spotted a coffee machine in the corner of the room. I was unsure if we had to help ourselves or not. We eventually managed to flag down a waiter and ordered 2 coffees. Hubby doesn't drink coffee but Helena needed a double dose of caffeine. The espresso coffee was hot, short, dark, strong and very tasty – just like my birthday boy (ha ha).
Pretty Decor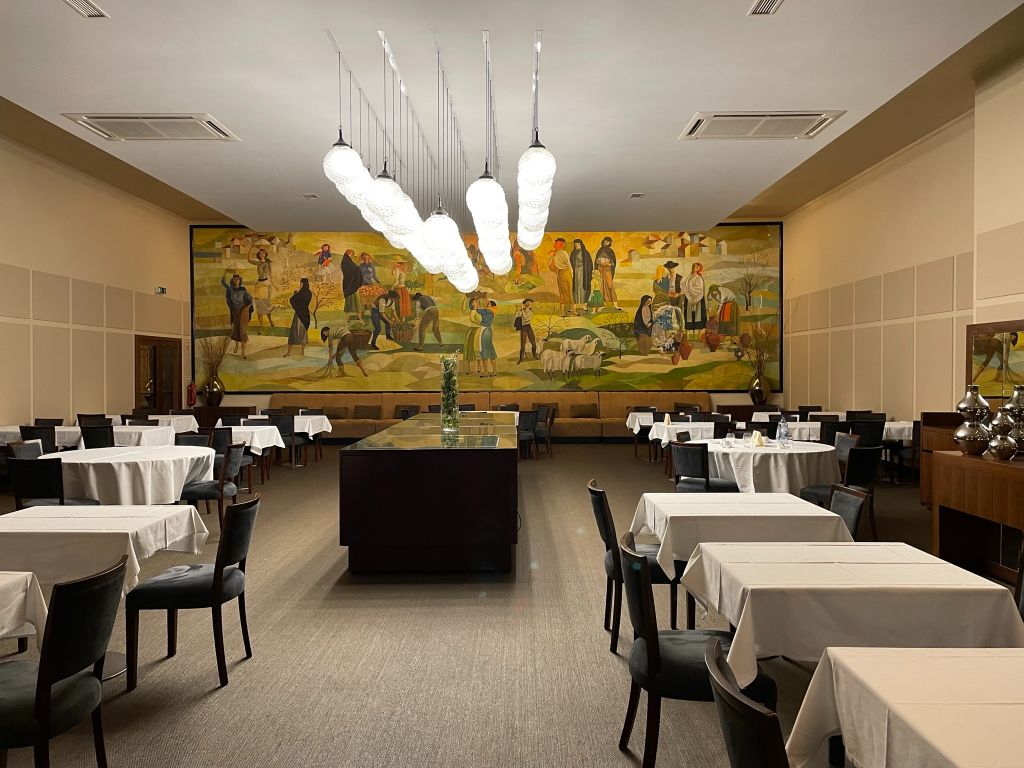 Menu
I think we struck gold as Sunday's menu included fish soup for starters and octopus!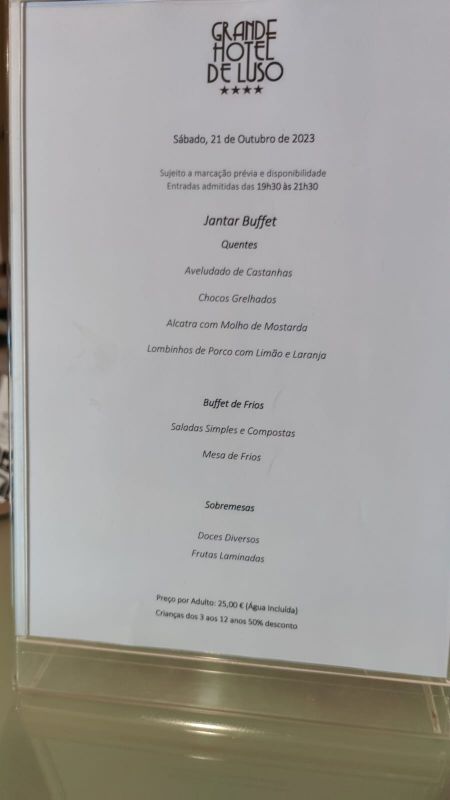 Buffet Table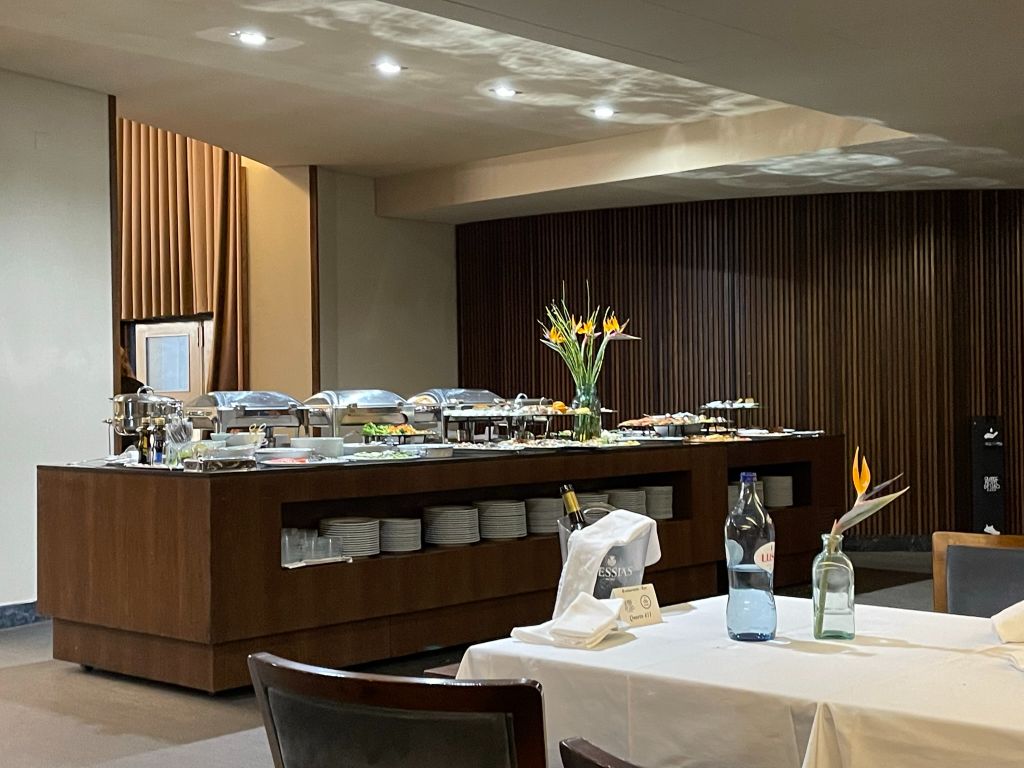 Starters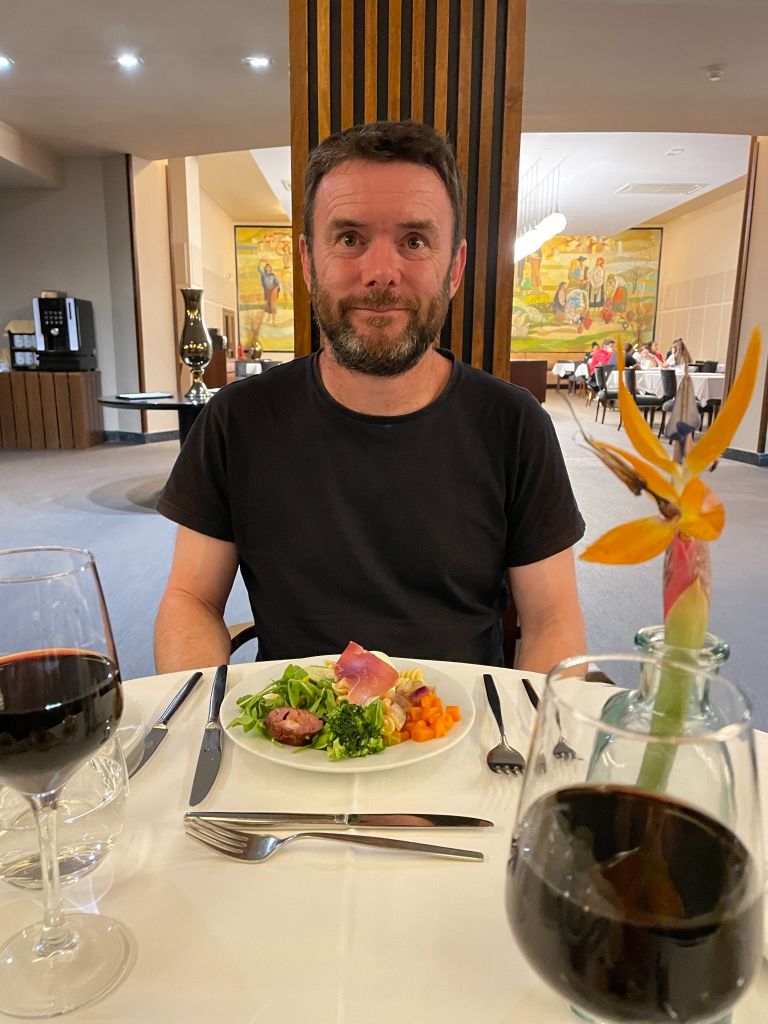 The Pesky Prawn
I love prawns but hubby hates them so I never eat them at home. When they are on a menu at a restaurant I always sample them. This pesky prawn was a mare to peel. It literally flew across the room and it splattered its juice directly in my face and over hubby as it gathered speed mid air (ha ha). There is clearly a knack to shelling prawns, it's one I have not fathomed or mastered (ha ha).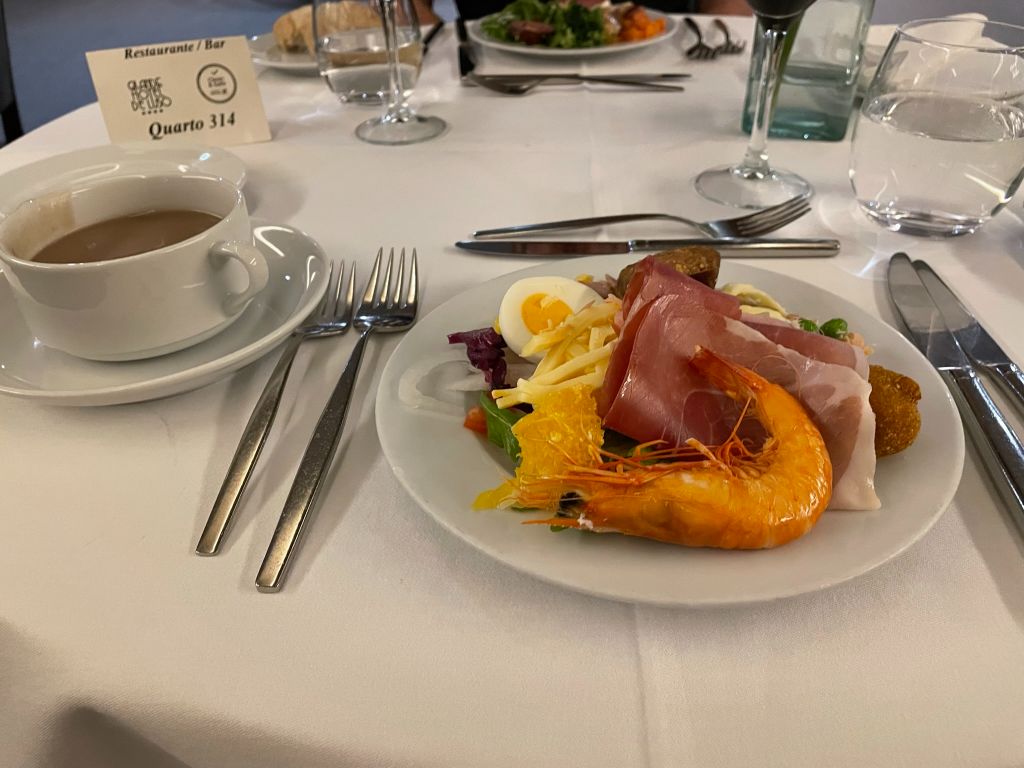 Main & Wine
The rump steak was our favourite dish. It's hidden underneath the chicken and pork (ha ha).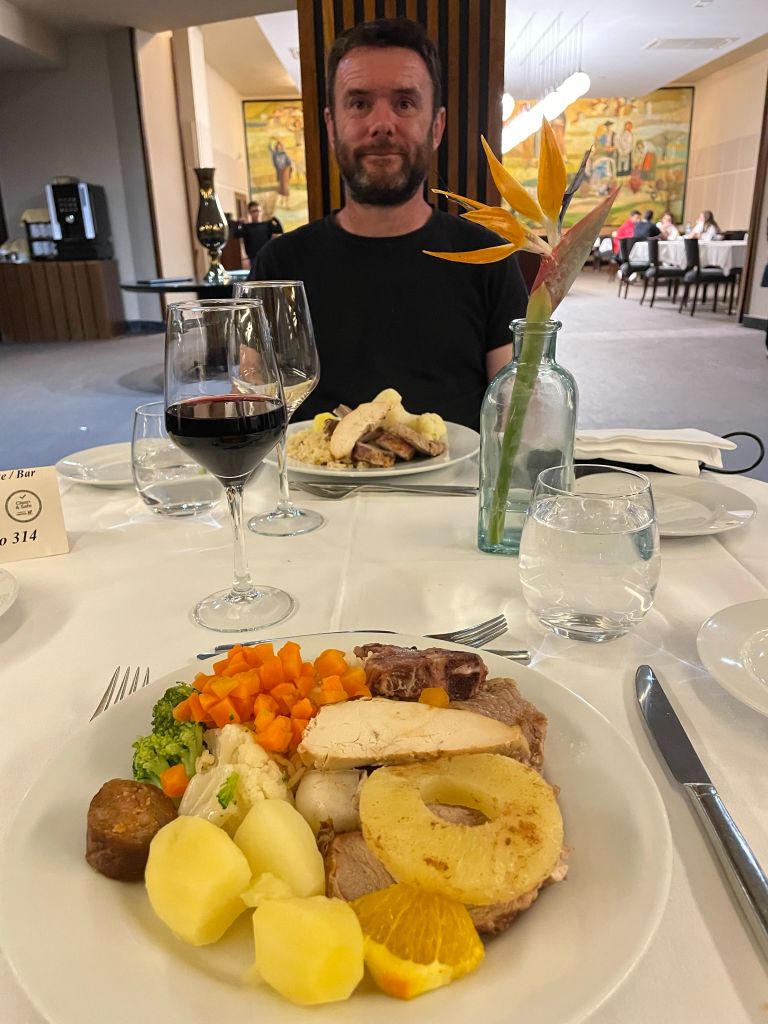 Dessert
OMG the chocolate cake and nata was divine.
Coffee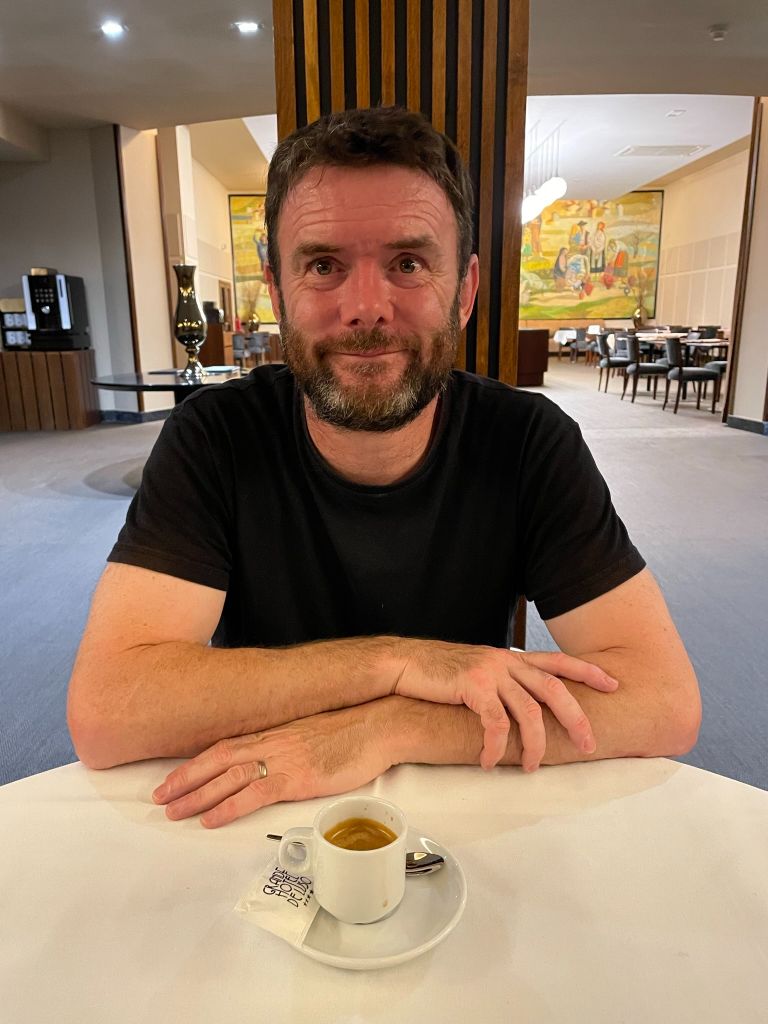 Luso by Night
After dinner we both were full to bursting and decided to go for a little drunken walk.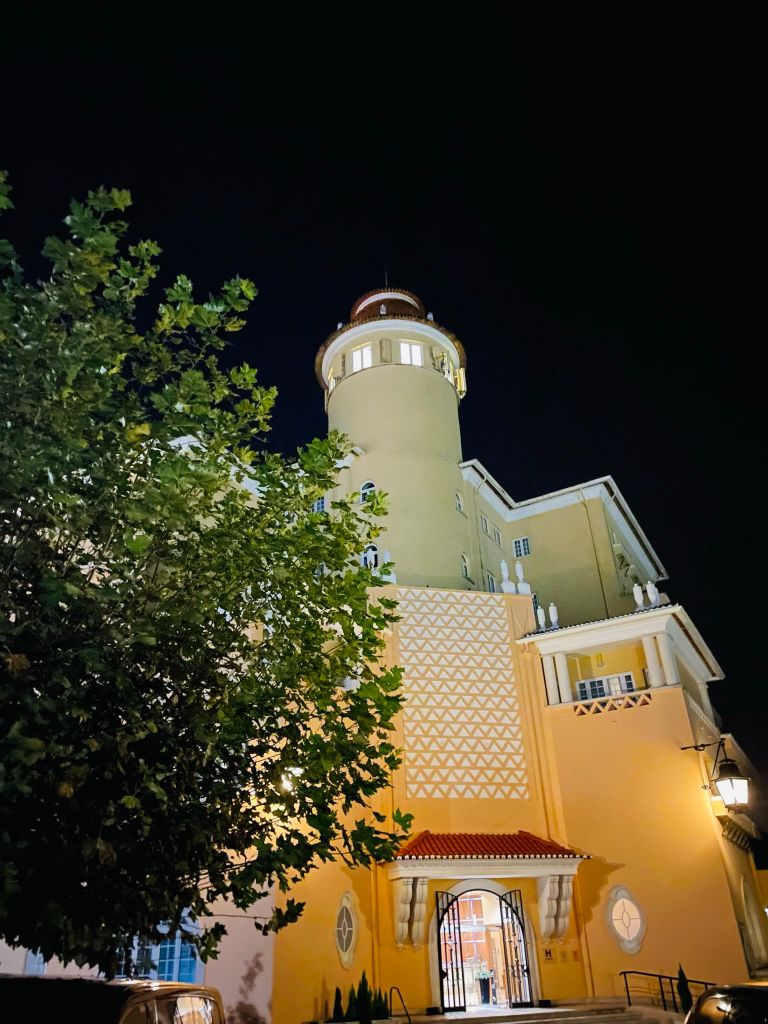 Fountain and Chapel of São João Evangelista (Night View)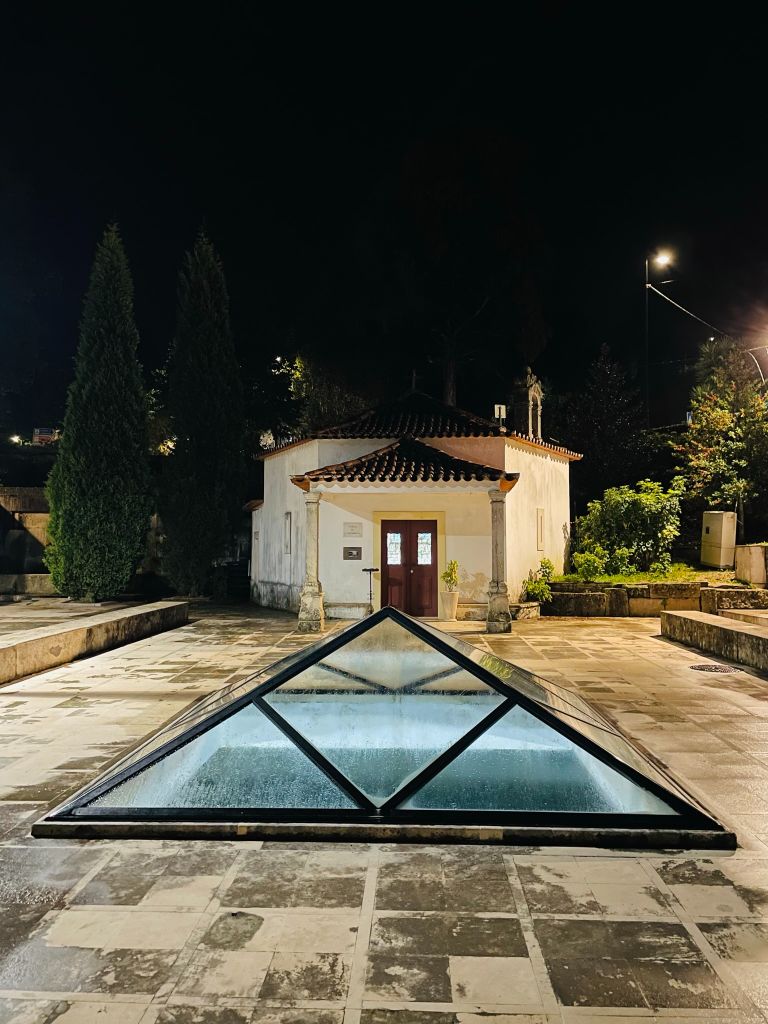 Midnight at the Oasis
I was surprised to see folk at the famous water fountain, filling up their bottles at Midnight! This first photo made me laugh, poor hubby has the start of a hangover just as the clock struck midnight and he turned 50! The famous magic Luso fountain water sorted him out (ha ha).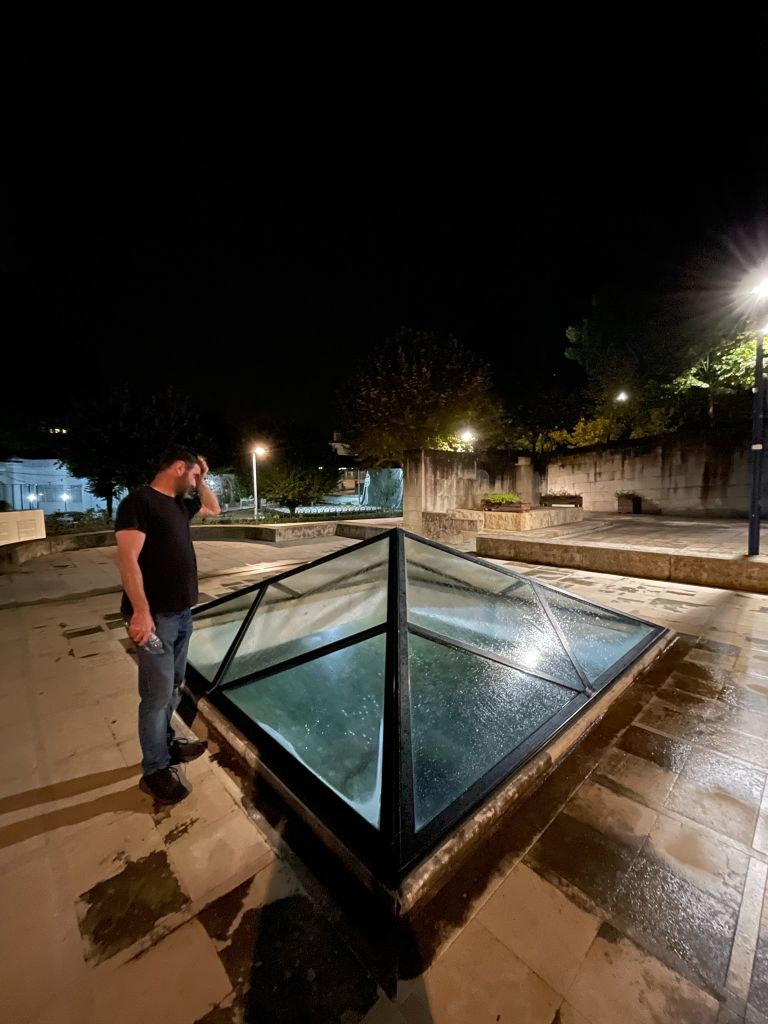 Luso Letters
Luso looks very pretty at night and the Luso letters were all sparkling on the hillside. The more alcohol we consumed the blurrier the photos became (ha ha). I tried to Jump for Joy in front of the Luso sign and it was a hilarious epic fail – middle photo. I deleted these photos at first but I just love hubby's brimming smile and it was taken on his actual 50th birthday so I just had to keep them for a laugh (ha ha).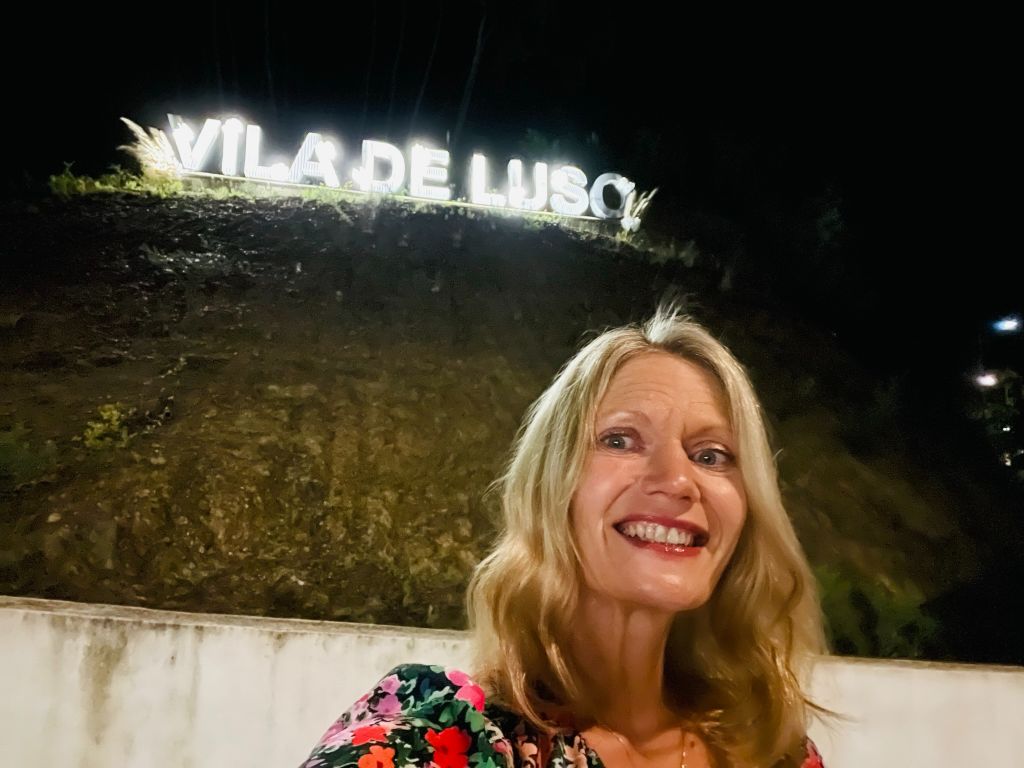 A Picture is Worth a Thousand Words (Art Installations)
We stumbled across lots of fascinating art installations (cameras) on tripods dotted in different locations around Luso. As you peer through the lense you see the view as it once was historically. How absolutely amazing! I love Portuguese history and culture. This is the camera right opposite our hotel.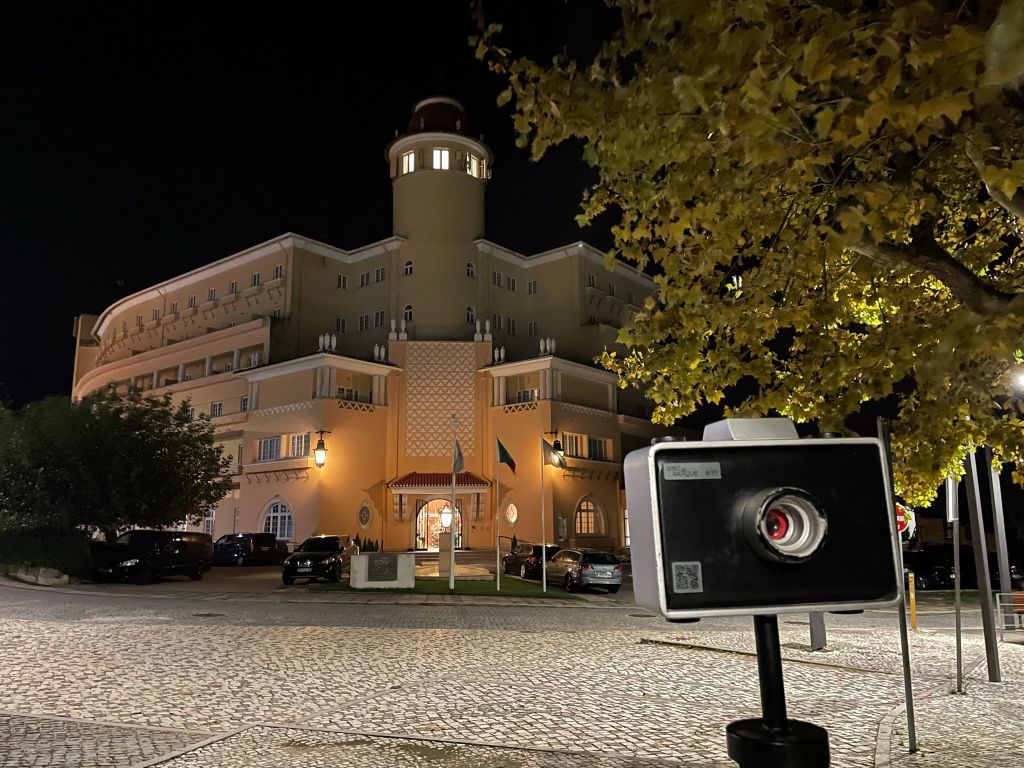 Nifty at Fifty (Birthday Gifts & Balloons)
I planned a little Birthday party celebration with cake, candles and there were even Birthday balloons and bubbles! You're Only as Old as You Feel!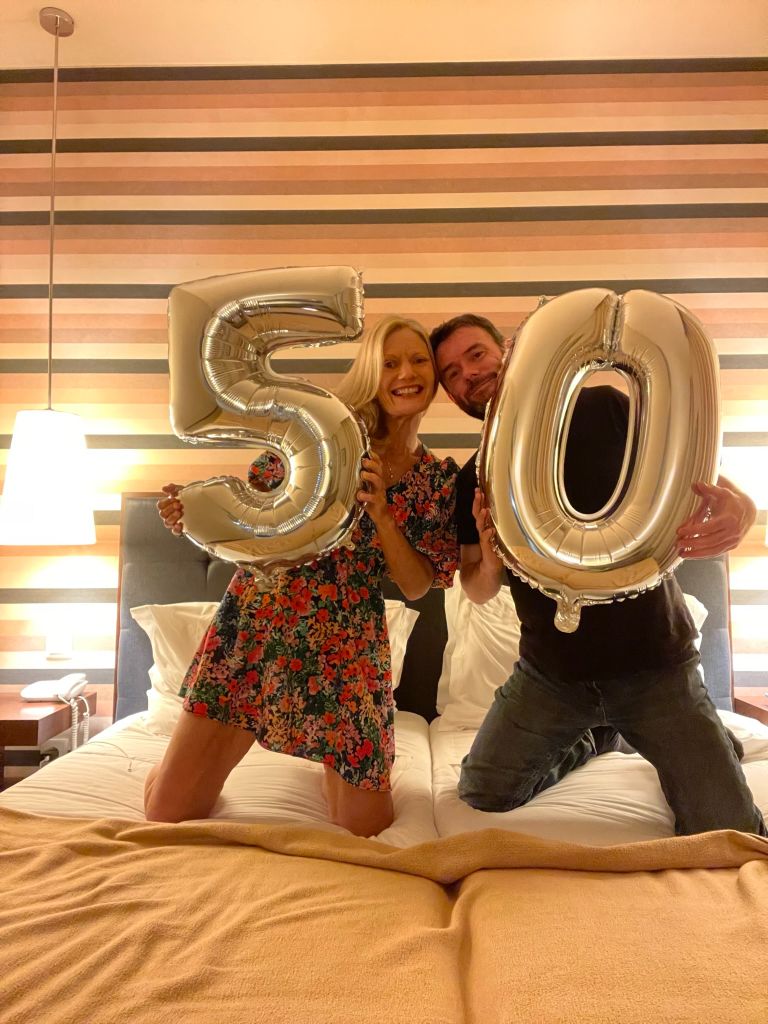 Birthday Bubbles
We had way too much fun with this bubble sword.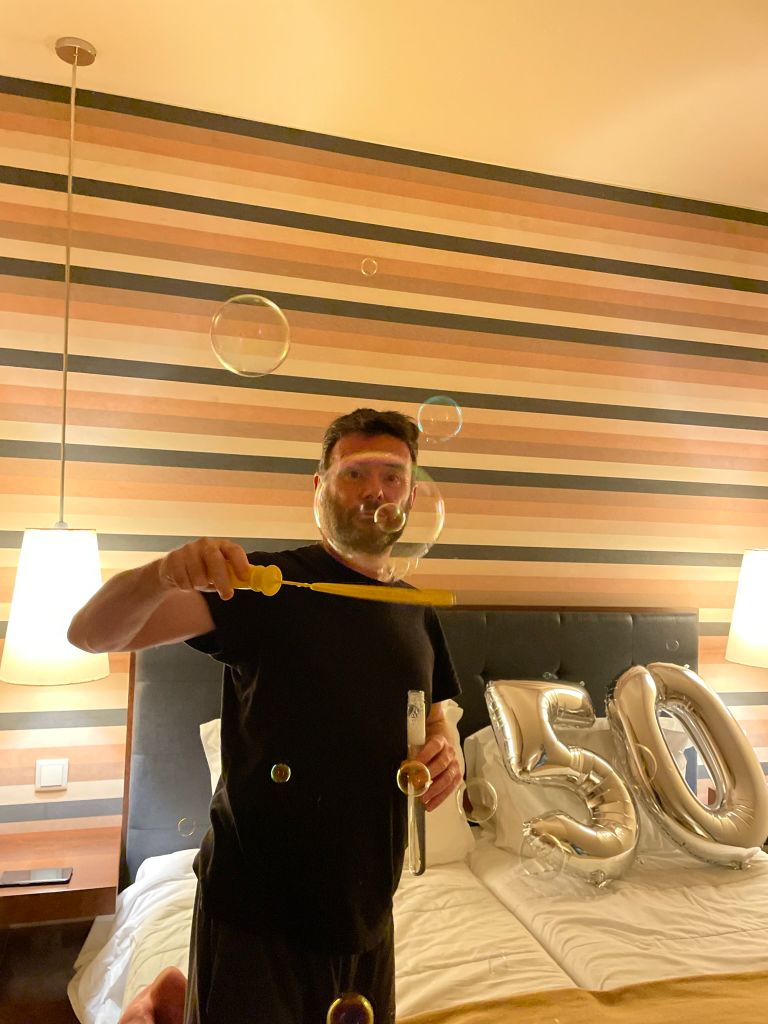 The Things We Do For Love (The Zen Jar)
I don't have a job (I'm a lady of leisure), anything I buy is from our joint account so I'm clearly aware that this means hubby technically buys his own presents. This did not sit well with me so I decided to get crafty and make him a special handmade birthday surprise gift. I initially was going to make a jar of "50 Reasons why I love you" but I thought it was a bit cheesy so I decided to make a game to play. I recycled a glass jar and added 50 quotes from TWD (Our favourite Zombie TV series. The object of the game is for hubby to try and guess which fictional character said each quote. For every one he gets correct he wins a chocolate and for every one he gets wrong, Helena gets the treat. I made the quotes super difficult because I love ferrero rocher (ha ha). I had a mini tantrum whilst making this gift. The tiny fairy lights were tangled up so badly and it took me over an hour of my life to de-tangle them. I couldn't even ask hubby to help or it would have spoiled the surprise. He did hear me scream on multiple occasions with sheer frustration. I also smashed the lid some time ago so the sweets made a dramatic escape during the hour long journey to the hotel. Thankfully he really appreciated my thoughtful gift. I found it quite ironic that although all these quotes were said during an apocalypse, around half of them are also phrases that I would highly likely say to hubby on a daily basis (ha ha). Here are some of them:
I Did Not Eat Those Pancakes!
Man, I'm gonna get shit-faced drunk. Again.
You're gonna miss me so bad when I'm gone.
Did you take one of my protein bars, I coulda sworn there was one peanut butter left.
It's gonna be pee-pee pants city here real soon.
I hereby declare we have spaghetti Tuesdays every Wednesday. First we have to find some spaghetti.
Anything is possible until your heart stops beating.
We can make it together. But we can only make it together.
I appreciate the positive affirmations and looking the other way on the perversion, but I know empirically and definitively I cannot survive on my own.
If you don't have hope, what's the point of living?
If y'all wanna live, if y'all wanna survive, you gotta fight for it!
You take happiness wherever you can get it. And don't ever be sorry for it.
Do you have any toothpaste left?
Look at the flowers.
Loving someone means doing whatever it takes to keep them safe.
You have to do whatever it takes to protect what you love, even from themselves.
Dying is simple. It all just stops. You're dead. The people around you dying, that's the hard part.
Everything's perfect. I just want to remember this moment.
People just always have to let you in if you're carrying food.
You Take Happiness Wherever You Can Get It. And Don't Ever Be Sorry For It.
If We Start Tomorrow Right Now, No Matter What Comes Next, We've Won.
We're on the right path even if we're on the wrong road.
When a woman tells you that she loves you, believe her.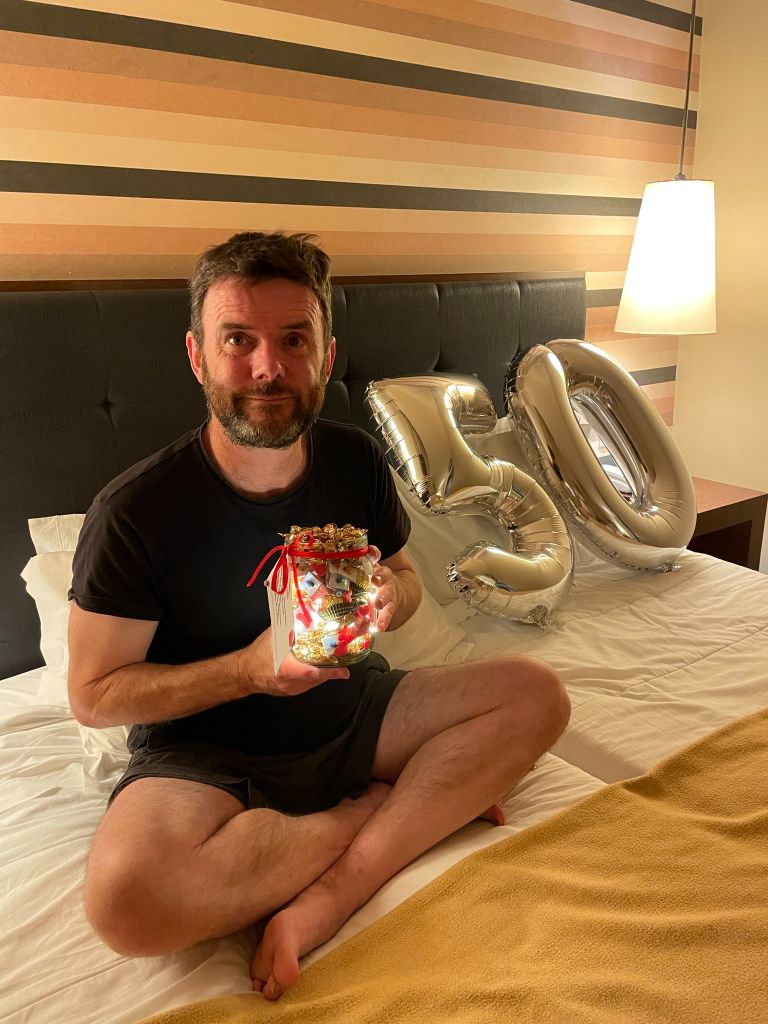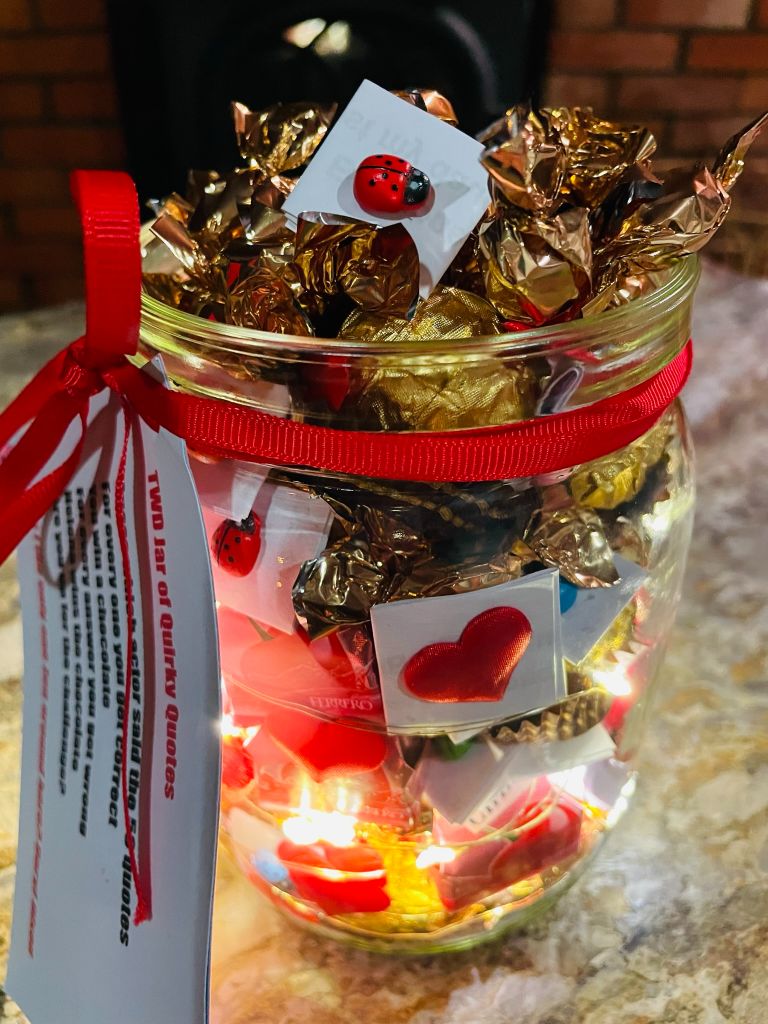 Birthday Breakfast
The following morning was hubby's actual 50th Birthday. We enjoyed a yummy buffet breakfast. There was a wide selection of breakfast foods including hot and cold food. I opted for granola, muesli with extra nuts, fresh fruit, toast butter, cherry jam and a mini nata. My dodgy IBS belly was a little delicate and still quite full after all our dinner buffet and birthday cake so I told hubby to not let me anywhere near the hot cooked breakfast food selection. Somehow he failed on his mission because I ended up with a small plate of bacon, sausage, scrambled eggs, baked beans and tomatoes with an extra side of toast, butter and jam (ha ha). I literally cannot be trusted anywhere near a buffet table. I was a little nervous about it being a buffet as I have OCD and usually avoid such offerings like the plague because I just don't trust people or their hygiene standards. I don't want to eat food that an adult or child has fingered or coughed on. I actually had nothing to worry about as I watched everyone and no one touched any items without using the tongs provided. However one bloke did visit the self serve coffee machine, sneeze and cough profusely all over the counter top and cups!
The second photo is so funny, hangovers are FIERCE at FIFTY! (ha ha).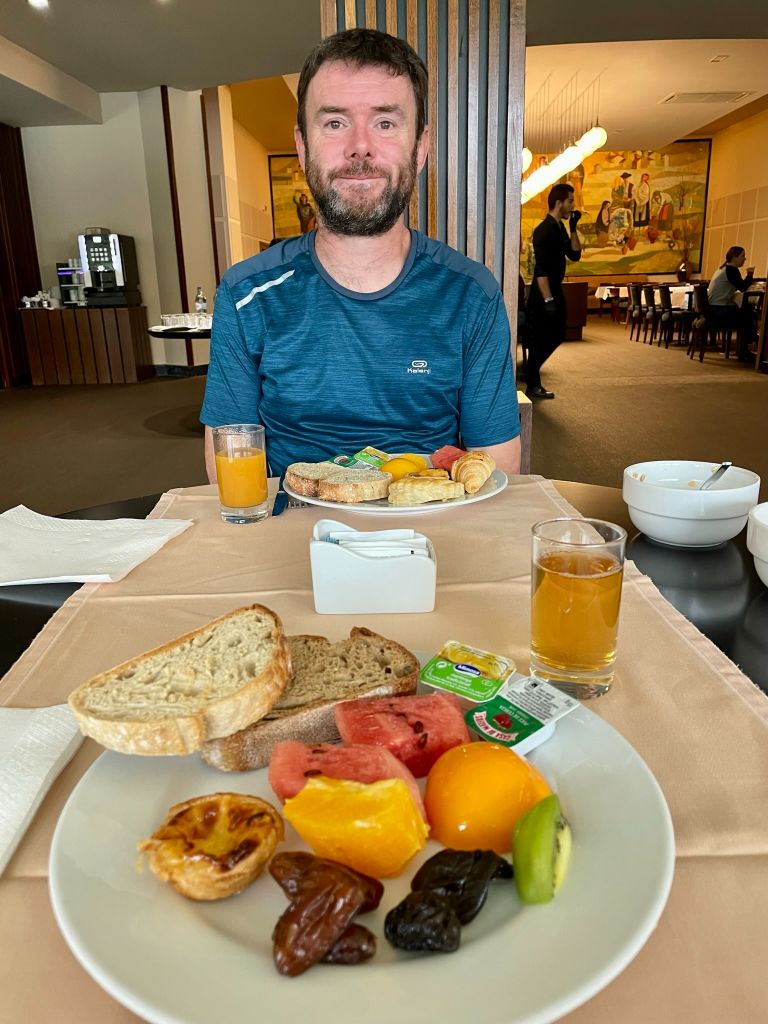 I'm Sweet Enough
Why oh why do Portuguese cappuccino coffees come with 10 sugars?
To drink I avoided the bucks fizz and consumed an orange juice and an apple juice. I needed a coffee and it became apparent that we had to self serve at the coffee machine. I opted for a cappuccino which was a bad mistake. The machine was a Delta coffee machine and it looked promising as I like Delta espresso. What I forgot was the fact that most cappuccinos here come served with sugar already added. I only have 1 sweetener in my cappuccino and none in espresso and to my horror this drink came with about 10 sugars in it. When I pressed the button on the machine it only filled the cup up half way so I pressed it again and it filled it to the brim and then some more. It basically overflowed and I made a right mess as usual. This was my second mistake as I couldn't even add extra coffee or milk to make it less sweet as there wasn't any room. I braved it and downed a few large sugary gulps then I topped it up with black coffee and warm milk which I found on the buffet table. It made it slightly better and tasted like it had 8 sugars instead of 10. I learnt my lesson the hard way and returned for a second go which wasn't any better, I will stick to espresso in the future. After breakfast we checked out around 12:00 and took a short drive onto Buçaco Forest for some much needed forest therapy.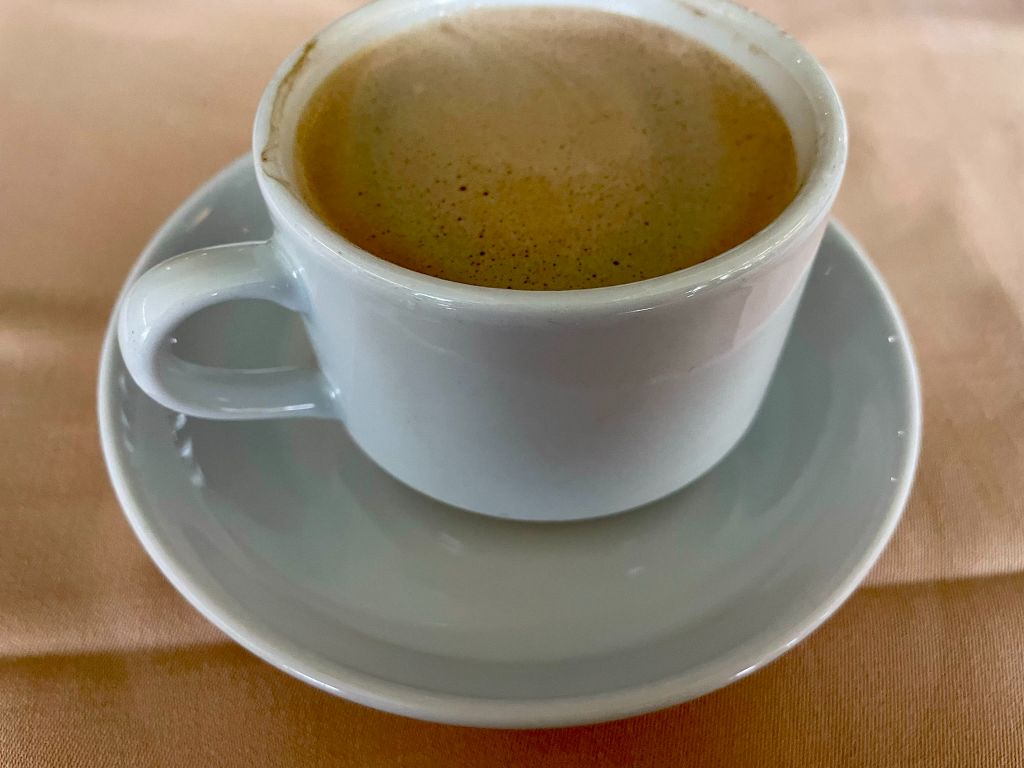 Mata Nacional do Buçaco
The official Portuguese name is: Mata Nacional do Buçaco (or Bussaco, both spellings are correct).
I am not going to rant on about the history too much as I have already written a blog post on Buçaco Forest and you can find it here: https://casavalhal.com/a-day-trip-to-mata-nacional-do-bucaco/
Buçaco National Forest is an ancient walled arboretum in Luso, a protected area located in Serra do Buçaco and is a World Heritage Site and is home to the largest biodiversity reserves in Portugal. The enchanting forest is a true paradise of nature, forest, arboretum, waterfalls and breathtaking views. Built by the Order of Discalced Carmelites (Monks) at the beginning of the 17th Century as a perfect hermitage for prayer, meditation and solitude. They set up hermitages and you can still see the ruins today. It consists of an area of 105 hectares and is a perfect haven for fauna and flora. I love getting lost in the forest like Hansel and Gretel and exploring the different extensive species of plants, my favourite is the Valley of Ferns. At the end of the 19th Century, after the extinction of religious orders in Portugal, the convent was partially demolished to build a royal palace for Queen D. Maria I. It was built between 1888 and 1907 in the Neo-Manueline style by the Italian architect Luigi Manini and was converted into a luxurious palace hotel at the beginning of the 20th Century.
We have visited this fabulous place a few times already and it is such a beautiful, serene and tranquil green space to enjoy mother nature and breathe in fresh forest air. We usually pay the €5 euro parking fee (which I think has now risen to €6) and park inside the grounds in one of the official car parks but seeing as the weather was nice we decided to park at the bottom of the trail steps and walk up to the forest. It is around a 1.7 km walk, an easy climb and free entry by foot and bicycle. What I love about this place is that we always stumble across something new whilst exploring the dense forest areas. There are so many quirky structures and buildings hidden deep within the enchanted forest and we discover something new every time we visit this magical place. On this special Birthday Boy adventure we explored many areas including the majestic Buçaco Palace Hotel and Gardens, Convent of the Holy Cross, Big and Little Lakes, the famous Fonte Fria (Cold Mountain), many of the forest areas including Fern Valley and we hiked up to the High Cross stopping at many of the hermitages and chapels on the way.
Photo Gallery
There are a lot of photos of hubby today because it's his 50th Birthday so I wanted to take a heap of photos of him as your only 50 once. Also it's because I'm having a bad hair weekend without my hair straighteners (ha ha).
Vale dos Fetos (Fern Valley)
The exotic trees and ferns are of a gigantic structure and the fragrances of the forest are delightful, the aromas linger forever.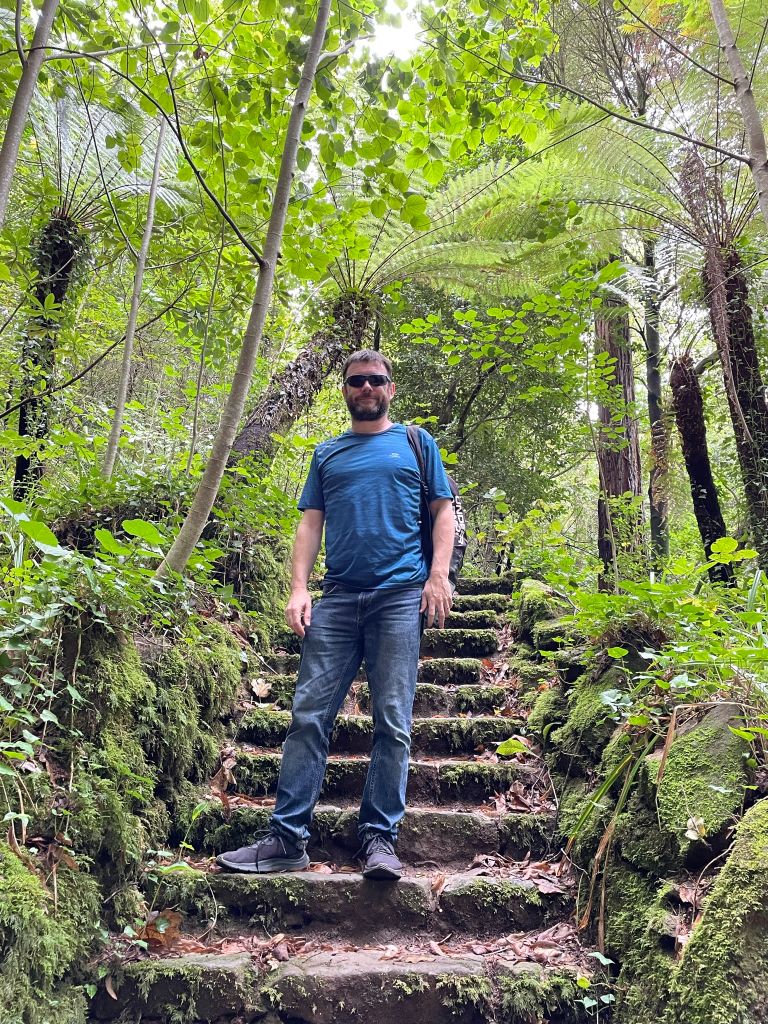 Lago Grande (Big Lake & Bigger Fun)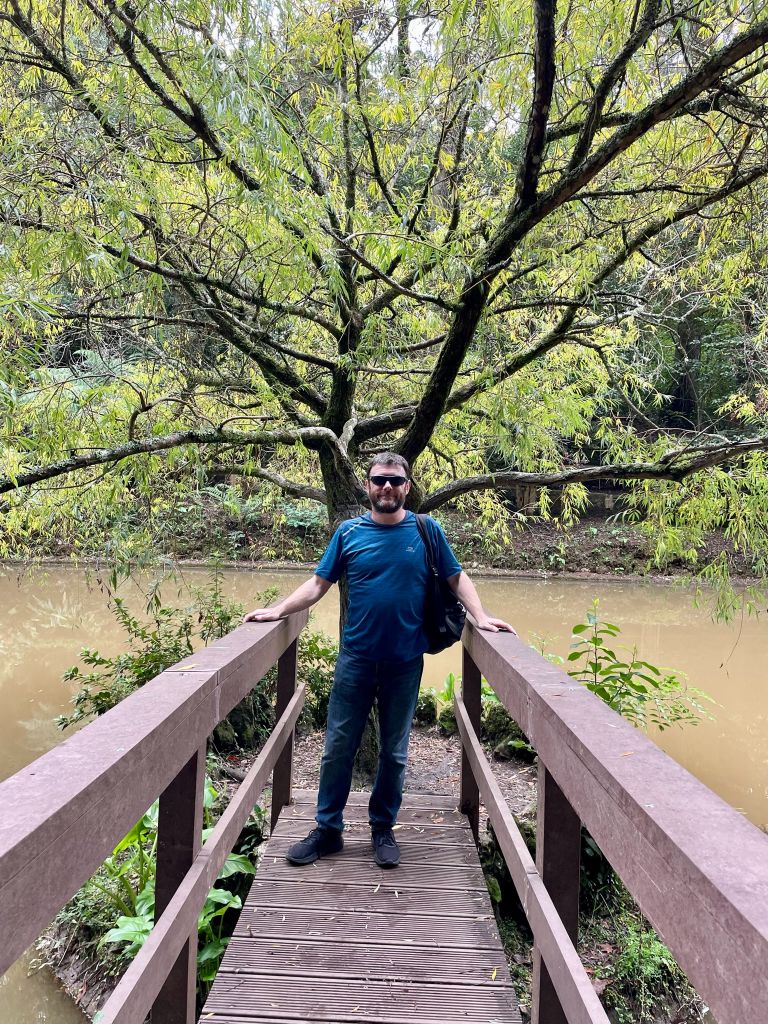 Forest Fun
This tree had the most crazy trunk which resembled my hair. I could have made a straight wig to disguise the state of my hair, if only I had a pair of scissors. Instead I gained some epic facial hair – moustache and beard, hubby said I suit a moustache so maybe I will join in the Movember craze and grow one to compete with my pant moustache (ha ha).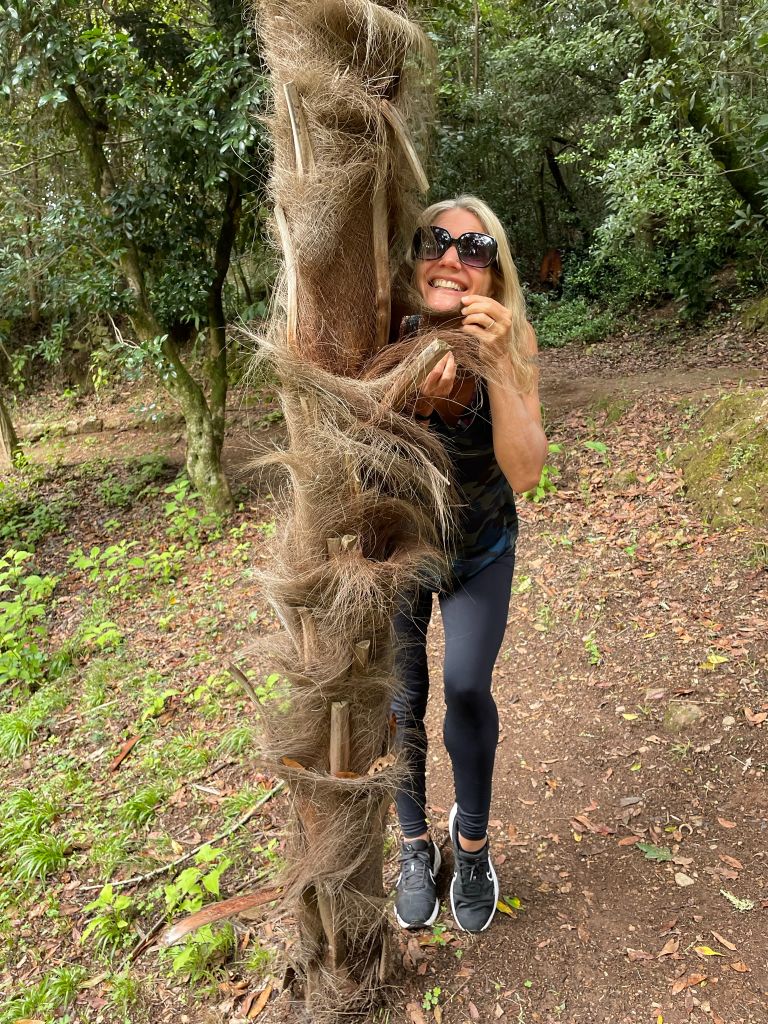 Lago Pequeno (Little Lake)
We made friends with the ducks on the pretty park lake. The highlight of the day was witnessing a kind Portuguese man save 3 ducklings and reunite them with their momma on the lake. I didn't capture any photos but I have an an adorable video of the event on my Casa Valhal Facebook page and Instagram, it's just too cute for words.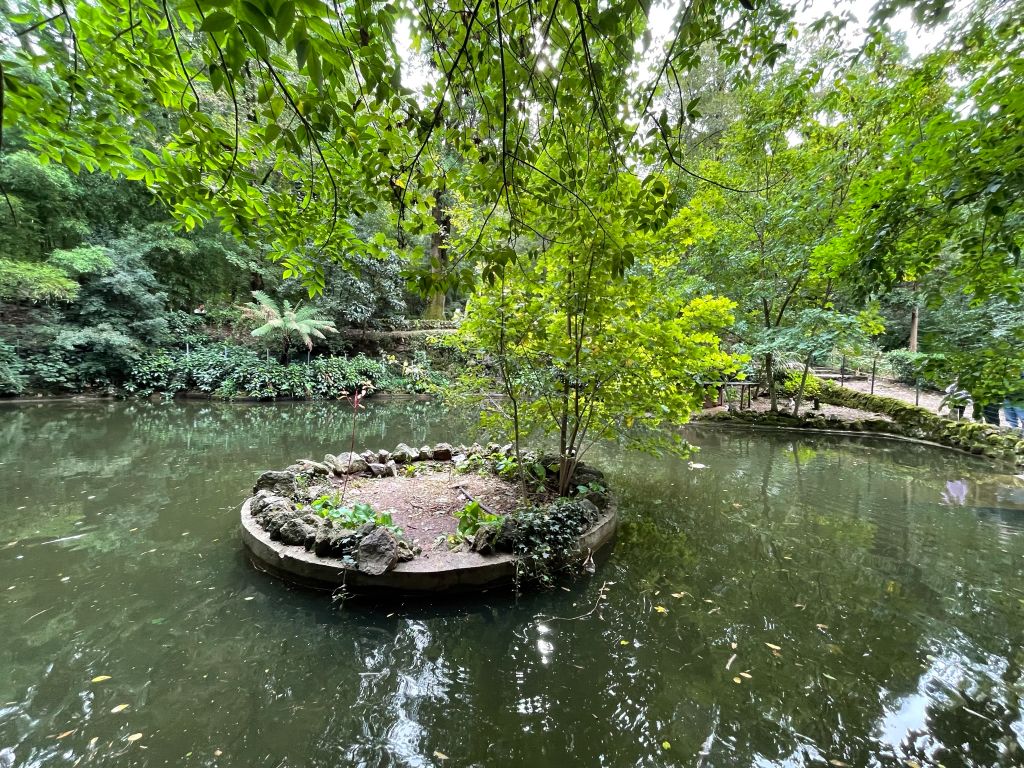 Fonte Fria (Cold Fountain)
One of the main attractions of the forest is the spectacular 17th Century Cold Fountain (Cascading water staircase) which was built in the 1880's and has a whopping 144 steps. It is very picturesque and a lovely lady offered to take our photo at the bottom of the staircase. She actually managed to take a few photos without a single person on the steps in the background which is pretty unusual. I am always amazed that every time I visit this forest there is always one lady wearing white jeans. I always wear hiking attire and get covered in mud from head to toe. I think some people stay at the opulent palace and take a romantic scenic stroll after breakfast unaware of the mud. The lady of the day wore white jeans, high heeled fashion boots and a red cape that Little Red Riding Hood would be jealous of. I am always tempted to run past such immaculate perfection and splash them head to toe with muck but I somehow always resist the temptation (ha ha). I am sure I saw a lady in the same red cape last time I visited. I think red capes are a thing here. I'm not going to join in the fashion craze as I don't do red as I just look like a cheap prostitute (ha ha).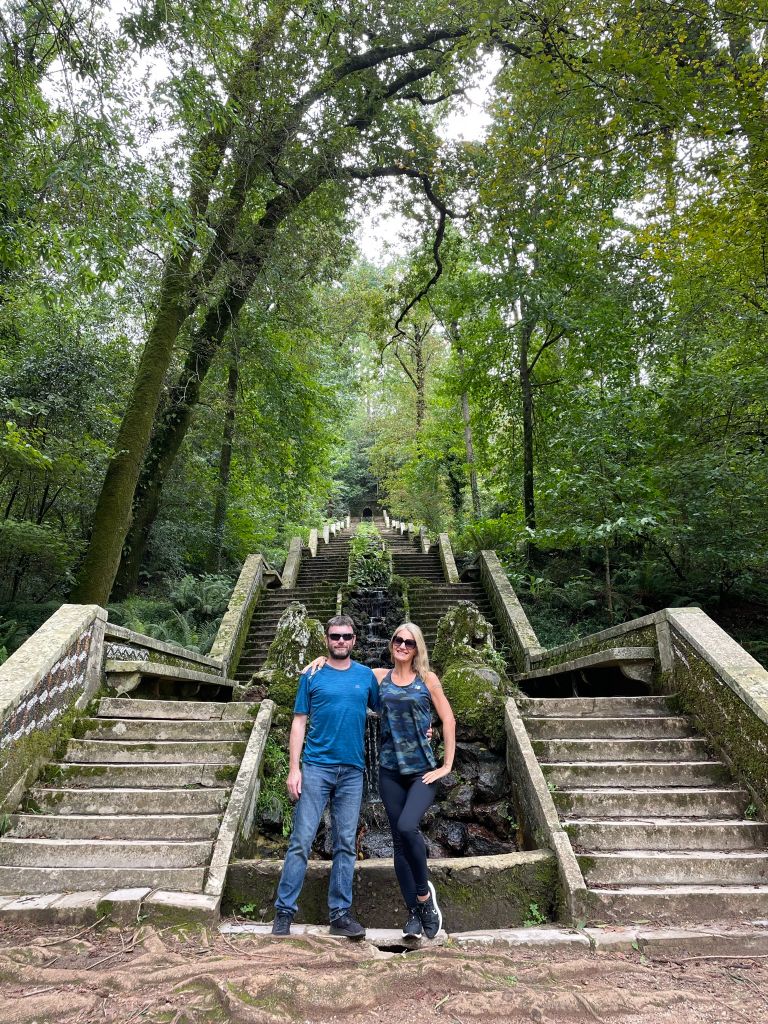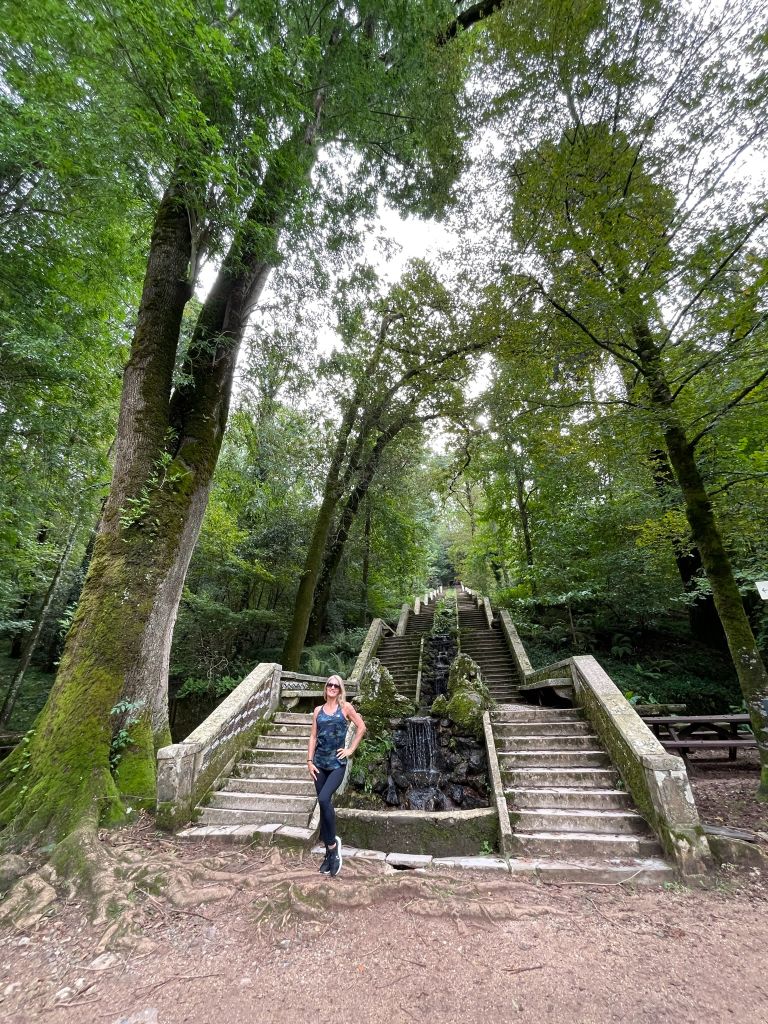 Convento de Santa Cruz do Buçaco (Convent of the Holy Cross)
In 1910, when the Portuguese Monarchy was replaced by the First Portuguese Republic, the Monastery was mostly demolished and converted into a luxury hotel. For a small fee you can view what is left of the interior of this impressive building. I will definitely have to return in the near future because apparently it has a stunning altar, fascinating religious art work, ancient stone floors, cork lined doors and 16th Century blue and yellow tiles.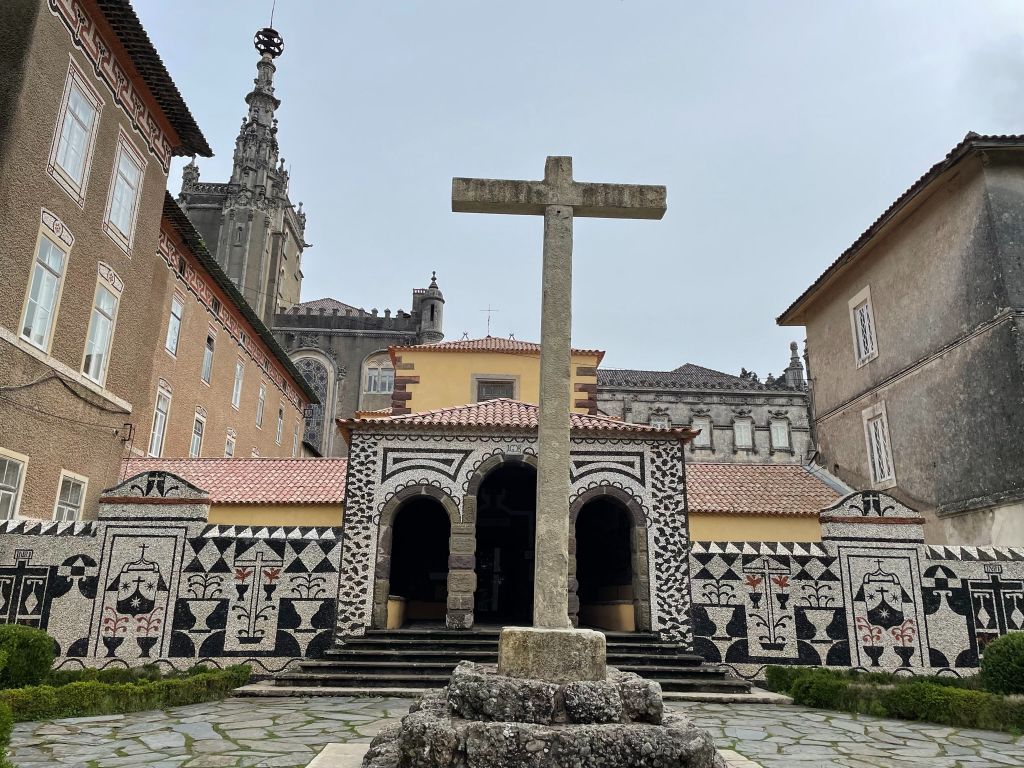 Palacio do Buçaco (Buçaco Palace Hotel)
We had a lot of fun admiring the mesmerising architecture, Portuguese blue and white tiles (azulejos) and picturesque stone arches. The current hotel building, in Neo-Manueline style, is decorated with tile panels, frescoes and paintings portraying the Portuguese Discoveries. I always see a few glamorous pretty ladies in gorgeous flowing dresses swirling and twirling in the palace gardens having their photos taken amongst the rose gardens and box hedges. Then there is crazy ass Helena running around the forest grunting whilst pretending to be a wild boar and jumping for joy in the air whilst pulling strange facial expressions. I spotted a few visitors laughing at my crazy antics (ha ha). I can do palace posh when the occasion is needed. I dressed like a princess on my 2022 Monserrate Palace visit and twirled around until I fell over from dizziness. I just prefer to have fun and be comfy in my leggings and hoodie. The rainy weather held off, we got so lucky as it had rained all week. It always annoys me as there is a car park just opposite the hotel yet people just have to park directly outside partially blocking the view and the opportunity for a decent photo. What can I say, folk are lazy as hell.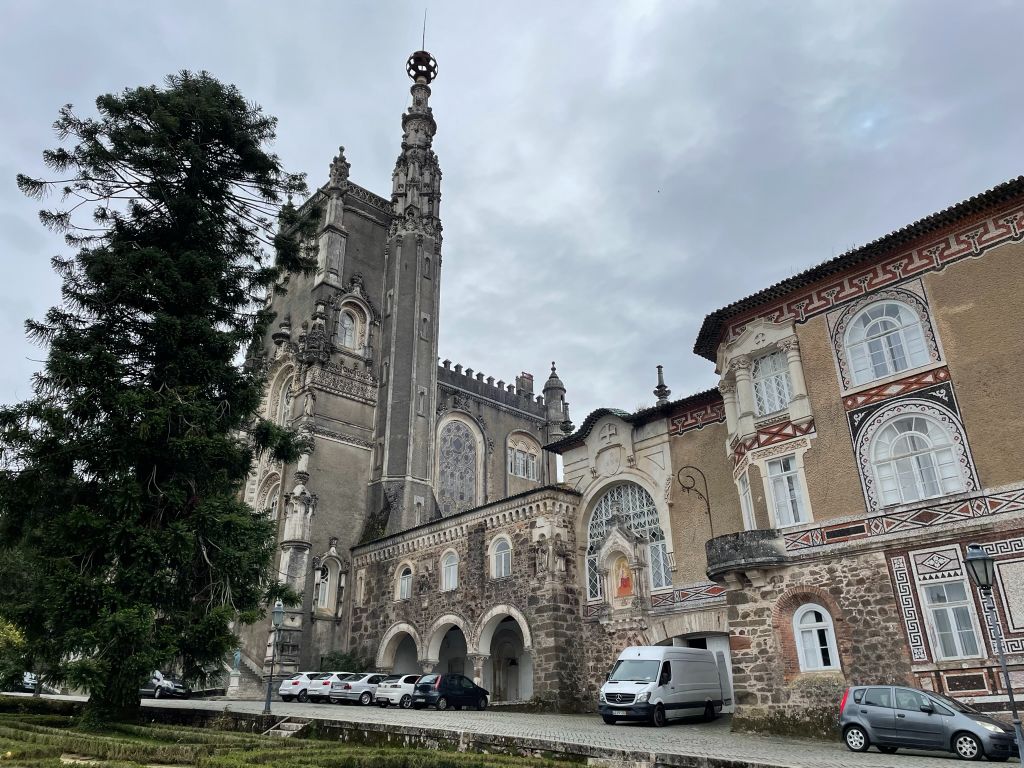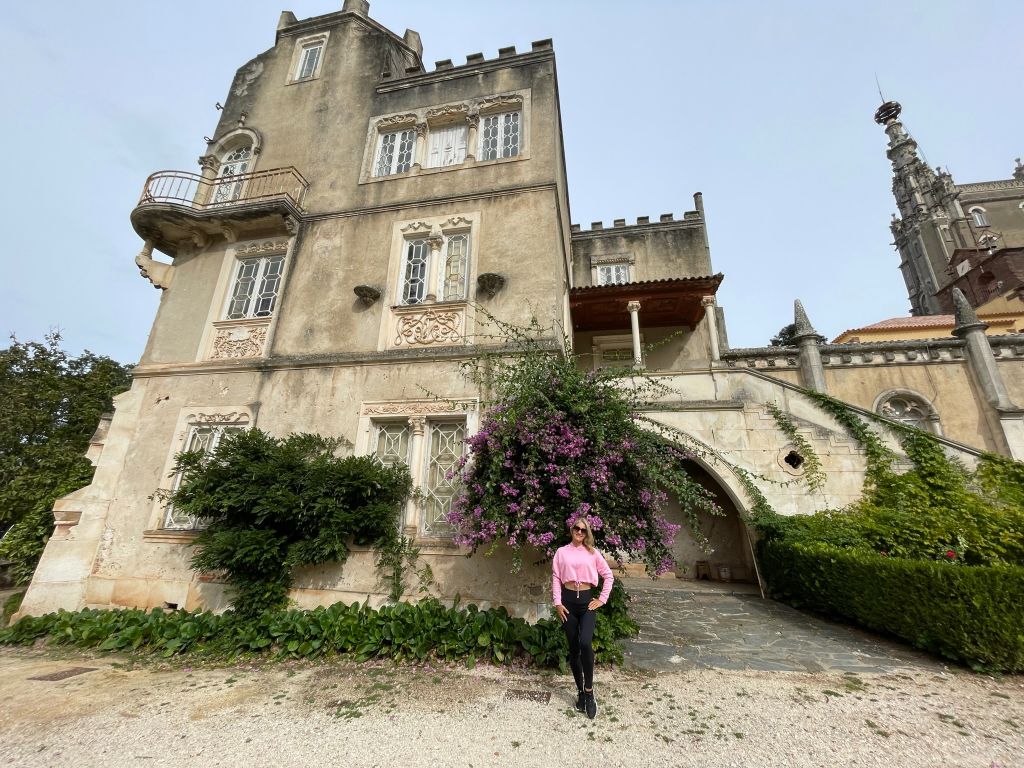 Palace Princess & Prince Selfies
It's so hard to capture a Selfie and not chop off the top of the turrets and spire, hubby tried his best (ha ha).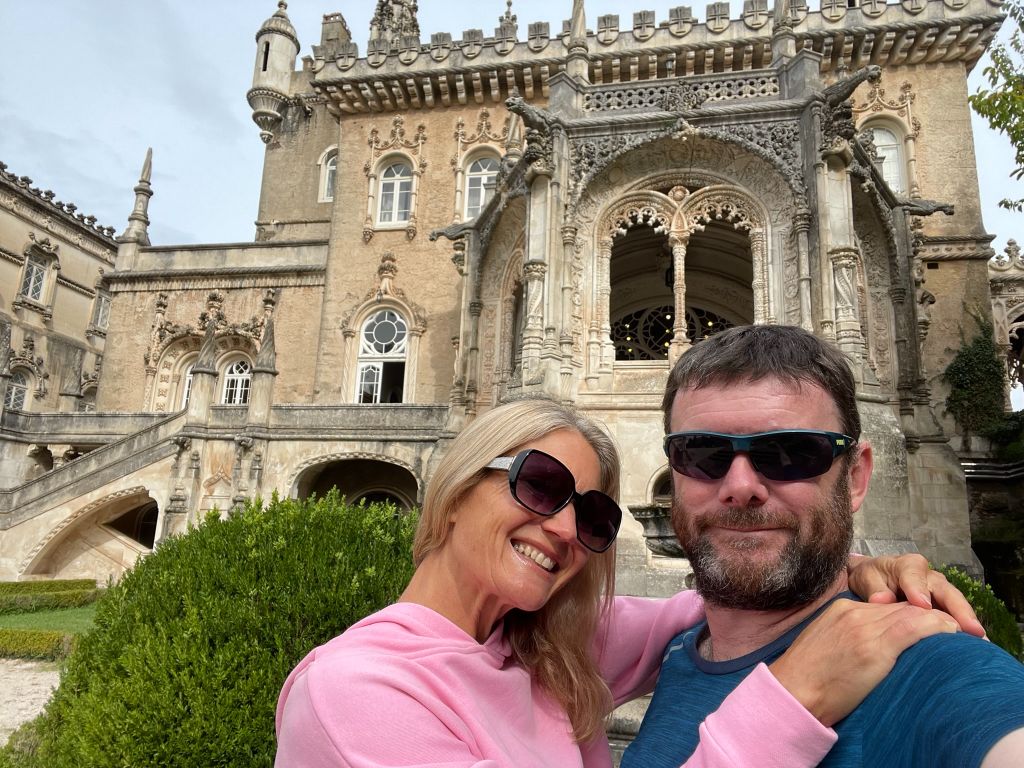 Cafe
I love hubby's facial expression change from 1st photo and last. I don't think he will be drinking alcohol for a while (ha ha). He was struggling with a hangover headache where as I was playing with the snails.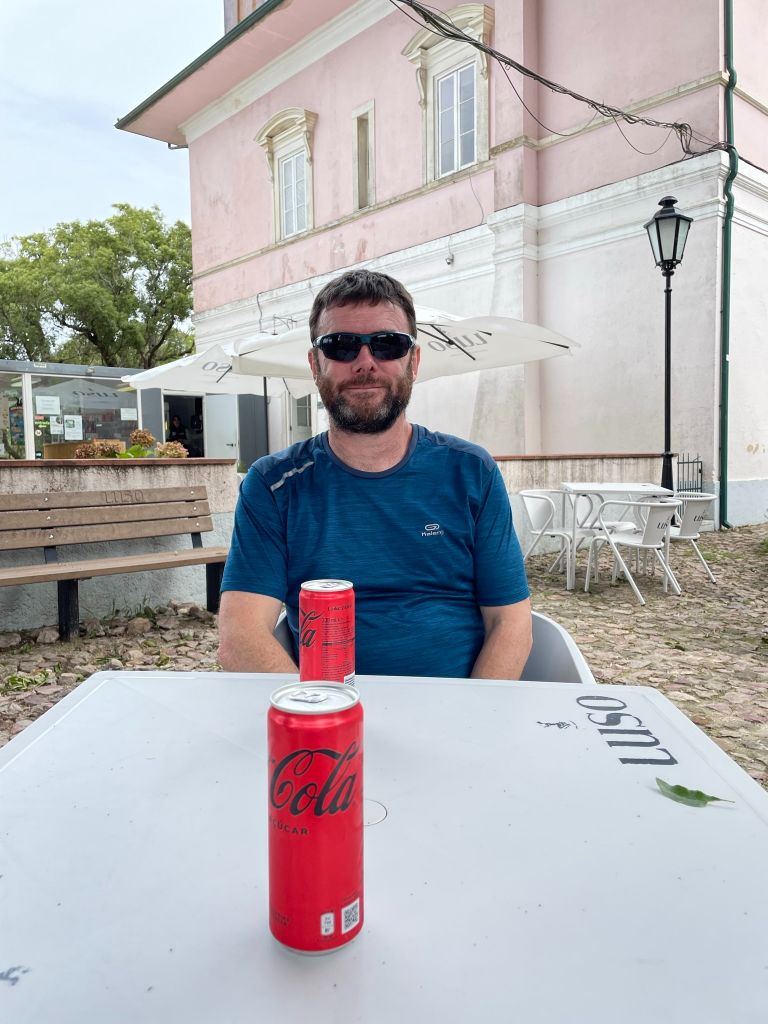 Frame Fun
What a cute quirky new addition. I don't think this picture frame was here last time we visited in 2020. If it was I certainly didn't see it. It is so tricky to try and capture a photo with a person in the frame as well as the whole Palace. You basically have to crouch down on the floor and take the photo at an upwards angle. We tried our best!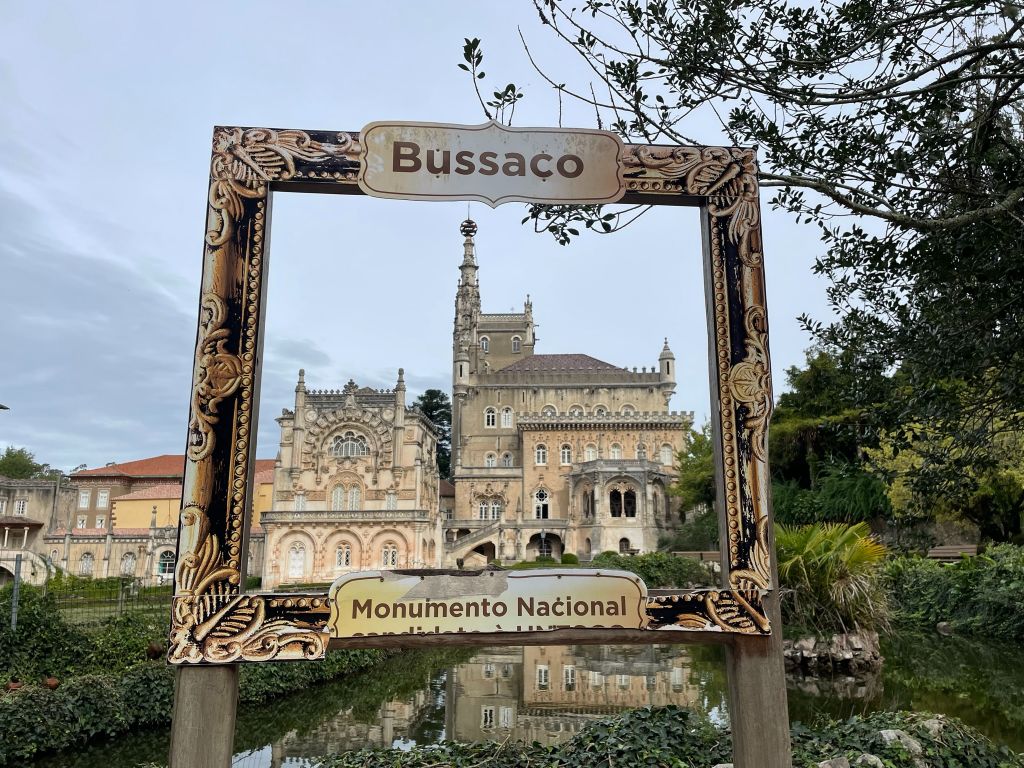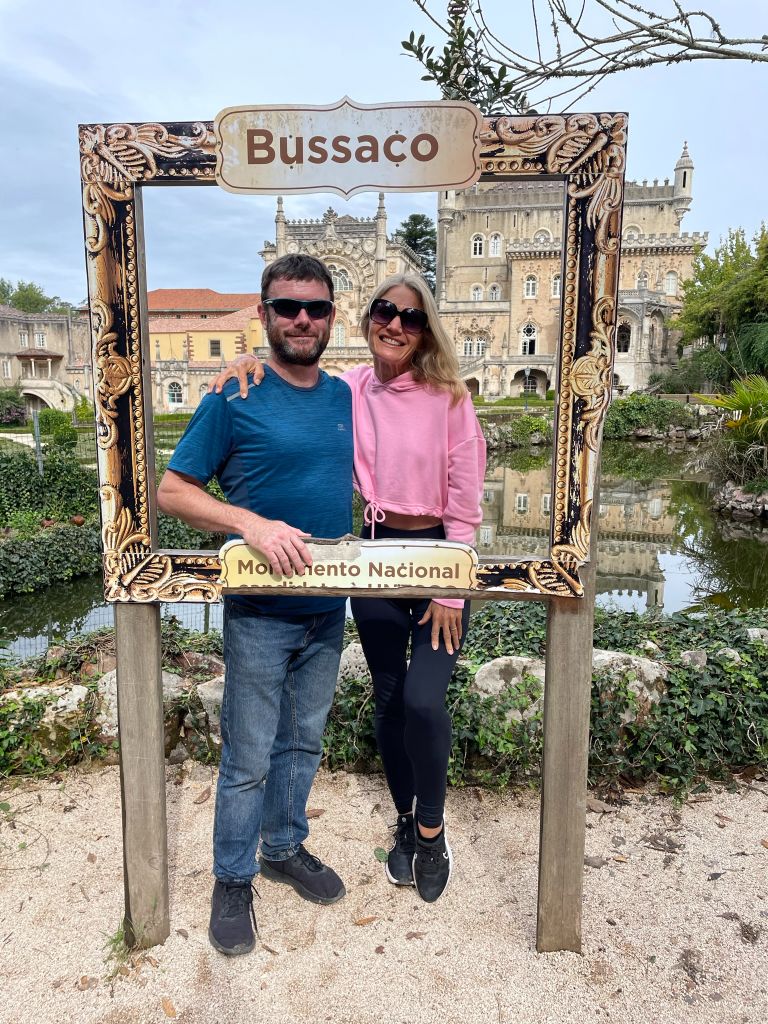 Jumping for Joy (Palace Edition)
It's not easy Jumping for Joy with a raging Helena hangover from hell. I had a trio of attempts before my head hurt and I gave up (ha ha).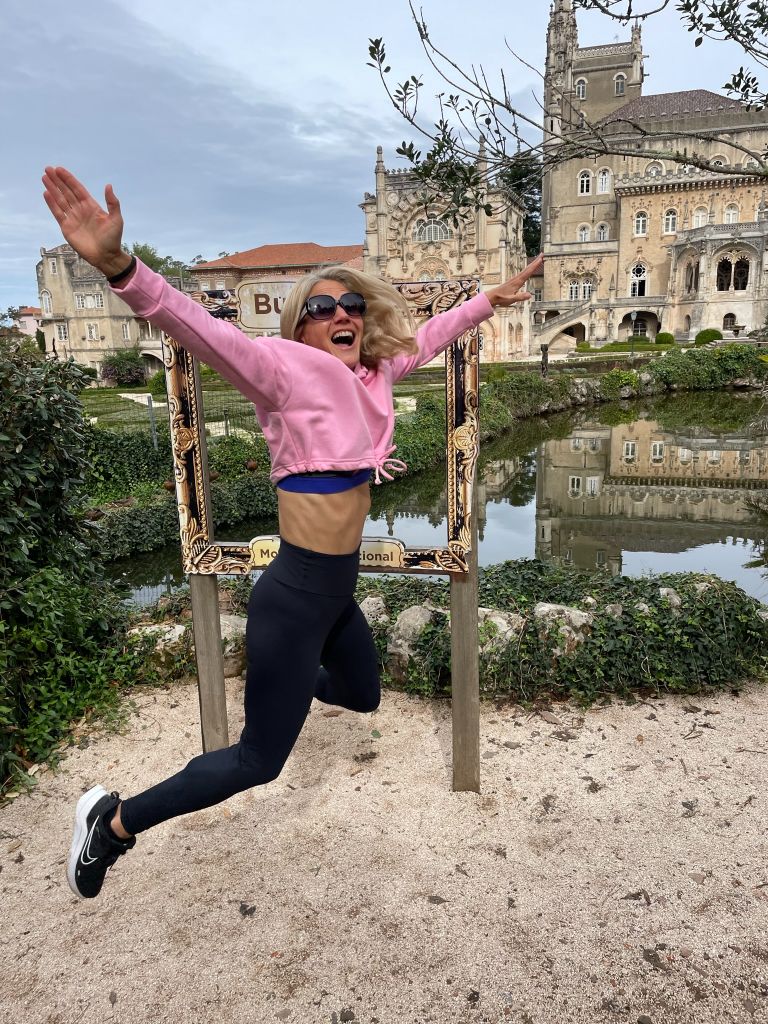 Stop Beating Around the Bush – 2020 Verses 2023
Stop beating around the bush and cease the moment. 2020 Verses 2023 Same bush, same crazy lady, 3 years apart, 3 stone lighter and 3 dress sizes smaller!
The most amazing thing is not the reduced numbers on a scale as it took me just 4 short months to shed the excess weight. It's all about fitness, well-being and how I feel. Fitness is not a fast journey with instant results. I've worked my ass off literally for 3 years to become healthy, strong and fit for my age. I was dreading hiking up to the High Cross because last time I struggled massively and was in so much pain and it took so long as I had to keep stopping to catch my breath. The highest point in Serra do Buçaco is 547 meters high in altitude which is super hard to climb when your unfit. Fast forward to 2023 and I practically ran up the forest incline and with a raging hangover too. Hard work, commitment and a regular yet boring routine gets results and I'm Jumping for Joy in my heart and physically in the air because I can. I finally feel free to enjoy my life and have fun with hubby making special memories to last a lifetime.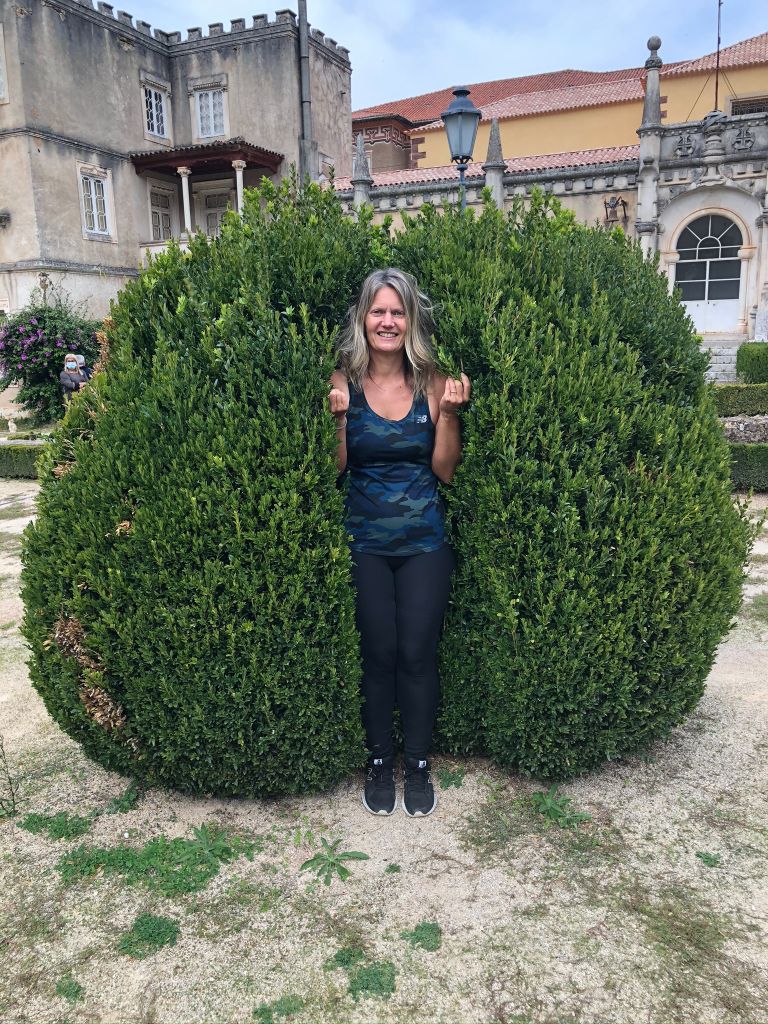 Brian the Snail 2020 Verses 2023
I was going to recreate my snail photo from 3 years ago but the snails have disappeared which made me sad. I did find a couple of smaller snails near the cafe. My mum was a huge Magic Roundabout fan and if I were born male she was going to call me Brian after the character Brian the snail (ha ha). I think I got lucky with Helen as I could have been called Ermintrude the cow (ha ha). Smaller snail and smaller Helena.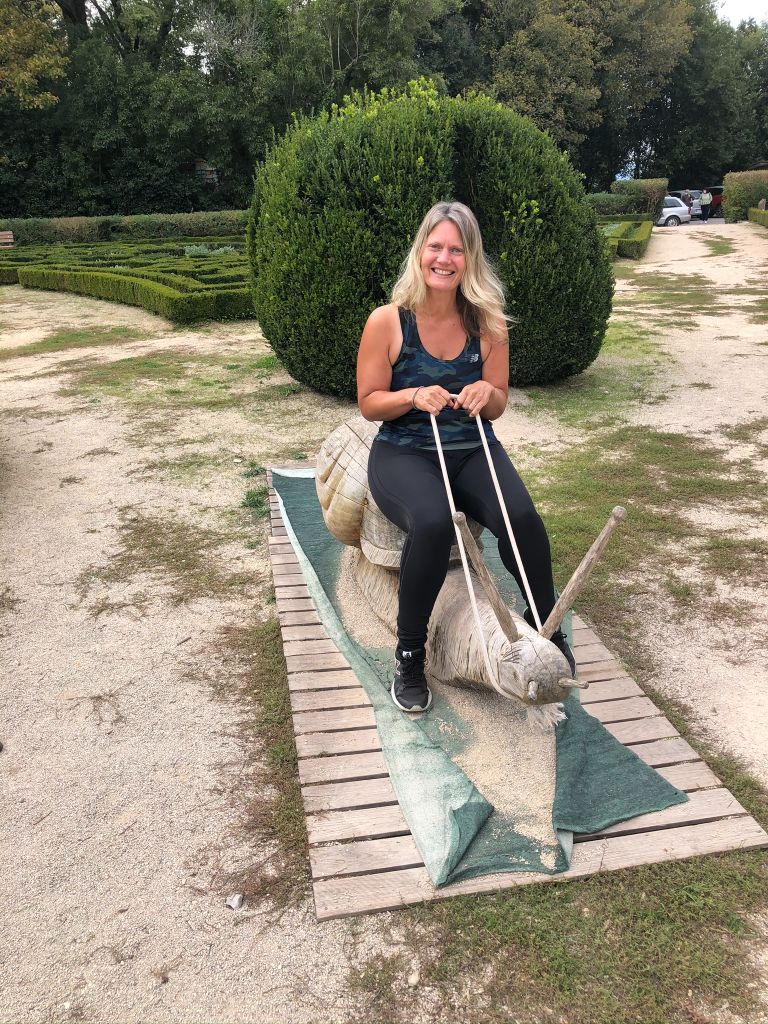 Cold Fountain 2020 Verses 2021 Verses 2023
Same top in 2020 & 2023 but different fit! Hubby said I shouldn't wear camouflage as if I get lost in the forest he might not find me and save me as I will blend in with the green foliage (ha ha). What a difference a year makes.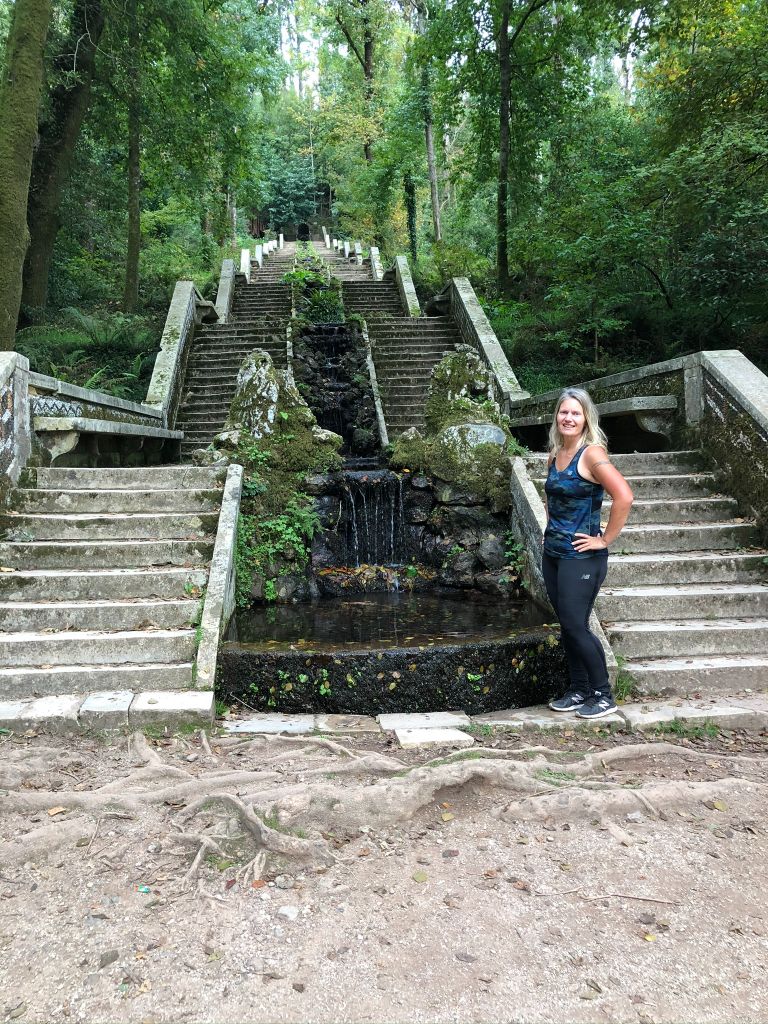 Trilho Via Sacra (Trail of the Sacred/The Way of The Cross)
There are many different trails to explore. We hiked up the steep and winding path to the High Cross along the Trilho Via Sacra (Trail of the Sacred). You will discover The Way of The Cross which is made up of twenty little religious shrines (stations) dotted along a trail deep within the forest. They correspond to the steps of the Prison and the steps of the Passion of Christ, and the only real replica of the one in Jerusalem. They tell the story of the crucifixion. The length of the path and distances between the chapels were carefully measured to depict Christ's journey. It was opened on the initiative of Manuel Saldanha, rector of the University of Coimbra. Initially in 1644 the stations were represented by a simple wooden cross and only later, in 1694 and 1695, were these rudimentary stations replaced by chapels, this time by order of D. João de Melo, Bishop Count of Coimbra.
The steps were represented by paintings, later by figures of very low quality, and it was only at the end of the 19th Century that it was thought about reviving the Via Sacra with perfect figures, having been commissioned by Rafael Bordalo Pinheiro. However, the artist's sculptural groups were never installed in Bussaco and the images that illustrate the steps of the Via Sacra today are from 1938, by the sculptor Costa Mota. They are life-sized figures made of terracotta clay. Last time we visited we completed this 3 km trail and was surprised to see quite a few of the life size figures broken with missing body parts which is such a shame. Today a lot of the windows had condensation on them so we could not see inside all of them. The ones we viewed are still in disrepair and have deteriorated further which is very sad to see.
Porta de Siloé (Silo Door) & Forest Trail
The forest has many different picturesque Gates. If you have a passion for Military history, there is a Military Museum just outside of the Portas da Rainha (Queen's Gates).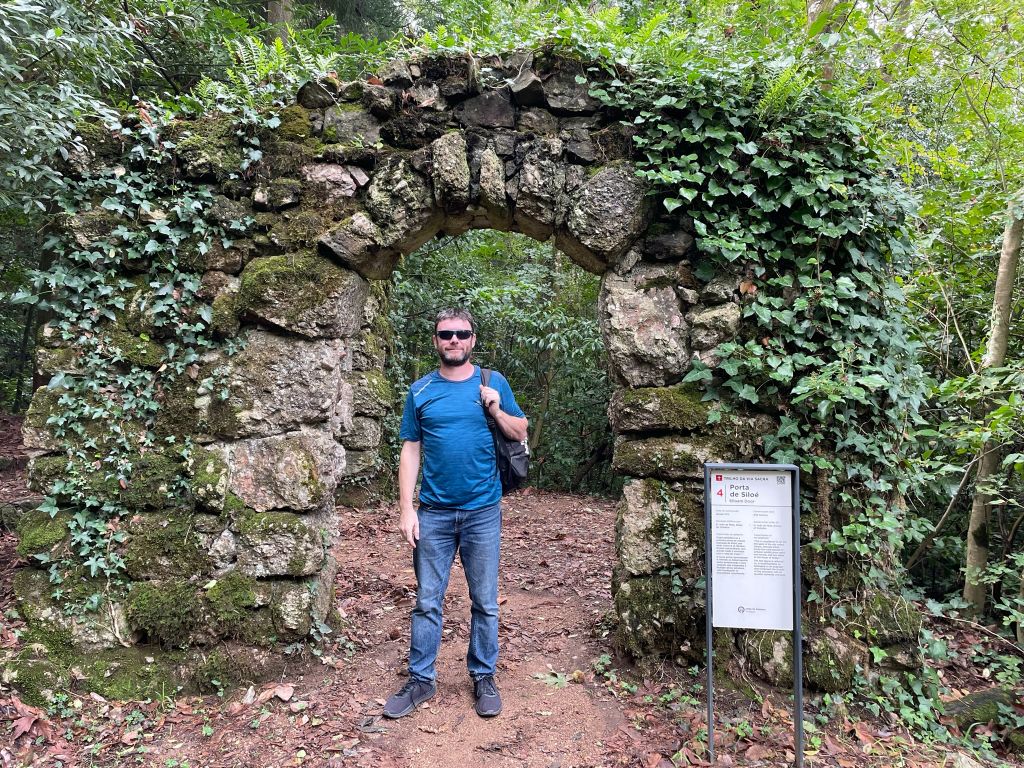 Cruz Alta (High Cross)
We took the steep climb up to the High Cross viewpoint to admire the sweeping panoramic views. You can see Serra da Estrela, the Mondego River and on a good day you can even capture a glimpse of the Atlantic Ocean. This is the highest peak in the Serra do Buçaco (547 metres) in altitude.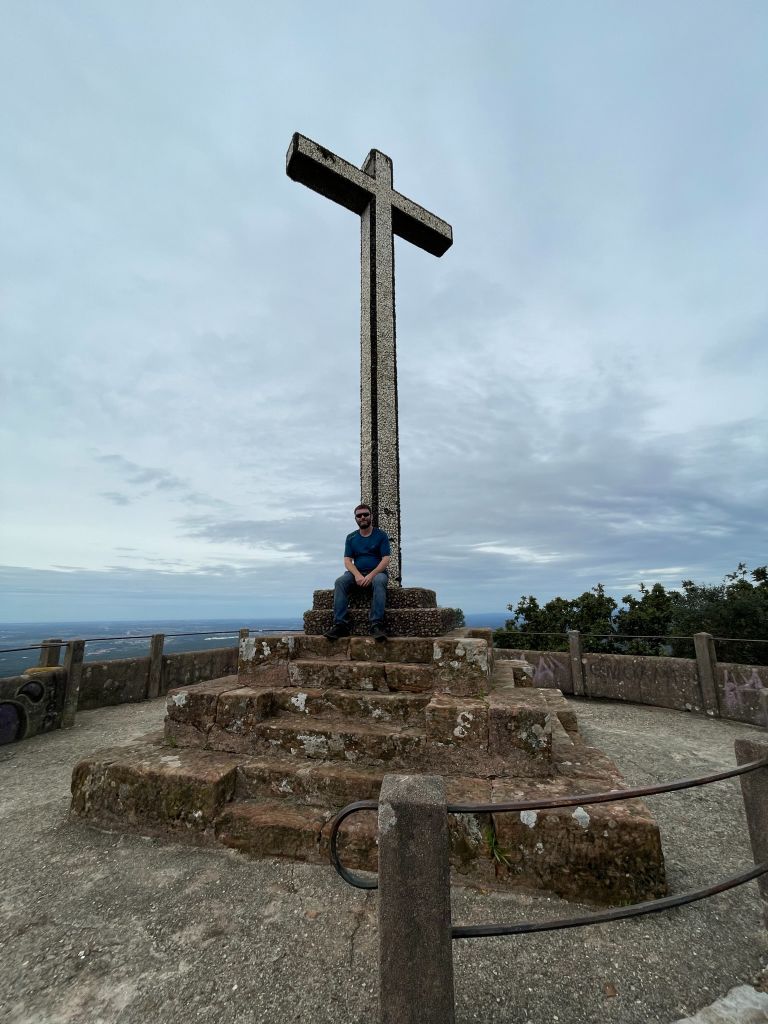 Ermida do Sepilcro e Cruz (Hermitage of the Tomb and Cross)
I love this little hermitage and we spotted the Grande Hotel Luso far in the distance from the top! It's quite eerie that it is a tomb below!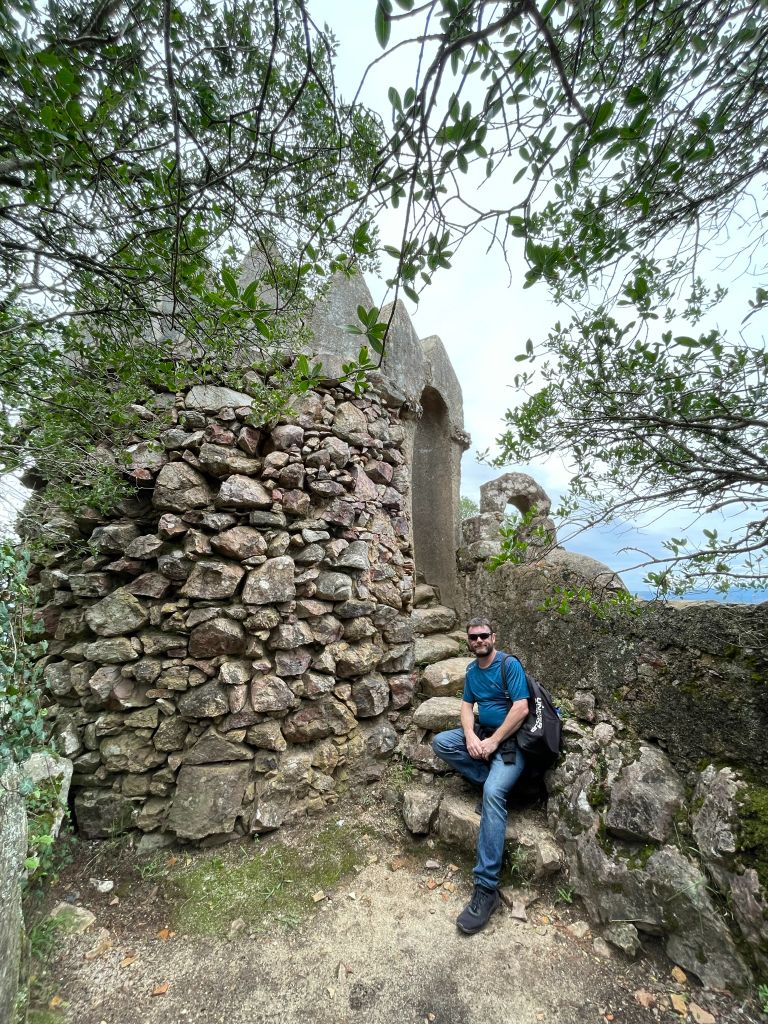 Hermitage Helena & Hubby Selfies
He's got that one pose going on again (ha ha).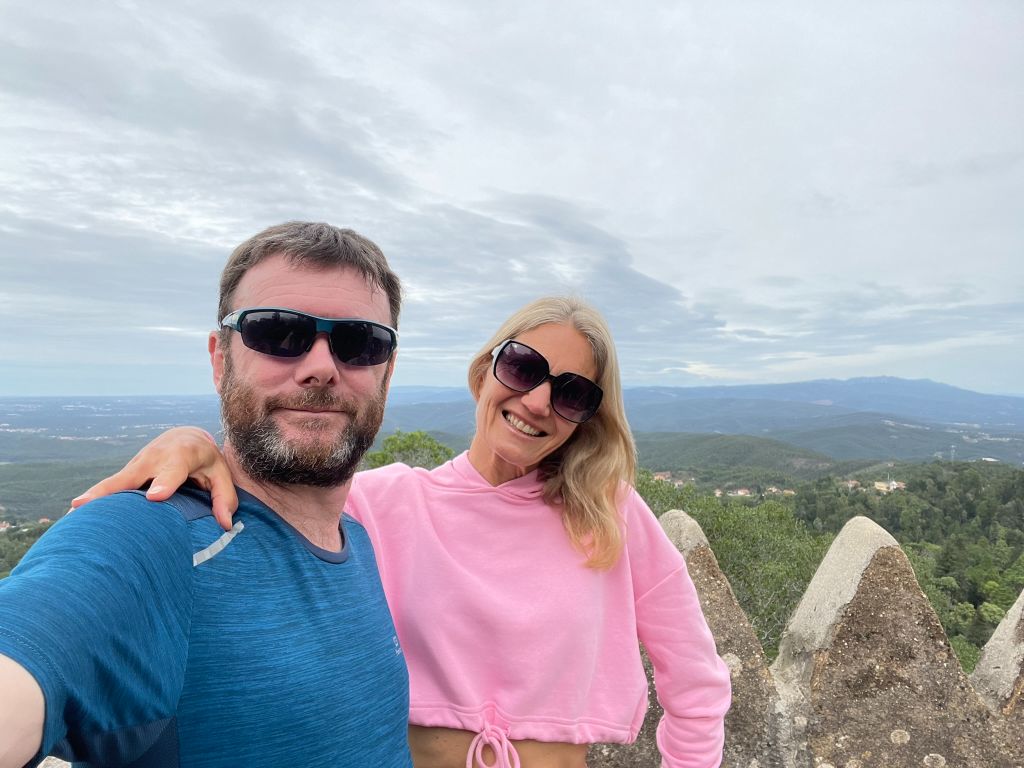 Capela de Santo Antao (Chapel of Saint Anthony the Great)
My Saint Adriano the Great posing on his 50th Birthday outside of Saint Anthony the Great. Hubby is great because he tolerates me (ha ha).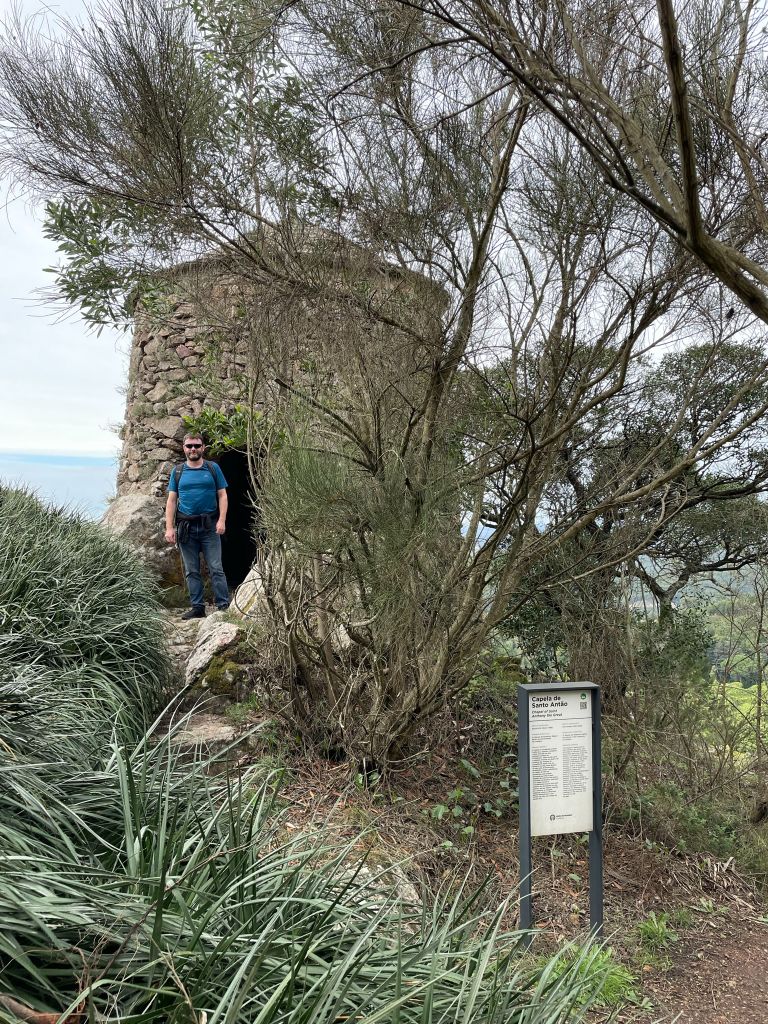 Portas de Coimbra (Gates of Coimbra)
We enjoyed a yummy picnic lunch with leftover birthday cake at the Coimbra Gates which offers a glorious view of the forest and over Serra do Buçaco. There are 2 stone tablets from 1622 and 1643. One states that women are not allowed inside and the other states that anyone who harms the trees and flora, will be ex-communicated! Despite the fact that you can drive up to the Gates, we didn't see another soul the whole time we were here.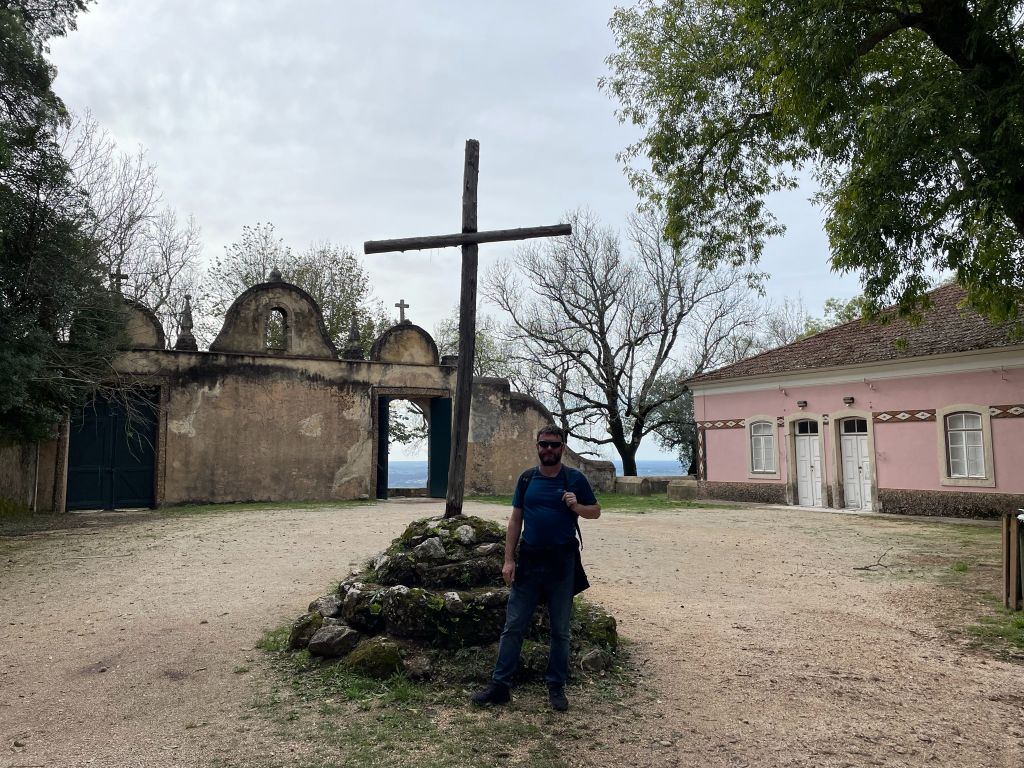 My Pretty Little Petal
Live life in full bloom and let your dreams blossom.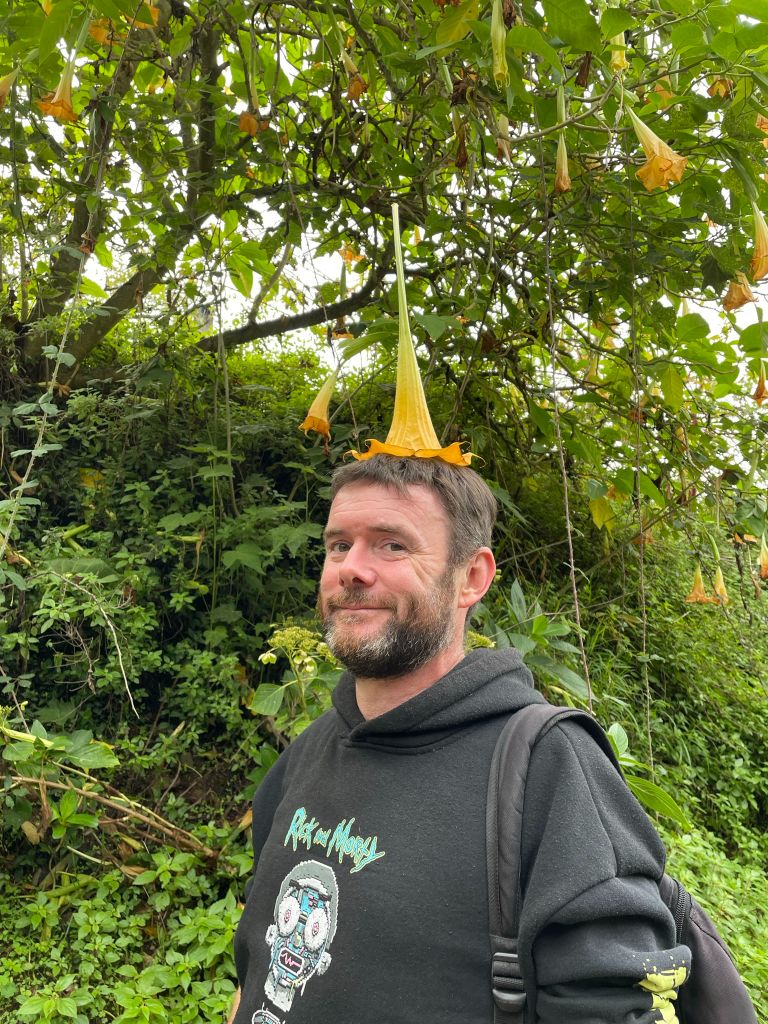 Abandoned Theatre
There is an ancient abandoned movie theatre near the start of the steps and trail which leads you up to the forest. It would be so great if this retro theatre could be restored to its former glory. It would be sad to see it crumble to ruins.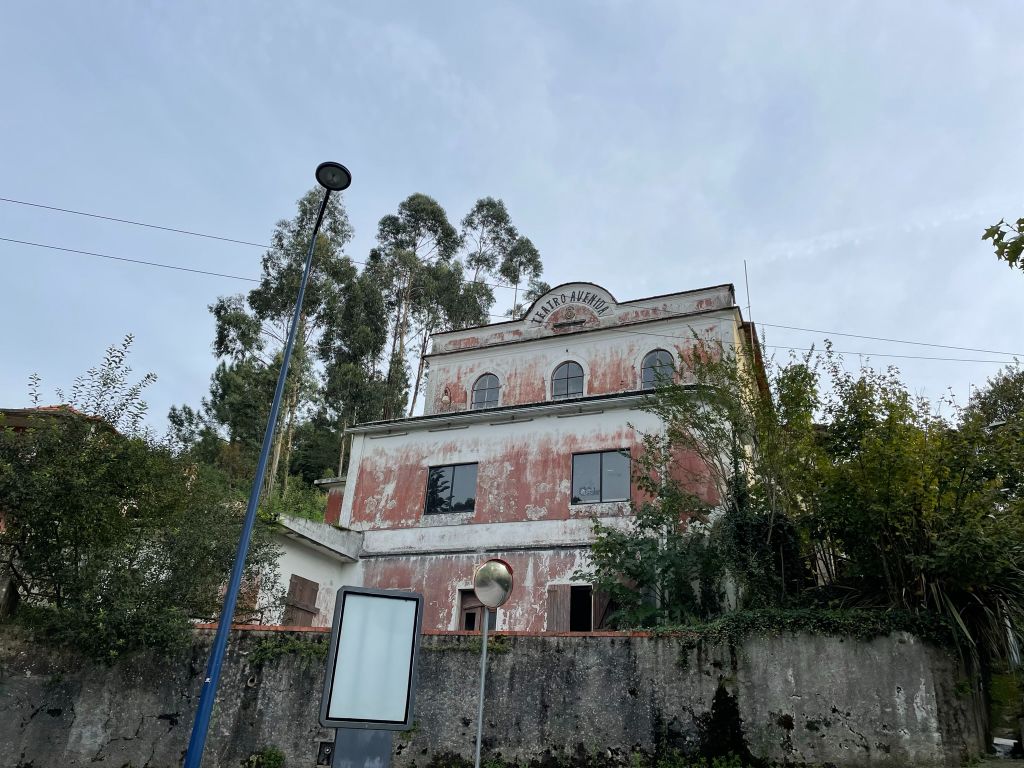 Guitar Gift
Hubby treated himself to a sparkly new electric Guitar for his birthday. He received it a while ago now. It is so gorgeous and a sensational Peacock Blue colour.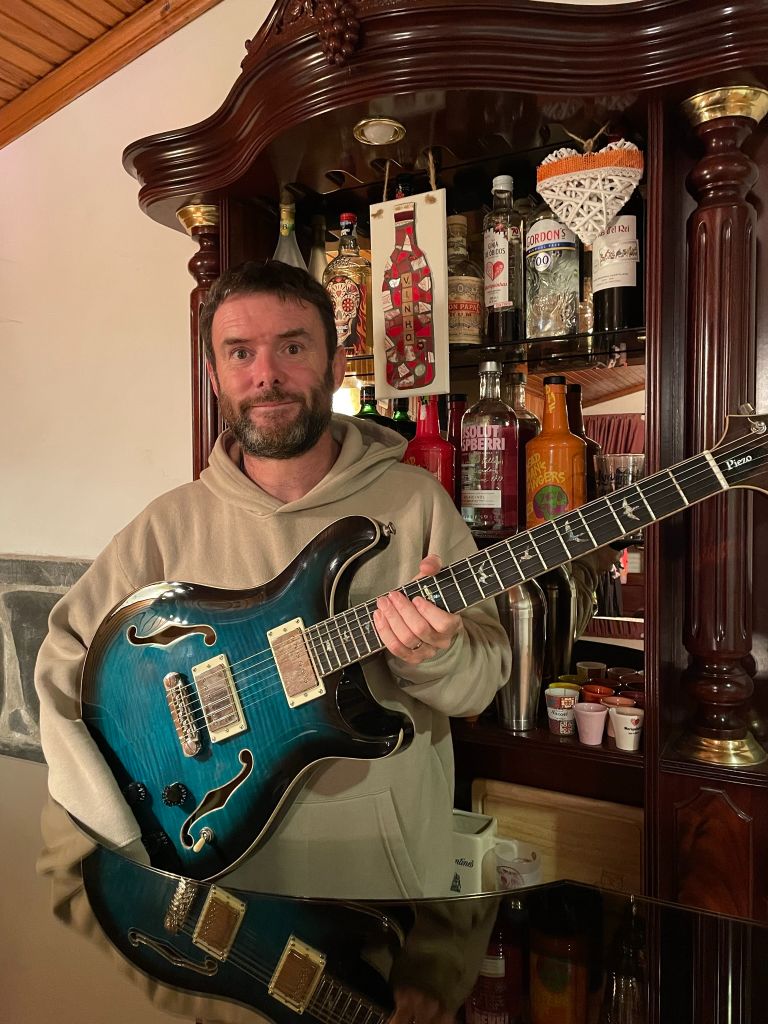 Rock Chick Helena
I even had a go playing it whilst he was away in the UK! My dress matches the guitar, I do love to colour coordinate with things (ha ha). Hubby is going to teach me how to play the guitar. I am beyond excited! Neighbours beware (ha ha).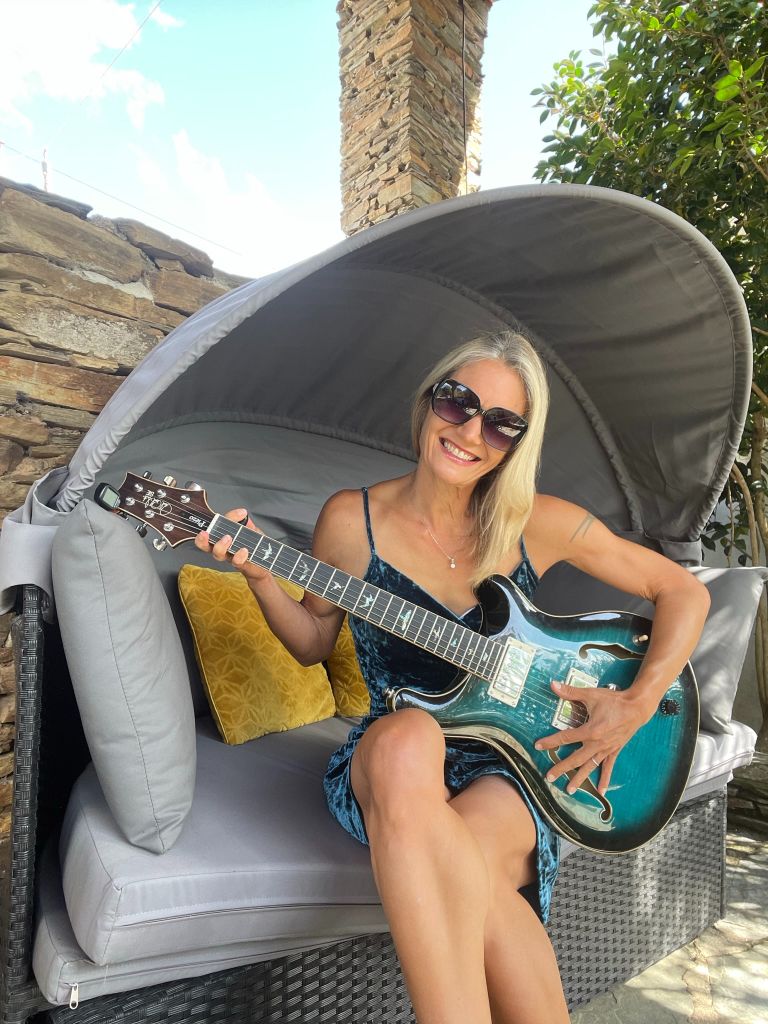 He's a Winner
Wow! Hubby entered a competition and won an expensive new Fender custom Stratocaster guitar and it was delivered the day after his birthday. I love the vintage design. What an amazing belated birthday surprise gift.
He seems to be having a streak of good luck and fortune at the moment. I on the other hand don't seem to have inherited hubby's lucky streak. In one single day he won quite a substantial amount of money, won a new guitar and found a €10 note stuffed down the back seat of our car whilst cleaning it out. On the same day in question I spilled my morning bed coffee on my white duvet cover and burnt myself, I encountered a running accident and face planted the floor nearly breaking my arm and the icing on the cake: I pooped my IBS pants with the shock of the moment, shit happens my friends (ha ha).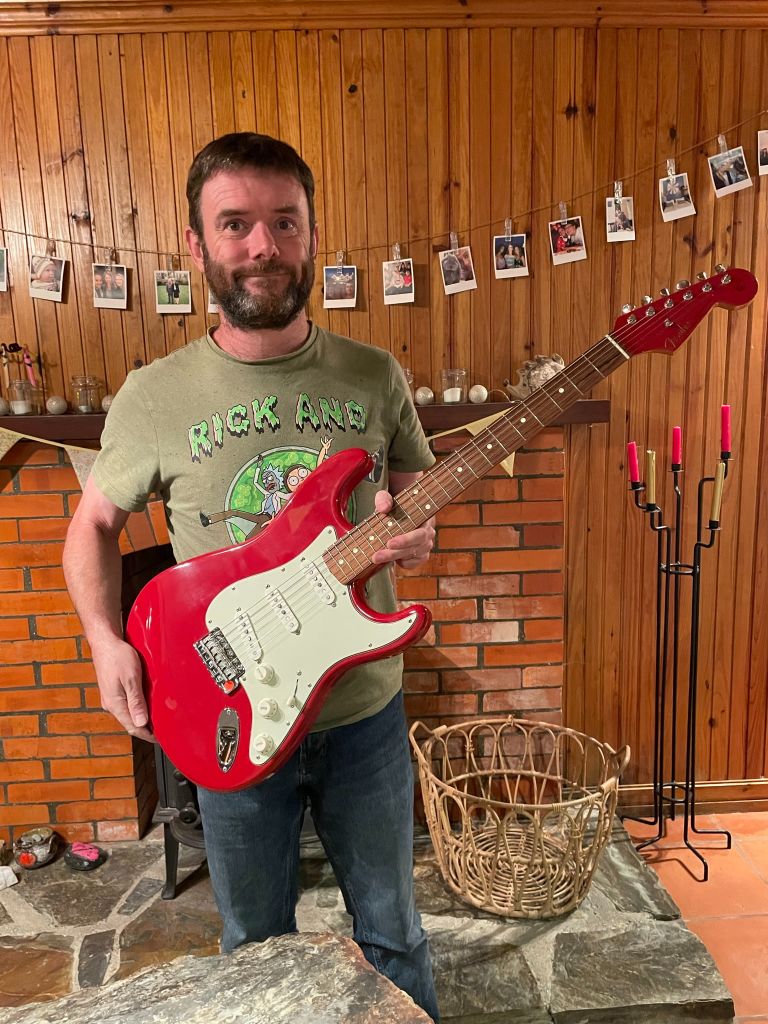 Red Hot Devil Rock Chick
For Halloween I dressed up as a horney red devil (ha ha). I think I am more Menopausal red hot than Sexy red hot but hot is hot, right? (ha ha). As I was wearing red I thought I would take the opportunity to colour coordinate with hubby's new guitar because why not! There may or may not have been some Burning Devil Tequila involved (ha ha). How beautiful is the sky for 31st October? A refreshing sunny day and break from the constant rain. Milo, Michonne, Rick and Negan look adorable in their Halloween hats.