A PRE CHRISTMAS 2021 TRIP TO ÁGUEDA (UMBRELLA SKY PROJECT)
I had originally planned to visit Águeda on Christmas Eve but the weather forecast for the Christmas week is rain so I decided to bring our city trip forward and visit on a glorious sunny day in mid December. Águeda is a city located in the Aveiro district. It is a 1 hr 15 min journey from our casa and around 80 km each way by car. Águeda is famous for its Umbrella Sky Project which started in 2012. I was super excited to view the floating umbrellas in the sky bursting with colour. The theme changes throughout the year and at Christmas time you also get to view the World's biggest Santa (Guinness book of records!) as well as the smallest Santa. The most iconic point to view the umbrellas is: Rua Luís de Camões, but there are several umbrellas in other adjacent streets so what are you waiting for, go and explore to your hearts content.
Perfect Presépio – Off the Scale!
En route to Águeda we passed by an amazing Presépio. You may know by now I'm a little obsessed with nativity scenes. Takes me back to my childhood and attending church and watching the nativity plays at my local church which often had a real life donkey who never ceased to make us all laugh by pooping on the altar. I think I've mentioned before that sometimes the figures and statues in the displays can be well off scale. Sometimes baby Jesus is giant sized and bigger than the livestock. This one made me laugh in a good way. Joseph was so gigantic and I had to stop to take a photo then decided I needed to be in the photo to show just how big Joseph is. Then I had to take a video too obviously. I am 5 ft 4 by the way! LOVE it sooooooo much and the donkey is hilarious too and appears to be wearing red lipstick (ha ha). There was music playing and birds chirping, it was certainly special indeed.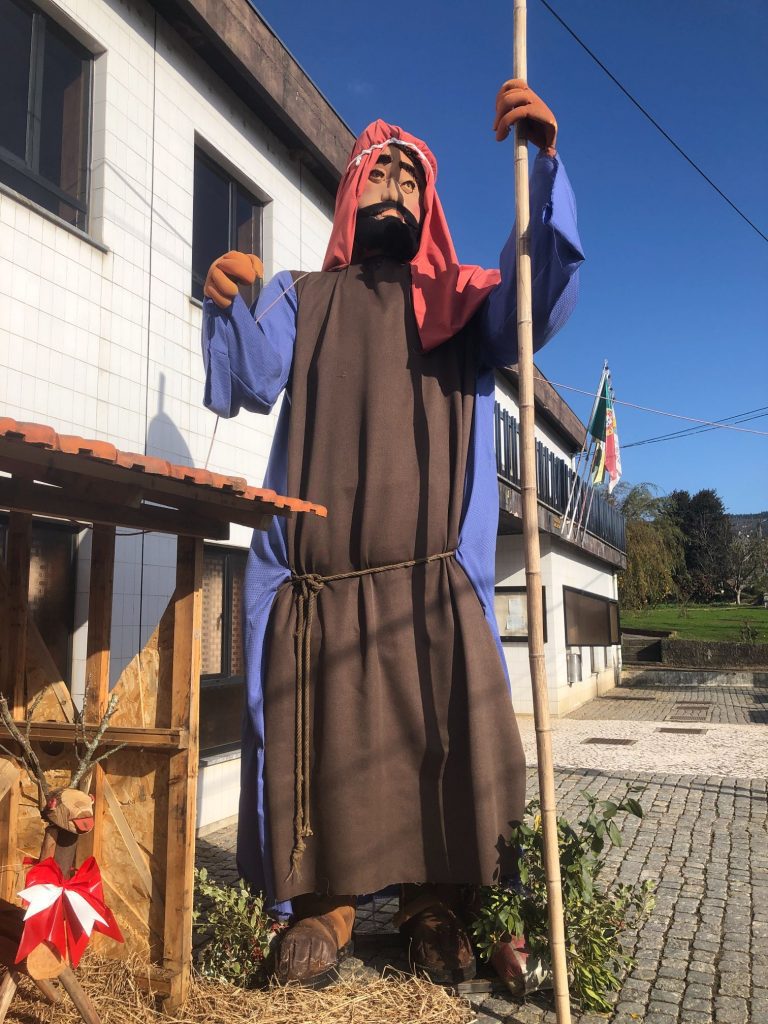 Art & Culture – AgitÁgueda 22nd-24th July 2022
Annually, Águeda is projected to the world through the Festival AgitÁgueda – Art festival, the event that gives colour to the entire city and to what is considered one of the "most beautiful streets in the world". Hundreds of national and international artists attend this event. In addition to music, the entire city becomes the stage for AgitÁgueda and the streets are full of colour and animation with bodypainting performances, an exhibition of Living Statues and other activities such as Carnaval Fora D'Horas and Colour Day.
Urban Street Art Tour
If you are a fan of art and culture then you must embark on the Open air gallery/Urban street art tour where you can see over 30 paintings and artistic installations from a dozen national and international artists including the award winning work of the artist Millo and the national artist Bordalo II. You can also visit several museums, foundations, interpretive centers and monuments of artistic, cultural, traditional and religious interest. At the religious level, the Municipality is also included in the Routes of the Paths of Fátima and Santiago de Compostela. I am from Bristol, U.K which is the hometown of artist Banksy so I adore street art. I was in my element exploring every corner stumbling across fabulous artwork. Apparently there is an App you can download but it wouldn't work for me. I did manage to find an amazing map with 33 attractions to view so we printed it off (old school) and followed this map route:
https://www.agitagueda.com/wp-content/uploads/2019/07/EN_ROTEIRO-2019-2.pdf
My Firm Favourite – Pisco by Bordalo II
I LOVE the artist Bordalo II, especially the Half Rabbit in Vila Nova de Gaia so I was very happy to view the Pisco.
Andorinhas da Saudade by Impactplan
Another favourite of mine is on São Bento street: Andorinhas da Saudade – Several colored Swallows strategically placed on the facades of the houses, buildings and reaching high up in the sky. The houses are so quaint and wonderful with traditional Portuguese tiles.
La Salvación by SAV45
I also fell in love with this street art. I stood still for so long admiring the pure raw beauty.
Spectacular Staircases
I LOVE Lucky cats and have a huge collection back in Bristol so I was gutted to learn that the mural of Maneki-Neko (Lucky Cat) on the famous steps have been transformed into a Christmas theme. The penguins are epic but I adore lucky cats. The Feliz Natal polar bear steps were my favourite ones.
Feliz Natal
Merry Christmas – These were my favourite steps. I had my very own little catwalk fashion show walking up and down them (ha ha). I think these steps used to have a mural of Japanese cherry blossoms.
Local Foods
I LOVE that each region in Portugal is famous for certain foods. In Águeda you can eat a special type of goat or mutton stew cooked in a clay pot called "Lampatana" and who can't resist the famous "Leitão à Bairrada" roast suckling pig, often served with wedges of orange. If you fancy a sweet treat then try the Pastel de Águeda (Pastry from Águeda), a typical handmade sweet made with wheat flour, eggs, sugar and almonds, who can resist? We ate ours in the park. I really liked the almonds as I'm nutty about nuts (ha ha).
Festive Swinging
I really enjoy viewing all the beautiful churches in Portugal and although due to our time we had discussed just sticking to our agenda of Umbrella Sky Project and Urban Street Art and not to stop at every monument and religious building I could not help myself when I saw a stunning church out of the corner of my eye. We walked up to the church for a closer look and stumbled across a swing so obviously I had to have a go. I underestimated the weather and wore 80 denier tights, boots and a leather jacket. I got really hot in the Portuguese sun but I knew the evening would be chilly. I had a hat and scarf in hubby's backpack as I am like a girl scout and always prepared for every eventuality that might arise (ha ha). I'm squinting in the sunlight, wish I had packed my sunglasses (ha ha).
Águeda by Day
I had the time of my life wandering around the cobbled street of the city exploring all the urban street art work. The map was a great help as I don't think we would have seen nearly as many wonderful works of art if we didn't have such a great guide as some are tucked away and hidden like treasure. I thought the Umbrella Sky Project looked so incredible against the bright blue sky then I saw all the glory by night and was blown away by the captivating shimmering grandeur.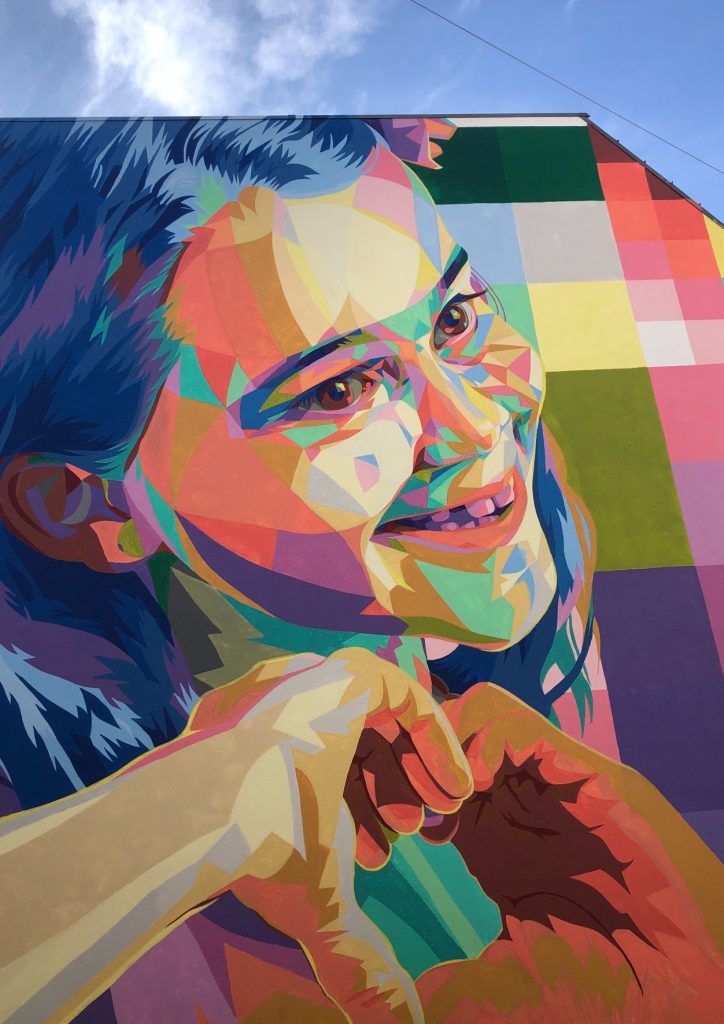 Lush Lunch
I initially thought it would be a great idea to buy a takeaway pizza and go and eat it in the park but then I realised that it was 16:00 and by the time we get to the park it may be too cold and dark so we decided to make a pit stop at a local cafe. I wasn't too hungry otherwise I would have sampled the famous regional suckling pig. We both enjoyed a tasty huge Cachorro then purchased 2 Pasteis de Águeda from the pastelaria next door to eat in the park. Nevermind the Worlds biggest Santa I think this is Portugals biggest cachorro! I consumed 2 espresso coffees so I was buzzing much to hubby's delight (ha ha).
Parque de Alta Vila
How amazing is this park! This leisure and recreation space was built at the end of the 19th century by its owner at the time, Dr Eduardo Caldeira. The architecture has both romantic and medieval inspirations mixed in a revivalist architectural style. WOW we had a lovely walk around the park grounds, it really is stunning with a densely wooded area and other landscaped areas. It has huge palm trees, a hunting lodge, guards house, chalet of stone, a bandstand, various ruins and chapels, greenhouse, wishing well, pretty lakes, little caves and fairytale bridges. Hubby made me laugh as he was carrying a little white box with our Portuguese pastries inside and I could tell that he just wanted to sit down and eat them but I kept on finding cute little attractions in the park to view. We found a lovely bandstand but the seating area was wet so I located a tranquil bench to enjoy our tasty treats.
There was no one else in the park except us and one bloke jogging around and around in circles. He had such a bad running technique with his arms and legs flailing in all directions (a bit like Phoebe from Friends T.V show if you've ever seen the episode you will know what I mean). He passed us the first time and I decided to take the piss out of him and copy him but unfortunately I didn't realise that he was doing mini laps of the park so within a minute he had circled back and I think he may have saw me (ha ha). We chilled out in the park until it started to get dark and watched a breathtaking sunset which was very romantic then returned to the famous streets to see all the umbrellas lit up and the city by night. The city really does come alive and the umbrellas look amazing all sparkling and magical. We ended up in the arena next to the Worlds biggest Santa to see all the illuminations and eat candy floss.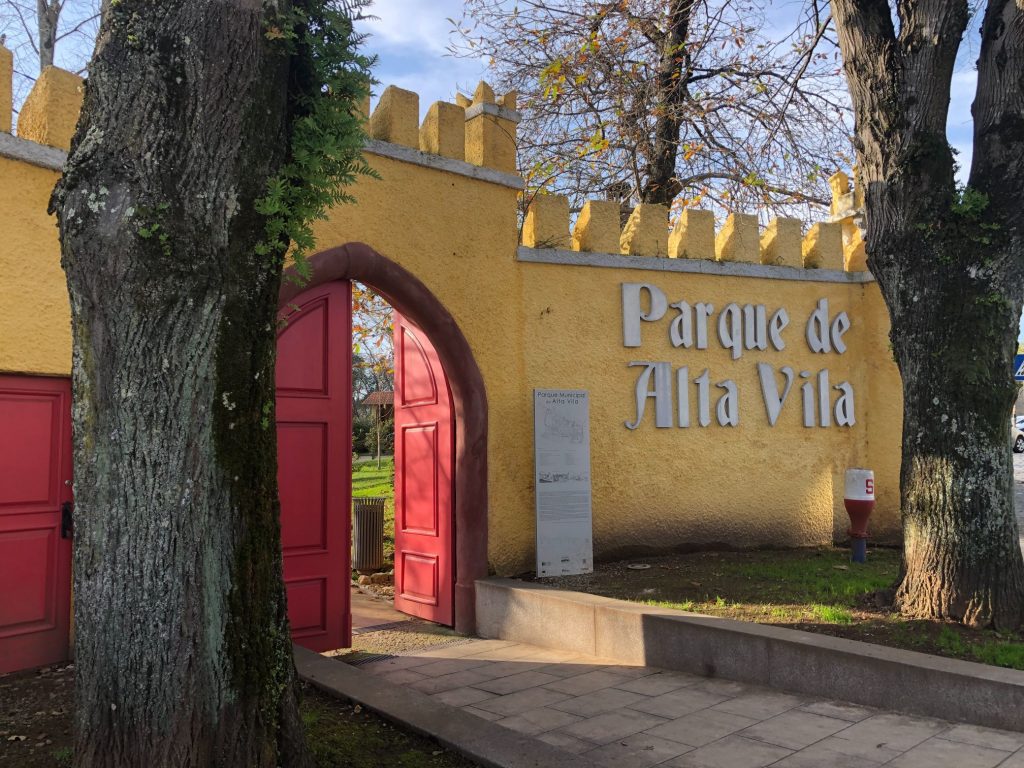 Families 4Ever
We stumbled across a cute bandstand and would have ate our tasty treats here but the seats were wet. I spotted some graffiti on the seats: Families 4Ever. Strange as it was written in English and not Portuguese. It did make me smile as although I don't like graffiti in general these words had purpose and meaning and I feel that it was a message to me.
Águeda by Night
I fell in LOVE with the city of Águeda with all it's romantic sparkle. It was awesome viewing the city at Christmas time and observing all the spectacular Christmas displays and lights. We enjoyed a tasty lunch and had so much fun wandering around the streets viewing all the urban art, pretty painted benches and staircases. Every corner I turned I found something else to gasp at and take a photo of course (ha ha). There are also some lovely tranquil parks if you are missing your nature fix. The highlight of the day was at 17:00 when the whole city lights up into a magical Christmas fairytale.
Umbrella Selfies
The Worlds BIGGEST Santa
Located on the right bank of the Águeda River, the impressive structure is 21 metres tall – about the size of a seven-storey building and is brought to life by around 250,000 LED light bulbs. It boasts the official record of the largest Santa Claus in the world in the Guinness Book of World Records and has become a tourist attraction for the small town in the district of Aveiro, attracting fellow Portuguese from other places but also visitors from all over the world. Hubby and I got chatting about what we would be entered into the Guinness book of records for. I may try the record for How many ferrero rocher I can eat in 1 minute, apparently the current record is 9, I'm not sure if I am greedy but that doesn't seem a lot to me, GAME ON CHALLENGE ACCEPTED! (ha ha).
This year, the town is also displaying what it is calling the "Smallest Santa in the world", which you need a microscope to see, created by artist Willard Wiggan. We didn't find or get to see the worlds smallest Santa but I'm not surprised if you need a microscope to view it as my eyes need a sight check as I often mistake trees for dogs and sticks for snakes (ha ha).
It was such a contrast to see the Worlds biggest Santa by day and by night. The night view was far superior and the whole ambiance was awesome. The festive luminous brightly coloured decorated trees made me smile and feel all Chrismassy.
Santa Selfies
Illumination Selfies & Crazy Candy Floss Fun
It was so refreshing and awesome to actually be OUT on an evening celebrating the run up to Christmas and listening to music next to the Worlds biggest Santa. There was such an epic vibe and although the area was crowded at nightime it never felt unsafe and not once did anyone touch or bump into me which was a bonus. We enjoyed a tasty candy floss, half of which is still in my hair (ha ha). There were funfair rides for the children, food stalls selling Portuguese delights and treats such as waffles, crepes and farturas and little quaint wooden huts selling Christmas crafts similar to the German markets. It was so much FESTIVE FUN!
My Favourite Tree
This is my favourite tree all lit up, how gorgeous!
Overview
I fell in LOVE with the city of Águeda with all it's romantic sparkle. It was awesome viewing the city at Christmas time and observing all the spectacular Christmas displays and lights. We enjoyed a tasty lunch and had so much fun wandering around the streets viewing all the urban street art, pretty painted benches and staircases. There are also some lovely tranquil parks if you are missing your nature fix. The highlight of the day was at 17:00 when the whole city lights up into a magical Christmas fairytale. It made a pleasant change to wear normal nice clothes instead of hiking clothes for once. I'm wearing all black and look like I'm going to a funeral which was not my intention, I was trying to go for the biker chick look but we ended up both looking like aging rock stars instead as hubby wore his ACDC T.Shirt (ha ha). Unfortunately we did not have time to visit Recardães, on Rua Vale do Senhor, and see Millo's work, Love Prisoners, maybe next time.
If you know me you will be aware that I'm not a city girl at all, I much prefer the countryside and being immersed within nature. I'm not good with crowds and suffer from social anxiety so I was very brave to embark on this city trip with plenty of tourists but I actually had a blast! We have not visited a city in ages so it actually made a refreshing change from all the nature hikes and waterfall trips. It was a wonderful day trip with hubby and I left a little piece of my heart there. I hope to go back to collect it one day.