VALENTINE'S DAY CELEBRATION 2023
If I'm honest, I am not a massive fan of Valentine's Day. I don't think we should be pressured into celebrating LOVE on a particular day of the annual calendar. If you want to tell someone you love them you can do this on any day of the year. You don't need to wait until Feb 14th to buy your other half a bunch of flowers or box of chocolates. Guess what? You can also buy yourself a bunch of flowers if you want to with your own cash, there are no hard or fast rules at the florists. I personally much prefer celebrating Birthdays, Mothers Day, Fathers Day, Easter and our Wedding Anniversary as these are all important dates and have special meaning to us. I refuse to go out to a restaurant for dinner and pay an arm and a leg on an overpriced meal so we celebrate at home with yummy food all cooked by our in-house chef (AKA Hubby). It's always accompanied by delicious wine, Portuguese cake and heart shaped chocolates. As I said, I'm not too bothered about celebrating this date but it's an awesome excuse to enjoy yummy food, drink great wine and eat gorgeous Portuguese cake mid week so I don't need to be asked twice (ha ha). I never require any subtle persuasion, after all, it would be rude not to show up and enjoy the festivities. I really wanted to eat Al Fresco in our lovely garden but the temperature drops in the evenings and I still haven't sourced a fire pit so we dined indoors and made a visit or two to our retro lounge bar.
The Pink Blacmange – Strike a Pose
If you follow my previous posts you will know that our "Family thing" that hubby, my daughter and I do together is "Jumping for Joy" Where we jump high in the air at random tourist attractions and bizarre locations. We also "Strike a Pose" Where we try our best to recreate statue poses if it's not offensive.
LOVE is in the air and apparently also in my wardrobe! I gifted hubby a frugal free rather random PINK photoshoot and video message where I wished him a Happy Valentine's Day whilst throwing camellia flower petals up in the air like confetti. I wore my new bargain €5 "Primarni" sale dress and I was aiming for the "Pretty in Pink" look. I just realised that Pretty in Pink is a metaphor for being naked! I'm brave but I'm not that brave (ha ha). The dress is from the Paula Echevarria range. Apparently she is a Spanish actress and model, I unfortunately am neither and I haven't worn velvet since 1986 (ha ha). There are multiple hilarious photos to peruse and laugh at and hubby found it very amusing (ha ha).
Do I look like a pink blancmange? YES
Do I look like mutton dressed as lamb? YES
Did I epically fail whilst trying to recreate Paula's pose? ABSOLUTELY YES
Do I need the fashion police? YES
Do I care? HELL NO
I'm abolishing my safe black wardrobe and embracing colour which now includes hot sexy pink although I'm more sassy than sexy. I thought I could dig out the scissors and transform it into an awesome top and team it with some black pants to make it more age appropriate. Hubby thinks I look more like a raspberry angel delight than a pink blancmange because I'm a perfect angel, such a delight and I pop out a few bottom raspberries due to all the beans, pulses and fibre I consume (ha ha).
I did try this dress on in the shops changing room and I took in a Size Small 8/10 but it was really big on my waist and baggy so I swapped it for an Extra Small and didn't re-try it on so I just assumed it would be a Size 8/10 but when I got home it's actually a Size 6/8 (ha ha). I'm laughing because I have chunky muscular arms and legs, especially thighs and calves from all my figure ice-skating as a teenager. I am definitely a UK Size 10/12 and I can't even fit one leg in a Size 6/8. Luckily it's slightly stretchy so I could eat and most importantly breathe. This just goes to show ladies and gents, don't ever worry about label sizes. At my biggest I was a UK Size 22 but I never cut labels out of clothing. I don't care if I wear clothes with a label that says Size 10 or Size 14. As long as it fits me who cares about numbers on a label, no one sees a label so don't cut them out unless they are sticking into your body parts and hurting you. Don't let a number mentally hurt or scar you, honestly, no one cares except you, so let it go and smile.
I had to be a bit careful when I reenacted the model pose and got down in the crouching tiger position because this dress is pretty tight to the point where I couldn't wear any panties due to VPL. Some ladies dress up in sexy lingerie for their men, I don't leave anything to the imagination and just go full blown commando (ha ha). I had to make sure I wasn't flashing my fanny because once you have shared your lady garden and it's out there so to speak, there is no coming back from that embarrassment (ha ha). There was one dodgy moment where I did indeed expose my unkempt lady garden but it's one of the better photos so I covered my lady flower with a pretty pink modesty flower (ha ha). You get a prize if you can spot the photo!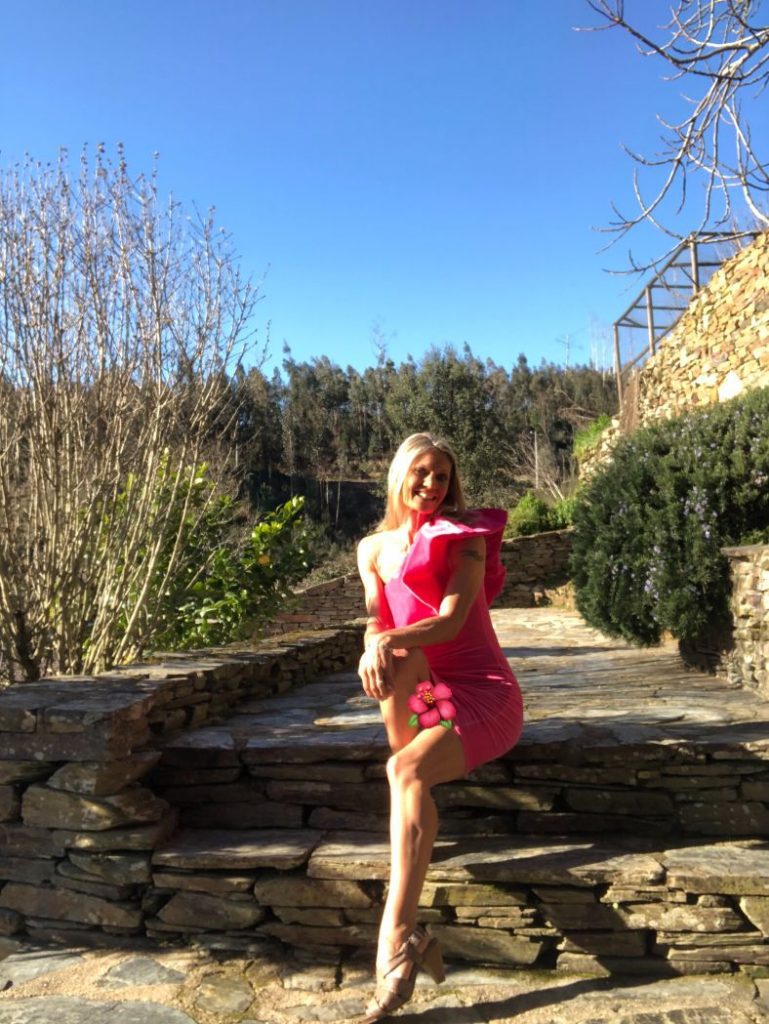 Be a Flamingo in a Flock of Pigeons
I don't actually mind representing a flamingo. This bird is unique, gentle, graceful and exotic. Pink is a beautiful colour, because it is one of the colours that the sun makes at twilight and in the dawns. I may not be sweet but no one will know when I'm in a pink dress.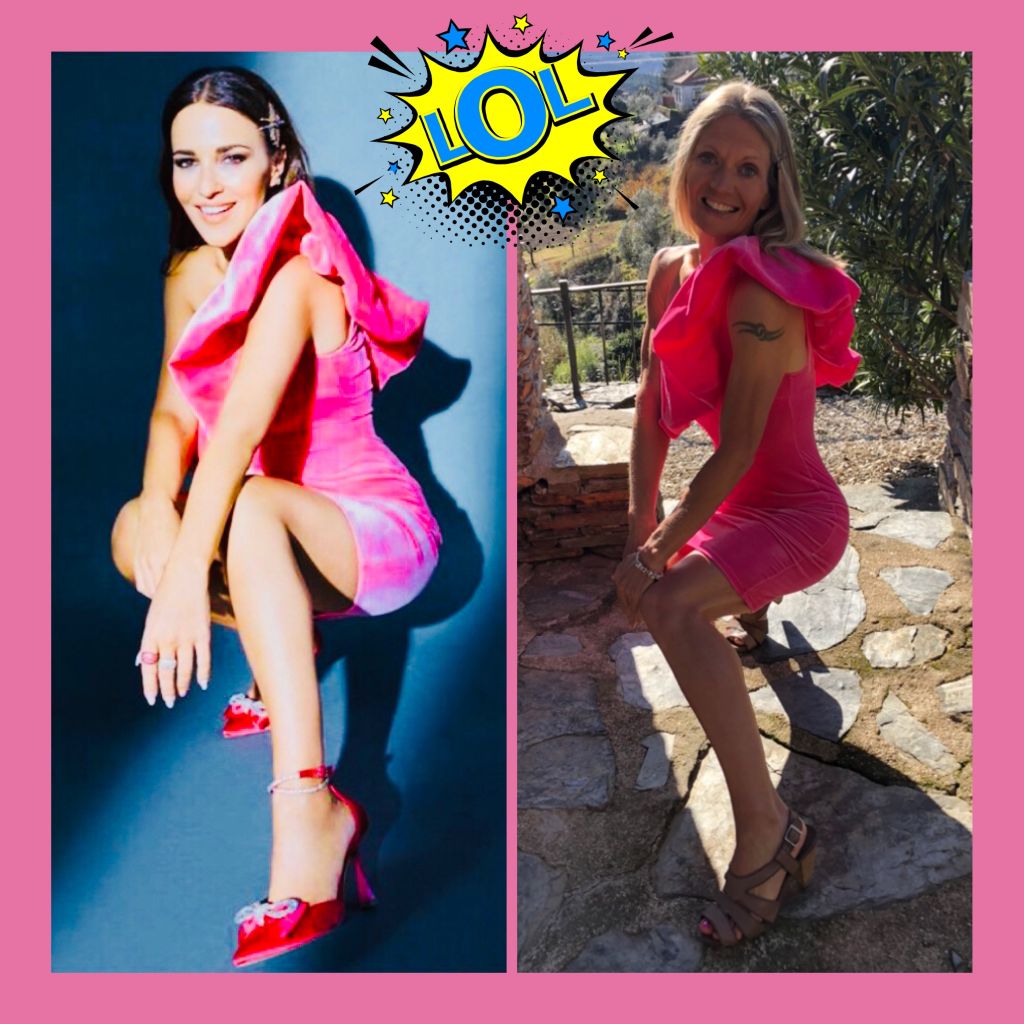 The Crazy Fails
It really is harder than it looks to strike the perfect pose without falling over (ha ha). Can I just say that this model has ridiculously long legs and incredible balance. Helena the housewife has short stumpy legs and no pink stilettos. Unfortunately I don't own any stilettoes as heels and Portuguese cobbled pavements are not a match made in heaven and just an accident waiting to happen for clumsy Helena. I tried my best especially in the glaring Portuguese sunshine but I couldn't see hence my screwed up frowning face (ha ha). I really needed sunglasses. This is a one time event only and I think in the future I will leave the model photos for the professional model. In all fairness I bet pretty Paula had the best top photographer, an expert make-up artist and hairdresser. She is probably airbrushed and photo shopped to death too. I had an old dodgy iPhone, a self timer and an old timer (me) with zero editing hence all my crinkles and wrinkles. I did try to copy her hair and make-up the best I could. I probably should not have consumed a pint of protein shake and a mega huge cappuccino before the shoot as my tummy looks pregnant in some photos. Don't panic, I'm not about to get in the Guinness Book of Records for oldest mum to give birth, my ship has truly sailed in that department as I'm a hormonal menopausal BITCH (ha ha). I have 2 final words: "I Tried".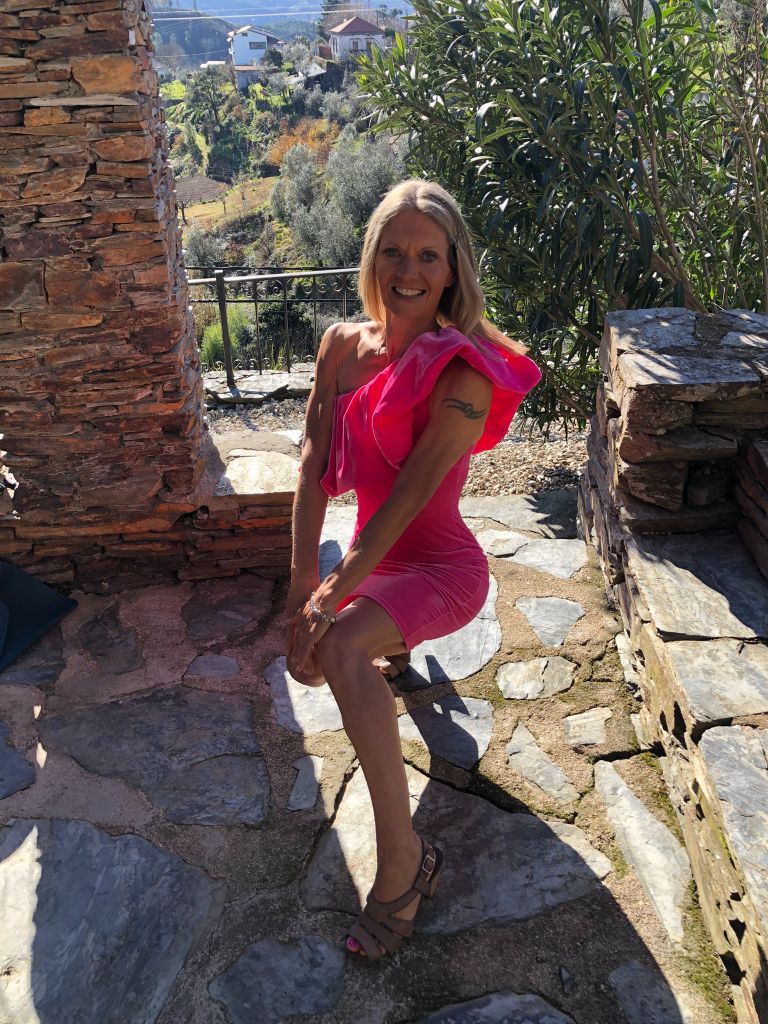 Crappy Verses Creative
We always make our own Valentine's Day card. There is only one rule: To use stuff we already have in the house and spend zero €. Hubby is the master of creativity whereas my crafting skills are just simply pants but in my defense I still have significantly reduced vision in my right eye. I think my cards are getting worse year by year. I really wanted to design a bumble bee and write "Bee Mine" but I didn't have any yellow paint just red, pink, black and white. Apparently it's the thought that counts. My thought is that mine is a pile of dirty pants (ha ha). I get a harsh 2/10 for attainment but I will always be awarded 10/10 for effort, the girl tried her best. Next year I might just paint my butt cheeks and do a huge imprint of my ass onto a large A5 piece of card, a bit like a potato print but more personal (ha ha). Then again maybe not as the paint is still visible on my fingers from this years finger print bug art card. Hubby really did excel himself this year with his artistic streak. It is a pop up card and has a little LED light inside. I locked myself in the dark bathroom closet to see the pretty little light and it was so cosy that I nearly fell asleep in there (ha ha). I know my photos don't do this card justice, you really need to view my video on casa Valhal Facebook or Instagram for the full effect, it's truly amazing.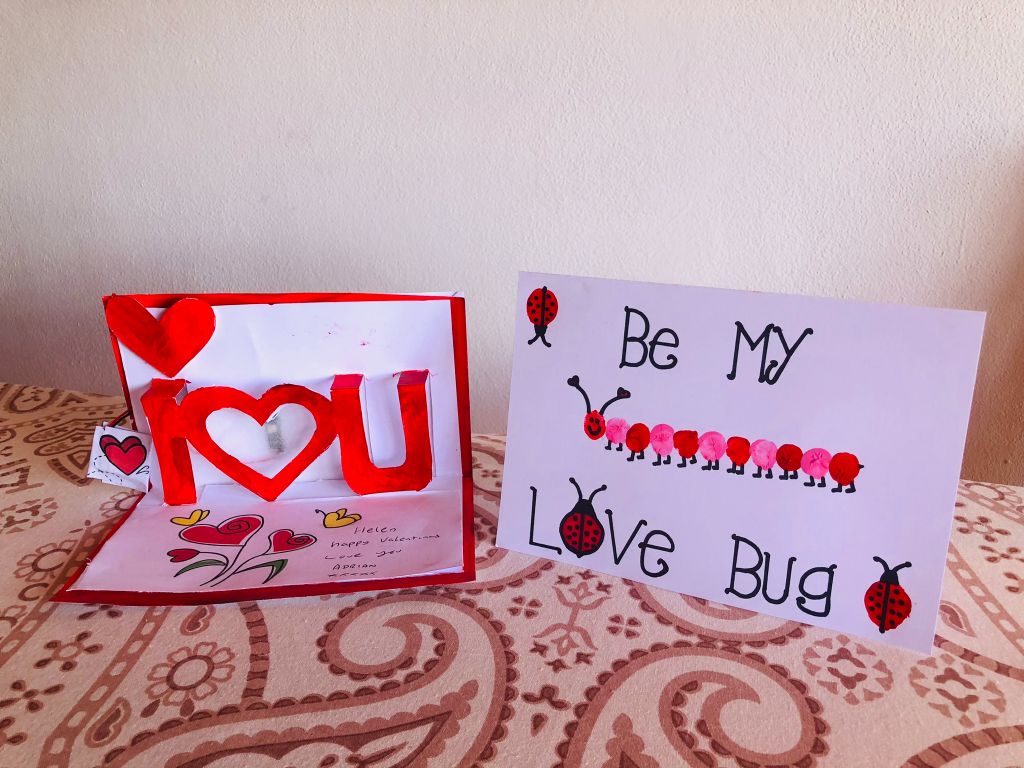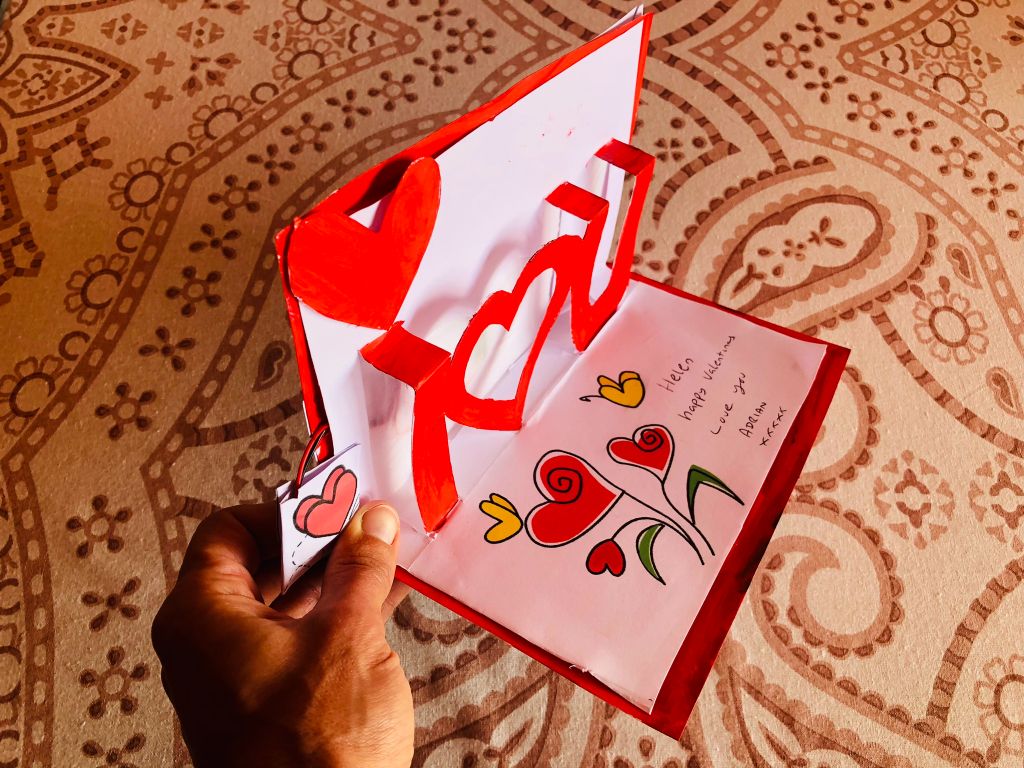 The Donkey Gift
Hubby visited the local village store for supplies on his lunch break and sent me these photos. For a split second I thought he was gifting me my Donkey Dream of 2 rescued donkeys for Valentine's Day. He wasn't, he just saw 2 donkeys in a field so turned the car around and went back to take 2 photos for me (ha ha). It's fine as we don't do gifts for this special occasion and I would of had to call them Romeo & Juliet or Pedro & Inês and I have my mind set on Leroy & Merlin, if they are 2 males.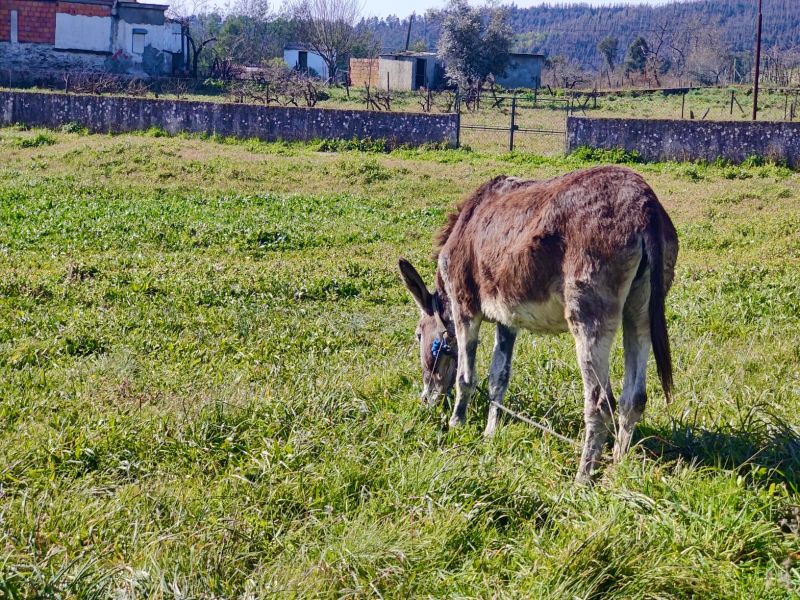 Perfect Pets
We LOVE our pets so I spent quality time during the day with our ladies in the garden and fur ball Milo. I even saved one of my strawberries for Milo which he adored. It was all going so well until they escaped to the roof and wouldn't come down (ha ha).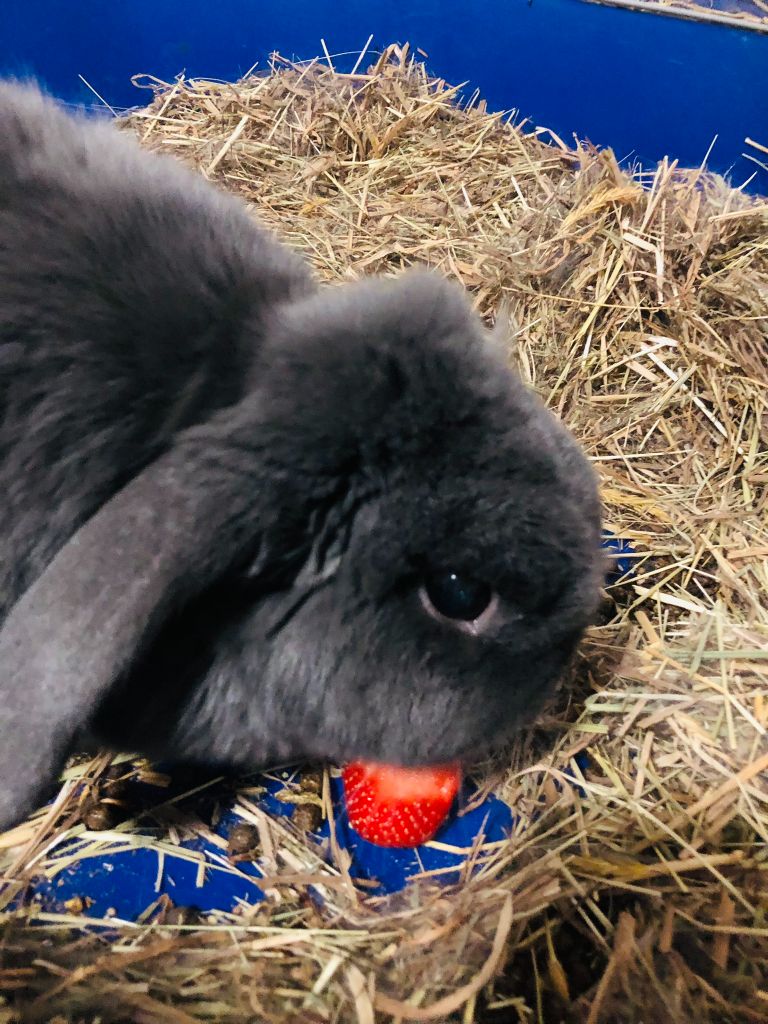 Table for Two (Hundred)
I like to make an effort decorating our big ass ugly table. I even bought a bargain sale €6 new cotton tablecloth for the occasion. I forage in the garden for flowers and foliage and I search drawers in our house for random stuff lurking about to make our table look pretty. I don't like to spend money or buy plastic tat so I recycle whatever I can lay my hands on. Our humongous table was set for two but could easily fit 6-8. It's a shame we are not into Swinging (ha ha). I do have a blog post titled "Swinging in Portugal". Often people click on it expecting some saucy partner swapping and sexual encounter sharing. They are highly disappointed when they realise it's actually a middle aged lady swinging through the air on a Baloiço living out her childhood dreams (ha ha). I sent hubby out to purchase our food and I told him to buy my favourite flat iron steaks, salad, a decent red wine and a Valentine themed cake but only if it was a small one for two people to share as I didn't want the temptation of a gigantic cake calling my name at 4am. He failed on his cake mission because all the cakes in the bakery and store were massive and would feed 10-15. I find this a strange concept. I know Portuguese people love to share food and often hold large gatherings but Valentine's Day is surely for a couple so I don't get the cake big enough to supply an average sized wedding. He failed on his cake mission or did he?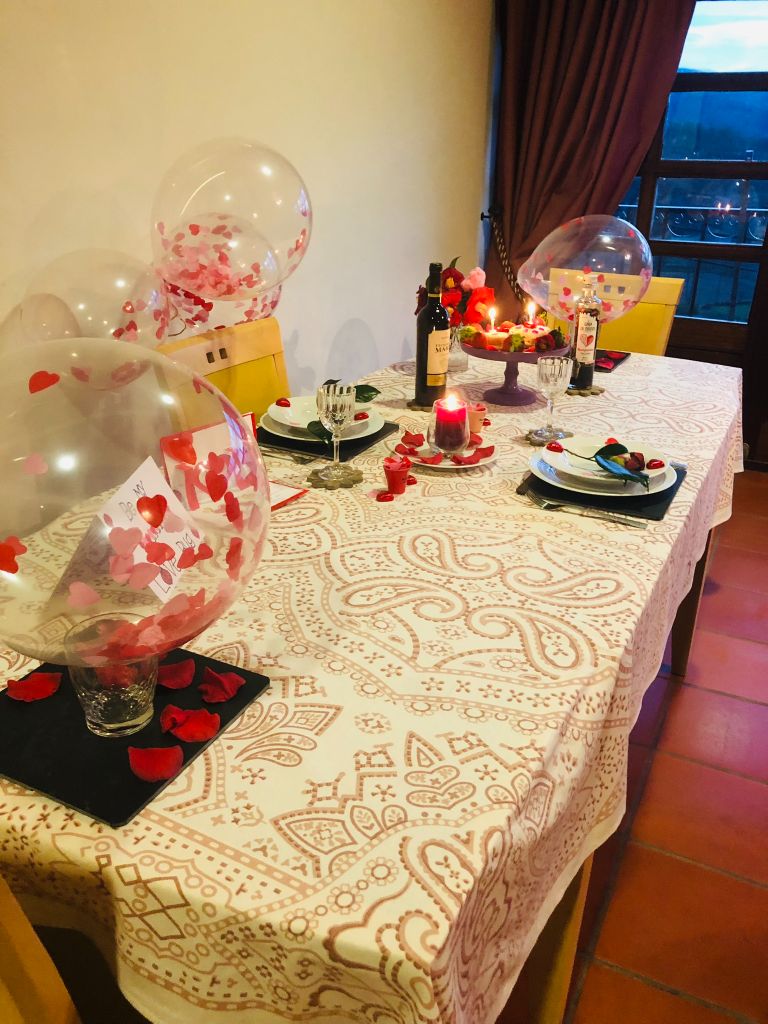 The Heart Shaped Bola de Berlim & Wonderful Wine
What is better than a tasty Bola de Berlim? A heart shaped Bola de Berlim of course with a side helping of strawberries. I did laugh that the strawberries came in a heart shaped plastic container. I'm not sure what the manufacturers were thinking. Maybe "Hey, I'm destroying the world with my plastic consumption but I made it a romantic shape for the occasion so it's fine". The frugal inside of me has an awesome plan to recycle the container and try and make a heart shaped jelly, because why not! Will I be able to get it out of the heart shaped mold onto a plate in one piece, probably not (ha ha).
One fact that I cannot get over is how cheap wine is here in Portugal. You can buy a decent bottle of red or white for under €3. Todays choice was a stunning red from the Dão region and apparently it's won an award. It was on sale from €12.99 to €3.99, absolute bargain. We did have a right laugh as we saw a bottle of red wine for €1.35! We were tempted to buy both and do a taste test but I didn't want a raging Helena Hangover the next day so we resisted the tasting challenge. €1.35 is an insane price which is cheaper than a king sized Snickers bar which costs €1.75, crazy or what!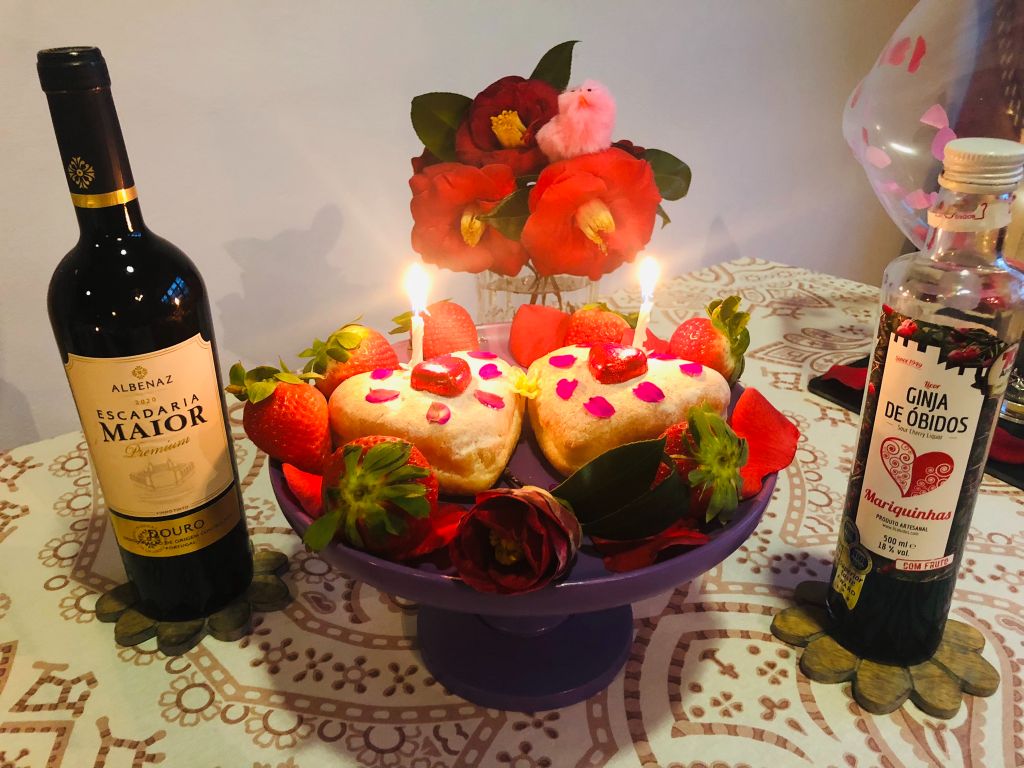 Huffle Puffle Hubby
Whilst I picked Camellia flowers from the garden, hubby had one task, to blow up 6 balloons. He did make an ordeal of this mission and got so out of puff. All his hot breath and spit ended up inside the balloons making the confetti stick to the linings. I left the room and when I re-entered he was blowing them up with his bicycle pump. Having a cycle nerd for a partner comes in handy (ha ha).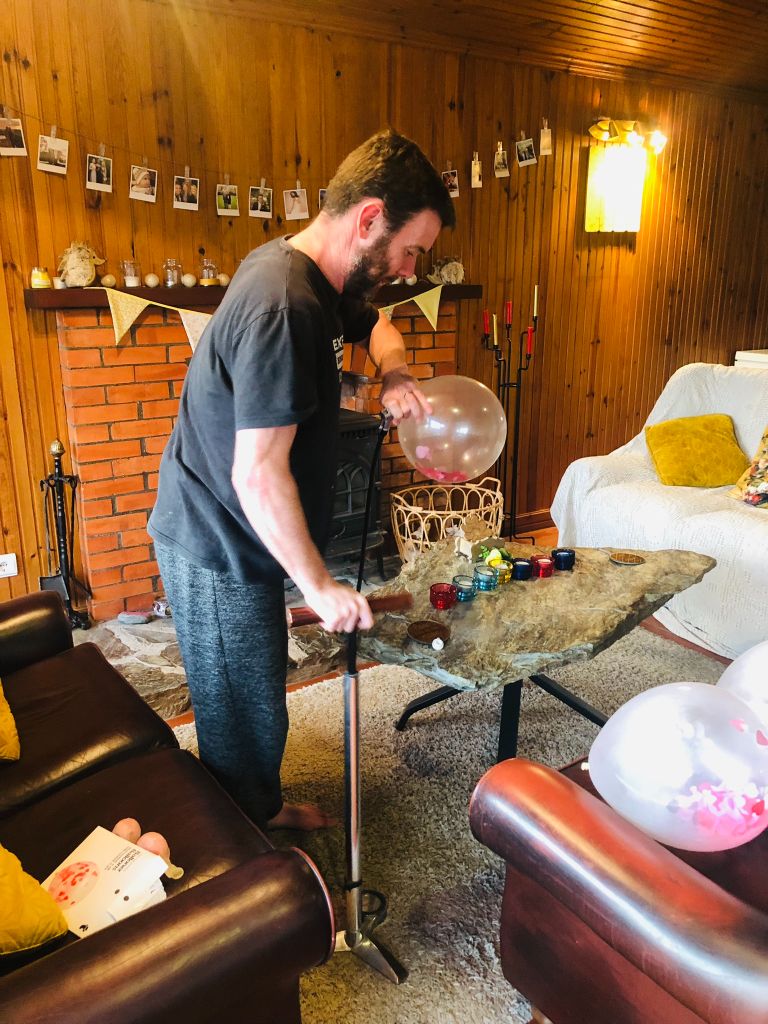 The Confetti Balloons
We started with 6 balloons but 2 exploded randomly spraying tiny red and pink paper confetti hearts everywhere (ha ha). I will forever be finding them under my sofa. The burst latex balloons look like used condoms (ha ha). I left the clean up for the morning after the night before hoping that hubby would sweep them up, he didn't!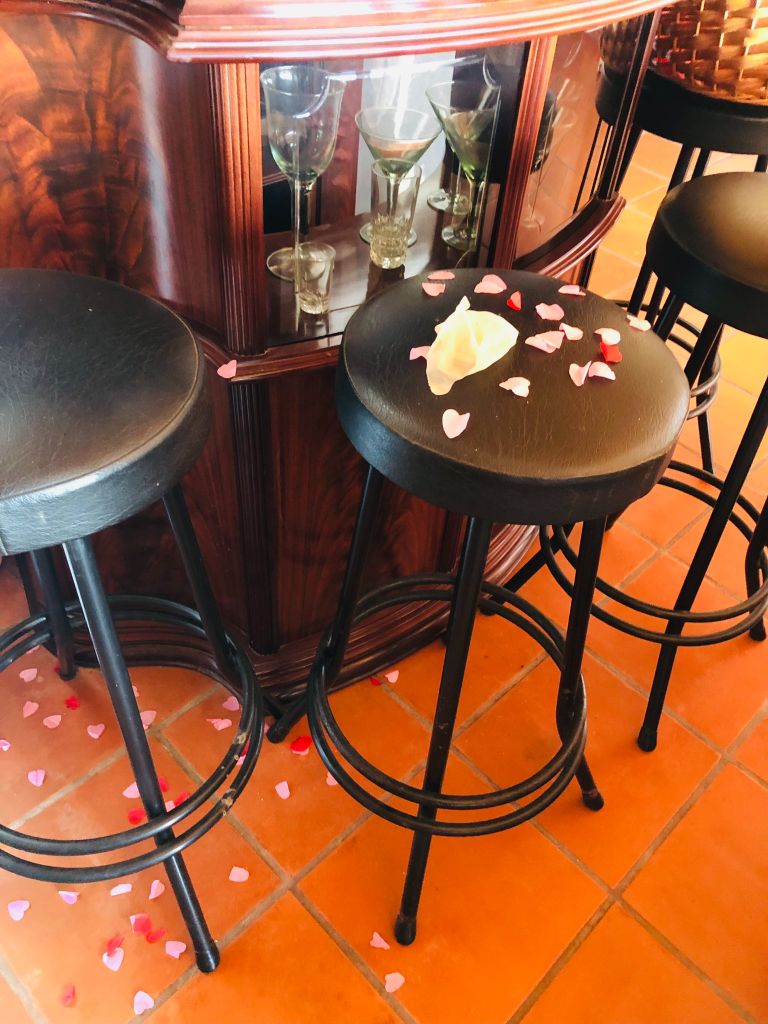 My Music Man
The night ended with hubby serenading me with his electric guitar and some wild dancing on the huge table (ha ha). There was no Bryan Adams as hubby is a heavy metal and rock fan so it was The Eagles, Iron Maiden and Nirvana all the way, it's not a bad life!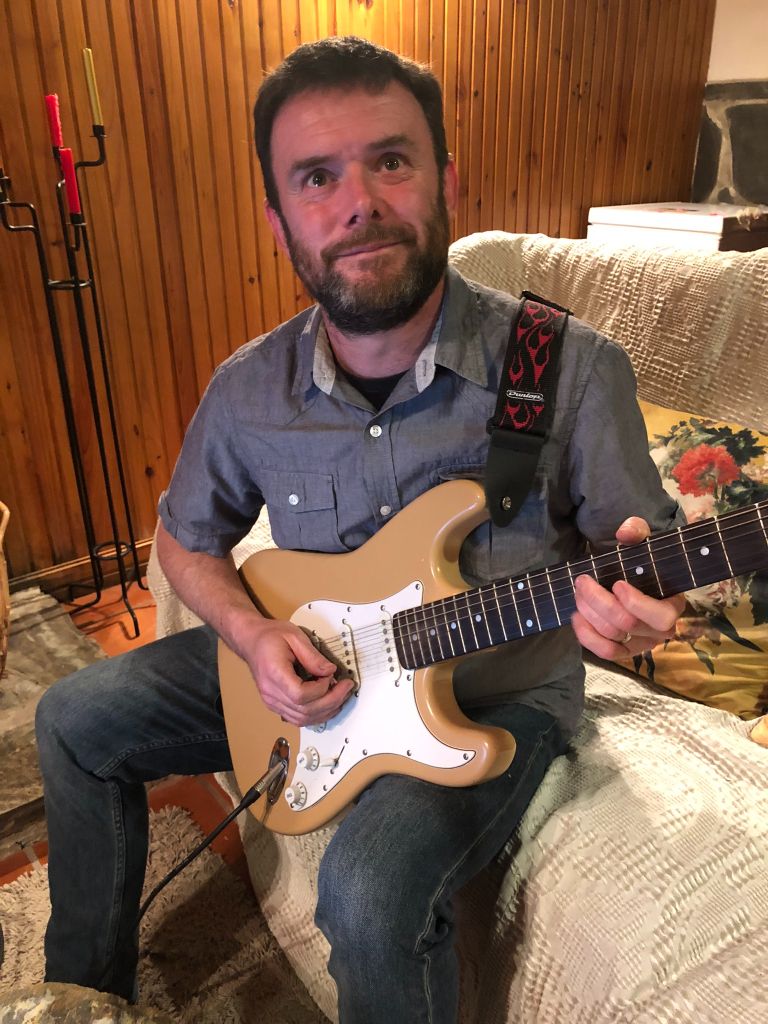 The Wet Dream
Not that kind of wet dream! It was way more of a menopausal hot flash wet dream. I had the most strangest dream during the night. We retired to our beds after 1am and I awoke abruptly at 4.30am saturated in sweat after experiencing a bad dream or should I say nightmare. I was at an airport and awaiting a flight but I had a huge duvet that I had to carry around everywhere and I wasn't allowed to check it in to the hold luggage. Then my name in my passport did not match my ticket and the airline staff were getting really shitty with me. As I boarded the plane I was transported to a garden where 3 women were chasing me and rubbing dirt in my face, I fought back and actually was beating the crap out of these 3 females, I know, 3 against 1 and I was coming out on top but then they starting smothering me and the next minute I'm dead in an open coffin at my parents house and people are viewing my corpse, then I woke up in a massive panic and sweat with a desperate need for a long pee pee (ha ha). I have no idea what this dream interprets but I took it upon myself to wake hubby up at 4.30am and relay my dream bit by bit because I just knew that I wouldn't remember any of it by the morning. He wasn't too impressed, I have no idea why (ha ha).
Helena & Hubby's Hangover
Hubby had to wake up at 7.30am for work but I got a lay in until 9.30am. We both had mild hangovers but nothing a 7km jog around the Serra do Açor wouldn't fix. Hubby went on a cycle ride to sort his hangover. Our next celebration is Carnival and Shrove Tuesday which fall on the same day just a short 7 days after Valentine's Day. We don't have long to recover from our indulgence before it all starts again. I say "Bring it on, BIG time! (ha ha).
Photo Gallery
We had an absolute blast on Valentine's Day and I'm glad I made a semi-effort because I was really poorly the day before with a massive flare up of IBS. I was shitting through the eye of a needle (ha ha). I am laughing because otherwise I will cry. Then I felt like I'd been kicked in the stomach by a rather large energetic horse. I was tempted to put my Oodie on and abolish our meal plans but I am so glad that I convinced myself to grasp life and enjoy these special romantic times together. Hubby even changed out of his T.Shirt into a proper shirt! He only owns 2 dressy tops: This shirt and his long sleeved black top which I call his Simon Cowell top (ha ha). My main reasoning was that I won't be here in March to celebrate my birthday with hubby so I ceased the moment. A lot of LOVE and FUN was shared. Enjoy the photo gallery.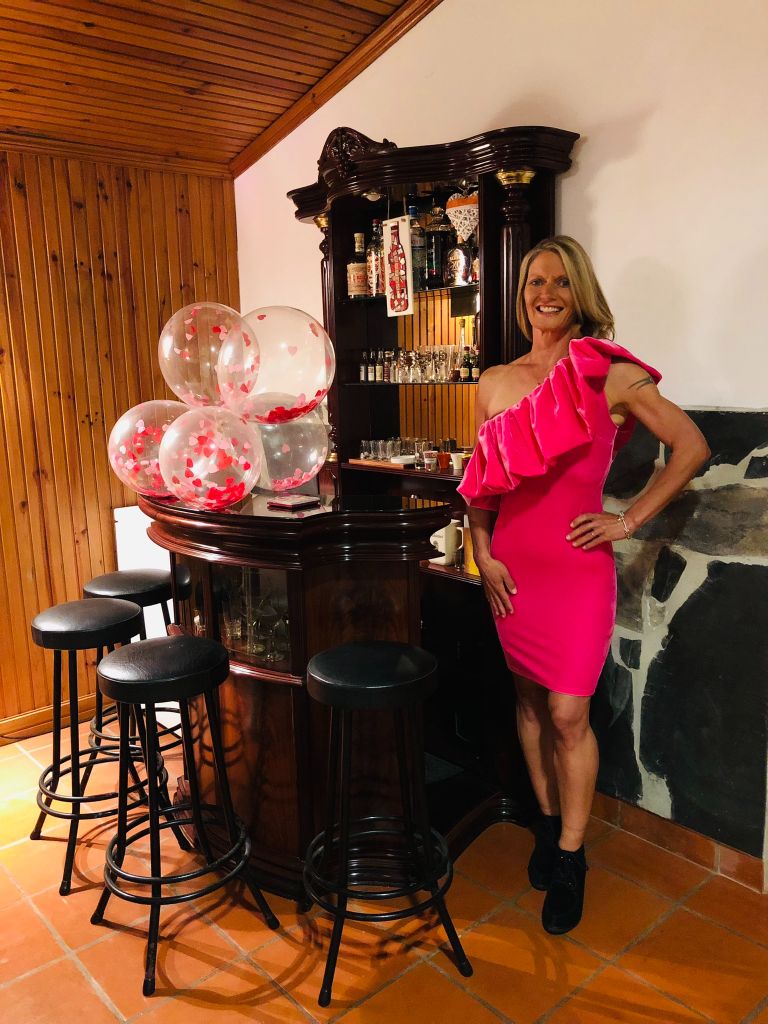 The Crazy Retro Lounge Blurry Bar Selfies
Hubby made me duck down because I wore my high heeled boots which made me taller than him, which is why I look all hunched and demented (ha ha). The more we drink, the more blurry the photos become!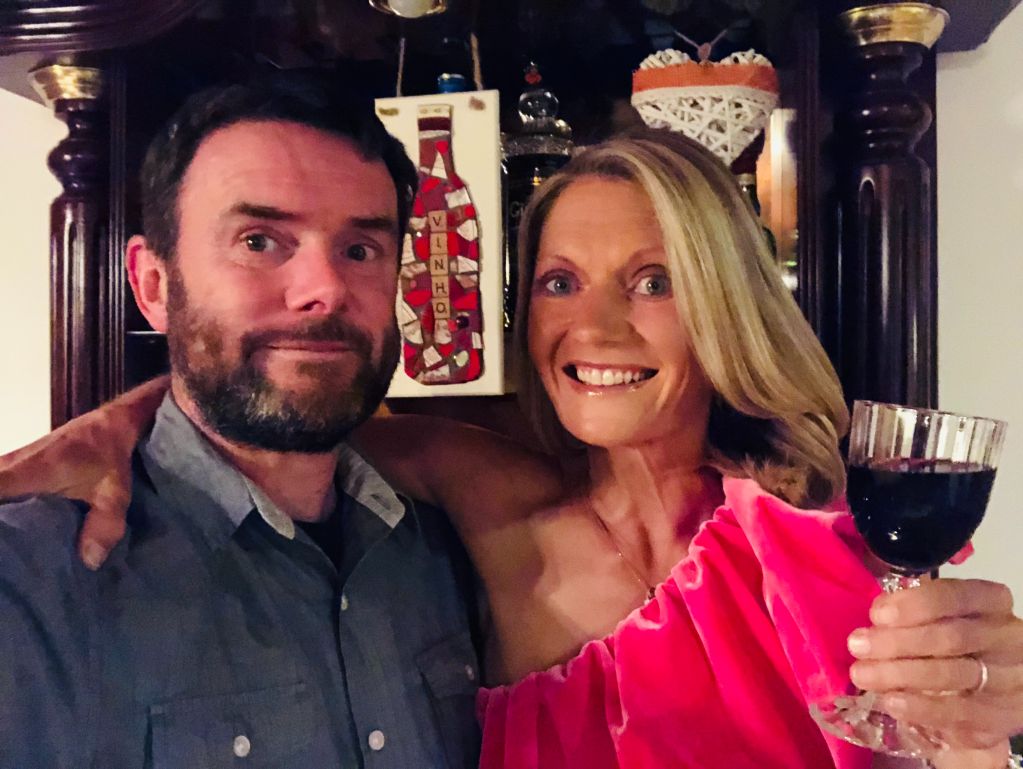 You have to just laugh at yourself and not take things too seriously because life is way too short. When you laugh at yourself, you are FREE!