PASSADIÇO DAS QUELLHAS (SERRA DA LOUSÃ)
The weather was pretty hot during Teanna's 8 week summer visit so we didn't embark on much hiking. To our delight we did have a couple of days of cooler weather so we decided to visit one of the wonderful Passadiços which are fantastic wooden walkways dotted around Portugal and in amazing scenic areas. I have already posted about the famous Paiva walkway and a couple of others which were pretty spectacular. On this particular day, I had a raging hangover as it was the day after Teanna's 19th pre birthday celebration and we had already completed a 6km local run so I found a short linear route of only 1.2km each way which was perfect.
Passadiço das Quelhas is located near the village of Coentral Grande, municipality of Castanheira de Pêra and within the Serra de Lousā mountain range. It is a relatively new walkway (opened July 2020). We love hiking in Lousã as it has so many wonderful rugged terrain hiking trails with panoramic views. This trail is absolutely stunning, the Ribeira das Quelhas runs between granite, shale and majestic rocky cliffs resulting in idyllic waterfalls and rock pools with crystal clear waters. If you love nature like I do then this is the place for you. The surrounding vegetation is remarkable and you will see many species of trees including oaks, chestnuts, alders, willows and hollies as well as local wildlife. It really is such a stunning natural wonder of Portugal with striking beauty.
We started the trail right at the beginning of the wooden walkway instead of the village of Coentral and there were several places to park alongside the road. 
Coordinates: 40°03'48.4″N 8°10'22.0″W
At the start of the PR2.1 walkway there are some lovely picnic tables and seating so we decided to complete the walkway then eat our picnic lunch when we return so we didn't have to hike with heavy backpacks. The walkway was a fairly easy walk with a few steep steps at the beginning but nothing too difficult, even with a hangover (ha ha). On the way back the weather started to pick up and we saw a little natural oasis rock pool of water in the near distance. It looked too inviting not to check it out so we tried to establish a way to exit the walkway and climb down. This was more tricky than anticipated and whilst hubby walked off to try and find a safe route down, Teanna and I had a bright idea to try and squeeze ourselves off the edge of the wooden walkway, through the gaps and down the cliff edge wearing trainers with little to zero grip! This really was an accident waiting to happen but by the time hubby found us we had negotiated the cliff and made our way down to the refreshing water. Part of the way I had to walk on my hands and knees (on all 4's), I must have looked like a mountain goat (ha ha).
Luckily for us we had our swimwear on under our hiking clothes as I always do this now and bring a towel as you never know when you are going to come across an epic place to take a dip. I'm surprised no one broke any limbs (ha ha). We were quite overlooked from people on the walkway and we got quite a few strange stares from people. I think they were intrigued by how we scaled down the cliff side and found a mini paradise. One dad tried to join us with a small child but gave up. We all had a refreshing well deserved cool off then headed back for our picnic of party food leftovers. To be honest, it was quite a challenge trying to hoist my whole body back up onto the walkway, much harder than the drop down. It's a good job I have strong arms from all my paddle boarding and gardening (ha ha). There was a moment when I thought the crazy 2 would have to just leave me there to live in the forest and randomly pop by to visit and bring me supplies (ha ha). On the whole walkway there and back we only met about 4 other families so as usual another amazing tranquil experience. I am going to miss our peaceful family adventures once tourism pick up. We have been spoiled for way too long!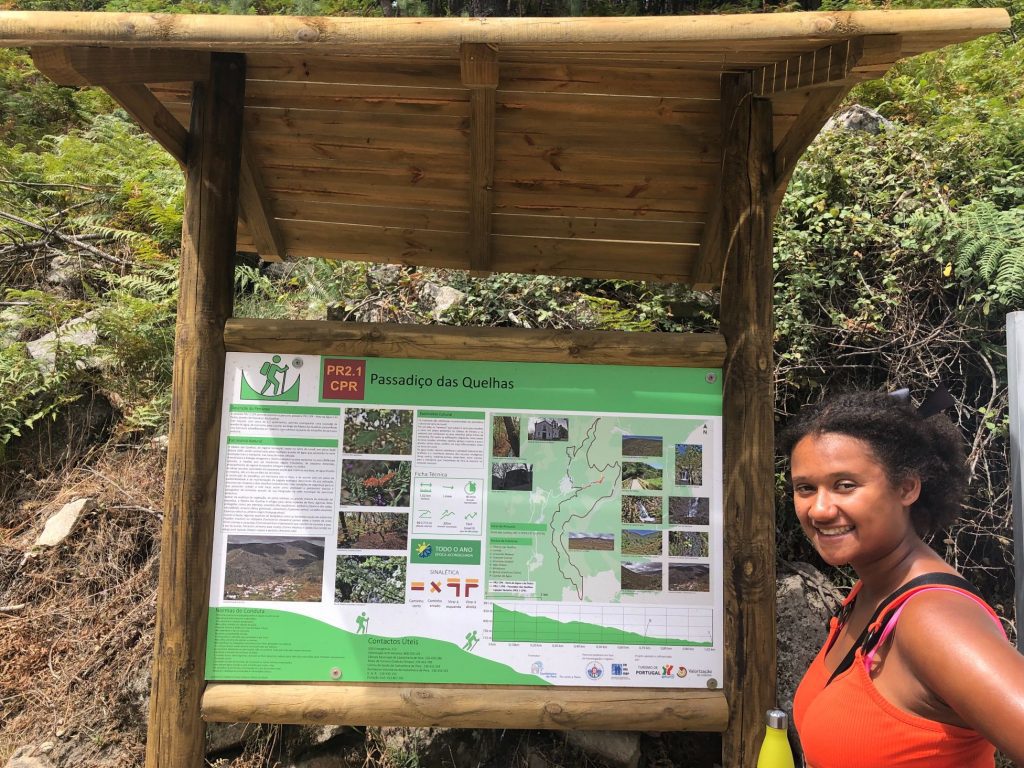 Álvares river beach
We made a pit stop at Álvares river beach in Góis to use the toilets and got to see some amazing yarn bombing on the trees.
Overview
Another great family day out. I am looking forward to Autumn so hubby and I can venture on more hiking trips. The cooler weather makes it less demanding so we can hike for longer. I love viewing the autumn foliage, experiencing the textures and colours that a different season brings, rich reds and vivid yellows set against the backdrop of magical mountains. There are so many wonderful hiking trails in Central Portugal, we are so very blessed with raw epic nature.