LOOT IN THE LOFT
This original post was published back in April 2020 but it definitely warrants an update because fast forward over 3 years and we finally got our asses in gear and finished the job!
Original Post (April 2020)
One man's trash is another man's treasure, this is so true. When we purchased Casa Valhal it came fully furnished and it was previously a holiday home for a Norwegian couple. More recently our house was let to tenants. We have found so many items in the loft, some salvageable others beyond repair. Our loft is unfortunately outside. It's not like the UK lofts that you access from the upstairs landing/hallway. It's totally exposed to the elements and Portuguese wildlife including the odd rat. It also probably doesn't help that we don't shut the door, we just leave the doorway open for the village cats to have a party or two. One day I am going to find that a whole furry family have moved in and they will claim squatters rights (ha ha).
The loft has definitely become a dumping ground for everything the previous tenants did not want in the house. It's a real shame as there are some amazing items up there but most have been destroyed over the years. Some of the items would have cost a lot of money and I am really gutted as all items that are porous and made of certain materials are ruined. There are some 100% wool rugs completely trashed along with some custom made blinds to fit our patio large windows which match the existing red curtains, completely destroyed. Most devastating is the vast arrangement of art work, some prints but some originals but all not salvageable. I have managed to save a couple of prints and old frames to upcycle. Art is very subjective and although a lot of it is not to our taste there were a few pieces, one canvas in particular, which I would have loved to hang on my wall. I did try to save it but the mould won the battle. When I think about the time the artist took to create such a piece, all the beautiful colours, textures and how proud they must have been when they added their signature at the bottom of their prize piece, for it to be thrown in a loft is a crying shame. I need those guys from the BBC1 TV show 'The Repair Shop' to work their magic.
One weekend in the summer, we will take everything out of the loft and lay it onto the patio so we can see what needs to be thrown away or recycled. There is a whole manky mattress up there and a couple of artificial Christmas trees because a loft wouldn't be a loft without a Christmas tree or two (ha ha). There are also boxes full of shoes fit for a museum. There's a lot of tat to be honest but I am hoping that I might find a few hidden treasures along the way apart from rat droppings. I'm not relying on any finds to secure my retirement and you won't be seeing me on the Antiques Roadshow any time soon.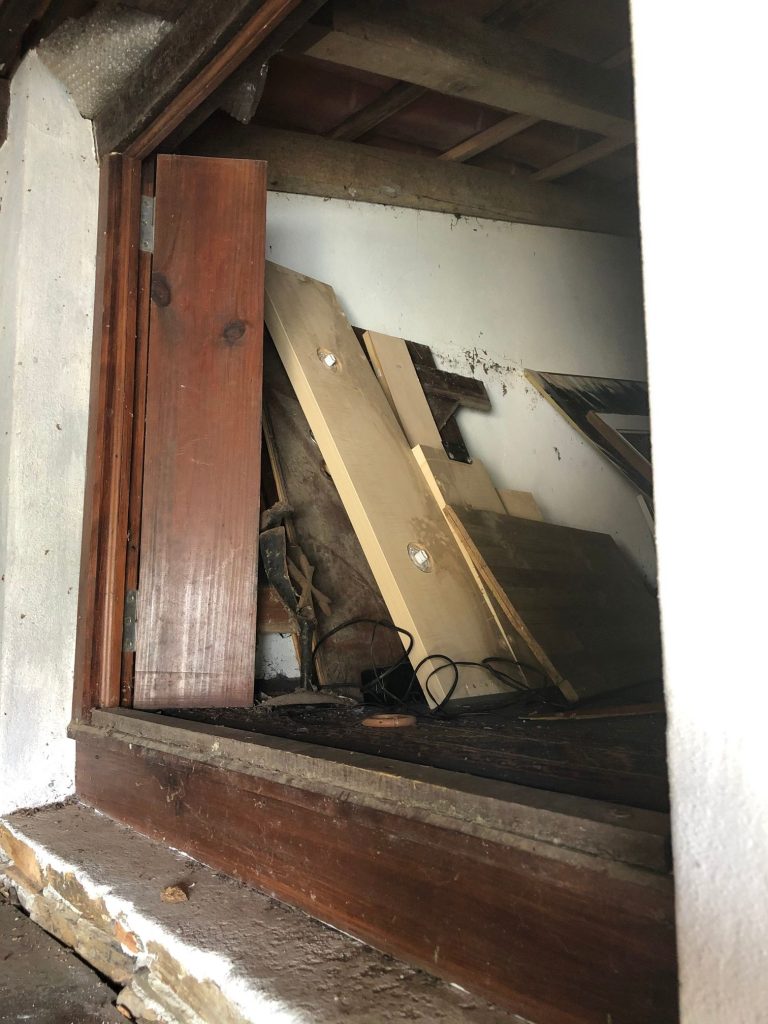 Old Photos of Casa Valhal
Finding old photos of our house warmed my heart.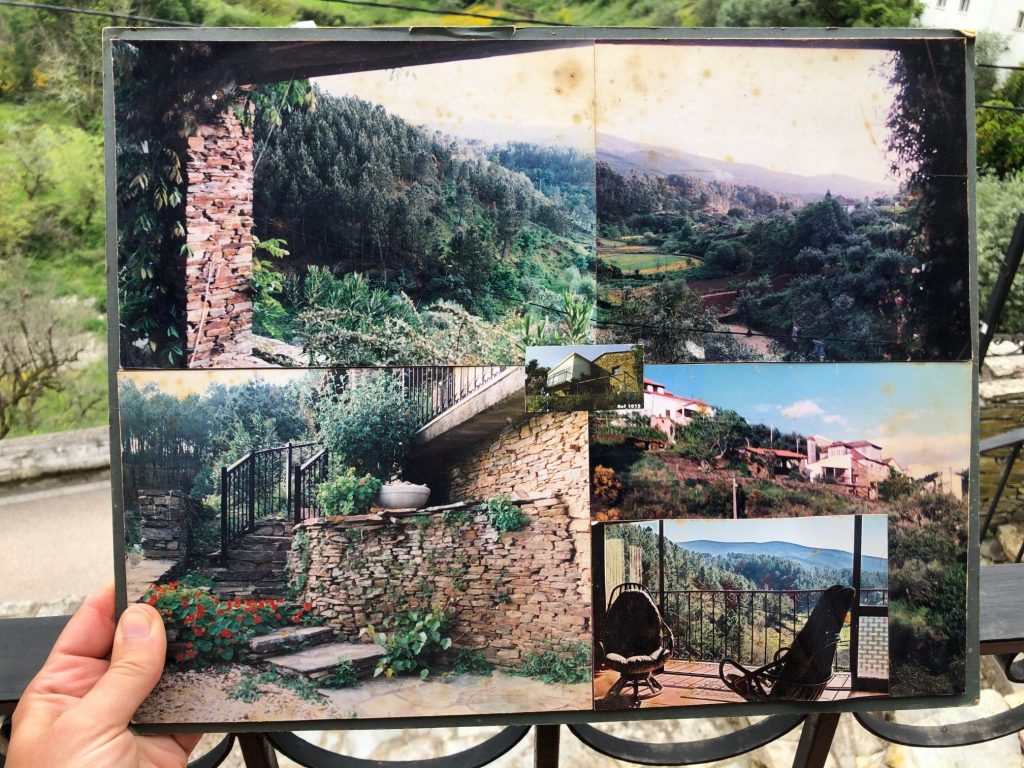 The Generation Game
Reading out the list below reminds me of The Generation Game, I just need a cuddly toy! I have no doubt we will find one or two in due course. Enjoy the tat, I mean loot that I managed to save and recycle!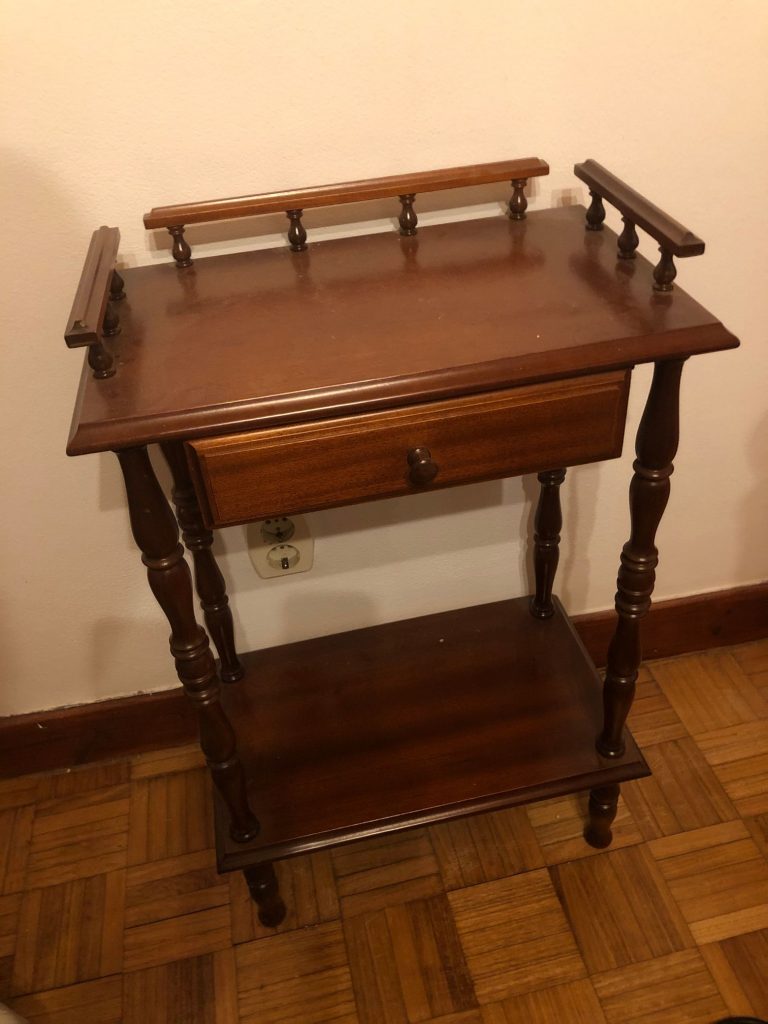 The Treasure Hunt
The treasure hunt continues, I am hoping I may find an old Rolex or a Picasso but I very much doubt it. Now if only I needed an old Betamax or two, I'd be sorted. I need to limit hubby's exposure time in the loft as there is quite a lot of old electrical bits and bobs in boxes and he is the biggest geeky nerd so all this shit is gonna end up inside the house, I just know it!
UPDATE OMG We Did It! (September 2023)
It took a while and then some but we finally cleared the junk out of the loft!
Just look at all this stuff! It's a shame as most of it is trashed and there appears to be some fascinating art works which breaks my heart. My favourite find which I located a while ago whilst rummaging is 3 fully boxed retro Walkmans! OMG what a blast from the past, takes me right back to 80's and making mixed tapes. We also stumbled across so many old photos of our house, a few weird and wonderful wild card finds including a heavy old rusted dirty bird – sounds like me (ha ha), a vase worthy of Antiques Roadshow, a nasty bouquet of fake flowers for the vase and hubby's favourite: an Indiana Jones style rusty old knife complete with leather satchel, perfect for weekend adventures and storing snacks like marshmallows (ha ha). My favourite find was a hilarious note about David and some Cheddar cheese (ha ha). The most remarkable thing was we only found one dead flat as a pancake rat. Somehow I expected more (ha ha).
Our Saturday was a dirty and wet one yet very satisfying, not that kind of dirty, wet or satisfying (ha ha). We had to climb up the steps and walk every item across the garden in the rain hence all the mud. I could have put this job off until next weekend when the sun is predicted to be shining its glorious rays but I'm a nutter and had a bee in my bonnet that this task was being done despite the unpredictable weather. Decluttering is so therapeutic, we cleared the whole loft in under 3 hours! Then the clean up commenced. It also means that if we do sell up next year the new owners won't think all that shit was ours and that I'm a mucky mare.
Another great teamwork effort from the Dynamic Dream Team Duo. We are an unstoppable force. Tomorrow we will dispose of all the junk. My final mission is to try and move Tiago the Toad because he is now sat right in my doorway and I can't shut the door without squishing his cute little ass, he LOVES me so much (ha ha).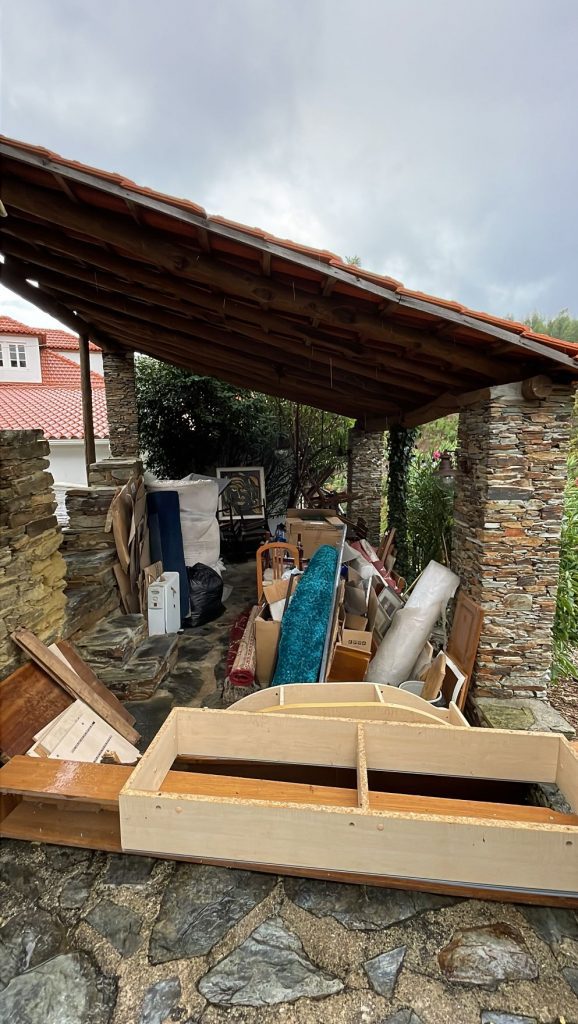 Before
It took us 3 hours to remove all the junk and pile it up in our garden for the tip/recycling. This is the aftermath, so dirty! It rained the whole bloody time (ha ha). In all honesty, if I knew in advance that this job would only take 3 hours I would have started it ages ago. I kept on putting it off because its a grim job and I just assumed it would take a couple of days to clear the loft then another weekend to dispose of the junk. Most DIY jobs take much longer than originally anticipated but there are a few rare jobs that we complete in record speed and this was one of them so I am delighted.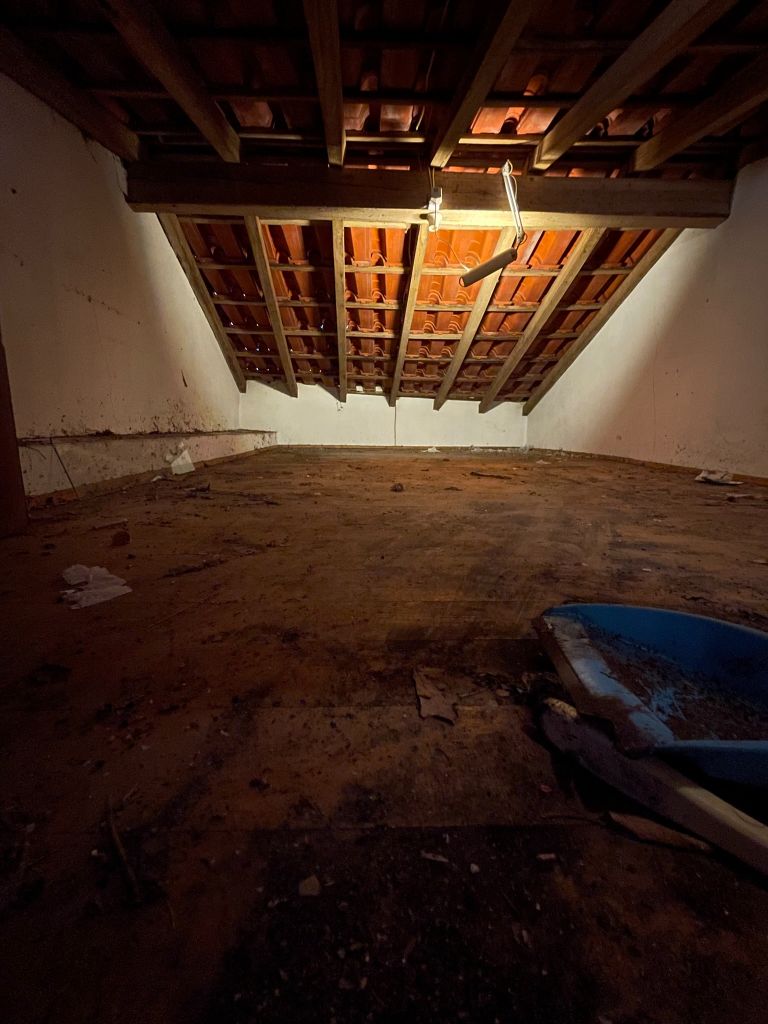 After
I am so elated! I will give it a deep clean next weekend but I am so very very happy.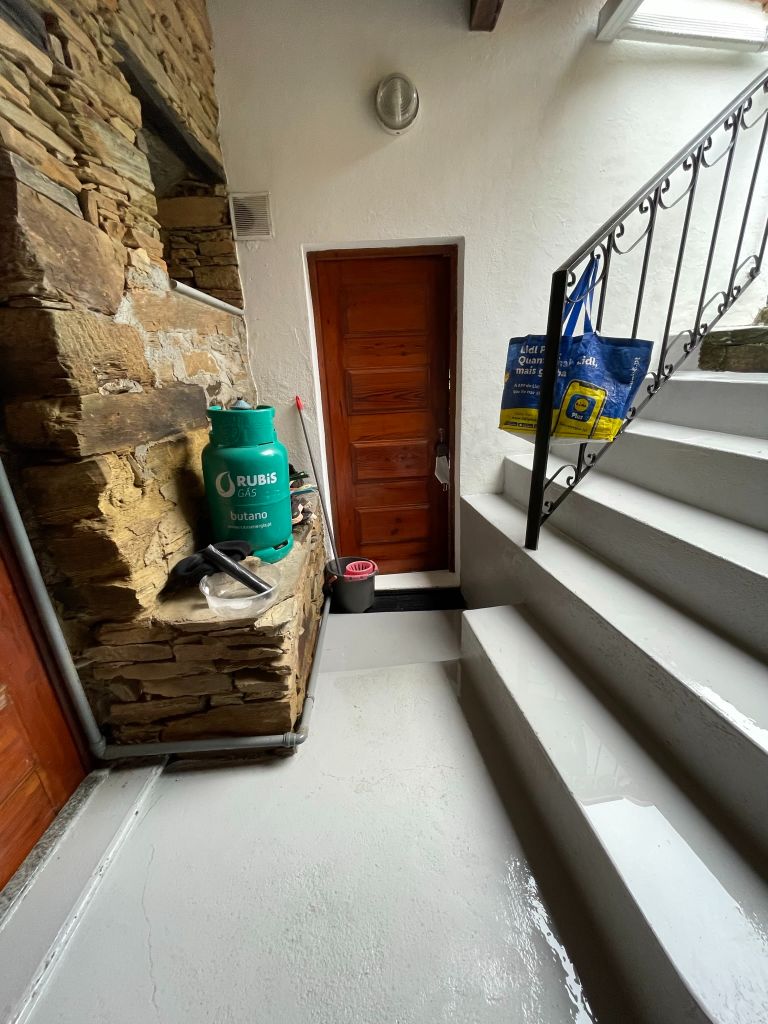 Injuries
1st injury was my own fault, knuckle against an artex loft wall. I F hate artex with a passion! 2nd injury hubby's fault, he dropped a whole shelf unit on my leg, I cried real tears! It is actually quite a nasty injury and I nearly visited A & E/Urgent Care Hospital.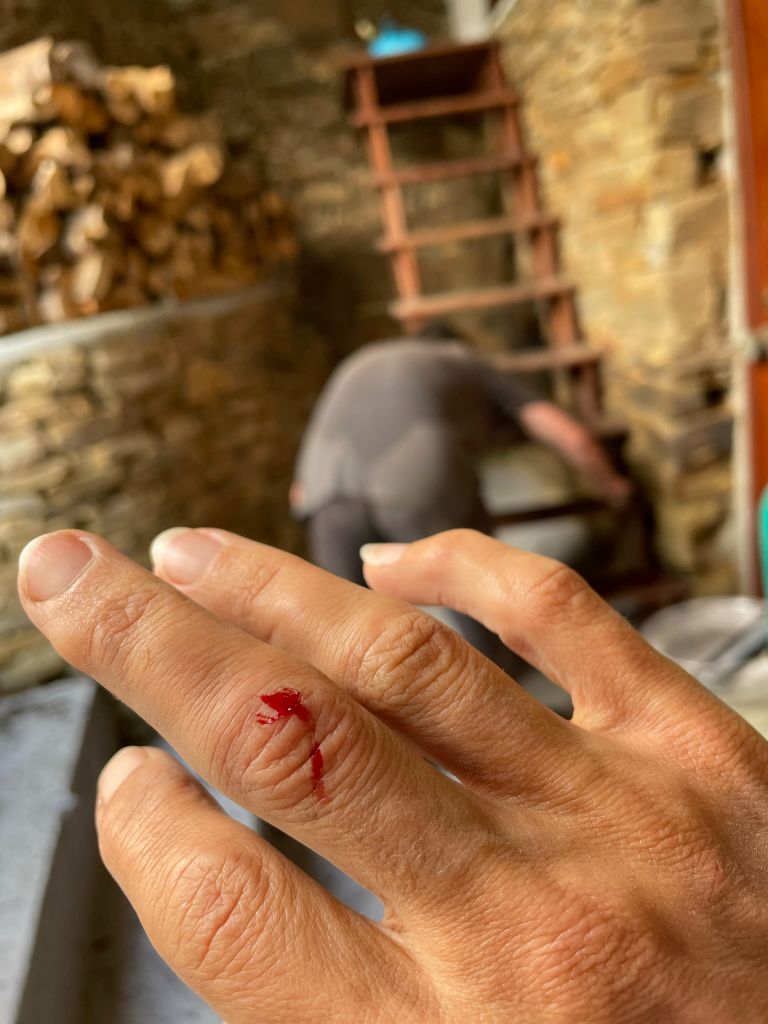 Tiago the Toad
I can't shut my door otherwise I will squish Tiago's little cute ass (ha ha).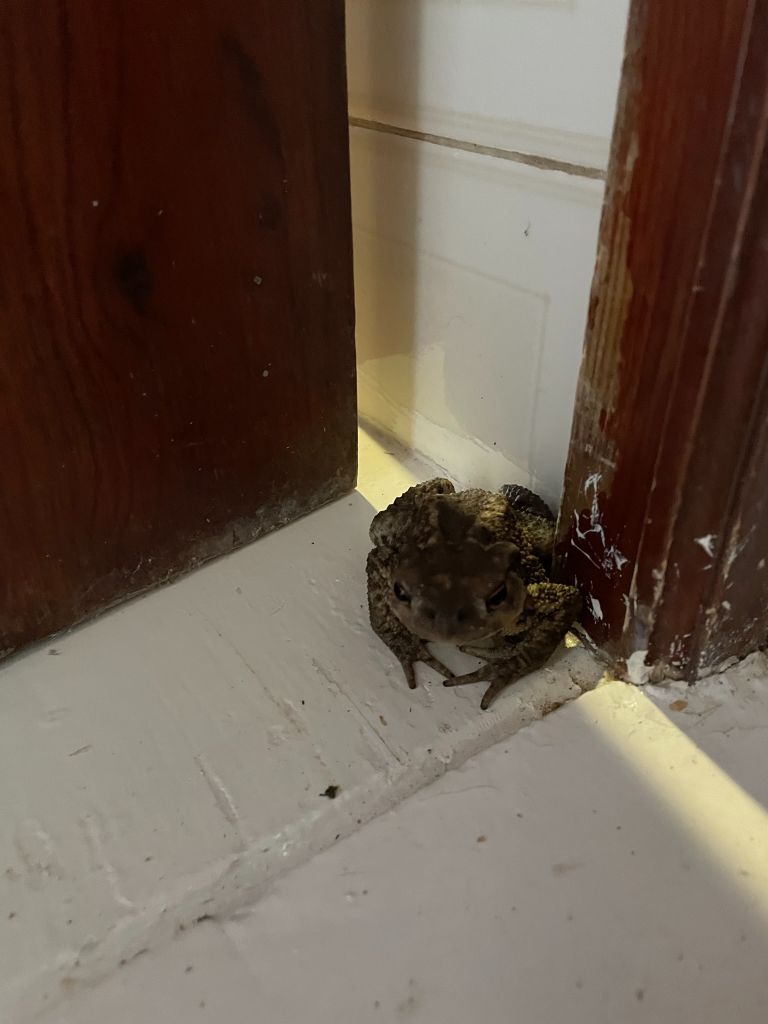 Funny Find
The hilarious note that we found! I am intrigued as to whether David managed to obtain his "Not Fancy but Decent Cheddar cheese" (ha ha). It sounds like I'm describing myself on Tinder (ha ha).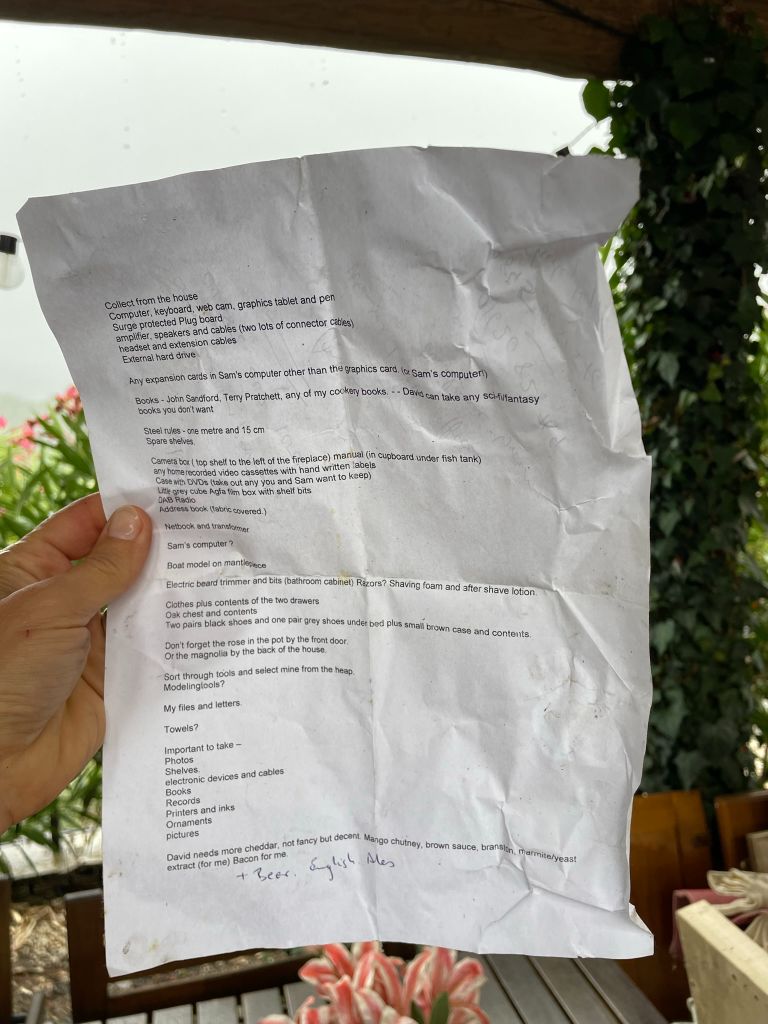 Happy Ever After
Day 2 of clearing the junk from the loft. Job done despite the rain and I'm elated. Great things come from hard work and perseverance. No Excuses. I can't believe I put this job off for 3 years and we completed it in one weekend and a total of 8 hours! Cease the moment and make things happen, the feeling is incredible. My garden terrace is now clear of all the junk and there are a few items piled up in our sun room for a bulky waste collection. I decided to keep the painting that looks like me and the vase. One man's trash is another man's treasure.
What's amazing is that the loft is now empty and if we don't end up moving house next year I have crazy plans of transforming this area into something magical. It could make a fantastic relaxation/physio studio. My second idea is extending Teanna's bedroom (spare bedroom) as the loft is located above this room. We could build an awesome mezzanine. Lots of fun options to explore.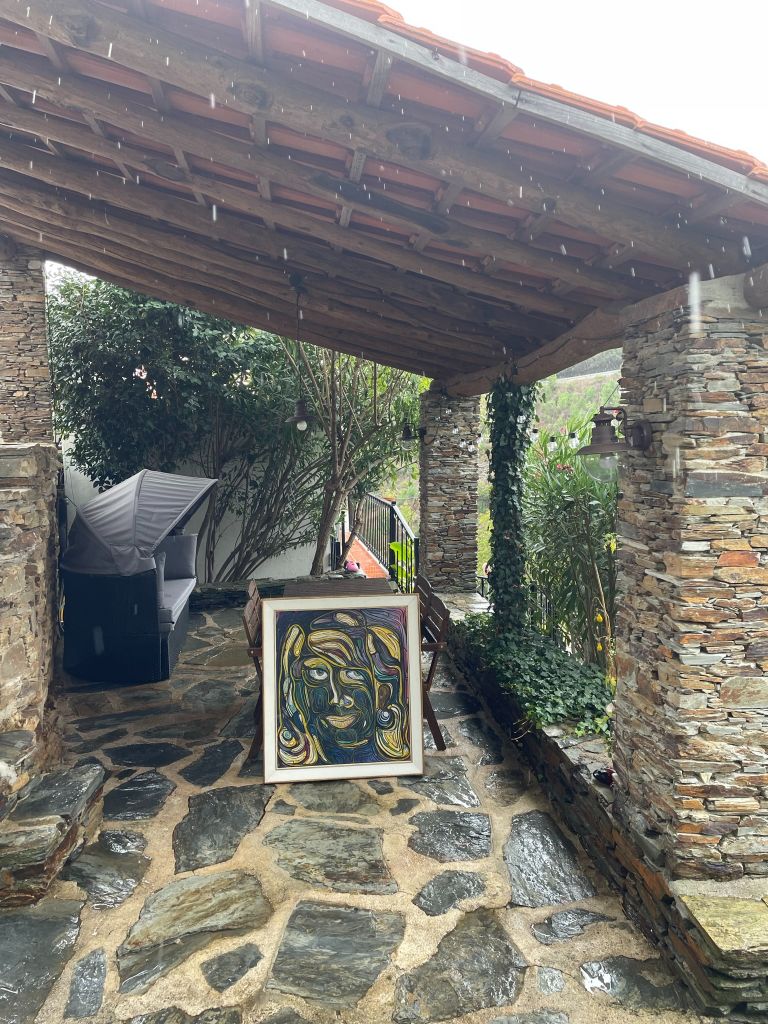 Helena the Dancing Queen
I share the awesome artwork that I saved from the loft clearance. I think it looks a lot like me (ha ha). A.Michelet is the name of the artist. I'm intrigued to know more about them and their life but I have hit a brick wall with my Mrs Marple investigation (ha ha).
The previous owners of our house were Norwegian and on the back it says Anni-Frida 1000 Krone. Anni-Frid "Frida" Lyngstad is one of the singers of the former pop band ABBA. My guess is it's a portrait of Anni but I still think it looks more like me especially as I'm colour coordinating with my painting (ha ha). I'm more than a little obsessed with this masterpiece.
In honour of this weird and wonderful painting I'm blasting out ABBA and dancing in my garden.
You can dance
You can jive
Having the time of your life
Ooh, see that girl
Watch that scene
Digging the dancing queen