ESSENTIAL BEACH ACCESSORIES
Lilo's
We have been spending a lot of time at local river beaches and had plans to visit some epic coastal beaches so it was time to buy some much needed accessories. I find it quite uncomfortable laying on the sand at river beaches as it's usually just a thin layer which makes my chronic back pain worse. I decided to buy a couple of inflatable lilo's to use for sun bathing and also to float away down the river. I love inflatable lilo's and they take me back to my youth. Here is a photo of me and my big sis from back in the 1980's. I am the one behind on the green lilo. You will always find me behind in everything I try my hand at as I'm not much of a winner (ha ha). Look how dirty the water is! This is definitely not Portugal. No crystal clear sparkling waters here! Most likely Weston Super Mare or Brean.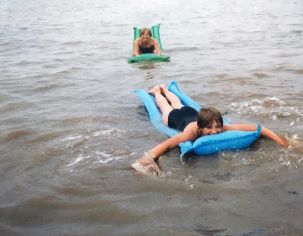 We were very impressed with our last lilo's that we purchased from Amazon and took on holiday to the Algarve so we decided to buy the same ones. We donated ours to a charity shop as they were too heavy to bring when we relocated here. It's slightly frustrating that I had to give my old ones away and buy exactly the same ones but that's life. It saved us a small fortune just coming with a couple of suitcases as a removal company would have cost a lot. We purchased the lilo's from Amazon, €20 for a set of two. This time we got one orange and one blue/green. We didn't get a choice of colours but I think I prefer them to the old blue and pink ones. They have 18 pockets not sure what for but I'm thinking 18 cans of beer, why not! (ha ha). We have an air pump but the wrong connections so it took some time and a load of huff and puff to inflate them. I left this to hubby as I already felt severely nauseous from my tooth pain. I had so much fun watching hubby inflating them (ha ha). Teanna decided to purchase a doughnut inflatable ring instead of a lilo. She said she wanted to float around whilst getting her ass wet, her words not mine. I think she might have a shock at how cold the water can be (ha ha).
We used the lilo's all throughout Teanna's 2 week holiday here and they were great. Hubby is fed up of his new job title of 'Official lilo monitor'. Today he saw a dog at Avo river beach tethered to a tree jumping in and out of the water and now he wants to tether me to the same tree! His anchor suggestion was rejected as not practical. I don't actually mind getting tethered to the tree but I kind of enjoyed floating into random strangers in their white see through speedo's and having a full frontal stare and awkward lost in translation conversations (ha ha). I have also found another use for the 18 air pockets/cup holders. They are a great safe place to store your pistachios whilst in the water just be careful not to get your nuts wet as nobody likes soggy nuts! Hubby was not to sure about the lilo's at first as some of the river beaches here are small and very quaint, I think he thought I would lower the tone. I'm not sure why as it's not like I wanted to purchase a giant inflatable penis and ride it down a historic river. Although I did see a fantastic giant flamingo for sell at Agroal river beach near Tomar. Look at this beauty, it's huge compared to the dinghy boat next to it. Could fit 3 or 4 people. I could get even fatter and still fit the maximum KG weight capacity. Bring on the Pastel de natas.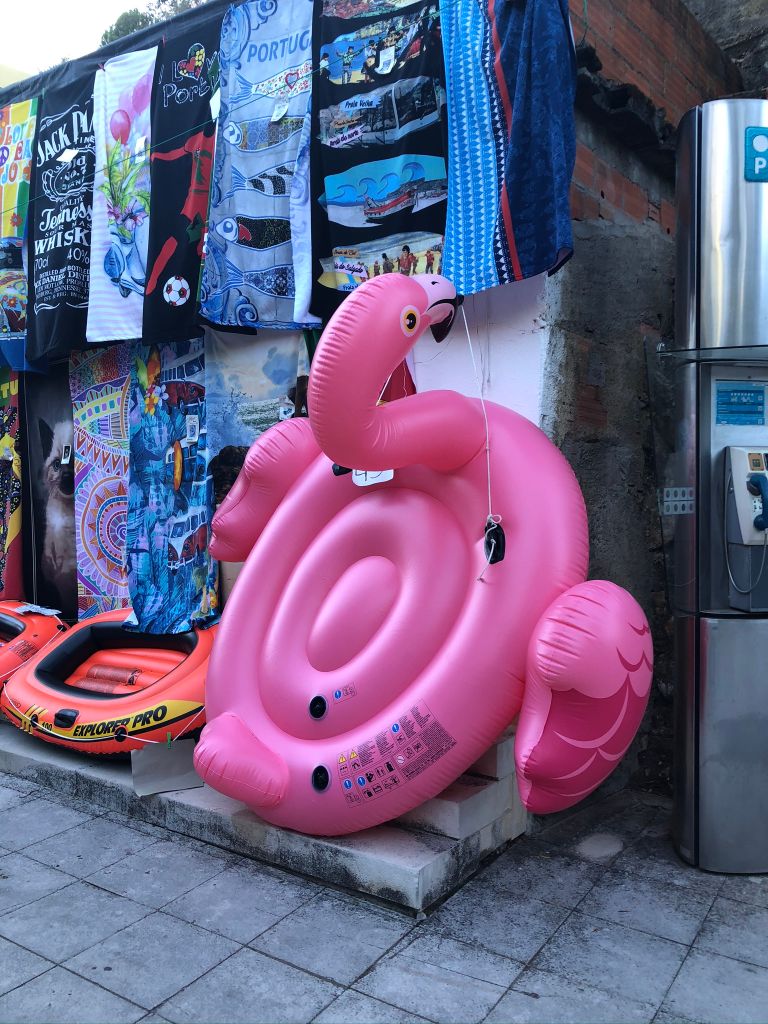 Avo river beach lilo fun
Sun shade
I also thought it would be sensible to purchase some form of sunshade for the beaches as although river beaches usually have a lot of natural shade from the trees, coastal beaches do not. I thought a tent would be more practical than a parasol so I purchased the Vigorun pop up beach tent from Amazon. It is supposed to fit 2-3 adults but I did not check the exact measurements or size before I ordered it. The courier delivered it when I was on a video chat to my daughter in the U.K and she was intrigued so got me to open it so she could see what it looked like. I propped up my phone against my water bottle on our coffee table and opened the box and package. I knew it was a pop up tent but did not expect it to just automatically pop up in my face, knock over the water bottle and cause chaos with water everywhere! It is absolutely huge and the space in my lounge I gave it to open into was way too small. It provided much entertainment for Teanna to watch (ha ha). The carry case got soaked with water so had to dry off on the balcony. When I usually order stuff it always tends to be a lot smaller than I expected. Well not this time. Not gonna lie, I'm going to look like a right weirdo in this tent but it's perfect for social distancing (ha ha). I just wanted a small sunshade tent to put my head in and have my legs sticking out so they can get a sun tan. I think it's going to be perfect for coastal beaches and larger river beaches but I wouldn't use it at a smaller river beach, it would just be too embarrassing.
It is lovely and a bargain at €30. It has a lot of features e.g. Pop up design so easy set up (just don't do it in a small lounge between two sofas), 50+ UV Sun protection, lightweight, portable, side pockets, door flap, nice colour, waterproof, pegs, carry case, good ventilation and windproof (but not if my hubby farts in it or I feed Teanna figs – ha ha). The only negative is that the instructions on how to open and close the tent are printed on a label attached to the carry case and they are wrong. It actually should not of popped up without me releasing the ties/buttons but they were left open hence why it popped open dramatically. I have no clue how to close this bad boy of a tent as the instructions are for the wrong tent! It mentions a zip and there is no zip. It's going to take a few Youtube videos! I have managed to move it to the garden for now. I might just have to go and live on a beach in it if I can't get it down. Or maybe I can release the tent pegs and float away with the nest gust of wind. Hubby has now determined how to get it back into the carry bag, he deserves a medal as I have not yet managed to succeed at this task. It's just way too complicated for my tiny mind to cope with.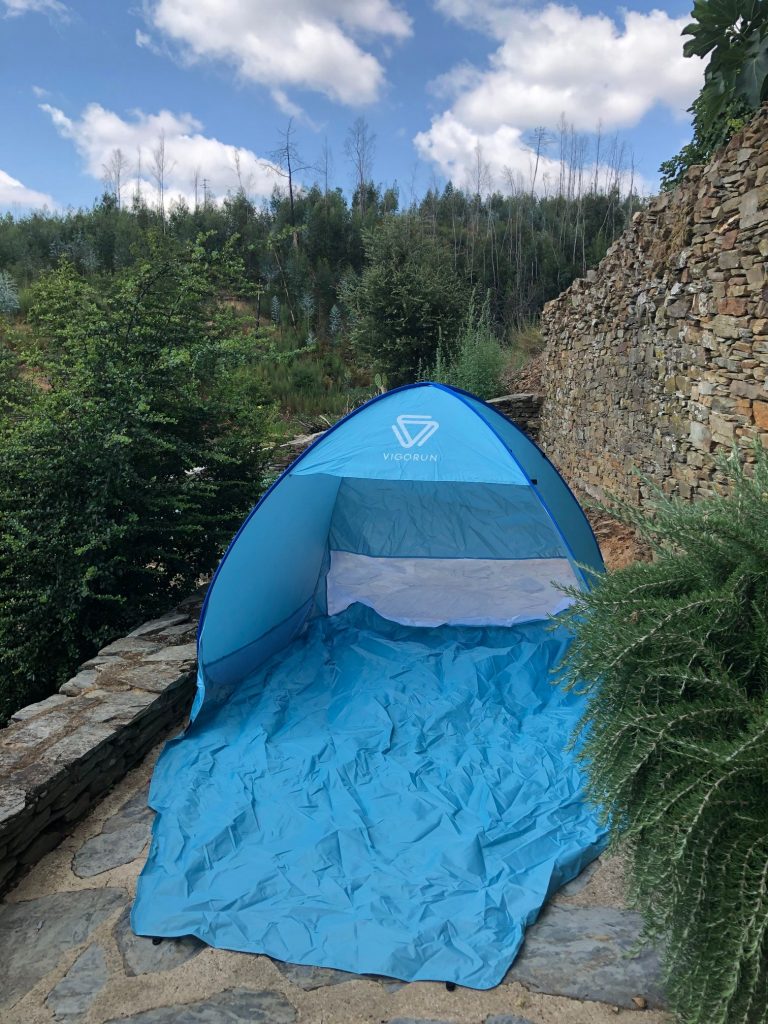 Guide lines and pegs are there for a reason
Teanna and I spent a glorious 2nd day of her holiday at Avo river beach whilst hubby worked. We could not be bothered to find out how the tent guide lines or pegs are installed, big mistake! We were floating around on the river when we caught a dramatic scene from the corner of our eyes. The tent was blowing very dramatically from one side to the other and about to take off. A lovely Portuguese man saved it from blowing away by putting large rocks on the corners, bless him. He had long hair and looked like Jesus (but more sexy!). I love the fact that people bring chairs to the beach here. Look at granny in the background!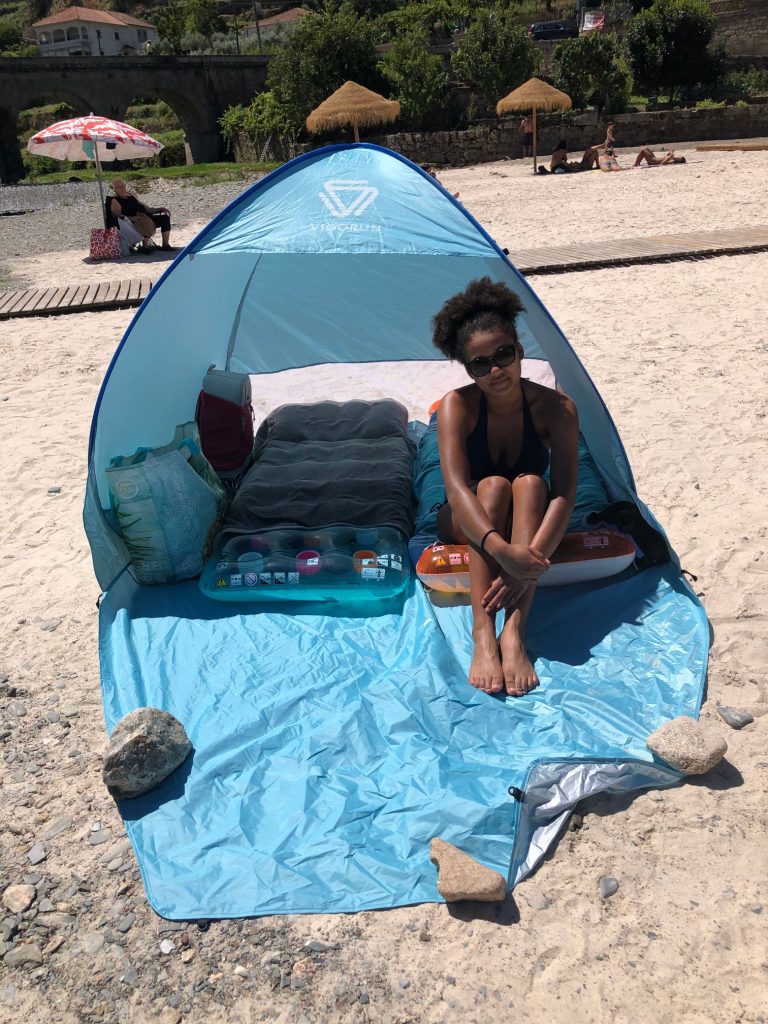 This photo is Figueira da Foz beach and hubby fitted the guidelines and pegs, good boy. I love this tent, it's great to get changed in too just don't do what I did and accidently flash my ass to a dad and his teenage son! That boy is gonna need a lot of therapy (ha ha).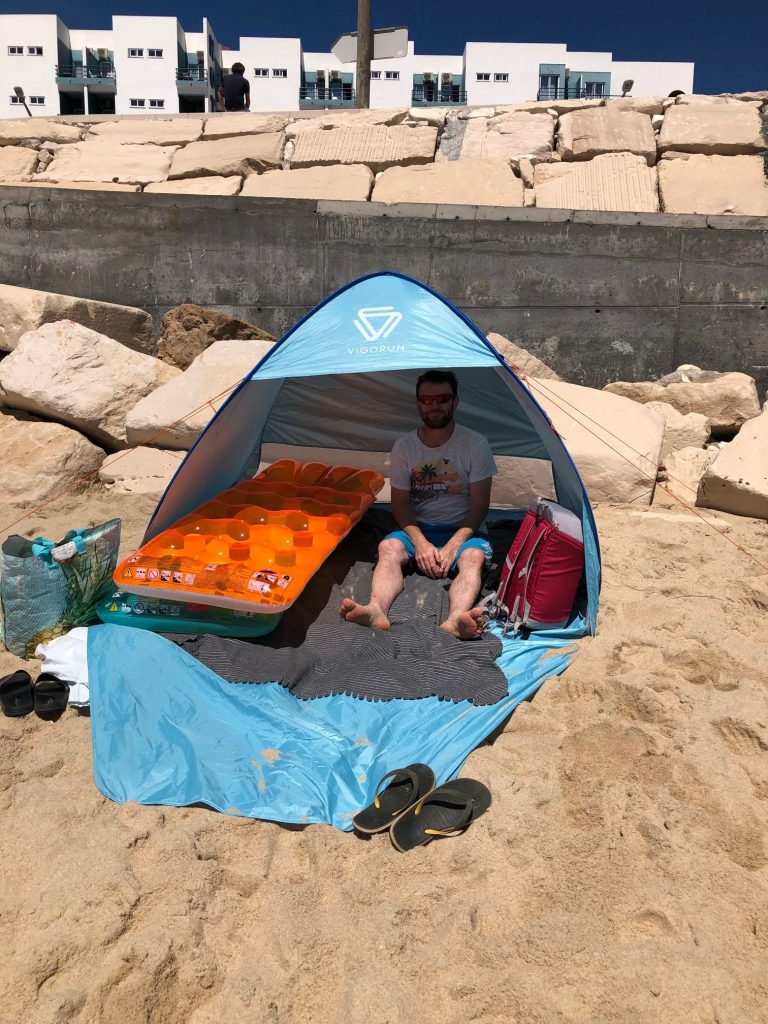 Beach towels
Lastly I wanted to buy some light weight, quick drying beach towels. We currently are using Ikea normal towels which are XL and very heavy to carry. Although these towels don't take that long to dry in the Portuguese sun they are very heavy to carry around and bring back half the beach to your home. I want to be able to throw a couple of towels in their pouches into our picnic backpack and have them available if we decide to go on a hike to a river beach so we have something to dry off with and sit down on. There are so many opportunities here to take a quick dip in a wild river whilst hiking. I wanted to buy some lightweight beach towels that have their own little bag/pouch. I researched beach towels and Dock and Bay came out on top on nearly every online review. They were on Dragon's Den! If a Dragon invested their money they must be good. These towels not only look great and come in various designs, they are quick drying, super absorbent, light and compact, no odours, sand free and come with a magic pouch. It's not really magic (ha ha). I purchased 3 of the Cabana style, Phi Phi pink for me, Bondi blue for hubby and Brighton purple for Teanna. They cost €19 each with free delivery but we got 15% off our first order which equalled €16.25 each. I think they are well worth the money as cheap Primark basic beach towels are €5-6 here and €10 for a large one. I think we will get multiple use from them and if Teanna doesn't want to take hers home, I get two (ha ha).
Unfortunately the towels got lost in transit. I hope the courier driver is enjoying my free beach towels. Dock and bay were not great at helping via email and it shows that they are a small company as Amazon would have just refunded and re-ordered. For a refund they wanted us to wait until we received them, then to post them back and then they will issue a refund. They wanted us to wait and we did wait for over 3 weeks! They then had to be re shipped by a different courier and we got them on the last day of Teanna's holiday here so bloody useless for her trip! They only offered a 20% discount which we accepted. The towels are good but their delivery sucks! Teanna also wanted to take hers home as it was packaged small and fitted in her carry on case.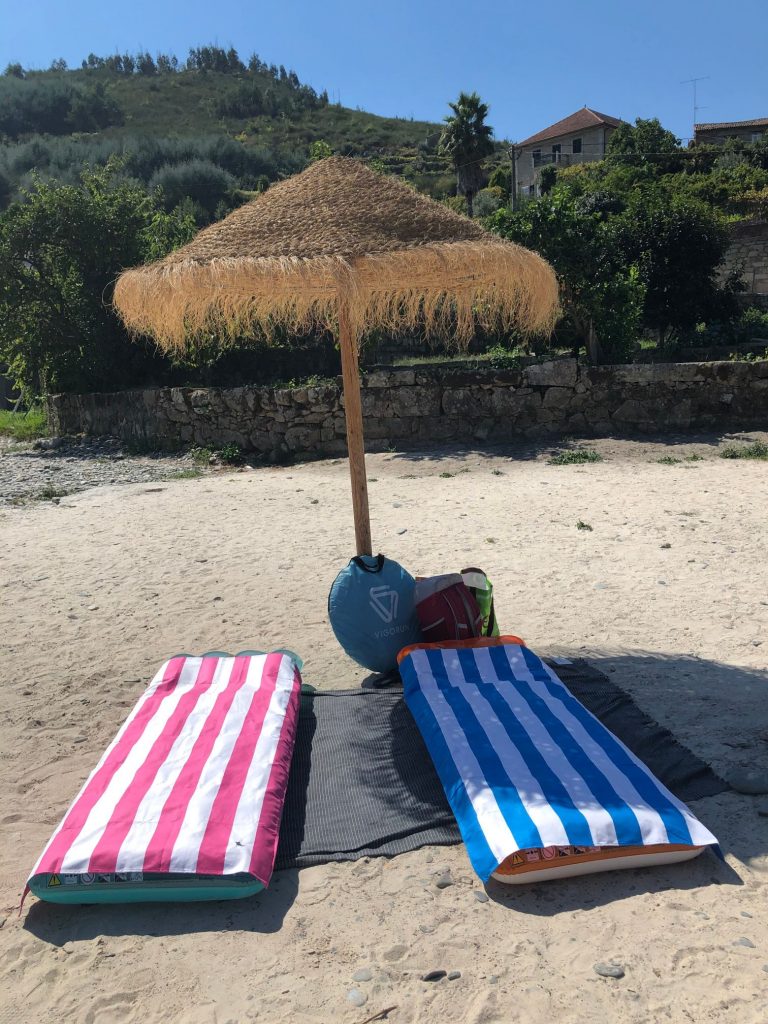 We had so much fun kayaking at the National Park that we are tempted to buy a canoe or kayak for next year. Just think of the mischief I could get up to in an inflatable kayak (ha ha).