AN AFTERNOON TRIP TO PALÁCIO NACIONAL DE MAFRA
I had my pre op appointment with my surgeon and it's a long 6 hour round trip (near Lisbon) so we teamed it up with an awesome afternoon trip to Mafra National Palace. I had initially researched the luxurious once upon a time royal residence Queluz Palace and Gardens but the weather was very wet and wild so I decided to abolish my grand plan because we would not be able to view the magnificent gardens in the rain and it seemed such a shame to pay the €10 entry fee each to just view the interior of the palace. 
Wet & Wild Weather
OMG the weather was so dangerous to drive in. I would have tried to reschedule my private medical appointment but I have already cancelled once due to us contracting Covid and my surgery is really soon and I have to take pre surgery blood tests as well as a consultation so we braved the harsh weather. As my Doctor said "Your British, you should be used to the bad weather." (ha ha). It was a horrific journey, we witnessed 6 road traffic accidents on the drive down! At least half were lorries that had collided with cars, scary times as visibility was poor as people drive like maniacs here in Portugal. If I had €1 for every car that performed a dangerous maneuver and overtook us at lightening speed, I would have a hefty birthday booze budget of about €28 (ha ha). That would get you 1 cocktail or 2 pints in London but here in Portugal it would secure me an extravagant night out on the tiles with a fartura or two on the slow crawl home (ha ha).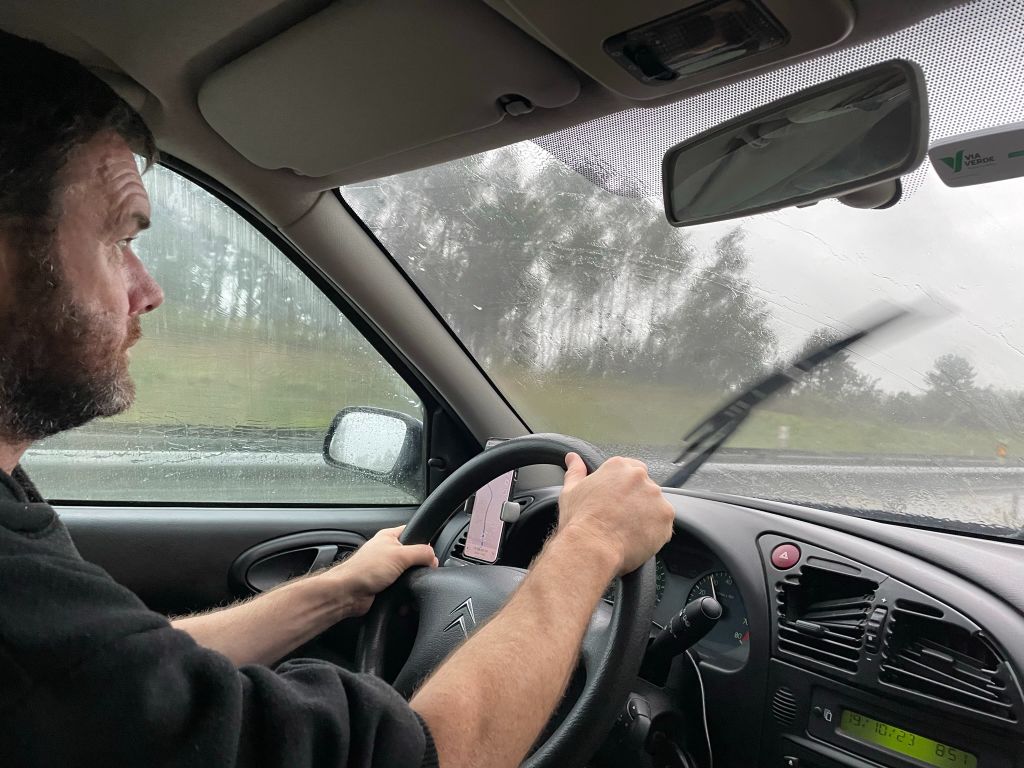 General Information
GPS Coordinates (Free Car Park):
40.37669733424304, -8.366637243718383
Opening Hours
Palace: from 9:30-17:30 Every day except Tuesdays (last admission at 16:45).
Library (Readers): Open every day except Tuesdays from 9:30-13:00 and 14:00-17:00.
Basilica: Open every day from 9:30 to 13:00 and from 14:00 to 17:30.
Closed on Tuesdays and on 1st January, Easter Sunday, 1st May and 25th December.
Ticket Price
Adult: €8.00
Special ticket: Terraces €5.00
Tickets can be purchased online via the DGPC website (Various discounts are available)
Let's Talk Size & Numbers
The complex is gigantic and covers an area of almost 4 hectares (37.790 m²) and comprises of 1200 rooms, more than 4700 doors and windows, 156 stairways and 29 patios and courtyards making it one of the largest in Europe. The overall length of the main façade is 232 metres while the north and south sides measure 209 metres respectively, and the east 171 metres. The moral of this story is: Wear comfy shoes! Most folk we encountered wore trainers as I think they got the memo that one can walk around 3 miles. What made us laugh was the fact that due to the rain and the type of old fashioned flooring most people made rather large squeaking sounds like an enormous mouse with every step they took including us 2 (ha ha). 1755 is the year the Palace was completed, a whopping 38 years after construction began. 300 Franciscan monks eventually came to reside at the Mafra National Palace which is a significant increase from the original plan of just 13. The diameter of the Basilica's dome is 13 metres and the length of the church is 58.5 metres (192 feet). This was the first ever dome to be built in Portugal. I love discovering new facts at the ripe old age of nearly 50.
Historical Background
The Palace of Mafra (Portuguese: Palácio de Mafra), also known as the Palace-Convent of Mafra and the Royal Building of Mafra (Real Edifício de Mafra), is a monumental 18th Century Baroque and Neoclassical Palace and Monastery located in Mafra, 28 km from Lisbon. Built in the 18th Century on the orders of King John V (1689-1750) in fulfilment of a vow he had made, should he be blessed with an heir from his marriage to Maria Ana of Austria, or be cured of a serious illness. The Royal Convent and Palace of Mafra is the most important monument in the Portuguese Baroque style. Organised symmetrically, the building evolves from a central axis, the Basilica, the central point of the religious façade, which is flanked by the façade of the Palace, the King's apartments at one end and the Queen's at the other. The Canons Regular of St. Augustine also occupied this convent, originally destined to the Order of St. Francis of the Province of Arrábida between 1771 and 1791. The architectural policy carried out by the monarch was inspired by papal Rome, in the classical Baroque influenced by Bernini, with towers showing feature in the style of Borromini, as well as some German characteristics. All in limestone and marble from Pero Pinheiro and Sintra.
Such magnificence was only made possibly from the gold that poured into the country from Brazil at that time, allowing the king to carry out his sponsorship of the arts and the strengthening of regal authority. King João V laid the foundation stone on November 17th 1717 and the Cardinal Patriarch of West Lisbon blessed it, before the assembled Court. Responsibility for this massive undertaking was placed in the hands of João Frederico Ludovice (Johann Fredrich Ludwig), a German silversmith who had trained as an architect in Italy. Workmen came from all parts of the kingdom, their numbers increasing almost daily, until there was a grand total of 50,000 men in one single year. On Sunday, October 22nd 1730, the king's 41st birthday, the Basilica was solemnly consecrated and dedicated to Our Lady and St. Anthony. The king ordered sculptures and paintings by great Italian and Portuguese masters for the Royal Convent of Mafra, and had all the altar clothes and church vestments made in France and Italy. He also ordered two carillons with 92 bells in all from Flandres, the largest historical set in the world. During the reign of José I (1714-1777) an important school of sculpture, the School of Mafra, was set up under the Italian master Alessandro Giusti. The monument also contains one of the finest and most important libraries in Portugal, a synthesis of 18th century encyclopedic knowledge. The building was, however, never a permanent residence of the Royal Family, only João VI (1767-1826), while still Prince Regent spent 1 year here (1806-1807). It was from this Palace that D. Manuel II, the last Portuguese monarch, went into exile on 5th October 1910. The Palace of Mafra was regularly visited by kings, who came to attend religious feasts or to hunt in the game reserve. The Palace was classified as a National Monument in 1910 and was also a finalist in the Seven Wonders of Portugal. On 7th July 2019, the Royal Building of Mafra – Palace, Basilica, Convent, Cerco Garden and Hunting Park (Tapada) was inscribed as a UNESCO World Heritage Site.
Get a Room
I couldn't find a comprehensive list of rooms accessible for visitors to view so I thought it would be good to share the full list of rooms from the official leaflet. Don't panic, although there are 1200 rooms, not all are available to view so you don't need to train for a marathon for preparation (ha ha).
Convent and Religious Art Museum
01. Cloister
02. Corridor of the Cemetery
03. Chapel of the Cemetery
04. Dispensary
05. Infirmary
06. Infirmary Entrance
07. Infirmary Kitchen
08. Cells of the Nursing Staff
09. Religious Art Museum
Royal Palace 
10. Diana's Room
11. Throne/Audience Room
12. North Oratory
13. Corridor of the Oratory
14. North Tower/Great Hall
15. Bedroom
16. Dressing Room
17. Boudoir
18. Antechamber
19. Portuguese Discoveries Room
20. Destinies Room
21. Guard's Room
22. King João V Room
23. Benediction Room
24. Kings' Gallery
25. Peninsular War Room
26. Sacristy of Our Lady of Livramento
27. King João VI Room
28. Chamberlains Room
29. South Tower/Great Hall
30. Drawing Room
31. Toilette Room
32. Bedroom
33. Boudoir
34. Antechamber
35. South Oratory
36. Naples Room
37. King Pedro V Room
38. Music Room/Reception Hall
39. Games Room
40. Musical Instruments Room
41. Hunting Room
42. Chamberlain Room
43. Cradle Room
44. Mafra Engravings Room
45. Dining Room
46. Corridor of the Knife grinder
47. Candelabrum Room
48. Friars Great Hall
49. Friars Cells
50. Friars Portrait Room
51. Corridor of the Library
52. Antechamber of the Library
53. Library
Our Experience
We arrived around 13:00 and parked in the free car park which is just a few metres from the Palace entrance. The building is of mammouth size and we found it a bit difficult to locate the actual entrance, the weather did not help our mission. It was raining cats and dogs so we ran and got more than a little moist. My umbrella blew inside out and nearly took off at high speed so I gave up on protecting my barnet so apologies for the state of my hair as any rain, wind and moisture instantly transforms my mop into a fluffy mess (ha ha). We purchased our tickets in advance online and headed towards the gift shop to buy a paper guide/map. We decided to take our outside photos of the impressive façade at the end of the day as we thought the rain might stop, but it didn't! Paper maps cost €1 and we headed up the stairs to start our tour. I expected the Palace to be quite busy seeing as it was a rainy day but it was fairly empty and quiet. I gave hubby the map and he guided us around the rooms one by one with the enthusiasm of a skilled and knowledgeable tour guide. We have set roles in our marriage. I am the "Princess of Planning" and he is "Official Tour Guide." We are a team. "It takes two flints to make a fire" (ha ha).
Palace (External)
The façade is so long (232 metres) that I had to stand really far back and take 3 separate photos to capture the entire building! I obviously had to try my usual crazy antics: Jumping for Joy. The only issue with my jumping was the fact that I injured my arm the day prior in a running accident so I couldn't swing my arms high in the air as usual and I was concerned that I might slip on my crash landing due to the rain and slippery Portuguese pavement. I had a couple of attempts then gave up because people were watching me and it became a health and safety risk so close to my surgery date. The positive aspect of it raining was the fact that we managed to take some photos without hardly anyone in the background.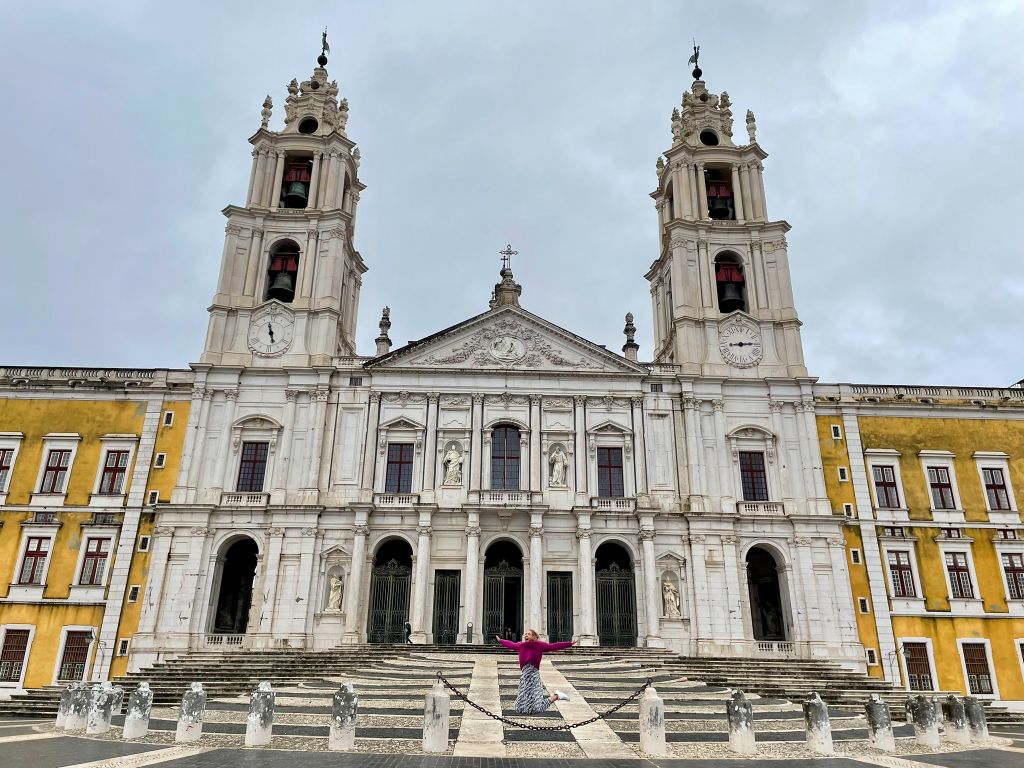 Heaven's Tears – Soggy Selfies (External)
A soulmate and rain are a perfect combination. Never let a little bit of drizzly weather rain on your parade. As you can see I'm clearly not one to let a grey sky, fierce wind (not hubby's) and a little rain dampen my spirit! Soggy Selfies but I'm still SMILING!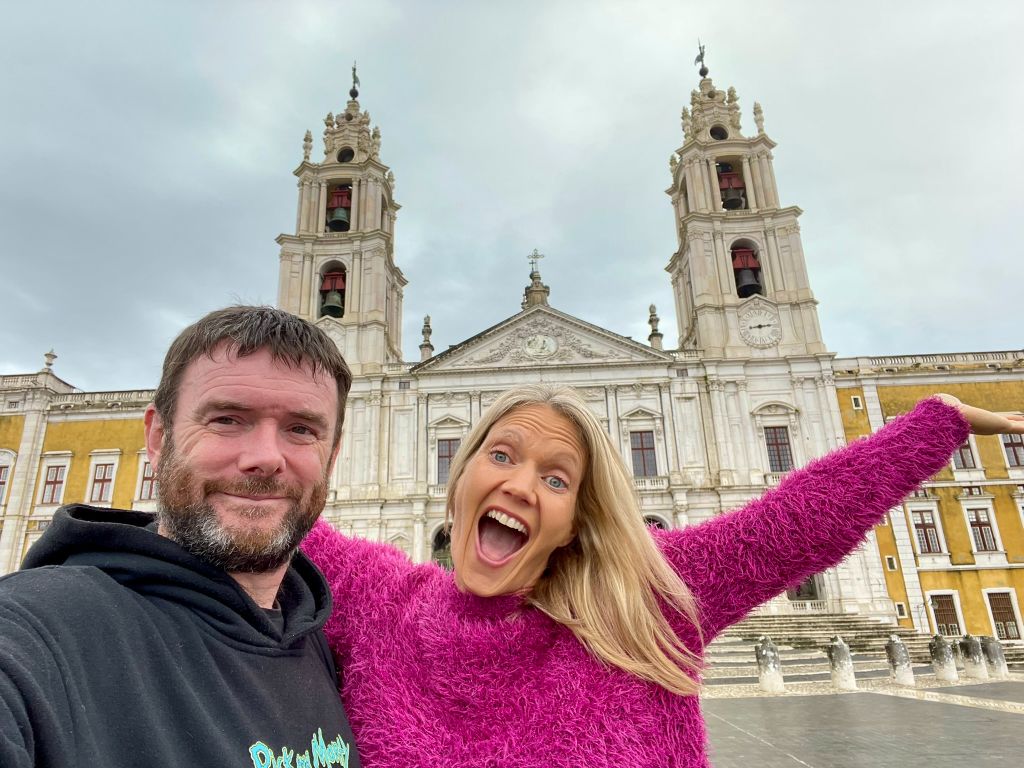 Palace (Internal)
There are so many fascinating rooms to enjoy and I have written a bit more information on my Top 3 favourite rooms further down in my blog post. A lot of the rooms are a bright rich vivid colour of radiant red and sunflower yellow which is a lovely contrast against all the dark wooden furniture. The Palace ceilings and walls are painted and decorated with ornate marble stone and intricate carvings. The whole place is so very regal and elegant. We both found the Infirmary fascinating and we were surprised to see that the cubicles had privacy curtains. It's not everyday you get the pleasure to view a hospital and a pharmacy with ancient medical instruments. Some looked like torture tools, I think my dentist used one to extract my wisdom tooth last year (ha ha). The staff were very friendly and spoke excellent English. I also found the Palace kitchens very interesting and I can quite easily imagine a bustling hot environment with several servants running around like headless chickens cooking up a feast for the royalty. I often wonder how much of the furniture is authentic and original and not replicas so I was pleased to find out that the grand piano in the dazzling yellow Music Room is an original built by Joseph Kirkman, a British cabinet maker, in 1857. The instrument was shipped over and installed here in 1861. Hubby loved the Games Room because he is a total geek and would have loved to play billiards and all the ancient tabletop games. After our Palace adventure we ventured outside and took some photos and videos of the grand façade as well as a few soggy selfies.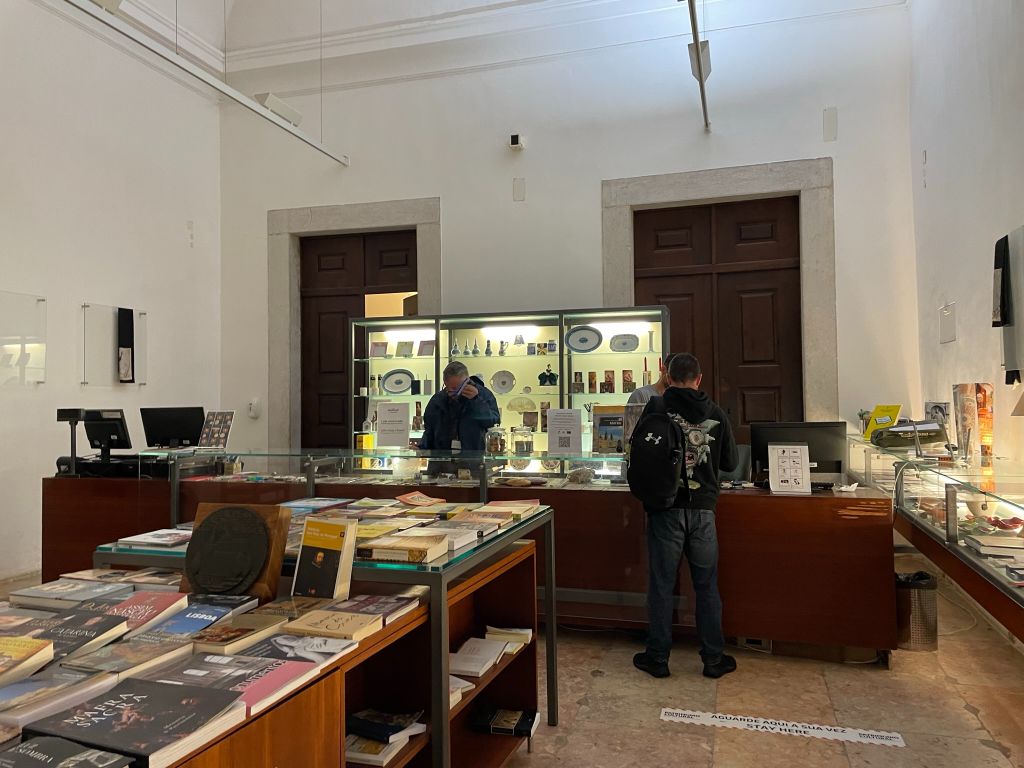 Garden & Cloisters
The garden and cloisters were roped off! Hubby said there was a sign saying that the garden had been sprayed and was temporarily closed.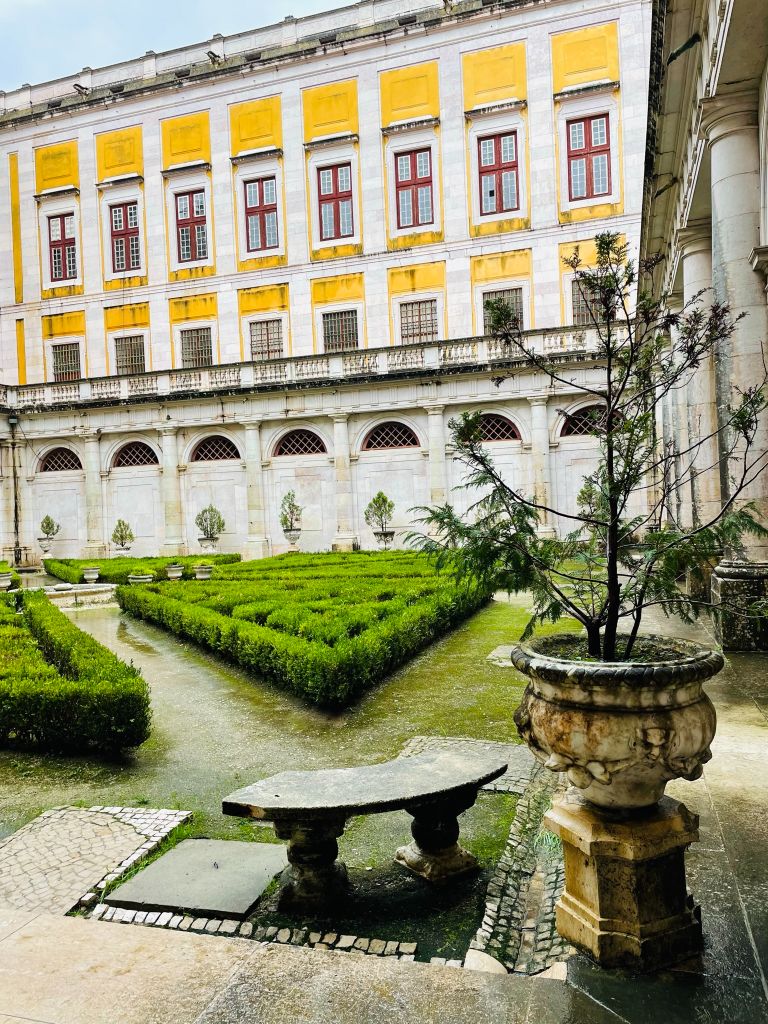 Jardim do Cerco (Gardens)
The Jardim do Cerco is a well kept and fenced garden, with 8 hectares, adjacent to the Palace. It was built by King João V, in the 16th Century, in Baroque style and was inspired by the Palace of Versailles Garden, near Paris. I was very sad that we couldn't visit due to the rain.
Tapada Nacional de Mafra Park (Game Reserve)
The Tapada Nacional de Mafra is a 800 hectare game reserve that was created in 1747 by King João V, in the 18th Century. The green space served as a leisure park and game reserve for the royal family. It costs an additional €5 for an adult to enter this beautiful nature paradise but due to the rainy weather and lack of time we decided against it. It will be a place that I return to in 2024 as I really fancy hiking one of the forest nature trails. I didn't like the Palace Hunting Room with all the hunting memorabilia including deer heads on the walls and even the huge chandelier was made from antlers as well as rugs and chairs. I'm an animal lover so I found it extremely sad to see and very creepy. Although the Royals never used the Palace as a permanent home they did use it as a retreat for a few days when they fancied hunting in the adjacent hunting park (Tapada de Mafra) which was created as a private hunting ground for the King.
Garden Selfies
This is as close as we could get to this area as surprise surprise there was another rope (barrier)!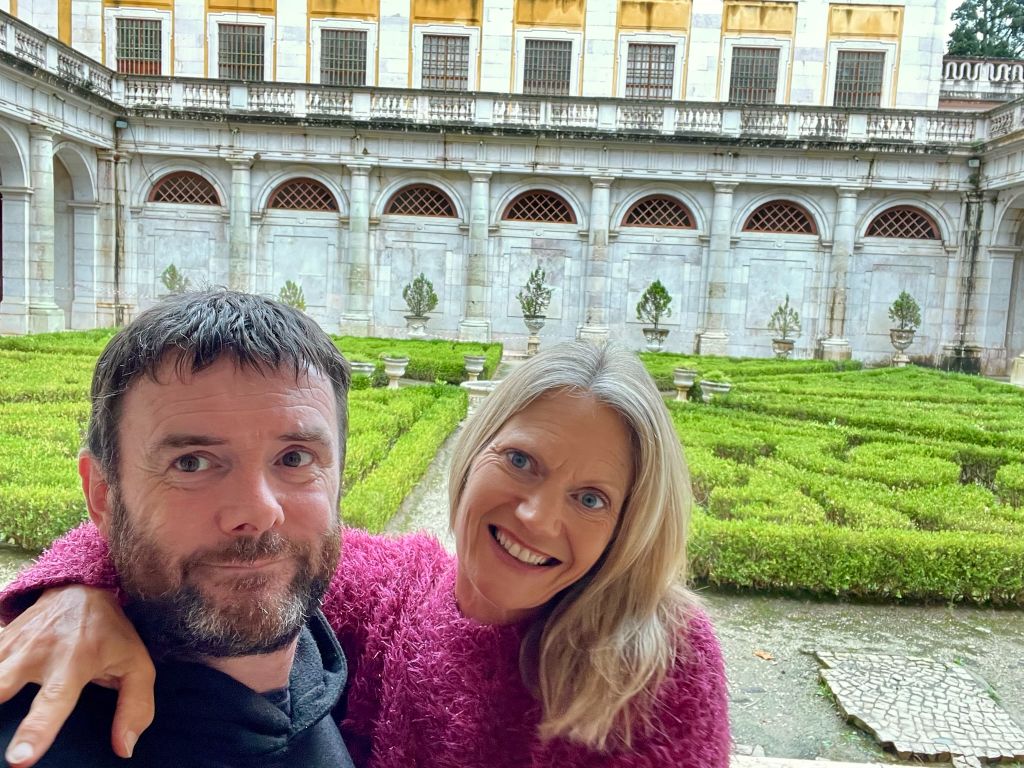 My Top 3 Favourite Rooms
I have included lots more photos of my favourite rooms in the main photo gallery above.
When in Doubt go to the Library
My favourite room was the Rococo style library, situated at the back of the second floor. It is the largest 18th Century library located in a single room measuring 1000 square metres. It is a gigantic 88 metres long, 9.5 metres wide and 13 metres high! The lavish floor is covered with rose pink, grey and white tiles. It is one of the most important European libraries from the 18th Century. Cross-shaped, it has a polychronic marble pavement and rocaille shelves. Over 30,000 volumes embody the main themes of the Enlightenment, the age of reason and science, with a predominance of religious themes, as well as medicine, pharmacy, history, geography, literature, philosophy, architecture and art, law, etc. The bookshelves were installed in 1776 but only in 1791 were the books placed in the bookshelves. In the early 19th Century, Friar João de Santa Ana completed the second inventory of the books and organized the books on the bookshelves reserving the north part of the library for religious books and the south part for exact sciences and lay subjects. This organization remains until this day. The bookshelves designed by Mafra architect Manuel Caetano de Sousa remain unfinished as they lack marbling, gold mouldings and the portraits of important authors. In addition to the printed books there are important collections of music books, incunables (books, such as the 1493 Nuremberg Chronicle, printed between 1455 and 1500) and illuminated manuscripts such as the 15th century Books of Hours.
There are several rare books such as the first Latin translation of the Quran (1543), a polyglot bible in seven languages (1514), works by Gil Vicente annotated by the Inquisition (1561), a watercolour atlas – Theatro de la Tierra Universal by Abraham Ortelius (1588), La Cosmographie Universelle by Sebastian Munster (1568), the 33 volumes of La Galerie Agreable do Monde (1690) and the Library of Leaflets collected by Friar Matias da Conceição between 1736 and 1760. In the library's archive there is a vast collection of sheet music by several composers: Marcos de Portugal, João de Souza Carvalho, José Joaquim dos Santos, João José Baldi, amongst others. Several of these compositions were made especially for the Basilica's organs. As a sign of recognition of the library's importance, Pope Benedict XIV issued a papal bull in 1754 that allowed books forbidden by the Index Librorum Prohibitorum to be kept in the library. The forbidden books were considered subversive because they dealt with subiects condemned by the Catholic Church and the State.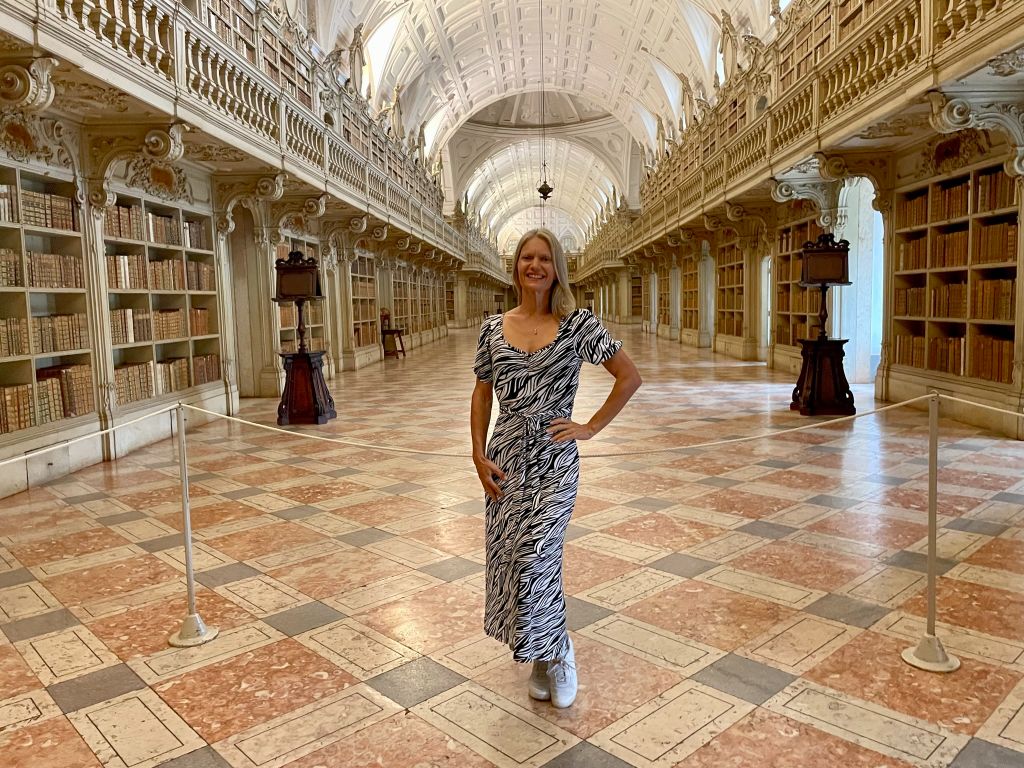 Batty Helena
The Library of the Palace of Mafra has an unusual environmental feature as at least three species of bats (the brown big-eared bat, the pipistrellus and the serotine bat) ensure regular disinfestations as they consume insects that feed on wood and on the actual books, how cool! There was one extra bat on the day I visited "Crazy Batty Helena" (ha ha). I'm assuming these bats died of natural causes, I'm still alive and kicking, just (ha ha). The famous Biblioteca Joanina (Library) in my home district of Coimbra also has bats and I must visit in the near future.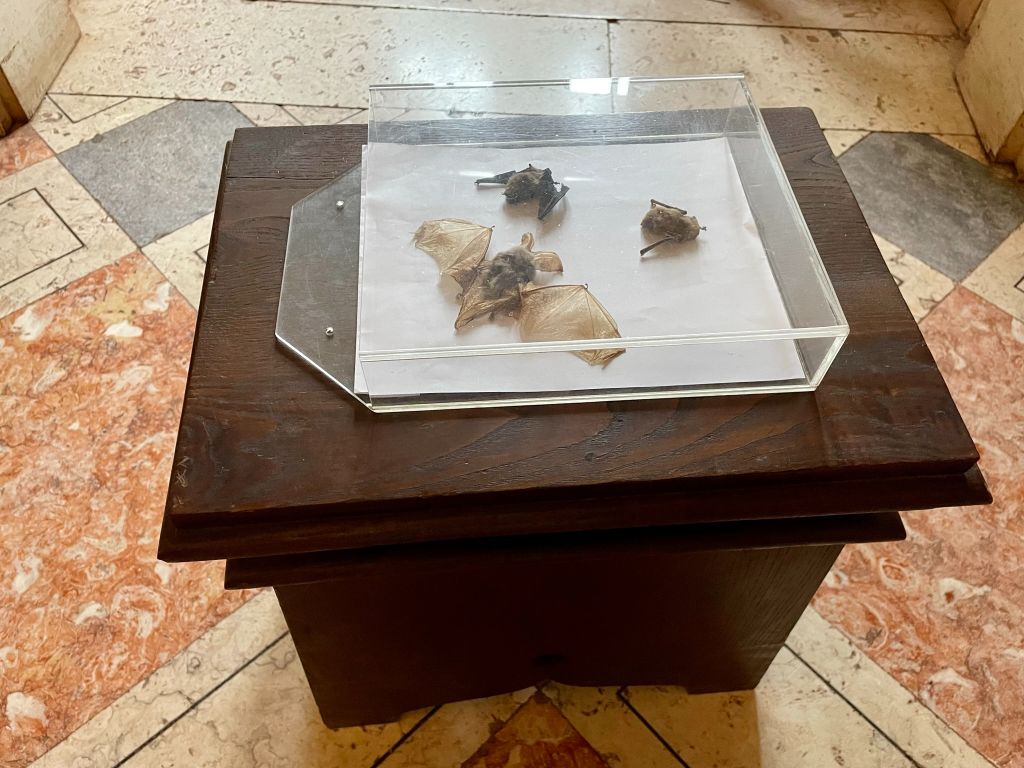 A Throne is only a bench Covered with Velvet
This splendid extravagant Throne Room was used for royal audiences. The painting on the ceiling represents an allegory to "Lusitania" by Cirilo Volkmar Machado. The eight Royal Virtues adorn the walls by Domingos Sequeira (1768-1837). WOW! This room is incredible and I stood in awe for what seemed like an eternity. The ceiling is magnificent and gives me Autumn vibes. Funnily enough this room had no staff guarding it, maybe they were on a toilet, lunch or fag break (ha ha). I've never had such an irrational thought and an urge to break the rules in my entire life. I so very much wanted to run and jump the roped off barrier and sit in that delicate wooden carved red velvet throne if only for a minute. Hubby sensed what I was thinking and before I could even open my mouth he just looked directly at my face and said "No!" (ha ha). I don't think that there was any surveillance cameras and I'm quite nippy on my feet for my age, I had my trusty trainers on and I was ready to 3,2,1 go but hubby wouldn't let me. This room was one we visited quite near the start of our self guided walking tour and he didn't want us to get kicked out so early into our day trip without seeing everything, he also didn't want me getting arrested. I tried to justify my reasons and asked if I could give it a go at the very end once we had viewed everything but he took me by the hand and led me away. He promised to buy me a red velvet cake to make up for the red velvet throne disappointment (ha ha).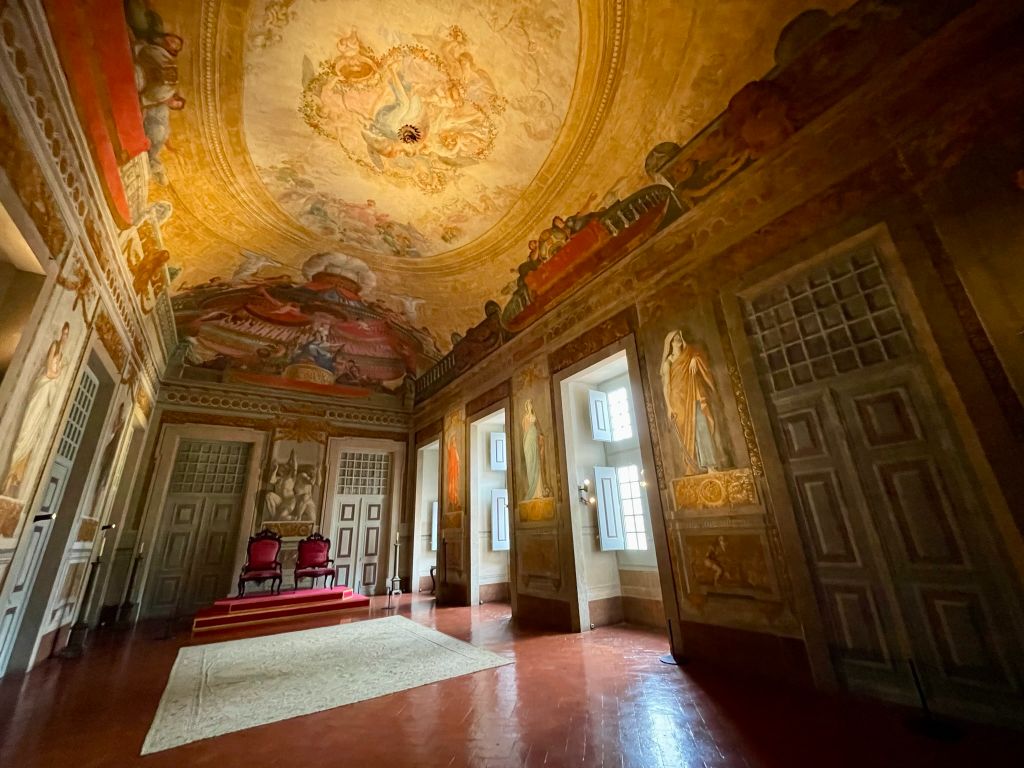 Divine Diana's Room
The ceiling painting depicting a woodland scene with Diana, goddess of the hunt, surrounded by nymphs and satyrs is so pretty. This mural, by Cyrillo Volkmar Machado (1748-1823), is part of a decorative campaign commissioned to this Royal Palace by the Regent Prince João, the future King João VI, from 1796. I adored this room and the woodland mural ceiling with the forest naked ladies and trees but not the hunting aspect (arrow in the deer's ass). I think I was drawn to this room as my heavenly mum's name is Diane. I also really liked the tapestry on the wall.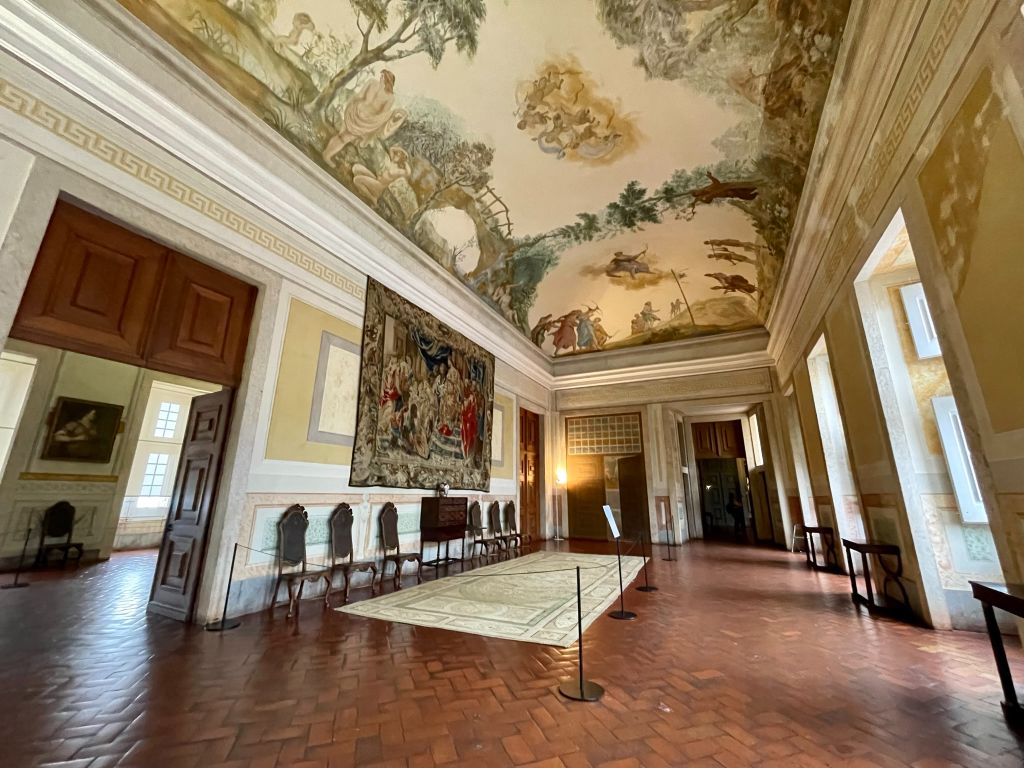 Queen Helena
We spotted a Queen Helena! Maybe I am a Queen after all and not just a pretty Princess (ha ha). What is even funnier is that she was married to King Carlos. My ex hubby is called Carlos so this made us laugh a lot (ha ha). Queen Maria Amélia Luisa Helena de Orléans was married to Carlos Fernando Luis Maria Vitor Miguel Rafael Gabriel Gonzaga Xavier Francisco de Assis José Simão de Bragança. Wow, what a mouthful, that long name isn't fitting on any official form any time soon and can you imagine saying it out loud at your wedding ceremony (ha ha).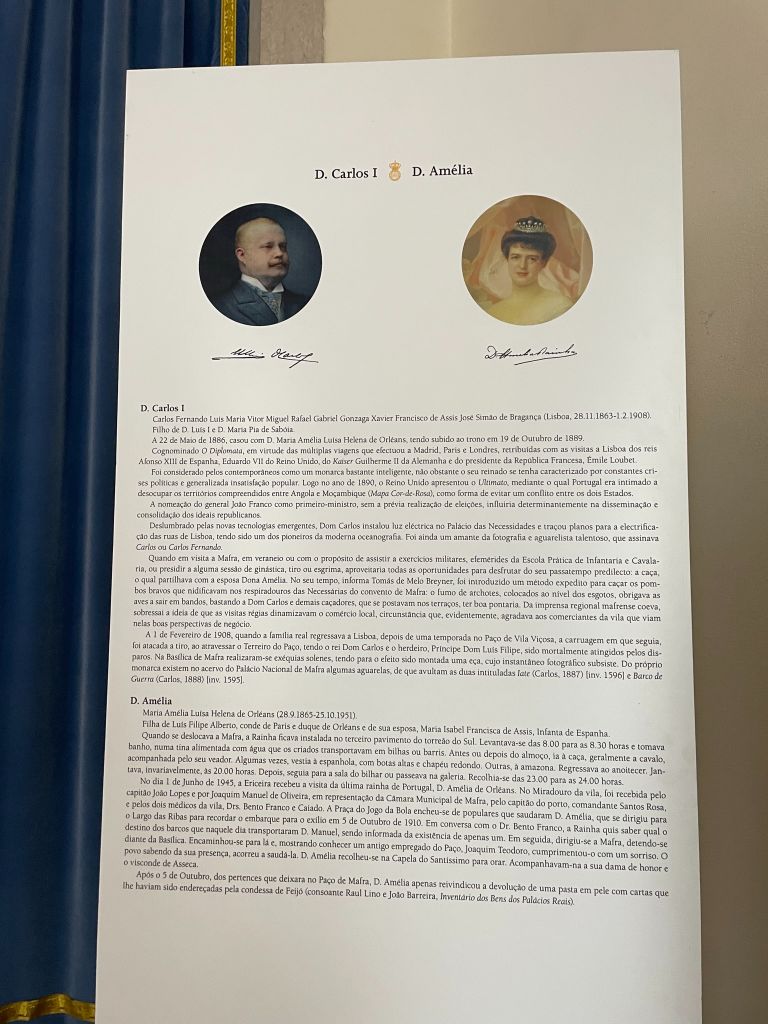 King Adriano
Hubby thought this King looked a lot like him, mysterious, buff and strong (ha ha).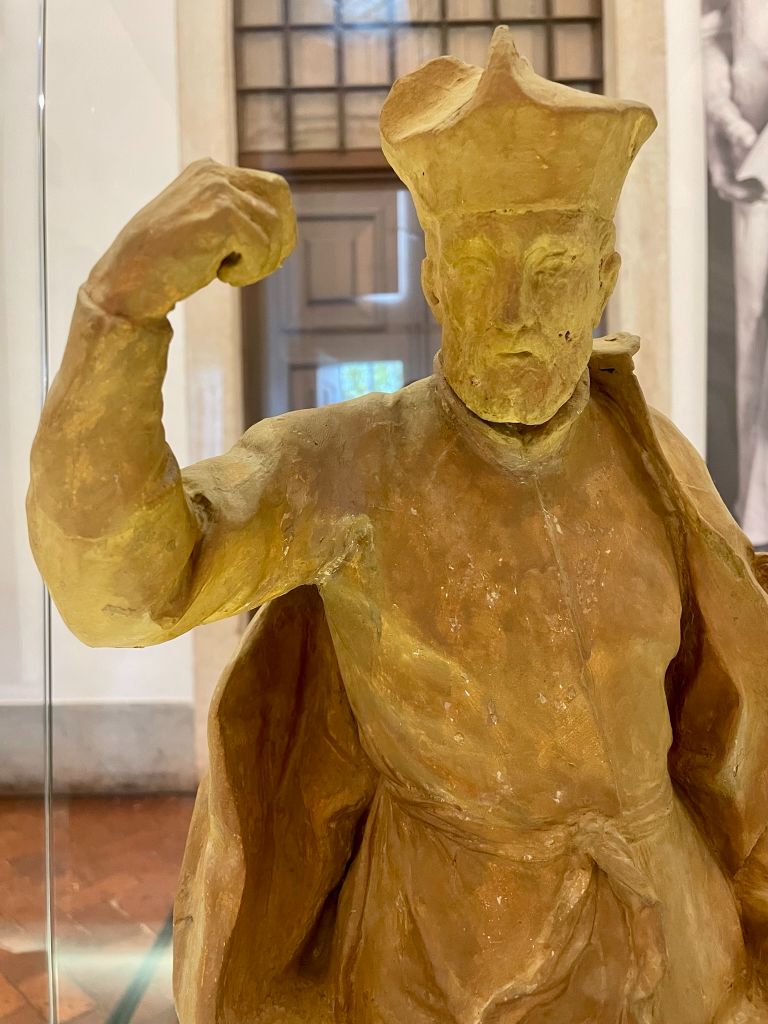 Dark Wood
The whole Palace is decorated with dark wood furniture. My mum loved Mahogany wood and she would have been over the moon to have some of these unique antiques in her house. I am not a huge fan of traditional dark wood as I find it quite depressing, dark and gloomy, I prefer Oak. Hubby liked the intricate carvings on this dresser in the Hunting Room.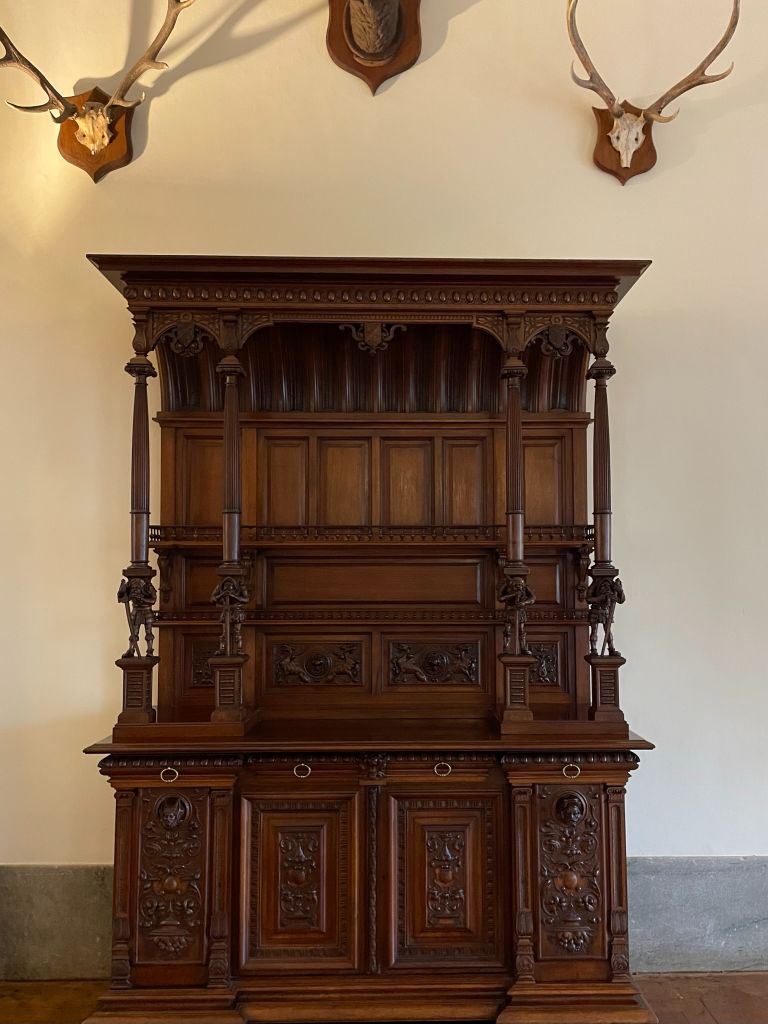 Mr & Mrs Palace Selfies (Internal)
He's got that one pose man thing going on again so I made him swap sides which made him blink (ha ha).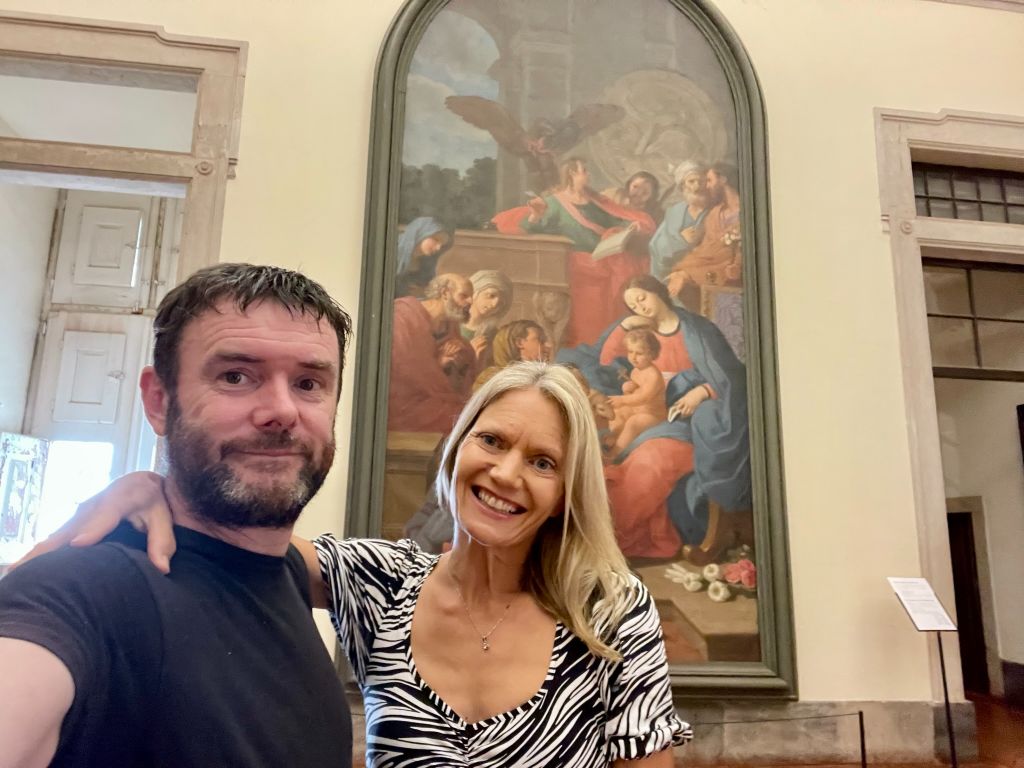 Are You a Rule Breaker?
I've never seen so many ropes in one Palace! Everything of importance was sectioned off with a rope barrier. Most Palaces I have visited prohibit access to certain areas displaying ancient antiques/heirlooms but in my opinion this Palace was over the top. Nearly every accessible room had roped off areas with a human guard on eagle eye watch. This meant Helena couldn't mess around with items and act the fool. I do love to touch and feel stuff so I was a little miffed. I totally get the restrictions for certain items of furniture as if everyone decided to plonk their ass down on posh thrones the red velvet would soon wear thin but my patience was wearing a little thin with all the signs saying "Do not sit here." My main gripe is the fact that I couldn't even walk down the centre aisle of the Library corridor! I didn't want to touch or riffle through the books just get a closer look and smell but it was all roped off with a lady watching my every move, I think she could read my mind (ha ha). Are you a rule breaker? If you obey all the rules you miss all the fun (ha ha). The more something is roped off and prohibited the more temptation creeps in and I want to leap over the barriers and break the rules. My mind is flooded with irrational thoughts and I have to tell myself "STOP". In all fairness I reckon I could have outrun the old lady patrolling the library with no issues but she was wearing trainers. I'm not sure if she is sleeping or blinking in the last photo, my guess is the later as this job would drive me insane. It must be so boring to sit still for so long doing nothing.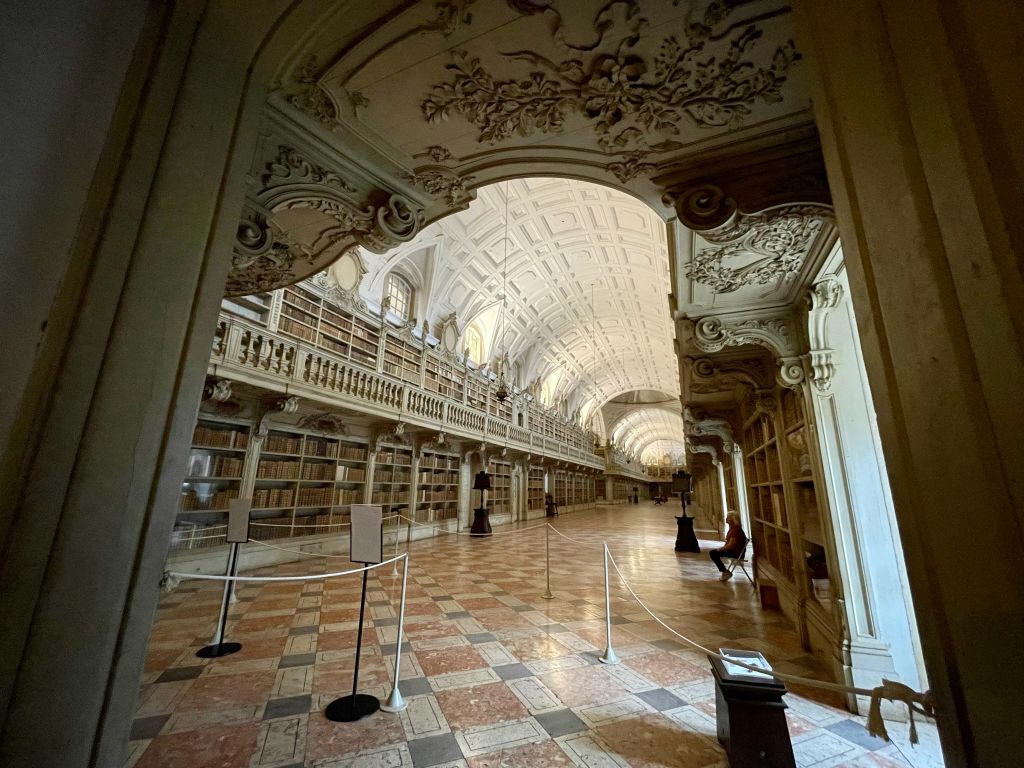 Negatives
My main annoyance was the fact that a lot of the rooms were roped off so you can only peer in from a distance. There are some rooms that lead on to a further room so you can only lean as far as you can and see an opening to a grand room but are unable to enter. I saw one room with impressive antique huge silver candlesticks and I wanted a closer look but was not permitted. Apart from the roped off areas and over zealous restrictions the North Tower was also closed on the day we visited due to the weather so we didn't get to explore the King's Quarters only the Queen's Quarters in the South Tower. The Quarters are located in the towers at opposite ends of the Palace. Hubby was disappointed that he could not view all the musical instruments. 
My only other complaint is the toilets were annoying as I tried 3 different cubicles and none had toilet seats. I'm not going to go into too much detail about my IBS belly but we ate quite a lot of food and we both needed a code brown. Squatting on a loo at my age and patiently waiting for the event to happen when you are constipated is punishing on one's thighs (ha ha). Surprisingly hubby said the male toilets had seats. Also I think the paper map/guide should have come free with the ticket price seeing as they have raised the entrance fee from €6 to €8. I know €1 isn't going to bankrupt me but it got all soggy and wet in the rain so I can't even keep it as a memento. There is a gift shop selling souvenirs and books but in my opinion the Palace lacks a good cafe. I was desperate for a caffeine fix, they are missing a trick (ha ha).
Basilica (External)
The Basilica is located in the centre of the building between the bell towers and you access it from outside. Look how wonderful the circular pavement is and I love the bright happy yellow colour! There is no charge to enter like many famous religious buildings here in Portugal. I find this incredible and refreshing in a world where tourists are usually ripped off, it's lovely to visit such glorious places of worship. I really wanted to stay for the early evening mass at 18:00 but we didn't want to travel home in the dark due to the torrential rain and lack of clear visibility. We managed to sneak a peek if the Basilica from one of the internal rooms of the Palace which was cool.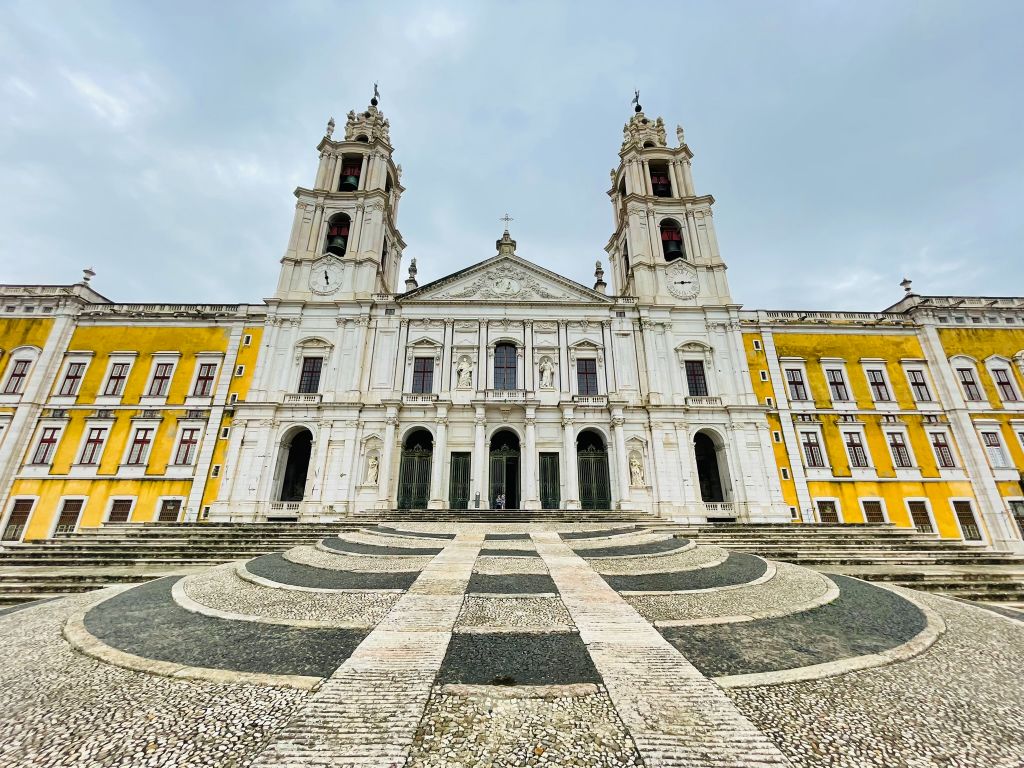 Basilica History
The first stone of the Royal Basilica of Mafra was laid on November 17th 1717 and its consecration took place on 22nd October 1730 (the birthday of King João V). The ceremony was attended by the Royal Family, the Court, dignitaries of the Church and of the main Religious Orders, the papal envoy, ambassadors and the local populace. Designed by the German architect, Frederico Ludovice, in the Italian Baroque style, the church has a Latin cross plan and is made of polychromos 'lioz' limestone from Pero Pinheiro and Sintra, boasting also the first octagonal dome to be built in Portugal. King João V commissioned for this Royal Basilica the very best craftsmen and artists in Europe, mainly Italy, to provide sculptures, paintings, religious implements and vestments. The paintings originally found over the altars of the side chapels, now on display in the palace, were replaced during the reign of King José I by marble bas relief retables made in the Mafra School of Sculpture, founded under direct supervision of the Italian Master Alessandro Giusti. This school, the first of its kind in Portugal, was intended to create a tradition in this art which until that time practically did not exist in Portugal. In the main chapel there is a painting by Francesco Trevisani representing The Virgin, the Child and Saint Anthony, to whom the Basilica is dedicated. The altarpieces of the two chapels on the transept, Sagrada Família (south side) and Santíssimo Sacramento (north side), as well as the south side chapel, Nossa Senhora da Conceição, and the six side chapels were designed by Alessandro Giusti from the Escola de Escultura de Mafra and his disciples. The Basilica has a set of six organs, quite unique in the whole world, which were commissioned by King João VI. In the Library there is a collection of music by composers such as Marcos Portugal and João José Baldi; scores written expressly for these instruments accompanied by choir and soloists which can only be played here.
Helena's Highlight
The breathtaking highlight of the day for me personally was the captivating Basilica which holds rich history. I was literally blown away by the sheer beauty, not just the windy weather (ha ha). The foyer entrance area to the Basilica is delightful with ancient stone arches and many sculptures of the Saints. I was surprised that there weren't many people inside. I was mesmerised by everything, especially the 6 organs made out of partially-gilded Brazilian rosewood with the largest pipe reaching 6 metres in height. I would have loved to hear them being played. I must return for a concert soon. Needless to say I took my time witnessing all the glory. The ceiling is an absolutely precious marvel, walk to the centre and look up, you will be amazed. I always love the ceilings but what stood out for me in the Basilica was the opulent pastel coloured mosaic flooring. The main altar is a work of art and the same can be said about the side altars. There are so many beautiful statues and astonishing paintings, the architecture is amazing and will leave you speechless. I loved the vaulted ceilings, pink rose marble columns, decadent geometric patterns and intricate fine filigree details and motifs.
I sent hubby back to the car in the rain to retrieve my battery charger for my phone and I suddenly sensed an eerie silence. I looked around and everyone had disappeared! I was the only person in the whole building, it was very strange. I can only assume that it was because the horrendous rainfall had temporarily ceased for a few minutes so folk took their opportunity to leave. My golden alone time was short lived but I had the whole place to myself for about 10 minutes which was a first. I was very happy when hubby returned as I managed to get a couple of photos of us in front of the altar without anyone lurking in the background which is very rare and fabulous.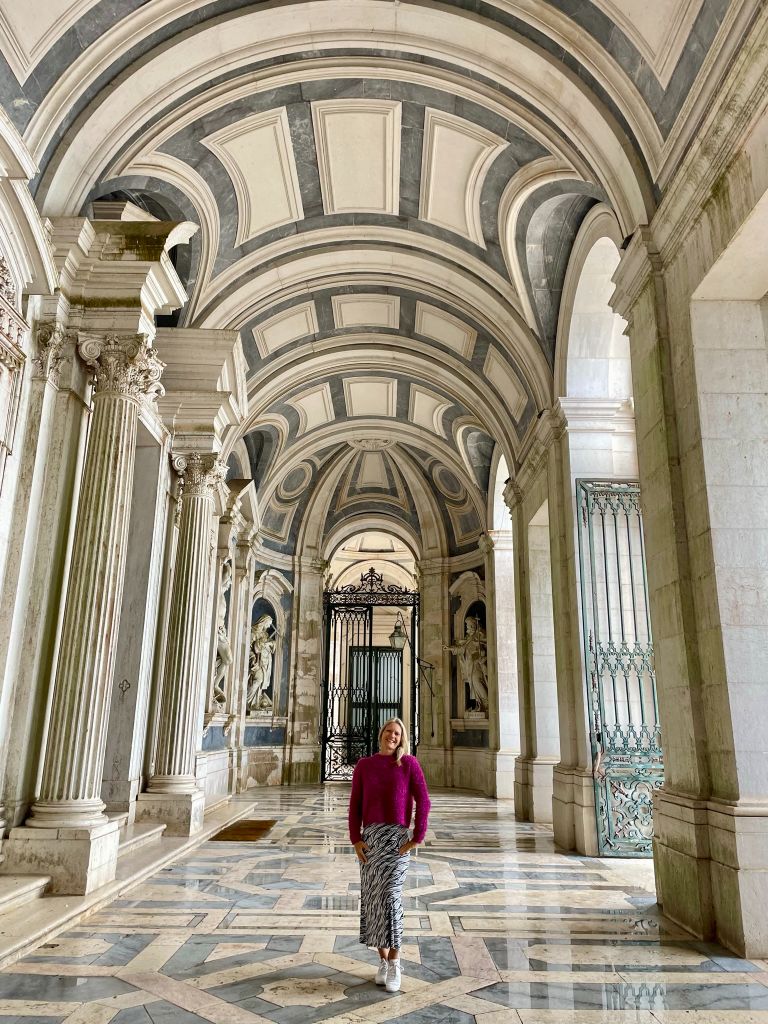 Say a Little Prayer
I love that all the catholic Churches in Portugal have these little stations where you can light a candle and take a little prayer sheet which are available in multiple different languages. I always light a candle and pop a coin in the small donation box. Usually the candles are electric and they light up once you have inserted your coin. What I liked about this place of worship is the fact that there are proper wax candles and matches available as well as electric options. I think they are usually avoided due to health and safety fire risks but I really enjoy the process of physically lighting a wax candle. Here I share my prayer of the day, may God bless you and keep you safe.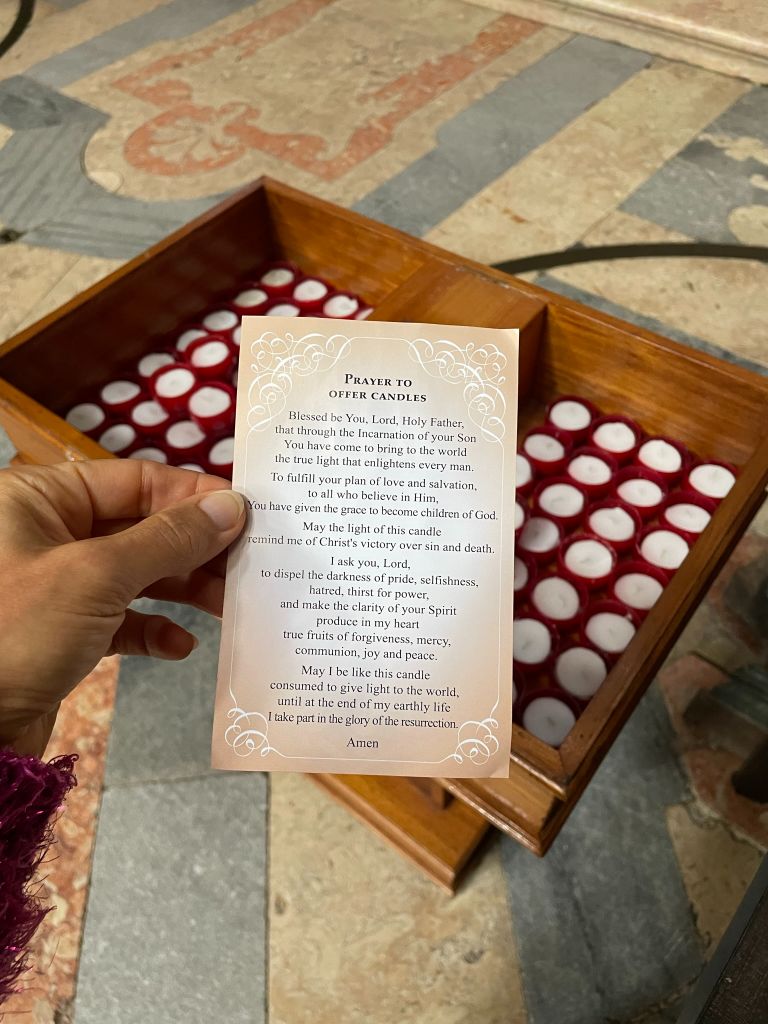 Mad About Marble
How gorgeous are these rose pink marble columns? I was awestruck by the white marble exterior but this tone of pink is something else.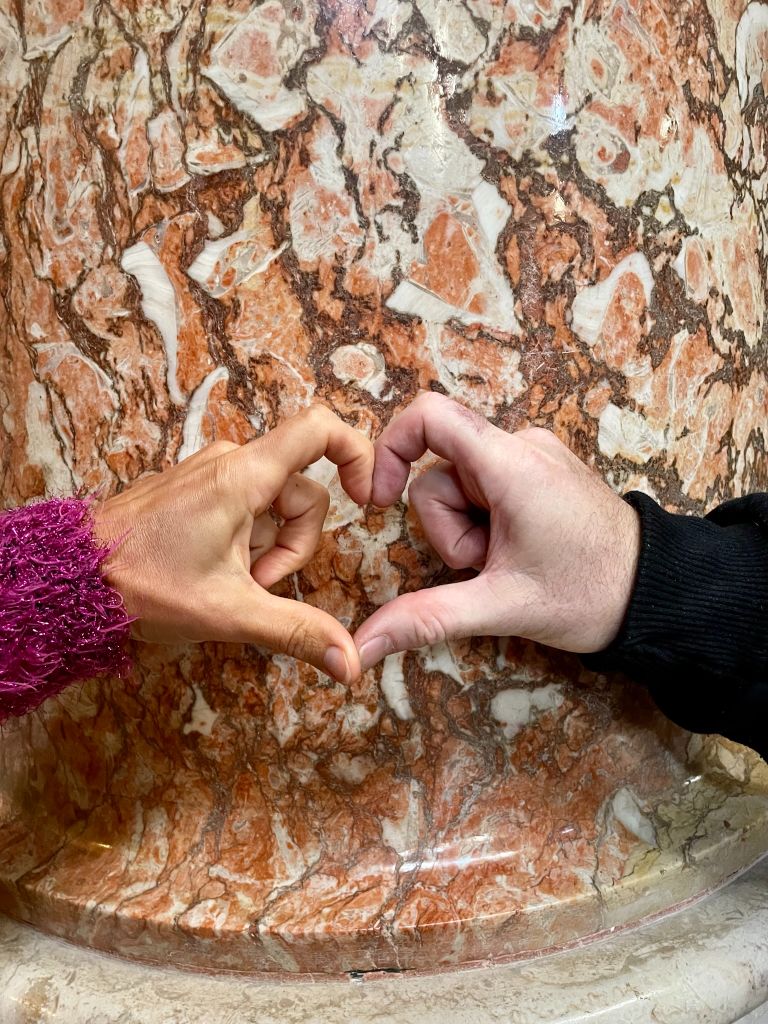 The Heavens Opened
When we decided to leave the heavens opened again and we got soaked through running back to our car. The rain was so fierce and heavy that even my panties got wet (ha ha). Luckily I had a blanket in the car so I wrapped myself up and quickly dried off in no time. The weather driving back home was equally as bad as the journey there. One word: Diabolical! We were going to stop off at Coimbra for dinner on the way home but neither one of us was hungry because we ate so much food. I literally had 3 breakfasts in the car and obligatory glove compartment Haribo sweets and then lunch followed by snacks (ha ha).
Overview
We had so much fun leisurely wandering around the sumptuous extensive grounds. I adored everything and no words can portray just how spectacular this Palace is, it's magical. If I am brutally honest, then I don't think this Palace quite had the wow factor of other Palaces near Sintra such as Pena Palace or Monserrate Palace but that is just my opinion and we didn't get to explore any of the green spaces and we all know that I am a nature lover so I think that impacted my overall feelings. My all time favourite place in Sintra will always be Quinta da Regaleira. I read that one needs 90 minutes to view everything but we took 4 hours in total as we spent about 3 hours in the Palace and another hour in the Basilica. If you want to read all the signage and fascinating historical facts you will need more than 90 minutes unless you are a speed freak and fast reader. I had an amazing day with my soulmate and it was interesting to find out that hubby shares the same birthday as King João V. He has always been my King! It amazed us both that the Palace was never a permanent residence for the Royal Family. It also made us laugh that the King built the Palace as a gift to his wife for blessing him with an heir. I'm not too sure how much of this is true as he also built a huge game reserve surrounding the Palace and I don't think his wife's favourite hobby was hunting, but I could be wrong (ha ha). If I were capable of blessing hubby with a baby (I'm not), I think he would build me a house with a swimming pool and a music room adjacent to the house to store his ever increasing guitar collection (ha ha).