HAPPY HALLOWEEN IN PORTUGAL 2023
Happy Halloween! I'm a horney red devil! The party's started early because it's a beautiful day. I've cracked open the Burning Devil Tequila, Cheers. The label says it's insanely hot, just like me. I'm more menopausal hot flush than sexy hot but hot is hot right (ha ha). I'm also colour coordinating with hubby's new guitar because I can (ha ha). How adorable are Milo, Rick, Negan and Michonne in their Halloween hats? I am having way to much fun playing with my fur and feathered babies and poking hubby up his arse with my pitchfork (ha ha).
Halloween is not widely celebrated in Portugal and will never have as strong a tradition as the U.S.A or U.K, however Halloween has actually always existed here in some form or another. Cities such as Porto and Lisbon will celebrate by holding Halloween parties and you may even get a few trick-or-treaters knocking at your door. In some parts of Portugal, it's common for children to go door-to-door (especially their relatives' doors) asking for bread, Pão-por-Deus (Bread for God's sake). This tradition is celebrated in the morning of 1st November which is All Saints' Day. Pumpkin carving, is a tradition in certain parts of Portugal like Beira in Northern Portugal. Pumpkins in this part of Portugal are known as coca or coco, and are named after the mythical monster with the same name. Cideos is home to the Festa da Cabra festival which parades traditional dancing and displays different characters in fancy dress. In Montalegre, special performances are held on Halloween and every Friday the thirteenth of the year. Many stores in my nearest town have Halloween costumes for sell and some of the windows have epic Halloween displays with ghosts, pumpkins, spiders and cobwebs. Some of my friends here celebrate Samhain (a term of Gaelic origin that means "end of summer") a Pagan celebration which marks the end of the harvest and beginning of winter and the new Celtic year.
On the way back from a recent trip to Buçaco Forest we drove past a huge house in a little village which had hundreds of pumpkins displayed in it's front garden. It was so epic that I made hubby turn the car around and drive back so I could take photos and a video. Unfortunately my phone had run out of battery so I had to use hubby's. When we got home I found 3 seconds of video and 30 seconds footage of my leg (ha ha). I sent hubby to the village store to buy a pumpkin as we didn't grow any this year. He couldn't find any and came back with these 2 orange fruits, he tried his best, bless him. I wanted to carve a pumpkin for my Guinea Pigs mini photo shoot so I had to improvise and used cloves to write their names in the fruit instead. I'm assuming it's fruit, I have no idea what it is. I think it might be called a Persimmon fruit, who knows. I might eat it afterwards, so if I get poisoned and die you know why (ha ha).
Although Portugal has all of these different Halloween traditions, you could still be forgiven for thinking that Halloween isn't celebrated here as these traditions are regional based and those regions are so spread out so you will only find scattered celebrations throughout Portugal. Public holidays here follow the Catholic calendar so Halloween will always be overshadowed by the religious and historical significance of All Saints' Day that takes precedence on the 1st November. We might not receive any Trick or Treaters in our tiny rural village but we can make our own fun party starting with the roasting of chestnuts on our fire and apple bobbing if we have the energy. We love Halloween and anything scary, our favourite TV show is TWD hence our Guinea Pig's and Chicken's names. Tonight's party music will be by the top musician Adriano as Helana is still learning to play the guitar, extremely slowly and very badly (ha ha). What I lack in musical talent, I make up for in dancing skills and there is always the tambourine. I know all the moves to MJ's Thriller dance so will perform my show later tonight when the sun goes down and the alcohol is plentiful (ha ha).
Bedroom Bondage & Who Wore it Better?
Here are the crazy brits trying out masks for Halloween in a local store. Who wore it better? (ha ha). I think hubby wins 1st prize. I might buy the crazy black mask for the bedroom. It's screaming "Bedroom Bondage" (ha ha). I should have bought that fleather black cat suit after all.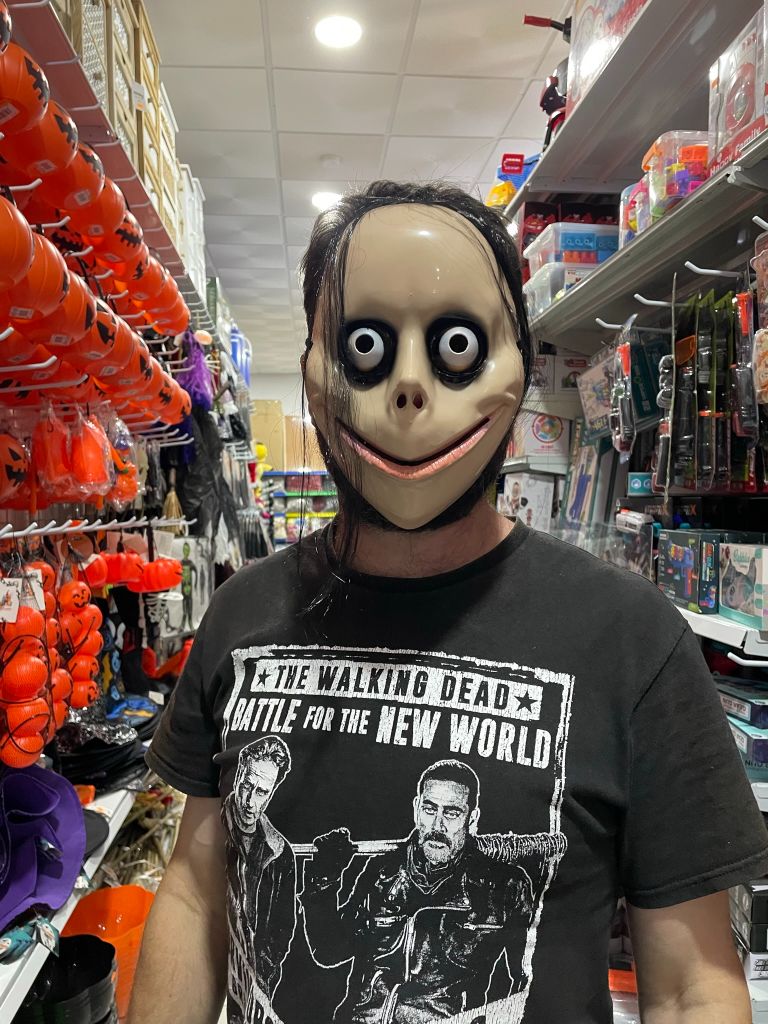 The Terrifying Bunny Mask & Sex on Legs
I still think this scary ass bunny mask that I recently found in a secondhand shop would make a fabulous Halloween costume. I should have bought it as I already have a bunny cotton tail from when I dressed up as a sexy Easter bunny (ha ha). This mask screams Watership Down and literally gave me nightmares (ha ha). Not very Halloween themed but hubby took quite a fancy to this sexy toned mannequin leg but I said NO he couldn't buy it and that he would have to live with my stumpy short hippo legs and be grateful (ha ha).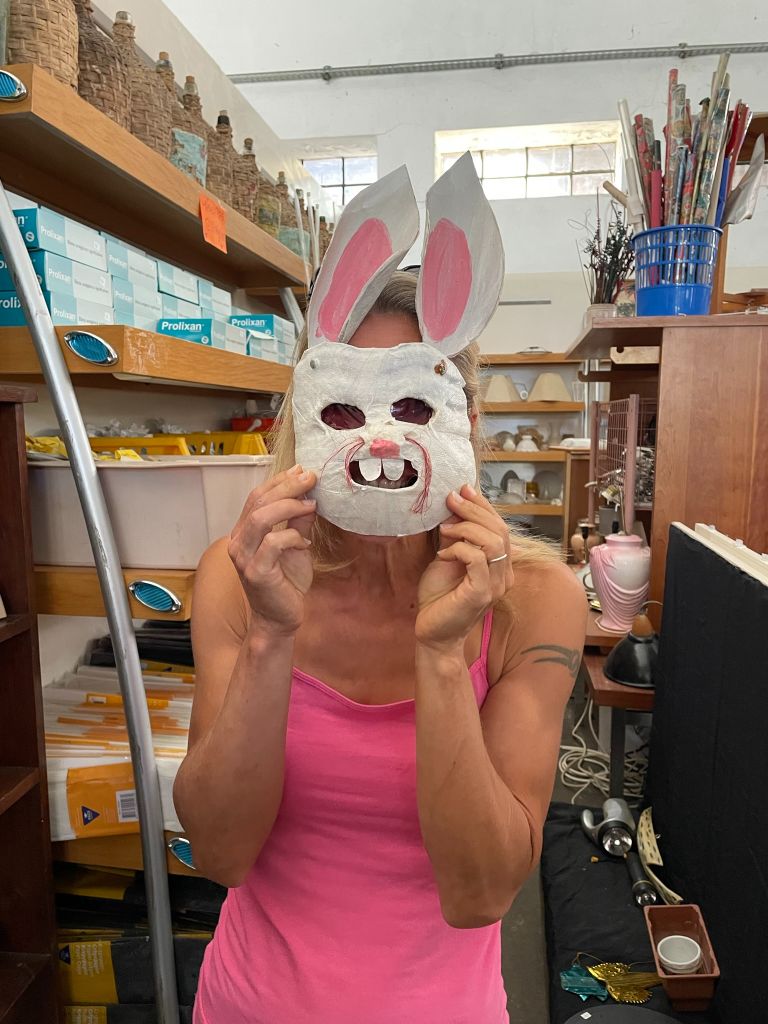 1st Prize
My children always dressed up for Halloween and the most scariest costume my daughter wore was 'Zombie Bride.' It was over a decade ago now but she scared the living daylights out of me (ha ha). The funniest part was we decorated her dress in fake blood inside our shower cubicle of our tiny rented flat in Bristol and the dye splattered everywhere. It did not come off the walls or ceiling completely despite me using various cleaning products. It looked like someone had committed a murder and chopped up the body in our bathroom. There were still faint blood stains left behind when we relocated to Portugal 4 years ago! I wonder what the landlord thought (ha ha).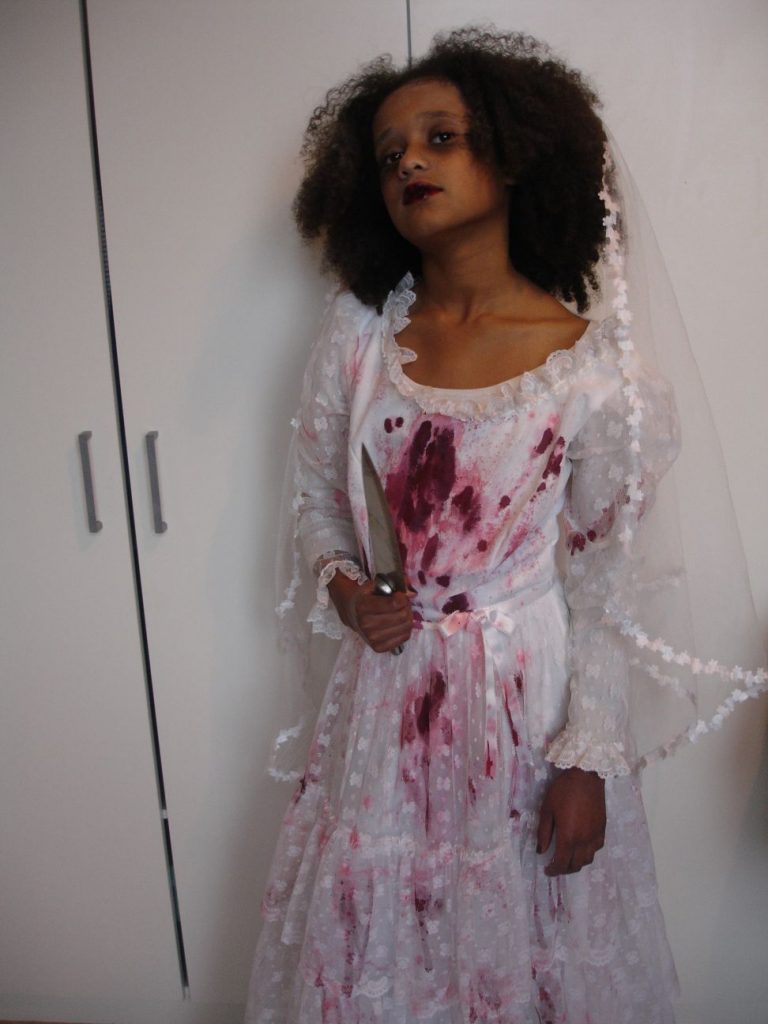 Scary Ass Dolls Head
I should have kept the scary ass dolls heads that I found on my jogs here in Portugal. They would have made the perfect Halloween accessory. The first dolls head has my running hair! (ha ha).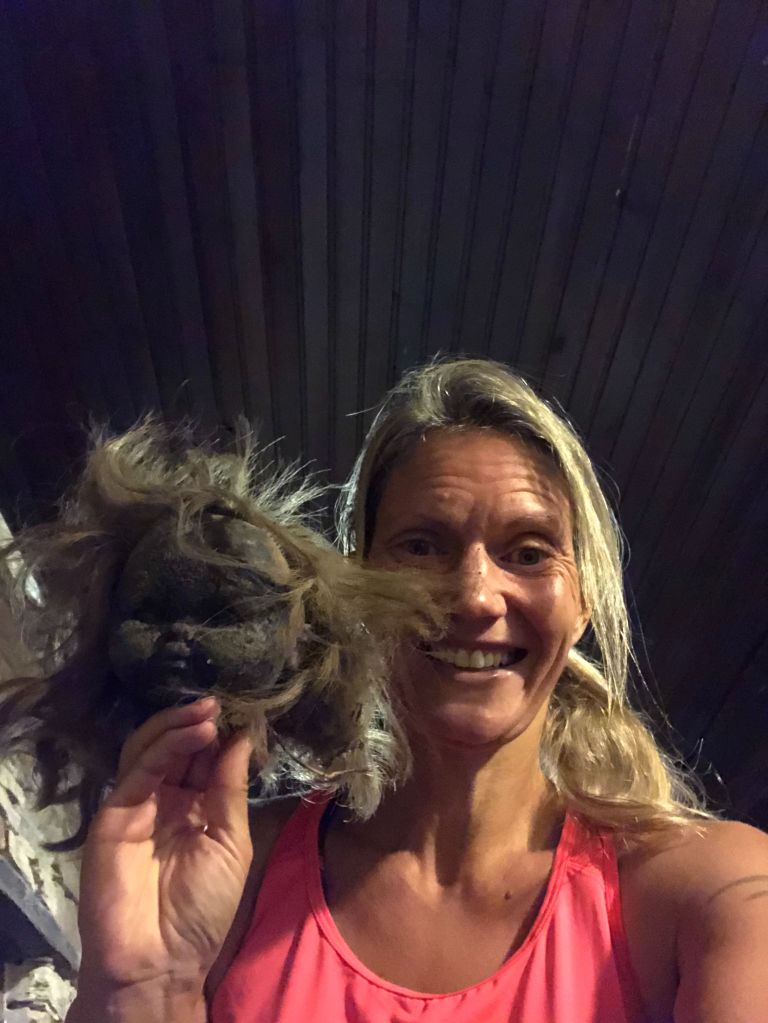 Halloween Photo Gallery
OMG what a beautiful day for the end of October. The rain stopped and the sun came out in the bright blue sky. Halloween started in the afternoon with me pissing around with hubby's guitar. Then I moved onto my fancy dress Red Devil costume. Then the alcohol session commenced and hubby joined me briefly for a quick lunch break from work. After work we dressed up our animals in their Halloween hats because we can (ha ha). Rick and Negan love the barley grass raised bed. Finally we watched a sensational sunset, ate dinner and had our own little private Casa Valhal garden Halloween party. Helena also ripped her skirt whilst playing party games, I'm slightly gutted. Thank goodness it was a pre-loved UK charity shop £5 bargain of the Century (ha ha). My man is a T.Shirt and jeans kind of guy. What made me laugh is the fact that even for Halloween his costume was a T.Shirt and jeans, what can I say, I have a casual dude as a life partner (ha ha). In his defense he did have 2 T.Shirts and an outfit change midway through. Who does he think he is? Beyoncé at a sell out music gig (ha ha).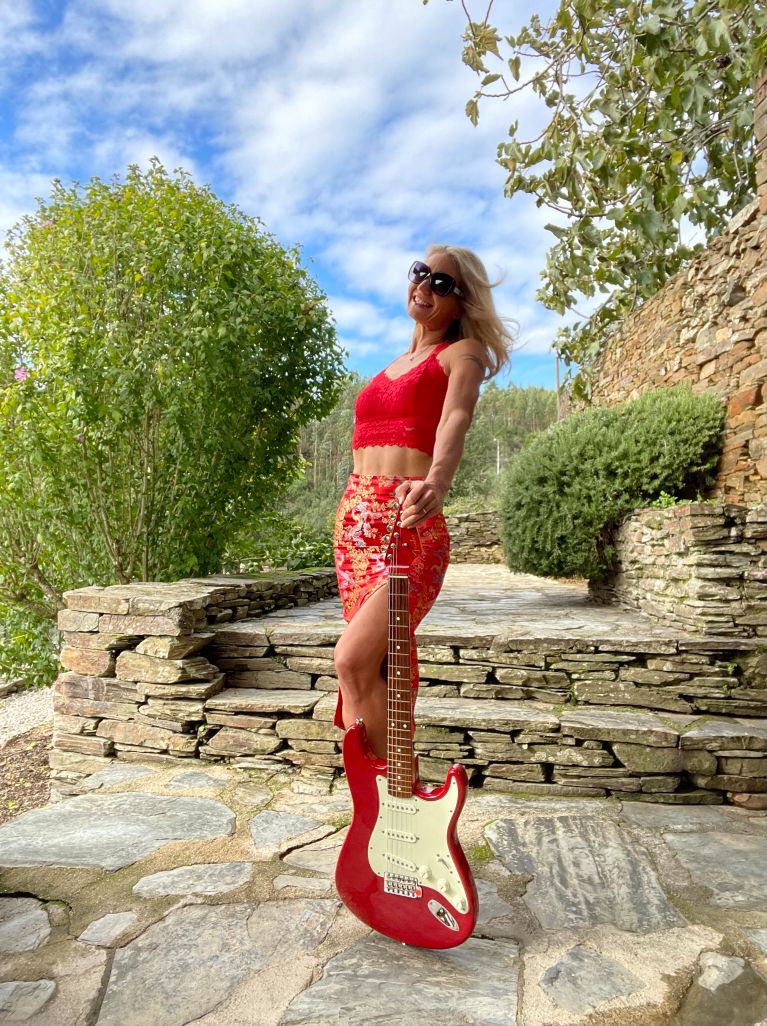 Marvelous Milo
How adorable is this photo of Milo!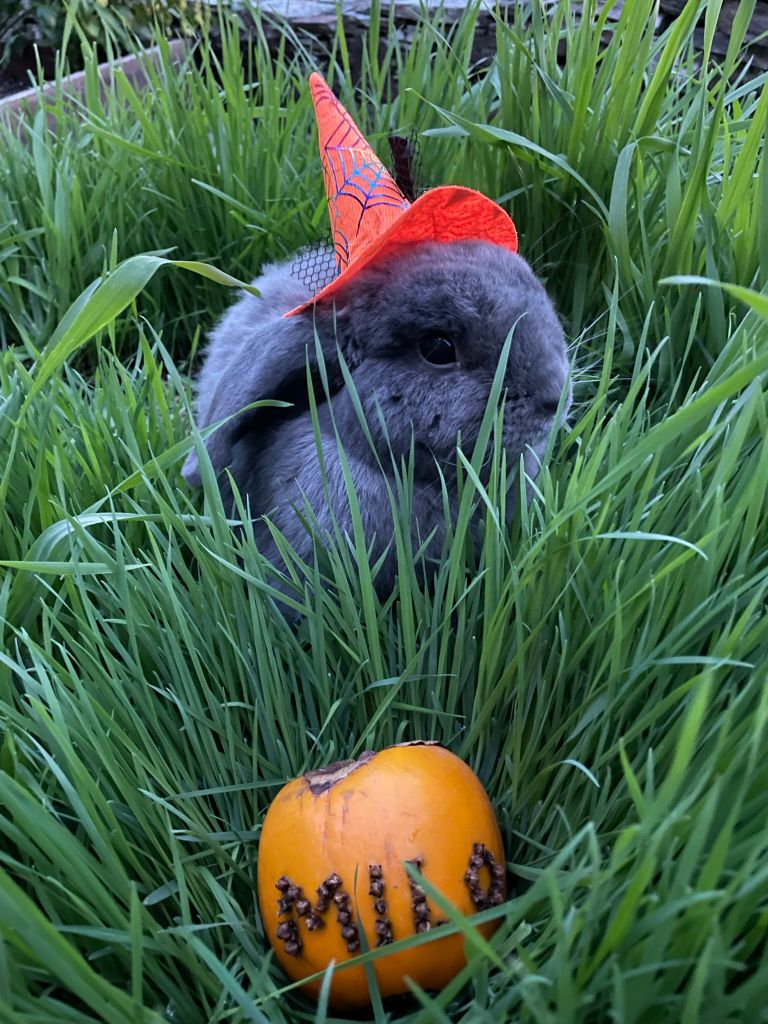 Black as the devil, hot as hell, pure as an angel, sweet as love.
Have a Fa-boo-lous Halloween.