5 DAY ROAD TRIP (DAY 2 LISBON)
I was delighted to eventually be able to visit the capital city of Portugal. After some research I decided 1 day would not be enough to see all the delights Lisbon has to offer so I decided upon 2 days. There are so many wonderful tourist attractions and it was very hard to narrow down a specific 2 day itinerary. After much debating I decided upon the following:
Itinerary
Praça do Rossio
Praça dos Restauradores/Avenida da Liberdade
Convento do Carmo de Lisboa
Elevador de Santa Justa
Rua Augusta Avenue/Arco da Rua Augusta
Praça do Comércio Square
Praça do Municipio
Praça de São Paulo
Pink Street
Time Out Market
Jardim Dom Luis
Palácio de São Bento
Basilica da Estrela
Jardim da Estrela
Rua da Bica
Praça de Luís de Camões
Sé de Lisboa
Castelo de São Jorge
Miradouro de Santa Luzia (Alfama)
Largo das Portas do Sol (Alfama)
Panteão Nacional
Feira da Ladra Market
Museu do Fado
E Scooter experience
Museu Nacional do Azulejo – Ran out of time so didn't visit
Ponte 25 de Abril
Evening: Cais das Colunas (2 Pillars)
Evening: Museu da Cerveja
Evening: Alfama and Bairro de Alto
Ride the famous Tram 28 – I decided against this journey due to the amount of people crammed onto the trams and Covid risk
The early bird catches the worm
We started our day early with a 30 minute train journey from our accommodation in Mercês to Rossio station. Our plan was to then buy a 48 hour Lisbon card which would have enabled us transportation on the trains, metro, buses and trams as well as free entry into 37 museums and monuments so it would have saved us money in the long run. We tried to buy the card in 3 different locations but all the tourist information offices were closed, maybe due to Covid and the lack of tourists. I am very glad I didn't buy the cards in advance online as I had to collect them from a specific location specified on the website which was closed when we visited. On Day 1 we decided to visit the Baixa, Alfama, Chiado and Bairro de Alto districts. Day 2 we explored the Belém district and also Parque das Nações. Before visiting Lisbon I knew it would either be packed full of tourists with large queues or it would be dead quiet due to Covid and lack of tourists. We were so lucky as Lisbon was so very quiet with not many tourists visiting in July.
Praça do Rossio
It's official name is Praça Dom Pedro IV and it's located in the Baixa area. It's a beautiful square with many shops, cafes, restaurants and bars. There are several monuments to view here including the 27 metre high statue of King soldier Dom Pedro IV located right in the centre and between two monumental baroque fountains. It is also home to the Dona Maria II National Theatre. I love the wavy ripple-effect patterned pavement of the square which makes me feel quite dizzy. Imagine what it would feel like after a couple of cocktails! No wonder it was nicknamed "rolling motion square". It's an excellent example of local craftsmanship. There are some amazing cafes here including the famous Cafe Nicola which was popular among the writers and artists of the 18th and 19th century.
Praça Dom Pedro IV & Fountains
Rossio train station
Dona Maria II National Theatre
Praça dos Restauradores/Avenida da Liberdade
Avenida da Liberdade is one of the main avenues in Lisbon and connects Praça dos Restauradores to Praça do Marquês de Pombal. It is often compared to the Champs Elysées, in Paris. It is a beautiful place to walk amongst century old trees, fountains and terraces. There are several monuments to admire, some honouring those who died in the first world war. Praça dos Restauradores is located on the southern end of Avenida da Liberdade not far from Rossio Square. Here you will find the amazing 30 metre high obelisk monument in honour of those who fought in the War of Restoration and commemorates the independence of Portugal from Spain (1640). There is also a monument of two statues working on the pavements as a tribute to Lisbon's pavers who have created such glorious artistic pavements over the years. Praça dos Restauradores is surrounded by many other places of interest in Lisbon. The avenue has several tourist attractions and 19th-20th century buildings of interest including the fabulous Palácio Foz which is now a tourist information centre, art deco Theatro Eden which is now a hotel and the quirky funicular – Elevador da Gloria.
Convento do Carmo de Lisboa
The Carmo convent ruins is a former convent of the Order of Carmelites of the old observance. This gothic church was destroyed in the 1755 Lisbon earthquake. It was very surreal to stand and view the roofless ruins and arches against the bright blue sky which were devastated by the tragedy. A total reflection of the earthquake and the terror which unfolded on the congregation who were attending mass that fateful day. So many people lost their lives. It is very strange to see the place in ruins when the area surrounding it is rebuilt and thriving. Today it hosts the Carmo Archaeological Museum where you will find many archaeological treasures including amazing artefacts such as a mini replica of the convent before the destruction, 2 mummies of Peru, gothic tombs and a library with rare books.
Elevador de Santa Justa
Unfortunately the Elevador de Santa Justa was closed when we visited. I was a little disappointed as I wanted to ride to the top and look at the amazing views from the platform. We still got to view it's splendour from the outside which was cool.
Rua Augusta Avenue & Arco da Rua Augusta
Rua Augusta is one of Lisbon's main commercial streets in the downtown Baixa area and is great for shopping. It was pedestrianised in the 1980's and you will find many high street shops here as well as multiple cafes. The Arco da Rua Augusta is a triumphal arch located in the northern end of Praça do Comércio, on Rua Augusta. It was built after the earthquake to celebrate Lisbon's reconstruction and completed in 1875. It's a stunning arch with 6 huge columns. You can climb a spiral staircase or ride an elevator to the top of this unique monument for an impressive and unique view of the city including the Tagus river. At the top you will find various statues of historical figures, a clock and there is a Latin inscription honouring ancestors.
Praça do Comércio
Lisbon has many Squares and Praça do Comércio Square is one of the largest in Portugal measuring a whopping 175 metres X 175 metres. It is a waterfront square facing the Tagus estuary and was totally remodelled after the 1755 Lisbon earthquake. In the centre of the square you will find the 14 metre high bronze statue of King José I on horseback and sculptured by Machado de Castro. Towards the North is the splendid triumphal arch. On the west side you will find many cafes as well as the tourist office which was closed when we visited. Most of the government offices are now cafes and restaurants. The square is also known as Terreiro do Paço or "the palace's square," and used to be home to the royal palace for over two centuries until 1755, when it was destroyed by the great earthquake. It always amazes me how people will sit at the bottom of a monument. There are so many places you can sit and relax but you have to sit at the foot of an iconic monument and ruin everyone's photos. I spent ages here trying to get a nice photo of the King José I statue as it is so grand but there was a lady just sitting there, then a sunglasses tout came along and tried to sell her a pair of overpriced naff sunglasses. He was persistent and wouldn't take no for an answer, she was holding her ground but she then made the mistake of trying them on, to be fair he literally put them on her face! I gave up in the end and just took photos with them in the background (ha ha). I managed to return and get some photos without the people in the background so all is fine. Oh, and just in case you are interested she didn't buy the sunglasses even after his 20 minute crazy ass sales pitch.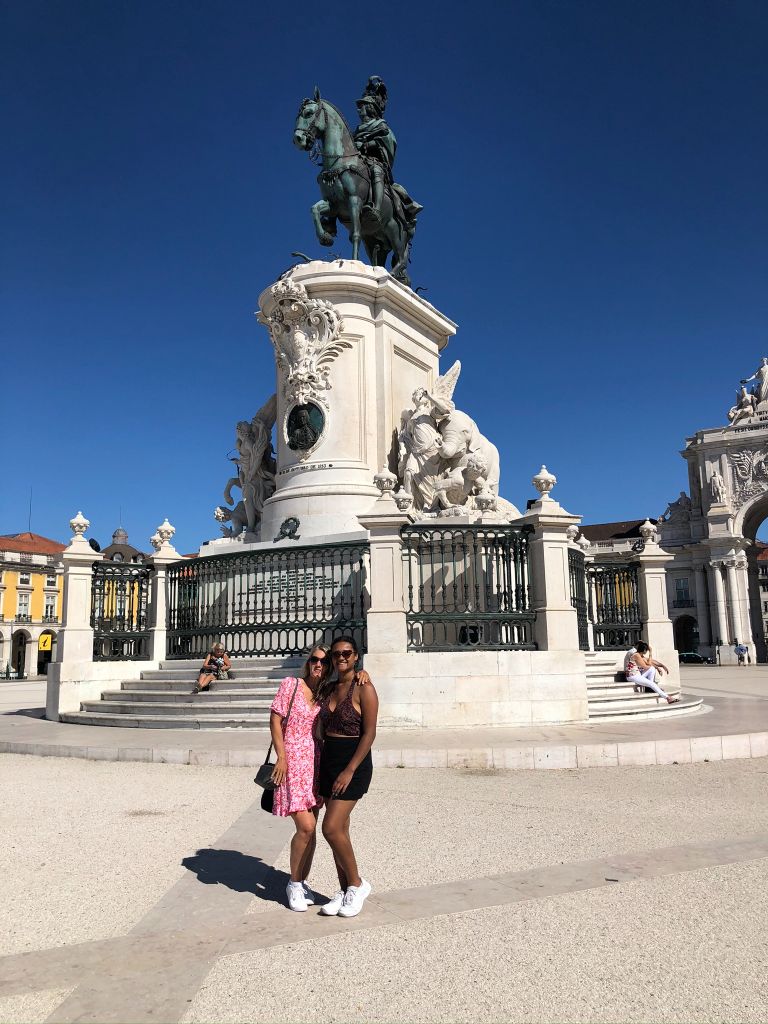 Praça do Municipio
This square was not on my itinerary but we walked through it so I couldn't resist a photo.
Praça de São Paulo
Another pretty square that we walked through.
Pink Street
Rua Nova de Carvalho, otherwise known as Rua cor de Rosa or Pink Street, is located in the popular neighbourhood of Cais do Sodré. It used to be Lisbon's red-light district and home to brothels, shady bars and gambling houses prone to crime and prostitution and where sailors would visit in search of pleasure (Oo er!). Pink Street was revamped in 2013 and now is home to fantastic cafes, restaurants and bars. The transformation of the street was a partnership between Câmara Municipal de Lisboa and the vodka brand Absolut. Today Pink Street is the hottest nightlife area of Lisbon so if you're up for a party this is the place to visit. You can still find a flavour of the past as there is a bookstore which has an area selling erotic books and lingerie. I didn't venture inside as I'm fairly satisfied with my M & S bikini briefs which do a splendid job and are fit for purpose. Also if I let hubby in this store he might get ideas and I don't have the balance to try and step into underwear with excess holes, I already have enough trouble with 2 leg holes. I will end up trying to put a leg through the crutch or butt hole, trip and sprain an ankle (ha ha). We visited during the day time but I would love to return one day to experience an evening of fun. Some of the bars that used to be brothels have kept their brothel names which is a link to the past and a time gone by. I have a feeling this place would have a crazy vibe and be a cool place to hang out in Lisbon once Covid is a distant memory.
Time Out Market – When your doughnut matches your dress!
Time Out Market (Mercado da Ribeira) is located in the historic Cais do Sodré area. The market has 2 parts, one side is a traditional market selling an arrangement of foods like fruit and vegetables and the other side is a huge food court with various tasty options both Portuguese local delights and International foods. We ate amazing doughnuts here and mine even matched my dress (ha ha). 
Jardim Dom Luis
As you exit The Time Out Market there is a cute little flowered garden with huge palm trees. It is also known as Praça Sá da Bandeira and there is a statue of Marquis Sá da Bandeira right in the centre by the sculptor Giovanni Ciniselli, inaugurated in 1884. We spent some time here sat on a bench whilst slowly loosening our waistbands, letting our mammoth carbs digest and the sugar kick in for energy before continuing on our walking tour. There was a gardener and maintenance man watering the grass with a huge hose and the sprinklers were on as grass needs watering here to keep it lush and green. I was tempted to ask him to hose me down or a fine mist would have been sufficient and very refreshing but I didn't want him to think I was a crazy lady (ha ha).
Palácio de São Bento
This was not on our original itinerary and we just happened to walk past it, wow! Saint Benedict's Palace is the Parliament House. The building was formerly the Benedictine Mosteiro de São Bento or Convento de São Bento, dating from the 17th century. The Portuguese parliament has convened here since 1833. I loved the gigantic stone lions. The guards are very impressive and kept their composure even when the crazy Brit tripped over right in front of them. They also didn't arrest the crazy Brit when she scaled a wall and metal fence to get a closer look at the rear of the building and gardens. The dynamic duo dared me to go and have a selfie with the guards but I wasn't brave enough. I had no intention of spending the night in a Portuguese prison cell, not before I had seen the castle anyway (ha ha).
Basilica da Estrela
I fell in love with this delightful eye-catching Catholic temple of baroque and neoclassical style architecture. The design has a huge dome, twin bell towers decorated with beautiful statues and figures of saints representing the Sacred heart of Jesus. I enjoyed viewing the pink, yellow and grey marbled interior and the paintings were exquisite. I always feel a bit guilty dragging my hubby and daughter into religious buildings. The temple was built in the 18th century. D. Maria I and D. Pedro III vowed if they had a son to inherit the throne they would build a church. Unfortunately the boy died of smallpox, 2 years before the end of construction. I didn't get too many photos as I always feel a little awkward taking photos of the interior of religious buildings. I get a sense of disrespect wash over me so I try to be discreet. Some churches allow photos without a flash and in others, photos are forbidden so I just follow the rules and show respect.
Jardim da Estrela
Opposite Basilica da Estrela is a pretty park. This is just what we needed to take time out and rest our tired legs. We sat on a park bench and watched 2 young dancers perform a dance in the wrought iron bandstand. It wasn't an official show with an audience, I think they were filming themselves on their phone but it was beautiful to watch 2 dancers with such talent. The ladies bright yellow dress spanning out like the wings of a bird in flight. What a wonderful experience to stumble across. There is a pretty lake with ducks and various sculptures and statues to admire. The fauna and flora are magnificient.
Rua da Bica
Rua da Bica de Duarte Belo was voted the most beautiful street in the world alongside the Champs-Élysées and the 5th Avenue. It is home to the famous mythical funicular (the Elevador da Bica). It is owned by the Lisbon Railroad Company and connects Rua de São Paulo and Largo do Calhariz, facing one of the steepest slopes in the city. It opened on June 28th 1892 and was designed by the Portuguese engineer Raoul Mesnier du Ponsard. It is a beautiful street and I'm not sure my sole photo does it justice.
Praça de Luís de Camões
This amazing square is named after the famous author and poet Luís de Camões and is located in Chiado. It is also called Praça de Camões and also known as Largo de Camões. There is a 4 metre high bronze statue of Luís de Camões which is situated in the centre of the square. It was inaugurated in 1867 by sculptor Vitor Bastos. It's a beautiful statue and there are 8 other figures surrounding it. I loved the pavement and mermaids in the design.
Sé de Lisboa (Cathedral)
We didn't get time to view the inside of the Cathedral but the outside looked splendid, like a medieval fortress with it's 12th century Romanesque style and 2 large towers. I especially fell in love with the round stained glass window. D. Afonso Henriques, the first king of Portugal, had the Cathedral of Lisbon built in 1150, shortly after the city's reconquest. The Sé de Lisboa (also known as the Church of Santa Maria Maior), was built on the site of a large mosque. The predominant style is Romanesque, but Gothic and Baroque also left their marks as the church underwent several renovations over the centuries. I will definitely have to return one day to see the delights of the interior such as the cloister, chapels, tombs, baptism font and the many historic artefacts.
Castelo de São Jorge
The castle of Saint George is without doubt the most awesome castle that I have visited in Portugal so far and I have seen a fair few. It was a steep climb up to the castle and the staff took our temperature before buying our tickets which was mildly worrying after hiking up the hill in the Portuguese heat. I was certainly glowing and a bit sweaty Betty (ha ha). I liked the fact that they only made 1 of us go and buy the tickets in the ticket office. Covid safety measures were top notch at this tourist attraction. There were only 2 people in front of us in the queue and I was surprised that it was so empty and free of tourists. The price of an adult ticket is €10 and 13-25 year olds are half price at just €5. There are other discounts for seniors and families and under 12´s are free. Summer opening times are 10.00-21.00, 7 days a week.
I am not going to ramble on about the history of the castle as it is very complex so if you want to know a bit more about the fascinating history then here is the official website:
http://castelodesaojorge.pt/site/pt/historia/
The castle is located on the city's highest hill which gives the most impressive views over the city. I also love the fact that you can see the castle from almost anywhere in the city. There is so much to see including the many towers (one houses a camera obscura), battlements, remains of the medieval palace with royal quarters, underground chambers, a set of archaeological remains and a small museum. There is also a fabulous restaurant on site. It's so impressive, as soon as you walk through the gate you are faced with a statue of King Afonso Henriques and several cannons pointing down towards the city.
We had so much fun exploring the former fortress hidden paths, climbing up the multiple towers and walking along the walls. There are breathtaking views across the city from the pine shaded terraces and we spent some time relaxing in the tranquil gardens amongst the colourful peacocks and other birds.
On the walk up to the castle we stumbled across some fascinating ruins.
Santuário de Cristo Rei
I fell in love with the views from the castle and was amazed to be able to see the Sanctuary of Christ the King religious monument, dedicated to the Sacred Heart of Jesus and located in the parish of Pragal, in the municipality of Almada.
My trio of favourite castle photos of my gorgeous girl
Pastel de Bacalhau
If you are feeling a little peckish after your Castle visit there is a little shop selling Pastel de Bacalhau right next to the castle exit.
Miradouro de Santa Luzia (Alfama)
Lisbon has so many splendid Viewpoints so it's difficult to narrow down a few to see. The Miradouro de Santa Luzia in Alfama is incredible and very romantic. I loved the terrace, garden with pretty pink flowers and the decorative tiles.
Largo das Portas do Sol (Alfama)
Not far from the Santa Luzia viewpoint is the fantastic Largo das Portas do Sol viewpoint. The views over the city are just spectacular and I loved viewing the rooftops of the houses and the maze of streets. I would love to return here and watch the sunrise or sunset and see the wonderful colours change and the silhouettes emerge. There is a statue of São Vicente, the patron saint of Lisbon in the centre. We spent some time here sitting on the stone bench soaking up the ambiance.
Panteão Nacional
The National Pantheon was built on the original site of the Church of Santa Engrácia by architect João Antunes but it's impressive large dome wasn't completed until 1966, 284 years after it's initial construction. 284 years, wow! I'm not going to complain anymore when hubby takes 6 months to complete a DIY job on our old casa (ha ha). The works lasted so long that it resulted in the popular expression "Works of Santa Engrácia" to designate something that never ends. It is a major icon of Lisbon's landscape and is listed as a National Monument. The National Pantheon's mission is to honor, promote the memory, life and work of Portuguese citizens who distinguished themselves for services rendered to their Country. There is an old legend that says it's construction took so long because it stands on the site of a previous church that was desecrated by a robbery in 1630. A man was blamed for the robbery and executed only to be found innocent and exonerated. Before he died he cursed the church by saying "It is as certain to die innocently as the works will never end!" meaning that it would never be completed due to his wrongful conviction and the slaying of an innocent man.
I would love to return to Lisbon and view the coloured marble interior of this impressive baroque monument and see the tombs of Portugal's famous poets, presidents, explorers including the famous Fado singer: Amalia Rodrigues.
Feira da Ladra Market
This market is located close to the National Pantheon and has a wide range of regional goods on offer.
Museu do Fado
This was hubby's choice and certainly the wildcard of the day. I actually wanted to visit the Doll Museum or the Tile Museum but thought the Fado Museum would be a more cultural experience. Fado music is huge here and I am desperate to go and see a live performance. When I relocated to Portugal I always had the notion that I would throw myself head first and immerse myself with Portuguese heritage and culture. Fado to me is a big part of this and I was intrigued to visit the Fado museum. The adult entrance price is €5, 13-25's is half price, there are discounts for seniors and children 0-12's are free. The Museum is open 10.00-18.00, 6 days a week (closed on Sundays). Upon entering the Museum you are given an audio guide consisting of a headset and controller that is similar to a T.V remote control. You use the controller to key in the numbers from each interactive exhibition and you listen to the music through the headphones. It was a very unique Museum and I really enjoyed looking at all the exhibitions and works by the greatest Portuguese artists. It was interesting listening to so many different fados via the audiovisuals composed and sung over the decades. There is also a  multimedia section with recordings and biographic information of all the major Fado personalities, from singers to composers. The Museum explains the evolution and the pure passion behind Portugal's famous musical expression. If I could sum up Fado music from my visit I would say it is one of the unique forms of artistic expression that I have ever listened to. A mix up of nostalgia, heartfelt emotion often accompanied by a Portuguese guitar. Now that I have a better understanding of the history of Fado music, I am very excited to visit a Fado house to listen to Fado – the live soul of Portuguese music.
E Scooter experience
After walking a whopping 29km our feet were sore and we were so tired so Teanna encouraged us to hire E Scooters. My balance is poor, I am of a certain age and there were no safety helmets available so I wasn't too thrilled at first. This was an accident waiting to happen but I survived the ordeal and had so much fun whizzing around the capital city on my Bird Scooter. I probably should not have worn a dress but I tucked my dress into my knickers and I was away and merry. 
Cais das Colunas (Columns Wharf – 2 Pillars)
We watched the waves crash, the boats drift by, the crazy seagull perched ontop of the pillar and the sun set whilst sat on the marble steps by the riverside. Cais das Colunas is located opposite Praça do Comércio and it consists of 2 pillars partially submerged by the river. It's marble steps used to be the grand noble entrance into the city welcoming prominent figures such as Queen Elizabeth II. It was also used as a ferry and boat terminal connecting Praça do Comércio to the Tagus South bank. The pillars were designed by architect Eugénio dos Santos and were reconstructed after the 1755 earthquake nearly destroyed it. The 2 pillars (columns) are said to be replicas of those from Solomon's temple and represent wisdom and devotion. We found some crazy sea monster rock art which was cool.
Ponte 25 de Abril
The suspension bridge over the Tagus river connects the city of Lisbon (North bank) to the city of Almada (South bank). Until 1974 the bridge was called Salazar, the name 25th April alludes to the revolution of the 25th April 1974. There is another impressive bridge in Lisbon: Vasco da Gama Bridge which we viewed on Day 2 in Lisbon. You can see the bridge in the distance and also on some of my E Scooter photos.
Museu da Cerveja
After walking an epic 29km we were more than happy to visit the Beer Museum in Comércio Square to rehydrate. The man of the house ordered beer and us ladies sipped posh cocktails. The interior is absolutely stunning and decorated so elaborate with amazing seating areas, lighting and crystal chandeliers. The exterior terrace area was also very attractive but we decided to stay inside. Hubby took a fancy to the beer glasses which have a unique design of a beer bottle within a glass and represent different countries from around the world. Teanna bought hubby (her stepdad) one as a belated Fathers Day present which was so sweet of her. He had the choice of many countries and was deciding between England and Portugal but in the end Portugal won his heart. If you want to find out more about the history of beer including beer production this is the place for you. If you are like me and enjoy beer but want to sample some over priced tasty cocktails then this is also the place for you.
The weirdest thing happened to us in the evening. From about 6pm lots of touts filled the streets. Until now we had only seen the odd tout selling sunglasses and were not pestered at all. Once evening hit we were bombarded with touts offering Cocaine and Hash! Yes, we are a family of 3 and walking around with my daughter and these guys still come right up to us and offer us drugs. I'm surprised that the police don't crack down on this behaviour (no pun intended). It didn't spoil our fun, it was just a bit alarming.
Modes of transport and the famous Tram 28
We purchased a 24 hour travel ticket which gave us unlimited travel on all trains, metro, trams, buses and funiculars. We bought a Viva Viagem card which is an electronic smart card for non frequent travelers and occasional journeys. It can be purchased at the ticket self serve vending machine at the train station for 50 cents then we topped up the card with the 1 day ticket: Carris/Metro/CP. I don't particularly like travelling by public transport, even before Covid I avoided public transport and much preferred to walk due to my OCD. I also can't ride in Tuk Tuks if the ride is bumpy due to my bad back, hence why we walked a whopping 29km! There are so many options for transport including taxis, uber, buses, metro, trains, trams, tuk tuks and E scooters. The tuk tuks are so pretty and decorated with gorgeous flowers.
We took on the challenge of walking up the steep hill to the castle. Half way up we were stopped by a tuk tuk tout who offered to take us around to the main attractions for a set price but we politely declined. I'm not sure how that would actually work. He seemed to have posters with photos of 6-12 main tourist attractions on it. I feel that would be super awkward and it wouldn't give you much time at each place if a driver is waiting for you. We love to explore by ourselves as a little family trio. I personally feel that a self guided walking tour is your best option to see the real Lisbon. If you have no sense of direction then I would reccommend a tour guide but having your own unique itinerary means you can tailor the tourist attractions to your personal taste and spend as long as you like viewing the inside and outside without having any time restrictions. I find 99% of people annoyong and there is always 1 person in a group tour that just gets right on my nerves and I want to kill them with a blunt object by the end of the tour so I avoid group tours if possible and leave the official tour guide job to hubby as he is pretty good at it.
Lisbon
I always take too many photos and sometimes I just come across some beautiful sights that are not on my Itinerary and can't resist taking a photo to mark the occasion, so to speak.
Funny stuff
Funny stuff always happens to us and this day was no exception.
The sign made for us Brits!
We had such a laugh when we saw this sign. The little shop was closed but they obviously have had a lot of Brits or English speaking customers wanting alcohol so made this sign. I still feel this sign was purely made for me, they just know I LOVE wine (ha ha).
The balcony headless mannequin
That certainly is a dashing yellow suit but I have clue as to why it is positioned on a balcony but it made me laugh. I dared hubby €20 to wear the suit for the rest of the day but he declined.
The polar bear in July
Once it hits a certain time in the evening, usually after 5pm, the weird, wacky and wonderful come out to play. This includes the touts, drug pushers, street artists (some were semi naked) and this polar bear! To be honest nothing really phases us as we have visited Las Vegas many times and once you have seen the weird ass stuff that goes down in Vegas, Lisbon is a walk in the park when compared (ha ha). Bring on the CRAZY!
Lisbon Day 1 Overview
We had an amazing fun day exploring the delights of the capital city. I especially fell in love with all the quaint squares with Portuguese calçada (mosaic wavy mosaic pavements of black and white limestone). It was an awesome day with so many different amazing tourist attractions to view and some unexpected surprises along the way with the tastiest food and drink. Don't miss the opportunity to sample a delicious pastel de nata, bifana, prego, chorizo, piri piri frango and alheira. If your a fish lover the shellfish, sardines and bacalhau are popular choices. The highlight of day 1 in Lisbon was the epic São Jorge Castle with spectacular views over the city. It was the best castle I have ever visited and I've seen a few because I'm a princess in disguise as a tabard wearing country housewife (ha ha). Our wonderful wild card was the Fado Museum and we spent a fun evening wandering around the Alfama and Bairro de Alto districts. We ended up at The Hard Rock Cafe as Teanna wanted to buy a T.Shirt. Hubby and Teanna ended up buying matching T.Shirts with a strict step father to step daughter pact as to not wear them on the same day. I didn't buy a matching Mr & Mrs T.Shirt as I feel we may have a few good years left in us before we start wearing matching clothes (ha ha).
We were absolutely exhausted by the time we returned to our apartment but we had such a superb family day exploring the capital city. Lisbon is so captivating and the neighbourhoods are so charming, there's so much archaeological wonders, stunning views, beaches and water fronts, just so many hidden secrets, bursting with history. We were so excited for Day 2 to explore the Belém district.