5 DAY ROAD TRIP (DAY 1 SINTRA)
I am beyond excited to share our 5 day road trip with you all. Our long awaited trip to Sintra and Lisbon was put on hold due to Covid. We were supposed to visit to celebrate my birthday and our wedding anniversary but had to cancel our plans and wait until it was safer to travel. Sintra has always been at the top of my Portugal bucket list. The city is famous for its majestic colourful royal palaces, extravagant villas and mansions, exotic secret gardens and its ancient medieval Moorish castle, enchanted woods, forests, rocky mountains, pine covered hills, beaches and winding hiking trails that look so magical in all the photos I have viewed. It looks so romantic, like a fairy tale fantasy world and is always top of any lists when you google "Best places to visit in Portugal" and "Fun day trips from Lisbon". Sintra is bursting with many natural and cultural sites that have been awarded UNESCO World Heritage status. It is quite a distance from our casa which is why I decided to combine Sintra with a trip to Lisbon and other nearby attractions.
Holidaying during Covid
I must admit I was nervous and did have some concerns about taking a holiday to cities with High and Very High levels of Covid but to be honest, at this point of time most of Portugal was either High or Very High zones and we can't stay at home forever. I initially wanted to travel for a whole week (7 days) but at the time of our trip in mid July there were restrictions in place for Very high Covid areas which included Lisbon and Sintra. One specific rule: there was a ban on movement and travel in and out of Lisbon on weekends which covered Friday night to early Monday morning. Due to this fact I thought it was best to plan a mid week trip Monday-Friday and avoid weekends. By the time we booked the accommodation the weekend ban on entering and leaving Lisbon had been lifted but other rules were now in place including certain alojamentos requiring either a Covid vaccination certificate to prove you are fully vaccinated or proof of a negative Covid test within a certain timeframe or you could take one of those pharmacy purchased tests which I think are called rapid antigen. Also you could not eat inside a restaurant at weekends in certain areas without the Covid vaccination certificate or the same Covid tests as required for the accommodations. We contacted our host in advance and purchased some of the pharmacy tests as hubby is fully vaccinated as he had the solo vaccination but I had only had one dose of my vaccination and Teanna had none. Another reason for only going for 5 days was the fact we had to find a pet sitter to look after bunny boy Milo. This was more tricky than I anticipated.
Road trip Itinerary
It was so difficult to plan our itinerary as there are so many wonderful places to visit near Lisbon. This is our first actual holiday since relocating to Portugal so I wanted to make it epic and memorable. Previously we have only ventured on day trips and two overnight stays. There are so many fantastic places close to Lisbon and we only had 5 days to explore so narrowing down our favourites was a hard task. I really wanted to add Évora, Alentejo, Setúbal, Estoril and many more places to my itinerary but had to be realistic as there is nothing worse than rushing around places at lightning speed as you can't take in the whole ambiance and experience it fully. I have no issue with a packed agenda but I need time to savour the visual delights as well as the gastronomical ones (ha ha). Also these places are not going anywhere. We have the rest of our lives to explore at our own leisure. It's important for me to choose our favourite tourist attractions from a multitude and view a variety of different things. Hubby really wanted to visit the famous surfing areas, Teanna was excited to see Lisbon as she is a city girl at heart and I was over the moon to eventually visit Sintra and the world famous Palaces and pretend to be a princess for a day instead of an ageing housewife. After a tough decision and extensive planning I decided upon the following agenda:
Day 1 Sintra
Day 2 Lisbon
Day 3 Lisbon
Day 4 Cascais and Ericeira
Day 5 Buddha Eden, Óbidos and Peniche
I really wanted to add Peniche to our agenda but I didn't think we would have time after Buddha Eden and Óbidos. Luckily for us all the delights of Óbidos did not take that long to view so we managed to end our epic road trip at Peniche and I am so very glad we did. It was the perfect ending to a crazy 5 day family road trip.
Transport and Journey
Road trip = car and a long journey of 2 hours and 50 minutes and just short of 300km from our casa in Arganil. I was a little concerned about travelling such a distance in Jose Miguel (that's the name of our old banger of a car, named after the salesman). He is nearly 20 years old now, our car, not the salesman, I have no clue what age he was (ha ha). Our car did start to make the worst ever squeaking sound on the journey there which was mildly disturbing. I had read many articles which recommended not taking a car to Sintra and Lisbon. I didn't want the hassle of driving around narrow winding one way streets in Sintra trying to locate a parking space and having the stress of crazy drivers and paying massive parking costs in Lisbon so decided upon taking public transport (train and bus) around Sintra and Lisbon then driving in our car to all the other tourist attractions and it worked out perfectly. Be aware that Sintra has new traffic restrictions in place and you cannot drive your private car in certain areas which includes the Pena Palace and the Morrish Castle. There are plenty of taxis and Tuk Tuks and even a tourist bus available if you don't fancy the steep walk. It's hilly so get prepared to walk and wear comfy footwear.
Accommodation
We have only been away for the occasional night or two since we relocated to Portugal and usually book a cheap budget hotel as it's just a place to rest our weary heads after a full day and evening of sight seeing. It's a bit trickier when Teanna is with us as we need to find a triple room which always costs more than a double. In the past we have all shared 1 room (1 double bed and 1 single) and this has been fine but seeing as this trip was going to be 5 days and 4 nights I wanted to book accommodation with 2 bedrooms so Teanna had her own space as she is nearly 19 and might not relish the idea of sleeping next to her mum and stepdad. Also for my own sanity as hubby and daughter both snore and prone to make weird ass noises throughout the night and with my insomnia and the early mornings, I just couldn't face 4 nights of unsettled sleep at my age. I then had the dilemma of "Do I book different hotels in separate areas and keep moving around or do I book one central place?" It can waste a lot of time checking in and checking out of hotels, packing and unpacking stuff and many don't allow check in until around 15.00 so I thought it would be a good idea to find one place to base ourselves from and to drive from there to our destinations or take public transport. I found a great 2 bedroom apartment on Booking.com which was perfect. Not only did it have 2 bedrooms but it was an apartment not a hotel room so also had a spacious lounge, bathroom, kitchen with cooker, microwave, dishwasher, kettle and coffee machine. Having the option of kitchen facilities was great as although we usually always eat out when on holiday my chronic IBS often flares up with foods from restaurants so sometimes it is great to shop for ingredients, cook and eat a safe meal and this allowed me to do this. I found a great 2 bedroom apartment just 5km from Sintra in the Mercês area and just a short walk from the train station. On our last evening Teanna found some party masks in the apartment whilst looking for something. Teanna and hubby put a mask on and were laughing for ages. I'm busy and when I eventually look up to see why they are laughing so much, they are wearing these party masks! This is what I have to put up with living with these 2 crazy people and I wouldn't have it any other way. I had to join in the FUN!
Day 1 Sintra
There are so many tourist attractions to see in Sintra and we only had one day so after a lot of research I narrowed it down to the following:
Palácio da Pena (Pena Palace)
Alta Cruz viewpoint
Castelo Dos Mouros (Morrish Castle)
Historic Centre of Sintra
Quinta Da Regaleria
Evening – Cabo da Roca to watch the famous sun set
Palácio da Pena (Pena Palace)
We woke up ridiculously early at 5am and left our casa at 6am so we arrived and were parked up outside of our accommodation by 9.30am as we took a little pit stop mid way for a toilet, coffee and nata break (not all at the same time – ha ha). We easily booked an Uber and arrived at Pena Palace around 10am. I had read that Pena Palace is a very popular tourist attraction so it can get really busy and queues can be massive so I wanted to start the day at Pena Palace as early as possible. I would normally buy our tickets in advance online but due to Covid I didn't know if our trip would be cancelled at the last minute and I didn't want to lose money on pre-purchased tickets so I decided to just wing it and buy at the entrance at each tourist attraction. There are 2 entrances to Pena Palace, an upper and lower one and I have read that the upper entrance can form huge queues but the lower entrance has a walk through the gardens to reach the starting destination. We wanted to get dropped at the upper entrance but in fact were dropped off at the lower one. This entrance was deserted and there was no queue at all at the ticket booth. There are several self-serve ticket machines too which were also empty. Before I left for this trip I knew Sintra would either be packed full of tourists and have large queues or it would be empty due to Covid and the lack of tourists. Lucky for us it was the latter and really quiet when we visited in mid July.
You have the option of buying a ticket for the gardens only or both the palace and gardens. An adult price for both is €14 and just the gardens is €7.50. There are discounts for children, seniors and families. Opening hours are 09.00-19.00 for the gardens and 09.30-18.30 for the palace. We purchased the dual ticket as although my main interest was the outside of the palace and the gardens we had driven such a long way and in my eyes it would be an absolute shame not to include the inside of the palace. Be aware that the €7.50 garden ticket does include all the pretty terraces and palace wall, so you can walk around the whole outside of the palace as well, you are not restricted to just the park and garden area. I'm only mentioning this because the inside of the palace is only a small part of this splendid place and personally I don't think it warrants doubling the entry fee. Then again €7.50 is a very cheap affordable price for such an epic tourist attraction, I feel they could easily charge more.
Pena Palace is one of the world's most magnificent palaces and I can see why. The official website likens it to a sacred jewel that crowns the Serra de Sintra. I totally agree, it is absolutely stunning and it's location perched on a steep hillside on top of huge rocks makes it even more beautiful. I'm not going to go into its history in full detail as I'm sure you can google this information if you want to but I will outline a little snippet of history, just in case you are interested. Pena Palace was built on the site of an old chapel dedicated to Our Lady of Pena. King Manuel I ordered the construction of a Hieronymite monastery, which was tragically left in ruins after the 1755 earthquake which struck Lisbon. Ferdinand of Saxe-Coburg and Gotha married the queen Dona Maria II in 1836 and after falling in love with Sintra he bought the monastery ruins, castle and surrounding land to build a summer place for the royal family but actually he constructed a palace with the expertise of German architect Baron Wilhelm Ludwig von Eschwege. Imagine if this was your summer house! Beats a caravan at the coast any day (ha ha). The palace was built so that it could be seen from any point in the park, gardens and forest. Over 500+ different species of trees were planted in the forest! Following the death of Queen Maria II in 1853, Ferdinand married Elise Hensler (Countess of Edla). Together, they built the Chalet of the Countess of Edla located in the Park of Pena. The second phase of occupation of Pena by the Royal Family saw the presence of King Carlos I (1863-1908) and Queen Amelie of Orleans (1865-1951). These monarchs would spend part of the summer season in the palace. The royal family fled Portugal during the revolution on 5th October 1910. The Palace of Pena was classified as a National Monument in 1910 and ranks as the single most important site in the Cultural Landscape of Sintra, classified by UNESCO as World Heritage in 1995. In 2000, Parques de Sintra took over the running of the Park of Pena and in 2007, the company became responsible for managing the palace. In 2013, the National Palace of Pena became a member of the European Royal Residence Network.
I totally fell in love with its 19th century romanticism style architecture with manueline and Moorish influence which gives it such a striking appearance and eccentric feel. There is so much to see and I really enjoyed viewing the bright vibrant coloured terraces (especially the queen's terrace), towers and clocktower, gateways, cloisters, archways, amazing Portuguese tiles and mythological statues. I felt like a princess in my very own fairy tale! The mix match of architecture is a little bit bonkers but it actually works. The drawbridge is fascinating and we had so much fun climbing up several of the watchtowers and admiring the wonderful viewpoints with breathtaking panoramic views. It's very windy up high so again excuse my hair photos (ha ha). The details on some of the stone carvings (especially the gargoyle) are so intricate and pretty. Pena forest was enchanting with its glistening valley of lakes, gardens, hidden secret pathways, caves, fountains, pergolas, so many pretty roses and multiple species of trees and lets not forget the spectacular statues and ornaments. I am so glad I ventured inside of the palace to view the interior of the stately quarters and chambers. The 19th century artefacts and furniture were a delight to view but I especially loved the high vaulted detailed ceilings. We were allowed to take photos too of the interior which is surprising as often you are forbidden.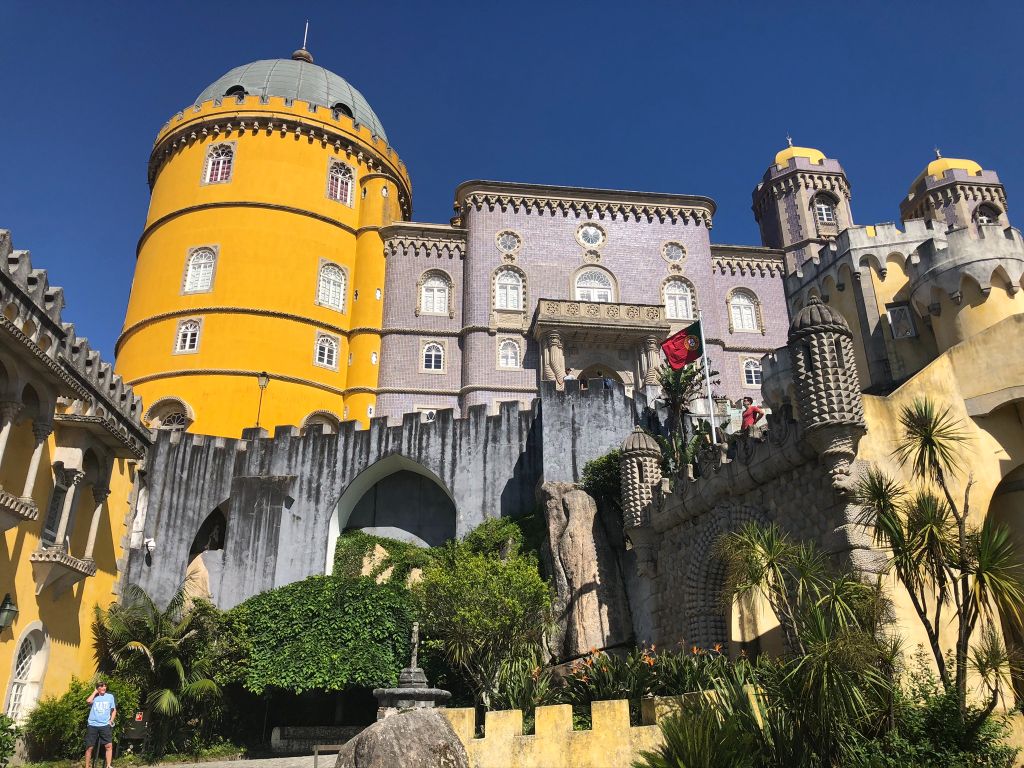 Alta Cruz viewpoint
After visiting the Palace I really wanted to go and explore the surrounding park and gardens but we had a tight schedule to keep to so we had a little explore and took a lovely 15 minute walk up to the Alta Cruz viewpoint with it's 16th century cross and panoramic views where you can see the palace is the distance. It is the highest point on the Sintra mountain at 540 metres. We were the only ones there so we got to climb up and admire all the beauty by ourselves again.
Castelo dos Mouros (Moorish Castle)
After the Alta Cruz we took a short walk to the Moorish Castle. You probably know by now that I do love castles (ha ha). Located on a hilltop known as Monte da Lua (Mountain of the Moon) sits the fabulous ruins of the Moorish Castle. A fortress built in around the 10th century after the Muslim conquest of the Iberian Peninsula. The Moors lived here until 1147, when the castle was voluntarily surrendered to Afonso Henriques, the first King of Portugal, following the Christian reconquista (reconquest). With the settlement of a Christian population in the Moorish Castle, the Islamic Quarter began to disappear and give way to a Medieval town with its occupation ongoing through to the 15th century. At that time, the site was steadily subject to abandonment and later only used by the small Jewish community of the parish. The Jews occupying and using the structures in the castle were expelled by Manuel I of Portugal and the castle was completely abandoned. The 1755 Lisbon earthquake caused major damage to the chapel and castle. It was already damaged due to a fire when the castle was struck by lightening.
The Church of São Pedro de Canaferrim was built between the two rings of walls. The church was used for worship until the 14th century. It was transformed by King Ferdinand II into a romantic ruin as part of the landscape of the park of Pena. It now houses the Interpretation Centre of the History of the Castle, where objects found during the archaeological excavations are exhibited. In the 19th century King Ferdinand II undertook extensive restoration work on the castle. The extensive renovation works damaged part of the Christian burial grounds surrounding the church so a small tomb was built to lay the remains that had been unearthed. and, given the inability to distinguish whether these were Christian or Muslim human remains, the tomb bears an inscription which translates to: "What man has assembled (put together), only God can separate". In 2000, Parques de Sintra took over the management of this national monument.
An adult ticket costs €8 and there are discounts for children, seniors and families. The opening times are 10.00-18.00, 7 days a week. I loved wandering around the majestic fortress ruins, stone walls and narrow paths of this epic castle admiring the spectacular views across the Atlantic coastline. We climbed to the top of the turrets. To the south you can see beyond the river Tejo to Arrabida, to the west, Cabo da Roca and the north, Peniche. The castle is such a glory perched on top of the cliffs and you get the most brilliant view of the Pena Palace, Palace of Sintra and views stretching across the Atlantic Ocean. The contrast between the lush green of the mountains and the blue of the ocean is so amazing. It was a lovely sunny day so the fluffy clouds against the bright blue sky looked incredible, I do love cloud spotting. I took a lot of time out here to reflect on all the history in each and every footstep I took. The surrounding forest is also very stunning with some great features and a superb place to take some time to chill. An absolutely beautiful family fun day and again there were very few tourists visiting at this time. It's very windy so high up so I had to hold my dress down firmly so as not to flash and expose my lady bits to the American tourists (ha ha).
Historic Centre of Sintra
After visiting the castle we took leisurely walk down to the historic centre of Sintra. We didn't have time to visit Sintra Palace but took some time out to admire the outside of the Palace and enjoy a tasty lunch. After we were refreshed we took the short 15 minute walk to Quinta da Regaleira.
Quinta da Regaleira
Out of all the places in Sintra I was most excited to visit Quinta da Regaleira. It is located in the Old Quarter of Sintra and classified as a World heritage site by UNESCO. The brochure states "A trip to Quinta da Regaleira is a journey into an imaginary universe of symbolism and metaphor" they are not wrong! It's not technically a palace but a beautiful house and gardens. The gardens are so very beautiful, exquisite and have a magical feel, every turn you get to see something different. So many mysterious areas to explore including the famous Well of initiation but I preferred getting lost amongst nature in the many grottoes/caves, towers, lakes, fountains, statues and monuments. The caves were awesome, dark and slightly creepy. Something kept falling on my head which made me jump and zone into my superhero mode – princess warrior verses the scary human eating dragon which turned out to just be a medium sized cobweb (ha ha). The house is fantastic but the gardens are the highlight. There was even a historical theatrical show taking place when we visited. Such a mystical tranquil experience. I could have spent a whole day here soaking up all the beauty and history.
It is open 7 days a week 10.00-18.30 and adult tickets cost €10 with child and senior tickets at half price. Although we didn't arrive until the afternoon there were only a couple of people in front of us at the ticket office and the grounds did not seem busy at all. We were given a map at the ticket office which I gave to hubby as he is the "Noble navigator", I'm the "Princess planner" (ha ha). It is also known as Palácio do Monteiro dos Milhões (The Palace of Monteiro the Millionaire). The house was built between 1904 and 1910 and belonged to Viscondessa da Regaleira. It was bought by António Augusto Carvalho Monteiro who commissioned the unique rebuild project to the Italian set-designer and architect Luigi Manini who created this magical place. He transformed the 4 hectare farm into a stunning paradise. Teanna was excited about this as her last name is Monteiro-de-Lima so now we call her Teanna Monteiro the millionaire (ha ha). It was sold to Waldemar d'Orey in 1949 who carried out major works in order to accommodate his large family and in-depth restoration work, as the house had not been taken care of for a long time. In 1988, Quinta da Regaleira was acquired by the Japanese company Aoki Corporation and was closed to the public. In 1997, the Municipality of Sintra acquired this valuable heritage, starting shortly thereafter an exhaustive work to restore the heritage and gardens.
When I saw photos of this place I knew instantly that I must visit. It's not as famous or well known as Pena Palace but in my eyes it is more spectacular and it was my absolute favourite place out of everything we visited in Sintra. As soon as you step out of the ticket office you are thrust into the most impressive nature paradise I have ever seen. There is so much open space to explore. The gardens are so very beautiful and exquisite and certainly have a magical feel, every turn you are surprised and see something different and believe me I explored every corner or nook and cranny as I like to say. So many mysterious areas to view including the famous Well of initiation but I preferred getting lost amongst nature in the many grottoes/caves, towers, lakes, fountains, water features, stone arches, statues and monuments. The house is fantastic but the gardens are the highlight. I felt like I was in my very own action film like a real life Lara Croft from Tomb Raider uncovering ancient secrets and finding precious treasure. This visit was such a spiritual, mystical and a peaceful experience. We ended with a viewing of the interior of the house. When I say house it's more of a huge gothic mansion and so very grand indeed. The ceilings and floors are beautifully designed and restored. It was surreal to be walking through rooms such as the smoking room. The striking stained glass windows are spectacular and the wondrous bright red door and elaborate lionhead door handles have so much detail. I could just imagine this grand house hosting an elaborate banquet, lets hope the invite is in the post (ha ha).
Poço Iniciático (Initiation well)
You may have seen photos of the initiation well on Instagram. The well is an absolute must to visit but there is so much more to this wonderful place. We didn't rush to see the well and by the time we reached the location there was a really long queue which surprised us as the gardens appeared very empty. Now we are not used to queueing at all. We have been so very lucky as everywhere we have visited it's been unaccountably deserted. I think it took around 30 minutes to reach the start of the queue as they were only letting in a very small number of people at a time due to Covid. I actually thought we would be queueing for longer seeing as it was a really long line but it wasn't too bad at all. I am glad we didn't give up and leave as it really was a very special and unique experience.
The 88 foot deep well consists of a bizare spiral staircase supported by carved columns which leads to several tunnels. As you walk down the staircase you will notice that there are 9 levels separated by flights of 15 steps each, apparently invoking references to Dante's Divine Comedy and represents the 9 Circles of Hell, Purgatory or Paradise. For those of you not aware of Dante's Divine Comedy it is a long narrative poem in Italian, written (c. 1307-21) by Dante Alighieri: it deals with the author's imagined journey through Hell, Purgatory and Paradise. It is called a comedy because poems in the ancient time were classified as High (Tragedy) or Low (Comedy). At the bottom of the well you will find a marble compass (8 pointed star) over a Knights Templar cross, which is said to have been the coat of arms of Carvalho Monteiro, pointing to his association with Rosicrucianism. The well is said to be initiatory because it is believed that it was used in initiation rituals. It was never built to serve as a water resource at all but built for secret ceremonial purposes. To be totally honest with you at this point I stopped googling. I'm not messing with rituals from a time gone by. I have watched the films and they never end well. It's a mystical, magical well and I experienced the walk downwards which I think was towards hell and now I'm thinking I wish I had done the journey in reverse from bottom to top but we were not given a choice. Then I got to thinking that my name is Helen and I kind of have Hell in my name then I just told myself to stop over thinking stuff (ha ha). I certainly believe this well is an underground labyrinth and it can keep its secrets safely hidden. The journey through the well is likened to a rebirth through mother earth's womb. I'm not too sure about that but one thing I am sure about is that I've been a good girl so I would like to opt for the 9 circles of Paradise and NOT the 9 circles of Purgatory or Hell, thank you very much!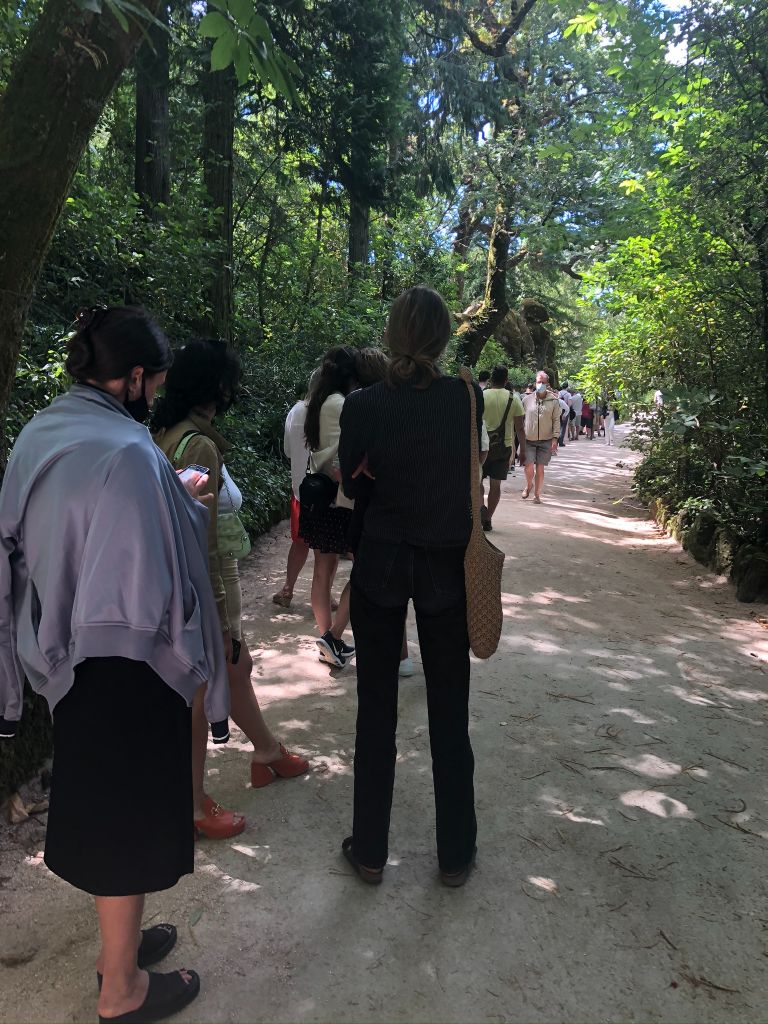 Once we left Quinta da Regaleira we headed back towards the old town and ate ice cream out of waffle shells whilst sitting outside of Sintra Palace and people watching which is my 2nd favourite pastime after stand up paddle boarding (ha ha). You can see the Moorish Castle and Pena Palace in the distance nestled high up on the hilltop, such beautiful views. Then we caught the train back to our accommodation and checked in. It was a short journey with only 3 station stops so we were back in no time.
Cabo da Roça
Once we had settled in and ate dinner we ventured off on the short drive to Cabo da Roça which is the westernmost point of mainland Europe. Luís Vaz de Camões described it as the place "Where the land ends and the sea begins". We watched the famous sun set which looks like the sun sets below the horizon and seemingly under the ocean.
There is a lighthouse and monument and we had a windy wander across the rocks.There was a man by the monument holding a Portuguese flag all by himself just standing there with his flag blowing in the wind. I am intrigued to know his story! Why is he standing there trying to control a flag at 9pm? I was tempted to start a conversation but my Portuguese is still poor but I'm persisting and am determined to learn it. Not sure how much the locals understand my Bristolian accent but I try. After Sintra we headed to Lisbon for 2 days of exploring the capital city.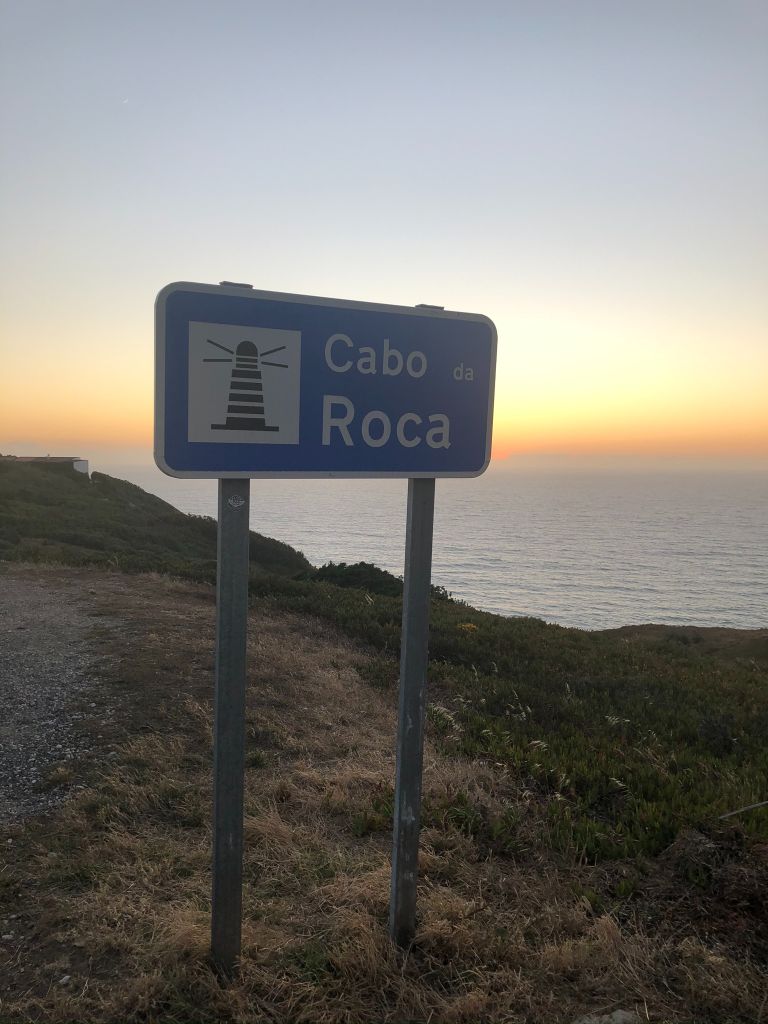 Sintra overview
I absolutely fell in love with Sintra, it is simply one of the most beautiful places I have ever visited in my entire life and really is a place bursting with romance and adventure. One day was not enough to see all of Sintra's glory so I will definitely be returning to visit Sintra Palace, Queluz National Palace and Monserrate Palace and gardens. 3 places I really wanted to visit but just didn't have the time. You may know that Portugal is famous for its Pastel de Nata. Sintra is famous for its travesseiros. A mouth watering flakey, almond filled pillow, delicious served piping hot straight from the pastelaria. My highlight of the day was definitely the spectacular enigmatic Quinta da Regaleria. If I had to describe it in 3 words I would say: Nature, Mystical and Magical. What is a bit weird and surreal is that I have had so many dreams about this place since I returned home. Not nightmares, just strange crazy forest dreams. Sintra certainly inspired me and left a huge impact on me and all my senses and Quinta Da Regaleria certainly stole a little bit of my heart XXX