AVIÃO E JANELA PENACOVA & PR1 PCV HIKING TRAIL
After all our tacky Christmas theme park adventures and bright sparkling lights of Portuguese cities it's time to get back to my love of nature. Hubby's last day off work was 27th December and seeing as it was a glorious sunny day and 18 degrees we decided to go on a happy holiday hiking adventure. The wonderful PR1 PCV "Penacova e o rio Mondego" (Penacova and the Mondego River) is a 6 km circular trail. Much shorter than our normal hikes and it wasn't actually our intended hike as we had an alternative longer hike planned but we got lost in the forest (ha ha). All will be revealed later. We have visited Penacova a few times now as it's such a beautiful scenic area with so much to see. We loved our previous Arista trail and PR4 PCV hiking route as well as the mystical windmills and beautiful viewpoints.
I found a new Miradouro which looked absolutely fascinating. "Penedos da Carvoeira" is a spectacular scenic viewpoint with the incredible picturesque "Avião e Janela Penacova" (Aeroplane and Window). I couldn't wait to visit both. There is limited information online about this Miradouro and not many people have visited, I now know why as it's a challenging place to find and get to (ha ha). We made a pit stop at a little tourist information kiosk located just past the Livraria do Mondego on the N2. The staff member can stamp your passport for the Arista Trail if you don't have the App. I sent hubby in to double check the location of the Miradouro and the man confirmed that we had the right location but said "Be careful, it's a tricky and dangerous climb" he wasn't wrong!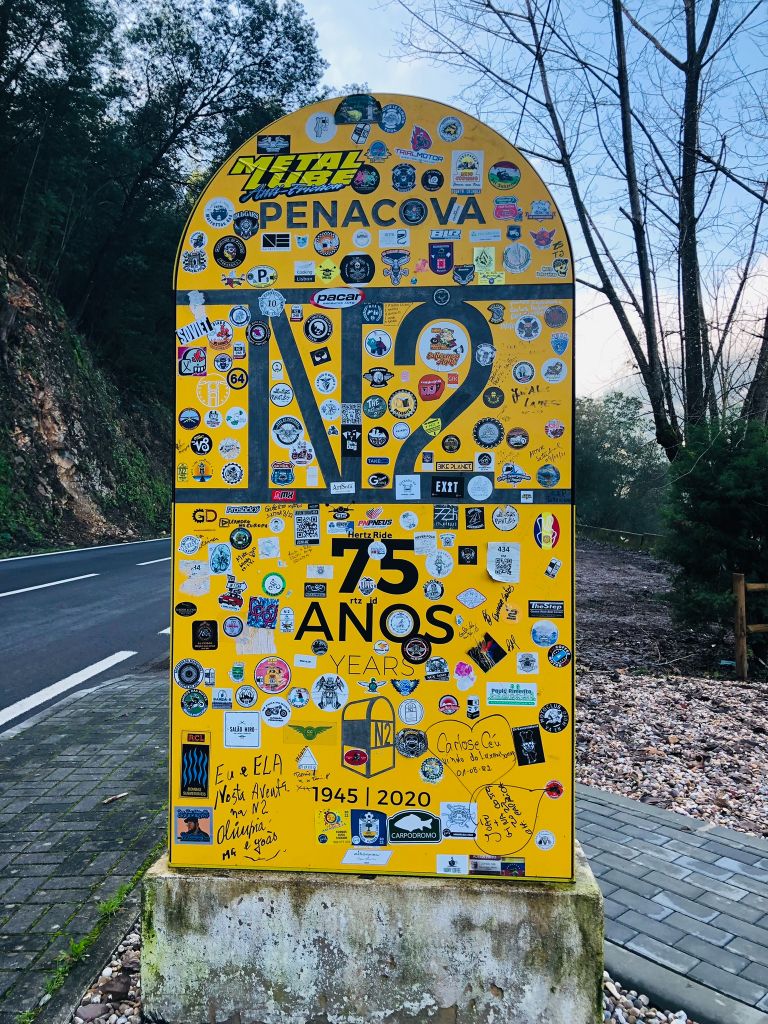 Avião e Janela Penacova
The Window of Opportunity
We started with the Viewpoint before our official PR trail as we didn't actually know how long it would take to hike to the Miradouro but we allocated an hour. We found the starting point easily and passed by a little wooden sign directing us left. We made a judgement in error as when we drove past the sign we didn't see the tiny steps right next to the sign so thought we needed to take the next left which was a steep muddy dirt track several metres after the signpost. There was no way in hell that José Miguel (Our old banger of a car) was getting up that track so we parked on the main road and started our ascent. We met two guys at the start of the track with a large flat loaded van who were pilfering massive boulders (ha ha). We asked them if this was the way to the aeroplane and they said yes so at least we were going in the right direction.
We didn't think it would take too long so although I bought my backpack with me, we didn't take any food, snacks or water. There were no more signposts as we ventured up the steep trail and we could not find the aeroplane or window. I don't like to be beaten or admit defeat so we wandered around trying to follow hubby's GPS on his phone but there were lots of trees down and fallen rocks from mini landslides. We both got quite muddy and there were a few scary stumbling incidents. We had to clamber over huge mossy boulders and everything underfoot was slightly moist and very slippery due to all the recent rainfall. We were about to admit defeat but then we stumbled across some little red arrows which are part of the trail run. I am not sure how anyone runs through such hazardous terrain, they deserve a gold medal and are clearly slightly crazy and deranged, a bit like me (ha ha).
Some of the markers were very faint so we were questioning our judgement as to if they were actual markers in faded red paint or someone's blood (ha ha). I was extra cautious because of my reduced vision and I didn't want to slip, fall and end up in A & E again. Eventually we came face to face with a really steep climb up a cliff which was pretty dangerous. I didn't take any photos of this area as I was using both my hands to grab onto objects and hubby's hand to save my life and prevent injury but believe me when I say it was more than a little difficult. We made it to the top and I was expecting to see the aeroplane but again we could not find it. We managed to find some more little red arrows and followed them and eventually located the window first. Wow what spectacular views! The window has the Penacova motto inscribed on it "Bem bom ar" which translates to "Well good air" which doesn't quite read right. I think it should read "Breathe good air" but it's still very cute and a great photo opportunity.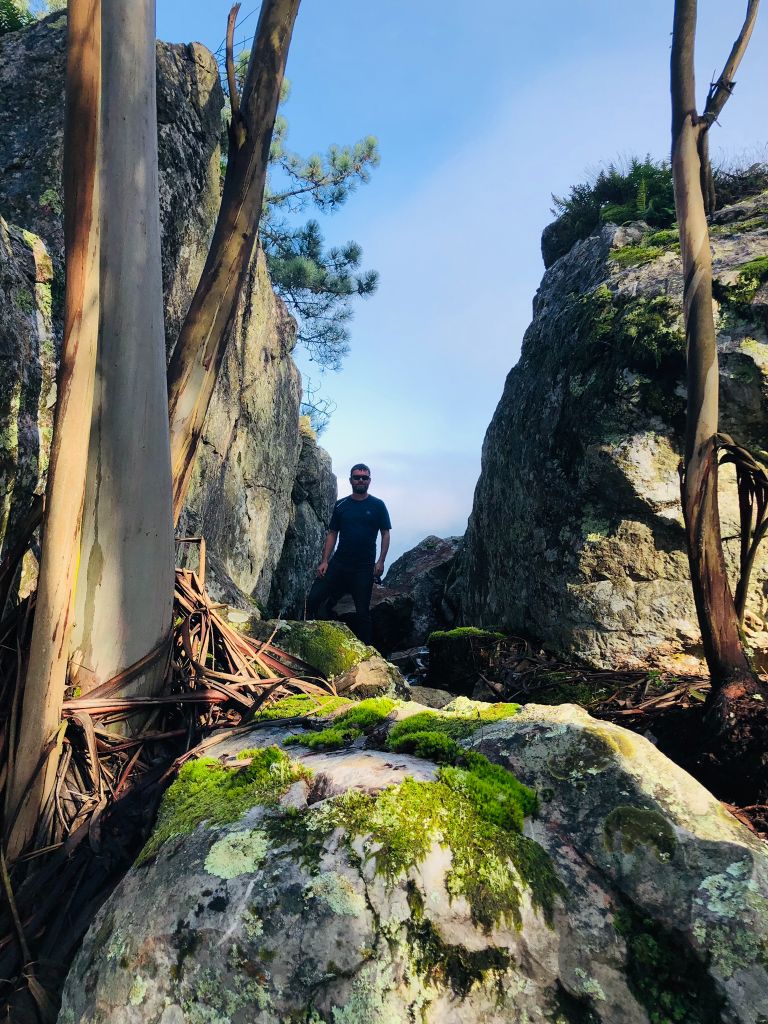 Wonderful Window Selfies
If a window of opportunity appears, don't pull down the shade (ha ha).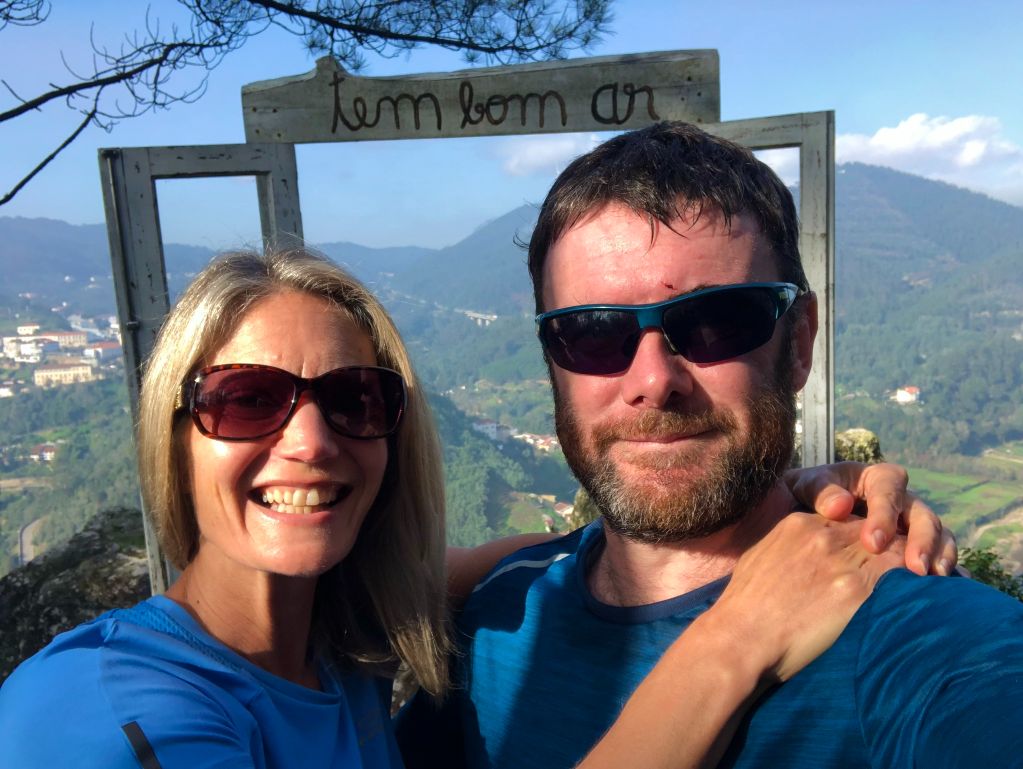 Flying High
We then had the challenge of trying to locate the aeroplane. In all honesty I did think we might have to give up and admit defeat but I was semi happy that I had viewed 50% after that steep precarious climb. Hubby was top prime investigator, utilising his Miss Marple skills. As well as using his phone GPS he googled photos of the viewpoint and analysed where the houses and different shaped rock formations were positioned to establish the rough location and he succeeded in his hubby mission. I was elated to eventually find the aeroplane because it's just such a weird and wonderful exhibit perched right at the top of the mountain. It was very lopsided, rickety and quite difficult to climb inside but we had a lot of fun here. Then we had the difficult task of climbing back down the steep cliffside which was pretty challenging, thank god for tree trunks as I used them to cling on to for dear life. It was harder on the descend as more chance of slipping. The rocks underfoot often dislodged which was pretty harrowing. By the time we got back to our car it had taken us a whopping 2 hours! I have no idea if the route by the actual wooden sign is any easier but I have a feeling there is no way to avoid the steep cliff climb so I advise you to visit in summertime and not when it's all muddy and wet. I apologise in advance for how I look, very disheveled after getting covered in mud and a bit sweaty Betty as it was a hot December day. After our shenanigans at the top of the mountain we drove to the Tourist Information Centre which is where a lot of the PR trails start from.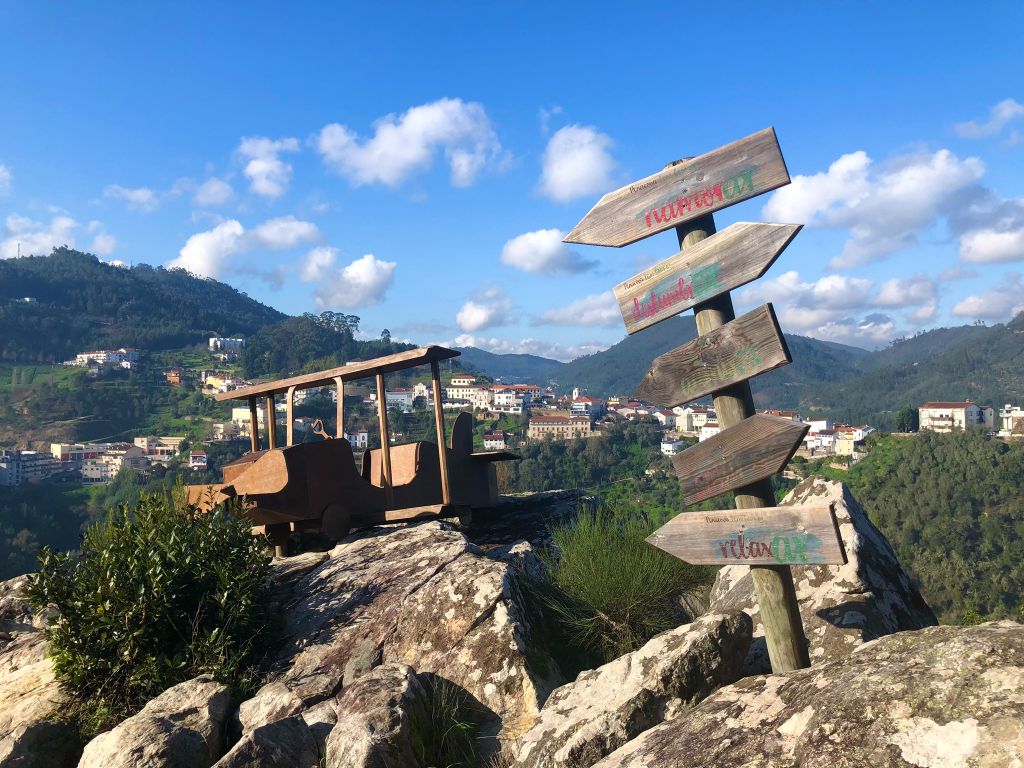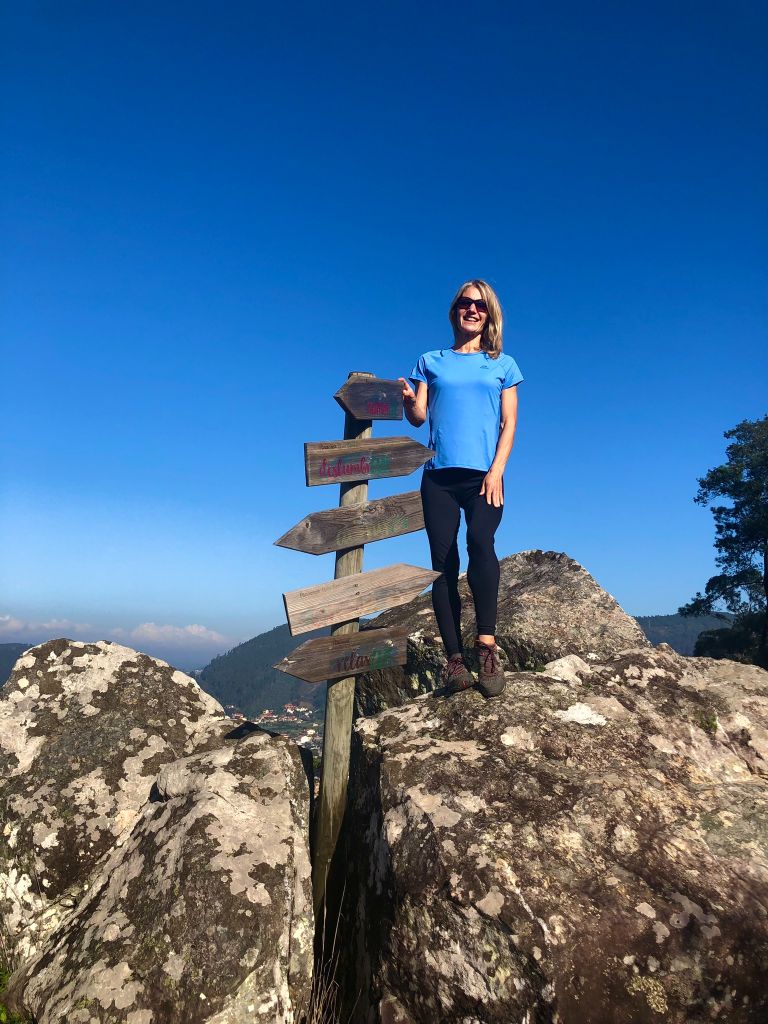 Welcome Aboard – On Board the Plane Selfies
If you don't trust the pilot, don't go! He's got that one man pose going on again (ha ha).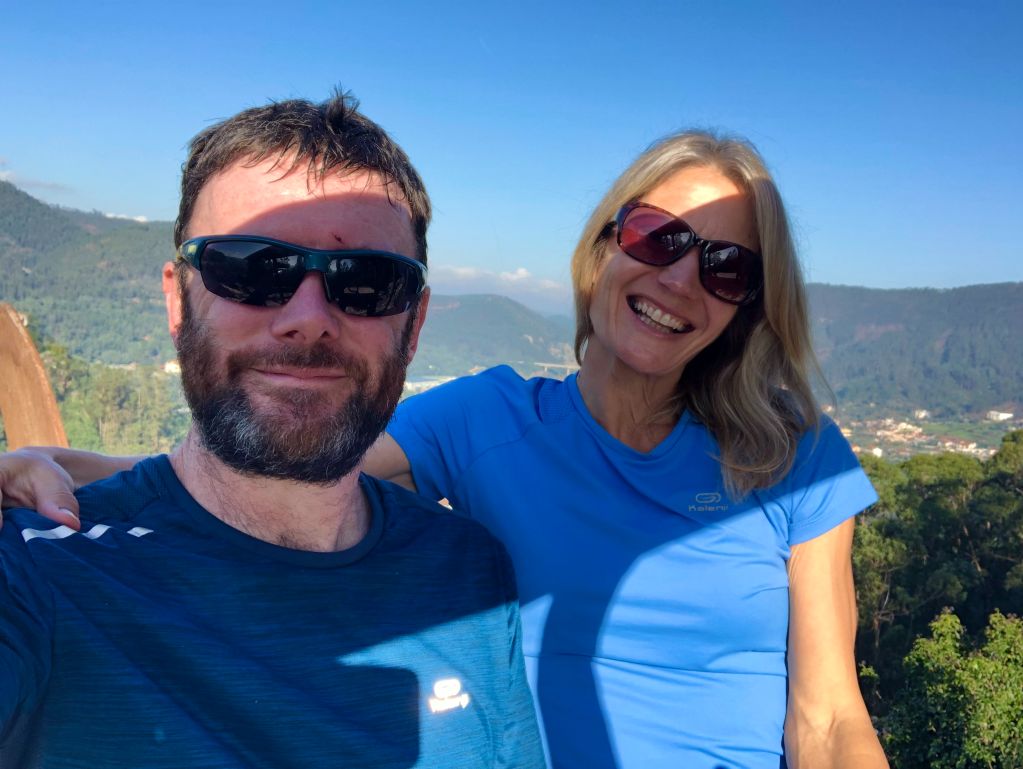 If you can walk away from a landing, it's a good landing – Off Board the Plane Selfies
I'm still waiting for the air hostess to deliver me peanuts (ha ha).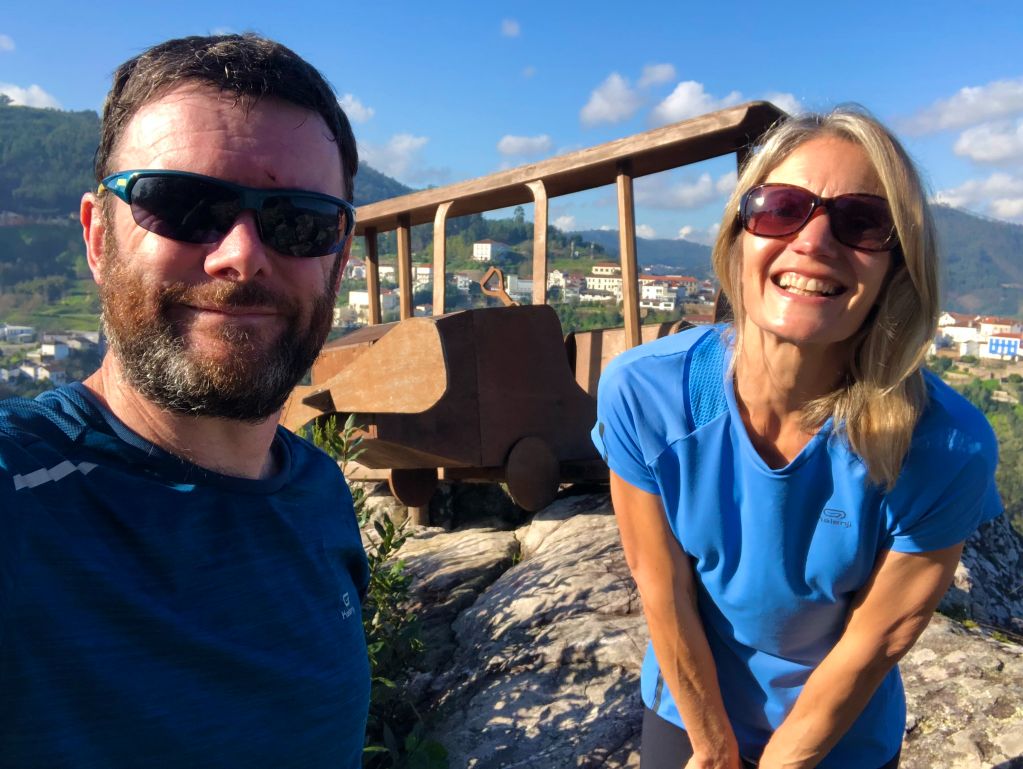 PR1 PCV
This route was not the original trail I had planned but after spending so much time trying to locate the Miradouro I decided to change my plans. I had researched the PR5 PCV which is a longer 11 km hike but it takes 4 hours to complete and I didn't want to end up hiking in the dark and cold so I found a much shorter 6 km circular route to embark on which only takes a couple of hours if you walk fast like us. The PR1 begins and ends at the Centre of Penacova, near the inspirational Pérgola Raúl Lino. A magnificent balcony with a panoramic view over the Mondego Valley. The path follows to the rural park, Parque Verde António Manuel Marques where the bird's singing and the soft breeze breaks the silence. You'll reach the trail's highest point after a walk up the hill to Penedo do Castro Viewpoint. Take a look at the stunning view over the river, then you make a descend through the marked path, cross the river at Carvoeira's Dam and take take a break at the River Beach of Reconquinho, right before you cross the river again at the next bridge. Then you make a steep climb back to the Centre of Penacova. The trail is a full discovery of several natural, geological and scenic landmarks. The views are breathtaking and absolutely surreal. I LOVE Penacova and the best part is it's just a short 40 min drive from our casa.
Points of Interest
Posto de Turismo (Tourist Office)
Pérgola Raúl Lino (Pergola Raúl Line)
Capela de Santo António (Saint Antonio Chapel)
Parque Verde António Manuel Marques (Green Park)
Penedo do Castro (Viewpoint)
Ponte Pedonal – Açude da Carvoeira (Bridge)
Praia Fluvial do Reconquinho (River Beach of Reconquinho)
Ponte José Luciano de Castro (Bridge)
Igreja Matriz (Mother Church)
Posto de Turismo (Tourist Office)
There are information boards right outside of the tourist office with all the different hike information on and points of interest. Most of the hikes depart from this location.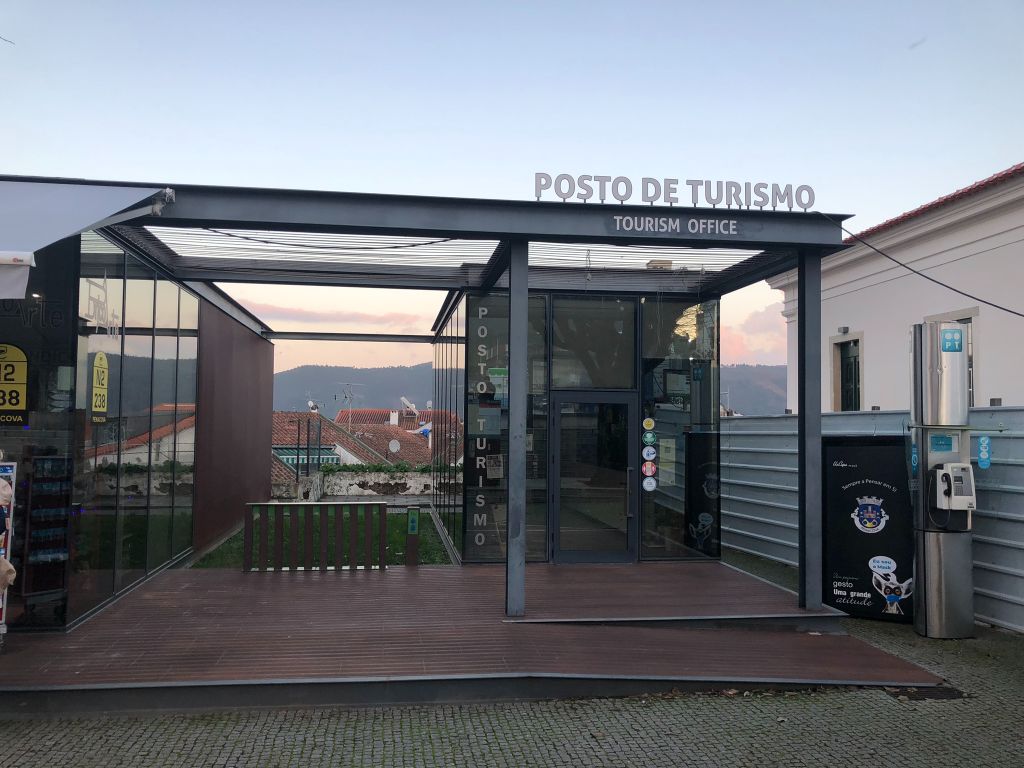 Pérgola Raúl Lino (Pergola Raúl Line)
"Pérgola Raúl Lino" was designed by the architect Raúl Lino and ordered to be built by Sociedade Propaganda de Portugal and was offered to the people of the village in 1918, since then, all those who visit it have enjoyed a pleasant balcony covered with old vines of wisteria that allows them to see the river, downstream, to the curve of the ridge. I loved the quirky additions, all aboard the crazy bus!
I adore this Pergola and Viewpoint. We took some time out here to enjoy a refreshing drink and our usual protein bar snack. The cafe was open which has spectacular views from inside as there is a glass window for visitors to admire the beauty and splendid views. As we sat here hubby pointed out that you can actually see the window and aeroplane far in the distance. That wasn't happening for me as I can't see shit with my poorly eye so he took a photo then scrolled in and low and behold I could see a blurry aeroplane and white blob, if only we knew this in advance it would have saved us getting lost in the forest like Hansel and Gretel. I was also gutted that we never found a house made of gingerbread deep in the woods (ha ha).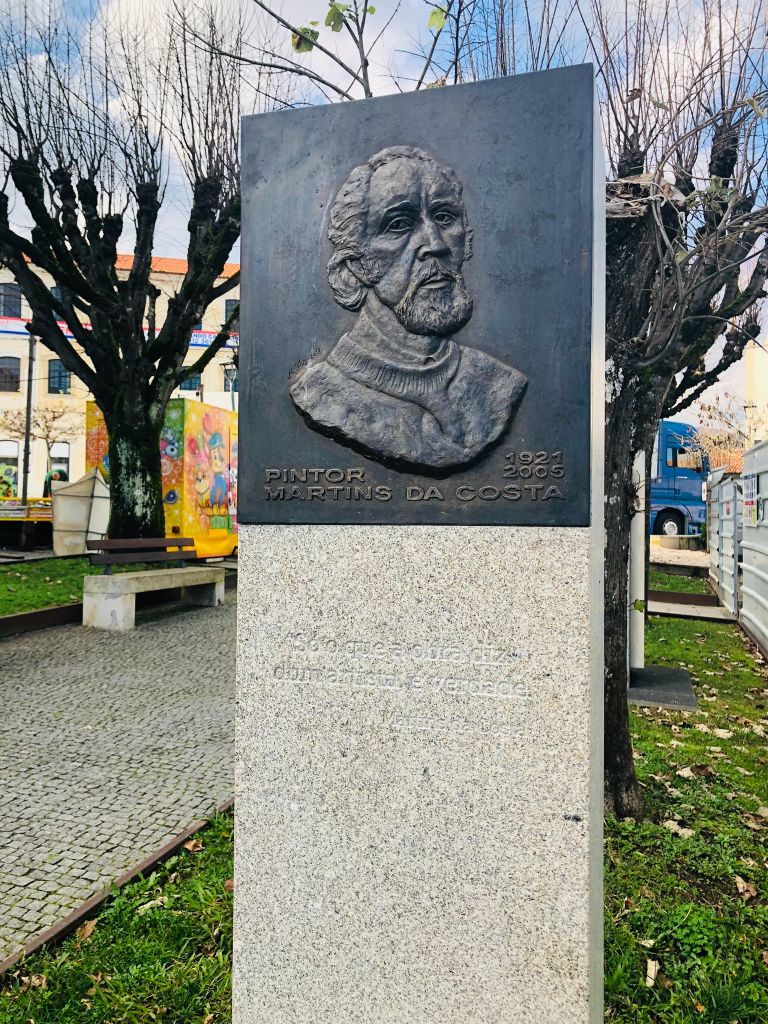 Capela de Santo António (Saint António Chapel)
Opposite the little chapel there is a beautiful lookout with sensational stretching views as far as the pretty river beach.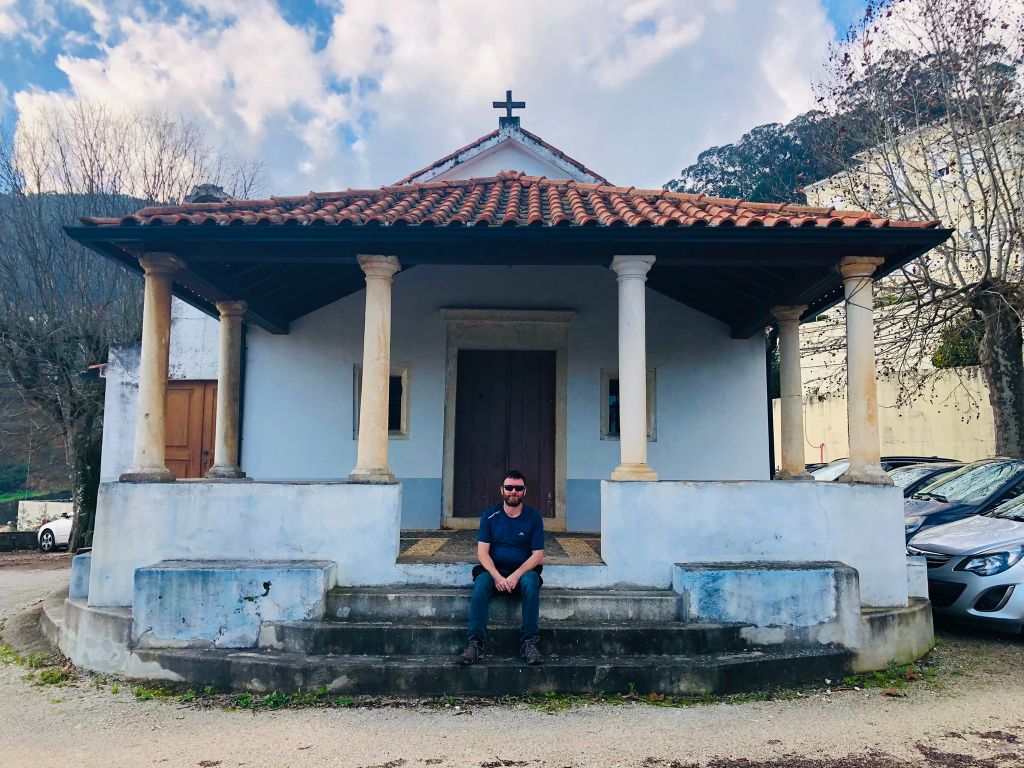 Parque Verde Antonió Manuel Marques
What a gorgeous park! Hubby found a little seat made from a tree trunk to have a mini rest (ha ha).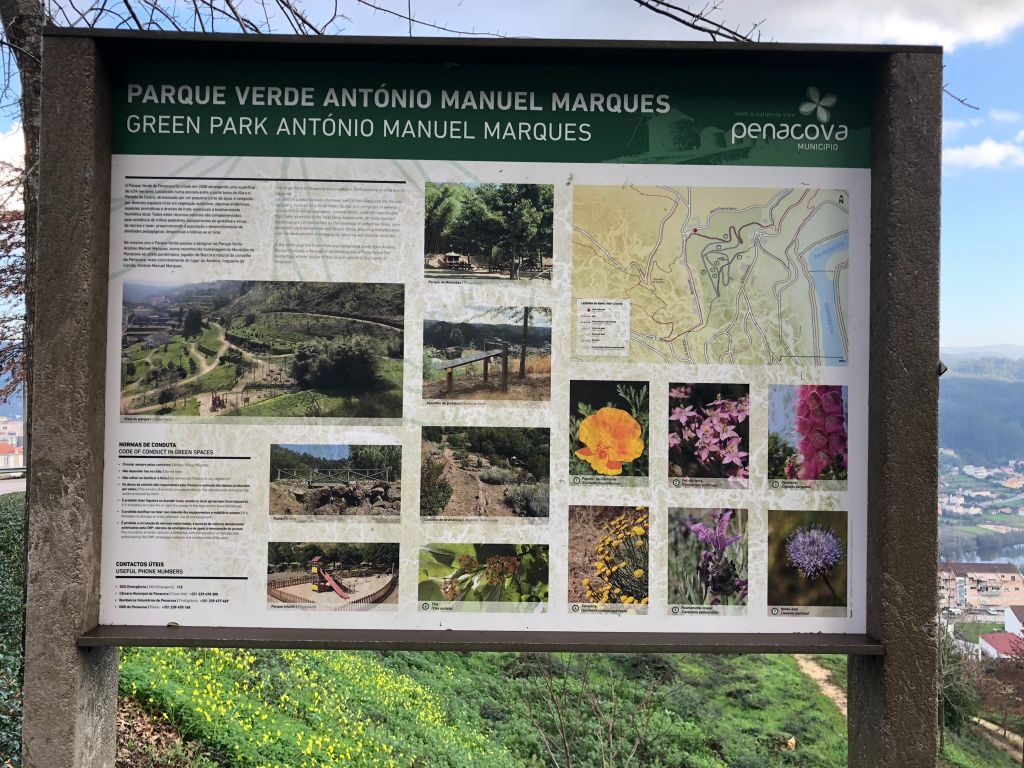 Miradouro do Penedo do Castro (Viewpoint)
This Viewpoint is one of the must-see viewpoints located in the upper part of the village. Penedo do Castro is a rare beauty due to its imposing quartzite wall that is suitable for climbing and abseiling. It began by being called Penedo do Cheira, as it was located above the village of Cheira. The name Penedo do Castro was given to it on 30th May 1908, in honour of the writer Augusto Mendes Simões Castro, one of the oldest propagandists in the region. This place is marked with a tombstone designed by Raúl Lino, offering one of the most impressive panoramic views of Penacova transmitting a feeling of vastness of the village and the surrounding valley of the Mondego river.
We have already visited this Viewpoint twice before but I didn't mind one bit as it's such a gorgeous tranquil spot and there is rarely anyone here. You may notice from our selfies that hubby has a cut on his forehead. I promise I am not responsible and I didn't aggressively throw a squishy foam burrito at him from our Christmas game of Throw throw Burrito (ha ha). He actual dropped his guitar plectrum on the bedroom floor then as he stood up he hit his head on the edge of the MEO TV box! That's my story and I'm sticking to it (ha ha). It is 100% truth, we are both as accident prone as each other.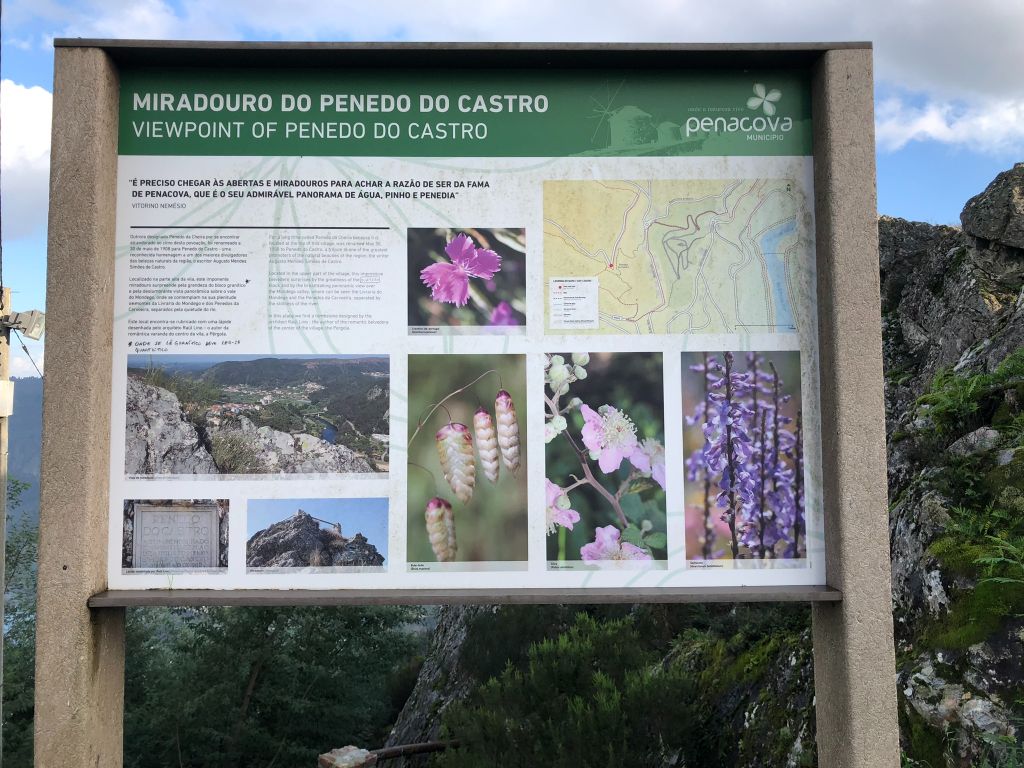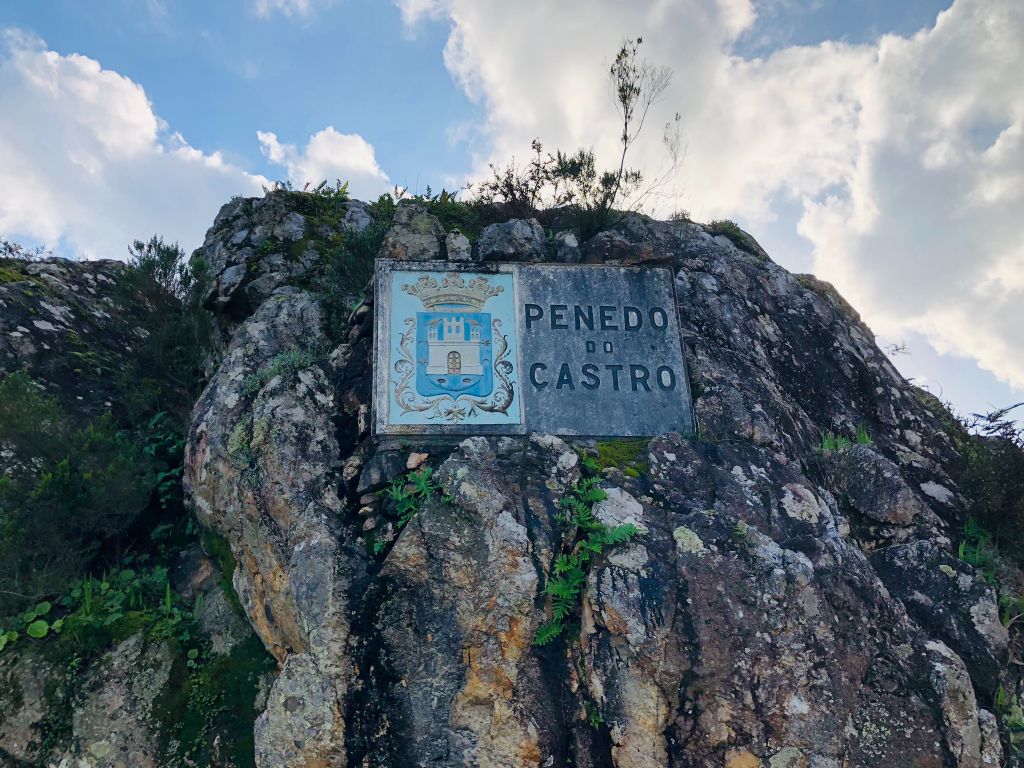 Bridge Over Troubled Water – Ponte Pedonal – Açude da Carvoeira
We had a slight detour as the pedestrian bridge was down! I had to laugh as hubby's little face was a picture (ha ha). We didn't fancy swimming across and my bush tucker skills are limited so we didn't attempt making a raft (ha ha). This route is not recommended in wintertime and I'm not sure if the bridge was destroyed in the recent storms and rain or if it's dismantled in winter for safety reasons. There are very choppy and dangerous rapids near this dam and even during the summertime it can be very dangerous. I nearly drowned here back in the summer as we made a stupid decision to try and cross the dam on our paddle boards! The route was supposed to take us across this bridge to the river beach and then back across the main permanent stone bridge so instead of crossing over we just hiked alongside the river instead. We have visited the river beach quite a few times so it was fine and didn't affect our enjoyment. If you really want to cross, just walk further up to the stone bridge. The other small bridge that is here in summertime which has to be lifted by the lifeguards for the Serranas do Mondego "Tareco" traditional mountain boat to pass through had also disappeared. We found where they store the boats during winter which was cool. I made the photos large so you see our predicament. It could have been a whole lot worse. Imagine if we were near the end of a long hike and we had to cross the bridge to return to our car. Thankfully our car was located on this side of the river.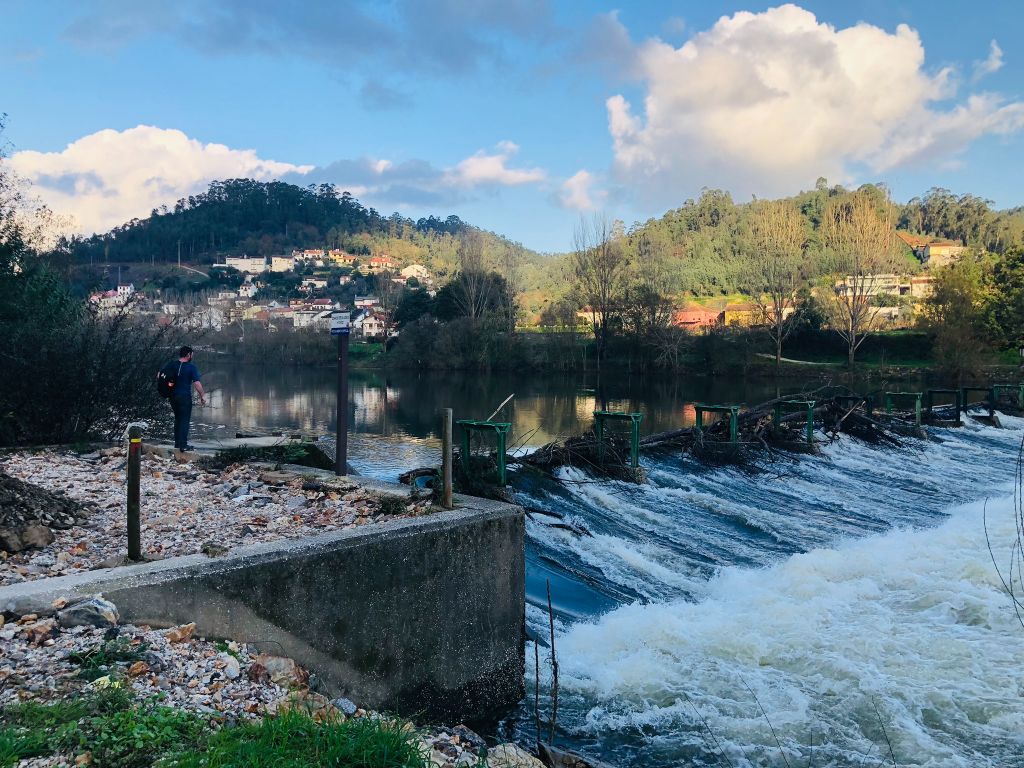 The Bridge in Action
I thought I would share a few photos of us on the actual bridge for comparison (Summer of 2022).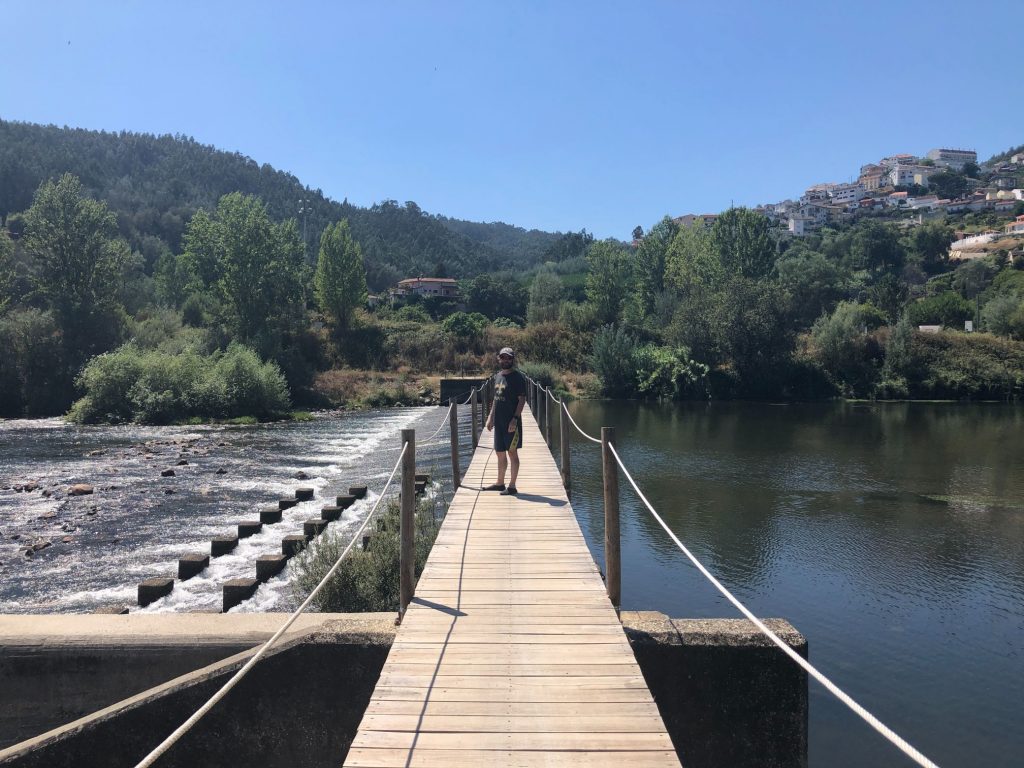 Serranas do Mondego "Tareco"
I found the storage location for the mountain boats.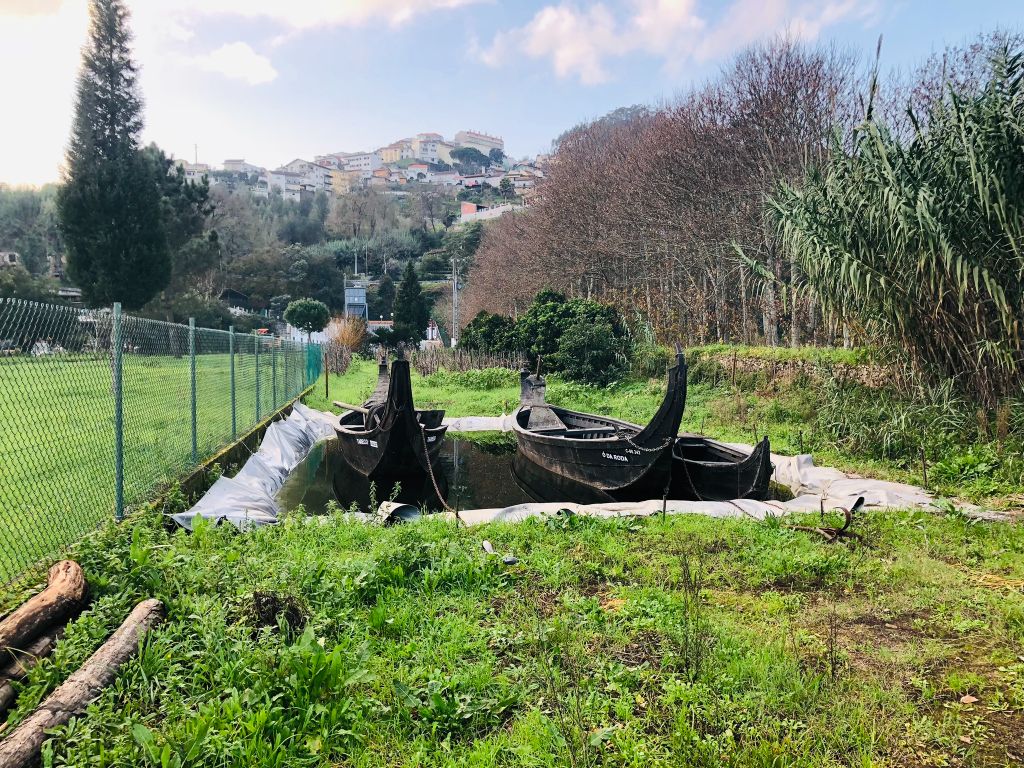 Tareco in Action (Summer 2022)
You can buy a ticket which includes a tasty lunch with foods from the local region including chouriço, cheese and wine. I'm in, you don't have to ask me twice (ha ha).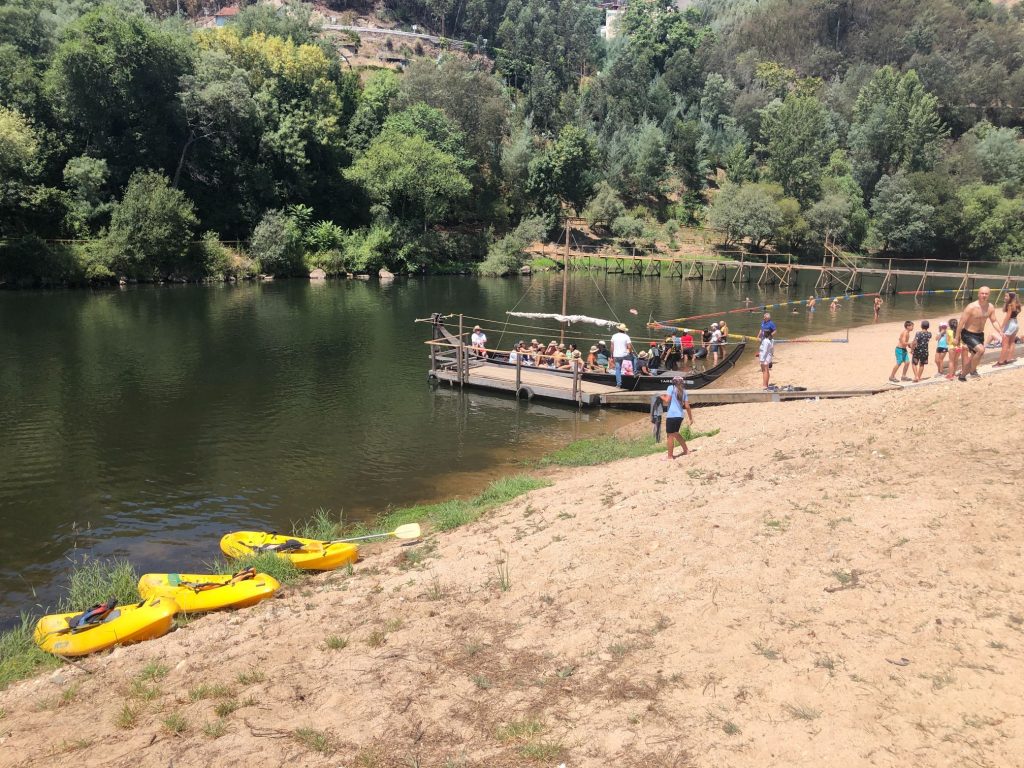 The Friendly Cat
Cats aren't really my animal of choice, they freak me out but this cat was super duper friendly so I made an exception and petted it. I thought that was a massive spider behind him/her, it's actually just a spikey tree branch, Fuck my bad eye (ha ha).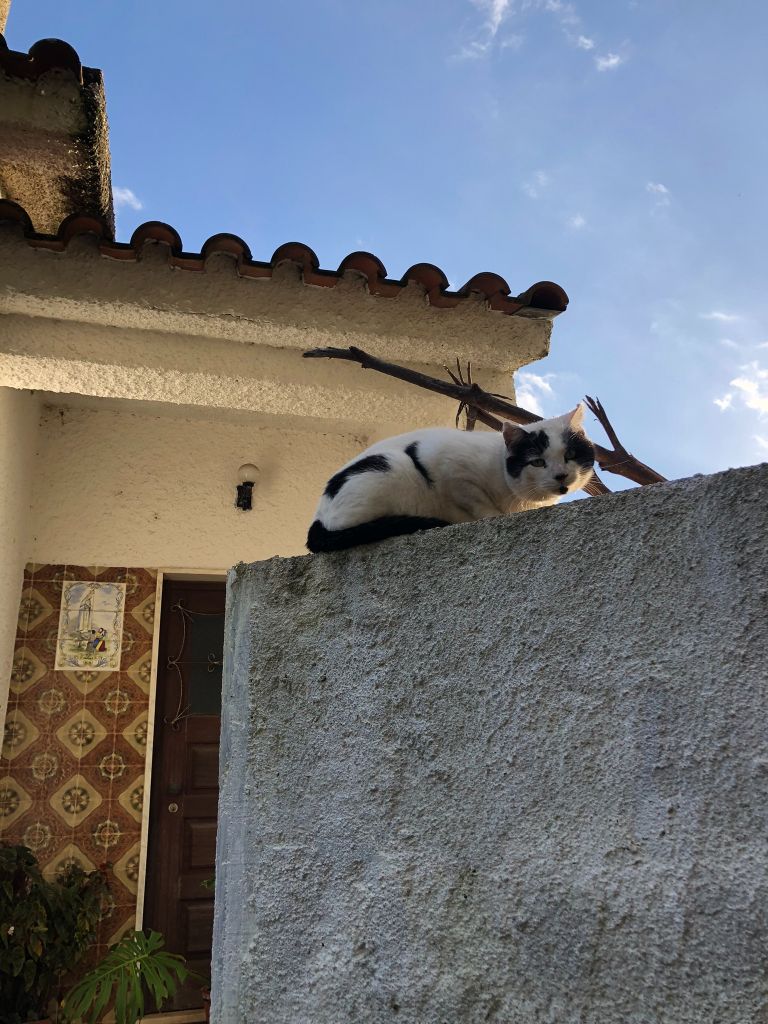 The Angry Dog
The dog was NOT friendly and wanted to kill us (ha ha). I award him a 10/10 for guard duties, no one is ever breaking into this house for sure unless they want to leave minus a limb! It's times like this when I wish I had my pocket sausages (ha ha).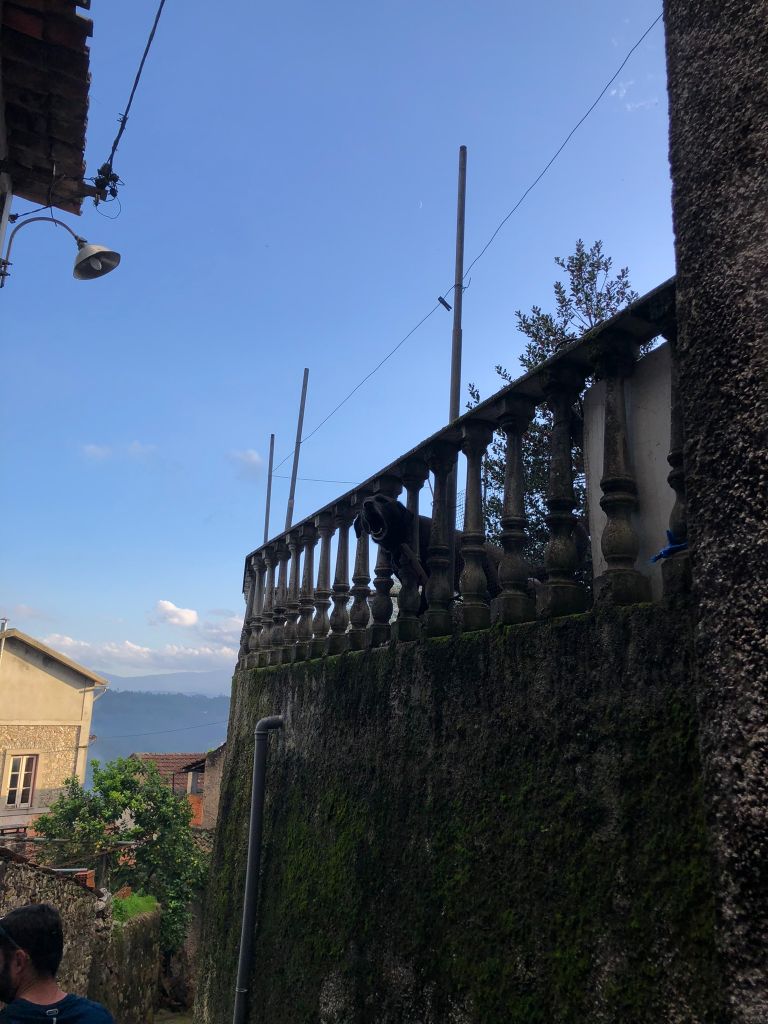 Farm Friends
There's a cat amongst the pigeons, or should I say chickens and ducks (ha ha).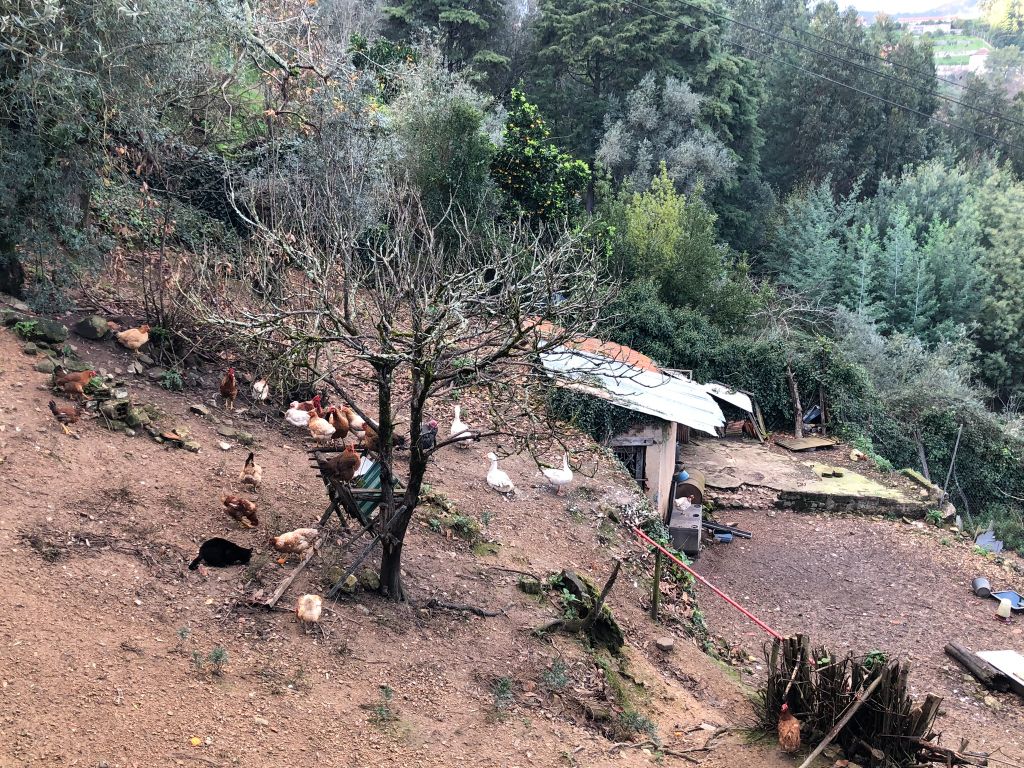 The Trail: Villages, Views & Mushroom Art
The trail was mostly flat with just steep inclines at either end. It was a lovely relaxing walk amongst nature, just what I needed after a little Christmas indulgence.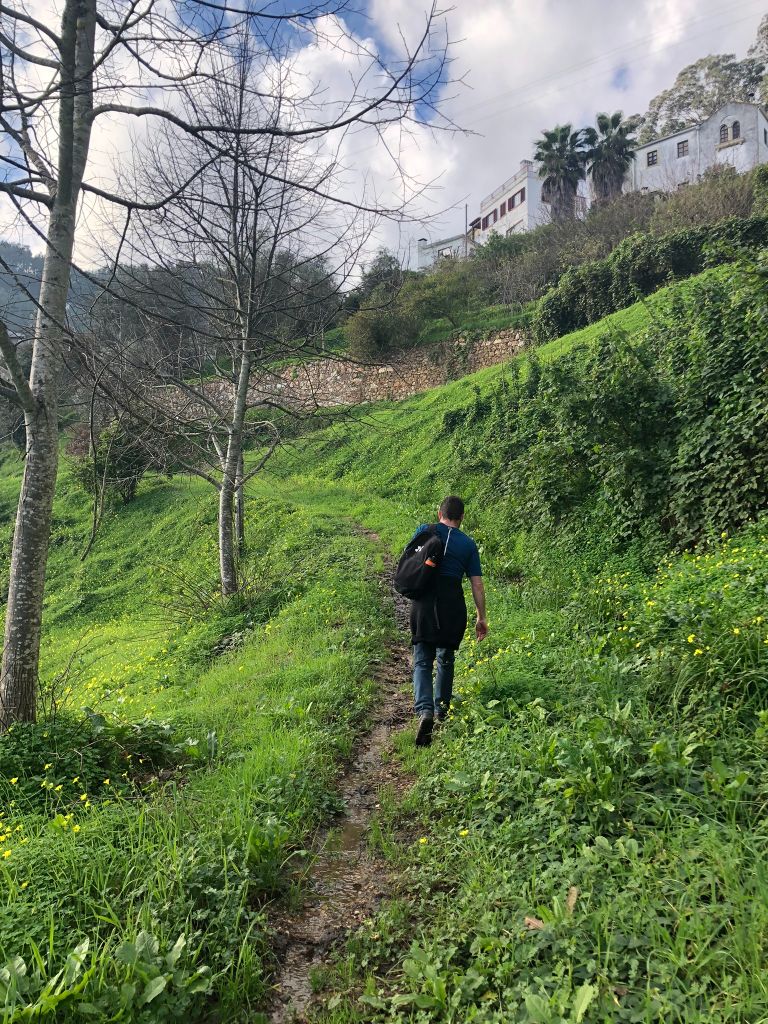 My Favourite Village House
I don't usually like yellow houses but this one is beautiful.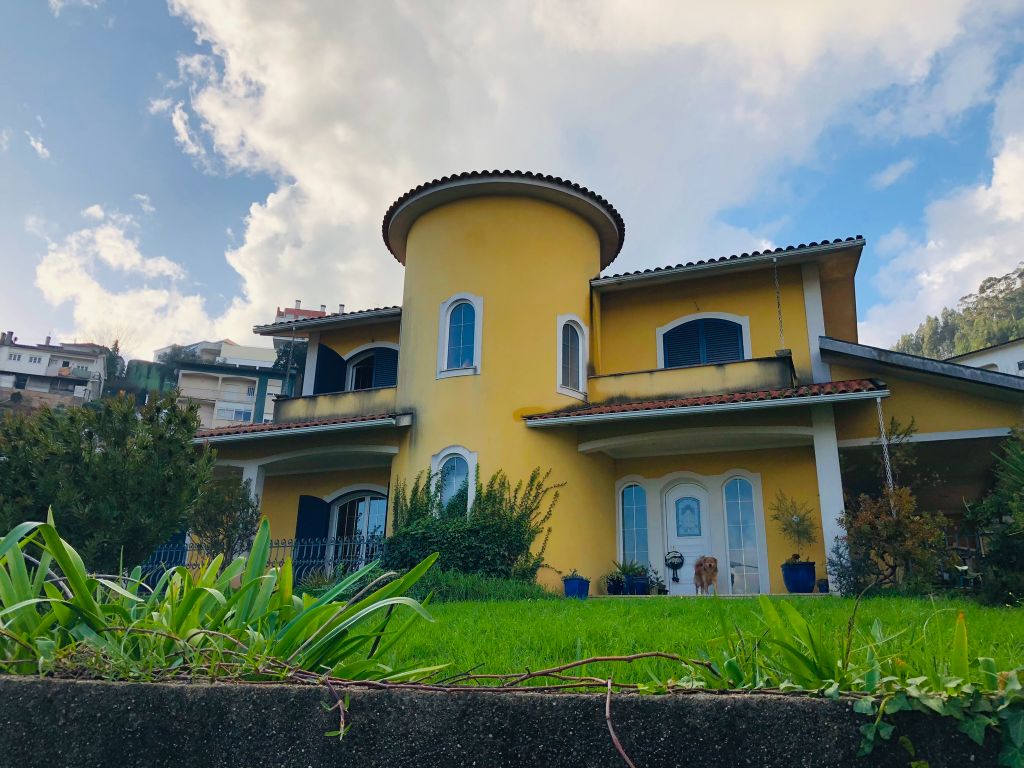 Difficult Terrain & Sheer Drops
I panic whenever I see a safety rope as I know it's going to be a scary experience. I'm surprised hubby didn't give me a little shove off the edge of the mountain, no one will ever know the truth but I'd come back to haunt the hell out of him for an eternity (ha ha).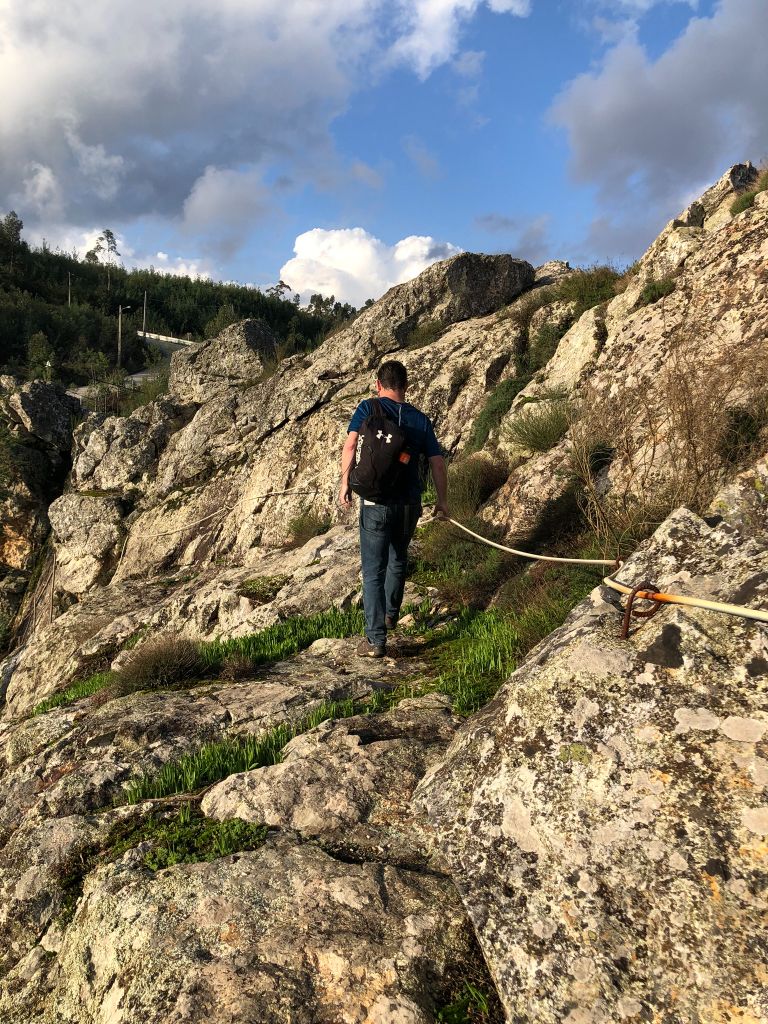 Perfect Penacova Picnic
We found a perfect spot for our picnic overlooking the gorgeous Reconquinho river beach. I've never ventured across the bridge before or relaxed on this side of the river so it was great to see the views from the opposite side and I think they are much better as you have the Penacova letters as a stunning backdrop. We enjoyed some tasty leftover Bolo Rei with our picnic which was very yummy.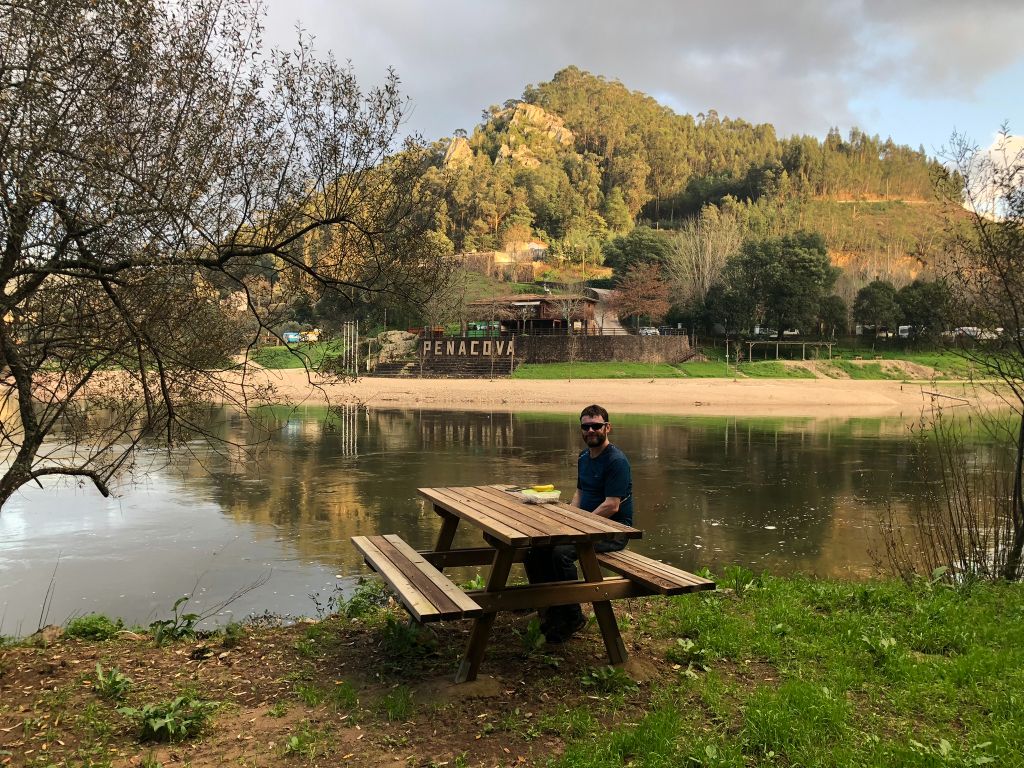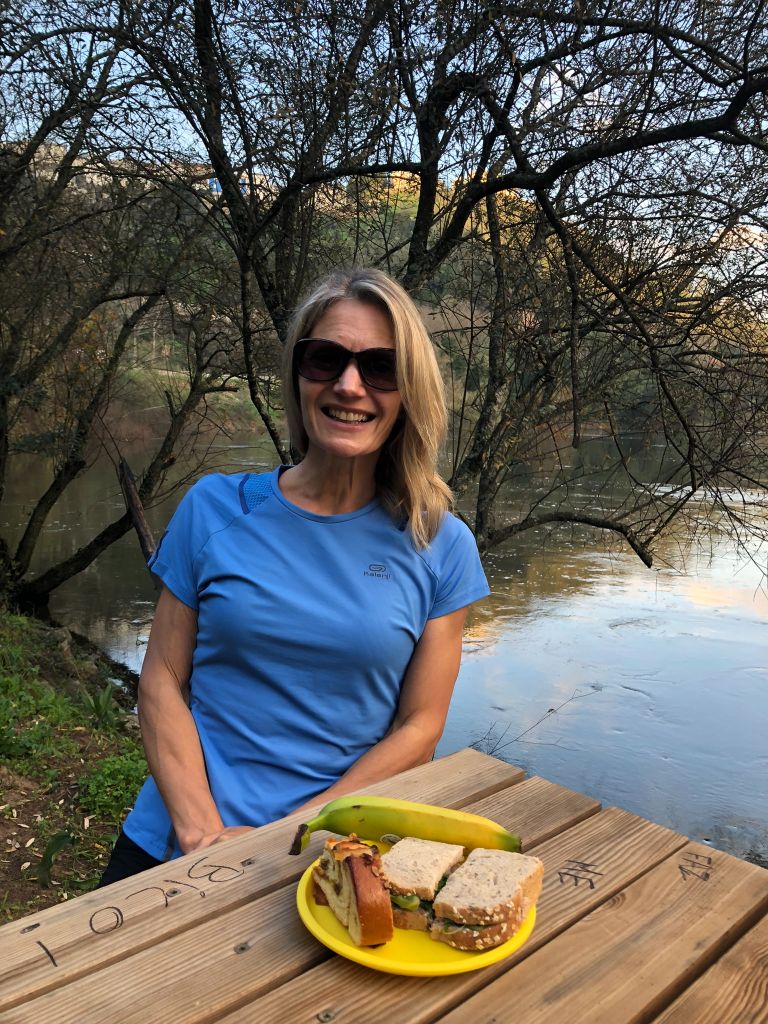 Praia Fluvial do Reconquinho (River Beach)
We have spent many a glorious sunny summer day here at this blue flag awarded river beach. Here are a few photos from our lazy swimming and SUP days.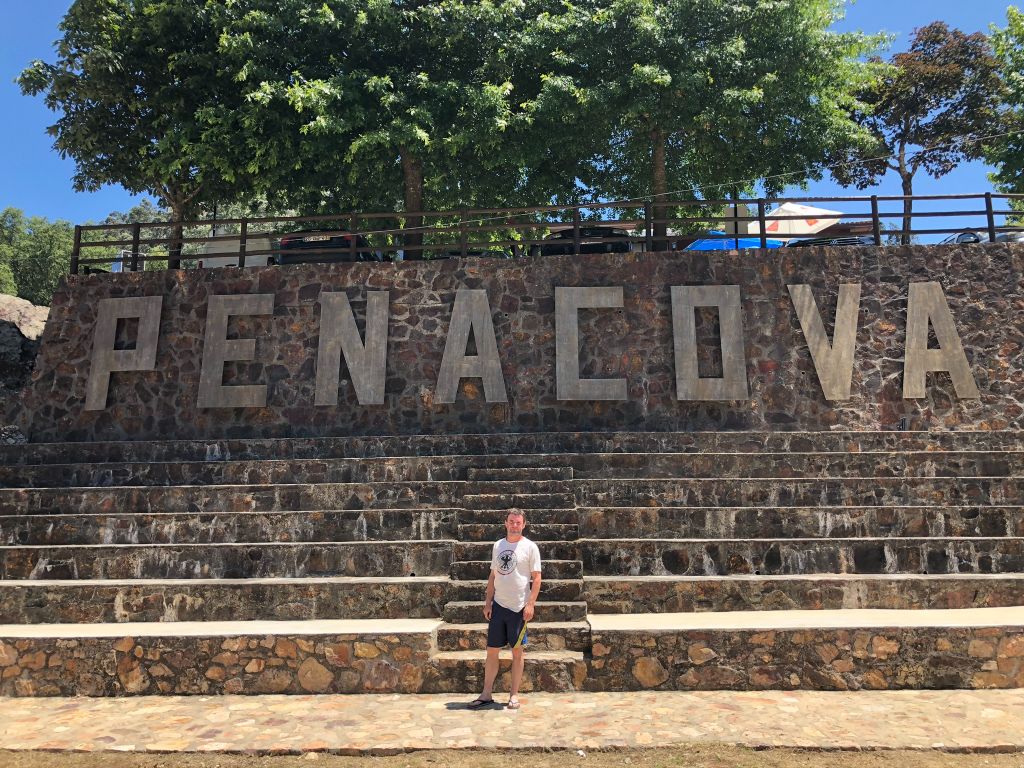 The One Eyed Mr & Mrs Banana Challenge
There is always a Mr & Mrs Hiking Challenge. I decided we should see who could throw their banana skin and reach the target of the bin. This was a strange challenge as I have reduced vision in my right eye and I probably did not think it through before suggesting such a tricky battle of the spouses. It probably would have been an easier challenge to swim across the river (ha ha). Hubby threw his then I threw mine. He got way closer so I complained that it wasn't fair as I could not see much from one eye so I demanded a rematch. This time I made hubby close his right eye. He only bloody hit the target and we both thought he had got his banana skin in the bin but it managed to bounce off and rest on the ground just behind the bin. Mine didn't quite make it that far and it's resting spot is way in front of the bin. I just can't believe that he has a better aim and success with one bloody eye, rather than two, just bloody typical (ha ha).
The Lunchbox Sticker
Hubby is Casa Valhal chef so always packs our lunches. Today he used my "Ham fridge" tupperware box. I put our ham in a container because I eat way too much ham every day. I just help myself to slices of it because I just can't help myself. Once opened I put the ham in a box with a lid and I added a little sticker on it as a deterrent. It says "ONLY 2 NO!" encouraging me to only eat 2 slices per day but it only worked for about 48 hours but I tried (ha ha). I often get up multiple times in the night to pee pee and I sometimes visit the kitchen to get a drink where I regularly consume a couple of additional pieces of ham in the middle of the night whilst staring out of the balcony window at 4am because we all know that night food calories don't count, a bit like car food calories (ha ha). Then come morning I deny all knowledge of it!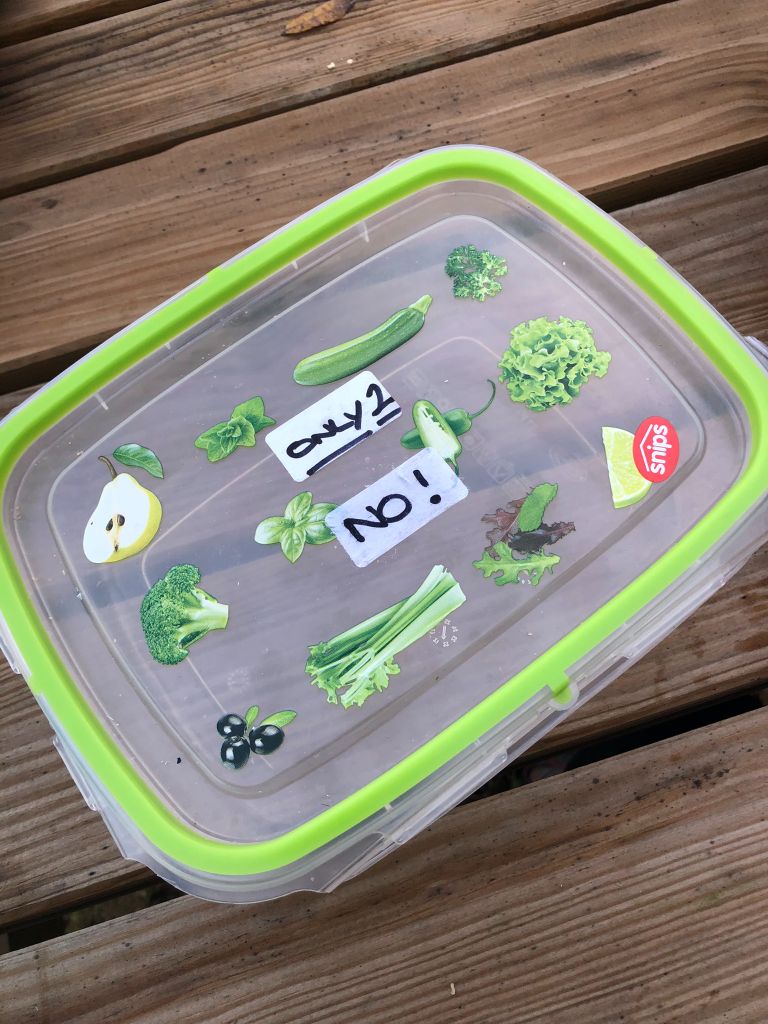 Chafariz do Porco (Pig Fountain)
How quaint and adorable is this piggy fountain? I LOVE it. I used to collect Pig memorabilia when I was a child. Hubby collected anything and everything to do with frogs. He loves frogs and toads so much. I think he was once a frog in his previous life then Princess Helena kissed him and he turned into a prince (ha ha).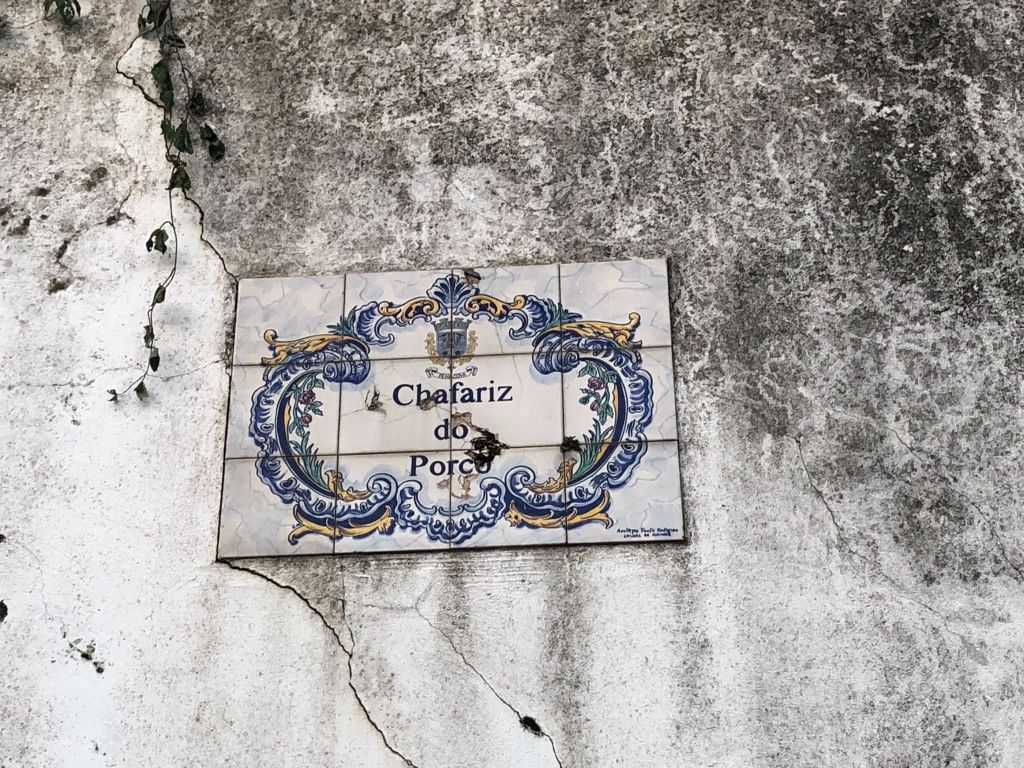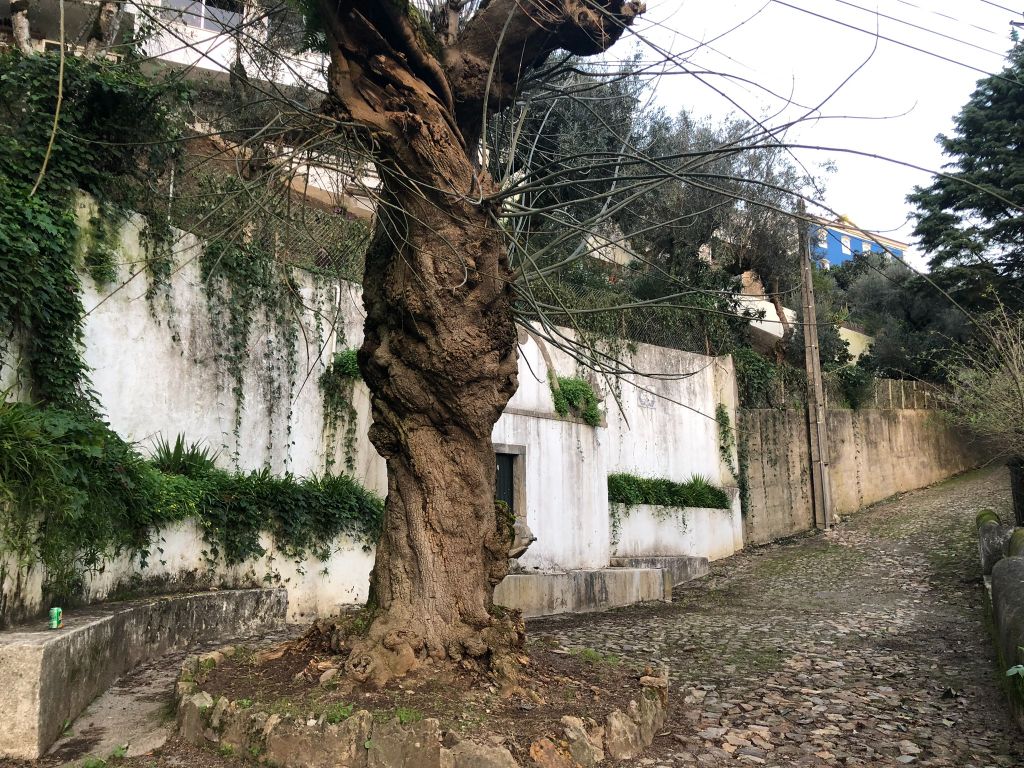 Overview
It was a gorgeous post Christmas hike in picturesque Penacova and just what I needed after consuming too many Christmas treats. We were the only ones on the whole trail and viewpoints and just saw a couple of other people when we passed through the little villages. It was another beautiful day with my soulmate breathing in the fresh clean Penacova air. My favourite parts were "Penedos da Carvoeira" and "Avião e Janela Penacova". It was a picture perfect setting, just idyllic. We were flying high as kites amongst the clouds on adrenaline and enthusiasm which makes a change from alcohol (ha ha).
My Favourite Photo of the Day
Hubby in the driving seat for once, taking control but we all know it's Helena who wears the pants in our household (ha ha).