5 DAY ROAD TRIP (DAY 3 LISBON)
Day 3 of our epic road trip continues in Lisbon with the spectacular Belém district located on the banks of the Tagus river. I was excited to visit the Belém area and discover Portugal's maritime past, especially the 17th century Belém Tower and the ship shaped Monument to the Discoveries. I was also looking forward to viewing the gothic style Jerónimos Monastery and visiting the famous Pastéis de Belém for a tasty Portuguese treat.
Itinerary:
Praça da Figueira
Mosteiro dos Jerónimos
Padrão dos Descobrimentos
Belém Tower
Jardim da Praça do Imperio
Jardim Vasco da Gama
Pastéis de Belém
Museu Nacional dos Coches
MAAT Museum – Didn't have time to visit!
Parque das Nações
Praça da Figueira
We took the same train as Day 1 in Lisbon and arrived at Rossio station bright and early to commence our adventure. We then took a short walk to Praça da Figueira where we caught the Number 15 tram to the Belém district. You can also take the 15E. There are several options of transport but I preferred this method as it was one journey so we didn't have to change transport.
Mosteiro dos Jerónimos
I love visiting Monasteries, they are so magnificent and inspiring to visit. I enjoy learning about history and finding out new facts at my ripe old age. We arrived at the Monastery early just after opening hours as I had read that it can form large queues. We were met with touts selling tacky jewellery who were quite persistent until I got a little crazy feisty with them (ha ha). The Monastery is gigantic (the facade spans 300 metres) and at first the three of us just stood there in awe at such an opulent building. After a few minutes we decided we had better go and find the ticket office to purchase our tickets. We found the entrance and were guided to a self-serve machine. There was a lady member of staff monitoring the machine and although there were 2 machines only one was working and there was one family at the machine encountering difficulties. We waited about 5 minutes and when it was our turn we followed the instructions and purchased our tickets. The member of staff was very abrupt with us and once we bought our tickets it was not very clear where we had to go to start our tour of the monastery so we asked the lady. I asked "Excuse me, where do we need to go?" To which she tutted, huffed, then replied "I don't know what tickets you have, do I?" The tone she used was really sarcastic. Apparently you can buy tickets for multiple attractions. Usually we encounter the friendliest staff members in monasteries and museums, it always seems like the staff really enjoy their job but this lady was plain rude. It was only around 10am in the morning so she had no excuse of being tired from a full day of tourists but it was early so I'm not sure what her problem was but my advice would be if you don't like your job, get another one or if your not a people person don't get a job customer facing. Anyway we all thought she was very rude but decided not to let it affect our day.
We walked towards the entrance which was back outside of the building and a short walk to another entrance. The entry fee cost €10 per adult and students are half price, there are also discounts for seniors and families. Opening hours were 10.00-18.30 when we visited in Summer. There was a large queue here so as true Brits we joined the back of the queue. I just assumed a coach load of people had just arrived and maybe had pre purchased their tickets. Anyway we were at the back of a very long queue when we realised that all the people were young students and had some kind of device in their hands. The queue started to move then we realised that this was a special group tour with a leader and most likely a school. It was then we saw that there was a different queue with 2 people in it! So basically we joined an unnecessary queue and were actually able to walk right into the monastery which we did, laughing along the way at the thought that we nearly joined some random group youth tour (ha ha).
The Mosteiro dos Jerónimos (also known as the Royal Monastery of Santa Maria de Belém) was founded by King Manuel I at the beginning of the 16th century. It replaced the church formerly existing in the same place, which was dedicated to Santa Maria de Belém and where the monks of the Order of Saint Jerome (Hieronymites) lived for 400 years celebrating daily mass for the souls of Prince Henry the Navigator, King Manuel I and his successors. The monks also offered assistance and provided spiritual counselling to seafarers who sailed from Belém. It was created by a group of master architects including Frenchman Diogo de Boitaca who was later succeeded by Spaniard João de Castilho, Diogo de Torralva and Jerónimo de Ruão. It took 100 years to build and was constructed to commemorate the return of Vasco da Gama from India. It's location chosen as the church is where Vasco da Gama and his crew used to pray before embarking on their voyage. The works began right at the turn of the century, with the first stone being laid on the symbolic date of 6th January (Twelfth Night) of 1501. Donated to the Jerónimos monks, who remained there until the second quarter of the 19th century, the Jerónimos Monastery and church is of true Manueline style. The Jerónimos Monastery has been classified as a National Monument since 1907 and, in 1983, it was classified as a World heritage Site by UNESCO, along with the Tower of Belém. In 2007 it was elected as one of the Seven Wonders of Portugal. It also houses the National Archaeological Maritime Museum.
The monastery and adjoining church are so very beautiful and flamboyant. The Manueline, late Gothic and Renaissance architecture style with baroque elements is stunning. I loved the beautifully carved limestone nautical themes and intricate fine detailed exquisite designs on the columns and pillars such as royal symbols and motifs, sea creatures, coral, floral designs including palms, coils of rope and gargoyles. The unique 2 storey exuberant cloister, portals, stonework with carvings of saints and sculptures have been lovingly restored and preserved. Every surface of the pillars and arches are covered in such elaborate design. There is so much to see and I again as always was stuck with emotion staring up at the high vaulted ceilings and I spent a while viewing the sculptures from different angles as the lightening and shadowing has different effects depending on where I stand. The church had some of the prettiest stained glass windows that I have ever seen. There is a pretty garden with an epic fountain located in the middle which is decorated with coats of arms. I always find it quite fascinating yet eerie to view the tombs. There were several tombs including the tomb of explorer Vasco de Gama and great poet Luis de Camões. The staff in the Monastery were very eagle eyed and watching for anyone who whipped off their mask for a quick mask free photo opportunity. They told a lady off twice so we didn't risk it. We loved visiting this monastery and it really is definitely the grandest example of manueline architecture to be found anywhere in Portugal and I felt overwhelmed and very privileged to view such speldour. If you are a history buff or just have a passion for beautiful architecture this is the place for you.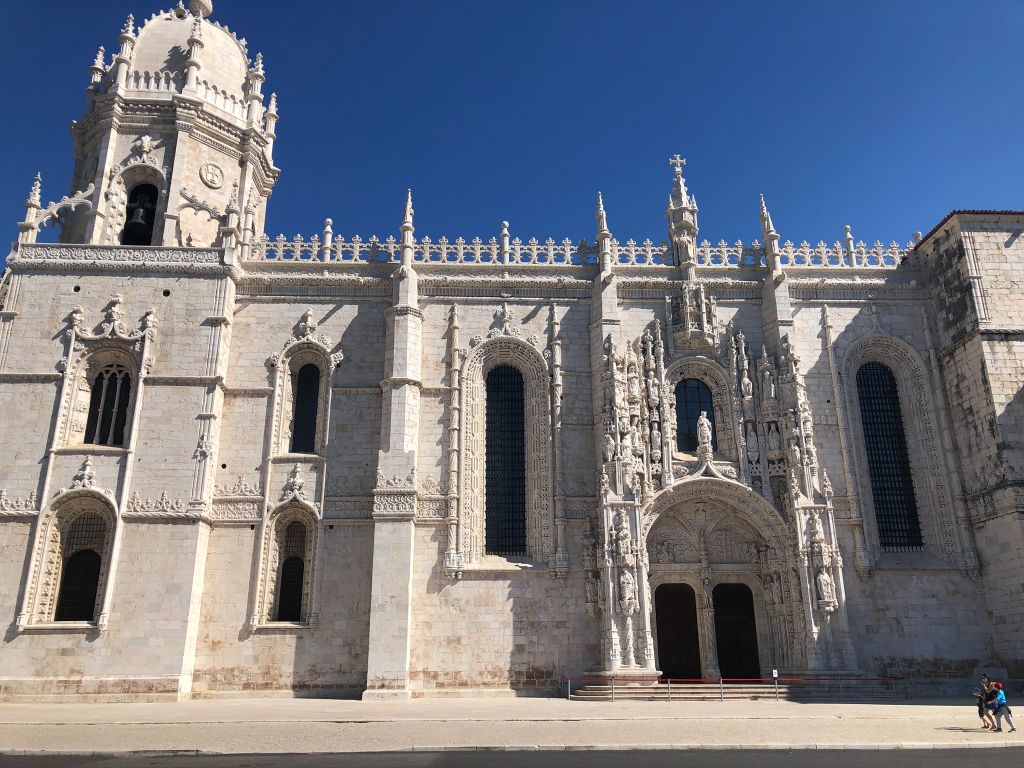 The old refectory has beautiful tiling on the walls. Hubby and Teanna found the pictures of the tiling very amusing. It appears that a man is making a lady sniff their fingers, honestly I can't take these 2 anywhere without embarrassing me (ha ha).
Padrão dos Descobrimentos
After visiting the monastery we took a short stroll over to this amazing ship shaped monument of discoveries which is situated on the waterfront overlooking the Tejo estuary. As you approach you will find a beautiful pavement mosaic design of a compass rose at the foot of the monument. Padrão dos Descobrimentos is a huge 52 metre high impressive monument built to commemorate 15th and 16th century Portuguese explorers. The original monument was erected in the 1940's but had to be dismantled as the wood and plaster materials perished. The new monument was built in the 1960's from a rare limestone, concrete and steel and commemorates 500 years since the death of Henry the Navigator. Along one side of the monument are sculptures of Portugal's great explorers such as Vasco da Gama, Pedro Álvares Cabral and the poet Luís de Camões. At the top of the monument, there is a sculpture of the great driving force behind the discoveries, Infante D. Henrique holding a miniature caravel overlooking the Tagus river. On the other side you will see key supporters who empowered the Age of Discovery such as kings, writers, a painter, a poet, a mathematician and missionaries. It was interesting to see a woman, Philippa of Lancaster (Henry the Navigator's mother). She is on her knees praying for Henry's safe return. There is also a viewing platform and museum. It was an incredible moment to view this monument up close, it is such a striking sight to see in the Portuguese sun and a very tranquil atmosphere. We took time here to walk around and soak in all the glory. It got me thinking about how this place was where the Portuguese adventures began, from sea to the great discoveries. The explorers set off at sea, embarking on their epic adventures not knowing if they would return or not.
After we visited this monument it was vandalized with graffiti spray paint on one of the sides of the monument, with an extension of about 20 meters and written in English. The message reads, in English, "Blindly sailing for monney [sic], humanity is drowning in a scarllet [sic] sea lia [sic]", which translates as "Sailing blindly for money, humanity sinks if in a scarlet sea".
Belém Tower
After a little research I knew that the tower was closed. I'm not sure why (maybe due to Covid) but I knew we wouldn't be able to climb to the top of the tower and see the interior. Nevertheless I still wanted to visit the exterior of this iconic tower and I am glad I did because it is spectacular. The Tower of Belém (or Tower of St. Vincent) was built on a small island near the banks of the Tagus river between 1514 and 1519 by military architect Francisco de Arruda to commemorate the memory of Lisbon's Patron Saint, St. Vincent. The medieval tower was built as a defence against possible invasions and attacks from enemy ships. The tower is of typical Manueline design and the tower boasts intricate designs such as royal coat of arms, armillary spheres, crosses of the Order of the Christ and twisted knotted ropes and is said to be one of the jewels of architecture from the reign of King D. Manuel. There is an influence of Moorish art such as the curved windows, balconies and domes of the watchtowers. The Tower gradually lost its role as a defence system at the mouth of the Tagus River and after the Spanish occupation, its former ammunition depots were converted into prison dungeons. The building was declared a national monument in 1910.
We had a lot of fun admiring the tower and sitting on the wall looking out over the river at the incredible views. I never get bored looking at Portuguese architecture as each attraction is so different and brings varied joy and emotions. It is a wonderful experience to see a place with so much rich history. There is a stall nearby selling fabulous exotic drinks straight from pineapples. I really want to return to explore every corner of the interior which I am sure will be charming and tell a story or two.
Jardim da Praça do Império
The garden of the Empire Square is a beautiful tranquil garden located close to the Jerónimos Monastery. It has a beautiful lake and we had a lot of fun here watching the ducks in the lake forage for food and stick their butts up in the air. There was also a cute little turtle near the duck house.
Jardim Vasco da Gama
On our way to the famous pastelaria we stumbled across another park by chance. Jardim Vasco da Gama is named after the Portuguese navigator Vasco da Gama. We were very surprised to find Sala Thai, a Thai pavilion which was a gift from the Thai government to Portugal and represents a token of friendship and recognition of 500 years of diplomatic relations between the two countries. It was inaugurated on 21st February 2012 by Princess of Thailand Maha Chakri Sirindhorn. Built in Thailand (Bangkok) it was transported by boat along the same route taken by Portuguese navigators 500 years earlier. It is made of teak wood with thousands of gold leaves and beautiful stained glass windows. What an absolute joy to randomly find.
Pastéis de Belém
I was so excited to visit this world famous pastelaria. It is supposed to have the best ever tasting pastries. The history dates back to 1837 with a secret recipe from the nearby monastery. They still use the secret recipe today and are masters of cream and puff pastry. They offer a take away service and also have a cafe. We decided to sample the whole experience by dining inside. The store front and shop is very elegant but I must have to admit that the inside seating area is not a super amazing environment and it lacked any ambiance. It is fairly basic and the small seating area was full and the only table available was in an area right opposite the kitchens. The service did lack a little too as we were not shown to our seats so we had to wander around trying to locate a free table. Once seated it took the waiter a long time to acknowledge us then a really long time to serve us. I expected the traditional Portuguese charm and passionate staff but I got an average to poor service and a waiter who looked bored and lacked enthusiasm. Don't panic, it gets better, the pastries totally made up for the mediocre service.
We ordered drinks and the famous Pastéis de Belém. They were absolutely the best ever tasting Pastéis I have EVER tasted in my entire life. They were divine: warm, sweet, creamy and the pastry was buttery with just the right amount of crispness. They also were not as expensive as I thought they would be. Clearly more expensive than our regular local cafe and pastelaria but not excessively expensive like the Majestic Cafe in Porto. We very nearly bought a few to take with us when we left. I visited the toilets and was surprised to see an additional large dining area which looked much better than where we were sitting and it was fairly empty. I was a little gutted as no one told us about this and we sat at the only available table we could find which was not a nice location. My top tip would be to buy the tasty custard tarts in the shop and walk across to the beautiful park opposite and enjoy your sensational sweet treat in the Portuguese sunshine.
Other delights
On the walk to the National Coach Museum we stumbled across some more delights including another pretty park for a mini pit stop. I am always intrigued by the inscriptions on the park benches.
Museu Nacional dos Coches
I was absolutely bursting with excitement to visit the National Coach Museum. You probably know by now that I'm not a fan of museums but a museum full of golden royal coaches, what is there not to like? I'm not too sure hubby and Teanna shared my enthusiasm for this visit but I didn't care one bit. This was Helen's golden time and I savoured every single second. Firstly there was a mildly embarrassing situation when the 2 idiots dared me to a challenge, to explain to the ticket office staff person just how thrilled I was at visiting the coaches, I had to tell them it was my lifetime ambition and a dream come true. I reluctantly agreed but only if they spoke English because otherwise it just wouldn't work. I was a little nervous but hubby bought the tickets and the guy was young and seemed quite friendly and chirpy and said he spoke a little English so I told him how excited I was to see the coaches. He looked at me with a blank expression so I repeated myself and rambled on a bit too much and then we were lost in translation. After my third attempt at explaining my pure joy hubby and Teanna were pissing themselves laughing and I just wanted the earth to swallow me up and take me to a dark place for a lie down. He eventually understood some of what I was saying and he started laughing too. Lesson learnt, I'm not accepting anymore challenges in the future!
The entry cost is €8 for an adult and 50% off for student card, youth card, seniors and families. Opening hours are Tuesday-Sunday 10.00-18.00. The museum houses an incredible collection of ceremonial coaches and horse drawn carriages used throughout Europe from the 16th-19th century. It is the largest and most valuable collection of its type in the world! The collection was created by Queen Amélia in 1905 and was located in the royal riding arena which was part of the Belém Palace. On it's 110th anniversary it moved across the street to a new building designed by Brazilian architect Paulo Mendes da Rocha. The new museum is a masterpiece of modern design and a large open space to view such glory.
There were so many coaches to view and it was really empty, only about 6 people visiting so we got the place almost to ourselves. Each coach is unique and magnificent. The detail is crazy and I fell in love with the golden gilded baroque cherub figures and the crimson velvet upholstery. The different family coats of arms were spectacular to view. It was fascinating to read the signage and learn about the history and when the coaches were used and who rode them. Many were owned by European royal families. I loved each and every one of the coaches and carriages but my favourite was this one.
I was a little upset when hubby refused to buy it or steal it for me. I had so much fun exploring the museum and it took me back to my childhood and my mum reading me fairy tales with kings, queens, princes and princesses in their elegant palaces and horse drawn carriages. The coaches are so very well preserved and I enjoyed watching the interactive screen video and also viewing the equestrian equipment including riding clothing, boots, harnesses and other fascinating accessories. Such a valuable collection, I wonder how much the coaches would cost and fetch at auction? If you are a fan of European history or just love gold and dream about being a Cinderella princess like me then this is the place for you.
After visiting the National Coach Museum we caught the Number 728 bus from the Belém district to the park which took 39 minutes and was a direct route.
Parque das Nações
I thought it would be a lovely end to a perfect day to visit the Park of Nations. It is home to the amazing Oceanarium, a national arena – music venue, theatre, interactive museum, shopping mall, casino and many bars and restaurants. As it was a scorching hot day we decided to stay outdoors and explore all the attractions in the park. The park is absolutely incredible and not your regular park. It is a mix of nature, futuristic architecture and urban art. It has so many different areas to explore. We took a ride in the cable car, viewed the Vasco da Gama Bridge and Tower (tallest building in Portugal), various gardens, flags, many sculptures and urban art, casino and shopping mall.
Cable car ride
We took a ride in the cable car which was fantastic with panoramic views over the Tejo estuary and Vasco da Gama bridge. It was stifling hot in the car but an experience of a lifetime.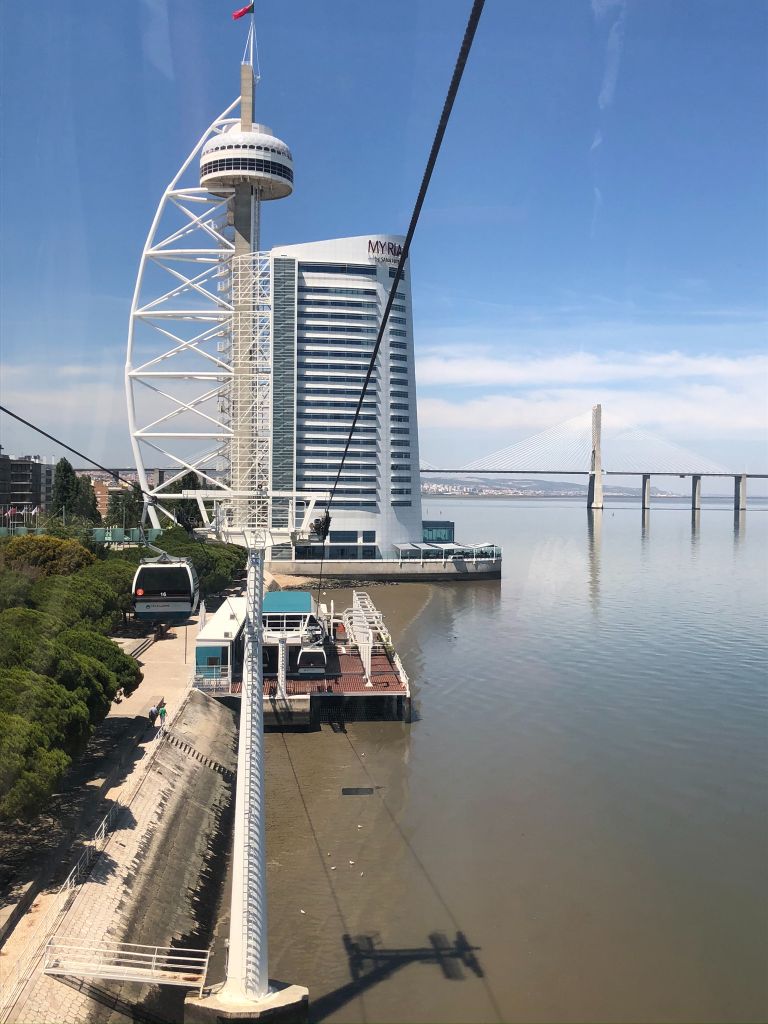 Vasco da Gama Tower
Opened in 2013 and built as an observation tower, the Vasco da Gama Tower is now a 5-star hotel. It stands an impressive 142 metres high making it the tallest building in Portugal.
Vasco da Gama bridge
Inaugurated on March 29th 1998, this fantastic bridge stands out as the backdrop of Parque das Nações. It's 17.3 km (10.7 miles) in length and is the largest in Europe. I could easily spend a whole afternoon sat looking over the water at this bridge.
Altice Arena
Altice Arena is the largest concert arena in Lisbon. It is very futuristic looking and reminds me of a gigantic spaceship. I was waiting for E.T to visit and beam me up into outer space. I'm not sure that hubby would try to locate me (ha ha).
Iberian Lynx sculpture
One of our favourite sculptures is the Iberian Lynx by Bordalo II which is made from recycled urban junk. We had a fun experience here as Teanna wandered off and I heard a rustle behind me so I started chatting without looking as I thought it was Teanna returning. Actually it was a workman who popped his head over the metal fence for a chat and although he had limited English and our Portuguese is poor we managed to have a lovely conversation with him about work and Portuguese family life.
Rhizome sculpture
I was intrigued and drawn towards this iron sculpture by British artist Antony Gormley. It consists of 9 life size human figures intertwined amongst each other and symbolises unity between men. We had a competition to see who could get there leg in this position and I'm proud to say that I won! What can I say I'm flexible, must be all the gymnastics and figure ice skating that I did as a child (ha ha).
Cursive sculpture
I really liked this green painted three dimensional iron sculpture by Amy Yoes. It reminds me of my old computer screen saver image.
There will be water (tile art)
Artist Roberto Matta created this beautiful tile artwork especially for Expo 98 and it is located close to the Vasco da Gama Tower.
Sun Man sculpture
Inspired by the sun this sculpture by Jorge Viera was made with 15 tons of iron oxide. It is massive and measures a whopping 20 metres high and is located in front of the shopping mall.
Shopping mall
View from the shopping mall food court. My very own Sun Man although he is a total geek so more of a Rain Man!
White giraffe sculptures
Hubby has a passion for everything giraffe so was in his element to find giraffe sculptures by artist Fernanda Fragateiro located in the Jardins do Agua.
Gil – Expo 98 Mascot
Gil is the official mascot of the 1998 Lisbon International Exhibition held to commemorate 500 years of the Portuguese discoveries. The mascot was designed by painter António Modesto, sculptored by Artur Moreira and named in honour of Gill Eanes.
Jardins do Agua
We loved the Jardins do Agua and the quaint stepping stones with water displays.
Palm trees
The palm trees look so pretty against the backdrop of the bright blue sky, very tropical indeed. They also make great shadow art on the pavement.
World Flags
We had fun trying to name all the international flags. I came 3rd in this game which sounds like an achievement until you discover that there were only 3 participants in the whole game. Geography has never been my strong point. What I lack in knowledge I make up for in pure enthusiasm (ha ha).
A perfect end to a perfect day
We ended our day sitting by the water eating tasty ice cream and watching the birds. It is so surreal sitting by the waterfront here with awesome views of the bridge and cable car. We noticed a bird had something wrapped around one of it's feet so we took ages trying to help it and eventually managed to save him and set him free. He flew off into the sky full of gratitude. We finally took the train from Oriente station back to our accommodation which was a direct route and took 40 minutes.
Lisbon Day 2 Overview
The highlight of day 2 was the wonderful Mosteiro dos Jerónimos (Monastery) and eating the best ever tasting nata's at the world famous Pastéis de Belém. I really enjoyed exploring the Belém district and I also enjoyed the Museu Nacional dos Coches. Teanna loved Lisbon, she is a city girl at heart and her dad grew up in Lisbon so it was nice that she felt a personal connection. I also loved it but for me it was an incredible family trip making special memories to last a lifetime. Although it wasn't crowded when we visited, I couldn't live in a city, I am a country girl at heart. Next stop Cascais.