A DAY TRIP TO PATEIRA DE FERMENTELOS
In early August we took a lovely drive to the beautiful Pateira de Fermentelos to paddle board on the epic lagoon. I have already shared some of the photos in my Paddle Boarding in Portugal post but I thought this place deserves it's own post because it's just such a magnificent little oasis that you might not know about so lets share these hidden gems and not keep them secret. It's a large area and there is enough space for us all to enjoy. Pateira de Fermentelos or simply Pateira is a natural lagoon, located in the triangle between the municipalities of Águeda, Aveiro and Oliveira do Bairro. It is one of the biggest natural lagoons in the Iberian Peninsula and a beautiful spot right in the heart of nature. It has such cute features such as a couple of swings, hammock, seating areas, a little quaint bridge and lagoon bar/cafe. It's not far from Aveiro and so amazing. Pateira got its name after its main inhabitants – "patos" (ducks in Portuguese). I got to try out my new surfing shorts which are men's because I find men's shorts longer and more comfy. The last thing I want to worry about when paddle boarding are my lady shorts (which are always very very very short) going up my butt and morphing into a whale tail thong (ha ha). I'm not brave enough or body confident to paddle board in my bikini, maybe one day. We ate our picnic on one of the multiple picnic tables next to the lagoon and close to the swing and Pateira name sign. There were very few people here when we visited so it was such a tranquil magical atmosphere.
The lagoon is part of the natura 2000 Network – a network of areas designated to conserve habitats and wild species that are rare, threatened or vulnerable in the European Union, this is a sensitive area and an important wetland, where there are habitats, ecosystems and species with status of national and international protection. It is rich in fauna, flora and aquatic species. The water-hyacinths all around the lagoon are so pretty and there were so many birds, frogs and fish jumping on our paddle boards.
The Swing – I LOVE Pateira
The Lagoon bar area
Wow what a serene place to hang out and chill in a hammock by the lagoon and that is exactly what we did with a delicious coffee and ice cream in hand.
The funny cat and mouse quote
We were all intrigued by the quote on the back of my sachet of sugar.
I think it translates to this "When the mouse leaves the house, Cats walking" which is a really weird phrase to have on the back of sugar (ha ha). We have a similar phrase in the U.K "When the cat's away, the mice will play" which means when someone in authority is not present, those subordinate to that authority do whatever they want. I embrace and love all the weird and wonderful things in Portugal.
The Picnic area
Portuguese pastries
Here are the Portuguese sweet delights that I packed for our picnic. So very delicious and yummy in my tummy!
Paddle boarding and the Lagoon
We had so much fun here, paddling on the choppy waters of the shining secluded lagoon. It was a scorching hot day and very few people were at the lagoon.
Fishing friend
My favourite photo of my gorgeous girl
Gorgeous silhouette of my daughter with the sun glistening on the waters edge.
The cute wooden bridge
This bridge is so picturesque surrounded by lush greenery and a beautiful blanket of pretty water-hyacinths and lily pads which cover areas of the lagoon. Make sure you take a stroll over the wooden bridge to the wonderful delights of the Lagoon Bar.
The "Pissing" Poncho and the photo fashion shoot
I also got to try out my epic towel poncho which is a huge wearable towel. I just had to buy it. Perfect for drying off whilst sat watching my family have fun. Also great to use as a one man tent to get changed into my bikini as although I am embracing the Portuguese culture with eating all the Portuguese pastries, I am not ready for the Portuguese way of getting dressed/undressed, they just whip it all off next to their car and expose their full private glory. I don't know where to look because I am a shy girl (ha ha). There was a lady in a posh dress and heels sexy posing in very graphic positions on the dock, it was so awkward to watch. Whilst hubby was deflating the boards I had my very own poncho fashion shoot and posed in different positions showing how versatile it is. I tried to recreate her poses but failed dramatically although I excelled myself with my wild peeing crouching tiger pose and made Teanna laugh. I don't think the lady was impressed with us taking mocking her! I have used my poncho a few times now and we have found ourselves at really remote locations in the middle of nature with no toilet facilities so I have used the poncho as a discreet cover to take a wild pee pee so now it has the nickname of "The pissing poncho" which I'm not too happy about (ha ha).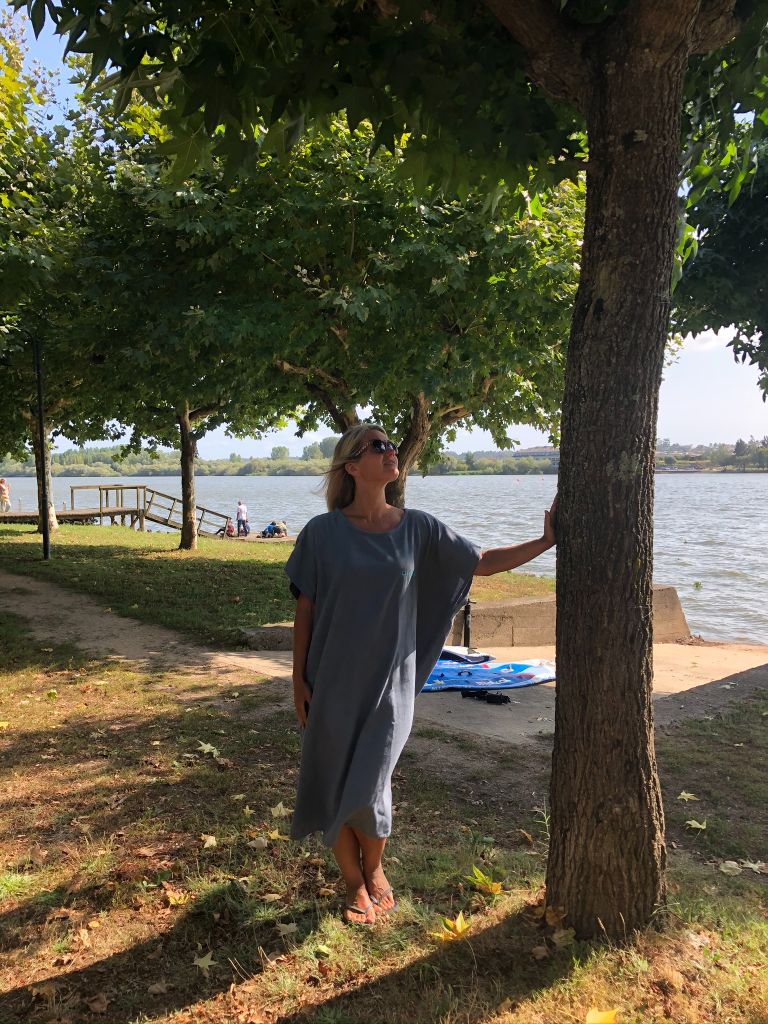 Overview
I would highly recommend visiting the Óis da Ribeira side of the lagoon with the swings, lagoon cafe/bar and bridge. Initially we drove to the other side because that is where our Sat Nav took us to. We had so much fun exploring the idyllic dreamy landscape of the ria. If you are a nature lover like me and enjoy silence and calm serene environments then this is certainly the place for you. It is perfect for fishing and bird watching, I prefer people watching (ha ha). I'm so glad I bought 2 SUP boards instead of a dining room table (ha ha). Another hidden gem and treasured tranquil family day out. I love the fact that we can now pack our car with our paddle boards, a picnic and head off to explore the multiple lakes, lagoons and rivers of Portugal. We are so very blessed to live in such a wonderful country and I will never take this raw beauty and sense of pure freedom for granted.