UK FATHER'S DAY TRIP TO AVEIRO 2023
We have visited Aveiro a few times now since relocating to Portugal. It is a beautiful city with so much to offer and I can totally understand why it is famous and known as the Venice of Portugal. The Ria de Aveiro is the heart and soul of the region where you can enjoy a ride on a colourful moliceiro (canal boat). These awesome boats were once used for collecting seaweed to be used as crop fertilser but now they are a huge attraction for thousands of tourists who visit. The surrounding landscapes are simply stunning with unique salt flats which are truly fascinating to visit. The lagoons of Ria de Aveiro have been a major salt producing centre for centuries. Back in the 12th century, they produced enough salt to supply the entire country as well as exports! You will see many souvenir shops selling different varieties of pretty little packaged bags of salt that you can buy and use to flavour your recipes at home. If you love nature you will fall in love with Aveiro, there are many birds and we spotted so many storks.
For history and art lovers there are museums and art galleries to explore. I love the Art Nouveau buildings with astonishing Portuguese tiles. If you love the incredible azulejo's (tiles) then be sure to visit the Aveiro train station which has tiles dating from 1916 on the exterior of the building. If religion is your cup of tea then there are ancient chapels, churches and cathedral with elaborate stone and golden decor. The Museu de Aveiro houses the marble tomb of Princess Saint Joana. The traditional calçadas (pavements) have wonderful marine motifs and black and white patterns. We loved wandering around the cobbled streets, getting lost and exploring all the fantastic artisan craft shops and quirky boutiques. You will be spoilt for choice with all the cafes and restaurants and there is a 18th Century fish market located at Praça do Peixe. Nearby Costa Nova has sensational golden sand beaches, the cutest striped houses, seafood restaurants, cafes, many beach bars and is definitely worth a visit.
We previously embarked on a walking tour of the city and we loved it. I'm not going to waffle on to much about the city as I have already shared a post blog form our previous visit to Aveiro and Costa Nova. I thought I would share a small photo gallery of our 2023 visit as we visited a quirky swing and a sensational city park. It is just too awesome not to share the joy.
Baloiçio de Salreu – Colourful Man, Colourful Wife, Colourful Life
This "All things bright & beautiful" swing is not situated in the usual scenic mountain setting with panoramic views. It is located at the back of an industrial site and next to a train line. Nevertheless it's an awesome unique rare find and we had a lot of fun here. There is a model sculpture of a bull! I have no idea why but it's slightly bonkers – like me (ha ha). I so wanted to climb aboard the bull for the ride of my life but hubby quickly pointed out that it wouldn't take my bulk. He said it in a polite way and informed me that the animal was made from fragile paper mache and falling apart with age – also like me (ha ha). "Take the bull by the horns". Cease every opportunity in life and have FUN. I think I'm more of a "Bull in a china shop" as I'm clumsy as hell and very accident prone (ha ha). I loved this place and we had a lot of laughs here before heading on to the city of Aveiro. I remembered to take my Random act of kindness little gift – resin kingfisher bird trinket. I left it attached to the swing for a stranger to find. I think it was an appropriate place because there are so many birds here soaring the sky.
I also stumbled across another swing in the city of Aveiro. It is located outside of the artisan store: Serendipity Concept. It was super tricky to get a decent photo as the streets are so narrow so it was hard to photograph and capture the whole front facade and all it's glory. It is also located a metre from a restaurant (right opposite) and there were diners eating al fresco and one man stared at me the whole time and did not break eye contact. I can't pose when a stranger is staring. I don't know what all the staring is about here in Portugal (ha ha).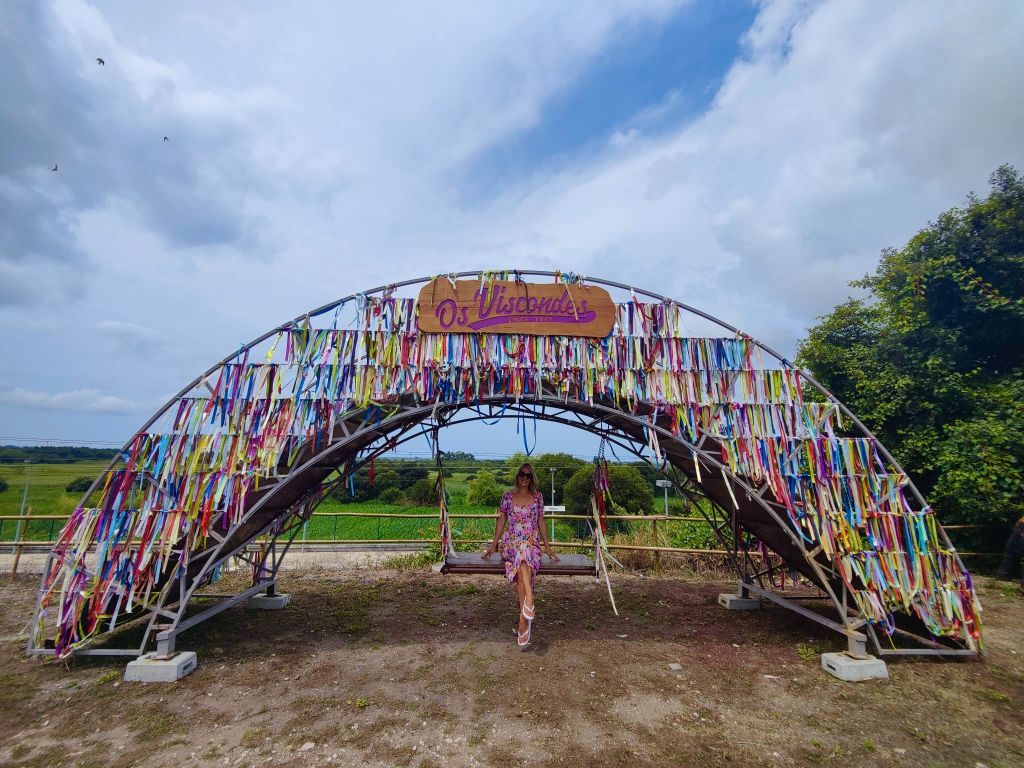 Fonte Nova Garden – Midlife Cyclist
We parked for free close to this green space and took a short walk to view the famous I LOVE Aveiro steps. Hubby stumbled across a bike race in this park and he was elated as he is a "Midlife Cyclist" (ha ha). I found a strange man in this park singing a really bad rendition of Madonna's "Boarderline" song. I used to love Madonna in the 80's and I know every lyric to this song so I started singing too. I'm not sure if the man was happy or horrified (ha ha).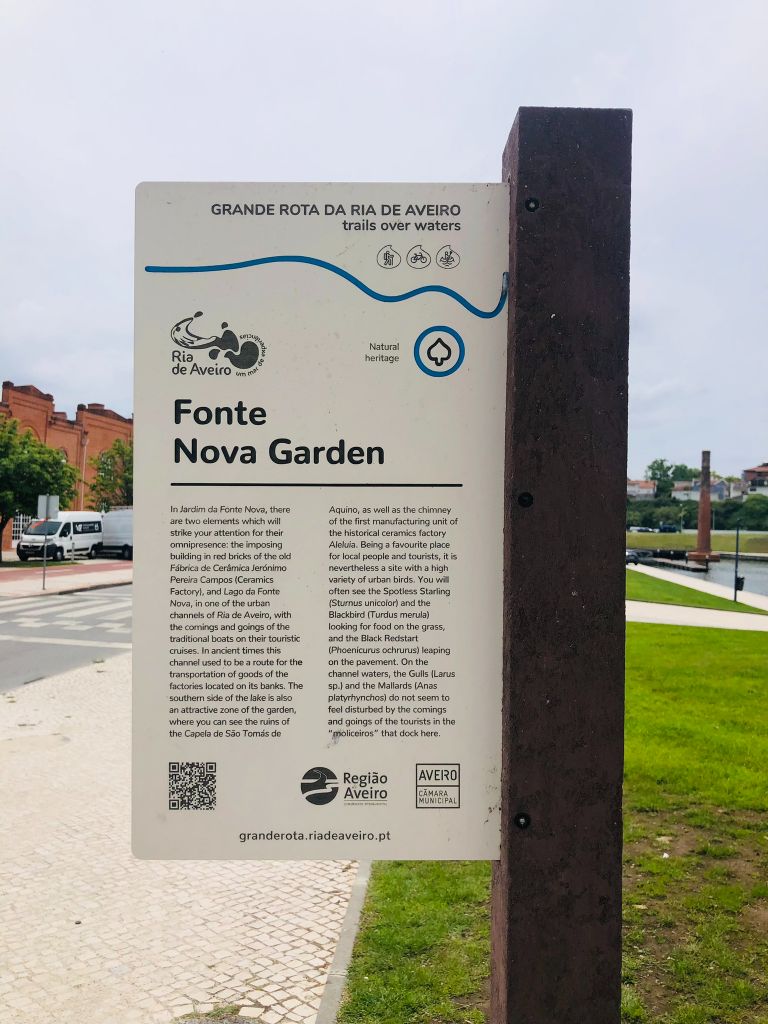 I LOVE Aveiro – Steps & Staring
I haven't visited this famous staircase before as we have never walked this far down alongside the river. How fabulous! I couldn't get many photos as although the place was deserted there was one man who looked like he had just finished the bike race and was waiting for a lift home. He stood opposite and stared at us for the whole time. Yes, I know, another awkward staring competition commenced (Portuguese style). I now call it "Stare a thon" instead of "Marathon" as they don't know when to stop. I am not joking when I say this bloke stared continuously for the whole 10 minutes we were there, he didn't blink or break eye contact or smile, he just stared. As a Brit my mum raised us to know that staring is rude and it was so off putting we eventually gave up trying to have a photo in the end as it's so embarrassing. I don't know if anyone else encounters this problem. I said to hubby: It's not like I am a young, gorgeous model like lady, I'm not anything special but an average housewife. I don't have gigantic breasts or a tie dye Mohawk hair cut, nor am I covered head to toe in tattoo's. I don't stand out in a crowd, I blend into the background so I don't know what their fascination is with me but the Portuguese men seem to love staring at me. Maybe I'm sexier than I think (ha ha). I do know something for sure. If you did this in some parts of the UK, you would get your head kicked in (ha ha). Violence is never the answer folk. Back in the day when we were teenagers, if a person stared we would rudely shout out "Take a photo, it will last longer" (ha ha).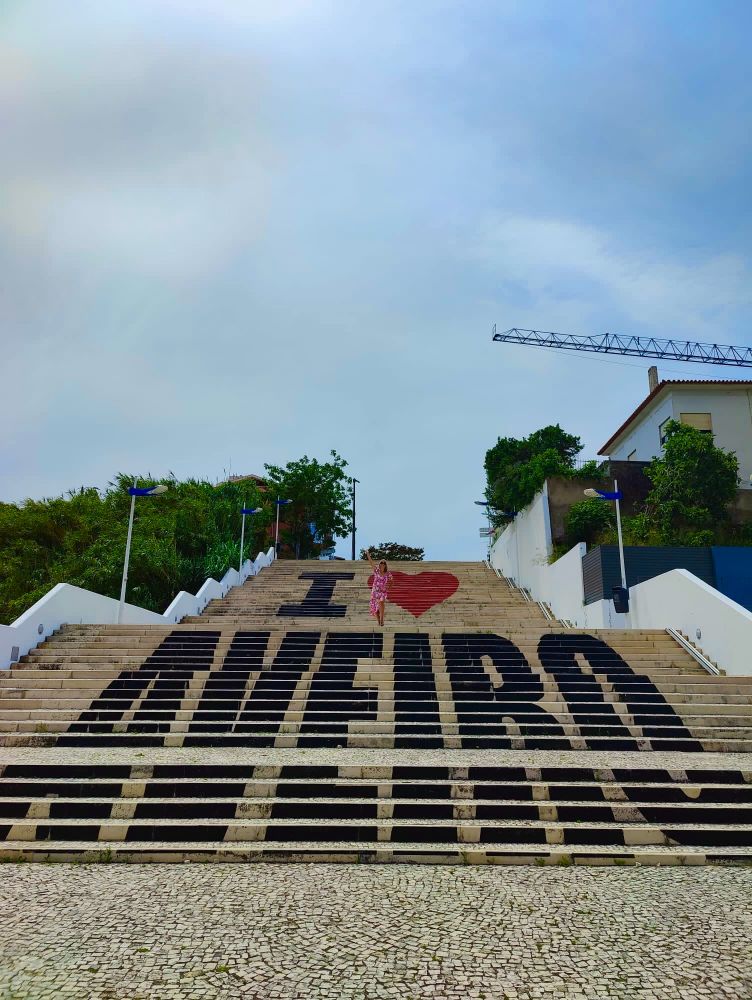 Sensational Storks
Hubby was more than elated when I made him do a U turn so I could get an up close and personal view of this Momma stork and her baby. I was gobsmacked to see multiple nests built on top of telegraph poles alongside the main road. What a glorious find! The nests are huge and must have took a lot of hard work and effort. Mother nature at its best. I've always considered bird watching as a boring hobby but I am so tempted to take this up as a new interest. It is fascinating, I might very well become the official "Twitcher of Portugal" (ha ha).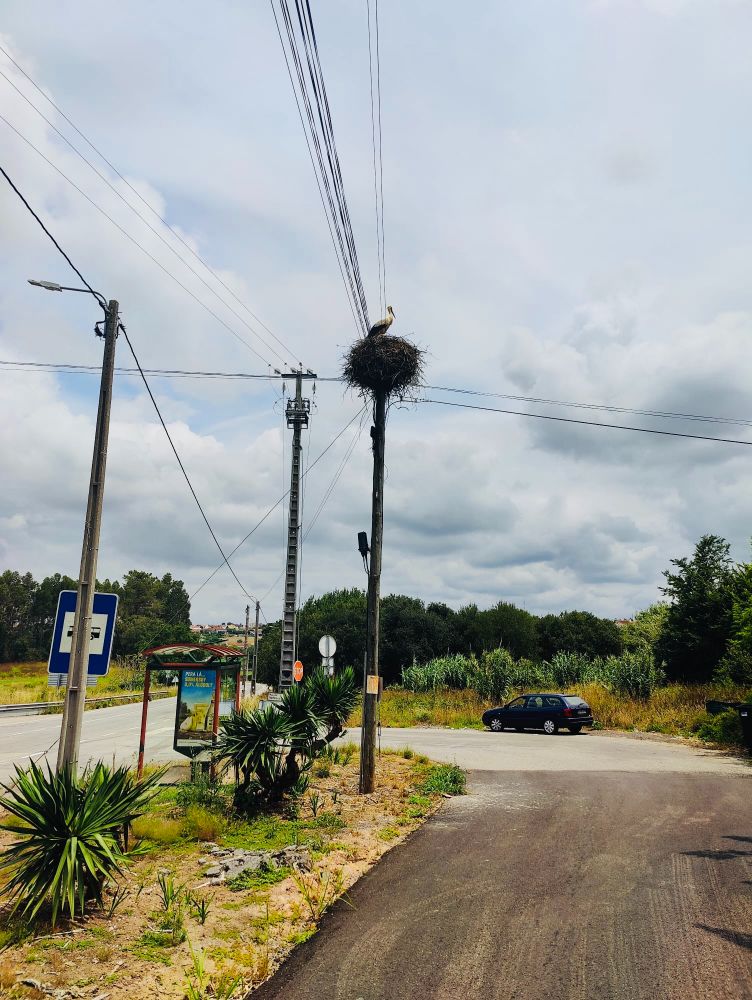 Colourful Aveiro
Aveiro is such a colourful and romantic city to stroll around, hand in hand. There are several pedestrian bridges in Aveiro along the canal route and they are all covered in thousands of fabric ribbons. They are hung there by couples and friends to symbolise vows of eternal LOVE. Padlocks are no longer used due to their weight and destruction of the bridges. The names of the 2 people should be written on the ribbon before being tied together and around the bridge. It's a beautiful sight to see them all blowing in the wind, there are ladies selling the ribbons by the bridges and you can also buy them in the shops for around 30 cents each. The Ponte do Laços de Amizade (The Bridge of Friendship) is just one bridge and located in the heart of the city there is also another called Valentine Bridge.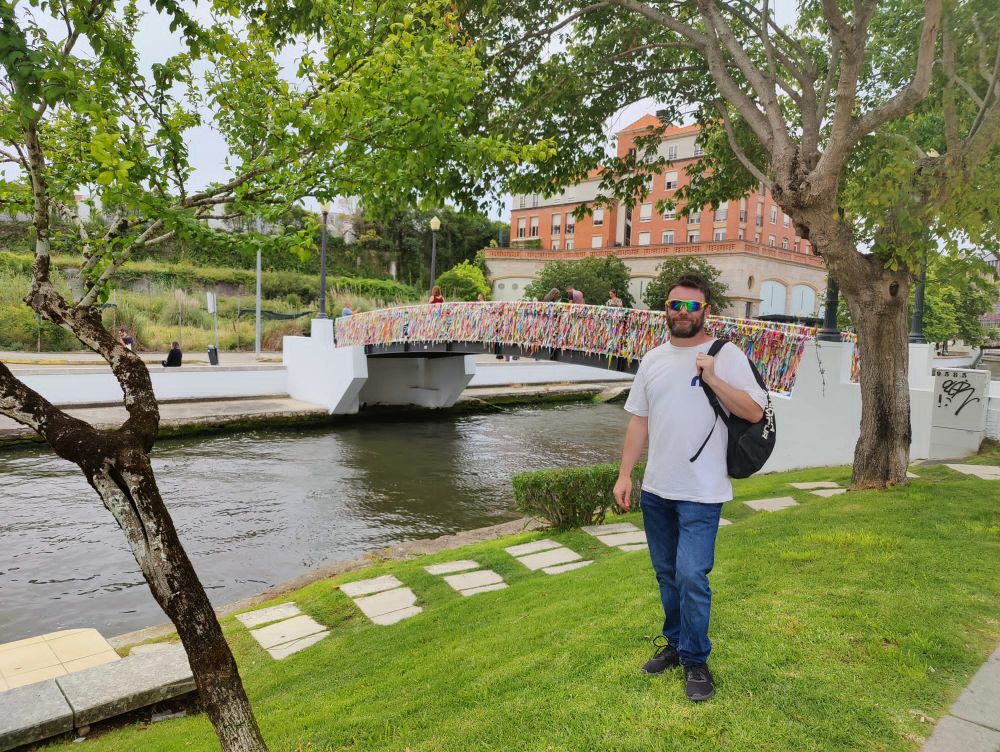 Parque Infante Dom Pedro (City Park)
I am always amazed at just how lovely the city parks are here in Portugal. They are well maintained and often have pretty pergolas, tranquil lakes, ancient bridges, bandstands, monuments, fountains with quirky structures and buildings to explore. They are bursting with wildlife, plants, trees, flowers and foliage. I love to read all the inscriptions on the stonework and stare in awe at the blue and white traditional Portuguese tiles. Most have cafes for a snack, coffee and ice cream to cool off on a hot summers day. I had a lot of fun here strolling along under the charming pergola adorned with the sweetest aroma of glorious pink flowers. We tried our best to get some photos without anyone in the background. Some were a success and some were fails (ha ha). It didn't help that the toilets are located at the end of the structure so people were passing through every 0.6 seconds to use the loo. There was also 2 random men just stood underneath at different locations and they stood there for over 30 minutes all through us having our picnic lunch. It was strange as there was plenty of shade in the park and benches to sit on. When they went for a toilet break we took our opportunity! I tried to get a serene video walking under the pergola without any folk in the shot which is easier said than done. I was meandering along like a proper lady from an old English novel. Then out of no where 3 coach loads full of tourists arrived and it was game over (ha ha). I was very happy that I got my video, my timing is impeccable. After our prancing pergola fun we walked down to the lake to cross the quaint bridge and feed the ducks my leftover picnic of homegrown courgette. I think they approved as they gobbled it up in no time. We ended our day at the park cafe eating yummy ice cream.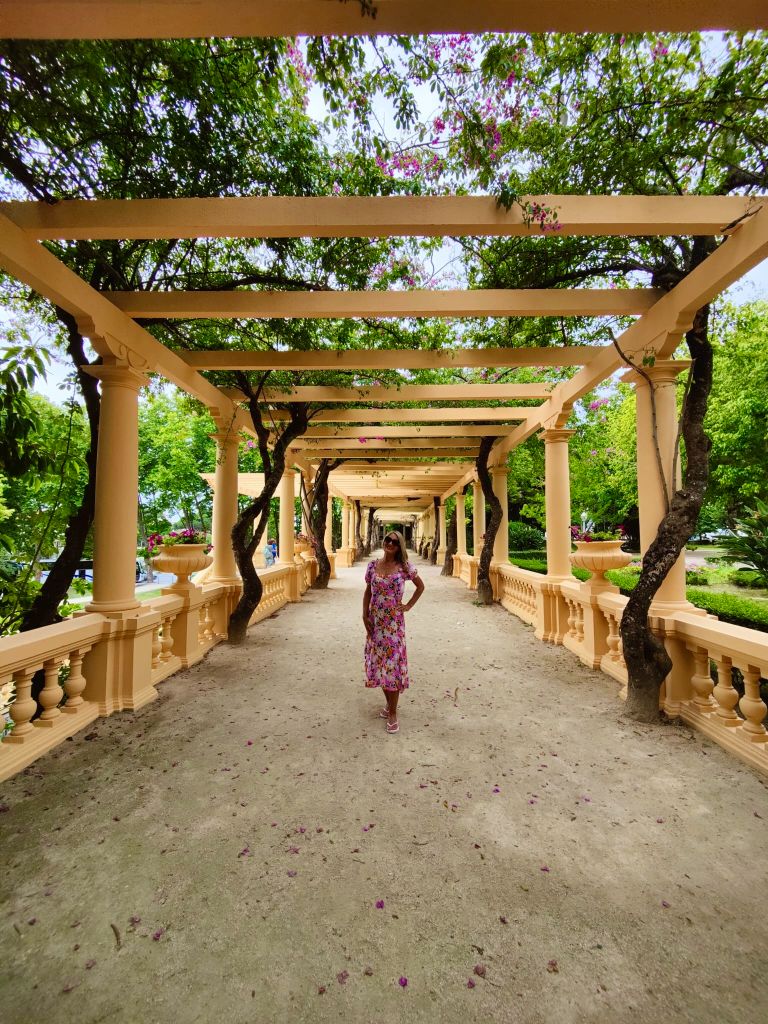 Ovos Moles de Aveiro – Cake is Happiness
A trip to Aveiro would not be complete without tasting the famous Portuguese conventual sweets "Ovos Moles de Aveiro". These little delights are wrapped in rice paper/wafer and stuffed with creamy egg custard. They come is different marine shapes: wooden barrels, clams, fish, shells and whelks as well as the Aveiro Moliceiro (Canal boat shape). The best shops to buy them are: Oficina do Doce and Confeitaria Peixinho. The later dates back to 1856 and the packaging of the boxes is magnificent, I nearly purchased half a dozen just so I could have the box (ha ha). This is the first time we have sampled this local delicacy and wow, they were DELICIOUS. We opted for the barrel shape as they looked bigger than the shells and we are greedy piglets (ha ha). If I eat any more of these I'm going to resemble the shape of a barrel and hubby is going to have to roll me along the grass back to the car (ha ha).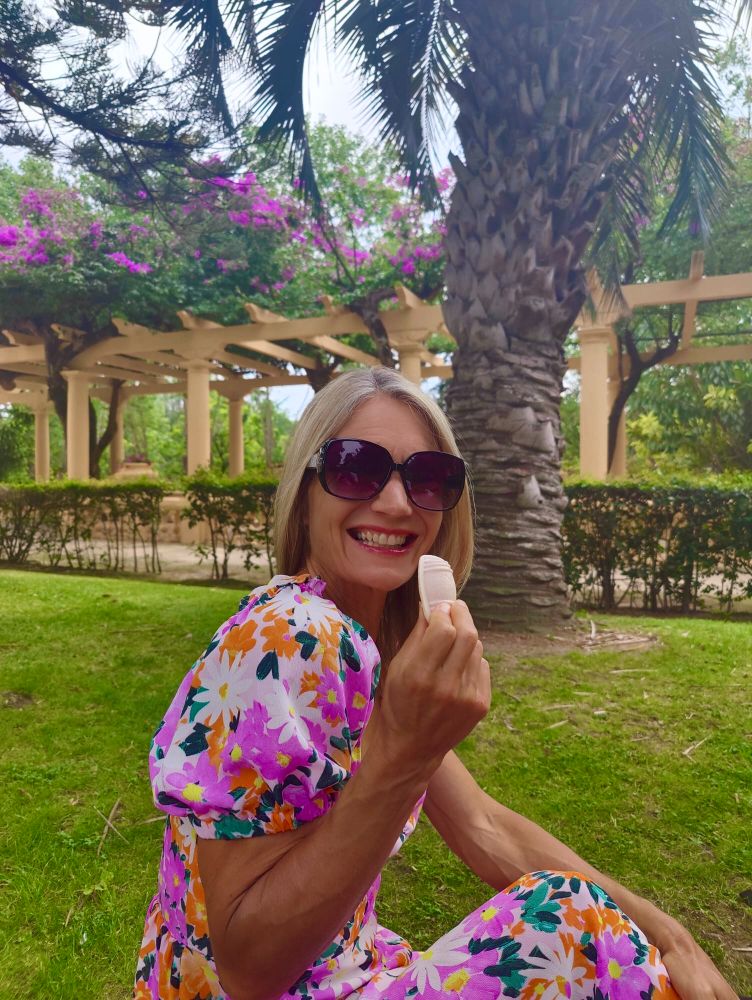 Fat & Fit or Nifty at 50
I stumbled across a shop with a hilarious name! I don't need to panic, because if I do end up getting fat again from all the Portuguese convent cakes, I have sorted a clothes shop. We did have a laugh when we saw the name of this shop. I'm sure if a clothes store in the UK was named this there would be some kind of protest and the owners would be accused of fat shaming. They would have to change the name to "Fluffy & Fit". Apparently every body is a bikini body. I'm not sure who started this saying and trend but whoever it was certainly hasn't seen me naked or my body in a bikini (ha ha). Thank goodness for coverups and sarongs. I was aiming for "Nifty at Fifty" but if I fail I can always go for "Fat & Fit" (ha ha).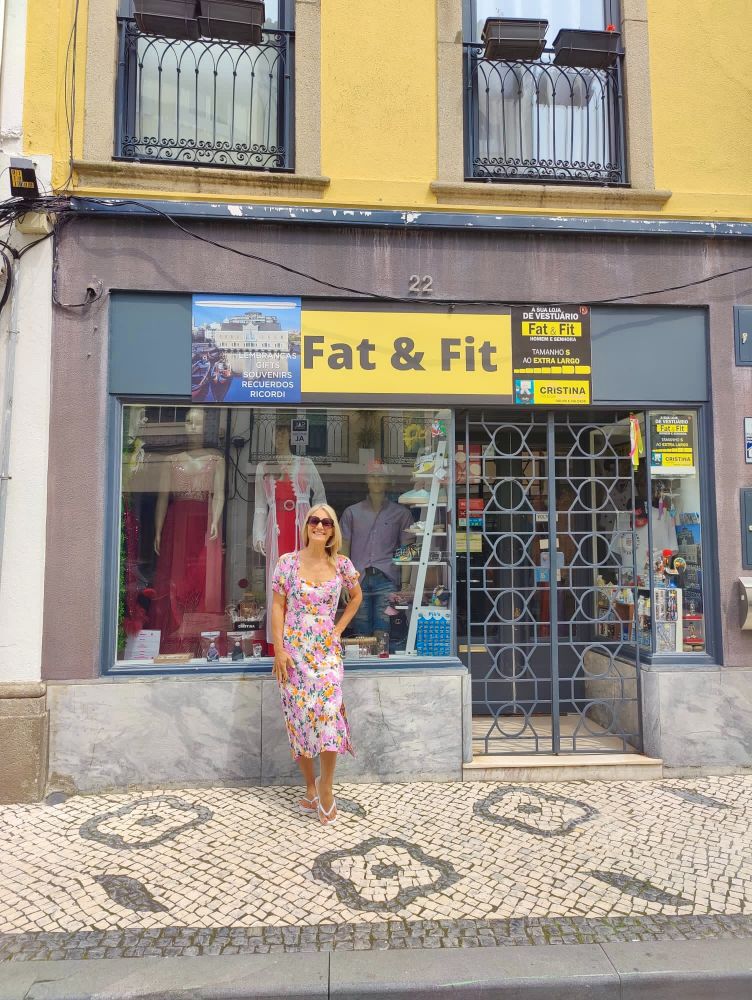 Mrs Always Right – Retail Therapy
The Forum shops are located right in the heart of the city near the canal and we had a little wander around the shops. We also stopped at Sports Direct on the way home and a huge China warehouse. I was browsing the soft furnishing aisle and I found the perfect cushion. I haven't been wrong since 1986 (ha ha).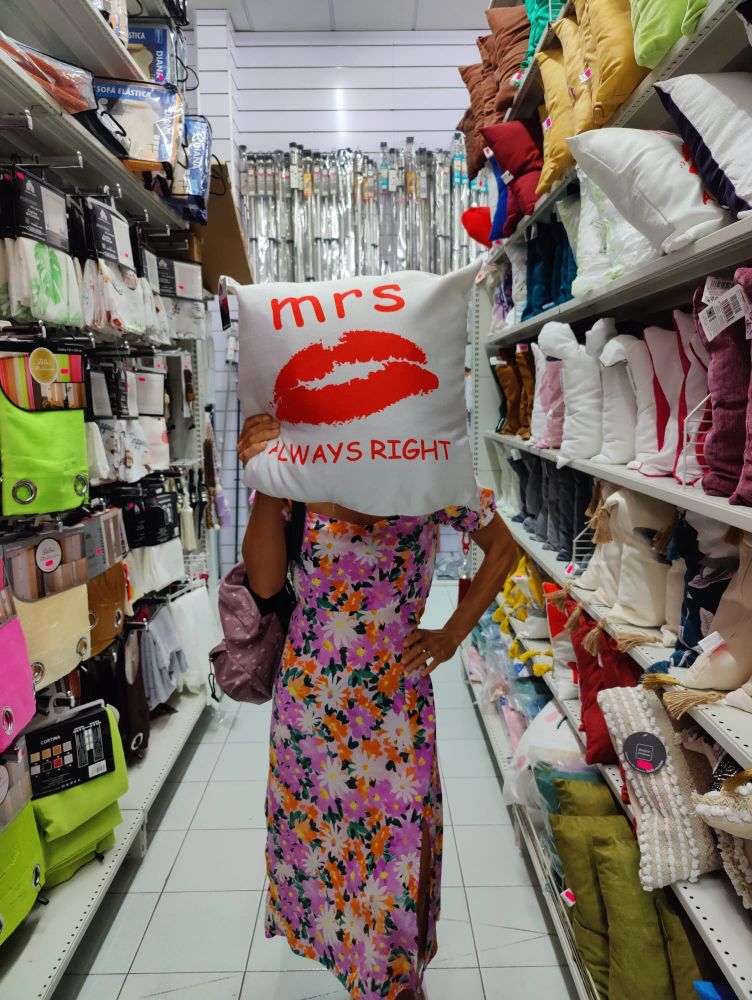 Overview & Prince Pergola
We loved our day trip to Aveiro, it was a day full of colour and fun in the sun. The vibrant city is one huge mosaic of colour which instantly brings joy. Some maintenance and construction work was being carried out alongside the river in the central area and it amazes me why they wait until Summer and tourist season to dig up pavements. There was a large area which was inaccessible for pedestrians which is a huge shame. Maybe it's because of all the rain we have experienced recently but I don't know why they don't commence such works in Autumn or Winter time. Maybe they have a budget to use up by a certain timeframe. There is such a diverse variety of attractions to see in Aveiro and my favourite part was the pretty green city park with picture perfect pergola. In my opinion it is the soul of the city and a little oasis of tranquility. I will leave you with my top No1 hubby Pergola photo of the day: "Prince Pergola" (ha ha).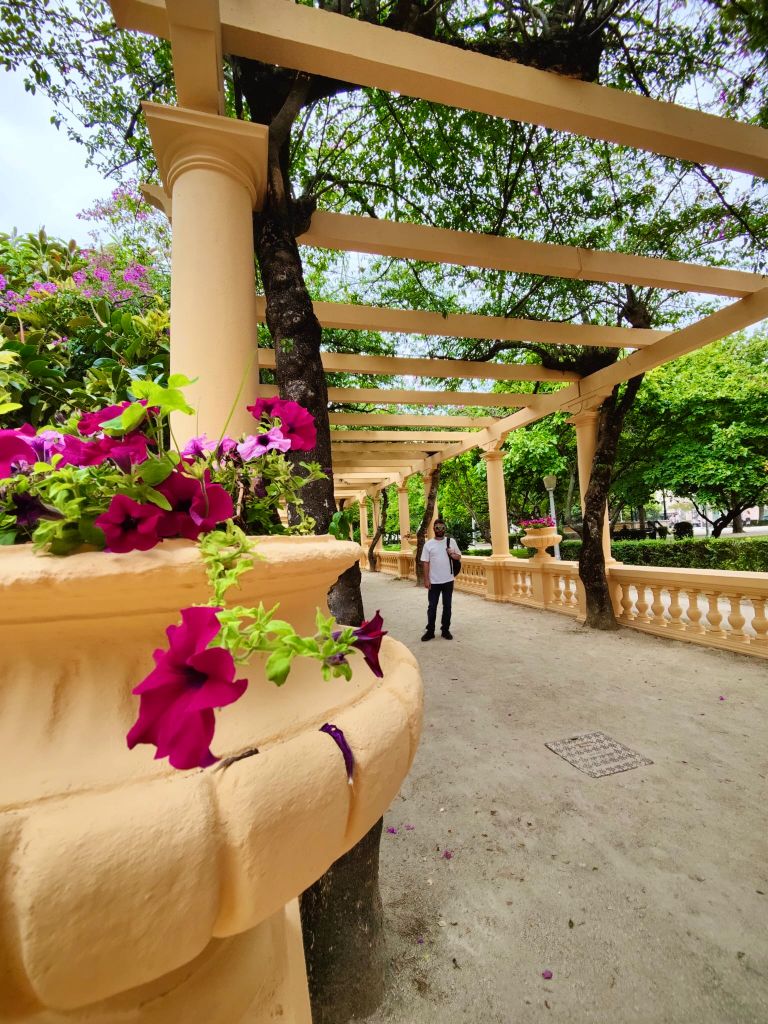 Life is Short. Take the Trip. Eat the Cake!