FEIRA DOS SANTOS (MANGUALDE) 2022
Feira dos Santos is a cultural centenary event located in Mangulade which welcomes thousands of visitors each year. It is held annually on the first weekend in November. There are three days of celebration, which brings together modernity with traditions, combining trade with cultural events and traditional customs. The event is free and there is no ticket necessary. The main objective of the event is to bring the population together, reinforcing the cultural identity of the inhabitants of Mangualde. The programme has several events at Largo Dr. Couto, which normally hosts the National Handicraft Exhibition. There are taverns where visitors can sample regional gastronomy. The festival has not been able to run for the past 2 years due to Covid so I was delighted to see it back. Marco Almeida, Mayor of Mangualde said: "We will have days of great animation and a return to our traditions, our memories and our culture. We will feel the smells and flavours so characteristic of these autumn days again", On the 4th, 5th and 6th of November 2022, visit Mangualde where "We will proudly show our products, our culture, our associations, our city, our Feira dos Santos".
Mangulade is a Portuguese city located in the region of Viseu. It is a one hour drive from our casa. There are so many local festivals and many celebrate Portuguese culture, history and heritage. A lot of the religious festivals are in honour of one of the many Saints. We managed to park in the nearby church car park and take a short stroll to the fair. It was a beautiful sunny day and we had a lot of fun visiting this unique festival. The streets were lined with hundreds of stalls and taverns offering a wide range of products including regional delicacies, artisan crafts such as jewellery and traditional hand made wicker baskets. I've never seen so many cheeses, sausages, cakes and alcohol and there was a huge market selling a wide range of clothing. There were tons of counterfeit goods (Adidas, Fila, Nike, North Face etc.) I would rather see the traditional goods rather than cheap imported tat that will likely fall apart after a couple of 30 degree washes but the choice was huge if that's what floats your boat. The entertainment included music, street performers, animation, a fun fair, D.J and fireworks. They were setting up the huge stage when we visited. The highlight of the day was the celebration of Portuguese cuisine, a huge square where local restaurants cook outside on BBQ's. I have never seen so much meat, don't look if you're Vegan (ha ha). Top tip: Wear loose clothing with an expandable waistband (ha ha).
The Portuguese sure know how to spit roast a pig! I was mesmerised by one chef who was basting the pork with some kind of herbs which involved him hitting it with what looked like half a tree branch which was funny to watch but he was very serious about the procedure. I wanted to say to him "I think Peppa Pig is already dead" but I was too scared to antagonise a chef as he might have a Gordon Ramsay attitude. Also you don't ever upset anyone who is preparing your food that you have to eat (ha ha). This area was packed with so many different outdoor BBQ's and lots of seating areas in gigantic white marquees. It was crammed full with people, mostly Portuguese all enjoying their lunch. The aroma was to die for, absolutely mouth watering and there was so much choice I kept on walking around in circles being very indecisive. If you attend this event you must try the local sausage "Mangualde Rojões" and "Feira dos Santos Febras" (Spicy sausages) and wash it down with plenty of Dão wine. I do love a Portuguese sausage or two! (ha ha). I even left room for a candy floss but couldn't manage a fartura which was a crying shame as I think I counted a total of 8 fartura vans! The Portuguese traditional sweet pastry stalls were also so very tempting and I made a man laugh as I told hubby to stand underneath a stall selling Penis shaped cakes so they were dangling inches above his head, obviously for a photo opportunity (ha ha). There were a few chestnut vendors selling piping hot roasted chestnuts but I decided to wait and savour all the chestnut delights at our next festival of the day. A huge wine exhibition marquee caught my attention so we had a wander to explore the wines from the different regions. Hubby couldn't sample any because he was designated driver. He is always designated driver because we value our lives so I'm not allowed to drive on winding mountain roads with sheer drops off the edge (ha ha). It got to a point where I thought it might be a good idea to wear a novelty T.Shirt with the slogan "My name is Helen, If lost return to the wine tent".
There were some impressive vintage cars on show and a wide range of new plant machinery including lots of shiny new tractors. Hubby asked me which was my favourite colour and I couldn't decide but I think the red one matches my angry personality, just kidding I'm obviously choosing yellow to match my Little Miss Sunshine aura (ha ha). I thought hubby was going to buy me a tractor, god knows why as I don't have any land which is a shame as being a Bristolian girl I'd love to shout "Get off my land" with my farmer Joe accent at all that passes through (ha ha). The only negative was the animals in small cages that I stumbled across. Birds, rabbits and guinea pigs. I rarely see guinea pigs for sale and I have always wanted one as a pet. There were 3 stuffed into a way too small cage and then I spotted the bunnies. OMG 4 of the tiniest white fluffy bundles of joy crammed in a cardboard box. My heart said "Pick that box up Helen and run, run fast my girl" (ha ha). I really wanted to buy the bunny rabbits to save them but I know I can't save all the bunnies at all the markets so I shouldn't look. I really tried to convince hubby that we should buy them but his down to earth approach to life made me realise that we were heading onto a chestnut festival in the mountains and we couldn't leave 4 tiny rabbits inside of our car for a whole evening also the vet bills for immunisations etc. would be high. Needless to say, I left a bit sad.
I spotted a huge army tank and soldiers in uniform. Actually there was a trio of men in uniform, if that's your thing – Army, Firefighters and GNR (Police). I am quite fond of a man in uniform unless it's the Police as I just go into panic mode when I see a policeman, I don't know why but I always have a feeling that I've broken the law and have drugs stashed up my fat ass (ha ha). There was a great marching percussion band with huge beating drums, what a talented bunch. I only just realised that I didn't take hardly took any photos of us at this event. I think it was because I forgot as we were having way too much fun and I was busy photographing all the Portuguese cuisine. Believe me when I say that photographs of hot sexy Portuguese men getting all hot under the collar from barbecuing whole hogs and photos of food taverns are way more appealing and easy on the eye than little old me stuffing my face with festive food (ha ha). Also I made up for it at the next festival because there was a castle so we had a mini photo shoot as we got the luxury of having the whole castle all to ourselves which was pure bliss. I didn't want to leave as I was looking forward to the fireworks and the huge stage was being set up for the night entertainment but we had another festival to attend. This time a Chestnut Festival in a quaint Serra da Estrela mountain village. I am excited to attend my first ever Magusto. I have a separate post about our 2nd festival as it rocked and you won't want to miss the photos of me jumping in the air for joy at the top of a medieval castle (ha ha). You can find it here: FESTA DA CASTANHA ALDEIA DE MONTANHA DE FOLGOSINHO (OUR FIRST CHESTNUT FESTIVAL IN PORTUGAL) – Casa Valhal
Programme & Map
Apologies, I think the Programme is a bit blurry or maybe I'm still drunk, it's really difficult to tell these days (ha ha).
Feira dos Santos – Photo Gallery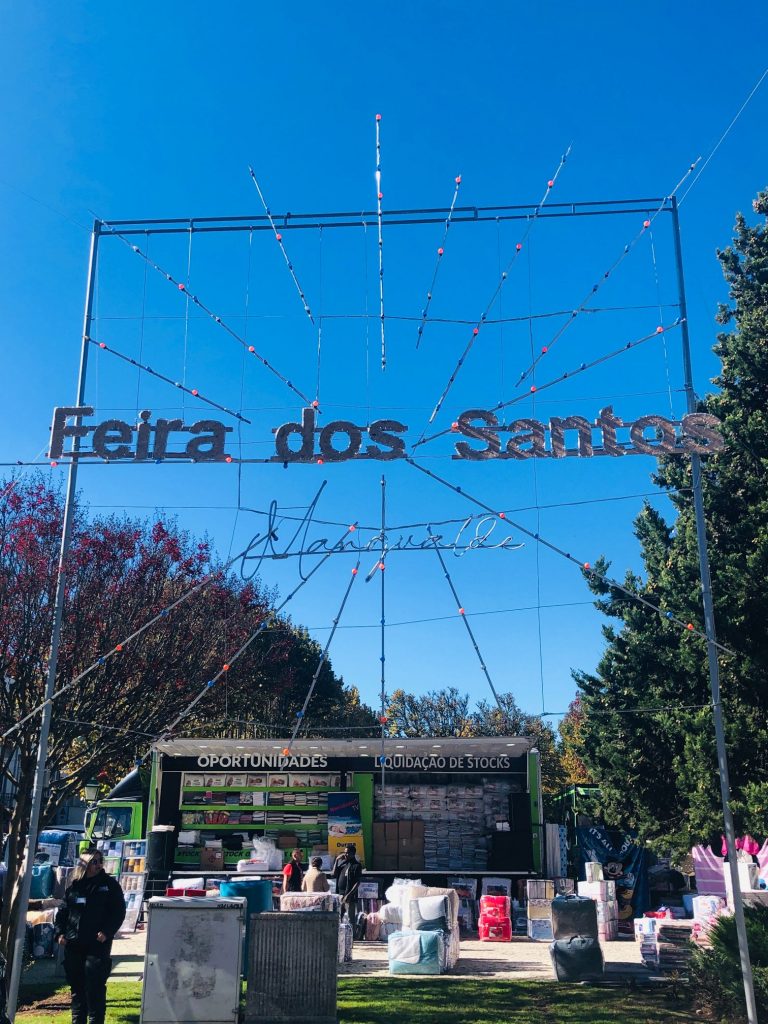 Homemade Hooch
This vendor and little stall with red and white chequered tablecloth made me laugh a lot. It looks as if a bloke just rocked up with his stash of potent home made Hooch that looks like different strengths of human piss (ha ha). No labels, no ingredients but he did have a dancing cactus. Hubby said I should make my own Jeropiga then I could have a stall next year and name it "Helena's Homemade Hooch". I might very well hospitalise some poor folk with alcohol poisoning so I think I will pass on the offer. I also prefer the name "Hoochie Momma's Jeropiga" (ha ha).
Penis Pastries
I made hubby stand underneath this stall selling Penis Pastries. Their Portuguese name is "Doce Fálicos" (Phallic Sweets) and they originate from the town of Amarante. The naughty shaped sweet treats are closely linked to the cult of São Gonçalo (Patron Saint of Amarante), a matchmaking tradition and rituals to get a groom. I positioned hubby so that they were dangling inches from his face much to the delight of a Portuguese man who found it hilarious. In the U.K the sweet treats offered on sale at a traditional fayre and seaside resorts are candy floss, toffee apples, sticks of rock, fudge, doughnuts, popcorn and pick n mix (candy/sweets). The sweet delights that hang from ceilings of stalls are usually gigantic candy/rock lollipops that resemble the shape of a babies dummy/pacifier. It's a weird concept when you think about it and I don't know the story behind it but here in Portugal we have hanging Penises instead of hanging Dummies. I know which one I'd rather suck on (ha ha).
Overview
I enjoyed this festival but in all honesty it appeared as a Gastronomy/Food Festival and there wasn't enough entertainment scheduled for my liking and I didn't much care for the multiple market stalls selling counterfeit fake clothing and don't get me started on the caged animals for sale. I did enjoy the spit roast and watching the chefs prepare a whole hog, it was an incredible sight to see up close and the aroma was awesome. Overall it was a fun day so I'm super glad we attended. I think the evening fireworks would have been spectacular but I'm glad we ventured onto the Chestnut Festival as it was more my cup of tea as it was less crowded and more authentic. I loved the castle, chestnut cakes and the quaint little magical mountainside village with all its unique charm, warm friendly inhabitants and quirky decorations.