CANIÇA HIKING TRAIL (SEIA, SERRA DA ESTRELA PR10 SEI)
We live very close to the wonderful Serra da Estrela natural park and it only takes 1 hour to drive from our casa right to the top of the torre. Although we have visited on a few occasions, we have only ventured on one official hiking trail to Covão dos Conchos so I thought it was about time that we embarked on another trail as there are so many routes. After a little research I decided upon the Caniça PR10 SEI 7km circular route as it looked amazing. This PR route belongs to the network of hiking trails "Caminhos de Montanha". It is an amazing trail which runs alongside the Ribeira da Caniça with spectacular panoramic mountain landscape views. There are various attractions to see along the way including Souto da Lapa (an epic dense forest with ancient oak trees), many small waterfalls and a view of Quedas da Caniça (Caniça Falls), Buraco da Moura (Small Cave), Lapa dos Dinheiros river beach, Cornos do Diabo (Devil's Horns, a fascinating 6m high rock formation) and Buraco do Sumo (Juice Hole! An area where the stream runs underground and disappears under huge granite rocks).
GPS Coordinates N 40° 23′ 42.4″ W 7° 41′ 42.5
Portuguese heavenly bread
The trail starts from the Parish Church in Lapa dos Dinheiros, a mountain village which is only 45 minutes from our casa. Lapa dos Dinheiros translates to "Money Slip" which we thought was funny. One other reason that I chose this route is that Seia is home to the fantastic Museu do Pão (Bread Museum) and they make and sell the most delicious chocolate bread in their little shop and it only costs €2.50. This detour only added a further total of 14 minutes onto our journey so it had to be done because Portuguese bread is divine and I'm a greedy girl (ha ha). I even bought a bread knife with me as I knew I wouldn't be able to wait until I got home to eat the bread! Be prepared in all situations, the Brownies taught me well, bless you our great leader: Brown Owl (ha ha). We used the boot of our car to slice the tasty bread up so we could take some on our hike. God only knows what we must have looked like (ha ha).
Village Church
We set off on our hike from the village church and Information Sign. After looking at the information board we turned left and headed up the cobbled village street (hill). We then found a marker to the left directing us down an incline through the most wonderful forest. I read a blog about a lady hiker who accidentally went the wrong way so missed out on the opportunity of viewing the Cornos do Diabo (Devil's Horns). I decided it was sensible to download the GPS route and it's a good job that we did as like this lady we went the wrong way as there is no actual sign post or markings to lead you to this spectacular viewpoint. The signage is poor in this area and actually directs you wrong so be aware! I would class this hike as moderate with challenging areas. There are a lot of inclines and if you want to view the waterfall there is a steep decline and tricky rocks to climb down. There is also a difficult area to climb just after the Cornos do Diabo and I will explain more later.
Souto da Lapa – Frugal foragers' paradise
What a sensational forest of centenary oaks bursting full of sweet chestnuts. Wow, what a frugal foragers' paradise! I love eating chestnuts roasted on our old log burner. They are so very delicious and remind me of Christmas. I also found so many wild saffron purple flowers in bloom and multiple mushrooms. We didn't see another soul on our hike through the forest until we reached the river beach.
Praia fluvial da Lapa dos Dinheiros
Before long we arrived at an amazing river beach which is next to the bridge. It is only open during the summer season so it was deserted. There was only one other family here and we found a tranquil spot to rest behind a huge boulder and little waterfall. The water is so crystal clear you can see the bottom! We had a well deserved pit stop here and enjoyed a protein bar and a can of coke. It was a sunny day and although the trail has partial shade there is a lot which is in full direct sunlight so I don't think I would want to embark on this trip in summer time as it would be too hot. We had packed a picnic and plenty of drinking water to keep us hydrated in October.
Quedas da Caniça
The Caniça falls is located close to the river beach and it is quite a tricky descent down to view it. The hike down is initially not too difficult but as you progress downwards you are faced with steep rocky walls. It is a magical place with huge boulders covered in green moss and very picturesque. Most people just view the falls from a distance as it is very dangerous to try and climb down. First we ventured around towards the left to get a view of the top of the falls then we decided to climb down for a closer look. We mountain goat climbed down several walls of rugged rocks and boulders until it got too dangerous to go anymore. We were so close to the edge with a sheer drop and it just was not worth risking our life just for a better view so we sat down and took in all the glory from here whilst perched on the edge of a cliff. Exhilarating and slightly frightening to say the least! The views are dramatic and dazzling.
Climbing back up was even more tricky than climbing down and it's a good job that I have a reasonable level of fitness otherwise I might have had to camp there for the night until I was rescued (ha ha). Don't try to grab rocks and tree trunks as they are not all stable (a bit like me!). The sun was in full force so my photos are not great, apologies. Not every glorious sight can be a photo opportunity. Sometimes you just have to be there in person to soak up the ambiance and see first hand how spectacular these places truly are. Just as we were leaving the falls we crossed paths with some other humans! A group of 4 people and we assumed that they would be following us around on the route but we never did see them again. I hope they didn't fall off the edge!
Photo editing – No thanks
I don't hate all edited photos out there but personally I don't like to edit my photos whether it's nature or photos of myself. Some of my nature shots may appear too dark, too light, shadow effect etc. and in my eyes that is O.K because the real beauty is in the moment and being there. I'm not a professional photographer requiring to sell my photos. I am sharing places of natural beauty and rural landscapes which sometimes means that the Portuguese sun is in front of you and not behind and you can't move to a different position unless you want to fall off the edge of a cliff so the photo does not look it's best as everything is gleaming bright or the opposite and looks rather dull. What am I gonna do move the sun and mountain. I may be a fierce, strong independent woman but I can't move mountains (ha ha). I have nothing against people who edit, photoshop their snaps to death and use filters to change the contrast or brightness but I like to keep it real. I'm all about sharing realistic photos and portraying the ever changing colours and shapes nature offers during different seasons.
So I won't be making any skies bluer, moss greener or sunsets more pink. I certainly won't be messing with humans and making our complexions more clear, our bodies slimmer and less wrinkly. Let's grow old gracefully and not mess with Mother Nature.
Levada
We continued our hike through different terrain and followed the levada which translates to taken. Levada is the name given to an irrigation canal or aqueduct flanked by a pedestrian path. Here we encountered our second set of humans, a group of 4 ladies laying down resting in the sun. I could hear them speaking English, two were blonde and I think they may have been German but we said Bon Dia, smiled and headed on our way. We followed this route alongside the water and I must say that upto this point the signage was amazing.
The tricky climb
We reached a point where the signage said to go left and climb up this very steep rocky hill. There were no support ropes to assist and it was fairly tricky. Most of the climb I completed on all fours clambering over the rocks like a mountain goat and it took pure strength and stamina to reach the top. I think my downfall (no pun intended) was not having a clear strategy (ha ha). Once we got to the top we gave a sigh of relief and continued along a path where we passed a friendly French couple who were relaxing in the grass. Apologies for Butt photos but I want to show you how challenging and demanding the climb really is.
Buraco do Sumo
Buraco do Sumo translates to "Juice Hole". I cannot begin to tell you the amount of fun I had with the name "Juice Hole" (ha ha). Hubby thought there was far too much hole and not enough juice! I agree. It was quite a challenge to climb up the slippery wet boulders and peer down the gaping hole. You can hear the water gushing beneath the rocks and I was thinking "I wonder how many people have fallen in". One thing is for sure, if you fall down this hole you ain't getting out in a hurry if ever.
Shit Signage
Once we viewed the Buraco do Sumo we checked our GPS as we thought that we should have viewed the Cornos do Diabo first. The GPS did not exactly pinpoint where this attraction was precisely located. We decided to retrace our steps and at one point I said to hubby "I hope we don't have to descend down that huge rocky cliff again". We stood at the top of the cliff and heard voices. It was the 4 ladies we saw earlier so knowing that they spoke English I waited for them to make the tricky climb up then asked them for directions and they confirmed where it was situated which resulted in us having to descend down the cliff. Climbing up was hard but climbing down was so much trickier but we made it to the bottom. There was no way in hell I was going to miss one of the star attractions of this trail. So folks if you want to sample this trail DO NOT follow the red and yellow markings up this cliffside. To help others I made hubby stand and point, I think he may have missed his calling as a male model (ha ha).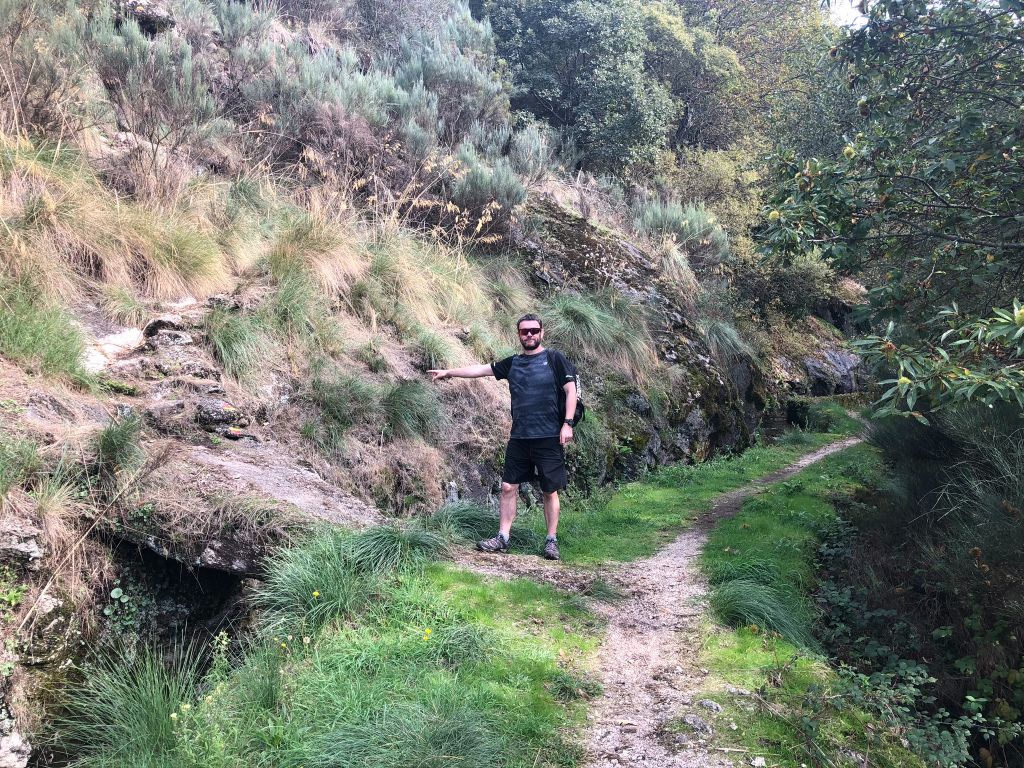 You need to go straight ahead and continue to follow the levada until you reach this sign.
Cornos do Diabo
The Cornos do Diabo is an amazing rock formation and I don't think my photos do it justice but it really is so crazy and wonderful. The sunlight was hitting the top of the rocks which gave it a shimmering effect, just perfect. It really does look like a devil carved into the rocks and it is huge. This area is very dangerous and you are very close to the cliff edge so you need to be careful. We were going to have our picnic lunch here but the area was quite small and I was concerned that some other hikers may turn up which would have been awkward and I didn't want to potentially block their view or be inconsiderate so we walked back and scaled the rocky cliff AGAIN to find a nice spot to eat our lunch. It was a bit easier the second time but I have to admit that I was a bit hot and tired after hiking so far. I was aware that one stumble and I tumble so was trying to make wise choices with where I positioned my feet.
Hubby thought it would be a great idea to poke a stick up my fat ass halfway up the cliff side. I didn't know what it was so it made me jump, lose my balance and I very nearly fell off the cliff, taking him down with me which would serve him right (ha ha). I don't know what possessed him but he thought it would be clever to poke me a second time. He certainly has a death wish. Just a note to all the men out there, it's not a good idea EVER to poke your significant other up the ass with a stick or any object that can cause harm and injury. Just don't do it, it's not that funny and it won't get you any brownie points if you know what I mean. Stick to putting the bins out or unloading the dishwasher. I got my own back as once we got to the top he proceeded ahead and I accidentally got too much momentum whilst hiking down the angled slope and rapidly picked up speed, I kind of started running without meaning to and couldn't stop myself so ran straight into him and carried him down the slope a few metres (ha ha). Am I the only one that this happens to? I felt like a cheese at the Gloucester annual cheese rolling event.
V for Victory or Rude gesture
This is what I think about their Signage. I found a V shaped stick and this sums up how I feel about their crap signage. It's certainly not a V for Victory and more of a 2 middle finger offensive gesture V sign (ha ha). I also have a strong suspision that this is the stick that hubby poked my ass with twice whilst I was climbing up the cliffside. It's a good job I took it off him as I have a feeling he was going to poke me a third time whilst singing "Your once, twice, three times a lady" by Lionel Richie (ha ha).
Perfect picnic spot or a Death wish
We found a lovely grassy spot for our picnic which just so happened to be an area with a steep incline so basically a small hill with a sheer drop off of the cliff into the wilderness. It was tricky to walk down and one trip or slip and I would roll down and off the edge never to be seen again. In hindsight it was a stupid decision but the only spot we could find and we were starving after having to backtrack. We had to make sure that our feet were dug into the ground and gripped firmly to prevent any disasters happening. We enjoyed our picnic and Portuguese chocolate bread which gave us a great energy boost to finish the hike.
Hug those trees Helen
The hike back was very tranquil and we didn't see anyone else so it was just 3 groups of people that we met on the whole trail. I expected to see more people as Serra da Estrela is such a popular tourist attraction. The trail took us through beautiful landscapes and pine forests with stunning views of the mountains. I hugged more trees and my hubby didn't hug any trees (ha ha).
Cabin in the Woods
Everything was serene and tranquil until we stumbled across a creepy ass abandoned building in the woods. It had care bear like teddy's nailed onto the wall which freaked me out immensely. The bunny was strung up by it's ears and I wanted to run for the hills as fast as my stumpy legs would take me. There were coils of wire and empty chemical buckets near the stream where they obviously dissolved the bodies after brutally murdering them (ha ha). I had visions of never getting out of the forest alive and just doing loops and every exit leads us back to this scary place. It was like something from a Wrong Turn horror film and sent shivers down my spine. If you fancy a laugh take a look at Casa Valhal Facebook page or Instagram where hubby turned the photos into a scary little found footage movie clip.
Aqua therapy – Smaller waterfalls
At the end of the trail we had to jump over a small stream and hike down a steep decline of slippery steps which passed many small waterfalls and water courses which were beautiful. We had to step over a small water stream which was tricky as the only stepping stone was covered in moss and gushing water. I also hit my head on a huge tree branch whilst crossing the stream. Hopefully it's knocked some sense into me (ha ha).
Village people – Lapa dos Dinheiros
The village houses look spectacular in the distance and there is a stunning hotel with a pool called Casas da Lapa. Hubby googled it and it's a whopping €150-170 per night! That is our whole monthly food budget. Maybe I can afford an overnight stay if I win the lotto. Casa Valhal in Vinhó is much more affordable and I've heard the couple that live there are crazy nutters but are living the dream and enjoying life to the max (ha ha).
Thoughts about Hiking
I've decided I'm a nature nerd. I love hiking, leaving gadgets and technology behind for a day. A well earned break and detachment from everyday life. Immerse myself in nature and get completely absorbed in the moment. Sun on my face, bright blue skies above and such a sense of freedom. I really enjoy sharing the experience with hubby. Hiking brings us closer together so we form stronger bonds and create lasting memories until he pokes me up the ass with a stick twice, then we fall out (ha ha).
It's a great form of exercise. Clambering over uneven surfaces and navigating your way around rocks, fallen trees, across streams and over tree roots engages your core and works your upper body for a true holistic workout. No one cares what you look like as we are all covered in mud and everyone you pass is super friendly and says hi. I've also noticed that food always tastes so much better on a hike. Hiking in nature is so much more rewarding than running on a treadmill at a gym which was my old life in Bristol, U.K. I love hiking and pushing myself to do longer hikes with bigger elevations but I also know my limits with my back disability and chronic pain. I have learnt to understand my body and manage my pain. I always feel less pain whilst hiking within nature, my happy place.
Overview
I really enjoyed this hike as it is such a tranquil area and Helen's hiking heaven. There were a few hairy moments like when we missed the major attraction, the steep cliff climb, getting hit in the head and poked up the ass and nearly rolling off the edge of our picnic spot but despite all this we had so much FUN. This hike was very close to our casa so it was great to find such an amazing trail so close to home as I really dislike travelling long distances in the car as it hurts my back. It was quite a challenging hike with a lot of demanding inclines and mountain goat climbing as well as many spots very close to the edge of the cliff so I wouldn't want to take small children. I also really want to make better signage so no one else misses out on viewing such an incredible mind blowing attraction. This hike has definitely inspired me to return and sample one of the other PR hikes in Serra da Estrela.
We always return home with a renewed appreciation for mother nature and her bounty. Our positive emotions are increased and we always feel a heightened sense of gratefulness for the simple things in life. This trail was simply amazing and we saw so much untouched beauty.
Parabéns
After arriving home I consumed some well deserved caffeine then dragged my aching body to the shower to freshen up for hubby's birthday celebration meal. I even managed to put on my £3 charity bargain frock and a splash of makeup. The food and drink was delicious and all washed down with a bottle of red wine and followed by an epic celebration birthday cake (I told you I would buy a better cake). Finally we enjoyed home made chocolate cups filled to the brim with Óbidos cherry liquor. Apparently I scrub up have decent (ha ha). What I love about Portuguese cake is it doesn't state how many it feeds. Birthday cakes in the U.K say feeds 16, BS as it actually feeds 6 if your lucky. We ate a quarter of this cake each and finished it off the following day but it's fine as birthdays are only once a year and we need to celebrate. A perfect end to hubby's birthday. 
The amazing homemade chocolate cups
I am so very proud of my effort in making these homemade chocolate cups. I am not great at crafts or baking but they turned out great. I was a little shocked as whilst setting in the fridge they looked like shit! (ha ha). We filled them with the Óbidos cherry liquor and they were spectacular. Seeing as our hike was to Serra da Estrela I probably should have used the Sour cherry liquor which we purchased from one of the Torre shops at the top of Serra da Estrela but I prefer the taste of the Óbidos drink. We had plenty of leftover chocolate cups and I have been filling them with a little dash of the cherry liquor then adding peanut butter for a tasty dessert. Not great for my waistline (ha ha).
Helen's hangover from hell and a Cure
The harsh reality of getting old hit the next day when I had to hill run 7km with Helen's hangover from hell. I made it through without vomiting on any farmers land so we rewarded ourselves with a paddle boarding trip. How lucky are we to be able to paddle board under the Portuguese sunshine at the end of October! We had the whole place to ourselves except for 2 friendly local fishermen. I am feeling so happy and truly blessed. We stayed to watch a perfect romantic Portuguese sunset.