PHYSIOTHERAPY IN PORTUGAL
I had to source a private Physiotherapist here in Portugal due to the fact that I am a total liability and accident prone so always have some kind of an injury to one of my body parts (ha ha). I am fully trained as a Holistic Therapist and even took a course on sports massage several years ago so I am familiar with the musculoskeletal and muscular system. However, I am not a trained Physiotherapist by any means so although I tried to diagnose my new injury, without proper tests/scans it could be a number of things. I won't waffle on about my health and medical history but I live with chronic pain and had spinal surgery to remove my coccyx in 2015 at a UK NHS hospital. The surgery failed so I live with constant pain and usually manage it pretty well. My recent injury resulted in 2 visits to A & E (Urgent Care) where I had X-Rays and IV drips of pain relief including Tramadol. My guess is that I have a trapped nerve in my neck area (cervical) or it could even be a slipped disc but I'm more convinced that it is a trapped nerve. The pain radiates down one arm and I have loss of sensation in my arm and hand as well as mini electric shock like spasms, it's pretty horrendous. It has improved somewhat over the past couple of weeks but it is still problematic and stops me from sleeping at night and I suffer from insomnia anyway. It took me what seemed like a lifetime to get a Doctors appointment at our local SNS Centro de Saude because my family Doctor retired but we were not notified. The Doctor at the Urgent Care Hospital confirmed that I had to visit my family Doctor so that they could refer me for a CT or MRI scan to establish the cause of my pain.
Whilst I was passed from pillar to post around the different Doctor's surgeries I decided to source a Physiotherapist because I felt adamant that they couldn't make it any worse than it already was. Initially I was unable to move my head an inch in any direction, up, down, left or right and I experienced spasms in my upper back. I had a running accident last year and suffered a shoulder injury (rotator cuff) so I am not 100% sure if my injury is to my neck, upper back or shoulder. I researched Physiotherapists a few months ago and found a local one with good reviews in Arganil. I had already messaged her previously and enquired about treatments and costs so I emailed her back and booked an initial consultation. The first lady I communicated with is called Sofia Fonseca but I ended up booking my appointment with her colleague Carolina.
My first appointment was fantastic and each session costs €20 for 1 hour which is a fantastic price. There are also discounts if you book a block of sessions but I am just paying week by week and seeing how I go. Carolina is super friendly, knowledgeable and a total professional, I could not have asked for more. She went through all my medical history and contraindications, it was a full and comprehensive first visit and I felt relaxed and was super elated that she spoke English because my Portuguese is pants (ha ha). I then laid on the therapy couch and she did her magic. It wasn't painful at all and I felt calm, any initial anxiety that I had disappeared within minutes. When I left, I instantly felt an improvement and she kindly emailed me a link for Physio exercises to perform which I now do every morning. As the days passed my symptoms got worse again so I re-booked for a second visit which also was an amazing experience. This occasion, Carolina focused more time on my neck and arm as these are the areas that are causing me the most pain. I keep experiencing mini electric shocks in my elbow and hand. This time slightly more pressure was applied and some points were mildly uncomfortable but not painful at all. I have already booked a third appointment and can't wait to visit.
In the meantime I managed to obtain a Doctors appointment which went incredibly well. I have been referred to the Hospital for a CT scan and I am waiting for them to contact me for an appointment date. I had the choice of a MRI scan but there was a cost for this exam on the SNS where there isn't with the CT scan. An MRI is more detailed than a CT but I decided to have the CT first and if it doesn't give an in-depth diagnosis then I will have the MRI. At the moment I'm in a bit of limbo because it's difficult to treat an injury without knowing what it is and where the original trapped nerve is located, if it is a trapped nerve. The pain has improved and I am trying to keep myself busy to not think about the pain too much.
I have included contact details and a price list below. Wow, just look at how beautiful the Physiotherapy room is. This is not the room I have my treatment in but the another one. The stunning stone sculpture artwork caught my eye as I left after my second visit, I didn't even notice it on my first visit. If you think the walls are amazing, wait until you see the ceiling. Carolina explained that the artist was a local talented man who has sadly passed away. One of the stone sculptures is of his wife and some are fun, whereas others are more sinister and dark.
All art should inspire and evoke emotion. Art should be something you can actually feel. The ceiling has an "Under the sea" themed mural. It's very me as I'm the star sign Pisces and love everything connected to water. I think I was a mermaid in my previous life (ha ha). The 12 zodiac signs are divided into four elements: earth, air, fire, and water. Water is the most powerful and encompassing and Pisces tend to be emotional and intuitive. I think they missed out the crazy label (ha ha). It literally blew my mind, I LOVE it so very much but I LOVE Carolina more.
Photo Gallery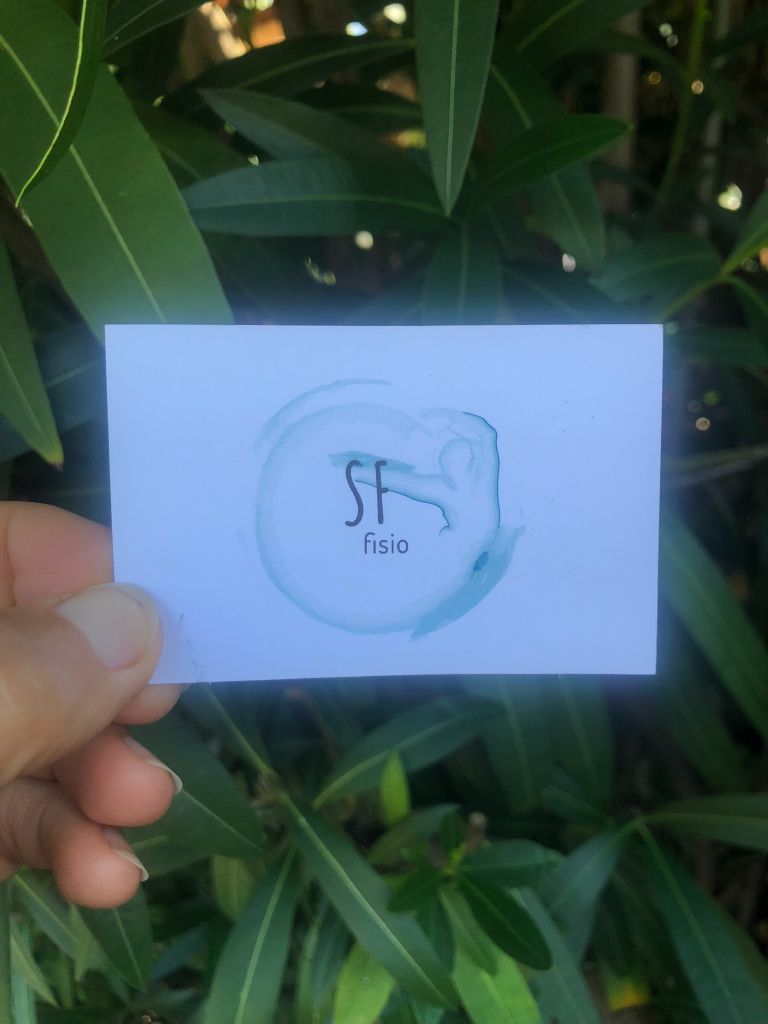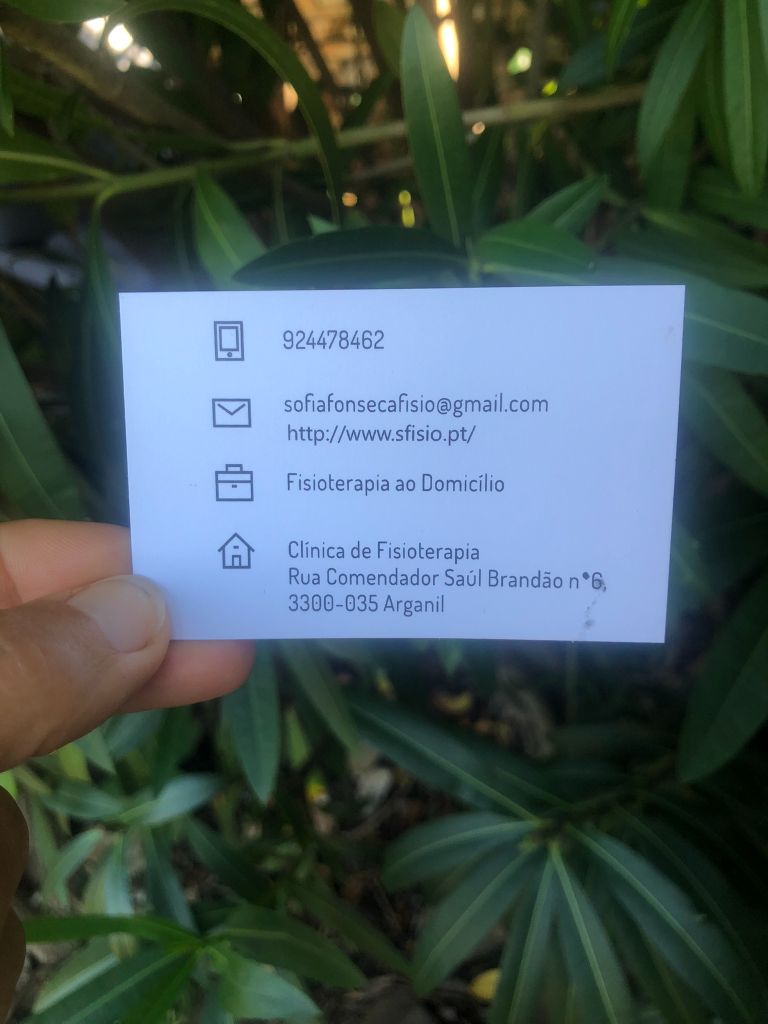 O Pão Quente
Whilst I was having my treatment hubby also had a different kind of treat at O Pão Quente.
My Physio appointments are 1 hour and I schedule them for after work hours so hubby can drive me. Arganil is a 20-25 min drive from our casa so instead of heading back home and wasting money on gas for the car, hubby paid a visit to a delightful cafe right opposite the Physiotherapists. I have passed this cafe multiple times as it's quite close to Lidl where we do our monthly staple food shop but I've never ventured inside as I thought it was a posh restaurant as it doesn't look like the typical scruffy (Portuguese shabby chic cafe) that are dotted around every rural villages. It's quite posh and doesn't have the usual faded uncomfortable plastic seating and 1980's ashtrays on every table.
I was starving when I exited the Physio at 7pm and hubby showed me his photo of what he ate and I asked him where my takeaway sweet pastry was hiding (ha ha). I also noticed that his cake looked suspiciously like 2 cakes but he strongly denies this. Maybe he purchased me one after all then couldn't resist temptation. Hubby doesn't drink coffee, I know, he is clearly mental as he only drinks tea whereas I only consume strong coffee, opposites attract. Believe me when I say I've tried to lure him into the wonderful world of Portuguese coffee but I have epically failed on my mission. Tea here in Portugal usually looks like gnat piss so he usually drinks coke but on this occasion he decided to wash his oversized pastry down with a cup of tea. They bought him a very posh ladies do lunch pot of tea which he apparently managed to squeeze 3 cups from (ha ha). The pastry looked so yummy and I was more than a little bit jealous. Oh well, a moment on the lips, a lifetime on the hips (ha ha). Although it was a little more expensive than our usual cafe pit stops it wasn't anything like the prices in the UK. His cake was €1 and his pot of tea €2 so €3 in total. Money well spent in my eyes and I will definitely be joining him on his next visit. I think this might become a regular spot that we visit in the future. What made me laugh the most is he said that he asked for black tea with milk because otherwise they often offer fruit herbal teas. The lady asked him if he wanted chocolate milk! In tea, that would be more than a tad disgusting, he politely declined (ha ha).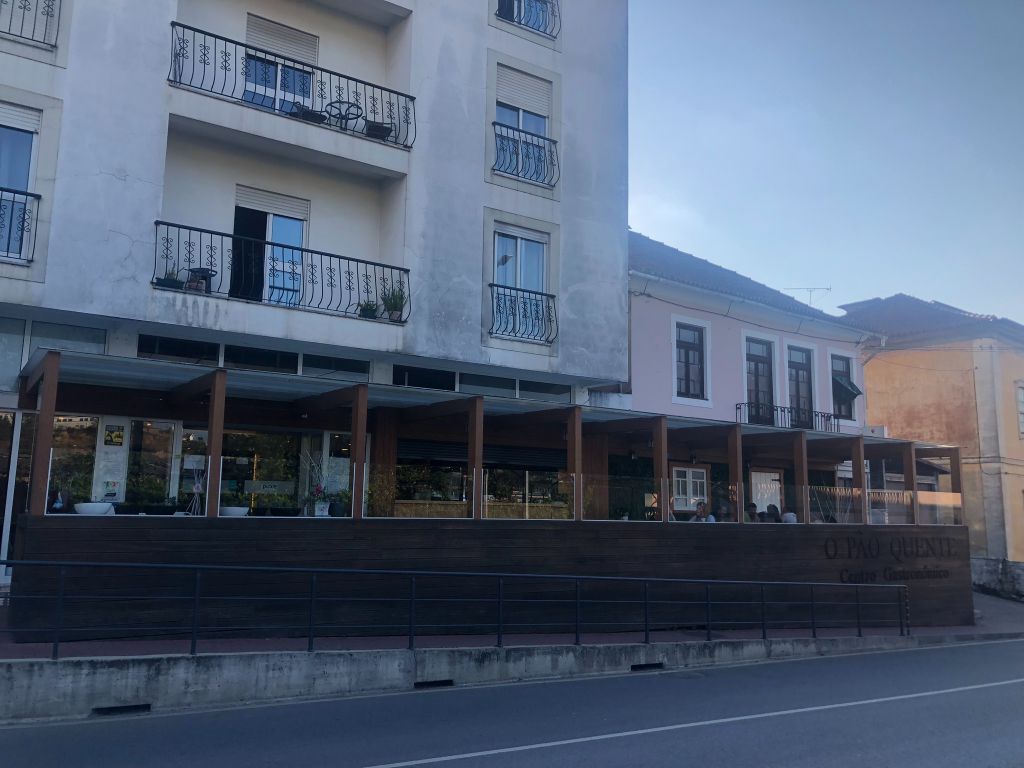 Overview
I am over the moon that I have sourced such an amazing local Physiotherapist. It amazes me at how little they charge too. Absolutely a 10/10 service all round. I also had an amazing visit with my new family Doctor and I'm now awaiting a CT scan and possible MRI on my spine. I'm sure I will be back to my fighting fit energetic crazy self in no time. I think hubby is enjoying me on "Go slow" for a while because I do like to go at things 100% will full force. He is relishing the slower chilled Helena (ha ha).
UPDATE
I am having weekly treatments and they are going well. I left hubby to occupy himself whilst I had my 3rd physio session. He visited O Pão Quente again. This time he asked for a black tea with milk and they served him a flat white coffee. Maybe I can convert him to coffee after all (ha ha). He enjoyed another awesome cake, I didn't get any take away cake but he did surprise me with an awesome Hammock from Lidl. I do love a hammock. Those middle aisles are dangerous he very nearly bought a wind breaker. Not sure why as we rarely visit the windy coastal beaches, I'm more of a river beach babe. The only wind we encounter are from high altitude mountains and hubby's ripe arse (ha ha). I have visions of me chilling in my new hammock under the fig tree with my chickens. Helena Hammock time!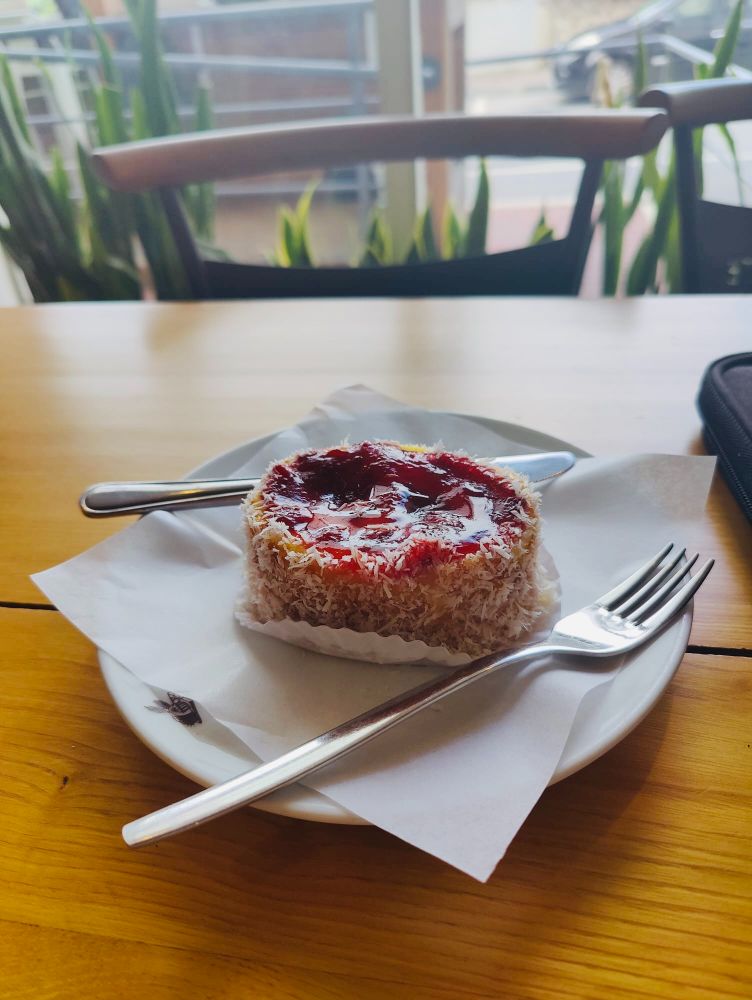 Every Cake has a Story to Tell
Hubby is really enjoying my Physio sessions (ha ha). He is making his way through the Portuguese sweet pastry delights at the cafe opposite, he didn't risk ordering a hot drink this time (ha ha). Live the sweet life!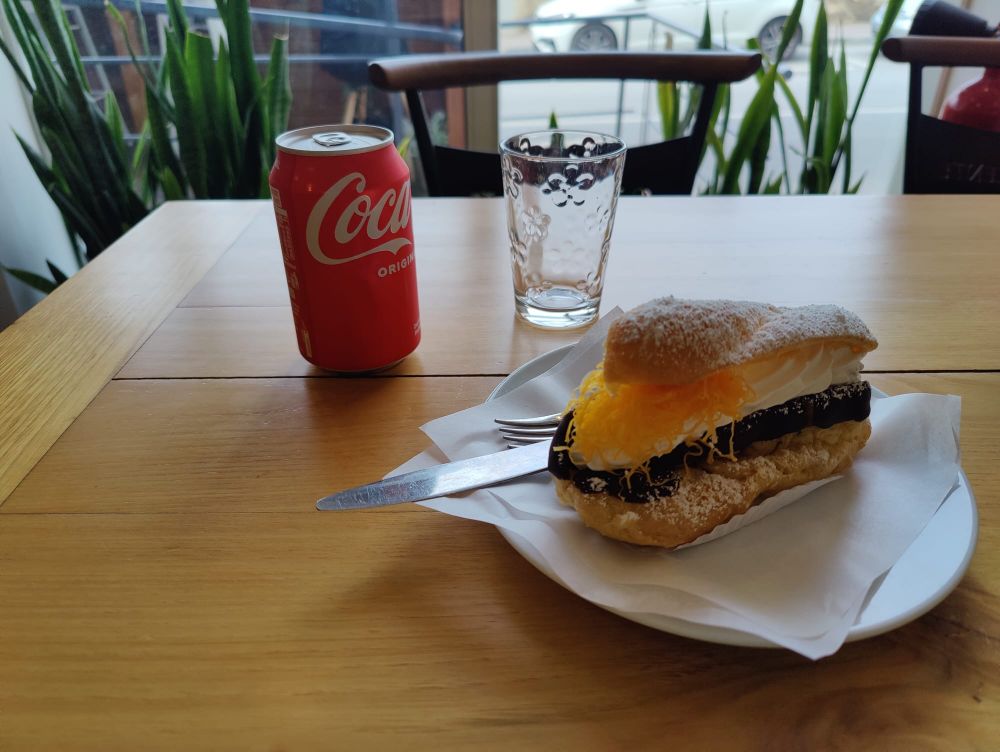 Helena & Hubby Hammock Time
Helena Hammock Heaven!
I hope the ancient fig tree and this cheapo Lidl hammock holds my bulk of a weight because if not I'm crash landing onto my chickens below and it won't be a pretty sight (ha ha). Best purchase ever especially as I have no coccyx. So much more comfy than a hard upcycled garden pallet sofa.
The added bonus is I have tons of huge green figs literally inches from my cake hole, I'm just waiting for them to ripen then their all mine, every single last one, finders keepers, losers weepers (ha ha).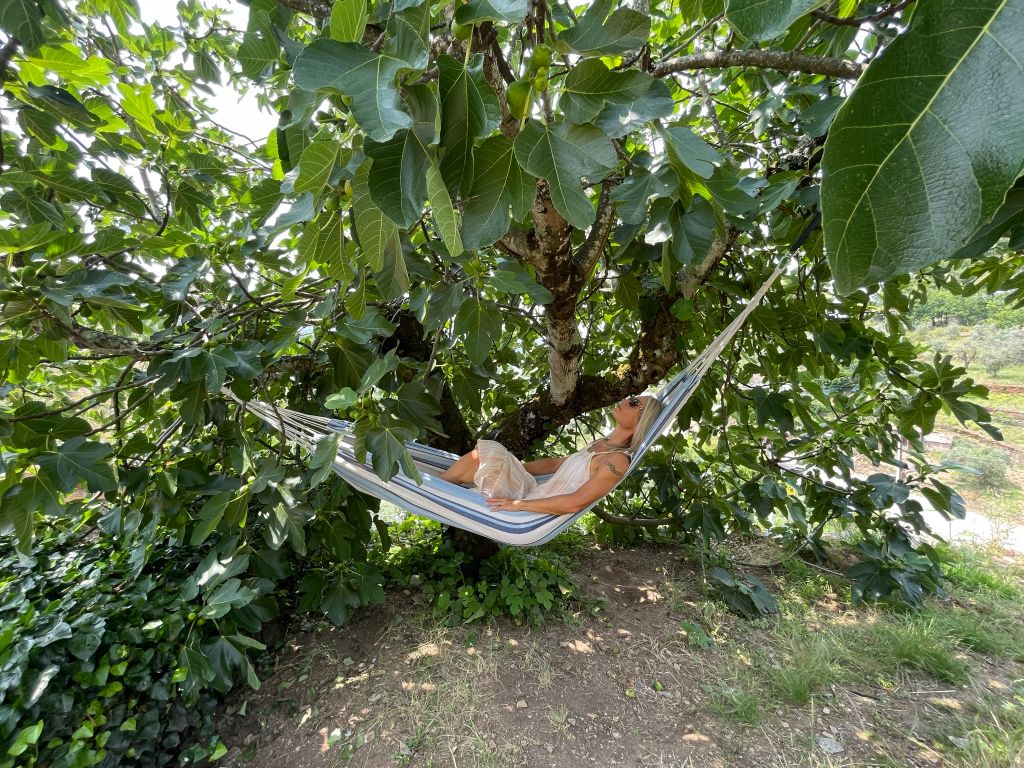 Take care of your body. It's the only place you have to live!