TRILHO DAS CASCATAS (VILA DE REI PR1 VLR)
I had originally planned to embark on this trail on Christmas Day but the weather forecast is not looking too promising for the upcoming Christmas week, rain is predicted so we decided to move our trip forward whilst the sun is still shining and it's 15c. I don't hike in the rain or directly after heavy rainfall as areas become way too slippery for me and I can't risk another fall and visit to hospital. I found this amazing hidden paradise, a 10 km circular Trail of Waterfalls in Vila de Rei, Castelo Branco. It follows a route alongside the Ribeira do Lavadouro, Ribeira do Vale Feito and Ribeira da Vila which are idyllically embedded in deep valleys surrounded by epic cliffs. Nature has generously endowed this path with the formation of several smaller waterfalls in it's rocky valleys with magnificent landscapes. The journey from our casa took 1 hr and 50 mins and is 109 km drive each way. I was super excited to visit Vila de Rei as I have never visited this area before and it is located right next to the Geodesic Center of Portugal. Also I found that by taking a different route which only added on a couple of km and a few minutes that we could visit the Christmas market in Espinhal and also view the incredible Presépio which just so happens to exit via my favourite cafe: Aromáticas so we enjoyed a tasty breakfast of a bacon bap and a much needed caffeine fix before our hike.
Espinhal Presépio
The Presépio is an inside extravaganza and reminded me of my dad's old model railway set he used to have stashed away in his loft. There was an entrance fee of €3 per person which initially I thought was a little steep in price but it includes other attractions with the entrance fee such as the Presépio in Penela, a local museum and a discount on entrance to the Magic Castle what ever that is. Unfortunately we could not visit any of the others as we wanted to embark on our hike by 12:00. I loved the detail of the models and some of the characters made me laugh, especially the orchestra conductor who looks a lot like Postman Pat (ha ha). If you LOVE a Presépio as much as me then check out my post titled: Portuguese Presépio 2021.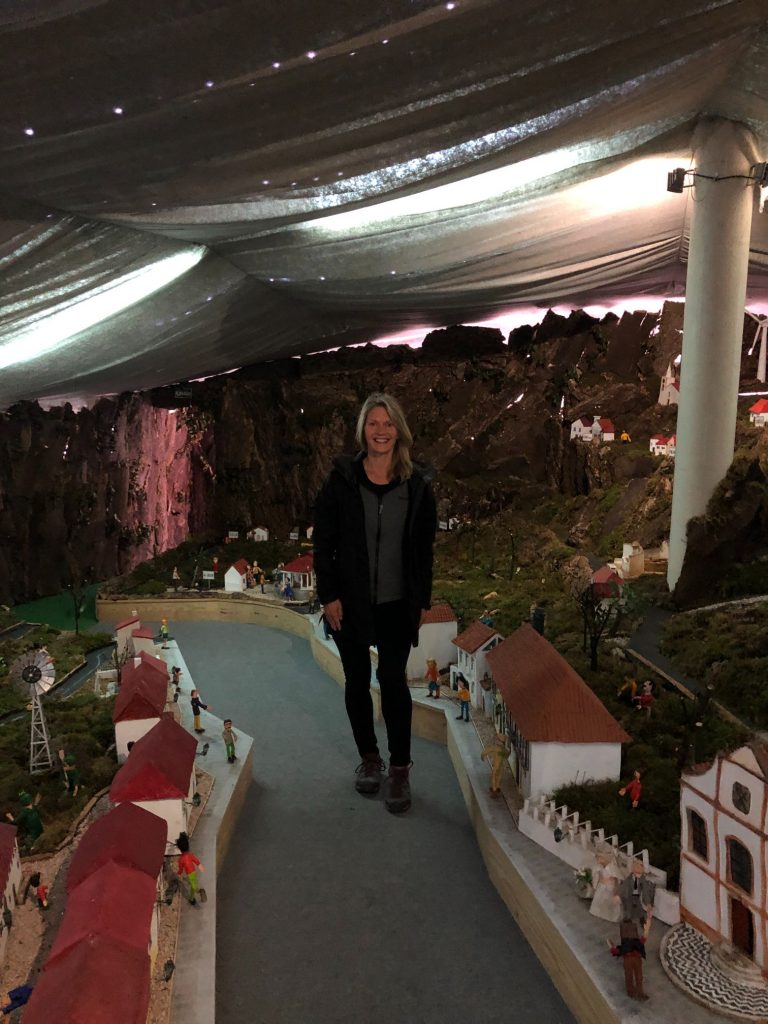 Aromáticas Cafe
We exited the Presépio via Aromaticas cafe so just had to stop for a bacon bap and caffeine fix, much needed fuel for our long hike. Hubby bought a slice of Bolo Rei (King Cake) for his picnic.
Vila de Rei Presépio
Next to the Municipal Market you will find yet another fantastic nativity scene. What made me laugh about this one was the fact that the angel appears to be an avid football fan. Religion and Football, what a mix (ha ha).
Festive Forest Fitness
The trail starts at the Municipal Market in Vila de Rei. It is well sign posted and we embarked on the trail counter-clockwise. We headed up the hill and met a super friendly Portuguese man who was working in a cafe. He must have overheard us debating which way to go and came outside with a map for us, how kind. After hiking through the cobbled streets and tarmacked roads of Vila de Rei we passed by the Vila de Rei football stadium onto a dirt track and through a fabulous eucalyptus grove. Then we hiked through a splendid magical forest with narrower paths bursting full of wild strawberry, cork oak trees and on through a pine and eucalyptus forest. The start of the trail up to about 4 km is an easy hike with no major difficulties. At this point hubby realised that he had left his King Cake in the back seat of the car. He was very sad but it would be a well deserved award and something to look forward to at the end of the day.
We got to experience many spectacular smaller waterfalls and water courses surrounded by lush green vegetation which form idyllic crystal clear rock pools at the bottom. The landscapes, rocky valleys and leafy forests en route are simply divine and it was such a relaxing and peaceful adventure. Each little waterfall had it's unique charm and we saw many different species of fauna and flora. There are 2 main waterfalls on the route. Cascata do Escalvadoiro (also known as the Cascata da Bicarola) and the Cascata dos Poios but the multiple smaller water features and pools are equally impressive to view. There are also several water mill ruins, wooden bridges and quaint historic villages where you feel lost in time.
Tricky Terrain and Challenging Climbs
Be prepared to cross several small streams and depending on which time of year you visit also be prepared to get your feet a little wet. Beware that at certain times of the year the small streams can flood making it extremely dangerous. I was pleased that there are not large km of dirt track which I often find dull, a lot of the course is hiking over rocky ground which can become slippery. Other areas are through forests with overgrown vegetation and fallen trees that I love to climb over or limbo under, it feels like I am a true adventurer and explorer. The route is very well signposted and I would class this trail as moderate difficulty with quite a few tricky more challenging/high difficulty sections. The ascent after the Poios waterfall is demanding and there is a safety rope to assist you. When you see a safety rope you know it's going to be a difficult climb (ha ha). This trail also takes you through villages, mines and you cross a few main roads which reconnect you with the nature trail. You will climb rocky cliff sides and hike over mounds covered with heavenly heather. I would not recommend this trail for small children or pets unless you dislike them and want to risk losing them off the side of a cliff forever. Here is just one example of a little stream we had to cross.
The hard path is often the right one
Tips for crossing streams – I don't have any tips or waders (ha ha). My technique is to wear decent sturdy hiking shoes/boots, grab onto hubby for stability with the possibility of taking him down hard with me if I fall. I go either really slow and tentatively or fast like a cheetah depending on the factors like how much caffeine I have consumed, oh and I also pray hard.
Cascata do Escalvadouro – The best view comes after the hardest climb
After crossing the Ribeira do Lavadouro, the first waterfall we meet is Cascata do Escalvadouro and we get an awesome birds eye view from above which made me quite dizzy. There is a little water mill (ruins) at the top to explore which was intriguing. Unfortunately there was a lack of water flowing which actually surprised me for mid December as I did not expect it to be so dry. Maybe it is more vigorous in Spring, a bit like me (ha ha). Despite the absence of a ferocious cascade it still had some water flowing and is a stunning sight. We clambered down to the base like mountain goats for a closer look. It's a fascinating beauty with huge rocky cliffs and a very majestic feeling.
Festive Jumping for Joy
We enjoyed a quick refreshment break here and decided to wear our santa hats and see who could jump in the air the highest without falling off the side of the cliff (ha ha). If you have read any of my earlier posts you will know that jumping in the air in the middle of nature is my daughter's simple pleasure. We are not as young or fit as her and I prefer to hug trees with 2 feet stable on the floor and grounded but we gave it a good shot, graceful I am not (ha ha). I got so involved in jumping in the air on this hike that I forgot to hug a tree! I know, I'm gutted as there was such a choice too. Oh well there will always be another hike and another tree whispering my name. Most of hubby's photos exposed his belly and he wouldn't let me post them on my blog (ha ha).
Santa Selfies
Hubby LOVES the last photo as our Santa hat bobbles are kissing (ha ha).
Following the river downstream
After chilling here for a while we followed the course of the Lavadouro river descending and viewed many smaller water cascades, pools, huge majestic cliffs and boulders. The setting is unique and astonishing. The trail starts to descend more over rocky cliffs and the area was very wet and slippery in parts. You need to cross a few small streams and we just about managed without getting our feet wet which was a bonus. I did slip at one point but was able to stabilise myself and not fall. I also went over on my ankle on the rocky terrain but luckily didn't hurt myself. I was super vigilant as I didn't want to fall and end up in hospital again with an injury. We were surprised by the views as the valley widens and there were more delightful natural pools which were sparkling and glistening in the winter sun.
We passed through the village of Paredes and over a small wooden bridge and viewed more rock pools surrounded by pretty ferns onto Cascata dos Poios. There are many orange trees and I persuaded hubby to steal me an orange (just one) to enjoy with my picnic lunch. He was reluctant at first but with some encouragement from me he completed the mission successfully. 
Cascatas dos Pois – Solitude and Nature
I loved this area so much, it was so cute with tall craggy cliffs, a quaint waterfall, smaller waterfalls, rock pools, watermill ruins and huge boulders all caressed by leafy ferns all different shades of greens and browns. We laid our picnic blanket on a huge boulder and ate our picnic lunch with our feet dangling off the edge. The lagoon at the bottom looked very inviting but way too chilly for a December dip. As usual we had the whole hike and place to ourselves so it was very romantic and peaceful, just the sound of nature and birds chirping away merrily. We continued on the narrow path to view the main waterfall. The path becomes narrower and rockier but there are ropes to assist.
Mr & Mrs Christmas
More Santa Selfies because it's very nearly Christmas. Hubby has a very stiff Santa hat, Yes I said HAT (ha ha). It has a mind of it's own and wants to stand upright to attention. Every time we folded the end over for the photos it popped back up again which we found hilarious (ha ha).
Crazy Craggy Cliffs
I adore the craggy cliffs and I love to stop and stare at their rough, uneven and jagged shape. Such beautiful landscape on this trail.
The Challenging Climb
After the waterfall the climb continues upwards towards the starting point of Vila de Rei. I would say this part is the hardest and most challenging part of the trail even for a person with a relatively high fitness level. There are metal safety ropes to assist and prevent near death thank goodness. I hung on for dear life and prayed a lot (ha ha)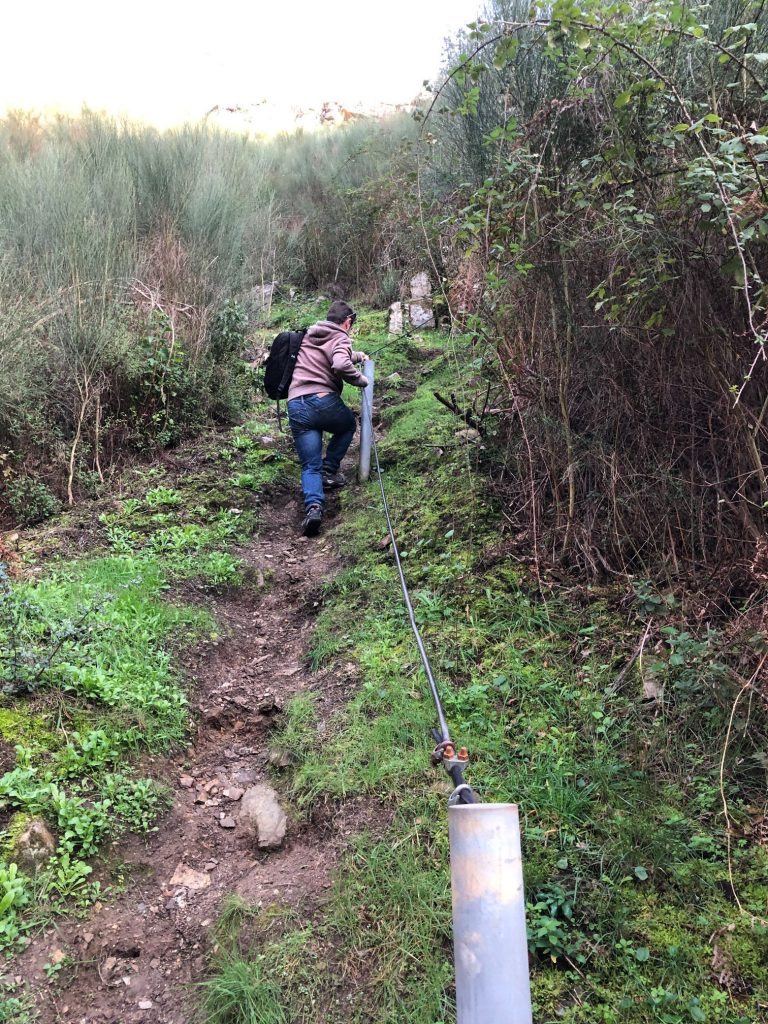 The End is in Sight – The Trail back to Vila de Rei
There are several more stunning water courses to view along the last stretch of the hike. I love how the trees have fallen and make shapes like crosses and arches, I call it Tree Art. There is also a fascinating flat rocky plain which is very different landscape than all our previous hikes. Such a variety of terrific terrain to view.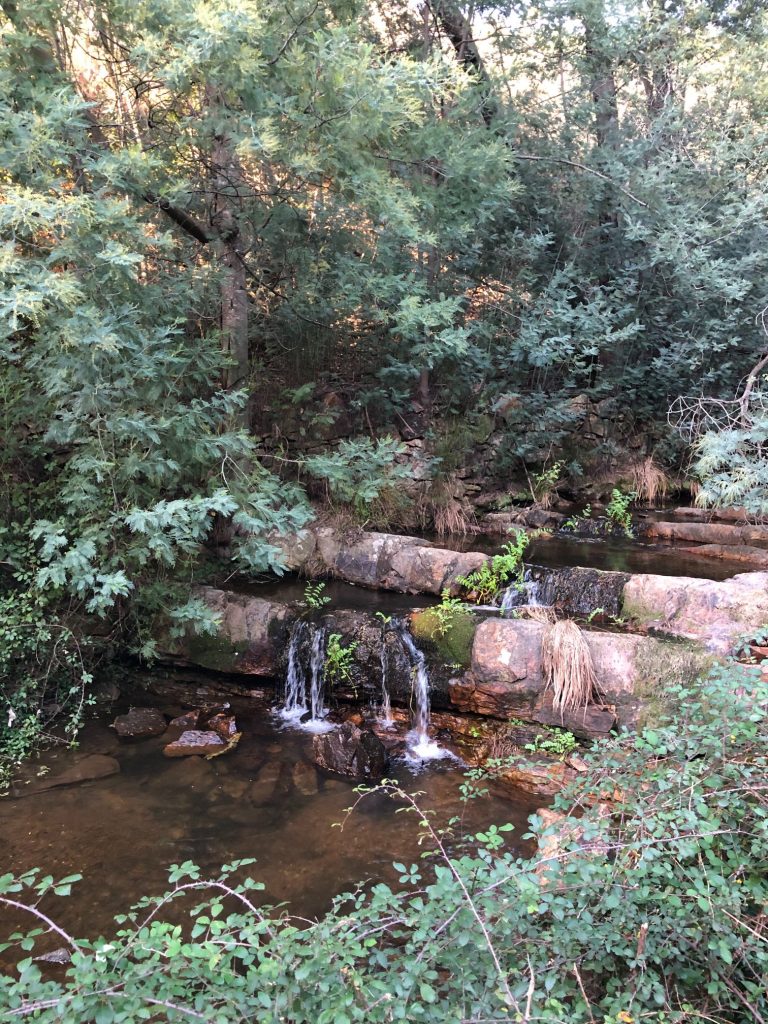 King Cake for my King
Hubby was delighted to be reunited with his Bolo de Rei. King cake for my King and he gave his queen the cherry on the top because he loves me (ha ha).
Overview
This really is a magnificent trail despite the limited water flow in the first fall. I LOVE water and everything about it so this trail was perfect for me. Each hiking trail is very different and I really enjoyed this trail due to it's wild natural ruggedness with picturesque valleys, a pure paradise. We headed off around 12:00 and arrived back at our car at 16:45 before it got dark. We hike at a fast speed but always stop for a refreshment break and for our picnic lunch. I don't like to rush the experience as I like to enjoy and savour each and every moment. I am so pleased I found this hiking trail as we had such a fantastic adventure. It was truly mesmerising and an awesome tranquil romantic experience shared with my soulmate. It's a shame we couldn't embark on this trail on Christmas day but the weather has now declined, it's raining as I type this post and as I said before I don't hike in the rain. I really didn't think we would be the only ones on this trail as it is so beautiful and it was a glorious sunny day. I love having whole hikes and magical places to ourselves. It just makes the experience very tranquil and special. Just the two of us having an adventure and the time of our lives. Hiking and climbing is a great way to challenge yourself physically and mentally. There is a purpose for that pain; you just can't always see it right away (ha ha).
My New Motto
I think my new motto is:
Coffee
Mountains
Adventure
Who wants to join me?
Happy Hiking Holidays!