A DAY TRIP TO PASSADIÇOS DO MONDEGO
I have been eagerly and patiently awaiting the final completion of the Passadiços do Mondego (Mondego Walkway), located in the municipality of Guarda, right in the heart of the Serra da Estrela Natural Park, a territory recognised by UNESCO as Geopark Estrela. I am delighted to announce it celebrated its grand opening on 6th November 2022 so we filled our backpacks with essentials, a picnic, plenty of water and set off for an awesome adventure in the sun. It was a beautiful day in November and perfect for a hike amongst raw nature. We have been experiencing a lot of rain in Central Portugal so we got very lucky to visit on such a glorious and sunny day. Despite its small size, Portugal is home to some of the most beautiful walkways in Europe!
GPS Coordinates
Videmonte:
40°30'39.9″N 7°23'00.8″W /40.511083, -7.383556
Caldeirão Dam:
40°31'52.4″N 7°19'48.8″W / 40.531222, -7.330222
Where to start the trail? (Routes)
There are 3 routes available:
Complete route: 12km, linear, medium difficulty, approximate duration of 4/5 hours. (Caldeirão Dam – Videmonde).
Family route: 2km, linear. (Videmonde – Weir of the Trinta).
Reduced mobility route: 2km, linear. Access from the Entrance of Vila Soeiro Central. Hydroelectric do Pateiro – First Suspension Bridge (Engenho do Pateiro).
The official website recommends that you start the trail at the Caldeirão Dam. I don't actually agree with this and think it would be better to start at Vidamonte. Personally I would explore the village of Vidamonte then drive the 1 km to the Vidamonte car park and commence from this end.

Information
The trail is open every day from 9:00 – 17:00 and there are car parks located at each end. You do not need to have completely finished the trail by 17:00 but the ticket office/information kiosks at the 3 entrances will close at this time. The walkways are not suitable for baby pushchairs and no animals are allowed. Entry is currently free but as from Jan 2023 there will be a €1 admission cost per adult. Although it is free, booking is mandatory so you must reserve tickets via the official website as there are a limited number of tickets available for each AM and PM daily session, I am assuming for safety reasons. You do not need to specify a time slot, just morning or afternoon. It gets dark earlier now so we like to be back in our car by 17:00 (ish) if we can as it's no fun hiking in the dark. Been there, done that, got the T.Shirt and nearly fell off a mountain top in the process! Our plan was to arrive at 11:00 so we could be easily finished by 17:30 which gave us 6 ½ hours to allow for breaks and photo opportunities. The trail is supposed to take 4-5 hours. We hike at a fast pace but always add on an extra 90 minutes to allow a snack break and lunch because I get low blood sugar without my regular food intake, I also get super hangry so hubby feeds me regularly, like a dog (ha ha). It didn't quite go to plan as I thought it was a 1 hour 30 min drive but in fact it took us 1 hour 45 mins as we got stuck behind slow moving vehicles and couldn't safely overtake for ages. We also had to get gas and didn't anticipate a big queue. We ended up arriving around 11:45 and had pre booked morning (AM) tickets. I think there are 3000 tickets for each session and the day I visited it appeared that 500 tickets had been reserved for the Saturday morning and 350 for the afternoon. This made me panic as I hate crowds and 99% of people (ha ha). I had nothing to worry about as although we did encounter a few other people on the trail, it never appeared busy, unsafe and was an epic tranquil experience.
Say it with a Slogan
I did get a little fed up with having to say "Boa Tarde" every time we passed others. This is such a Portuguese thing and everyone is so friendly so they always say "Boa Tarde" and then I feel rude not to return the kind gesture. I said to hubby that he needs to buy me a reversible T.Shirt with the slogan "Bom Dia" on the front and "Boa Tarde" on the back as I got fed up with saying it and on 2 occasions I swallowed a fly when I opened my mouth so I ended up just spluttering and spitting at strangers (ha ha). Hubby said he could buy me one of those flip reversible sequin T.Shirts that you run your hand down and the pattern/words change, that would be perfect because I love glittery and sparkly things. In hindsight I think he just wants to run his hands down my breasts, god knows why as I don't really have any. Anything more than a handful is a waste anyway (ha ha). The most important thing to factor into your trip is that the route is linear and long so there will be many greetings to random people.
Refuel, Release & Hydrate (The all Important Caffeine & Toilet Facilities)
We didn't venture into the car park at the Caldeirão Dam entrance because we assumed that it was full to capacity as several cars were already parked along the main roadside so I have no idea if there is a cafe or toilets at this end but the website says there is a cafe and toilets at the 2 main starting points. I saw toilets at the middle access point of Vila Soeiro and some more next to the Ribas Mill. I didn't see a cafe at the Videmonte end point but it was getting dark, I was tired and I'm blind as a bat so that doesn't mean there isn't one. Both villages of Trinta and Vidamonte had water fountains, cafes and toilets too and lastly we spotted a little cafe next to the Medieval Mizarela Bridge.
The Route
If you are embarking on the full trail then you have 2 options for starting points. We started at the Caldeirão Dam entrance as this was recommended on the official website. I am not sure why as I can't see it being any easier a hike as there are steep steps at either end. We parked on the main road and took a leisurely stroll down to the dam. There are staff at the entrances to scan your ticket on your phone. The path runs along River Mondego and two tributaries, Ribeiro do Barrocal and Rio Caldeirão, covering about 12 km, with 7 km over wooden walkways (a total of seven different sections). I was expecting really steep walkways with hundreds of steps like the Paiva Walkway in Arouca but a majority of the walkway is flat with inclines (steps) at either end near the entrances/exits. Although the wooden walkway is almost all flat the parts of the trail that are non walkway are not. There are some averagely steep areas to climb. The trail covers the Parishes of Videmonte, Maçainhas, Meios, Aldeia Viçosa and the Parish unions of Trinta e Corujeira and Mizarela, Pero Soares and Vila Soeiro. Visitors have access to unique places and there is so much to see en route including 2 giant waterfalls including the Ribeiro dos Barrocais waterfalls, the Caldeirão waterfall where the waters crash into a steep abyss, displaying a pink hue, 3 suspension bridges, 2 bridges (including the medieval Mizarela stone bridge), Roman roads, breathtaking viewpoints, 4 historical mountain villages, mills, old woollen, weaving and electricity factories.
Safety & Sustainability
The popularity of the passadiços is evident all over the country and they are designed to interfere as little as possible with the surrounding environment and ecosystem. Standards of sustainability are respected in order to allow access to unique landscapes which would have previously been inaccessible. The topic of the Passadiços in Portugal is controversial and I know there are some folk that dislike the installation of wooden walkways as they feel it is a huge waste of money and that it destroys nature, wildlife and the environment. Everyone has the right to an opinion and in all honesty I much prefer a hike in the heart of a forest at ground level where I have the opportunity to exercise in solitude without another soul in sight, amongst wildlife which are touching distance not that I can touch any as squirrels run like Usain Bolt (ha ha). It's entertaining and a great workout to clamber over fallen trees and hoist myself up cliff sides hanging onto safety ropes for dear life, jumping over streams via stepping stones and getting covered in mud as I find it all part of the fun. During summer the forests provide me with much needed shade from the towering trees and in Autumn and Winter time I love nothing more than running through huge piles of crunchy leaves, experiencing different terrain underfoot and admiring all the forest fungi up close. I like to touch and feel everything around me. Thousands of descendants tramping through forests can also destroy land and habitats and often in adverse weather trees can fall making some routes impossible to pass though and dangerous especially during winter time when streams can flood. Lazy people also leave rubbish behind in forests and plastic can be damaging and life threatening to wildlife. They also break rules and use disposable BBQ's which could result in a potential fire risk. A lot of the areas where the passadiços are built are vast land that would be impossible to hike through so otherwise inaccessible without the walkways.
Walkways offer a spectacular aerial view and they allow people to enjoy and learn about the native fauna and flora and provide the opportunity to bring people together. It allows people to experience the natural environment which would otherwise be inaccessible for a lot of people e.g. Those with mobility difficulties, this walkway offers a much shorter adapted version of the route which is fabulous. They are also a safe option as this walkway has full mobile network coverage along the whole route, which ensures communication and security to the fullest extent so I felt safe in the knowledge that if we were to have an accident or need assistance help would be on hand. This is a worry when we hike through remote mountains as we often have lost phone signals. Lets not forget that tourism hugely helps the economy from the high number of visitors who arrive and descend on the small rural villages and spend money in the cafes, restaurants, bakeries and stores. People will fall in love with the mountains and invest in property breathing life into forgotten villages. This new venture brings hope to a vast area which was tragically destroyed by the recent brutal forest fires.
Wooden walkways can become very slippery in wet weather so caution is needed. I wouldn't hike on a walkway during the heat of summer as there is often little protection from the sun as there are no trees for shade. I also find that the walkways are punishing on one's legs. I consider myself to have a reasonable level of fitness but after over 6 km of wooden walkways which includes a lot of steps my thighs turn into jelly and I walk like John Wayne for 3 days afterwards (ha ha). Imagine doing step aerobics for 4-5 hours solid! It certainly pumps the heart and is a whole body workout. I find it works completely different muscles than my usual hiking and my regular 7 km local jogging route near my home. My overall feelings about wooden walkways are mixed and I can see both sides of the argument. The moral of the story is if you don't agree with the walkways then it's simple, don't visit. No one is putting a gun to your head and making you walk the planks, freedom of choice is a marvellous thing.
The Big Dilemma
The route is linear which resulted in a big debate. I was reluctant and did not relish the thought of hiking 12 km each way as my maximum hikes are usually no more than 10-12 km and I much prefer ones that are around 7 km. After a lot of brain storming I came up with 5 solutions:
Complete the 12 km walkway then find the main road and walk a shorter 8 km back to our car.
As above but we try our best to thumb a lift/hitch ride back along the main road without getting abducted or murdered in the process (ha ha).
We take hubby's bike in the car and lock it up at the end of the 12 km route and we drive back to the start and after our 12 km hike he cycles back to the car and drives back to pick me up whilst I sit on my fat ass eating cake. This option looks promising indeed!
Book a taxi – The official website has info on transfers and taxi companies with telephone numbers. Will they be able to understand my poor Portuguese language skills, probably not!
Car share with someone so we have a car at each end but we have no friends. I'm not sure why as I'm hilarious and a bundle of joy (ha ha). I don't fancy this option as I like to hike alone just with hubby and go at our own pace and i have a sense of Helen humour that is like marmite so you either love or hate me (ha ha).
On the day of our hike we still had not secured a final plan which is very unlike me as I'm the queen of planning and like a firm fixed plan and routine. We kind of just set off and decided to see what time we finished and would make up our indecisive minds up later on.
Miradouro do Mocho Real (Viewpoint)
Our starting point was the Caldeirão Dam (a concrete arched dam) located in Ribeira do Caldeirão. The first attraction was the amazing Miradouro do Mocho Real (Viewpoint). There are steep stone steps to reach the top and it's a small detour before you enter the wooden walkway but so very worth it as the far stretching views are breathtaking. The Mocho Real Viewpoint is one of the many geosites of Geopark Estrela, which already has UNESCO recognition and is a territory full of contrasts and unforgettable places. This famous and well-known viewpoint also serves to promote direct contact with the natural, geological and geomorphological heritage of this beautiful region of the interior of Portugal. The view from the top is very surreal and the most equisite scenery ever recorded, over the Caldeirão Dam and the surrounding hills. The perfect combination of water, botany and rocks is remarkable and worthy of the short steep climb. The viewpoint, which is 700 meters high, is made up of granitic rocks and offers an excellent view of the Mondego valley, the Caldeirão waterfall and the dam with the same name. You can also see the cultivated fields, which give a harmonious tone to the landscape, and the villages of Vila Soeiro and Mizarela. I was fascinated with the view of the Caldeirão gorge, several verticle schist and granite rock formations resulting from the erosive action of the water.
I saw a few people already struggling with the steps and one lady didn't make it to the top. It amazes me how folk arrive very unprepared and inappropriately dressed in white fashion trainers and bizarre clothing for a hike. I did think to myself, if she's struggling now 2 minutes in, god help her in 5 hours (ha ha). After the viewpoint we started our adventure along the wooden walkway. There are a few steep downward steps and you follow the path which leads you to the wonderful Caldeirão Waterfall.
Cascata da Ribiera do Caldeirão (Cauldron Waterfall)
Also known as Cascata Rosa, it is a glorious waterfall of about 50 metres in height. A magical place of unique beauty, given its difficult access (until the construction of the walkways). This natural wonder is known to few and some even call it the "best kept secret of Pêro Soares". The mixture of pink and orange tones is due to oxidation and sulphides, highlighted by the action of water on the rocks. It is the biggest waterfall you will find along the way. Wow what a magnificent sight! It is powerful, gigantic and almost secret waterfall, formed by the waters of Ribeira do Caldeirão that rush down steep cliffs, in a dance of colours and melodies. Certainly one of the many hidden treasures of the Mondego. As a framework, the Caldeirão stream comprises a set of gorges, waterfalls and wells, with an extension of about 100 metres. The waters of this fall are projected into a large well called "Caldeirão" (Cauldron) about 19 metres deep and 20 metres wide. What a true natural monument of nature amongst untouched landscapes! Its unique beauty, peace and tranquillity is truly mesmerising. It was mind-blowing and an exciting sight so early on in our hike. We also followed a sign to a little forest oasis near the fall which was so picturesque and a perfect little haven.
Muddy & Mad
I overtook a bloke in white trainers and a formal pink (possibly salmon) dress shirt (ha ha). His teenage son was just as inappropriately dressed in white fashion trainers and getting a bit mad because he was getting them covered in mud. As I passed them and a gigantic puddle, I smiled and looked at hubby and he just read my mind and mouthed the words "No" whilst firmly shaking his head. He instantly read my mind and knew that I was very tempted to jump in the puddle and splash them head to toe in fabulous muddy nature (ha ha).
I am not going to walk you through our trail step by step so to speak as I don't want to ramble on too much and bore you to death so I will give you a little information on the villages and a fascinating legend then share my photo gallery as my photos speak for themselves.
Marvelous Mountain Villages
There are 4 villages which you can explore but the 12 km route does not take you directly through the villages. If you want to explore them as well as other attractions such as the Pateiro hydroelectric power station then you need to follow the signage which informs you the distance in km to each attraction. The first village we passed was Pero Soares close to the medieval Mizarela Bridge and Roman road. It was a 850 metre walk up a steep hill so we did not bother viewing this village as it wasn't one that was recommended on the official website. We decided to explore the other 3 villages: Soeiro, Trinta and Videmonte. We live very close to the Serra da Estrela in a tiny village and our casa is made from partial schist stone so you would think that we are bored of viewing quaint mountain villages by now. Wrong! I love exploring the mountain villages as it's like stepping back in time. All of them seem too tiny in the infinity of a globalised world, but they are full of the most friendliest, genuine and warm hearted people. The silence of raw nature is astounding and only broken by a chorus of barking dogs and lively cockerels. Their settings are natural and unique, everyone has something different to offer making a visit a truly overwhelming and emotional visit.
Soeiro
This village was my absolute favourite out of the three we visited. It was only a 250 metre detour up a steep hill as I was hot and sweaty Betty but I am so glad we made the effort. No one else appeared to take the detours to explore the villages, just us which made it more special as we had the places to ourselves. In the past this village was called Vila Soeiro da Serra and what is unique is the fact that it only has 40 inhabitants plus 2 crazy Brits on this day (ha ha). I loved this quaint and charming village with all the traditional architecture. What a perfect rustic, mountainous corner of the Serra da Estrela to explore. We found a church, a pretty water fountain, Junta de Freguesia, a fascinating bird mural and a community oven. We climbed the steps of the Igreja Paroquial de Vila Soeiro/Igreja de Santa Ana (Church) to the bell tower and pretended to ring the bell. We didn't risk actually ringing it out loud as some villages have a rule that when the bell is rung that means there is a fire so evacuate immediately and I didn't want 40 angry Portuguese locals chasing me down the hill with an axe (ha ha). We stumbled across the gorgeous Chapel of Saint Peter of Verona and it is set in a lush green scenic picnic park with striking views and delicate wild saffron growing everywhere. Purple is my favoutite colour. What a perfect little paradise. We stopped for our break and usual caffeine and sugar fix here. I found a unique "Eira de Fora" (Threshing floor) which is used separate grain from the chaff at harvest time. I even found some profound village graffiti on the wall as usual.
Trinta
Trinta has about 410 inhabitants and is a 1 km detour all uphill! I kind of regretted our decision halfway up the hill (ha ha). We exited the same route as we entered back down the 1000 metre trail then a bit further along we saw another sign that said Trinta 800 metres so there is clearly a different exit from Trinta or if you started the trail from Vidamonte then you would see this sign first and shave 400 metres off the journey. Oh well, I need all the exercise I can get at my ripe old age and I practically ran with speed down that forest dirt track exiting the village because I consumed an espresso and caffeine always gives me energy to dance, run and frolic in the forest (ha ha). The village belongs to the "Mountain Villages" which are a group of villages that are located between the Serra da Estrela Natural Park and the protected landscape of Serra da Gardunha. Trinta was the first village in the Guarda district to have electricity and was an important hub in the textile and wool industry, where 7 working factories once weaved their magic. Wool memories are still alive in this welcoming village and these were the lands where "Cobertor de Papa" (Blankets) were spun from the fleece of native long wool sheep breeds. Papa blankets are documented since the mid 16th Century and they are used to this day by many shepherds of Guarda. The population of this mountain village preserves its roots and organises parties in honour of its past culture. Today, times are different (the textile factories have closed, and few shepherds remain in the village) but the village insists on preserving its origins, promoting initiatives such as the "Jornadas da Lã" (Wool Days) in June where the old steel scissors return to the streets to the herd shearing festival that celebrates the old-fashioned ways.
This village has several churches including: Igreja Matriz dos Trinta, The Chapel of Senhora das Candeias, The Chapel of Senhora do Soito and The Chapel of Espírito Santo. In all honesty I wasn't that impressed with this village. It did not have the traditional charm of Soeiro but it did have several big, large chained up barking dogs and I saw at least half a dozen dogs freely roaming the streets, one was very aggressive and wanted to kill me which is rare as usually I meet the friendliest doggies on my hikes. I tried the door of one church because if they are open we always have a little look inside to light a candle and say a quick prayer. Unfortunately all the churches were closed on this day so we didn't get the chance to see the marvellous interiors which is a shame. We enjoyed our picnic lunch in the pretty courtyard/garden of the Igreja dos Trinta then we found a cafe for my caffeine fix and a lady pee pee. This toilet was special as it needed a key to unlock the door then obviously I got stuck inside as usual. The toilet was not special and I think they locked it because someone did a stinky dump and that aroma deserved to be hidden away behind lock and key (ha ha). I really do dislike public toilets with a passion, it's a tricky combination trying to pee whilst holding my breath so I've decided, I'd rather pee in nature. At least it had a toilet seat and toilet paper. I spotted 3 cafes in total but only 1 looked open. I have no idea why this village is named "Thirty". My guess is it's because you get chased by 30 angry stray dogs, remember to bring some sausages in your pocket or brush up on your running skills (ha ha).
Videmonte
Videmonte has about 480 inhabitants and is located about 22 km from the city of Guarda. It's one of the highest in the country, reaching an average altitude of about 1000 metres and marked by the geodesic landmark of Cabeça Alta. The houses here are made from traditional shale and granite. Vidamonte is a Parish known for its bread and it even holds an annual bread festival "Pão Nosso" where you can mingle and dance with the locals whilst sampling the delicacies of the land such as olive oil, meat, cheese from Serra da Estrela and the famous bread which is made from rye. It is one of the locations in Guarda with the most active community of breadmakers and is also known for its cultivation of chestnuts and potatoes. We ended our trail in this mountain village. This was not probably our best life decision (ha ha). It was 17:30 when we finished the trail and I assumed that Videmonte was close to the end entrance but it wasn't. The official website mentions this village and a river beach. We quickly established that the river beach is 6 km away and the village is 1 km and in the opposite direction to our car! I was a bit sad as I wanted to check out the River Beach of Quinta da Taberna.
The crazy brits decided to walk the 1 km to view the final third village because Helen has to see everything or she feels she might be missing out. It was getting dark by the time we reached Videmonte and guess what? It was all uphill of course (ha ha). The village looks nice and I liked it better than Trinta but we obviously couldn't explore too much in the dark. I found the wonderful Baroque style Mother Church of Videmonte also known as Igreja de São João Baptista and some more interesting artwork (mural). We had a little wonder then decided we had better head back towards our car. Our plan was to walk back to the car park and try to hitch a lift with some other folk but it was really dark as it was now 18:30. I didn't think it was appropriate to beg someone for a lift as there were hardly any cars in the car park and people feel more vulnerable at night. I didn't want a stranger thinking we are mad mass murderers. If it were still daylight I might have chanced my luck. We decided to start walking along the main road which would have been a further 8 km and take us another 90 minutes. It was getting a bit dangerous as we were in dark clothing so I was utterly relieved when a friendly taxi driver stopped. It already had a young Portuguese couple as passengers so we ended up sharing the ride back to the dam and splitting the cost. The journey would have cost €16 so it only cost us €8 but we gave €10.
Vidamonte – The Legend
I love Portuguese legends because they are always a bit bonkers, a bit like me (ha ha). This village has a fascinating legend. The origin of the name Videmonte is due to an old popular legend: There were two distinct places – Vide and Monte, not far from each other. In Monte lived a nobleman who went to mass at Vide every Sunday. On a certain summer day, a plague of giant ants attacked the population of Vide, even killing some children. Bejesus how big were these giant ants? (ha ha). For their protection, the inhabitants of Vide took refuge in Monte, where the nobleman lived and it was thus, from the merging of the two words, that the term Videmonte emerged. Until 24th October 1855, Videmonte belonged to the municipality of Linhares, but due to its extinction, on that date, it became part of the municipality of Guarda.
Photo Gallery – The Story via Photos
I am sharing my photo gallery in the order that we took the trail so you can see the different terrains and tourist attractions en route, step by step. As I said I'm not going to write about each individual place but I did take a photo of every sign post and information board so you can see the names of different places we stopped at and if you have exceptional perfect eyesight you may be able to read some of the information boards, good luck with that (ha ha). I think my photo gallery tells the epic story of our crazy shenanigans one photo at a time. Let the story commence.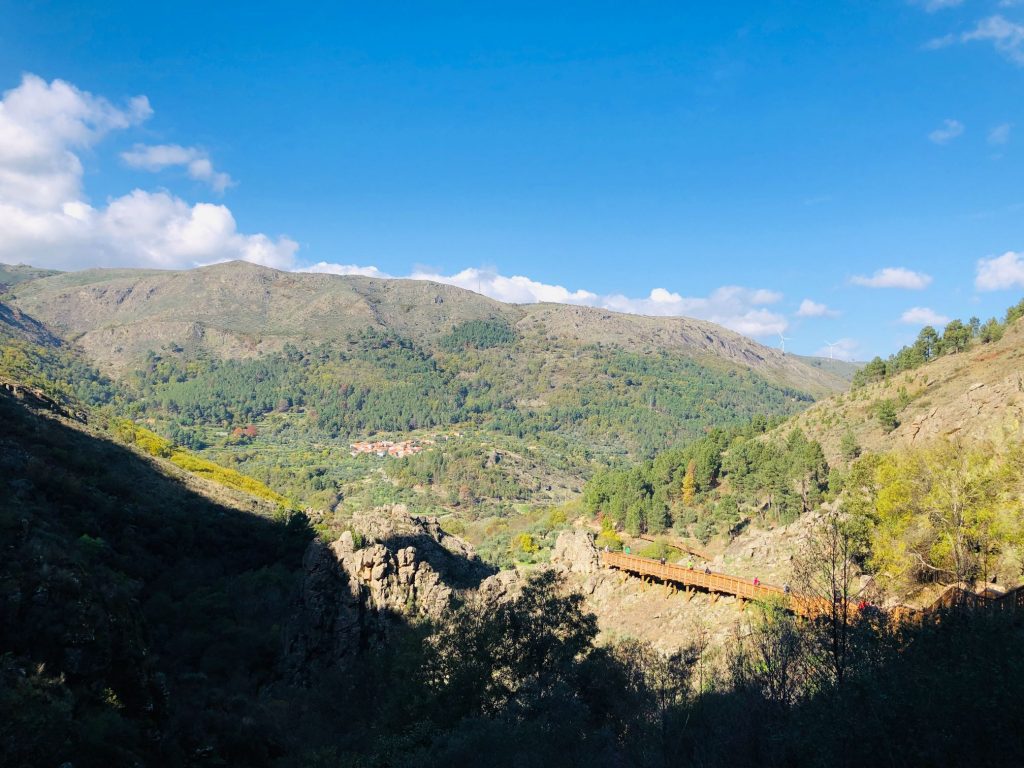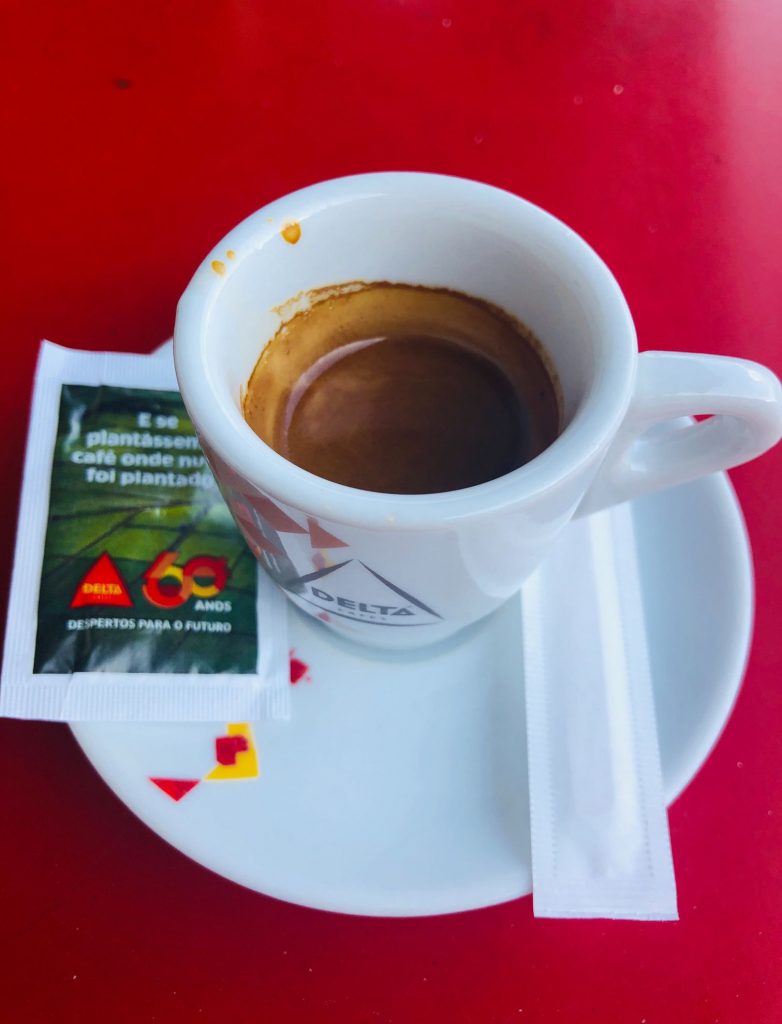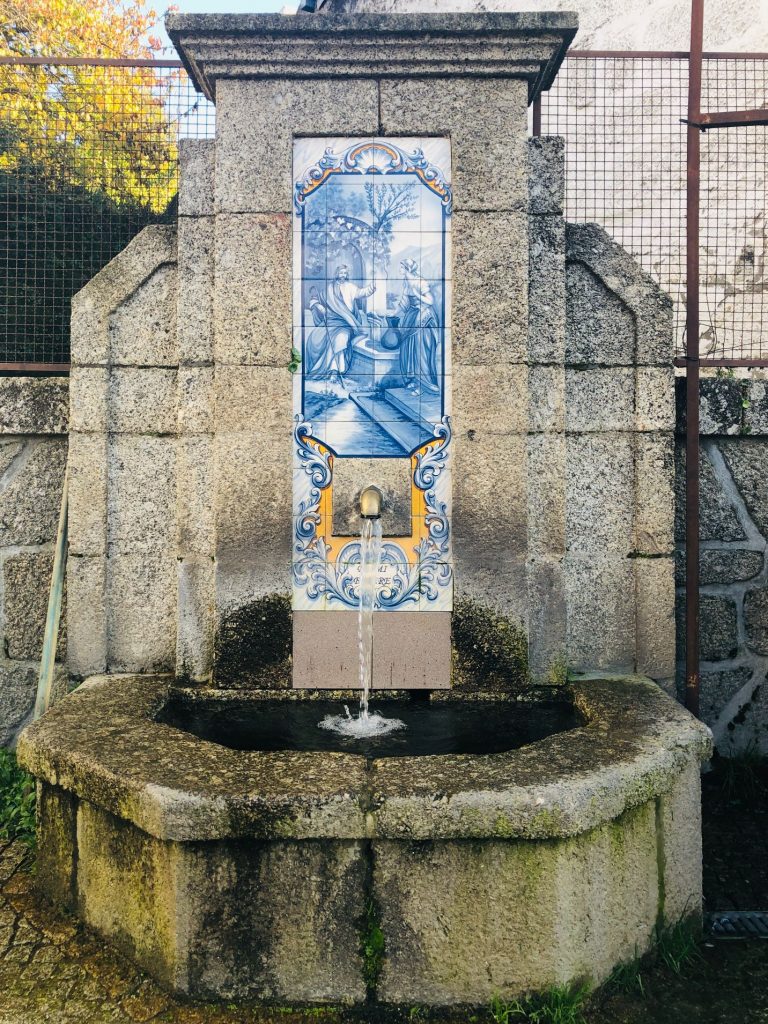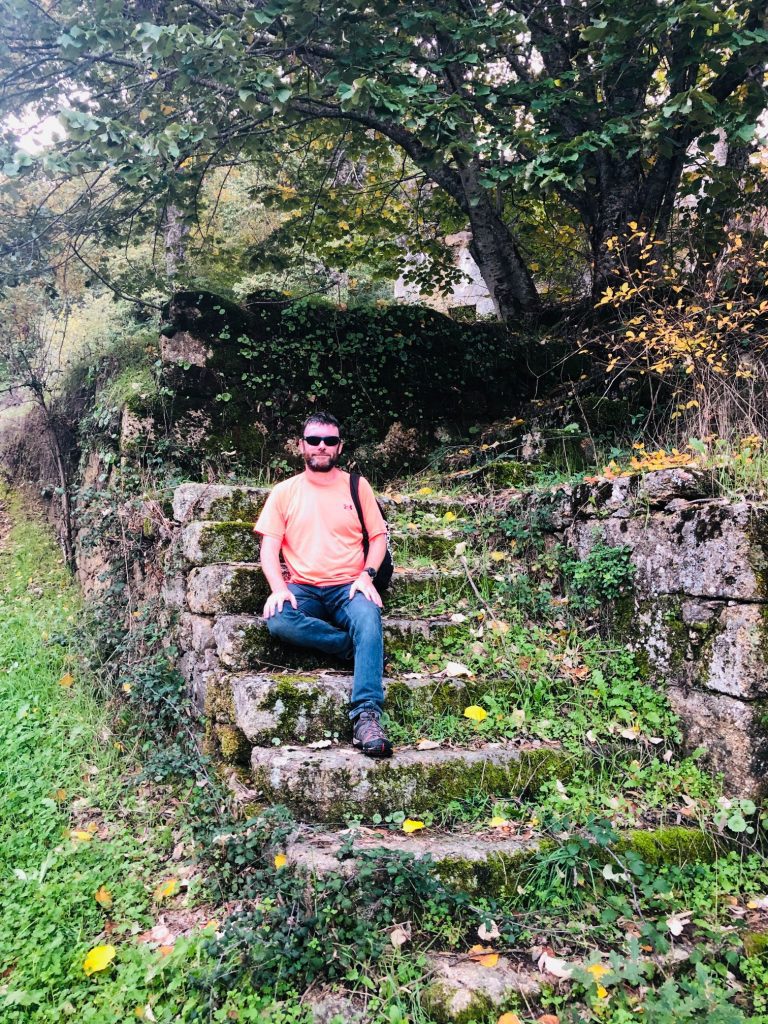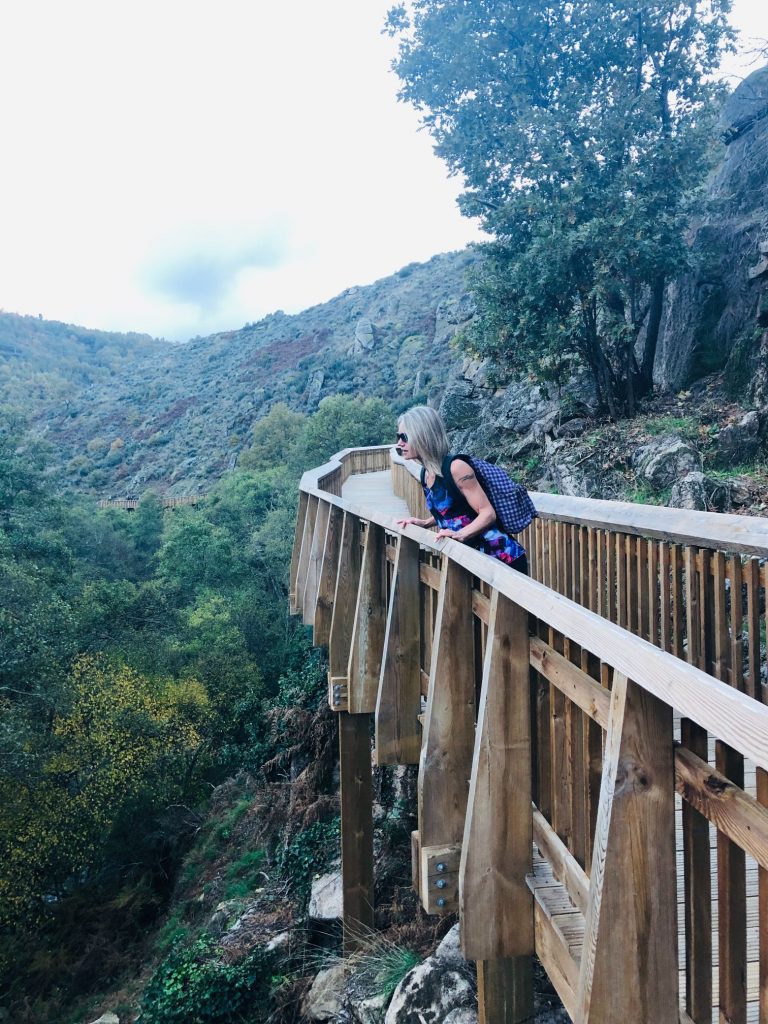 Minor Negatives
No rubbish bins.
I didn't see any SOS telephones en route.
Official website is a bit misleading as it does not make it clear that the villages are off route or if this extra km is included in the 12 km total, it's not! It portrays that you pass through the villages but you don't. It also is very misleading as it mentions the river beach in Vidamonte and one would assume that you end at a river beach but it's a further 6 km away from the end car park.
Limited shade, in my opinion it's not advisable to hike in the heat of summer.
Linear and long – You need to arrange transport back to your car as it's linear and there are not enough hours of daylight in Autumn to walk both ways if you can't start until 9:00. This results in a taxi journey back to your car unless you have friends and can car share. We don't have friends as we are Billy no mates (ha ha). Factor in €16 for a taxi or in our case €8, €10 with a small tip as shared the journey with strangers.
Donkey Devastation
From viewing other peoples photos I can clearly see that somewhere along the route I missed the opportunity of getting up close and personal with a donkey! I am gutted and I want my money back, oh I didn't pay a cent so I can't obtain a refund. I love donkeys and my dream is to rescue a couple so somehow I would have squeezed him into my Citroen Xsara. Hubby said we could have rode him back to our car like Mary and Joseph on their way to Jerusalem. I feel the donkey's legs might have buckled after 8km of my fat ass on his back, he probably would have performed a vigorous buckaroo and catapulted me off the mountain edge never to be seen for an eternity (ha ha).
Overview
We arrived home around 20:30 and hiked a whopping 23 km in total! Hubby had to carry me to bed and bring me a large coffee with a side of Pão do Lo (ha ha). He then cooked me dinner, he's a keeper! I really enjoyed this trail and it was a refreshing change from our regular PR hikes. I loved the fact that it wasn't all wooden walkway and part of the trail is through forest areas at ground level. The trail is rich in biodiversity with the pure and clear waters of the Mondego river surrounded by alders, ash and willows. We were shocked to see some folk just entering the pathway from the Vidamonte as we were just finishing as it was 17:30 and starting to get dark. It seemed like a crazy idea to me and I really think there should be some form of secure gate to lock people out after hours as I know that some folk were venturing on the walkway and hiking part of the route before it was even finished. Patience is a virtue, as my mother always said.
Is it as impressive as The Paiva Walkway? In my opinion, a big fat NO. Mainly because the Paiva has the incredible 516 bridge but also for me personally I loved the fact that at the Paiva Walkway you can safely access the river for a quick dip although saying that I'm still traumatised from witnessing the middle aged German naturists bathing naked with their teenage children, the dad dropped his towel and bent over to retrieve it right in front of me and I didn't know where to look! Some things are etched in your mind and you can't unsee them (ha ha). I also nearly drowned at the mid way river beach and hubby had to jump in fully clothed and save me (ha ha). There are river beaches directly along the route at Paiva and at each end, you don't get this luxury at the Mondego Walkway. Putting all this aside we did have a total blast and as well as the Alva river the Mondego is my most local river so it holds a special place in my heart as we have paddle boarded on this scenic river many times and have such fond memories. It is the fifth longest river in Portugal, born in the middle of Serra da Estrela, in a place known as Mondeguinho, Mangualde da Serra in the Municipality of Gouveia, at an altitude of about 1525 metres. It has a length of approximately 258 km and crosses three districts and passes through important towns and cities such as Penacova, Celorico, Nelas and Coimbra, flowing into the Atlantic Ocean, near the city of Figueira da Foz which is our nearest coastal beach area.
The landscapes of the Mondego Valley are staggering and I am always amazed at the sight of the walkway in the distance zig-zagging down the lush green hills. This trail was truly a journey through biology, geology, archeology, history and nature, there was so much flora and fauna to see and admire. It was an unmissable and unforgettable experience. I loved hiking along the pathway and viewing all the Autumn scenery and far stretching landscapes. My favourite parts were walking over the suspension bridges like Lara Croft on a mission, the glorious Waterfalls, The Mocho Real and Alto Mondego Viewpoints and the many Geosites. There are several rocky formations of unusual shapes and we spent a lot of time here as the different granite rocks resembled wild animals. I especially loved the dynamic aerial views over the mill stream with crumbling ruins of over a dozen mills. I even got to "Jump for Joy" on my very first Passadiços, Teanna will be elated (ha ha). We also had a lot of fun exploring the ruins of the Century old ruins of the Morocco Factory and the New Factory which originally had 6 looms. The mural of the bird surrounded by green vegetation and creeping ivy was a spectacular sight. The trail is classed as moderate difficulty and we found it easy with no major challenges. It was a delightful, fascinating day learning all about the Geosites and the Portuguese culture and history of the textile industry. Another crazy Saturday Soulmate adventure in this beautiful country. What are you waiting for? Feel the beauty that can be found in nature.