A DAY TRIP TO FRAGAS DE SÃO SIMÃO
On the 1st May we ventured out on our first proper day trip of 2021. I was so excited to eventually leave our home and explore new areas of a beautiful country I now call home. Fragas de São Simão is situated on the banks of Ribeira de Alge, in the municipality of Figueiró dos Vinhos and a 1 hour 25 min drive each way from our casa. I absolutely adore nature and river beaches so this place is such a perfect day escape for me. We are no longer in the state of emergency but state of calamity with eased restrictions so we made the most of our rare trip out. I really enjoy road trips with hubby especially killing time with my made up car journey games, the fun is endless!
You can drive and park close to both the river beach and the viewpoint but we decided to park just outside of the schist village of Casal de São Simão and take the linear PR1 FVN pathway trail through the village, onto the river beach and end up at the viewpoint. There are 27 schist villages in Central Portugal and they are amazing to have a wander through, it's like stepping back in time. I often imagine how the residents feel with us tourists descending on their little villages. The route is about 2.5K one way and once you pass through the village just follow the trail signs and it will take you through the bottom of the gorge, river beach and onto the wooden pathway and viewpoint. The route took us about 1 hr to walk because I kept stopping to admire the beautiful scenery. The pathway takes you through steep slopes and valleys including the remnants of Laurissilva. There is plenty to see on the hike including old ruins and a water mill which I adore.
Casal de São Simão
Fragas de São Simão
The river beach has a BBQ area and toilets (which were closed) as it's not currently the river beach season and way to cold to take a dip unless you are super brave. The river beach is very tranquil with a cute foot bridge and many trees including cork and laurel. The clear waters were gushing at a fast speed over the rugged rocks. I can imagine it getting very busy in high season as there are not that many places to sit. We took some time to rest here on the rocks and take in all the beauty, sounds and aromas. Such a pretty place to slow down, unwind and embrace nature. It's a great habitat for animals and wildlife to thrive in. The best part of our trip was that we only saw about 12 other people on the whole trek. I was very surprised as it was a Saturday. Most of the people we saw were wearing face masks too which made me feel a little better about my safety and Covid. It was super easy to social distance which reduced my anxiety about having a fun day out.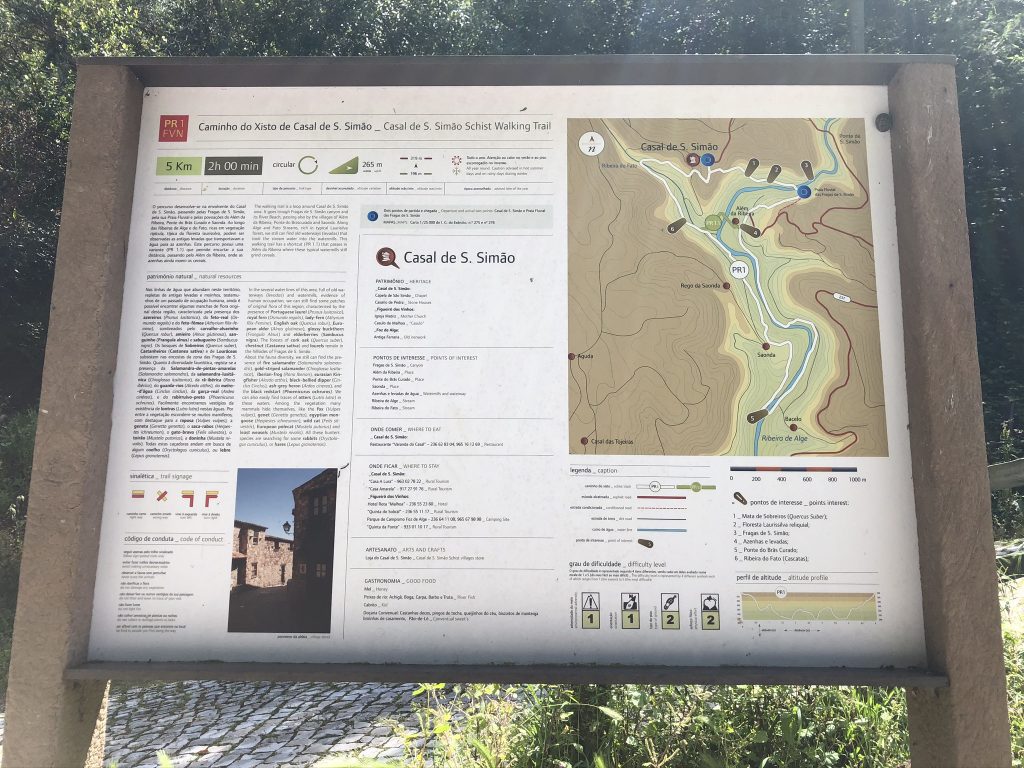 Wonderful wooden pathways & Viewpoint
If you don't know anything about the wooden pathways of Portugal, I suggest you use google to have a browse. They are called Passadiços and being built all over Portugal. The most famous one I know about is the Paiva Walkway (Passadiços do Paiva) Pathway in the middle of the river Paiva which is in the munincipal of Arouca. It's a 8K linear route and it extends from the river beaches of Areinho and Espiunca. Also lying between them is the Vau beach. There is also a Geopark and the 516 Suspension Bridge which has just opened. It is the largest pedestrian suspension bridge in the world, 516 meters in length, and an elevation of 175 meters, it connects the banks of the Paiva River. I can't wait to visit to witness the breathtaking views over Garganta do Paiva and Cascata das Aguieiras, both geosites of the UNESCO Arouca Geopark territory. I am not amazing with heights and my balance is poor but I have been preparing myself for this mission by climbing and fixing multiple roofs on our old casa. I think it will be the most frightening 10 minute journey of my life but what an experience!
I have a bit of a mixed feeling about these Wooden Pathways. On the one hand I feel they are great for people who are unable to climb rugged terrain so for example children and people with reduced mobility who are able to walk on flat stable ground underfoot and can negotiate steps but can't walk on rougher ground maybe due to balance or poor eye sight. On the other hand, I personally prefer to walk through the natural countryside with forest environment and quite like a tree branch whipping me in the face, screaming at every twig which is a snake until proved otherwise and having to jump over fallen trees from forest fires like I am a champion hurdler in a race. It does make me wonder how much the wooden pathways cost and could a simple clearance pathway be made for a fraction of the cost with some simple signage within the woodland by clearing some bush. I do like the fact that there are easy access parking points near some of the main attractions like the viewpoint and river beach. The wooden pathways are also much safer for children and the elderly as it's so easy to trip in a forest setting with so many obstacles underfoot. Just one trip and fall on uneven ground could result in a medical emergency. I myself have had so many close to death experiences on hiking trails and have nearly ended up at the bottom of a cliff as I am so accident prone and clumsy!
This trail was easy so all levels of average fitness could access it. You also don't need walking boots for this trail, trainers or sensible footwear will suffice. I really liked the fact that there is disabled access at the viewpoint with a ramp. Hubby's sons have CP and are wheelchair bound so when they visit we can still take them to places of interest for them to view the spectacular sights. I do often find that these car parks are full of lazy people who just drive from car park to car park but who am I to judge! I have an invisible disabilty which is not easy identified just by looking at me so these people may also experience something similar. If you are able bodied I suggest putting on solid footwear and get out there and walk the routes as you miss so much by just driving to the main attractions. There is so much to see and often it's the non main tourist attractions which bring me the most joy. The little quirky things which catch my eye like the art work on a rock which I would not have seen if I hadn't veered off the pathway and gone exploring.
Perfect pictoresque picnic
We took the return journey and stopped for a picnic. Just outside of the schist village you will see an old chapel (Capela de Casal de São Simão). Here you will find another part of the wooden pathway which takes you to another viewpoint area. This area gives a great view of the main wooden pathway from a distance and is worth climbing a few more steps if your thighs will still work. We found a stunning secluded spot by huge rocks to enjoy our picnic. I discovered some artwork on a huge rock! It was very surreal to sit so high up with our private picnic. The views of the Serra da Lousã mountains are out of this world. The weather was just perfect not too hot with a decent amount of breeze.
Figueiró do Vinhos
After our picnic we decided to take a short 15 min drive to the nearby town of Figueiró do Vinhos, stopping off at an Intermarche supermarket on the way for a well awaited toilet break. We visited the historic Santa Luzia confectionery shop which dates back to 1540 and had a wander around the town to view the fountain, churches and garden park.
The oldest Swinger in town
We finally decided to drive a further 25 minutes onto Lousã, to visit the famous Lousã swing which did not dissapoint. I thought it would be crowded but there was only one other family there so it was very peaceful. Was I embarrassed that the other family consisted of a mum, dad with 3 small kids, hell Noooooooooooo! You only live once and I'm young at heart (ha ha). It was very windy as you are located so high up with magnificient views of the mountains. The swing is huge and there is just something really magical about swinging at the top of a mountain. It takes me back to my childhood in my grandparents garden where I would happily swing back and forth for what seemed like an eternity without a care in the world. It certainly is a unique experience and the views of Serra da Lousã were some of the best I have ever seen. So I guess that makes us official swingers (ha ha).
Windy Miller – I'm showing my age now! Anyone else remember Camberwick Green the British children's television series?
No windmills but there were lots of wind turbines which were fascinating to see right up close.
My hair – I look like the lead vocalist from the 1980's band A flock of Seaguls (ha ha), I told you it was windy.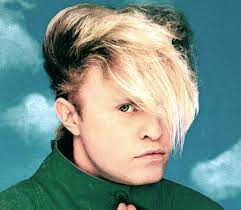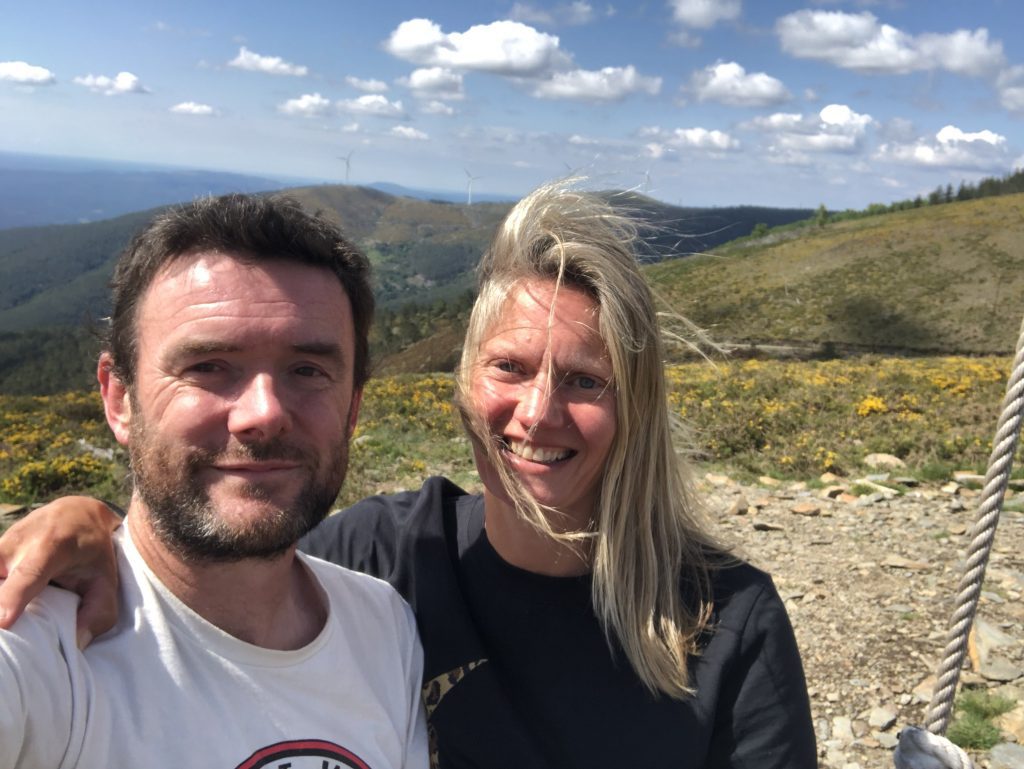 Cafe culture
A day trip wouldn't be a day trip without a visit to a traditional Portuguese cafe for coffee and cake. Absolutely delicious and we even managed a short conversation with the owner in Portuguese! Wonders may never cease (ha ha).
I didn't think the trail was that challenging but walking the wooden pathway uses different leg muscles as I struggled to walk the next day (ha ha). I wonder how I will walk after the 8K Arouca Pavia Walkway, 16K round trip! I will update you in due course, that is if I survive the 516 suspension bridge experience (ha ha).
Coordinates (To Fragas de São Simão river beach): 39.91491578772276, -8.31683476154572