RIBEIRA DE ARCOS HIKING TRAIL (PENACOVA PR4 PCV)
All Saints' Day fell on a Tuesday this year and hubby had a well deserved day off work so I planned an awesome hiking trip back to the paradise of Penacova just a 45 min drive from our casa. The PR4 PCV Ribeira de Arcos is a beautiful 13 km hike along the Arcos river which incorporates many points of interest including the Windmills of Aveleira and a spectacular tranquil waterfall. You can start this trail in 2 different places Foz do Caneiro or Aveleira but we chose Foz do Caneiro as with this route you get all the uphill out of the way first and on the way back it's mostly downhill. We parked our car on the roadside just metres from the Information Board (Signage). You start the trail by heading up some steep steps which lead you onto a forest trail alongside the river. It is a 13 km partial linear and circular route. The first 5 km of the trail is linear, then you complete a 3 km circular loop of Aveleira village to see the windmills, then you return back along the same linear woodland path.
GPS Coordinates:
40°14'07.5″N 8°19'24.9″W / 40.235405, -8.323571
Points of Interest:
Foz do Caneiro (Village)
Cascata (Waterfall)
Azenha Tradicional (Traditional Watermill)
Parque de Merendes de Aveleira (Aveleira Picnic Park)
Azenha Recuperada (Recovered Watermill & End of the Circular Section)
Moinhos da Aveleira Nascente (Windmills)
Moinhos da Aveleira Poente (Windmills)
Chasing Waterfalls
Less than a km into the trail and we were met with the sound of gushing water and discovered a beautiful flowing waterfall. This area is very serene and there is a cute wooden bench inscribed with the words "Onde a Natureza Vive" which translates to "Where Nature Lives", how cute! We found a random modern sun-lounger which made us laugh a lot. How it got here is a complete mystery but we took advantage of the pleasure. I had a banana incident here and somehow my fruit decided to form a large split and 75% of the banana had managed to squirt out of the small gap all over the contents of my backpack. Everything was saturated with mellow yellow banana stickiness and it was mildly annoying. This is the same backpack that previously experienced a similar incident with a tuna fish frittata and believe me when I say a bag stinking of banana is a whole different story and way more pleasant that a fishy affair! I really need to stop being so enthusiastic and limit my dancing and jumping up and down on these trails to stop future food failures (ha ha).
Onde a Natureza Vive (Where Nature Lives)
How cute is this bench?
Fruits of the Forest – The Trail
What an incredible trail through the leaf carpeted enchanted forest alongside the tranquil stream. From the minute we set foot on the trail we were met with glorious aromas, sounds and sights of pure nature including squirrels with the bushiest tails, frogs, bunnies and there were so many flowers and different varieties of fruits and food to forage, growing naturally in the middle of the forest: Grapes, Oranges, Chestnuts, Persimmon and even the vegetable Chayote (Chu-Chu). The grapes were small, seedy but so very sweet, a bit like hubby (ha ha). What amazed me the most was the Mushroom Art, such a vast species of magical mushrooms and I had way too much fun with the mushrooms that resembled titties (ha ha). We continued on the trail under canopies of trees and vines. We climbed over cute bridges, some wooden, others stone and past by several watermills. I was amazed to find a couple of random houses en route, in the middle of nowhere. Hubby asked if this would be remote enough living for me. To be honest I could very easily live in the middle of this isolated forest but I don't think we would be able to access the Internet which is needed for hubby's job. I declared to hubby that if I lived here I would grow my hair out grey and long, not bother with clothes and go naked to feel a greater connection with nature (ha ha). One thing for sure is we wouldn't ever starve to death with all the food to forage for free. The towering trees gave plenty of shade so this would be a perfect trail in the heat of summer. It is not advisable to tackle this route during the winter months as the river often floods making accessibility dangerous and virtually impossible. The forest linear route of this trail is breathtaking with tall trees, wild flowers and many archways where nature has taken over and vines have weaved their way up the structures morphing them into little colourful pergolas, how precious!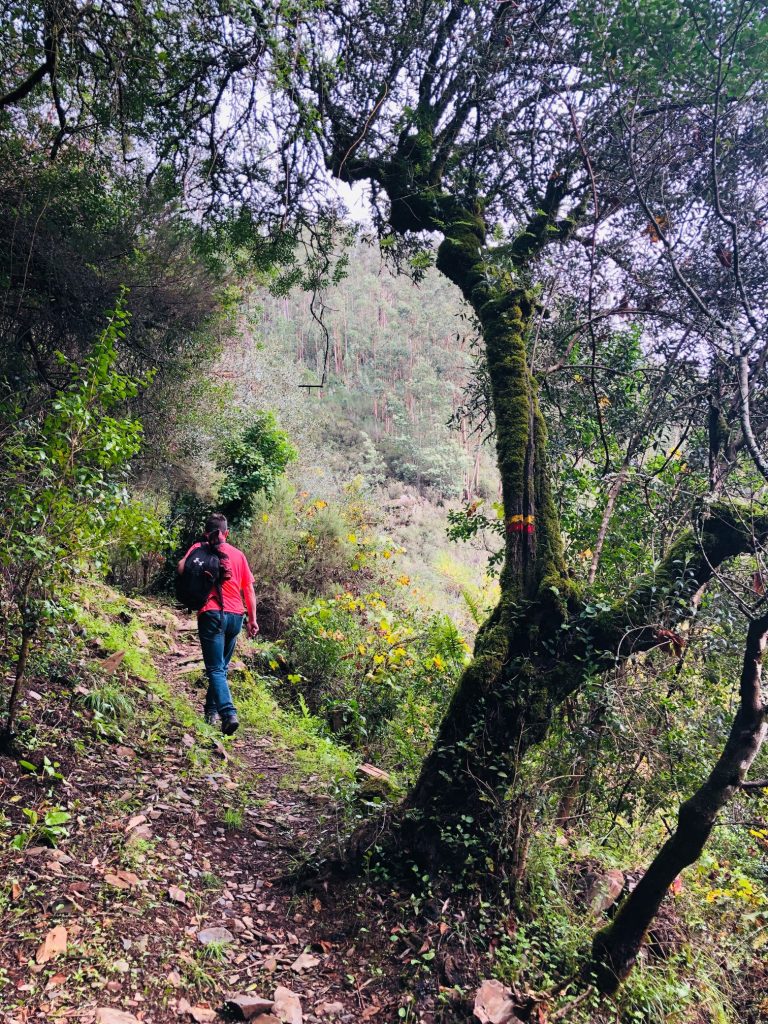 Breathe Good Air – Quirky Additions
You never really know what you will find in the middle of a forest. I loved the quirky additions and Penacova sign that we stumbled across next to a stream and mini waterfall. I found another sign "Tem Bom Ar" which translates to "Have Good Air". I am thinking "Breathe Good Air" might be a better phrase but often Portuguese sayings translate very weirdly into English. Penacova is known as the village "Where nature lives", where you "Breathe good air", a place that awaits you and where the river Mondego will guide you!
Yee-Haw
I found a random ladies boot! I would love to know the story behind it and how it got to be lost in the middle of a forest. I wonder where the other boot is? It's a shame it's not a pair as it looks like it would fit me and I'd love a pair of cowgirl boots to match my sexy cowgirl fancy dress costume complete with wig – "Yee-Haw" (ha ha).
Blissful Break Time – Parque de Merendas de Aveleira
After 5 km of uphill hiking which involved some muddy mountain goat climbing on all fours, I was delighted to eventually reach the pretty picnic park. By this point we were both a bit dirty from having to grab onto rocks and hoist ourselves up cliffs and rocks. A gigantic slug fell on my head which hubby found hilarious. I thought it was a leaf at first! The trail was moderately challenging in areas but it did have safety ropes in the more difficult to climb areas but they were wet and slippery. It got to a stage where I made hubby follow closely behind me so he could literally push my fat ass up the hill if I slipped, which was quite often due to all the recent rain and mini landslides where all the stones had dislodged and fallen. He is very irritating and kept on gently stroking my ass to annoy me which worked as I needed a pee pee so him stroking my butt with a light as a feather touch didn't help me or my menopausal pea sized bladder. I did warn him that I will get my own back and seek revenge at some point just when he is least expecting it. It may not be today but I will get my revenge. Who am I kidding, it had to be today otherwise my brain fog of a mind would forget so shortly after I successfully seeked my pay back by forcefully pelting him from behind with fallen oranges. I have quite a good aim despite being as blind as a bat (ha ha).
The linear part of this trail up to the picnic park is only about 5 km but it's all uphill via unstable stones and the terrain was very slippery and muddy from all the rain despite it being a glorious sunny day so this effort slowed us down and it took us 2 hours to reach this point. The picnic park was a bit neglected but in a good way as it was overgrown in some form of plant/weed which completely covered the whole floor like a blanket of magical bright jade green, sparkling in the sunlight. It was very picturesque and mystical looking but wading through it to reach the perfect picnic table made my feet and ankles wet and soggy. There is a municipal plaque, BBQ area, plenty of wooden picnic tables/benches, a water well and a toilet. We enjoyed our usual protein bar and caffeine fix here, traumatised ourselves by using the toilet then headed on our merry way.
The Dirty Picture
Don't get excited, it's not a saucy dirty picture of me naked, it's a dirty toilet (ha ha). I desperately needed a pee pee and was delighted to find a toilet at the picnic park. My enthusiasm and joy was short-lived. BeJesus! My OCD and fear of public toilets skyrocketed when I opened the door. One word: HORRENDOUS but thankfully it looked like mud and not poop. I am still emotionally scarred for life from seeing a human poop opposite the Livraria do Mondego beauty spot at the side of the IP3. Before you ask, yes it was definitely human and not a dog unless you know of an intelligent dog the size of a Great Dane who uses toilet paper and can wipe its own ass (ha ha). Nevermind IP3 (I pee free) someone had the audacity to take a cheeky poop at the side of a busy main road and didn't clean it up which is totally astonishing in my eyes. We named this toilet "The Poop Shack" which was a really bad idea as for the remainder of the trail I had the song "Love Shack" by the B-52's in my head on a loop but instead of the word "Love" I replaced it with "Poop" (ha ha).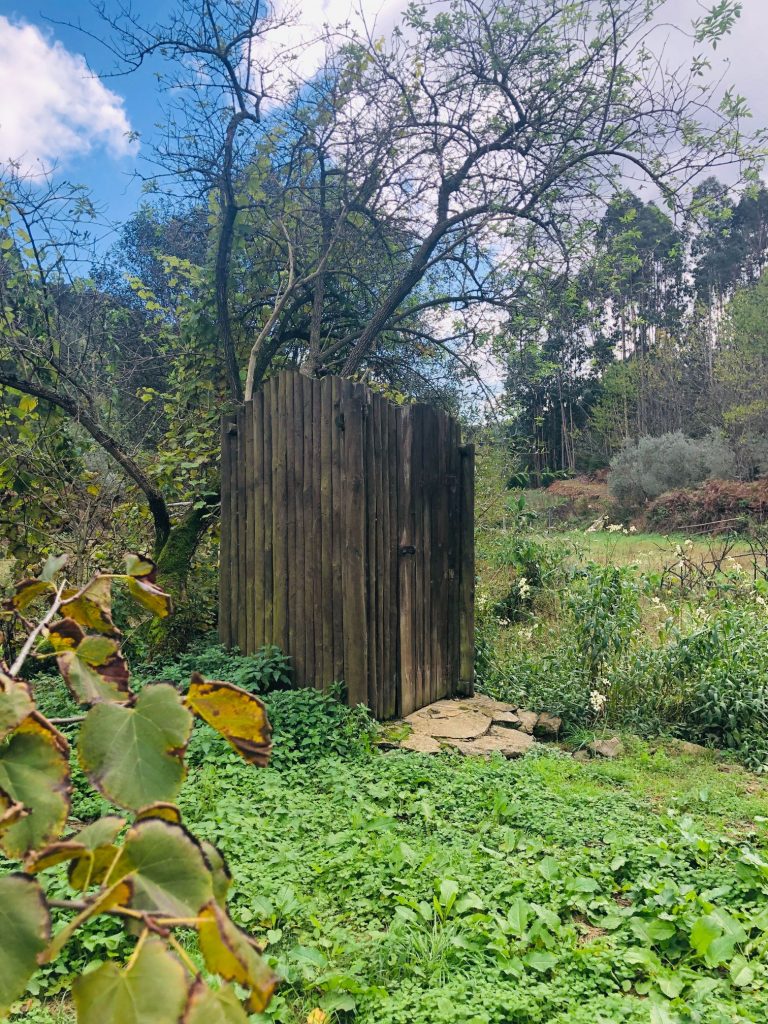 Camouflage Countryside
I was fascinated by this water resesvoir/pool which at first sight looked like grass or moss. I am surprised that I didn't try to walk on the water, like Jesus and encounter my 4th near death drowning experience in Portugal (ha ha).
Village People – Aveleira Village
After leaving the picnic park we headed towards Aveleira. There was a lovely church in this village but unfortunately I wasn't able to take a photo as there was a special needs teenager playing football with 2 smaller children right outside of the church and I didn't want to invade their privacy or take photos of other people's children. I did however find a friendly dog, I always find a doggie friend on my hikes. Rest assured, I didn't try to steal him or take him home like I usually do (ha ha).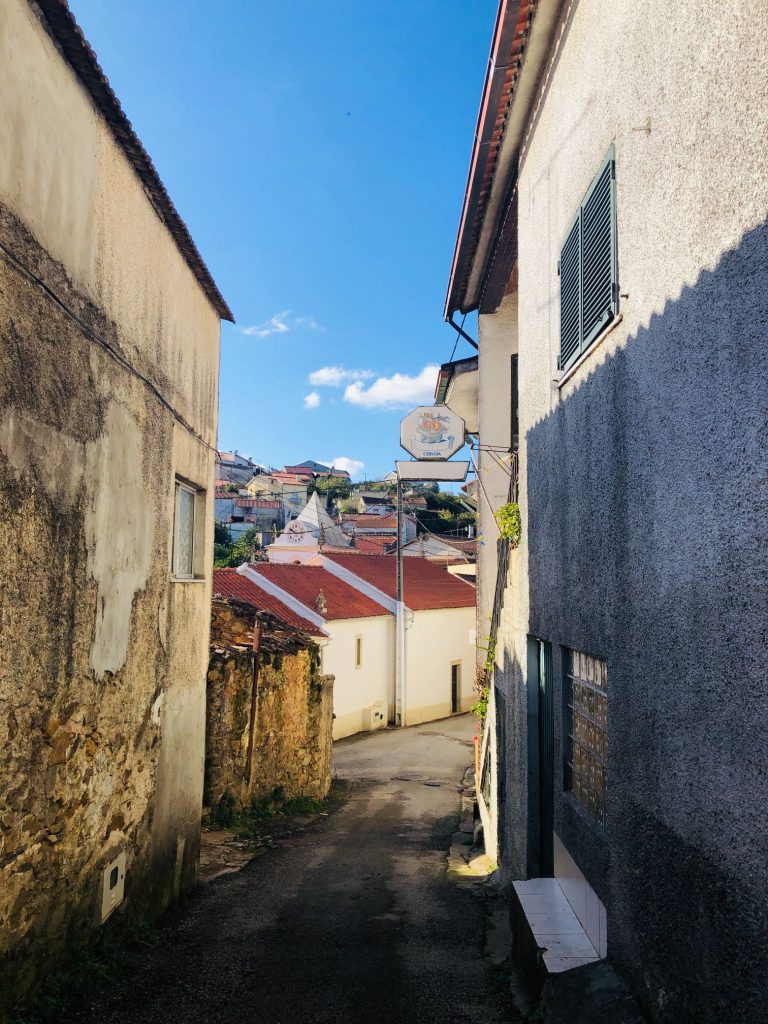 A Transition is on the Cards – Moinhos da Aveleira Nascente
We started the 3 km loop of the village which incorporates the 2 windmill sites. Both are much smaller sites than the mills we previously viewed and only have a handful of mills but they are still stunning and a magical sight to see up close. A few are made from concrete material with metal roofs but others appear much older and are in ruins. I fell in love with an old rusty red roofed mill with an utterly striking appearance that just oozes uniqueness and character. What made this windmill site special was the fact that it was surrounded by wild saffron. A femme fatale of the wild flower world, as beautiful as it is deadly. It is also known as the "Autumn crocus", a name it shares with the somewhat similar looking Crocus nudiflorus. However it's not actually a crocus. Meadow saffron contains the poison colchicine (scientific name Colchicum). Many foragers suffer fatalities as they confuse it for wild garlic. This wild flower is often called "Naked Ladies", possibly because no leaves adorn it when it blooms.
I found an eerie random tarot card on the floor. Hubby did a little research and apparently the card is the Six of Swords and symbolises "Transition". It represents overcoming obstacles and moving forward. The battle has been won and now is the time to relax, unwind, and recharge your batteries. I like the sound of that. Some folk say it might mean a house move so maybe I will get to live out my donkey dream after all. I hope it's going to be a positive transition and no evil spirit has put a scary spell on me for picking up a card from the floor and taking it home to attach to my fridge with magnets. It also could have been a whole lot worse as thank god it wasn't the devil card, death or the hanged man (ha ha). We found an interesting mill which had the initials M.V.S above the door. I have no clue as to what the initials stand for but my guess is "My Vagina Sexy" not "Smelly" (ha ha). It has cute little door bells either side so we obviously had to test them out.
Gorgeous Goats – Moinhos da Aveleira Poente
We continued on our hike and soon were met with the second set of mills. The highlight here was the gorgeous herd of goats, gatekeepers of the mills, how delightful! I ran around the field weaving in and out of the goats like a right nutter whilst hubby looked on from afar, slightly mortified and embarrassed to know me (ha ha). I don't like to see goats restricted and tied up on short ropes. I got the urge to set them free then run like the wind (ha ha). I don't understand why folk can't just put a fence up and let them roam to their heart's content or at least give them a longer leash. Then again maybe not as the old saying goes "Give them enough rope and they will hang themselves". Maybe short ropes are used as goats are great escapers and can jump higher than a basketball pro athlete. A lady I know had goats and they all escaped by jumping the fence and ran havoc in their small village. They visited a huge posh house and ate up the whole garden and did a dirty protest by rubbing goat shit all over their white walls of the house exterior. The owners were away on holiday and returned to chaos and a not so very white house, I wonder which goat became the scapegoat (ha ha). I bet the goat in question denied all knowledge then pretended to faint. If you haven't seen a fainting goat, Google it as it's hilarious. Fainting goats are bred for meat and milk, but some people keep these tipsy crazies as pets. They're less likely to escape than other goats, not necessarily because of the fainting, but because they aren't good at jumping or climbing (ha ha). There is an amazing renovated mill "Moinho de Ligeiro" which has a cute wooden door, shutter and name plaque. Outside the mill there is an impressive BBQ area complete with sink. Anyone got any British sausages in their backpack? I'm partial to a sausage or two (ha ha).
Round Two for a Poo, Deja Vu – Lunch Time at Parque de Merendas de Aveleira
I loved the toilet located in the picnic park so much that I decided to return for our lunch break (ha ha). I didn't actually need a poop just another old lady pee pee. We completed the Aveleira village loop and it was lunchtime so we decided to stop at the picnic park again for our well deserved lunch. It might be the same place but we chose a different picnic table to mix it up a bit as variety is the spice of life (ha ha). The orange that hubby foraged for me was very sour. I think it is too early in the season for oranges to be ripe and juicy. I was very disappointed especially as hubby strategically dangled over the river risking his life to pick it (ha ha). One thing I did notice was that some lazy folk had left rubbish behind including a broken wine glass and dirty nappies! I will spare you the nappy photos (I didn't actually take any) also, you may be eating whilst reading this (ha ha). I must admit I did not see a bin which is weird for a picnic park especially as there is a BBQ area. I got the inspiration and energy to litter pick and tidy up the area like a Womble as I really hate rubbish and waste, it gives me goosebumps as it's not only damaging to the environment but can also be harmful for the wildlife.
Wishing Well
After lunch hubby explored the little quaint water well and he wanted to pump some water into the rustic old bucket but unfortunately the well was padlocked closed. I think they knew Little Miss Helena was visiting and they didn't want her to fall down the well. Portugal do not have kangaroos as native animals so Skippy the Bush kangaroo wouldn't be able to save me. "What Skippy … Someone has fallen down the well!" (ha ha). We headed back along the linear part of the trail. I knew it would be quicker on the way back as we were not stopping for any photo opportunities and it is mostly down hill although sometimes this is worse as it's very slippery and god only knows how we didn't twist an ankle or fall over on the more challenging areas. The linear path back only took us 1 hr 15 mins this time which was good timing but we hiked at a fast pace because we didn't want to get lost in a dark forest also I had a coffee with my name on it waiting for me (ha ha).
The Head Through the Hole – Mr & Mrs Challenge of the Day
I love that there are holes cut in the middle of the picnic tables to allow trees to grow through. This table didn't have a tree so hubby set me a challenge to see if I could fit my head through the hole. I was up for the challenge initially until I saw the huge trunk of the tree which was partially blocking the hole and I knew it would just end in disaster if I tried to squeeze my fat head through the gap so close to the jagged tree trunk stump so I declined. I was gutted as the prize was a snickers bar and after my orange let down and my banana disaster I was hankering for something sweet.
Timber (Tree Down)
There were more than a few gigantic fallen trees, I share just a couple. I would not want to be in this forest when nature decided to crash them forcefully to the ground. I had visions of us turning a corner and the pathway being totally blocked. This has only happened to us once during a hike in Lousã but it's annoying as hell as you have no option but to abolish your hiking mission as safety comes first and often there is no possible way through unless you can grow wings and fly like a bird. I am multi talented but my flying skills are limited.
Mushroom Hunting
There were so many Autumn treasures (wild mushrooms) growing amongst the woodland on this trail, many different species, shapes and sizes. I had to stop and photograph them all because they literally are a work of art. I love the oyster mushrooms that grow on dead or dying hardwood trees, fallen branches and tree stumps. The ones that resemble feathers are gorgeous and so delicate looking, all dewy with raindrops on them, they just need a forest fairy perched on top. I don't eat mushrooms at home because hubby dislikes them and he is the master chef at Casa Valhal. I have tried telling him that mushrooms are important as they play a key role in our ecosystem and some fungi are capable of decomposing organic matter such as wood, contributing to nutrient cycling, providing food for animals and creating habitat diversity for many forest organisms. He said he gets their importance but he aint eating one in his lifetime (ha ha). One day I will go on an organised mushroom walk with an expert because I am intrigued to learn more about the different types and most importantly how to distinguish poisonous varieties. I reckon foraging for mushrooms would be the best form of mindfullness and so much fun.
I did a little research upon my return home and I discovered that some of the mushrooms I found looked very similar to the Parasol Mushroom, which is an edible mushroom found in woodland areas and very sought after because of its size. It is sometimes mistaken for the Shaggy Parasol or the False Parasol which is toxic, although the toxic varieties are supposedly rare in Europe and can be identified fairly easily if you know what you are doing, which I don't, so most likely will result in poisoning! So, because I value my life, I have decided to not forage for mushrooms and stick to oranges, grapes and chestnuts which are easily recognised (ha ha). I always carry hand sanitiser because I like to fondle a lot of things in the forest and then I eat a picnic with my hands so health and safety first, I never venture out on a hike without my vital supplies. There is a Mushroom Festival soon near Fundão and I'm tempted to go. I'm sure hubby will be delighted to spend one of his hard earned weekend days off work at a mushroom event. I could lie to him and tell him it's a beer fest or a nerdy cycling convention (ha ha). A popular saying among mushroom hunters is, "There are old mushroom hunters and there are bold mushroom hunters. There are no old, bold mushroom hunters!" (ha ha).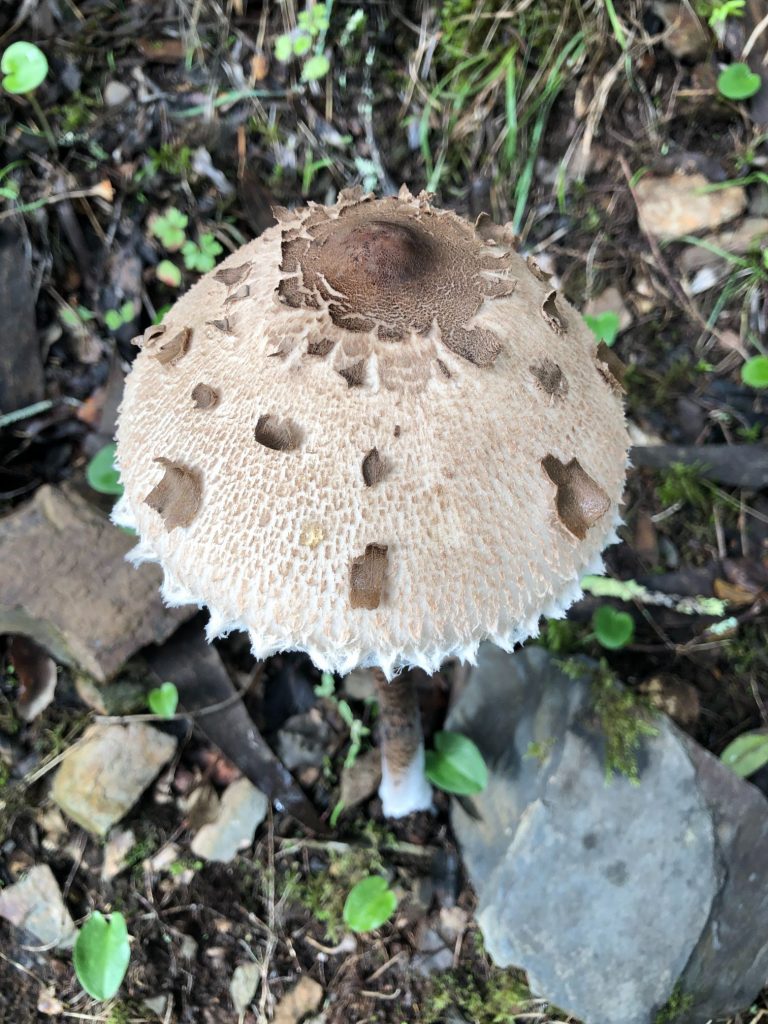 Tittie Mushrooms
I found so many gigantic mushrooms that resembled titties and I had way too much fun with them. Apologies for the way I look, I'm very dishevelled and wild looking as I found these tittie mushroom gems right at the end of the trail and I am all muddy and a hot mess. I have a huge fascination with mushrooms, not the magic variety! I don't need to go on any hallucinogenic trips as my hiking trip is enough adrenaline for my ripe old age.
Sight for Sore Eyes – Foz do Caneiro
I was very excited to see the little village of Foz do Caneiro in the distance perched on the hillside as my legs were tired and I was so ready for my double espresso shot of caffeine.
Run for your Life
Just as we arrived back at our car I noticed these wasp traps and was amazed at the sheer amount of them. It appears that there is a huge wasp nest in the rocks. This sent a shiver down my spine and I ran as fast as my stumpy sausage dog legs could take me back to the car. Although I love bees, I have a huge fear of the Asian hornet wasps.
Sugar Rush
Hubby knows I'm addicted to sugar and the following day he visited a local village store and sent me this photo. It is a gigantic bag of marshmallows, the special ones coated in sugar. The photo does not show it's actual huge size and it costs a whopping €8. They are called golf balls because each mallow is the size of a golf ball! I can't imagine the amount of calories the whole bag contains. I replied with a one word answer: "NO!" (ha ha). I was curious as to know the size or weight of the bag, hubby confirmed there were 125 marshmallows in the bag! My trusty calculator works out that each mallow costs 6.4 cents, that's quite a bargain. Maybe I need to reconsider my rash decision as I may have been too hasty and foolish (ha ha).
Overview
I loved this trail way more than I thought I would. My main aim today was to venture out and get some exercise as we have experienced quite a lot of rain recently. It was a lovely warm sunny day for the 1st November and I didn't expect the trail to be so heavenly. As it was a longer route I anticipated a couple of km of boring dirt track but there was a minimal amount which makes it so much more fun and a nicer experience. I have such a passion for forest therapy so I was in my element and happy place mentally. Whenever I am feeling overwhelmed which is not often I always say to hubby "Let's escape to the woods and pump our hearts". The forest inspires me and it's a place I can feel totally free and let go, nothing trumps the peace that nature transmits to us. Appreciating how wonderful nature is and how blessed we are to live in such a wonderful country is such a simple joy in life.
We have completed so many hikes now and I prefer the hikes when I am submerged right in the heart of the forest under the shade of the trees with the higher possibility of viewing the wonderful wildlife. I don't know why but my heart melts when I spot a squirrel or bunny rabbit, it's just too cute. Autumn is the perfect season to hike in Portugal. I loved all the forest fungi and autumn treasures we were constantly greeted with at every turn. Listening to the calming sound of the stream for a majority of the hike was soothing and there are many smaller water lagoons en route. Crossing all the quaint bridges and wooden walkways laced with pretty ferns was fun, there were even 2 little Mr & Mrs ladders to climb up in unison (ha ha). All the vibrant colours of the leaves, the crunching sounds underfoot and earthy scents were soul pleasing and made me very happy.
The trail is 13 km and the leaflet estimates it taking 5 hours and states it is at a high level of difficulty. As I have mentioned before this is because a lot of the trail is uphill through tricky terrain which slows you down considerably. Hubby stopped at a gas station on the way home and bought me a Snickers despite me forfeiting my earlier head through the hole challenge. Today was just what I needed after my recent tooth drama and on-going back pain as I'm still recovering from low energy and lack of motivation. I'm dedicated to my exercise regime but chronic pain occasionally sucks the life out of me. This hike lifted my spirits as there is nothing quite like a ramble through forests and idyllic aqua therapy to re-energise my mind, body and soul. Unlock the power of the forest.
The six best doctors: Sunshine, water, rest, air, exercise and diet – Buddha.