CELEBRATING MY 48TH BIRTHDAY: A DAY TRIP TO THE MOUNTAIN CITY OF COVILHÃ
I love it when my birthday falls on a weekend and hubby is off work so we can celebrate together. I couldn't decide between a birthday nature hike or a city tour but my foot is still bad and I'm not having my ultrasound at the hospital until mid March so I decided upon a city adventure as it entails less vigorous walking and climbing so not as much impact on my foot. We took a self guided walking tour of the vibrant cosmopolitan city of Covilhã. I have read so many great things about Covilhã which is bursting with history and cultural heritage with dazzling landscapes of rare beauty. Most people visit the cities of Porto, Lisbon or Coimbra and Covilhã is not as popular with tourists for some reason.
Covilhã is located in the district of Castelo Branco, province of Beira Baixa, Centre region and subregion of Beiras and Serra da Estrela. It is the closest city to the Torre (just 20 km away) and reaches between 450 and 800 metres in altitude. It's no surprise that Covilhã is known as "The Gateway to Serra da Estrela". It's a 1 hr 30 min drive from our casa and 70 km. As we live fairly close to the Torre and Serra da Estrela we have already visited many places near to Covilhã such as Manteigas, Seia, Loriga and we have viewed many delights in the Serra da Estrela Natural Park including river beaches and spectacular waterfalls (Poço da Broca and Poço do Inferno) as well as several tourist attractions such as the Torre (Tower), Senhora da Boa Estrela and Covão dos Conchos. I am making my way through all the PR hiking trails too. So today was all about finding new places to view for the first time and embracing the city of Covilhã and marvellous sights nearby.
Points of Interest
There is so much to see in Covilhã including the Historical Centre which offers a range of tourist attractions for everyone's taste such as museums, art galleries, 2 former wool factories: Fábrica de Panos da Covilhã and the Fábrica Real Veiga, town square, ancient Jewish quarter, sundial, castle walls, parks and gardens, bridges, funiculars, elevators, religious Baroque churches, monuments, pillory, statues, university, facades of Portuguese tiles, urban artwork, shopping mall, markets, fairs, cafes, restaurants, clubs and bars (nightlife). There are also 2 serene streams: Carpinteira and Goldra. If you have a sweet tooth like me take a break in one of the town's many cafes and enjoy a famous cavaca (typical regional sweet treat). It was very difficult to narrow down an itinerary for just 1 day. We decided to stop at some of the Miradouros (Viewpoints) along the N339 en route to the historic centre. As well as the viewpoints with breathtaking panoramic scenery we visited a dazzling lagoon, 2 famous stones with fascinating legends, the traditional Portuguese picture postcard historical village of Penhas da Saúde at 1500 metres in altitude and a quaint chapel. Covilhã has great public transport but the best way to explore is by foot. A funicular and elevators have been installed in the city to make it easy and accessible for tourists to navigate their way around the beautiful city and explore each and every corner.
Helen's Itinerary
There is a Tourist Information Centre in Covilhã which has handy maps for visitors but I always like to do my own research and plan my own personalised list of landmarks so we don't miss anything epic. Here is my Itinerary:
N339 Points of Interest en route to Covilhã
Lagoa do Viriato (Viriato Lagoon)
Penhas da Saúde (Mountain Village with altitudes of 1500 metres)
Pedra das Nádegas (Buttocks Stone)
Pedra do Urso (Bear Stone)
Miradouro do Sanatório (Sanatorium Viewpoint)
Miradouro da Varanda dos Carquejais (Viewpoint of Varanda dos Carquejais)
Jardim Botânico da Montanha (Mountain Botanical Garden) – We drove around the area but decided not to stop as we just didn't have time and we already had a lot of other parks on our agenda.
Capela de Santa Cruz , Sítio do Calvário ou Capela do Calvário (Chapel of Santa Cruz, Calvary Site or Chapel of Calvário
Histórica Covilhã (Historic Centre of Covilhã)
Relogio de Sol (Sundial) located in one of the old gates of the city wall
Miradouro Portas Do Sol (Gates of the Sun Viewpoint)
Woolfest urban art trail – View as many works as art as we can
Igreja de Santa Maria Maior (Church of Santa Maria)
Praça do Município (Town Square) – Covilhã LETTERS
Câmara Municipal da Covilhã (City Hall) – Pero da Covilhã statue & Head around back to see Manueline window and Cistern of Covilhã
Teatro Municipal (Theatre)
Igreja Da Misericórdia de Covilhã (Church of Mercy)
Igreja do Sagrado Coração de Jesus ou de São Tiago (Church of the Sacred Heart of Jesus or Saint James)
Pelourinho réplica (Pillory)
Igreja de Nossa Senhora da Conceição – São Francisco (Church of Our Lady of Conception – San Francisco)
Jardim Público Covilhã (Public Garden)
Museu de Arte Sacra (Museum of Sacred Art)
Elevador da Ponte (Bridge Elevator)
Ponte da Ribeira da Carpinteira (Carpinteira River Bridge)
New Hand Lab
Biblioteca Municipal da Covilhã
Jardim do Lago/Piscina Praia da Covilhã (Lake Garden/Covilhã beach swimming pool)
Jardim das Artes (Garden of the Arts)
Universidade da Beira Interior / Núcleo da Real Fábrica de Panos (University of Beira Interior / Nucleus of the Royal Cloth Factory)
Museu de Lanifícios da Universidade da Beira Interior / Real Fábrica Veiga (Wool Museum of the University of Beira Interior / Real Veiga Factory)
Jardim do Goldra (Goldra's Garden)
Elevador da Goldra (Goldra Elevator)
Elevador de Santo André (Santo André Elevator)
Capela de São Martinho (St Martins Chapel)
Jardim Monumento à Nossa Senhora da Conceição (Garden monument to Our Lady of Conception)
Serra Shopping
Snow Capped Mountains – Serra da Estrela
Our route took us very close to the Serra da Estrela Torre. We made a pit stop to admire the scenery and snow. If you squint slightly you can see the tower in the distance. So very beautiful, crisp and very windy. It's a shame there wasn't enough snow for a snowball fight because I can't think of anything more satisfying than pelting hubby around the head with a snowball or two (ha ha).
Lagoa do Viriato (Viriato Lagoon)
Our first official stop was at a beautiful lagoon. This was hubby's choice as I think he wanted to explore the option of future paddle boarding here. It is such a picturesque lagoon, wondrously blue and completely deserted, not a soul in sight.
Penhas da Saúde
We drove right through the mountain village of Penhas da Saúde so stopped for a little wander. Wow, what a sensational little village with altitudes of 1500 metres. I fell in love with the cute little chalets and village surrounded by fauna and flora which is graced with the most beautiful scenery. We took some time here to breathe in the mountainous fresh clean air and enjoy the peaceful surroundings. Despite being an eminently tourist location, with several hotels and close to the ski resort, it maintains the spirit of a mountain community.
Buttocks, Bears & Mountain Mooning – Pedra do Urso (Bear Stone) and Pedra das Nádegas (Buttocks Stone)
Next the awesome Pedra do Urso (Bear Stone) and Pedra das Nádegas (Buttocks Stone) which were absolutely amazing and dotted amongst a huge granite outcrop. I was surprised that we had the whole place to ourselves. The ancient stones tell a story of legends of a time gone by. Who wouldn't want to view a rock shaped like an ass! There was a Mr & Mrs challenge of mooning next to the butt shaped rock but my ass is horrendous (take my word for it, over 100 lb weight loss and gravity took toll on my derriere) so I happily declined. Also I did not want to scare any children or get arrested for indecent exposure (ha ha). Our challenge failed dramatically as neither one of us was brave enough to expose our naked buttock cheeks so close to the roadside, you can now let out a huge sigh of relief (ha ha). I was definitely chicken but I did take a wild nature lady pee pee around the back of the rock so technically I reckon I WIN the challenge. We did get some fun photos of us slapping our own buttocks and bending over, I'm so lucky that hubby is "My kind of crazy!" (ha ha).
Black and White Bear – Pedra do Urso (Bear Stone)
Some folk say they don't see a bear but I totally see it. I have a secret talent for seeing shapes in objects. The official name is Pareidolia. I really love black and white/monochrome photography and I think it works well with the bear stone. I like the neutral grey tones and how deleting colour represents the subject in a whole new light giving it a dramatic and edgy look. Do you see a seated bear? If not then go to Specsavers (ha ha).
Miradouro do Sanatório (Sanatorium Viewpoint)
This viewpoint is at altitudes of 1300 metres and gives brutal views over the rugged cliffs of the Ribeira de Cortes valley and the former Sanatório da Covilhã (Sanatorium of Covilhã) just below. The sanatorium was built in the 1930's by the Portuguese Railways Company as a treatment facility for tuberculosis patients. It was thought that the fresh mountain air of the Serra da Estrela would help them recover. Unfortunately our Sat Nav took us to the wrong place and we were so close within metres of our destination but took the wrong walking trail up a steep dirt track hill. It's a shame we missed it but we did see some epic views. Nature continues to leave me speechless and so does hubby's Sat Nav (ha ha).
Addicted to Beautiful Views and Unique Places – Miradouro da Varanda dos Carquejais (Viewpoint of Varanda dos Carquejais)
This "must see" viewpoint was definitely my favourite Miradouro of the day. Such a unique setting with a little semi circle veranda/balcony with railings and serene gorgeous stretching views. It is simply beautiful and absolutely exquisite. It's such a picturesque spot but it was so very windy and I'm not talking about hubby's flatulence (ha ha). I'm sad to say no nice photos because Wind + Helen's thin limp hair = Crazy chaos! Look at the woman's scarf in the background of one of my photos! I literally had to hold my hair and dress down. It was hilarious and although I look an unkempt mess it was so much fun. One day I will get a model worthy photo looking glamorous but not on this day my friend.
Gone with the Wind
I specifically didn't take long doing my hair this morning as I knew the high altitudes would destroy my hair within seconds. Basically I'm Gone with the wind (ha ha).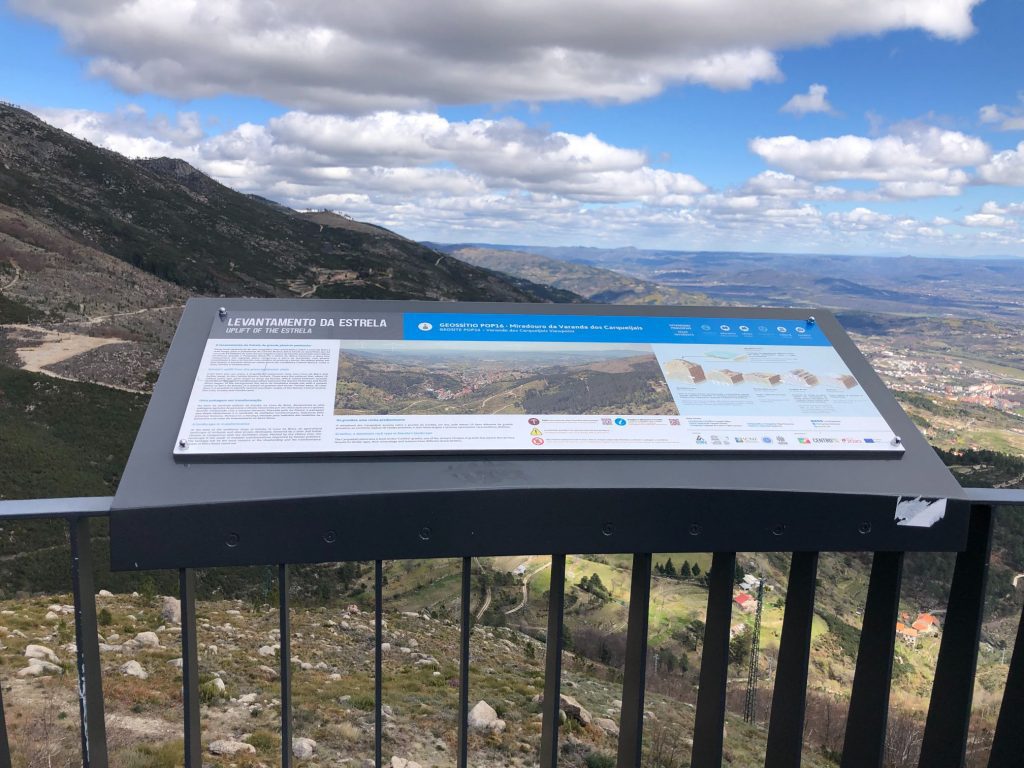 Capela de Santa Cruz, Sítio do Calvário ou Capela do Calvário (Chapel of Santa Cruz, Calvary Site or Chapel of Calvário)
What a wonderful mystical and characteristic Gothic chapel relic. I'm not sure why it has several different names but it's very confusing for our Sat Nav which has similar lower scale intelligence levels to me (ha ha). We took delight in wandering around the whole building and I adore the porch and bizarre shaped trees which line the street next to the chapel. What a magical place but it's a huge shame it was closed so we didn't get to view the interior. After more research it appears you may need to book in advance to view inside. Apparently during the academic week, the serenade is "sung" here, with a chilling atmosphere. After the chapel we headed onto Covilhã historical centre to commence our self guided walking city tour.
Covilhã Claim to Fame
Covilhã is famous for its wool and has one of the largest wool and textile industries in Europe. It is home to an open-air museum with multiple works of urban street art. It is also famous for its link with the Portuguese Discoveries. Despite not having a port it is the birth town of many explorers including Pêro da Covilhã, a diplomat and fundamental explorer in the discovery of the maritime route to India. There is a statue to honour this great man located outside of the municipality. It is also well known for it's snow and there is even a famous Fado song titled "Cidade Neve" (Snow city) dedicated to Covilhã by the wonderful and talented Quinteto Amália.
Brief History
Covilhã's original inhabitants were Lusitanian shepherds. King Dom Sancho I reconquered Covilhã from the Moors and built the city walls to protect it. During the reign of Dom Dinis, the walls were reinforced and became a strong defence of the territory. Covilhã has strong historic links to agriculture and pastoralism. It is also known as a land of discoverers. Prince Henry the Navigator was given the title Lord of Covilhã by his father, King Dom João I, after conquering Ceuta in 1415. It was the birthplace of Pêro da Covilhã, the explorer sent to the Orient by King Dom João II, and whose information helped Vasco da Gama to discover the sea route to India. Covilhã is famous for the art of making woollen goods. This began in the time of King Dom Sancho I, and was developed by the Jewish community that settled here at that time, where they remained until the 15th century. The textile industry, which produced all the uniforms for the Portuguese army during the reign of Dom João V, was given a new boost when the Marquis of Pombal established the Royal Cloth Factory here, making it into the country's largest centre for the production of woollen goods. Due to economic growth that followed, Covilhã was raised to the status of a city in 1870. This post is long enough so I won't explain the full history as you can google all this info at your leisure.
Time to Party (Yes Please!)
The São Tiago Fair is one of the oldest in the Iberian Peninsula and has been held in Covilhã for 608 years!
Food and Drink
If you love cheese then you will be happy as the famous Serra da Estrela cheese is available to buy in many locations and you can visit the nearby cheese museum. If you love cherries then be sure to visit the Centro Interpretativo da Cereja. If you fancy a spot of traditional Portuguese lunch then Taberna a Laranjinha is a great find for some traditional Portuguese cuisine.
Souvenir Sunday
I'm not one for tacky souvenirs but it is our 7th wedding anniversary next month and the traditional gift for 7 years is Copper and Wool. We were hoping to find a unique woollen handcrafted gift but due to it being a Sunday most of the shops were closed and the one that was open didn't have anything that floated my boat. We did manage to buy some regional alcohol, one can always rely on alcohol to celebrate a milestone event, down the hatch (ha ha).
Mercado Municipal
We parked near to the Mercado Municipal which was closed when we visited on a Sunday. We then took a quick mini break next to ruins of an old hotel and enjoyed a tasty birthday cake protein bar to give us energy for our walk. I sent hubby on a coffee mission but he came back empty handed.
Relógio de Sol (Sundial) Jewish Links and Friendly Folk
The Jewish Community of the city of Covilhã was one of the largest Jewish communities in the Serra da Estrela region as well as one of the strongest ones in Portugal. We enjoyed wandering around the Jewish Quarter and viewing the Jewish heritage, especially the architecture such as the Sundial embedded in one of the old gates of the city wall. I am hoping to visit nearby Belmonte in the near future which also has great Jewish links.
We started off climbing the steps and viewing the sensational Sundial and Portas do Sol viewpoint. At the sundial we met a friendly elderly local gentleman who spoke excellent English and we stopped for a long chat. It took a while as he had many stories to tell. He shared his memories and good times from studying in London and we had a wonderful conversation. He told us lots of history about the sundial which was fascinating. This random encounter was a beautiful moment and I absolutely treasure how friendly the locals are here. I was a bit shocked to find that the sundial had been vandalised with graffiti.
Portas do Sol Viewpoint (Gates of the Sun Viewpoint)
Wow what an incredible start to our adventure. This viewpoint over the old city walls is awesome and there are 2 breathtaking artworks to view. The walls were almost entirely demolished by the 1755 earthquake. Local inhabitants still occupy the surrounding historic Portuguese houses with unique architecture. Many of the houses take advantage of the old wall as one of their walls which is interesting. Such beautiful stunning views of rooftops and the valley below. The funniest thing is the washing on the line at this world famous viewpoint. Someone has decided to hang their smalls (well not so small actually) on a washing line right in front of the art. Welcome to Portugal and the weird and wonderful things that make me laugh out loud. In fact, as we wandered around the Jewish Quarter we saw lots of laundry on little makeshift washing lines. If this were my hometown of Bristol, U.K or any other student city their clothes would be long gone. Some random cash strapped student would be wearing their jeans! (ha ha). I once had my Bob Marley Reggae reggae bar shirt stolen from a washing line in Melbourne, Australia. I was distraught as the shirt was from a unique bar in Thailand so not easily replaceable. Don't steal folk, be honest and pure, like me (ha ha).
Woolfest – Urban Art Trail
I love the name Woolfest, it sounds like some kind of epic rude party with sheep (ha ha). We had a crazy fun time following the open air museum urban street art trail in Águeda so we were both looking forward to exploring the street art of Covilhã. Each year in June/July there is an art festival named Wool which has been running since 2001. We decided that it would be too tricky trying to incorporate 2 maps (our tourist points of interest as well as the Woolfest map of art locations) so we just kept an eagle eye out with the intention to view as many pieces of artwork as we could find and it worked out very well as we got to see so many and discovered some hidden gems as well as the art by world famous artists. I had endless fun roaming around viewing all the bright and colourful urban art and murals integrated into the streets amongst the local traditional houses with beautiful doors, potted plants and laundry hanging from small balconies drying in the Portuguese sun.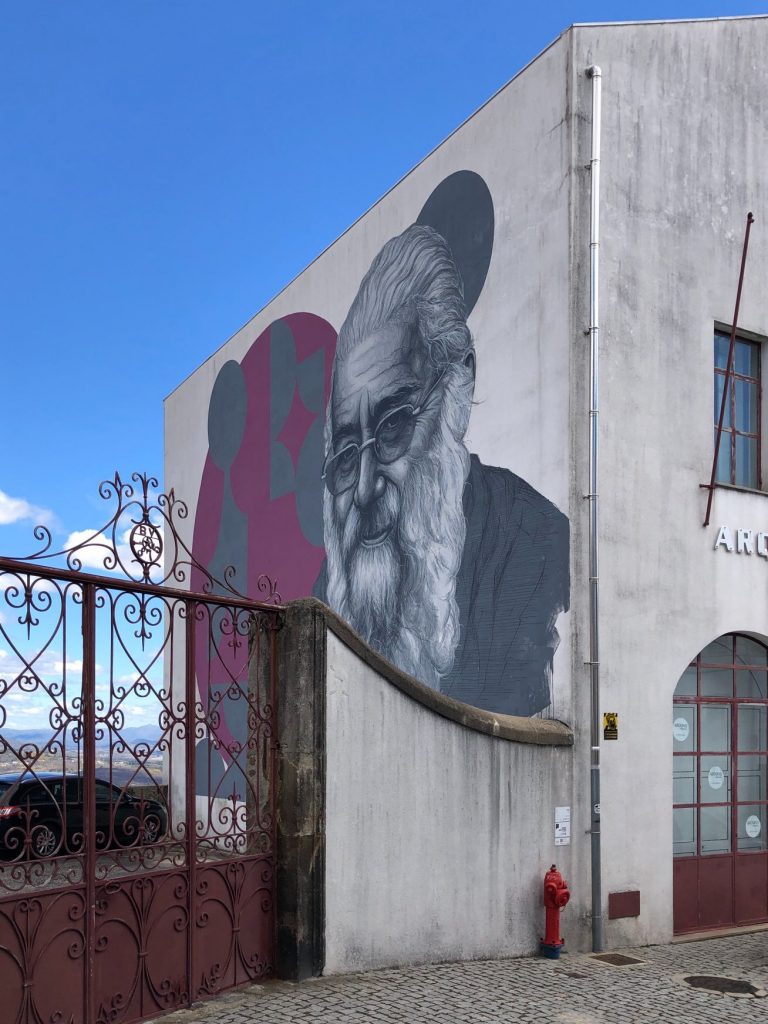 My Favourite Artwork
I am excited to share with you my favourite pieces of art. This is totally my personal choice but I'm secretly hoping that you will feel the same about my Top 3.
Owl Eyes by Bordallo II AKA Artur Bordalo
This is my favourite Portuguese artist. The owl represents a symbol of wisdom. I like to think that I'm a wise old owl but I'm just old (ha ha). You may have read my earlier posts where I raved about viewing the Iberian Lynx sculpture, Swallows and Half Rabbit. Bordallo II was born in 1987 in Lisbon and is best known for his 3D artwork using trash and recycled materials. This sculpture was cobbled together from tractor tires, corrugated sheet metal and other bits of urban scrap and trash. His art is based on the use of urban waste, guided by the motto "One person's trash can be another's treasure" and promotes sustainability, ecological and social awareness. Being the frugal girl I am, I LOVE this so much.
Swallows by Pantonio AKA Antonio Correia
Swallows is a piece of work by Portuguese Antonio Correia who was born in Azores in 1975. His artwork is inspired by the sounds of the city, especially the swallows who make Covilhã their home.
Answers on a Postcard
I have no clue what the name of this captivating artwork is or the story behind it. I think the artist may be the Brazilian named Raoni Assis. I know it's not one of the most popular pieces or most peoples firm favourite but I just fell in love with it as it reminds me of a comic book strip and happy childhood memories spending my pocket money on comics and sweets. I also love the old rustic Portuguese door. My attraction may be because it's understated and the underdog of artwork. Or maybe it's due to the fact that it portrays a little craziness like me as the sheep has its mouth open which I do when I'm pulling my mental face (ha ha). It also reminds me of Shaun the Sheep and his antics which was one of my mums favourite animated TV series and she is no longer with us so it brings fond memories of my mum and I watching the T.V and laughing together. If you know anything about it then please share your knowledge. As one would say in the 1980's "Answers on a Postcard" (ha ha). I found an email address for the artist and emailed him asking politely if he could explain a bit more about his art and it's meaning but I didn't get a response. I bet he thought: "Shit, I have a crazy British stalker". I hope he doesn't obtain a restraining order against me (ha ha).
OMG Update! 14th March 2022
I am elated to report that the artist in question (Raoni Assis) replied to my email! I know, I'm so happy. I never expected a reply to be honest. If anyone is visiting the Olinda area of Brazil, be sure to check out the art studio and you can follow on Instagram. I've never been so excited to receive an email and it absolutely made my day. God bless this beautiful creative soul.
Epic Email Response
How wonderful, Helen! It is really nice when this happens and that is why we keep going at it! I hope I can make more works around there, Covilhã and other places. This work doesn't have a name, but I did it in honour of the culture of felting of Covilhã, where my son and his mother lived for a time. I also got to know the work of an artist that drew many sheep and I thought it was worth referencing. Here in Olinda, we have an art space with various local artists, the Casa Balea (https://instagram.com/casabalea). If one day you come by here, please come visit us.
Praying Mantis
Hubby loved this praying mantis sculpture. I just had to make one photo black and white as I think it looks epic against the clouds!
Camara Municipal da Covilhã
My favourite Church – Igreja de Santa Maria Maior (Church of Santa Maria)
How can anyone not fall in love with the exterior of this beautiful Baroque style church located right in the heart of the historic centre. In 1940 it was covered in traditional blue and white tiles that represent the life of the Virgin Mary. Built in 1886 on the site of the former 16th century Church of Santa Maria do Castelo. Inside, the highlight is the Neo-Rococo and Neoclassical gilded altarpieces. I was very gutted that it was closed. Why are all the churches closed on Sundays?
Igreja da Misericórdia de Covilhã (Church of Mercy)
17th Century Mannerist style church with a statue of King D.Luís in front. The sculptures on the facade are of 3 virtues: Faith, Hope and Charity. Now if only I had girl triplets, that would make fantastic names (ha ha).
Igreja do Sagrado Coração de Jesus ou de São Tiago (Church of the Sacred Heart of Jesus or Saint James)
19th Century church built between 1875 and 1877 with an impressive bell tower. It was destroyed in a fire in 1942, rebuilt and re-opened in 1952. I stood here ages waiting for the white van man to move but he was unloading travellers with huge backpacks and didn't seem in a rush. I literally nearly went down and gave him a helping hand (ha ha).
Igreja de Nossa Senhora da Conceição – São Francisco (Church of Our Lady of Conception – San Francisco)
A beautiful Baroque style church which formed part of the old 16th Century Convent of São Francisco. In the 19th Century the Convent was closed while the church remained open for worship. The church still has its original late Gothic door. Inside you will find a vault with its four pointed stars, gilded carvings and a wooden panelled painted ceiling with illustrations representing the life of Christ. The gilt carved panel walls display the image of São Francisco.
Capela de São Martinho (St Martin's Chapel)
12th/13th Century Romanesque style chapel. Inside the chapel, it is worth noting the stylised capitals with their vegetable motifs, the traces of fresco painting with representations of holy figures on the altar tables, suggesting medieval decoration, and the Spanish-Moorish tiles laid there during the 16th century. Two precious panel paintings, representing St Christopher and St Lawrence, belong to the treasury of the Chapel of São Martinho.
Praça do Município (Town Square)
Covilhã LETTERS: H is for Helen, A is for Adrian and C is for Closed (ha ha).
Magnificent Manueline Window
This grand Manueline window (Memorial of Casa da Hera) was recovered and restored by the Municipality and is located at the back of the Covilhã City Hall. Casa da Hera was built in 1497 and hosted King D. Luís during his visits to Covilhã. Manueline (Portuguese late Gothic) is a unique style of Portuguese architecture. It takes its name from the reign of King Manuel I who ruled the country between 1495 and 1521. I have a bit of a fetish for Portuguese windows and doors.
Teatro Municipal da Covilhã (Theatre)
Weird and Wonderful (Stone Architecture)
I spotted this crazy stone architecture on the side of a building. I love the little round windows too.
Pellourinho (Pillory)
We spotted two stone pillories and the one outside of the church was a striking spectacle with so many birds souring above it in the bright blue sky, it was quite a marvel to watch.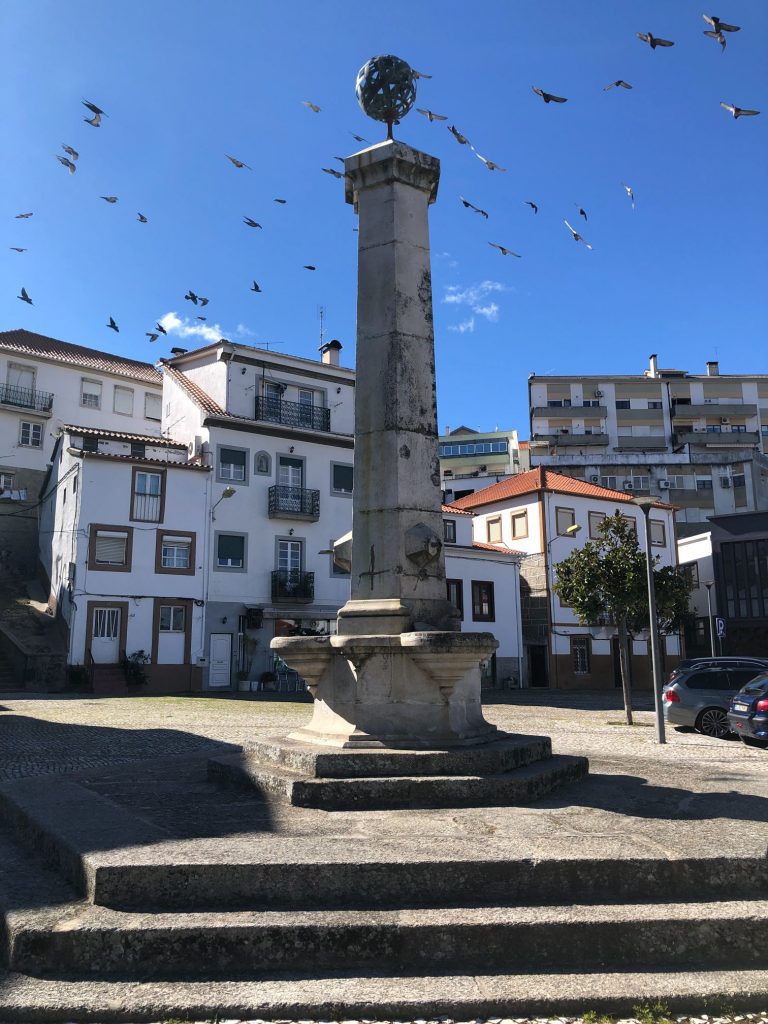 Museu de Arte Sacra (Museum of Sacred Art)
Home to 600+ religious artefacts from closed monasteries and churches in the region. Collections from 12th – 20th Century and includes statues, crucifixes, altars, books, furniture and paintings. It was actually Open!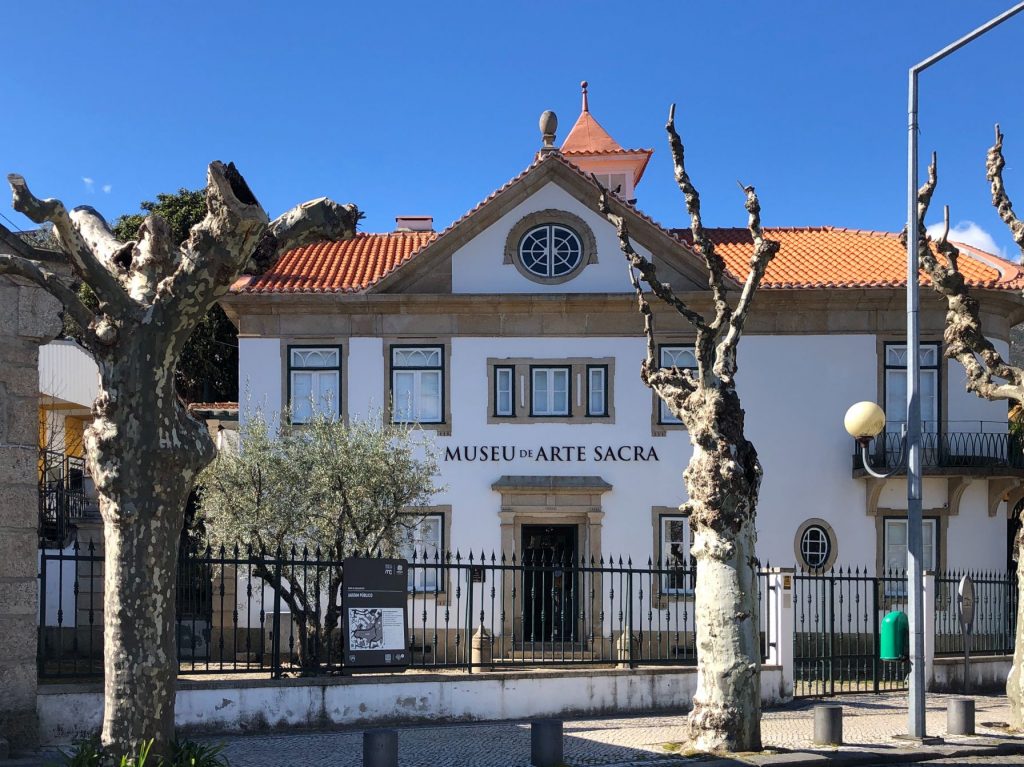 Bizarre Building
I spotted this wonderful building and had to photograph it. I love everything about it especially the door, windows and tiles. I think it would make a great haunted house.
Ponte da Ribeira da Carpinteira (Carpinteira River Bridge)
The pedestrian bridge is one of the highest and most impressive bridges in Portugal and stands at 52 metres high, 220 metres long and 4.40 metres wide. It was designed by the Lisbon based architect João Luís Carrilho da Graça, built between 2003 and 2009 and cost 3 million euros. It stretches across the valley of the Ribeira da Carpinteira. It's design has won several awards including "World's Coolest Design" and I can see why. The architecture design of this bridge is so elegant yet crazy, it blew my mind! Unfortunately the elevator was out of action. I would like to return to see the bridge illuminated at night, I bet it looks very pretty.
Just a girl on a Rainbow Bench eating Birthday Cake
We took a well deserved break at the spectacular Jardim Público Covilhã (Public Garden). Built on the former grounds of the São Francisco Convent, the Public Garden was at the beginning of the 20th century the stage for charity shows and festivities. It was remodelled and now has a large grass area, wooden walkways over a little lake and children's play area. There is a modern terrace bar and kiosk. I found a brightly coloured rainbow bench to sit and eat my leftover birthday cake from the previous night's celebration meal. Hubby recycled my candles and was going to light them and sing to me again but the number 8 broke in half resembling two zeros. This meant I could either be 40 again or 400 so I didn't bother. I probably look and often feel closer to 400 than 40 (ha ha). Afterwards we found a toilet and visited the park's cafe for a caffeine fix, double espresso for Helen and a coke for hubby. I can't convert him to coffee, I have tried but admit defeat (ha ha). Caffeine fuelled we headed on our merry way.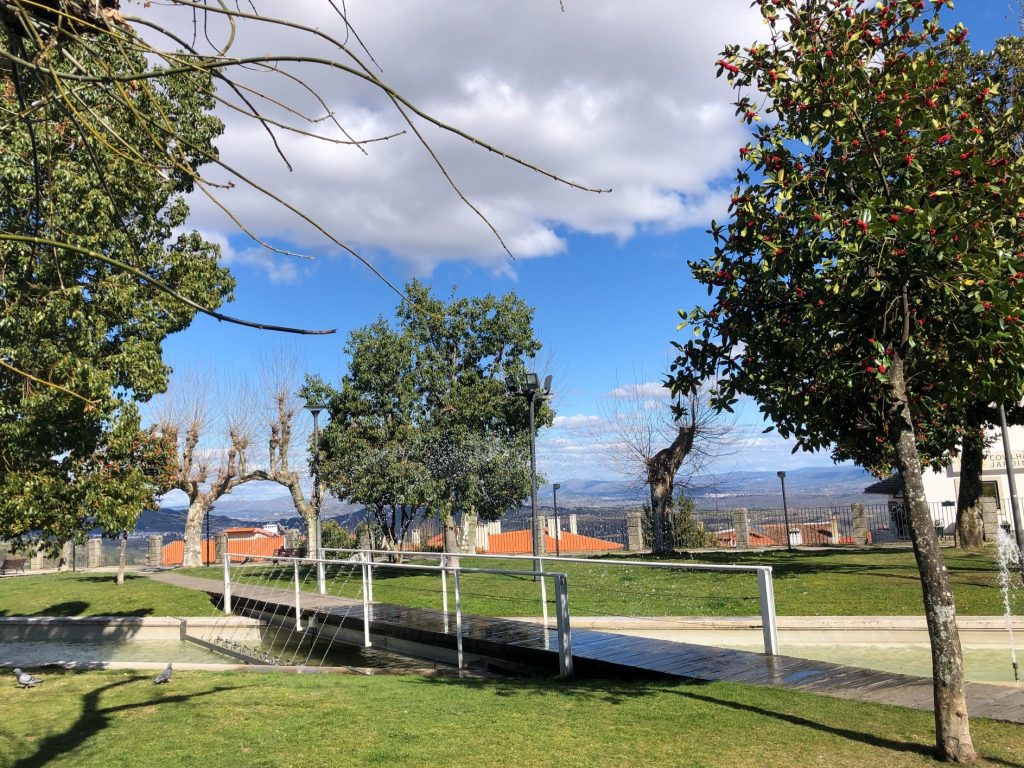 Biblioteca Municipal da Covilhã (Library)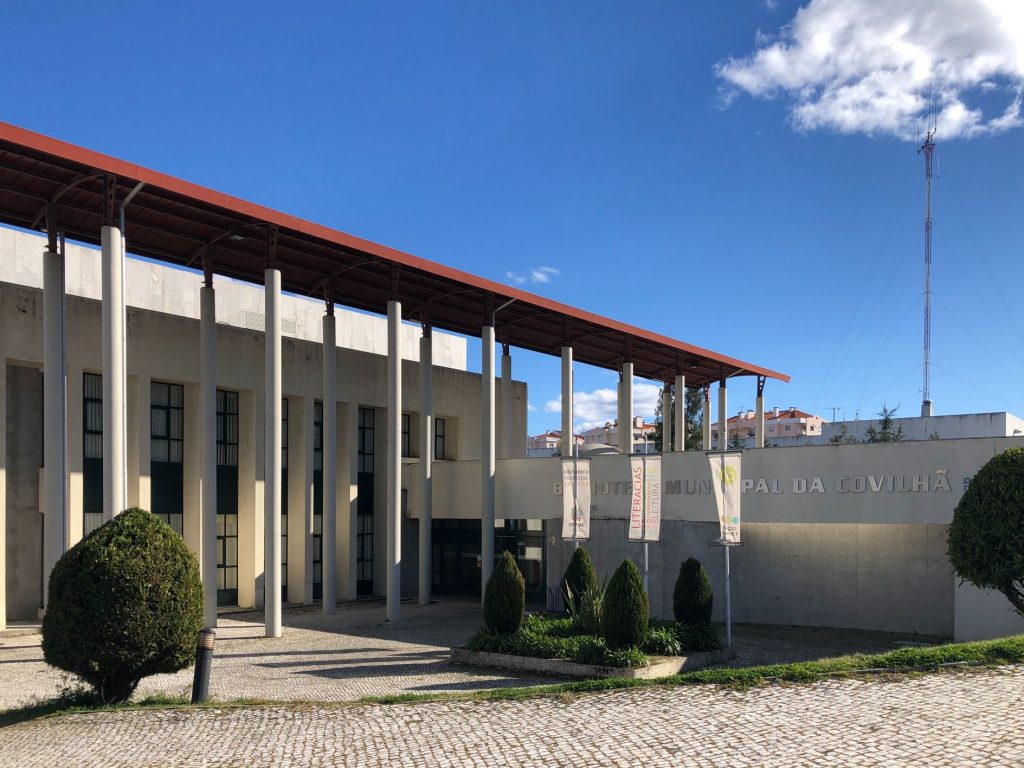 Swan Lake – Jardim do Lago (Lake Garden)
My favourite park of the day, what a hidden gem and a large open green space. It even has a beach pool with a wave machine, restaurant, cafe, mermaid monuments, bridges, pedestrian walks and a stunning lake with a crazy ass resident swan who attacked hubby (ha ha). We had a picnic lunch overlooking the lake and fountain. We often take a picnic with us when we venture out. I am sure you are wondering why we don't visit more restaurants here and support the local communities. My main reason for multiple picnics is I suffer from chronic IBS and if I make my own lunch I know exactly what is in it. My condition is very complex and random foods can trigger an attack such as too much gluten or fats like olive oil. Sometimes it's just the size of the meal and on one occasion last year I sampled a Francesinha, traditional Portuguese cuisine and I was so ill I literally had to lay on the floor and suffered excruciating abdominal pain. In the past I have been hospitalised on a morphine drip for my pain so eating out is very problematic for me and it's just easier to take my own food when I can. Everytime the wind got strong it blew a spray of water in my face, nice and refreshing. The swan is manic tough and even stood up to a fierce barking dog. I LOVE this park but the swan is mental, it takes one to know one (ha ha).
Windswept Selfies
Statues and Silliness
I did want to very much recreate this woman statue pose (this is a thing in our household) but the grass was moist. I apologise deeply as I know you would have really wanted to see my talent in modeling (ha ha).
Jardim das Artes (Garden of the Arts)
A lovely green space with a large children's playground, skateboard park and sculpture garden.
Jardim do Goldra (Goldra's Garden)
Jardim do Goldra (Goldra's Garden) is a park next to the university and it was the only park that was abandoned and showing neglect. What a shame as the city is so vibrant and the other parks are immaculate. Being located right next to the university it would make such a chill out spot for students so I hope the council inject some love, care and money into this project as it looked desolate and barren. There were lots of half dead bamboo, it would make a great place for pandas just not students at the moment. It could be an amazing tranquil spot within nature with some TLC. Let's hope and pray someone steps up to the plate.
Universidade Beira Interior (University)
Covilhã has a University and a thriving student population. It was lovely to see a few younger folk which adds to the vibe of the city.
Rotunda Rato (Mouse Roundabout)
Roundabout, Art and a Tower, such magnificent architecture and a water fountain feature with side murals in Azulejo that does justice to the city and the University.
Thighs of Steel – Elevador da Goldra (Goldra Elevator) & Elevador de Santo André (Santo André Elevator)
Unfortunately both were closed. I'm not sure if they were closed at the start of Covid and never reopened but it's a shame. Maybe it's a mission to reduce obesity amongst the student population, who knows! On a positive note I need all the exercise I can get at my ripe old age and I'm hoping to develop thighs of steel after walking up the multiple steps! I did feel sorry for the student who approached the steps with 2 heavy suitcases. He pushed down the handles, let out a huge sigh and started the mammoth trek up all the steps (ha ha).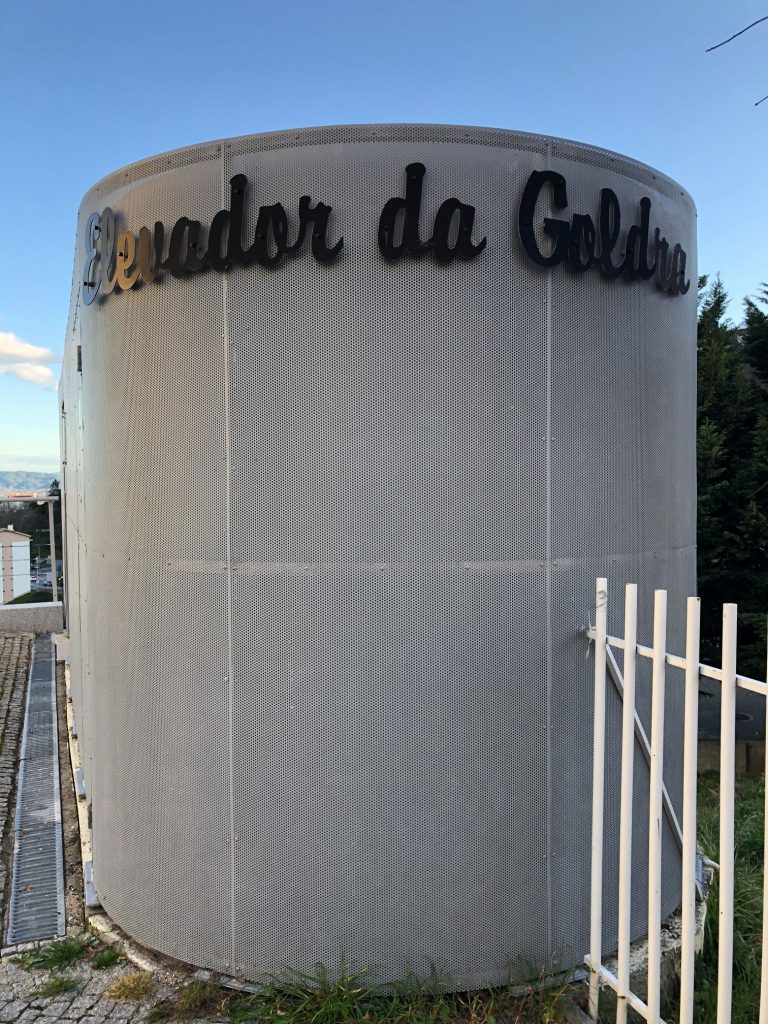 Jesus was the First Hipster (Graffiti)
This made me laugh so much. Apparently Jesus was the first Hipster! I am very intrigued as to know what the crossed out words say below. I think the artist wrote in haste then quickly changed his mind. My money is on it saying "Jesus was the first hipster because he rocked a beard sandals" (ha ha).
The Threads of the Past Weaving the Future – Museu de Lanifícios (Wool Museum)
Covilhã has made a living from wool spinning and weaving since the 1680's and I was very excited to view it's heritage displayed at its 2 former factories: Fábrica de Panos da Covilhã and the Fábrica Real Veiga. Unfortunately we arrived 50 minutes before closing so we decided to return on another day as there are 2 buildings to view. On the first Sunday of each month, between 14:30 and 18:00, admission is free for all visitors. My birthday just happened to be the first Sunday of the month so we could have entered for free but with such little time it wasn't worth it in my opinion and I will return in the near future. Tickets to enter The Royal Cloth Factory costs €2 and The Real Fábrica Veiga/Wool Interpretation Center costs €4. You can buy a combined ticket for both attractions for €5 and there are discounts for seniors, students and children. Such reasonable entrance costs, I love Portugal.
Rest, Reflection and Rejoice – Jardim Monumento à Nossa Senhora da Conceição (Garden monument to Our Lady of Conception)
Our last stop before the shopping mall was this idyllic garden monument. The garden area has beautiful trees, a lawn and flower beds, pretty patterned pavements and benches. The statue, erected at the beginning of the 20th Century, bears the figure of the Blessed Virgin Mary who protects the city and its inhabitants. It is a serene place and bought me such joy and peace. The monument is immaculately kept and it was very emotional to see all the flowers, candles, beads and ribbons tied to the railings blowing in the wind. With all that is happening in the world right now it was nice to climb the steps of the monument to pray for Peace and Hope and take a moment to realise how blessed we truly are.
The English Scones and my Light Fingered Friend – Serra Shopping
Our final stop of the day was a shopping mall: Serra Shopping. A pleasant shopping mall with a food court and supermarket. I didn't need anything in particular but I did buy some gel insoles for my hiking boots as I find the bottom of my feet can become sore after 10 km of walking not that I'm hiking anywhere at the moment with my bad foot. We also purchased a couple of traditional Portuguese liquors flavoured with chocolate and pastel de nata. A little gift to ourselves for our upcoming wedding anniversary.
I had a slightly embarrassing moment in the supermarket. Hubby disappeared off to buy bread and left me perusing the cake aisle (my favourite hobby) and much to my delight I found some English scones. I saw hubby return out of the corner of my eye and blurted out loudly "Look they have English scones, Gert Lush" then I looked up but it wasn't hubby it was a Portuguese young man with his girlfriend. I was shocked and reacted by saying "Ohh". I was mortified but in my defence I never took my eyes fully off the scones which had raisons and I just saw a blurr of dark hair and a black hoodie. Then I had to explain my antics to hubby and try to avoid the couple. Honestly, you can't take me anywhere (ha ha). Hubby was still laughing at me when we arrived at the self serve checkout but he didn't laugh for long as he set the alarms off with his bag. There were some lost in translation words and confused facial expresions exchanged and one bag search later we were allowed to go home. I did think at one point that hubby might have shoplifted the English scones for me for my supper (ha ha).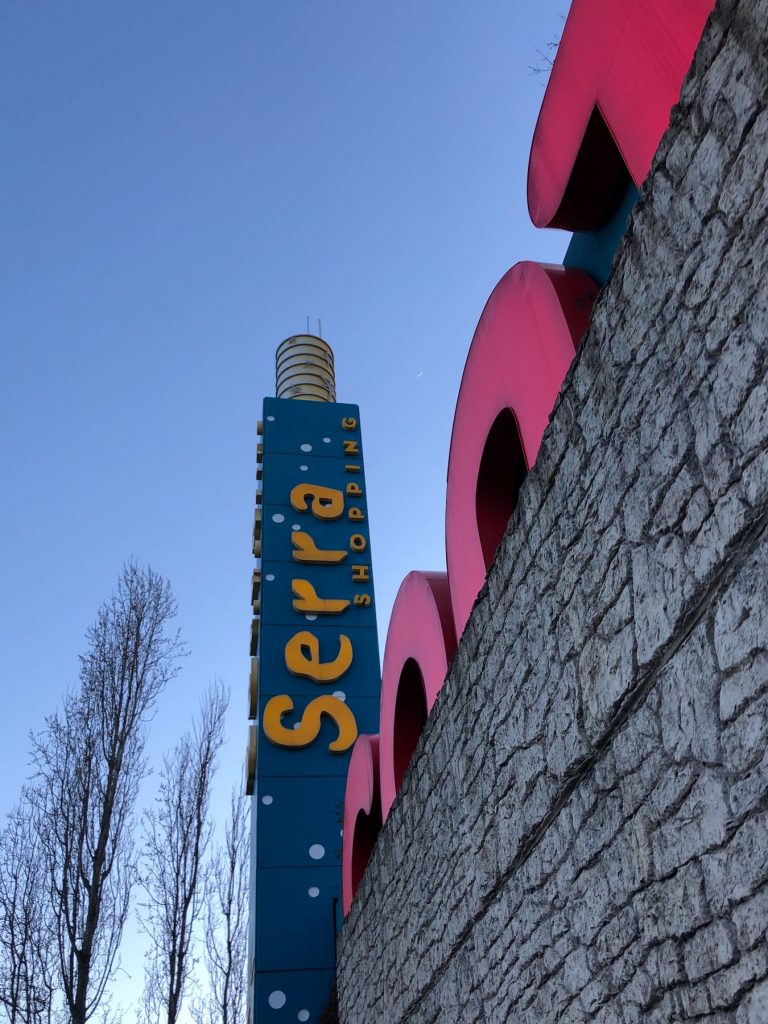 Shopping Mall Art
Even the shopping Mall had an Art Exhibition.
It's Sunny, but I'm still Tired and my Flowers are Dying
I absolutely fell in love with this Art (No7). This piece resonated with me and I found it emotional and totally relatable.
Covilhã Overview
I had such fun exploring the dynamic, cosmopolitan city of Covilhã. Wandering around the narrow alleyways, map in hand, certainly a place to lose yourself and let your imagination go wild. I enjoyed finding out more about its industrial and religious past. It was a magical birthday and a fabulous mix of city culture and nature. It was a perfect day to spend my birthday and I will definitely have to return in the near future to spend some tranquil time in the botanical gardens and I would love to visit the wool museum and cherry museum. I also would love to embark on one of the official PR hiking trails to the Cascades and Natural Pools of Cortes do Meio. I consider myself to be the queen of "Planning" and I researched Covilhã in depth but there is only so much one can view in one day. I hate to rush at speed as I love to soak up the atmosphere and ambiance of each attraction. I expected Covilhã to be far busier with tourists on a weekend. We only saw a handful of tourists on our whole walk. A lot of places were closed due to it being a Sunday which made it more tranquil. The highlight of the day for me was wandering around the old Historic Centre and the variety of wonders to see in the city. One minute I am looking at a quaint Baroque chapel with a facade clad in striking intricate Portuguese traditional Azulejos (tiles) then I turn a corner and I am faced with a eye-catching viewpoint and urban art mural from famous worldwide artists. The most fun was definitely at "Buttocks Stone". Although it is a city I never felt deprived of nature as there are many open green spaces with lush emerald green grass and crisp fresh air to obtain my nature fix. The raw beauty of this country blows my mind, simply breathtaking. I may be converted to a city girl after all.
The Chicken Whisperer – Gifts Galore
How cute are these mushroom bowls from my favourite shop Gato Preto. A Birthday present from my gorgeous daughter Teanna. Hubby gifted me new jeans and comfy long workout exercise shorts which don't magically reposition themselves into a thong position with the slightest body movement (ladies – you know what I mean) and they even have pockets. Not sure what for, maybe a phone, keys or in my case a couple of snickers, alcohol miniatures or distraction sausages for the stray dogs who chase me when I run (ha ha). Hubby is a practical joker so I'm lucky he didn't buy me the personalised exercise shorts with a customised photo of his face all over them, to be honest I would have worn them out hiking just for a giggle.
My favourite hubby present is the best ever "Chicken whisperer" T.Shirt in my favourite colour (purple), I LOVE it. The colour purple represents Wisdom, Bravery and Spirituality but it can also represent mourning in some countries. I like to think that I'm wise, brave and spiritual but I'm not too sure some days. I do know that I used to wear a lot of black when I was bigger trying to be invisible and blend into the background of life. I am now trying to embrace colour and experiment with brighter colours although I still can't really wear bright red especially if it's a dress as I just like like a prostitute and not the pretty woman Julia Roberts type but the cheap, tacky, back alley kind turning tricks for my next pastel de nata fix (ha ha).
The Flashing Princess – Birthday Celebration Meal
The Eve of my Birthday and I should have been flying back to Bristol to spend my birthday weekend with my children and dad (I haven't hugged my dad or son in over 2 years) but Easyjet AKA Sleazyjet (ha ha) cancelled my flight yet again. It's not quite the same but I made the most out of my situation with a Pre-Birthday evening celebration. Our first al fresco meal of the year with cake, candles, fizz, pretty sparkling balloons and a birthday tiara because I'm a princess. It even flashes (the tiara not me). I need more alcohol inside me before I flash my lady bits (ha ha). I made a semi-effort and wore a frock which has pockets! I know, I think I have a pocket fetish as well as a Manueline window and door fetish but I just love a pocket so much that my new nickname is now "Polly Pocket". I love my balloons and the effort hubby took to blow them all up whilst I got ready. The frugal me even managed to recycle the confetti inside my balloons! It will make great table decoration for our next celebration. What can I say? I hate waste and love to recycle like my favourite artist Bordalo II. Another celebration, another chance for glitter and sparkle. I do apologise that some of these photos are a bit blurry. I blame it on 3 things: Selfie stick, Unstable arthritic hand and Alcohol (ha ha). At least I can share our FUZZY FUN!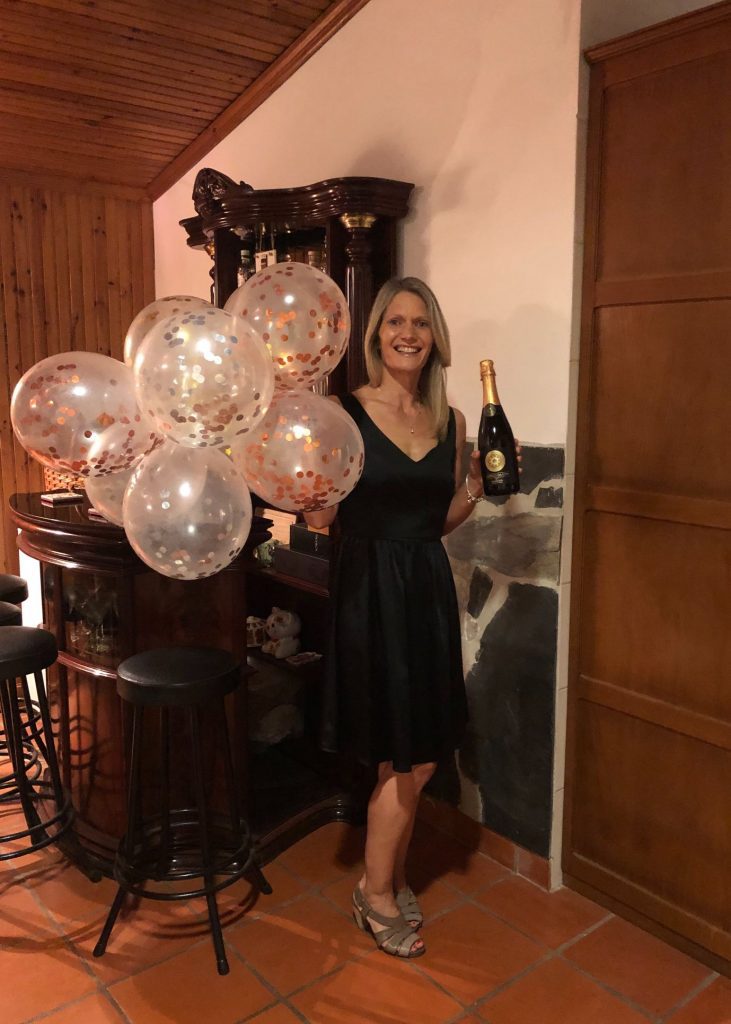 Pimp my Cake – Cake and Cards
How epic is my cake! We visited the store and all the proper birthday cakes decorated with "Parabens" were huge. They all served about 10 people and I only know 1 other person who is coming to my birthday celebration and I'm married to him (ha ha). I decided to buy a smaller non birthday cake and bling it up myself. A bit like that old T.V show "Pimp my ride" but with a cake (ha ha). I used fruit and flowers from my garden. It began its life as a basic coconut and pineapple round cake with a hole in the middle (bundt) but by the time I had finished with it, no longer was it basic and plain, I excelled myself (ha ha). It ended up so beautifully covered that there was no cake visible to stick the candles into so I had to stick them into strawberries which resulted in the candles leaning over like the Leaning Tower of Pisa (ha ha). Hubby fixed it with a toothpick, bless him. I love the fact that all the flowers came from my garden. I think I should explore growing edibles, flowers not cannabis edibles (ha ha). I do enjoy decorating my old boring table with foraged free items from my home and garden. I received the whopping total of 3 cards this year! I know, I'm not loved very much! Some family/people just send a text message or email a card and others don't give a shit or bother at all. I think this is one more than last year because this year I got a card from Bunny Milo and my Chickens (ha ha). The most important thing is that I received birthday wishes from all the people that matter to me and that I love.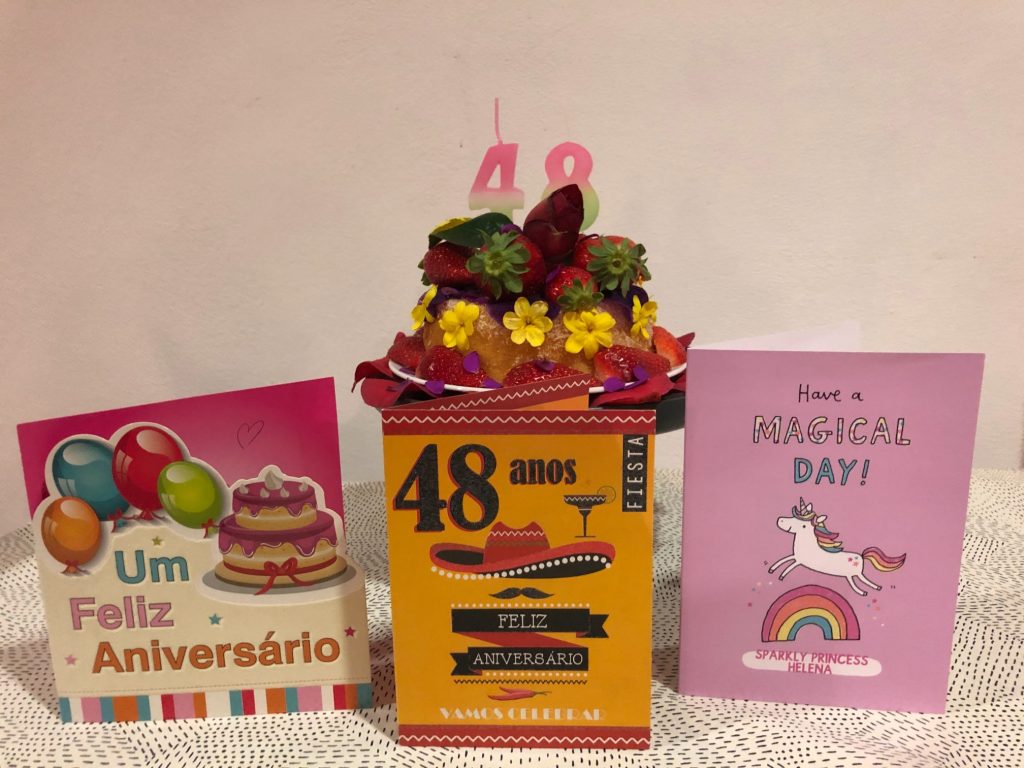 Final thoughts – Gratitude is a Powerful Mindset
Cheers! May there be many more birthdays in the future to celebrate and share together in this magnificent country I now call my forever home. As I grow older, I am grateful for the gift of life and the lovely people that I am able to share the journey with. Gratitude is a powerful mindset.