AN AFTERNOON TRIP TO POÇO DA BROCA & PRAIA FLUVIAL DE LORIGA 2023
We treated ourselves to a wonderful Sunday Funday trip to Poça da Broca and Praia Fluvial de Loriga. These are 2 of my favourite local aqua therapy gems. I'm not going to rant on about these 2 places too much as I have already shared previous blog posts on our visits to both of these magical wonders of nature. If you are interested in viewing photos from our Summer 2020 day trips, you can find my previous blog posts here:
Poço da Broca
GPS Coordinates:
40°17'36.7″N 7°45'13.7″W / 40.293522, -7.753793
Poço da Broca is such a wonderful and unique environment and very different from your average river beach. It is located on the Alvoco riverside, in the village of Barriosa, in Vide, Southwest end of Serra da Estrela Natural Park. This sensational spot offers a gigantic serene waterfall which flows down into a huge well and creates a perfect paradise pool in which you can swim. There are not many places where you can enjoy a sensational swim amongst pure nature with the fierce flow of a waterfall above your head which cascades down from the schist rocky cliffs. It also offers a series of smaller waterfalls which are very picturesque. We haven't visited since 2020 so it was lovely to return in May 2023 and have the luxury of the whole place to ourselves and I met 2 friendly donkeys. If you know me, you will also know that my lifetime dream is to adopt/rescue 2 donkeys. I already have their names picked out "Leroy & Merlin". Hubby got a bit concerned when I climbed a wall and steps of private property to get a closer look. He retreated to the car and left me to it. I would have tried to steal them but I don't think they would have fitted in our Citroen Xsara and I don't have a roof rack (ha ha).
First we viewed the huge dazzling waterfall and stunning viewpoint. Wow, it's such a remote and mesmerising place, a pure slice of heaven. I spotted a few majestic brightly coloured birds, possibly kingfishers. The pounding sound of the water was very hypnotising. I wonder if anyone braves diving from the top of the falls. I love people watching during the busy Summer season as often there are large groups of fearless teenagers and young folk jumping in from the high rocks which is astonishing to see. I've often wondered if one would hold my hand and jump in with me but I'd likely panic and Jackie Chan karate kick them on the way down (ha ha). We then took a leisurely stroll around to the other side which has a lovely view of the surrounding lush green terraces and climbed down the steps to view the smaller waterfalls which are located directly above the large waterfall. This spot is amazing as you have a great aerial view so you feel on top of the world! We enjoyed our usual protein and caffeine fix snack here. I was in complete shock as there was not one person here.
Last time we came this particular area was packed full of tourists and there wasn't a spare rock to lay our towels down as it was Covid times and I didn't want to sit inches from a stranger. On this occasion we had the whole area to ourselves so had a choice of where to place our picnic blanket. The water is not deep enough to swim here but you can submerge yourself in one of the natural rock pools to cool off. I call them nature's hot tubs, only they are not hot but cold as ice. I didn't risk taking a dip here as the rapids were strong and I would likely be swept over the edge to my untimely death. I would "Go with the flow like a dead fish". This is one of my ex husband's favourite quotes. Can you tell he is laid back and grew up in Portugal? (ha ha). I've nearly drowned on 3 separate occasions whilst relocating here so I need to be cautious as each time my life flashed before my eyes and it was horrifying. If you don't fancy a resting spot on the rocks then you can visit the yummy restaurant which has the best outside seating overlooking all the action.
As I mentioned, our previous trip here was back in the Summer of 2020. We took my daughter to show her the delights and spent most of our time in the water swimming and floating around on our lilos. A little girl about 5 years old hijacked one of our inflatables and we were lost in communication. My lilo kept floating under the fall and hubby had to be the official lilo monitor and continuously move me to safety every time I drifted underneath it because I was too tired to keep my eyes open, laying around in the sun makes one very tired indeed. The things you do for love. Just as we were leaving we spotted a couple of people arriving at the Viewpoint, how dare they ruin our solitude (ha ha).
Poço da Broca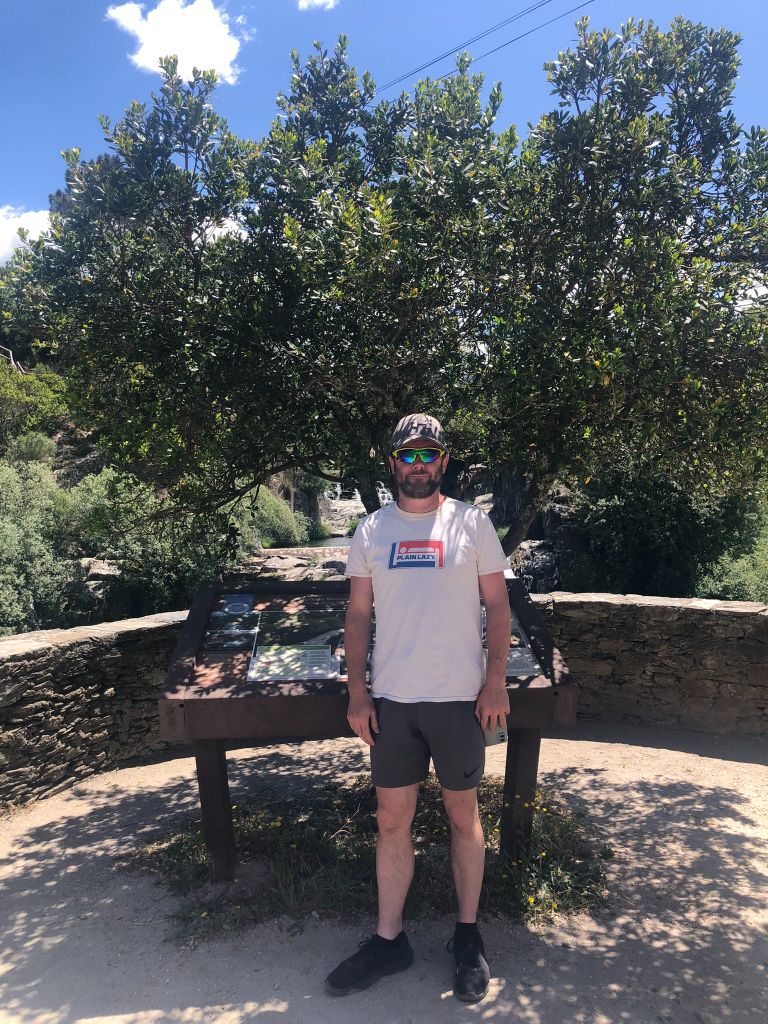 Poignant Photos
Our last visit was a super fun family afternoon but I only took a couple of photos of my gorgeous daughter Teanna in front of the waterfall. I wouldn't let hubby take any photos of me because I had put a few stones on after relocating to Portugal and eating way too much cake. I now know this was a stupid mistake and I regret it a lot. Most of my adult life I have been obese and significantly overweight. I only have a handful of photos of me with my children when they were growing up because I hated my body and myself. I had zero self confidence and would always shy away from the camera. As I've got older I realise this was silly as I can't turn back the hands of time and recreate these special moments or memorialise them. The most important thing is to be happy and healthy and have energy to do things with your children and make fabulous memories to last a lifetime. My children will be 21 and 30 this year and I only wish that I had more photos of us together over the years. This is probably one of the reasons why I'm known to take tons of photos but I'm not apologising any time soon. I spent my youth yo yo dieting and trying to get skinny stick thin but failed every time. It's taken me nearly half a century to get my shit sorted, embrace good healthy food with a balance of treats and all important exercise. Only now I realise that health is the most important thing. My mum dying so young of a stroke and diabetes hit me hard and it was a wake up call for sure. With age comes wisdom along with the wrinkles (ha ha).
The point I'm trying to make is that this trip was very poignant for me. Today I let hubby take all the photos he wished to. My advice is take the photo, you will only regret it later if you don't. I don't love all my photos and yes some angles are better than others but who cares. It's often high up in altitude here in the marvelous mountains so my fine hair is windswept to high heaven and the breeze has lifted my beach coverup like crazy but I now embrace all my flaws and the crazy photo challenging weather. I don't think I look too bad considering I'm not wearing any makeup and I'm nearly 50. I never edit my photos and any differences in colour are because some photos are from my old iPhone camera and others are from hubby's newer android phone camera which is much nicer than mine and the photos always make my stumpy short ass legs look longer than they actually are which is a bonus (ha ha). I didn't expect to have lots of photos taken of me so I just threw on a bikini, my €6 Primarni coverup, €1 flip flops and €5 hat. I slapped on some sunscreen, grabbed my sunglasses and off we set. I have consumed way too much ice cream all weekend but life is for living and enjoying which includes eating yummy Portuguese cuisine in the sun and having fun. So my advice is take the damn photo and eat the ice cream, no one cares about your imperfections except you. Life is too short and you're a long time dead so ENJOY the ride!
Our photos overlooking the main waterfall all look slightly blurry when enlarged so I made them average size. It's not hubby's fault as the one I took of him came out the same and on both of our phones too so I have a sneaky suspicion that it was the sun which overheated our phones and possibly the light affected the exposure or maybe our hands were trembling under the excitement of the day, who knows.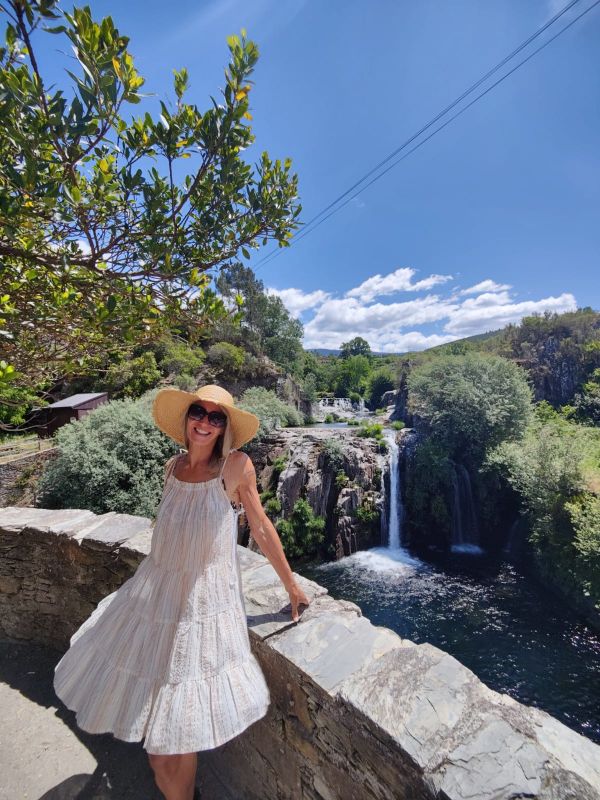 Poça da Broca Sunshine Selfies
Just a couple of crazy Brits basking in the sun (ha ha). O, Sunshine! The most precious gold to be found on earth. Sunshine has the ability to make me feel fabulous. It was such a brilliant day lazing around at the side of the water's edge, dipping my toes in the shimmering water and soaking up the warm rays of sunshine and Vitamin D on my skin. I could almost taste the sunshine! The dappled light through the pretty trees made some incredible mirror images and patterns on the water. I think before dishing out pills and antidepressants like Smarties, doctors should prescribe "Nature Prescriptions" to improve mental and physical well-being. Being amongst nature always lifts my spirits and the best part is its free and there's no nasty side effects except slight nausea from the winding narrow mountain hair pin roads (ha ha).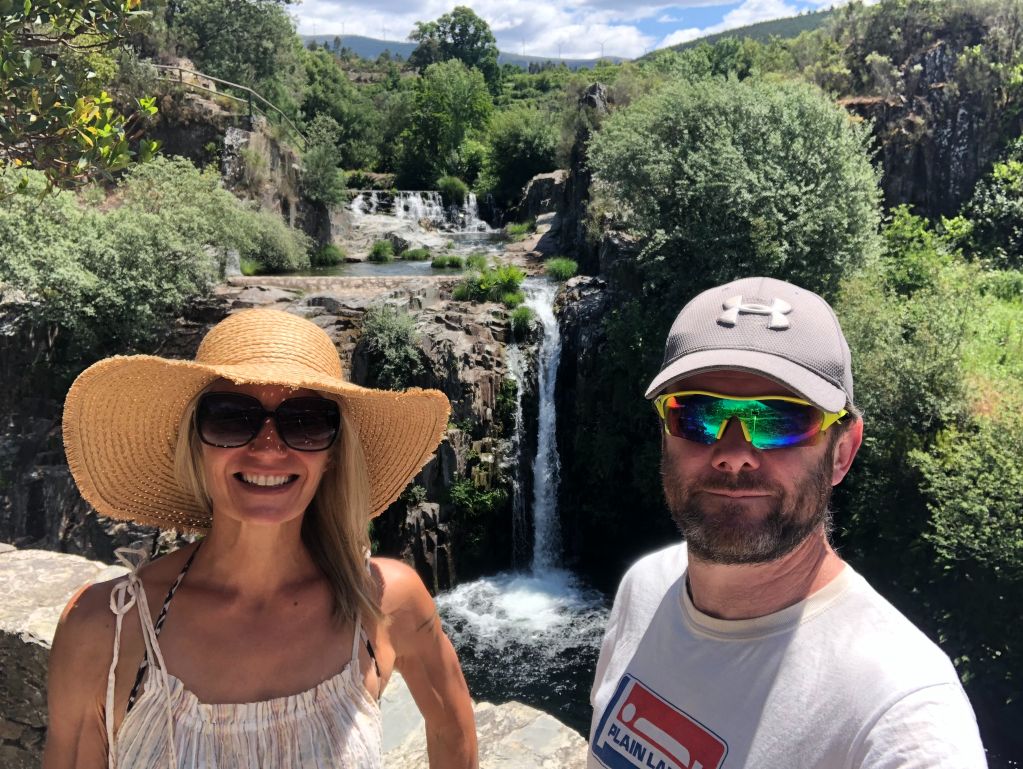 Praia Fluvial de Loriga
GPS Coordinates:
40°19'38.4″N 7°40'42.8″W / 40.327253, -7.678467
Loriga River Beach is the most scenic river beach and utopian setting that I've ever visited. It's a picture postcard paradise with crystal clear ice cold waters and a rugged backdrop of a glacial valley! The infinity pool overlooking the valley is pure bliss! There are multiple tiered turquoise rock pools nestled amongst huge boulders and smaller falls and an eye-catching stone bridge surrounded by boulders and green foliage. I can totally see why it made one of the finalists of the "7 Wonders – Praia's de Portugal" in the river beaches category. We often climb down under the bridge and try to spot all the fabulous frogs. The area is also famous for its river trout, blackbirds and otters. We wanted to relish in the heat of the day so we found an idyllic setting for our picnic lunch with a view of the bridge and smaller waterfalls. I was amazed that no one had claimed this best ever position. It was a romantic scenic spot but unfortunate for the people who stop on the bridge to gaze in awe and want to take a beautiful photo because it meant that the poor souls didn't get a surreal photo as it was ruined by the 2 crazy Brits sat in prime position (ha ha).
It's certainly a rugged natural mountainous beauty and an oasis of tranquility. I even braved the "multi frio" invigorating water for a delightful dip and cool off! I only went up to my ankles because I didn't want my nipples to fall off (ha ha). The water is certainly invigorating even in the heat of Summer. The cafe was open so we ended our day with coffee and yummy ice cream. Well it would be rude not to (ha ha). There were only a handful of people at this river beach and most of them were sitting in the outdoor cafe. We witnessed a couple of people brave the waters for a swim, they deserve a gold medal (ha ha). I am so glad we visited now as in Summer peak season, this place will be heaving full of tourists and there is limited shade so you always struggle to find a good spot or have to fight for a picnic table and bench.
The holistic healing power of the mountain water is miraculous! I LOVE nature spots with rock pools, waterfalls and rivers for swimming. I think I was a "Sparkly Princess Mermaid Helena" in my previous life (ha ha). What I love about the water here is it's from a natural source and flows directly from the mountain springs. I follow a lady on Instagram who has recently visited 2 separate posh spas in the UK and she has developed conjunctivitis in her eye within a day or two of her returning home. I wholeheartedly think this is because jacuzzis and hot tubs are a breeding ground for bacteria and basically a huge pot of human soup. The only thing you will find here in river beaches of Central Portugal is the odd leaf floating around and a few fish. It's wonderful knowing that I can bathe in pure, clean and fresh mountain spring waters. I currently have a bad toe. After one of my jogs I decided to remove my nail polish and take a closer inspection. I thought I had an ingrowing toe nail but once the polish was off my big toenail was bruised all crazy shades of black, blue and purple. Apparently it's a common ailment amongst people who run and is called runners toe, not to be confused with camel toe (ha ha). It was so ugly that I repainted my toenails red. I joked with hubby that if I submerged my toe in the refreshing waters of Loriga, it might have magical healing powers. The funny thing is the day after returning my toe felt much better. I told you the water is magic. You have to believe in the magic for it to work!
What is fantastic about these places is the fact that there is a fierce flow of water. Many other surrounding aqua therapy spots are dry at this time of year until the dams are released. I think this area has a heavy flow because it originates from the top of the Serra da Estrela which is often has ice and is snow capped in Winter months. So I'm assuming as the snow and ice melts it helps provide the continuous flow. It is not yet the official river beach season which usually runs from June – late Aug/early September, depending on location. I do wish they would open earlier especially when it's roasting hot in April and May. They seem to coincide with the school holidays and when the children break up for their long Summer break. I was glad that the toilets and cafe were open. Most cafes and bars located at these heavenly spots have specific opening times but we have had many chats with the staff and often they say that they stay open as long as they have customers. I noticed that the opening of the river beach at Loriga is not until 1st July. It is always beautiful but today's visit did display some Winter neglect. The little wooden bridge was broken and partially gone. Sometimes this is a purposeful act as it's removed once the Summer season is over. The water is not as deep as usual and there is no sand. Come Summer it will look sparkly and spectacular. There is a new website where you can check the level of water dams so you don't turn up to find a lack of water and have a wasted journey, how fantastic! Here is the link: https://barragens.pt/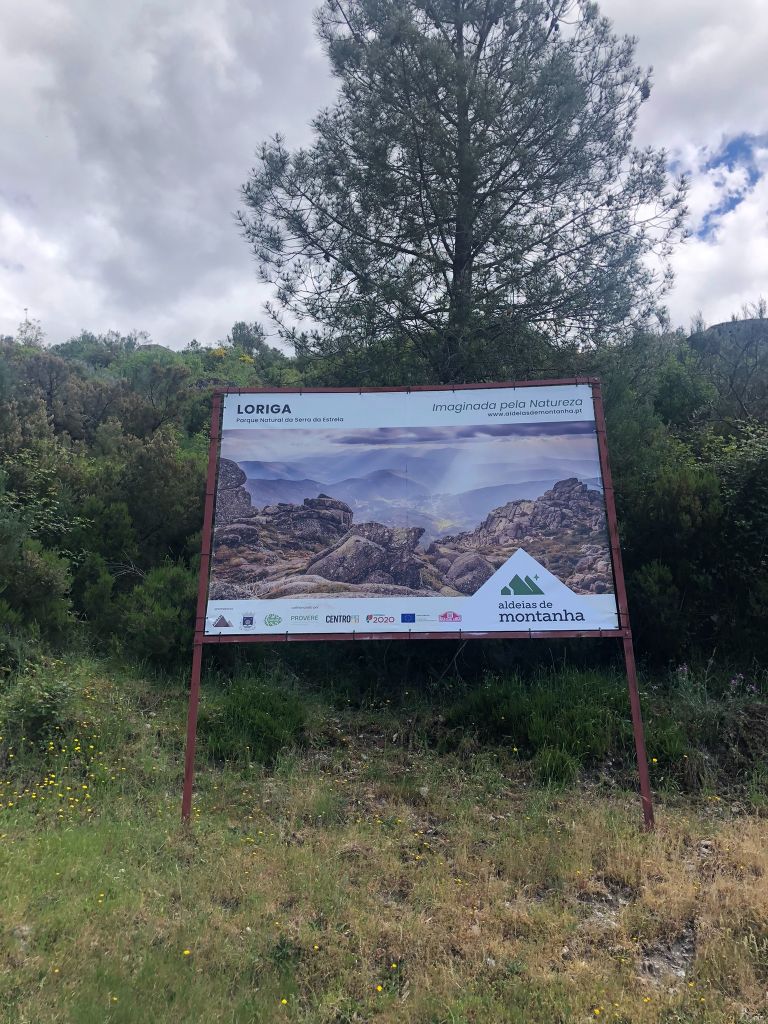 Loriga River Beach Mini Waterfall Selfies
It's a truly difficult task trying to negotiate a Selfie stick in the blinding sun and get both our heads in as well as the small waterfall but we tried and hubby remembered his sunglasses this time. I do wish he wouldn't wear mirrored sunglasses as one needs to remember that a reflection can radiate off a mirror so I have to remember at all costs to close my legs and keep them firmly shut (ha ha).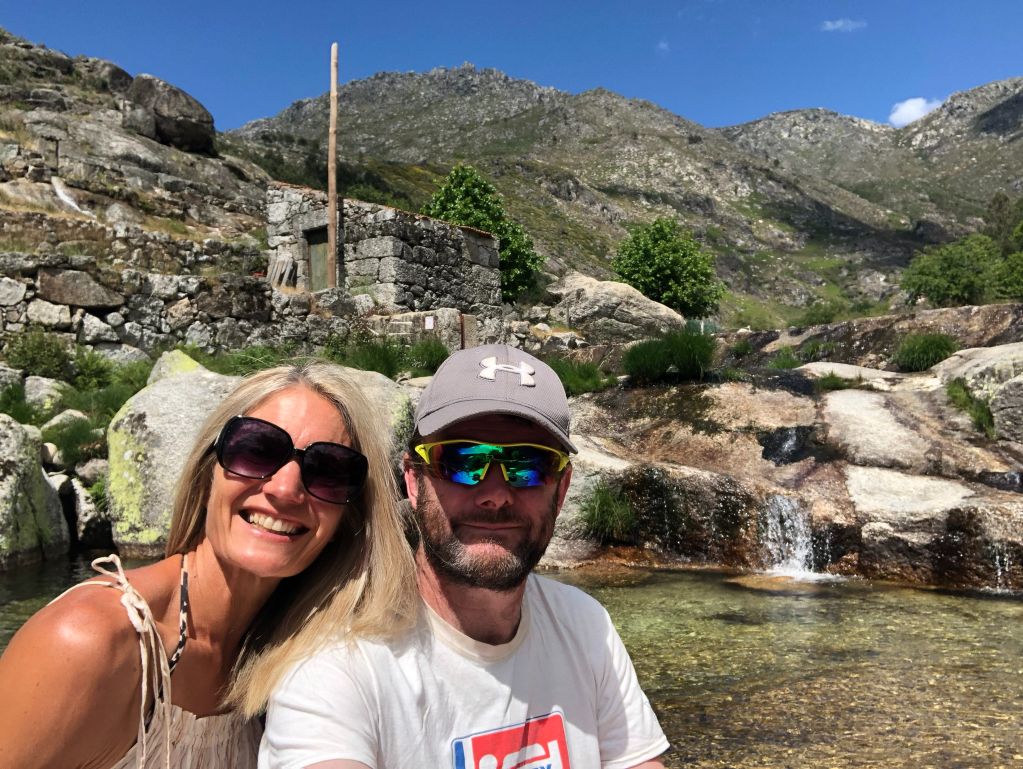 Overview
We had a lot of fun visiting these duo of delights, such unparalleled beauty in the heart of nature. The only negatives I can find is there is limited parking at both tourist attractions and a lack of spaces to lay your towel if it's packed full of people in the Summer season. It was absolutely mind-blowing to have the whole of Poço da Broca to ourselves and such a luxury. It was also really quiet at Loriga too. As soon as we left our picnic spot a couple seized the moment and claimed it and by the time we made it up to the bridge so I could take a final photo there were 4 people in this area sunbathing. It was so lovely to spend a relaxed and chilled Sunday afternoon together admiring the gorgeous mountain landscapes. We are totally blessed to live so close to the wonders of Serra da Estrela Natural Park. Somehow I managed to drive through Seia and not visit the famous Bread Museum for their epic chocolate bread. It was a difficult mission for sure because I LOVE chocolate bread. If you have not yet visited these 2 awesome places, you must go and explore to experience the breathtaking views and ambiance first hand as they are both just simply stunning. I would also highly recommend a trip to view the nearby Foz d' Euga which is another hidden gem and very majestic with its Indiana Jones style bridge. Just check the water levels as apparently it's very low at present.
The day after this trip was apparently National Straw Hat Day. I was a day too early! Hubby didn't get the memo so came sporting his baseball cap. He thinks he is one of the Backstreet Boys but really his aura is more Chas & Dave. I'm not sure if he is Chaz or Dave but seeing as Chas is dead, god rest his soul, I think I will be Dave (ha ha). I do love these weird ass National World Celebration Days. I'm devastated that I missed World National Naked Gardening Day, you all missed a treat. I had an wondrous plan of stripping off and taking a few photos of myself in my garden with a couple of strategically placed fig leaves and cabbages over my saggy tits. There is always next year! (ha ha).
Look deep into nature, and then you will understand everything better.