PENEDA-GERÊS NATIONAL PARK
Peneda-Gerês National Park is located in the North West of Portugal near to the Spanish boarder and is known for its stunning cascatas, fauna and flora as well as for all its surrounding magical pure nature and stunning landscapes. It is the only National Park in the whole of Portugal and is one of the 7 natural wonders of Portugal and I can see why. The Tahiti waterfall undoubtedly, is one of the most beautiful places in Gerês, with waters from the Arado river located in Caldas do Gerês. I was very intrigued to visit Gerês to view the delights it has to offer. Due to the distance, 3 hrs drive we stopped off at Guimarães and Braga for a day then stayed at a hotel overnight so we could wake up fresh the next day and have a full day exploring. Gerês is gigantic! It crosses three districts (Braga, Viana do Castelo and Vila Real), you really need a few days to explore fully. It is a wonderful place to go cycling, hiking and sample watersports. There are so many trails for beginners and advanced hikers. The park has been classified as World Biosphere Reserve, by UNESCO. In addition, there are about 500 sites of historical and archaeological interest.
We started at Cascata Tahiti waterfall also known as the Cascata Fecha de Barjas and actually has a signpost saying Cascata de Varzeas which is mildly confusing. There have been several fatal accidents here which put me a little bit off ease. It was quite a tricky steep trek down, not too far but very uneven rocky ground with no clear signposting to direct you. I can't believe people were climbing down in flip flops! There are different areas to view as you climb down but you need to go right to the bottom to discover it's total beauty and wondrous setting. The crystal clear waters of the natural lagoon were fantastic to swim in and sit on the rocks and just stare in admiration. There is one area near the bottom where you need to take your shoes and socks off to cross unless you have very long legs, unfortunately I was blessed with stumpy short, fat legs. Adrian and Teanna managed to travel over with ease. A delightful boy of about 10 years of age tried to assist me and show me the way by jumping over the water, bless him. It really is very idyllic and you can chill out for a while in paradise. Apparently shampoo commercials were recorded here, I can see why.
We then visited another waterfall (Pincães) which was a further trek and did not have such a wow factor. The signs disappeared after a while and we had the difficulty of guessing right or left a lot. We eventually got there and it was really pretty. I had to wait ages to take a photo as there were 2 young couples taking selfies in front of the waterfall and one of the ladies wanted 101 photos of her from every angle imaginable. I don't know why as she was no super model! I just wanted a couple of photos without her whale tail bikini ass in it. On the trek back I managed to trip and fall on my right arm quite badly to the point where I thought I broke my arm but luckily I didn't and all was fine. Trust accident prone me, I manage to descend down a difficult route to Tahiti waterfall then fall at the easier one on the climb back up, typical me, I like to be different.
We then explored many different areas of Geres, just stopping the car at points of interest in the middle of wilderness and taking a wander to our hearts content around many tiny highland villages which are charming. There are so many points of interest such as Fafião (known as the wolf village) which has the most delightful natural pools. The history behind each attraction is fascinating. So many amazing things to see including a medieval castle, stone granaries, shrines, churches, chapels, monasteries, Roman road, bridges, lakes, lagoons, dams, waterfalls, forests and river beaches with magical serene scenery. We loved the granite rocks and boulders surrounding the lagoons and the breathtaking views from the majestic mountains and also the secluded off the beaten track places to explore which makes it feel you are the only ones there. Filling up our water bottles from little natural sources was fun too. There were many animals just roaming the park and we saw many goats, sheep, deer, horses and chickens. Thankfully I didn't get attacked by any bears or wolves which is good as I haven't mastered my tree climbing at speed just yet (ha ha). There are plenty of hikes where you can reward yourself with a tranquil refreshing swim amongst nature at the end and did I mention the magnificent views! We stopped at a little restaurant for lunch with amazing views and I ordered a mozzarella salad which consisted of a plate of sliced tomato and mozzarella drowning in olive oil. Basically a plate of tomatoes and cheese WTF! Where was the salad? Teanna's tuna salad came with salad including lettuce so I don't know what went wrong. Anyway I was a bit sad so hubby ordered us all chocolate cake to console me. The man on the table behind me ordered the same as me and when he received his lunch his face was hilarious. He just sat there starring for a while thinking exactly the same as me. Have some chocolate cake my friend (ha ha).
Late afternoon we decided to visit a river beach for a dip to cool off but on route we spotted this fantastic beach (Ipanema) and it's cute small island in the Rio Caldo where you can hire kayaks and peddle boats. Hubby and I got a double €10 and Teanna hired a single for €7 (1 hour). We had so much fun but my back is still recovering. We then found a tranquil spot on the beach to sit, enjoy an ice cream and watch the epic scenery. It was a long drive home but we stopped off at Porto for a late dinner. I was totally exhausted and exhilarated by the end of the day but high on adrenaline or it might have been the caffeine and sugar from the multiple espressos I consumed and the churros we bought from a little street food wagon on the drive back home. What a fantastic place, a spectacular oasis of nature, just pure paradise! This trip was definitely in my top 3 out of our whole 2 week holiday along with Serra de Estrela and Douro Valley. A day is not enough to explore all the wonders and I am already researching my next trip back for 2021.
Room with a view
The hotel we stayed at (O Pimpao) was pretty basic and looks more attractive at night in the dark than by day, a bit like me (ha ha). We were not expecting much for €47 a night for a triple room. The bedroom was very dated and had a double bed, single and a camp bed. This was good as Teanna got to sleep on a proper bed instead of a camp bed. I'm not sure why we got 3 separate beds, maybe they thought I might not want to sleep with hubby, he does snore really bad! The bathroom was modern, clean and functional. We didn't eat at the hotel as the staff's hygiene was poor. One young lady had the grubbiest t.shirt on and her mask below her nose, another didn't have a mask on at all then decided to put one on 10 minutes later and the other lady had her 2 kids behind the bar (a toddler running around and a baby).
We ventured out down the road and found a delightful restaurant which had a short queue. The noise levels in the hotel were very loud until about midnight. Our room was on the back so we did not have the beautiful views, In fact we had a view of a brick wall and an apartment with some loud occupants and a view of their washing hanging on their line which we found funny. Breakfast consisted of O.J, coffee, bread rolls, croissants and a selection of butter and jams, not great if your gluten intolerant. I think next time I will push the boat out and stay in a luxury hotel or try and book a quaint air B n B. The issue was nearly all hotels wanted a minimum of a 2 night stay in August. This place allowed 1 night and to be honest was absolutely fine for a 1 night stay, just drink plenty of wine before you head to your room and it actually looks a lot nicer (ha ha). The moral of the story is you get what you pay for.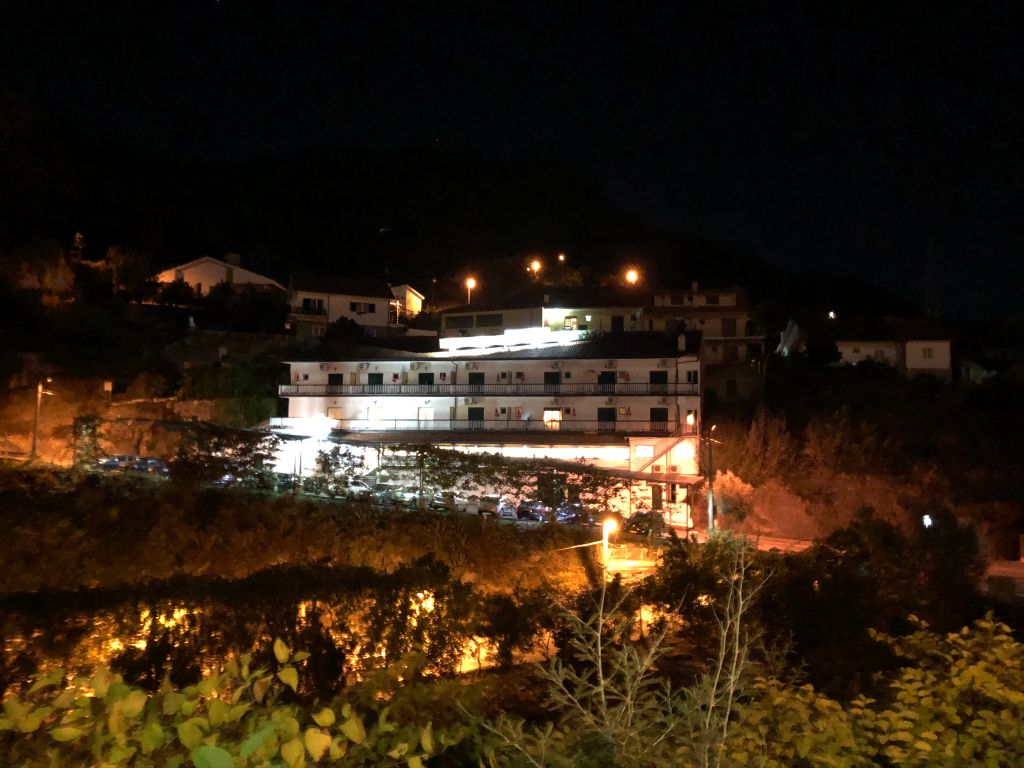 GPS Coordinations (Tahiti waterfall): 41 ° 42 ′ 13.392 ″ N 8 ° 6 ′ 34.380 ″ W
Tahiti Waterfall
Pincães Waterfall
Other delights
Lunch with a view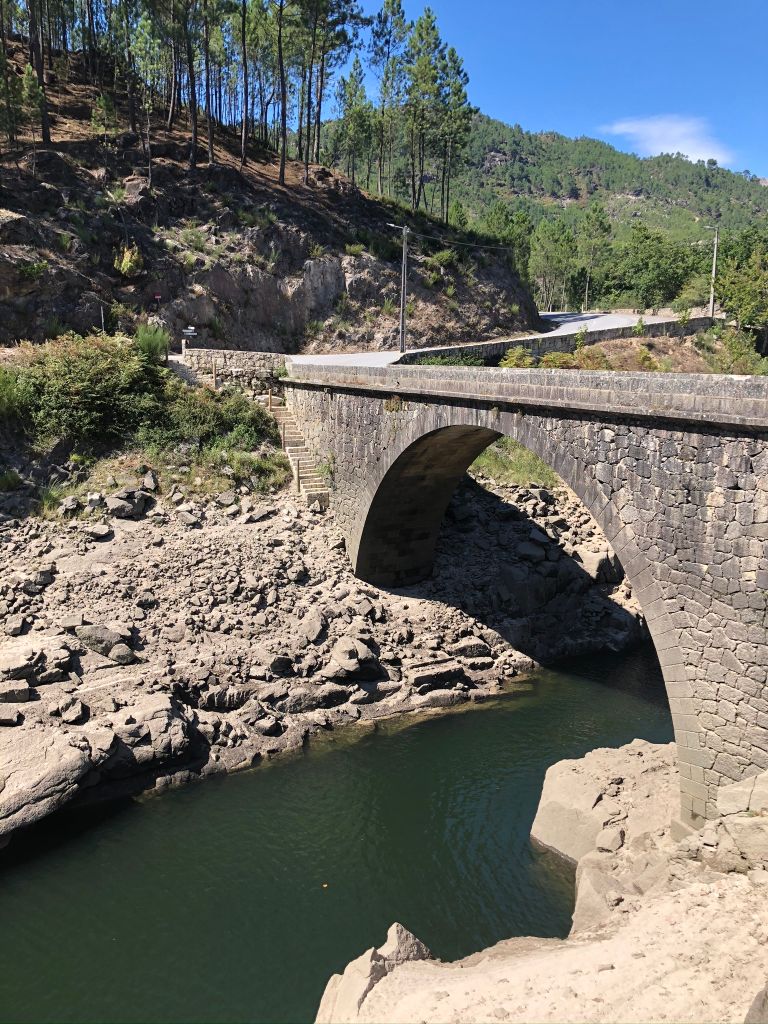 Kayaking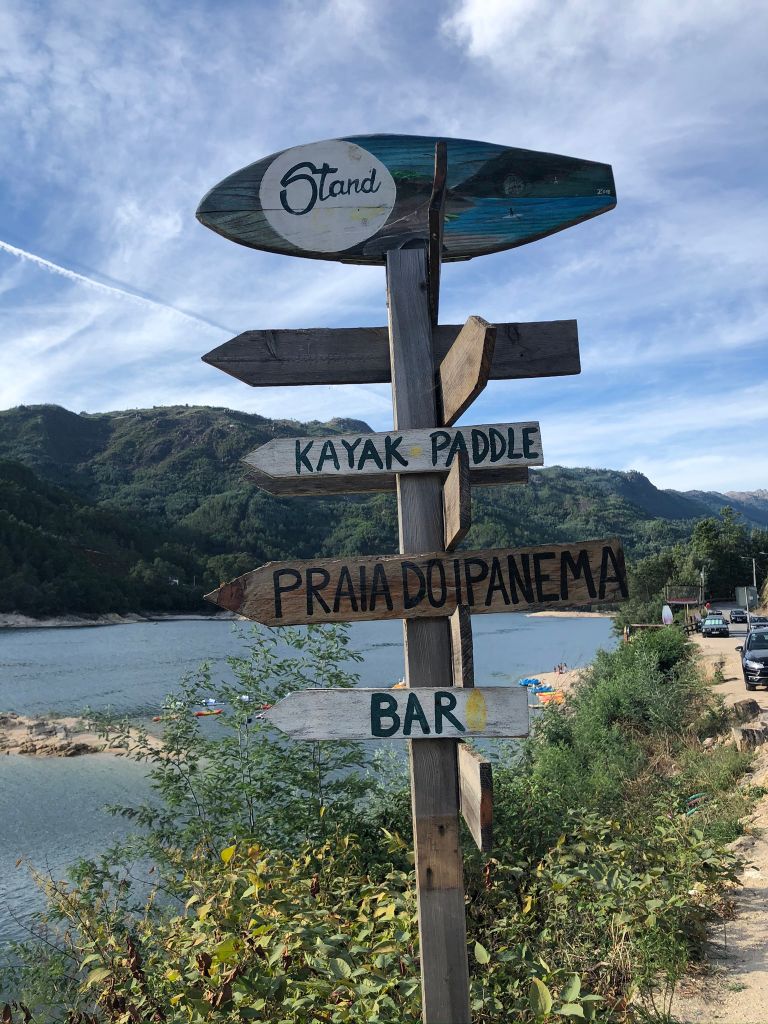 Churros
Churros stuffed with chocolate, egg custard and kinder bueno.