ROOF REPAIRS
We have a lot of roofs on our house and in our garden. You may already know that Portugal is famous for it's white houses and terracotta clay roof tiles. Our old casa is no exception and is made partially from schist stone and partially painted white and all roofs have the typical terracotta orange clay tiles. It is important to maintain your roof and check for damage annually. Cracked tiles and a build up of dirt, debris, moss and algae can hold onto moisture and cause leaks inside your home. Also lots of moss and dirt can hide the cracks and broken tiles. Our roofs are in pretty good condition but very dirty. It's not advisable to clean your tiles too regularly as this can also cause damage but regular maintenance is essential. It's a scary balancing act climbing onto a roof for the first time. My balance is very poor and I am a clumsy person and very accident prone so extra care is needed in my case. Don't ever try it in the rain as it becomes an ice rink and is slippery as hell! Lesson learnt.
We have the following roofs:
Main house roof which is split into 2 sections front and back.
Sun room roof
Workshop/Shed roof
Garden roof covered terrace area
2 small roof areas above 2 doors
My aim was to clean all the roofs and check for any damage e.g. cracked tiles or lose pointing. This is a great job to do in the nice weather and it can become a little sun trap way up in the sky. Sometimes a lot of moss and dirt is covering the odd damaged tile so you don't know what you are faced with until you have cleaned the tiles. I have a love/hate relationship with cleaning roofs. It's very exhausting work but you get to gaze at the sky and cloud spot which is fun.
Main roof (front)
We started this project in September 2020 and it took us until November 2020 to finish the front half of the main roof. The reason it took so long is because I decided to scrub every tile by hand! I didn't use a power washer, I used a bucket of soapy warm water, a spray bottle with a mixture of Hipoclorito with water and scrubbing brushes along with my trusty toothbrush for hard to reach areas, then a quick hose down with garden hose. It certainly was a long, hard, exhausting task. It's very uncomfortable sitting on ridged tiles especially when I have no coccyx and back pain. There are various methods for cleaning tiles. I have heard horror stories about power washing roof tiles so at first I avoided using a power washer. Make sure you wear gloves and a face mask as the fumes are toxic! Wear old clothes too as it will bleach your clothes to the point they disintegrate. Top tip: Don't go into Leeroy Merlin and accidently ask for Hippo Clit instead of Hipoclorito and under NO circumstances google Hippo Clit looking for a supplier nearer to your home as you will instantly regret it, I learnt the hard way (ha ha). After the clean up the tiles were in good shape so we only needed to point a few gaps where the pointing had crumbled over time. This task seemed to go on forever and ever and there were a few minor injuries along the way, mainly cuts and bruises. No pain, no gain (ha ha).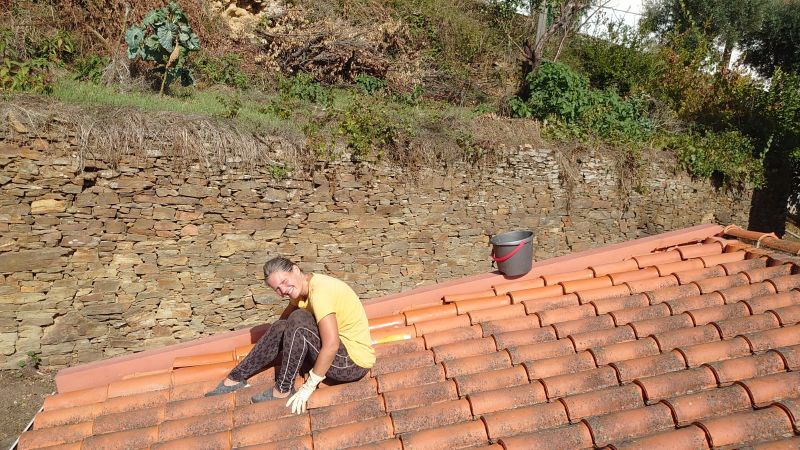 End result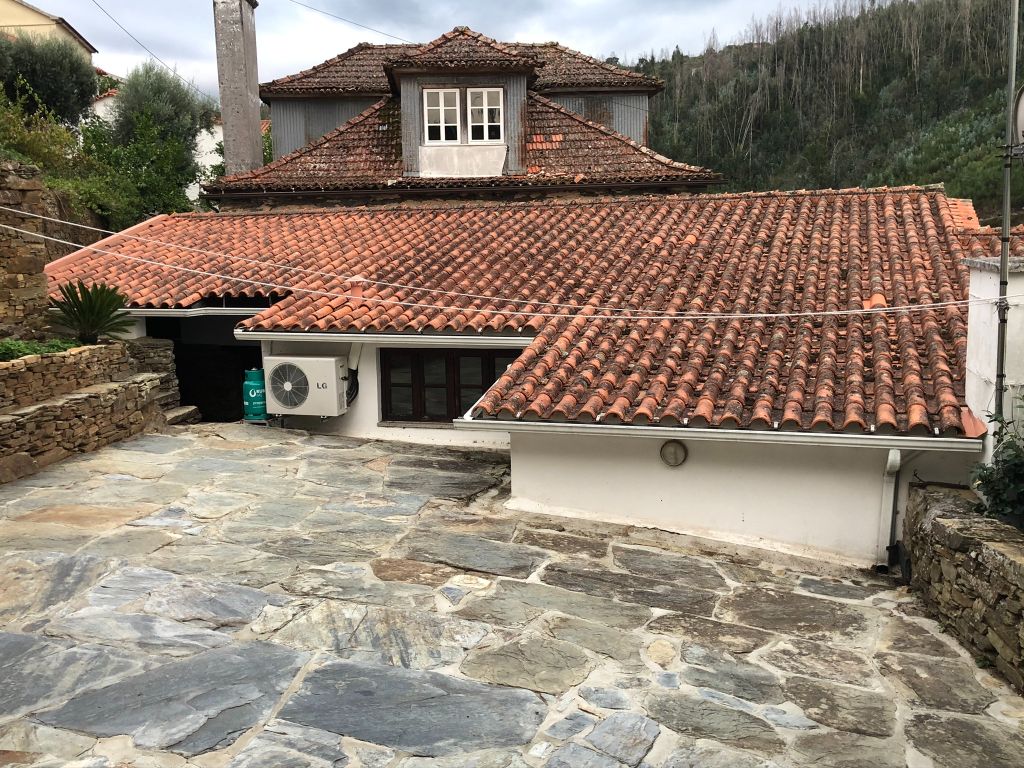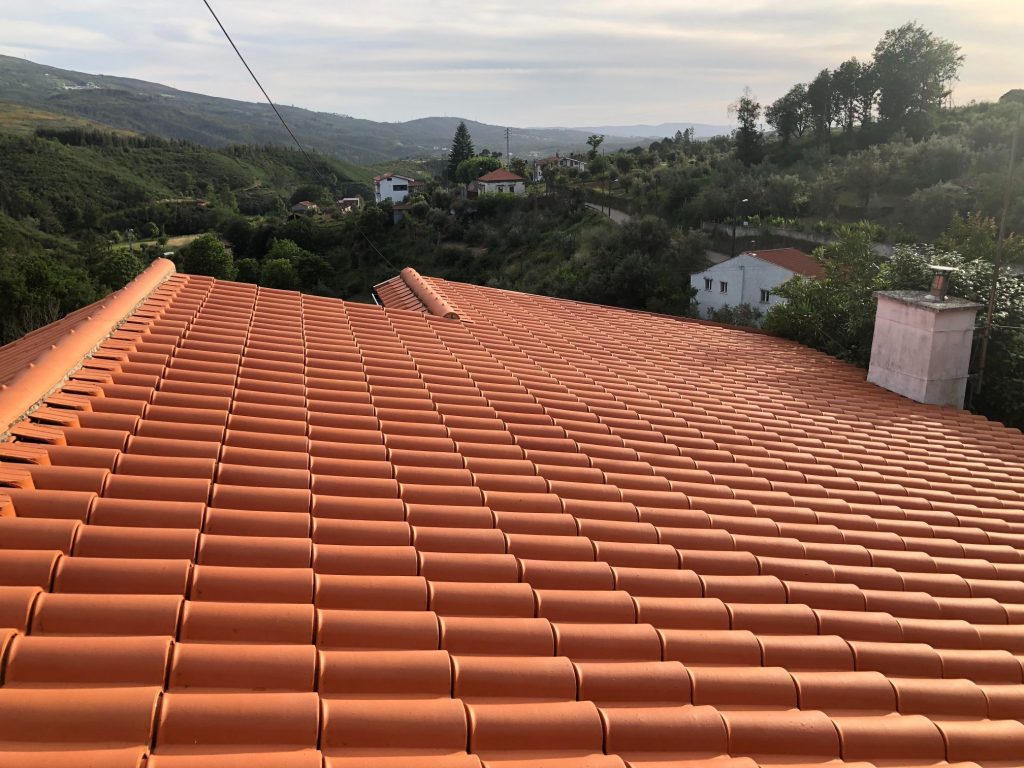 Main roof (back)
We haven't continued with the roof repairs over winter and waited for the warm Spring weather so re-commenced the work in April. I decided to borrow a power washer from a friend and give it a go as scrubbing the tiles individually by hand is such a tedious job and this side of the roof is much steeper with a sheer drop and my bucket would not balance without falling over. I also only felt safe to scale down 4 or 5 rows of tiles as after that I just felt that I was slipping and it is a very high drop to the ground and I might not bounce (ha ha). I told hubby to listen out for my screams and if he hears me scream from his office then I have fell off the roof and come and help me. Luckily the only screams were me catapulting my scrubbing brush off of the roof onto the floor below. The power washer was great but it does not remove all of the algae. The Hipoclorito spray bleaches the stains a bit but you have to repeat the process 3 times to get a good clean finish so it's very time consuming.
This side of the roof is partially over the loft so I thought it would be O.K to use a power washer and direct the flow downwards to minimise any leaks. It is so satisfying using a power washer, I only wish it would remove 100% of the dirt. Having to repeat the process 3 times is a pain in the ass. We ended up purchasing our own power washer but I cleaned most of the roof by hand as it gives a better end result and I got super brave as I managed to get near to the edge to clean the final rows. Half way through this roof my osteoarthritis arthritis kicked in big time especially in my finger on right hand. It swelled to double it's size and was so very painful but I was captain brave again and continued on with my goal of completing 5-10 rows per day if it wasn't raining.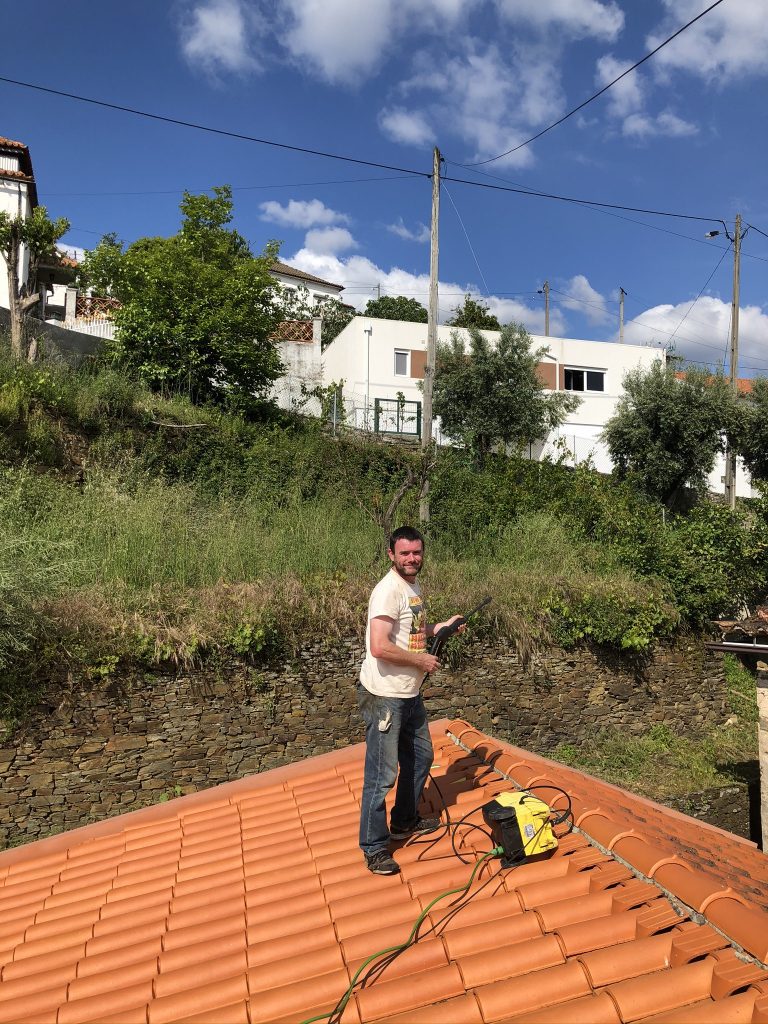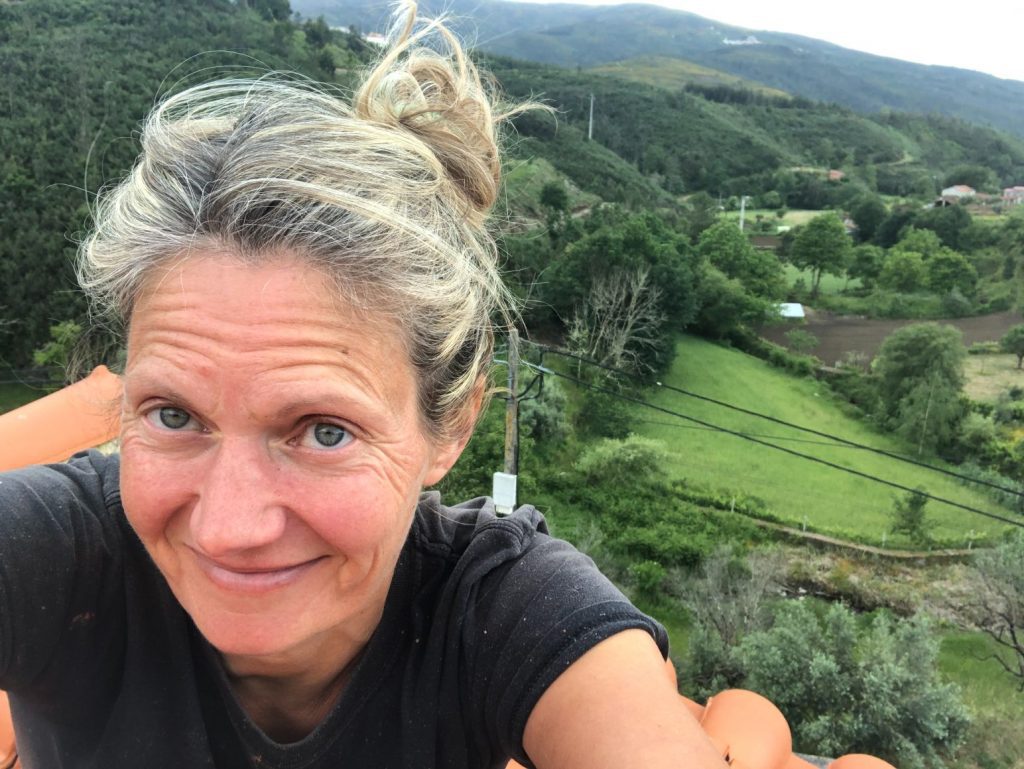 End result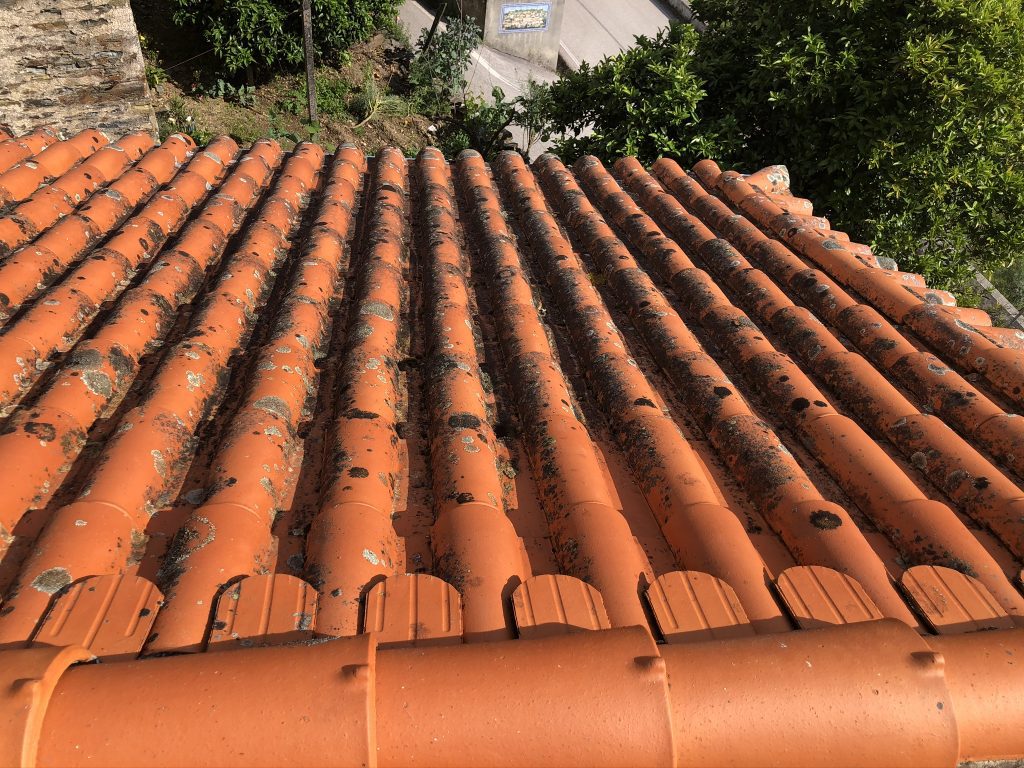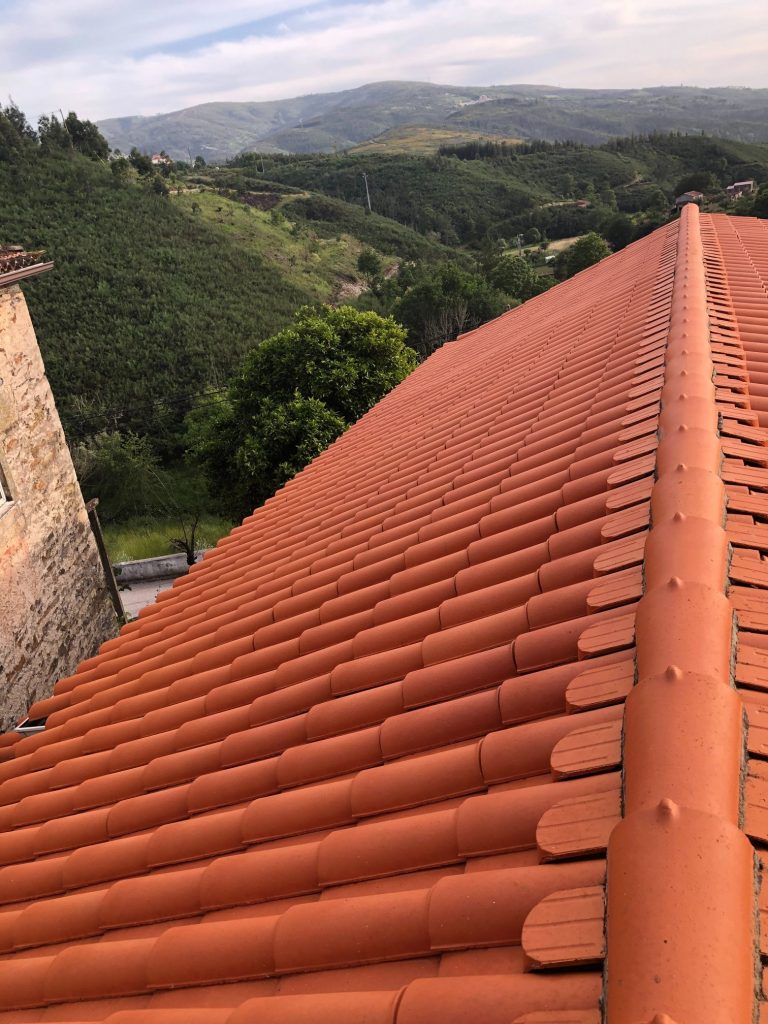 My little helper
I mainly worked on the roofs by myself but on weekends and some evenings I had my hubby (little helper). On this particular day, I managed to complete an epic 9 1/2 rows of the roof! Not to be confused with the saucy 1980's film 9 1/2 weeks (ha ha). 9 1/2 rows of tiles is a whole different kind of physical exertion. I worked hard until 7pm and my little helper joined me for the last hour. Never mind the last hour when's Happy Hour? I love that hubby's garden working T.Shirt matches the colour of the clean roof tiles, colour coordinated (ha ha). My roof cleaning attire consists of various TWD T.Shirts and bleached holey leggings!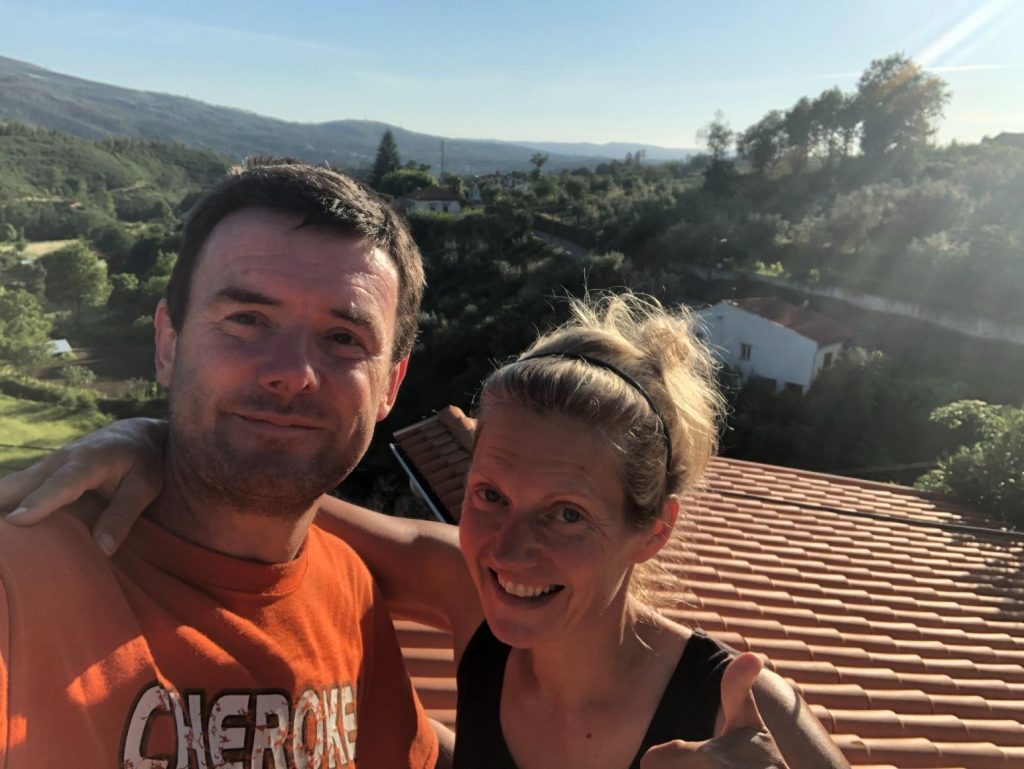 Workshop/Shed roof
This roof required the most work. Once I cleaned and power washed the tiles I realised that almost all of 26 side tiles and a few of the top 6 ridge tiles were cracked or completely broken. Some flew off the roof at high speed and made a right mess of the patio below. The power washer also soaked the whole inside of the workshop but luckily it dried out quickly. This is why I am so reluctant to use the power washer on the main roof of our house. The staff member in the local DIY store explained that we needed a different finer sand for the cement to point the tiles and that we shouldn't use the cement that we used for the chicken coop, old stone ruin transformation. Unfortunately we could not get the same tiles as they are discontinued so had to buy a similar tile which is a slightly different shade and shape but not too noticeable. All the tiles, sand and cement only cost €29 and we have a few spare tiles as they came in a pack. The top ridge tiles are a bit different in size so we needed to buy 7 instead of the previous 6 and cut the end off of one. We only have a floor tile cutter but our local builder friend who lives a few doors up cut it for us for free.
It seemed like a good idea at the time to climb another roof on my own, clean it then fix the broken tiles. I just made another shitty mess (ha ha). I didn't realise the top tiles would be cemented in like that! They were virtually impossible to remove without breaking the good tiles. I took a dustpan and brush up with a black bin bag to tidy the mess but the bag just blew off towards the direction of Cerdeira. I watched it float off into the sky with all my hopes and dreams of fixing this roof by myself (ha ha). My neighbours who I haven't seen in a year were visiting and the bloke was pissing himself laughing at me. I don't blame him. I hate to say it but I had to give up and wait for hubby to finish work and assist. I like to be a strong, independent lady who will give anything a go but sometimes it's a man's job or a job for someone without chronic pain, a back disability and arthritis. Know your limits is a good motto.
When I removed the side tiles I had a huge surprise! Wasps had built their nests inside the cavities. I felt really bad destroying their homes. A few angry wasps came back and circled my head probably wondering what the hell was happening. Luckily for me they never stung me and I kept calm so not to fall off of the roof. My pointing skills are not great but improving over time, this was a hard task. I tried my best and that's all I can ever do. Mixing cement by hand is exhausting and trying to lift that huge bag of sand which must weigh around 50K was hilarious. Who needs the gym? Not me. Our DIY building team effort skills are not bad. I'm thinking of starting our own building firm (joke). Can't do Allen and son as hubby's sons are wheelchair bound due to CP and can't climb roofs. We could send them round houses to do the quotes, how funny would that be! Just to see the look on the clients faces. Maybe instead of Allen and son we could start "Allen & Spouse, We can fix ur house". Well kind of depending on how bad my chronic pain is on that particular day and if I'm experiencing a perimenopausal episode (ha ha). My Primark €2 leggings have a hole in the ass as I caught them on the edge of a tile so I reversed them around as in my eyes exposing my lady front bits is more acceptable than exposing my ass, I'm not sure how I came up with that theory but I feel being at the front it can be hidden with my baggy bleached walking dead T.Shirt. When on the back I only have to bend over and everyone in Vinhó gets a free viewing (ha ha).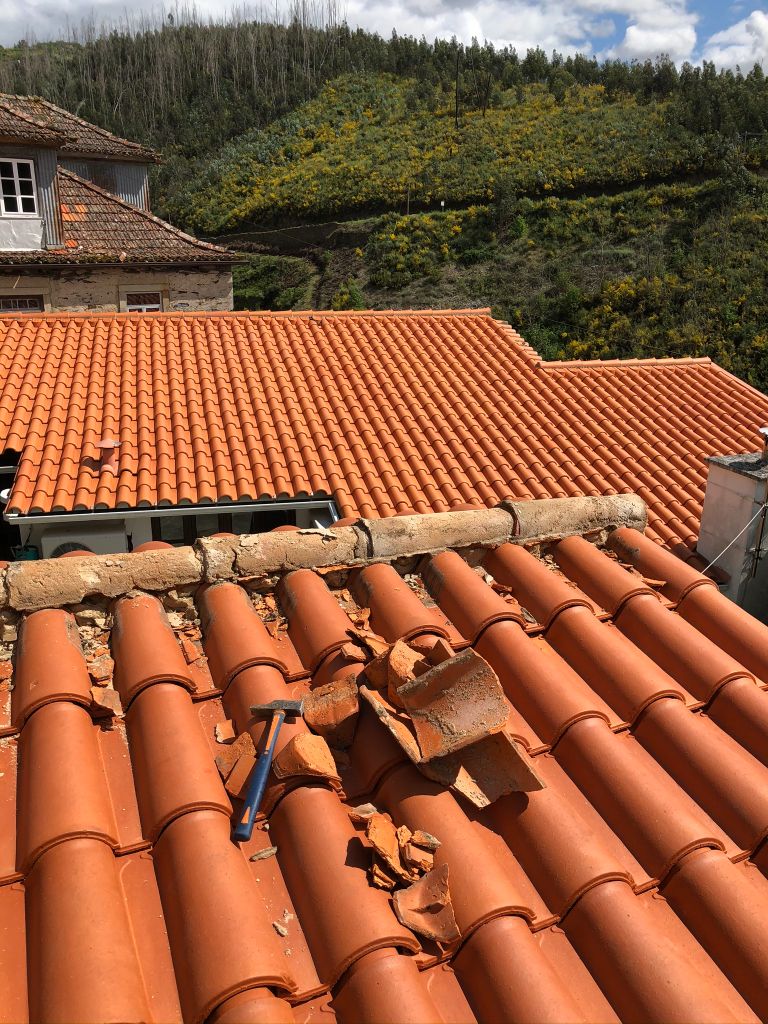 End result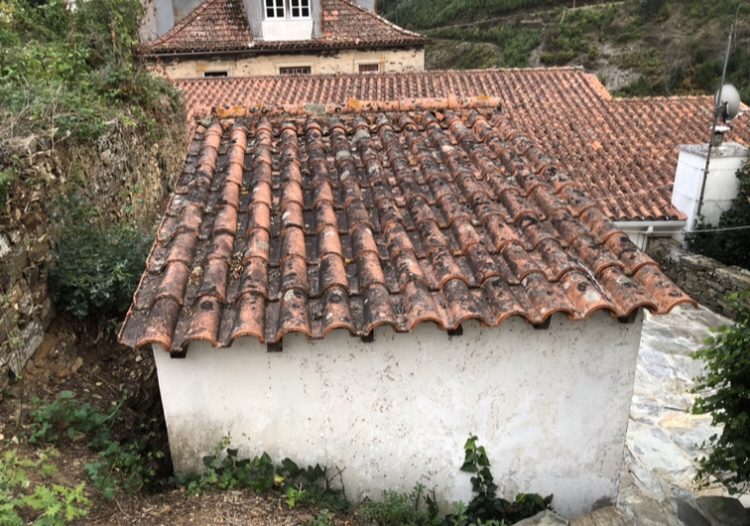 Break time = cake time
It's important to take regular breaks. Here is one of our breaks enjoying a tasty Bola de Berlim com creme.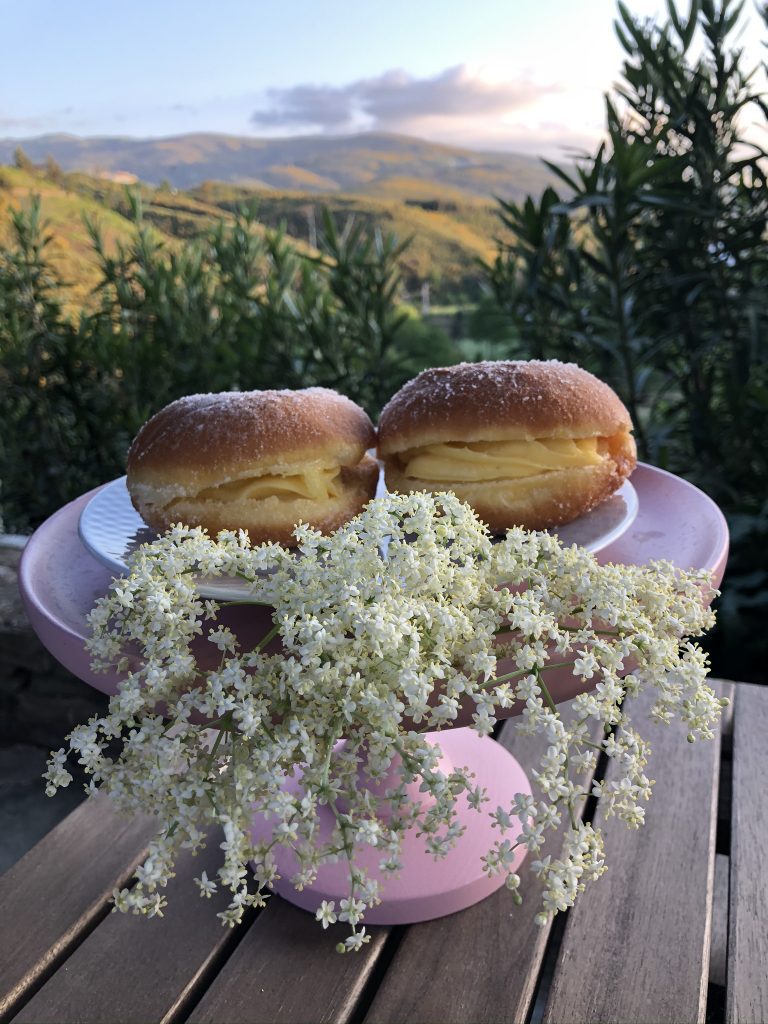 Garden terrace covered area roof
This is my favourite spot to sit in my garden and stare at the glorious panoramic views. I did not feel this roof was sturdy enough for me to sit on and hold my weight and we cannot access it from a ladder with our power washer as you need to be directly above the tiles. Our plan is to remove the tiles one by one and clean by hand. The underneath of the tiles are also stained so it is better to remove them so I can easily clean both sides. I did try and start to power wash the dirt off but it was a difficult task on a ladder and only removed partial of the dirt on the end row. I also can not spray any bleaching product on the tiles as it would run off into the garden and kill my plants so by removing them it enables me to give them a quick spray with product to help shift the dirt and grime.
There is 1 missing tile to replace but luckily we found a few spare in the workshop. I have decided to put this roofing job on hold for now which I am a little gutted about as this roof is the roof that you see first when you approach the property and I see it every time I jog home and it is a little depressing. I want it lovely and clean and I would like to purchase some more fairy lights in the near future to attach to the underneath of the tiles and beams to create a pretty light canopy effect. I have a dream to buy a projector so we can watch old fashioned movies outside. One for my bucket list! I will get this roof done but I just don't have the time to complete it just yet as my daughter is hopefully visiting in June and we have several jobs to complete before she arrives and we are running out of time.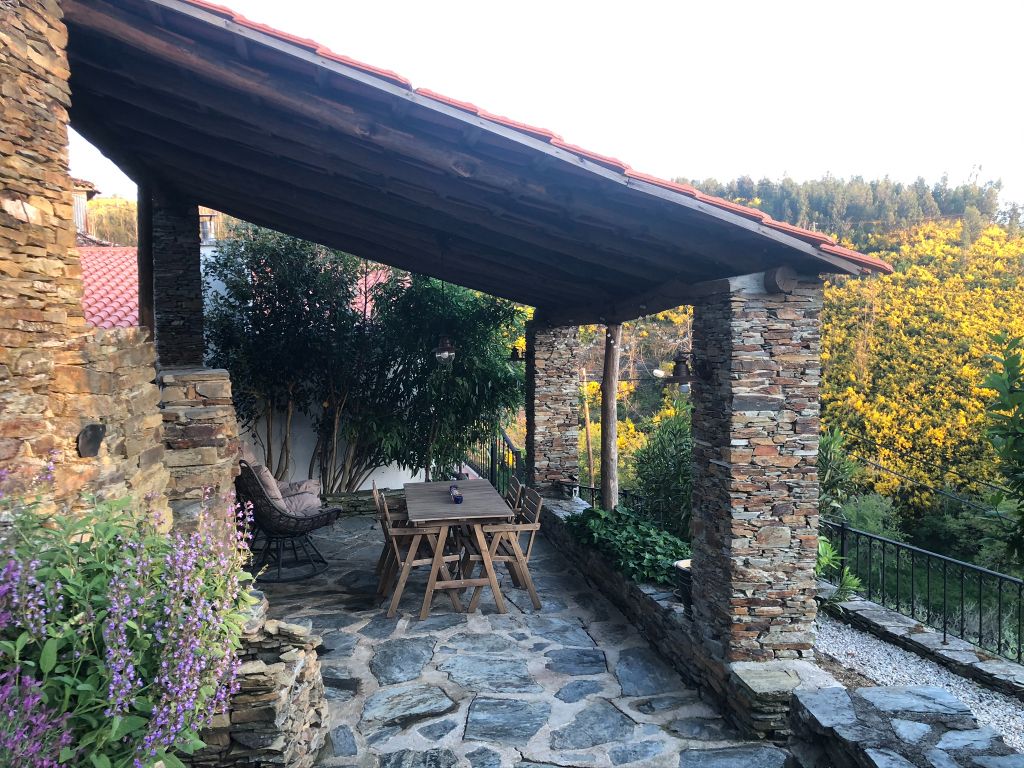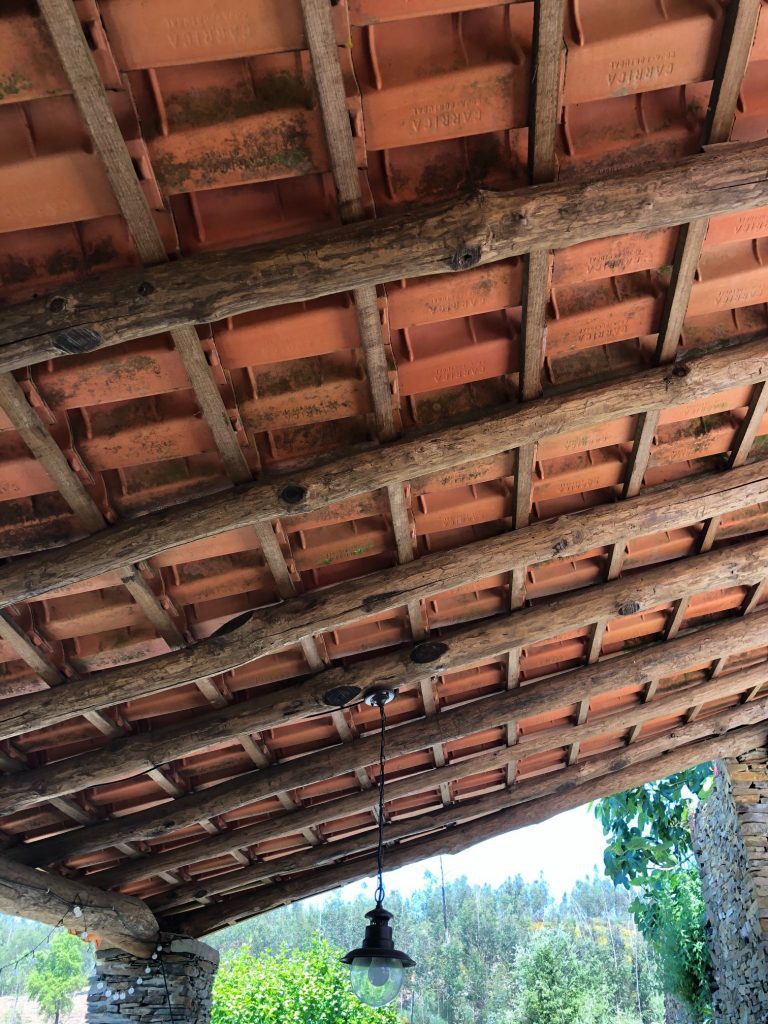 Sun room roof
This roof was tricky to access and we had to buy a longer hose. I was worried that it wouldn't hold my weight so sent hubby to sort this roof out. This makes perfect sense as he weighs heavier than me (ha ha). It's not perfect as he could only use the power washer on this roof as there are plants directly below this area so we could not use any bleach or toxic products.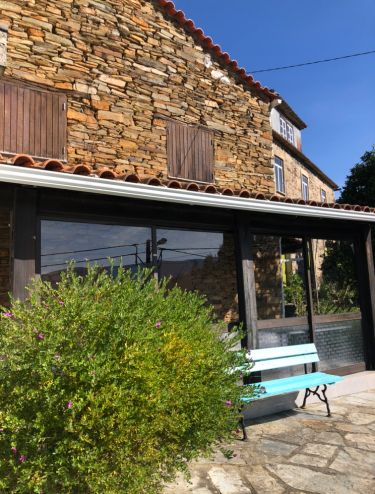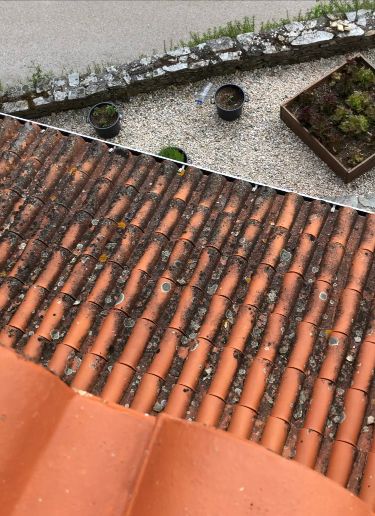 2 small roofs above doors
As we cleaned the main roof above a lot of the moss and broken tiles fell onto these 2 small roofs. This small roof was accessible by ladder so I sent hubby up with the power washer as I'm not great on ladders and I didn't want to break a leg or two.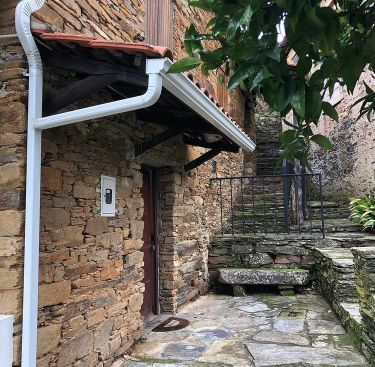 I managed to climb down from the back of the main roof to access this second small roof. I was a little concerned that it wouldn't hold my weight but luckily it did. Getting back up was harder than getting down especially for a short ass like me with stumpy legs.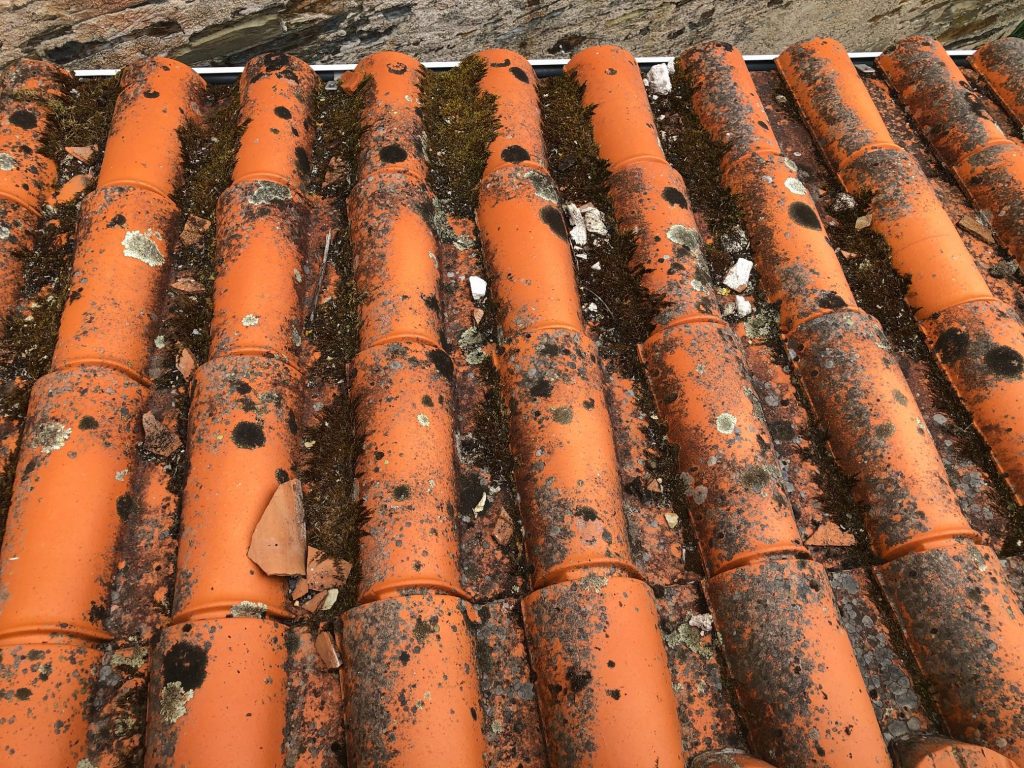 Chicken coop roof (Cluckingham Palace)
I sourced these tiles from a Facebook DIY Leftover group for free. I cleaned the tiles by hand before placing on the roof. What a transformation! My trusty toothbrush got into all the cracks. If you are interested in our old tiny garden ruin renovation, see my post: Renovating the ruin part 1, part 2 due soon.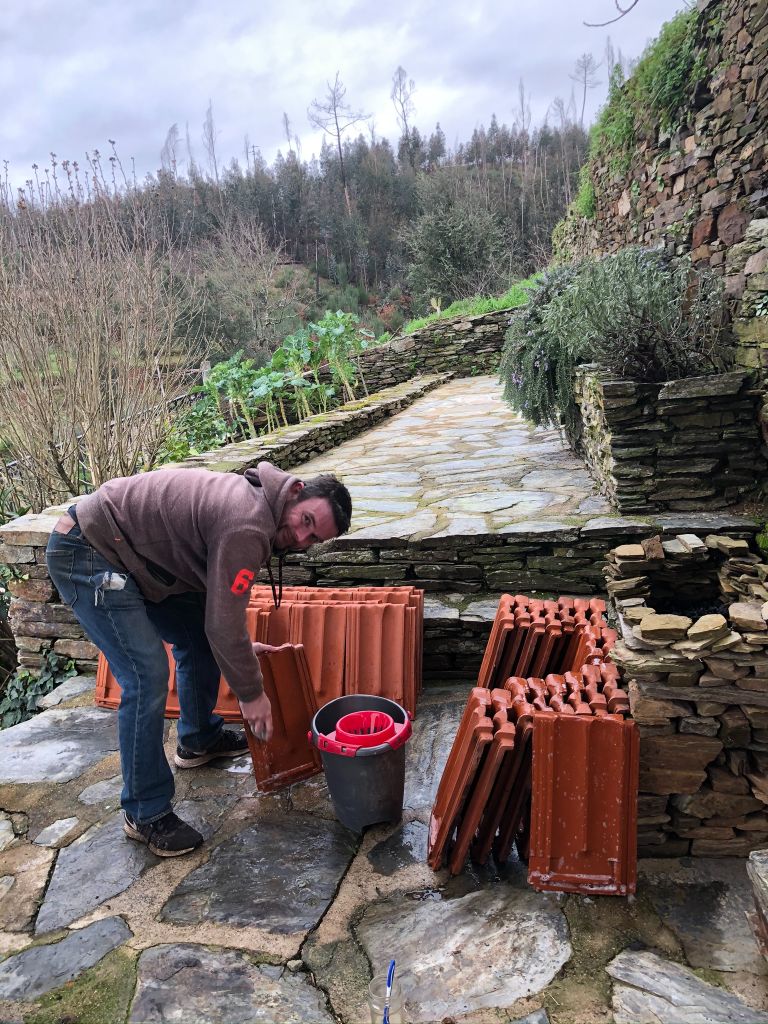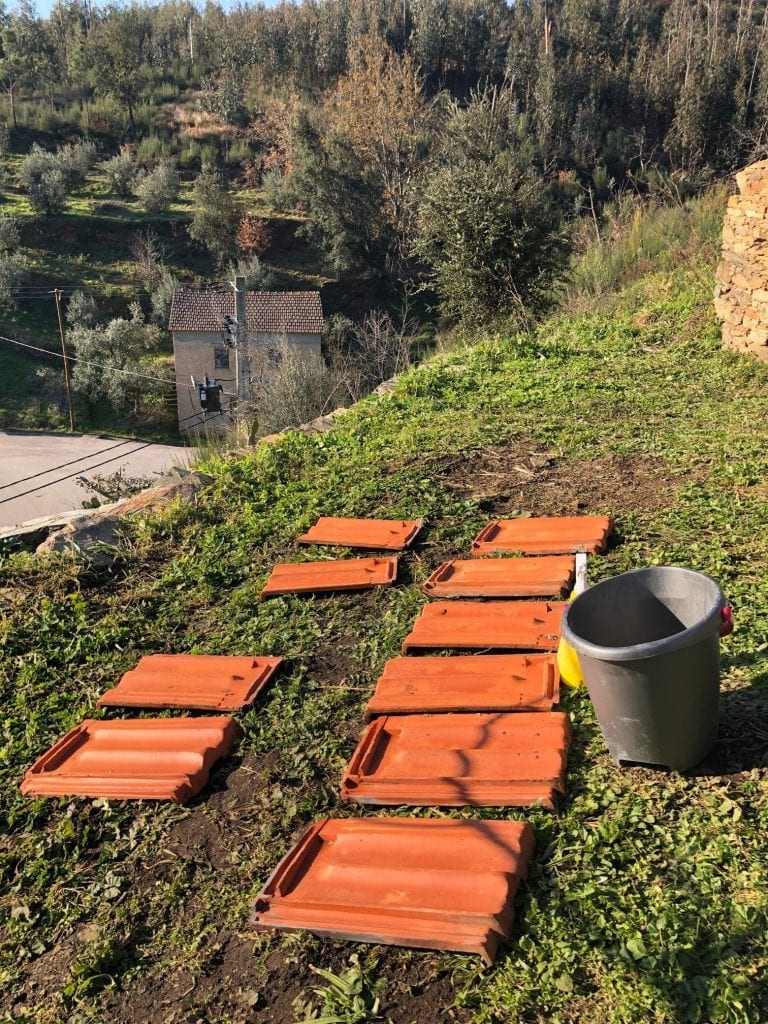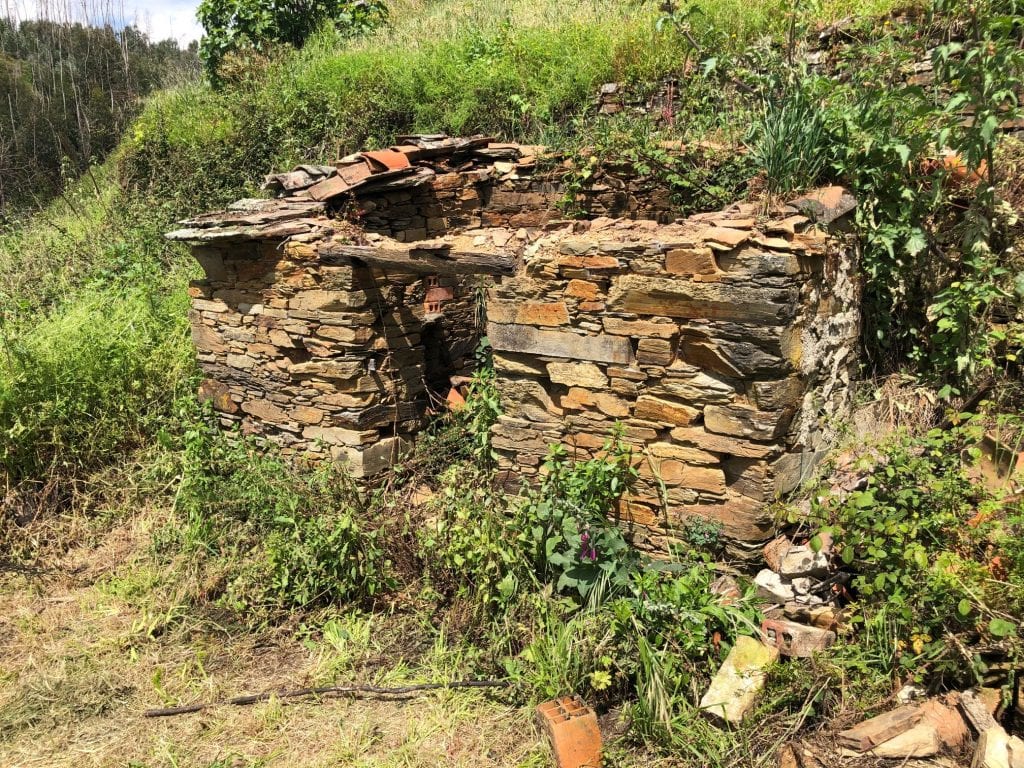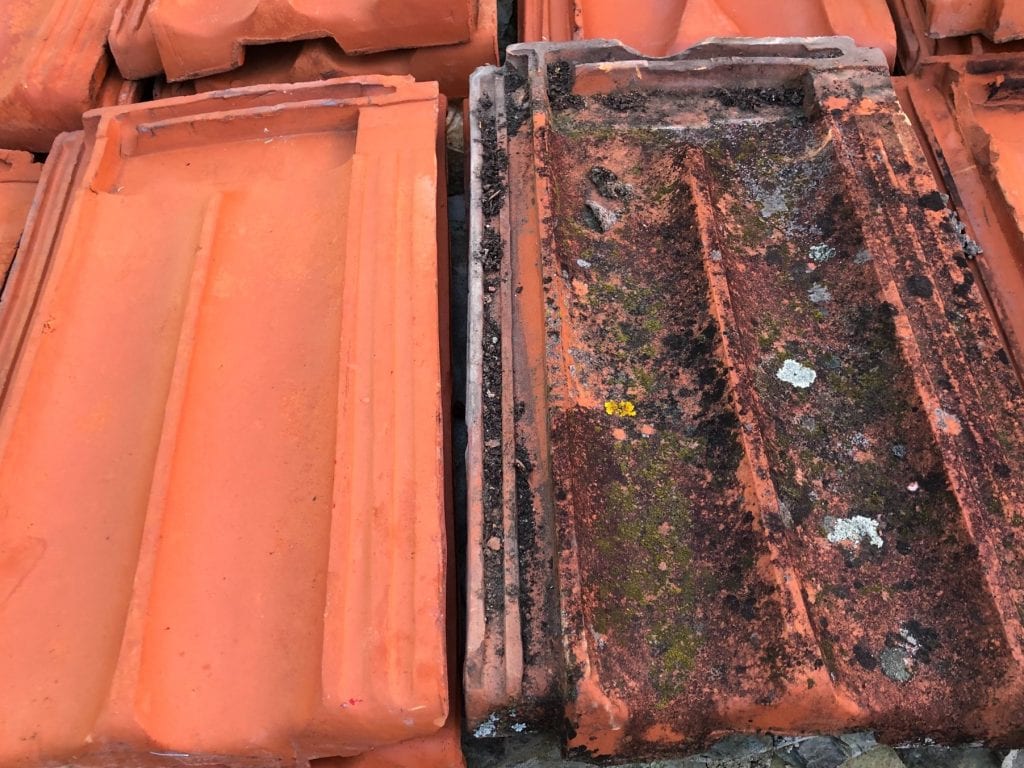 Clearing/Cleaning the guttering
Once all the roofs were cleaned and repointed we had the not so very delightful job of clearing and cleaning all the guttering. This is what I removed just from the back roof guttering on one afternoon!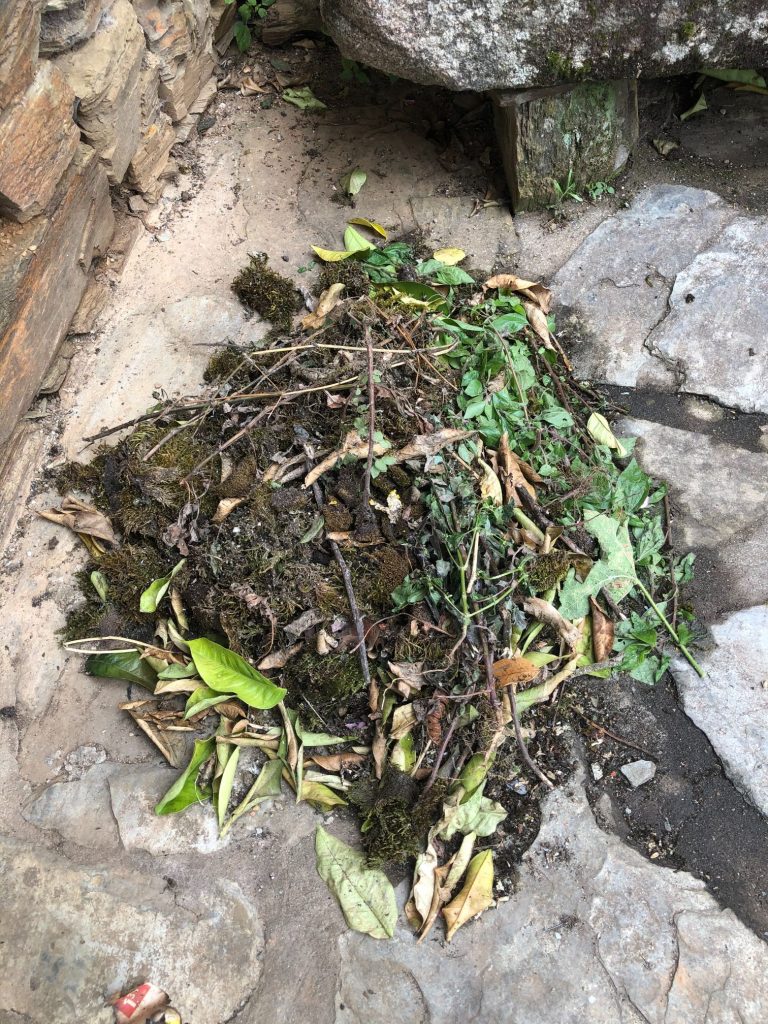 The epic fail!
If your a friend on Facebook then you may have already read this story but if not this should give you a giggle.
OMG I've just experienced an epic FAIL. So my bleached gardening leggings had a hole in the ass when I caught it on roof tiles. It was huge so I reversed it around to be on the front as I thought it was more acceptable to flash fanny than ass, I know! Then I did more roofs and got another hole in ass which actually is the fanny because I reversed them. I sewed both holes up by taking them off and turning them inside out, worked for a while but the ass hole ripped open again. Not my actual ass hole (that would be painful) but the hole of ass of leggings. So I reversed them again so the hole is at front and it was so huge to the point that when I bent down I exposed my thighs as well as my knickers. So during our quick lunch break I decided to sew them up again but couldn't be bothered to take them off so sewed them up on me whilst sat down. All good everything going hunky dory no exposures, I can shout Boa Tarde to passers by without flashing my lady bits. I finished in the garden, go to take leggings off to have a shower and I bloody sewed my leggings to my knickers! I was confused at first thinking why are they attached. Then the penny dropped and I nearly wet myself laughing. I had to explain to hubby because he heard me shout OH NO! Now he thinks I'm an idiot which I obviously am but it's highly likely he knew this already. I used to be pretty intelligent and I had a good job in the U.K working in Education and used to have to meet many professionals in my line of work. I relocated to Portugal, am a lady of leisure now and have lost my marbles. I can't be trusted with the simplest task. I'm not sure if lack of a job and not communicating with folk has made me a dumbo or if it's brain fog due to peri menopause but I'm just plain stupid. I need a plain stupid T.Shirt instead of plain lazy! I'm wondering if this stuff just happens to me and if I'm beyond help, I'm hiding in shame (ha ha).
The holey legging saga continues
Every time I sew the ass and fanny holes up on my '€2 euro roofing Primarni leggings' they rip open again. I can't reverse them anymore as holes are on front and back. I don't wanna waste another pair of leggings so there was only one thing to do. Dig out last years €4 Lefties shorts and wear them on top of my leggings with pride like a superhero! Well if it's good enough for Superman and Batman it's good enough for me. Never mind Superhero I look a super idiot as they are size XL with a 32 inch waist so are now a little large and resemble low risers after my recent weight-loss. Only god knows what my neighbour thinks. She shouted something from her window and I don't reckon she said "Looking good" actually I have no idea what she said (lost in translation) I think she wanted me to come and sort her roof too as hers is bad with pretty weeds growing from the tiles. Anyway, I've achieved my goal of not exposing my lady bits so all is good in the Casa Valhal garden. I think hubby is a bit embarrassed with my Superhero attire. He can't handle how sexy I look (ha ha).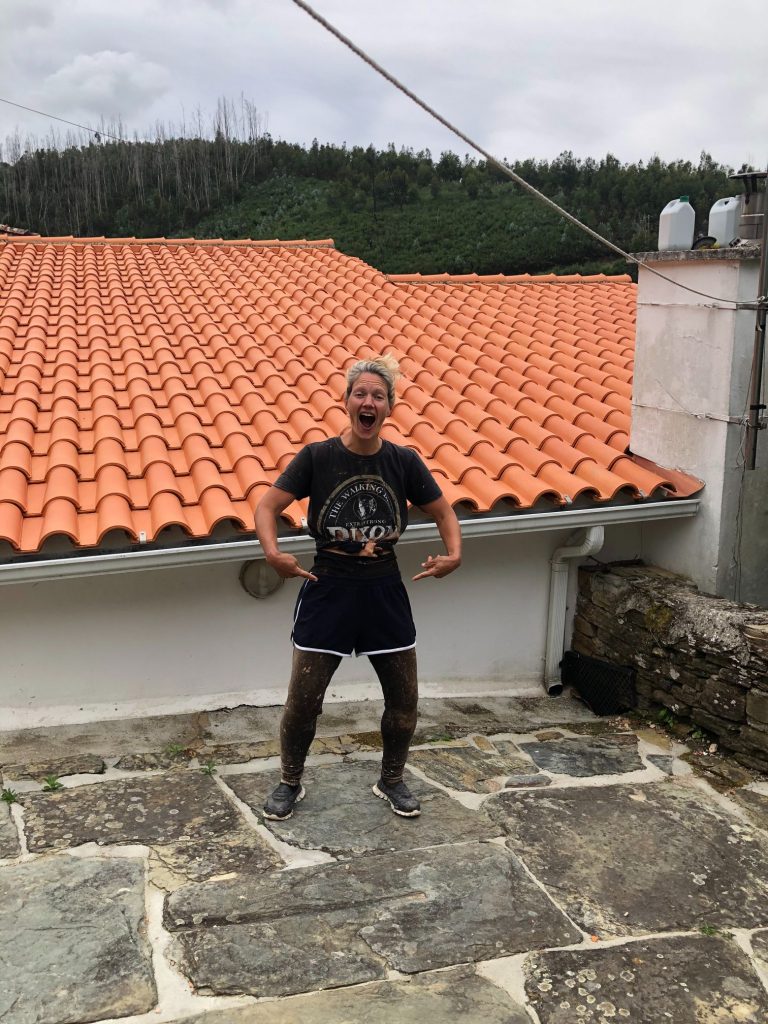 Drum roll please …………
I finished the roofs! Well all apart from one. I can safely bin my holey leggings – hooray! I am absolutely knackered but delighted. I even cleared the gutters too. I tripped and slipped an epic amount of times on my final day and nearly fell off (ha ha). I am super pleased with my efforts and just as I was finishing at 7.30pm hubby came up on the roof and presented me with a certificate (ha ha). No gold star sticker which I'm mildly gutted about but not only did he make me a certificate for the fridge but he also bought me a Bolo de Arroz and picked a home grown organic raspberry for me. I am also being treated to a well deserved day trip for my extreme effort, dedication to the job and attention to detail (ha ha). I don't think I'm getting a pay rise but who cares, I have Portuguese cake and the sun is still shining, my life is complete.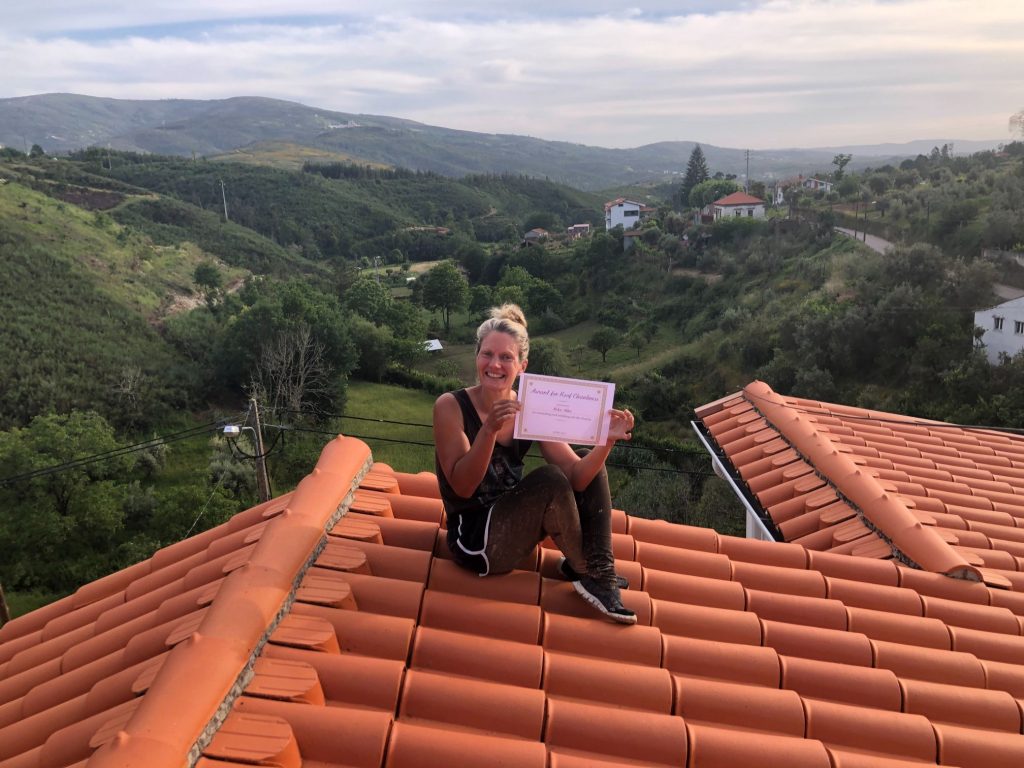 2 birds on a wire
I am almost positive that this bird was waiting for me to finish cleaning the roofs before he took the biggest shit on my gleaming roof tiles. That's nature for you and I wouldn't have it any other way as I love listening to their glorious birdsong.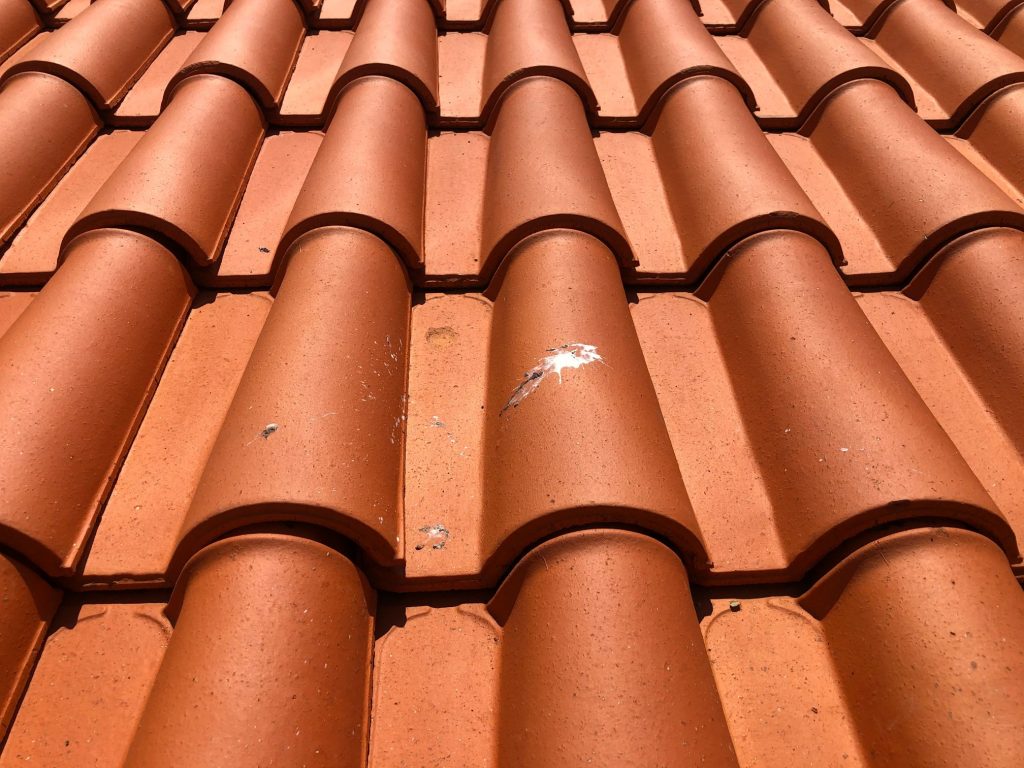 Final thoughts
The roofs are all fixed, leak proof and clean. It was a long job but so worth it. I just have the garden terrace small roof to sort and some minor pointing which can wait until later on in the year. Our roofs overall were in pretty good shape but once cleaned we did find a few cracked/broken tiles which we fixed and a few small areas needed repointing. The roofs look great now and the birds are loving pooping on my nice clean tiles (ha ha). We now have a huge task of painting the outside of the non schist exterior house walls white which will need some areas of sanding and filling too. We also want to sand and re-paint all of the black iron railings and gates. I'm not sure these jobs will be completed in 2021 as we are well overdue for some fun day trips to explore this beautiful country.
Reward trip to Passadiços do Paiva Trailhead in Arouca
Look out for my separate post on this awesome attraction. It was a heap of fun until I had a slight accident and nearly drowned in the river. Hubby had to jump in fully clothed to save my life, I honesty thought I was going to die!