SPRUCING UP MY BACKSIDE
I couldn't resist a title like this (ha ha). No, I'm NOT referring to any bizarre act of anal bleaching but a mini makeover of the little area at the back/side of our house. We finished the front of house DIY so I decided to attempt one more DIY job before my daughter's visit and I head off for my surgery and am bedbound for weeks.
This area leads out from our kitchen to the upper garden areas and it's not really used for much except housing our gas cylinders and there are steps up to access the loft storage. It also is home to our outdoor shoes and hubby likes to leave random stuff here then I tell him off and he puts it back in it's rightful home as I hate clutter. Here is a list of what we did:
Mini Makeover
Sanded, prepped & painted hand railing (black) so now fully weather proofed.
Prepped & painted wall (white), floor & steNazaré ps (grey).
Sanded & painted grate covering the drain hole (black).
Painted the kitchen step (white) & removed plastic strip for deep clean – so many spider webs behind it, I LOVE spiders!
Sorted drain hole – Required re-levelling with concrete and painting (grey).
It always seems Impossible until it's Done!
I didn't think this job would take very long but I was wrong. Everything needed 2 coats of paint and first we had to visit Leroy Merlin in Coimbra and buy specialised paint for painting the external floor. I have a love/hate relationship with Leroy Merlin as we always spend an average of 2-3 hours inside the store trying to locate items and translating the ingredients of products listed on the back of tins. The staff are super friendly and always speak English which is very helpful. I have decided that if I ever get to adopt my 2 rescue donkeys and they are male, I am definitely going to call them Leroy and Merlin (ha ha). Painting an external floor is certainly challenging with leaves falling every second and I can't even get frustrated with nature. I didn't really take photos of our work in progress because mostly it was painting and I always get saturated in paint when I paint anything and I can't grab my phone as I have paint all over my hands as well as on other body areas. It was tricky painting grey on top of grey as we couldn't see what we had and hadn't painted so stepped in it a lot. I always get paint in my hair and when I use a roller I spray everyone and everything in sight so watch out! I also always encounter a vicious circle when painting multiple surfaces in close proximately. The roller splashed white paint an to the black railings then the black splashed onto the white walls, it was a black verses white battle, I call it the Yin and Yang war (ha ha). The worst part is washing out the paint brushes, rollers and paint tray. This task sometimes takes me longer than the actual paint job and somehow I managed to splash the paint stripper product in my eye, I very nearly blinded myself then had to run like Usain Bolt to the bathroom to rinse it out whilst screaming and knocking into everything en route. I am a total liability but hubby is equally as bad as he stood on the white kitchen step after I had just gave it it's 2nd coat of paint. He obviously can't read his own handmade signs (ha ha).
DIY = Divorce
After standing on the step you would think that hubby learnt his lesson but he didn't. He visited the local shop and decided to enter the house via the back door and I had just spent an hour re-touching up the floor and steps with grey paint. I was at the sink cleaning out the roller and brush when I heard the sound of a key in the back door. I was livid and swore profusely! Then I ignored him and gave him the silent treatment which only lasted about 40 minutes as I needed his help to put the lid back on the paint as my arthritic hands don't work. I was mildly gutted as I wanted to punish him for a lot longer (ha ha). I was super mad for a while as I had to wait for the paint to dry and do it all over again the following day as he left muddy footprints in the wet paint. What I don't understand is, he never ever comes in the back entrance! That sounds a bit rude (ha ha). He always enters via the balcony or office door so god only knows why this day he decided to, he is plain STUPID! It got me thinking, I wonder how many people get divorced after Mr & Mrs DIY tasks together. I'd love to know the statistics. Maybe DIY stands for Divorce Idiot Yesterday (ha ha). To be honest, I can't really have an argument with hubby as he rarely answers back so it's like ranting and raving at a brick wall, totally pointless.
Paint Products
Please excuse the huge drip and I'm not talking about hubby (ha ha). What can I say, we are messy pourer and painters.
Before
The whole area most likely hadn't been painted for years. It was all flaky, scruffy and looked very dirty and tired, a bit like me (ha ha).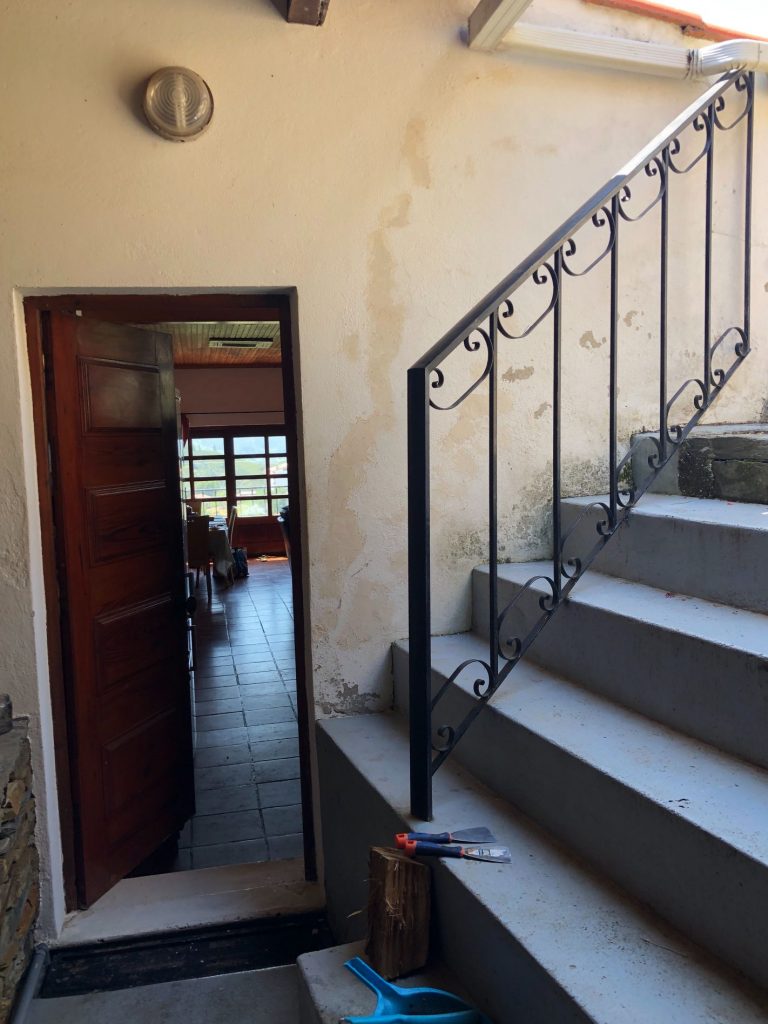 Work in Progress – The Grate looks Great!
After
I think it looks much fresher and 100% better. It will be dirty in about 4.2 seconds because every leaf in Portugal blows down here but that's the beauty of nature folk!
Funny Signs
The funniest part of this project was the handmade signs hubby made so my accident prone ass didn't fall down the drain hole or step on wet paint! Someone made a rude addition to one of the signs (ha ha).
Rewards
Perfect Pão do Lo
Hubby baked a Pão do Lo after we had painted one coat to celebrate the half way mark. It was yummy and I enjoyed eating it and trying out my new lap tray that I purchased for my surgery recovery. It was DELICIOUS!
Sensational Saturday SUP
After all the hard work was complete hubby took me SUP boarding to one of my favourite secluded places so we could enjoy a picnic and some quality Soulmate Saturday time together before my chaotic drama queen daughter arrives (ha ha). Just kidding, she is the joy of my life and a breath of fresh air, until she farts in the back seat of our car. If she cracks open the window you know it's going to be a smelly one (ha ha).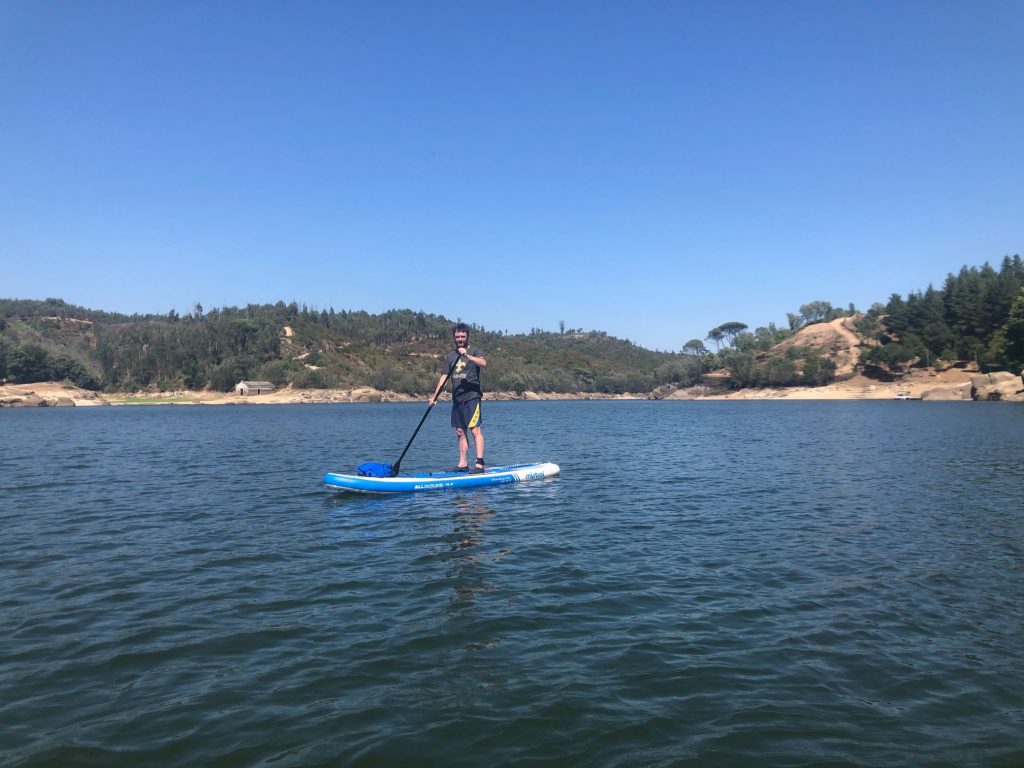 Scruffy Steps
In all honesty there is one more job to do: Sand and wood stain/weatherproof the loft steps. I ran out of time and we both think this job may be lengthy so we are putting it off until next year. It's hard for me to not completely finish a job and leave bits of a job for later but there is no point rushing the task and I have limited time now to tidy and clean the whole house and garden before my daughter's visit and we want to go paddle boarding and enjoy the glorious weather and some well deserved chill out quality time together.
Overview
I am super pleased that another DIY task is ticked off our To-Do list. If I have learnt anything from working with hubby on this job it is "If you can laugh together, you can work together."
DIY is my Vibe, Women builders are my tribe!