MY DAUGHTER'S SUMMER VISIT 2023
Teanna graduated from University and the world is her oyster so I kidnapped her for 3 full weeks of summer fun in the sun. She arrived at Porto airport close to midnight on 30th July and flew via Bristol airport with Ryanair. We also arrived back from our 10 day UK visit on the same day but we flew from Luton airport with Easyjet because after her graduation and our Bristol visit we visited Essex and London to catch up with hubby's family members. Our flight landed mid afternoon so we ventured into Porto to view the beautiful city. It is the first time ever that I have had the pleasure of an extra legroom seat. Not that we needed it because we both are vertically challenged and have short stumpy sausage dog legs (ha ha). We debated our luggage and seating options and a lengthy discussion we decided to not have the hassle of checked in baggage (large hold suitcases) and opted for a large cabin bag, speedy boarding and extra leg room. There were only 3 rows of extra legroom seats available and I would rather have booked the Upfront seats but these seats were the best value for money apart from the standard seats. We had the option of the very first row with no seats directly in front of us or the row behind which was the dreaded Row 13! The others were all taken. Pro's of front row: Tons of legroom and easy escape to the toilet. Con's: No seat in front to store my bag or duty free so have to put in an overhead locker, no seat in front so no tray to pull down and use as a table to rest coffee if you are brave enough to sample their overpriced shit coffee which tastes like death (ha ha). Row 13 Pro's: Seat in front so I have access to store my bag under the seat and a tray. Con's: Not as much legroom as seats in front, we have to ask the 3rd person sitting in the aisle seat to move if we need to pee pee. Finally it's Row 13 and I'm mildly superstitious. In the end we decided to opt for Row 13 as hubby kind of made sense when he said "If the plane is going to crash, it doesn't matter what seat you're in, if it's going down, we're all dead anyway" (ha ha). We had the same seats In-bound and Out-bound so double the risk of the Unlucky 13. Apparently the number 13 is considered lucky in some countries and cultures. I also read that many planes don't have the number 13 row due to nobody wanting to book it. The bonus was that nobody else wanted to book Row 13 so hubby got a spare seat next to him as I always get the window seat as one of my pastimes is cloud spotting.
We also chose to sit next to each other because there was one previous flight where we didn't buy our seats and were seated separately. Hubby struck gold with a supermodel whereas I got Mr Judgemental Man with bad breath and ever increasing spreading legs (ha ha). He got very angry at me for opening a bag of Haribo sweets on the plane so I had to watch both hubby and Teanna munching away on their sugar fix whilst I tried to randomly sneak a cola bottle and foamy fried egg into my mouth without moving my lips, it was a virtually impossible task and I gave up in the end because Mr Beasty Bad Breath kept on tutting at me every time he heard the remote sound of a sweetie bag rustle. What the F is wrong with this man? I really don't get his problem as it's not like I cracked open a stinky fish sandwich and I even offered him one which he adamantly declined. Maybe I'm the only one who enjoys journey sweets. Hubby always fills up the glove compartment in our car before a long road trip as he knows me too well. In all honesty it doesn't even have to be a long journey. We have a strict rule that anything over 1 hr 30 mins each way warrants car snacks (ha ha).
Airport Fun
Teanna's flight arrived just before Midnight. We have a family tradition where we arrive at the airport and wait patiently at the arrivals gate with crazy ass hilarious signs to embarrass Teanna to death (ha ha). We excelled ourselves last year with our Nata Girl sign and cut out faces of Teanna and Bunny Boy Milo on BBQ skewer sticks. it made many folk laugh out loud (ha ha). This year was a little more tricky as we landed mid afternoon so any preparation had to be done prior to us leaving for the UK. We could have made some signs but we would have had to leave them in the car and to be honest I didn't think we could top last year's staggering success. I did have a plan of dressing up in 80's attire complete with a mullet wig but it would have been awkward changing outfits in public toilets or the back seat of our car. About a month before our UK trip we stumbled across the most funniest T.Shirts in our local store. Hubby found them and the slogan is very funny. I think the shirts may have been designed to support the Black Lives Matter movement but we thought it would definitely make her smile especially as over the years strangers have often come right up to our faces and asked us if we have adopted her! It was an opportunity not to be missed until I saw the price tag of just under €12 each. The frugal me didn't want to waste €24 on a one time wear so I had to come up with a frugal Plan B.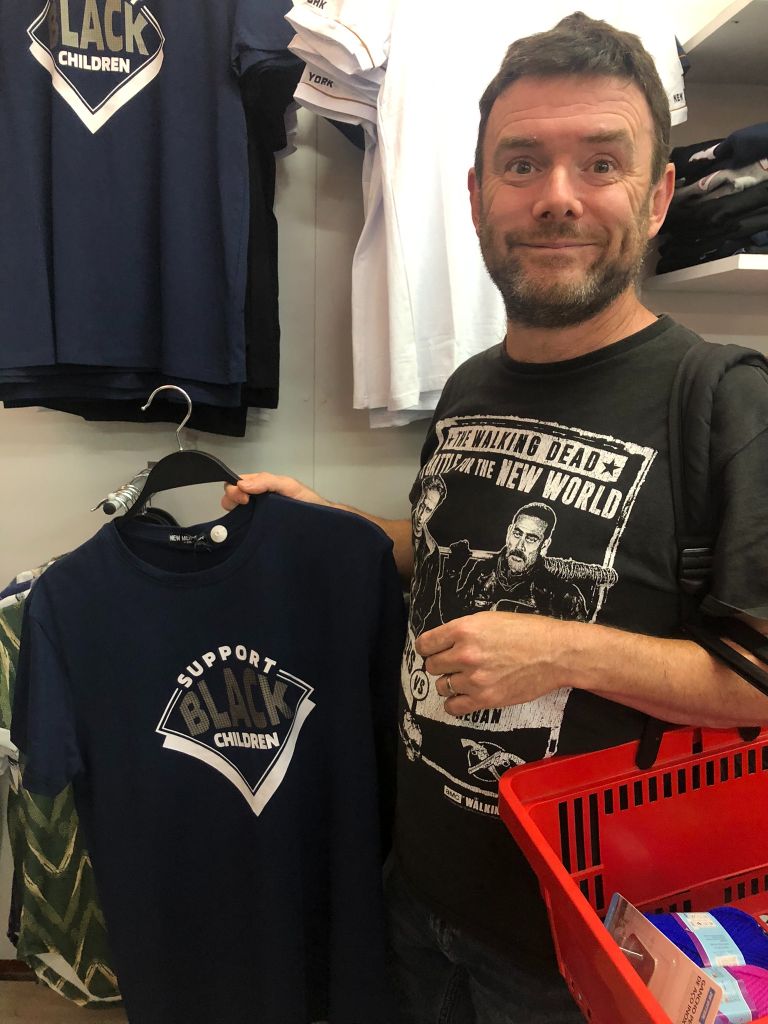 Family Fun
Hubby had to work all of these 3 weeks as he had just took 10 days off for our UK vacation. This meant we were limited to where we could go as I don't drive here because I value my life and don't want to drive off the top of a majestic mountain as hubby would miss me immensely (ha ha). I don't mind driving 20-30 minutes to local river beaches but anything further just stresses me out big time. Due to the fact that we have just returned from a full packed trip to the UK and totally exhausted we decided to spend most of our 3 weeks SUP boarding in the sun on the radiant rivers and hitting the local river beaches and waterfalls as temperatures soared above 40 degrees so the only sensible solution to combat the heat was to submerge ones body in water. I did have a few day trips planned for the weekends but with the temperatures being so high we incorporated water into our day trips and adventures. We visited Poço Azul, Poço Negro and Poço da Broca which are beautiful captivating swimming spots in Sao Pedro do Sul, Viseu and Serra da Estrela. It was actually lovely not having to bother getting dressed up or applying make-up. We just throw on a bikini and a cover up, pack a picnic with plenty of water and bring a few € for ice cream and drinks at the beach cafes and bars. Teanna and I spent nearly every weekday at our local river beaches and rotated between Secarias, Sarzedo, Côja and Avô. On some occasions we decided to leave our phones at home to enjoy a technology free mother and daughter bonding time. Then when hubby collected us after work we asked him to bring our phones so I could memorialise our fun times with photos and videos. Teanna only learnt to swim last year so I am super proud that she braved the diving boards at all the river beaches and jumped in from dizzy heights. She even encouraged me to take flight and I attempted the swing rope and launched my old lady ass body into the river and exited with the world's biggest bikini wedgy worthy of the Guinness book of records (ha ha).
I'm not going to rant about all of the different places we visited. I will tell the glory story via this awesome photo Gallery. You can tell by the expression on our faces that we had the time of our lives. It was 3 weeks of summer bliss with my favourite daughter, my very own princess Teanna. I think Teanna's highlight was the incredible Feira de São Mateus, Viseu. We purchased tickets to see the talented Brazillian singer, songwriter and actress Giulia Be. She has such amazing raw talent and the tickets only cost €10! We also celebrated Teanna's 21st birthday with a family party celebration in our garden with pretty decorations, yummy buffet food, cocktails and birthday cake. We lived everyday like it was our last and I ate and drank so much yummy food including way too many pizzas, wine, cider, beer, cake and ice cream. I'm not doing a weigh in as I don't want to cry so I will just resume my normal healthy eating ASAP with occasional treats and I'm sure I will return to my maintenance weight eventually (ha ha). As The Princess and The Frog story goes, I just need to find her a frog to kiss and hope it turns into a prince so she will stay living in Portugal forever by my side (ha ha).
Photo Gallery
Soaring Temperatures
Temperatures were soaring high during Teanna's 3 week vacation. This was the average temp in our garden in the shade! I am working on hubby to buy me a house with a swimming pool next year. I am so very excited at this prospect.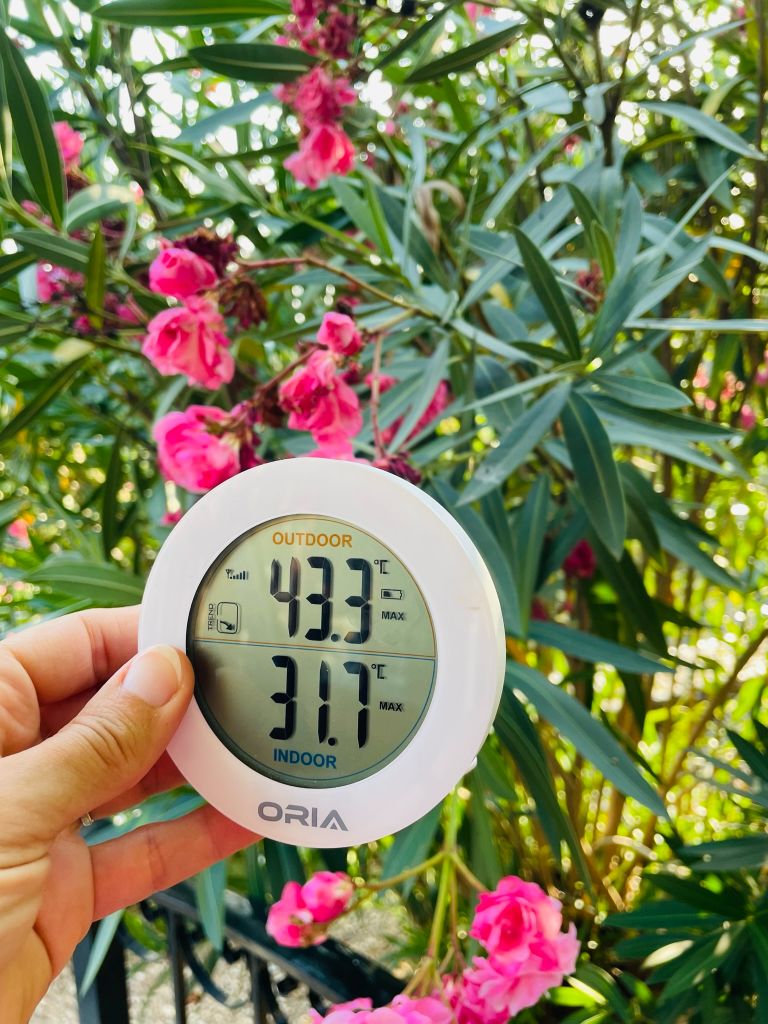 Girls Just Want To Have SUN – Local River Beaches
We are blessed with so many local river beaches just minutes from our home and visited the following: Secarias, Côja, Sarzedo, Avô and Vimieiro. We visited so many river beaches and swam right up to the diving boards and Teanna encouraged me to jump in from the swing rope. My first time ever at doing this and I loved it! I am so proud of my daughter as she braved every single diving board and jumped in from a height. Considering she only learnt to swim last year I think this is awesome and she is certainly braver than me. Hubby joined us in the fun after work and it was often still high 30's – 40 at this time. Simply precious moments and I had the time of my life. I might need to kidnap her and keep my princess Teanna here in Portugal forever (ha ha). I reckon next year she will be diving in and giving Tom Daley a run for his money (ha ha).
I am loving the new addition to the river beaches this year, a little beach library with pre loved books. At Côja there was only 2 choices in English – A Lee Child's novel or Poldark. I used to be very fond of the TV series – historical drama Poldark when I lived in the UK. In all fairness I only watched it to catch a glimpse of gorgeous sexy Aidan Turner semi naked/topless and riding horseback over the Cornish hills. Us oldies have to get our thrills when we can (ha ha). The series was filmed in Cornwall and The bottle yard studios in Bristol which is my birth town. Be a mermaid, swim fast, wear a crown and dream BIG!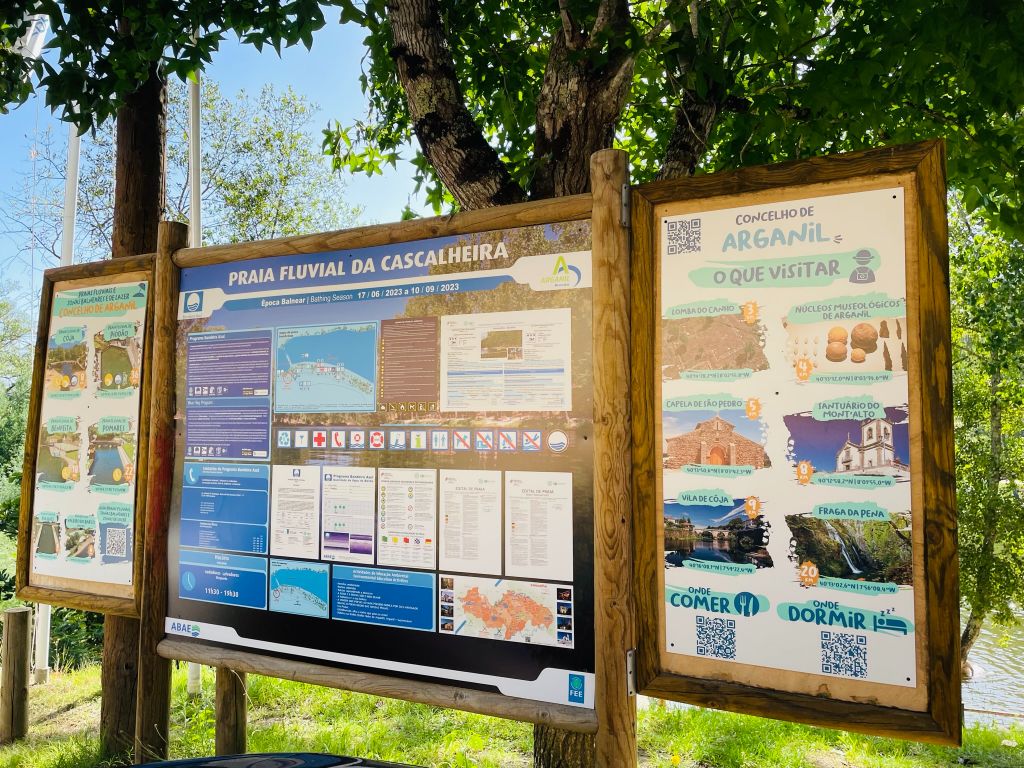 Duo Diving Screenshots
I will never ever get bored of watching Stepfather and Stepdaughter dive and jump into the water together. Precious moments for a Mother to cherish forever. Obviously the videos are way more entertaining but here are a few screenshots of pure joy. Teanna has so much grace, I think I just hurled myself in like Helena the Hippo (ha ha). It's so incredible that although it was 7pm the sun was still out in fierce force and the river is warm enough to jump into, what a simple pleasure in life!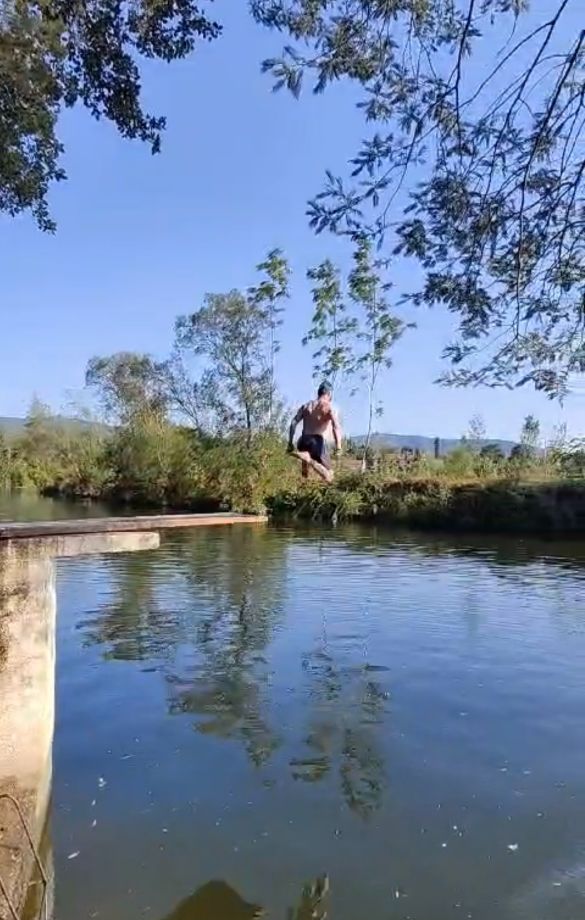 Summer SUP
Vale do Rossim
A beautiful Saturday Summer SUP at Vale do Rossim, Serra da Estrela. There may have been a pit stop at the Bread Museum in Seia to stock up on chocolate bread. Plenty of SUP and a perfect picnic and ice creams for the finale (ha ha). Gosh this place is so picture perfect and the weather was awesome. The sun glistening on the water made it look so pretty. We found the best secluded shaded spot under a tree complete with rustic stone picnic table and chairs. A marvellous and fun family day on the glistening water. I could watch hubby and Teanna perform spins and tricks on their boards all day. They have such a loving and unbreakable bond. Stepfathers, daughters and blended families rock but our selfies suck. Most of our trio selfies are so funny, Teanna has her eyes closed in lots of them due to the scorching blinding sun, I call her Blinky Bill. I did send her the memo in advance to wear sunglasses (ha ha). I absolutely adore Teanna's new bikini that she purchased here in Coimbra. It is black with little golden dragonflies all over it and it was breathtaking when an actual real life dragonfly landed on her shoulder, too cute for words.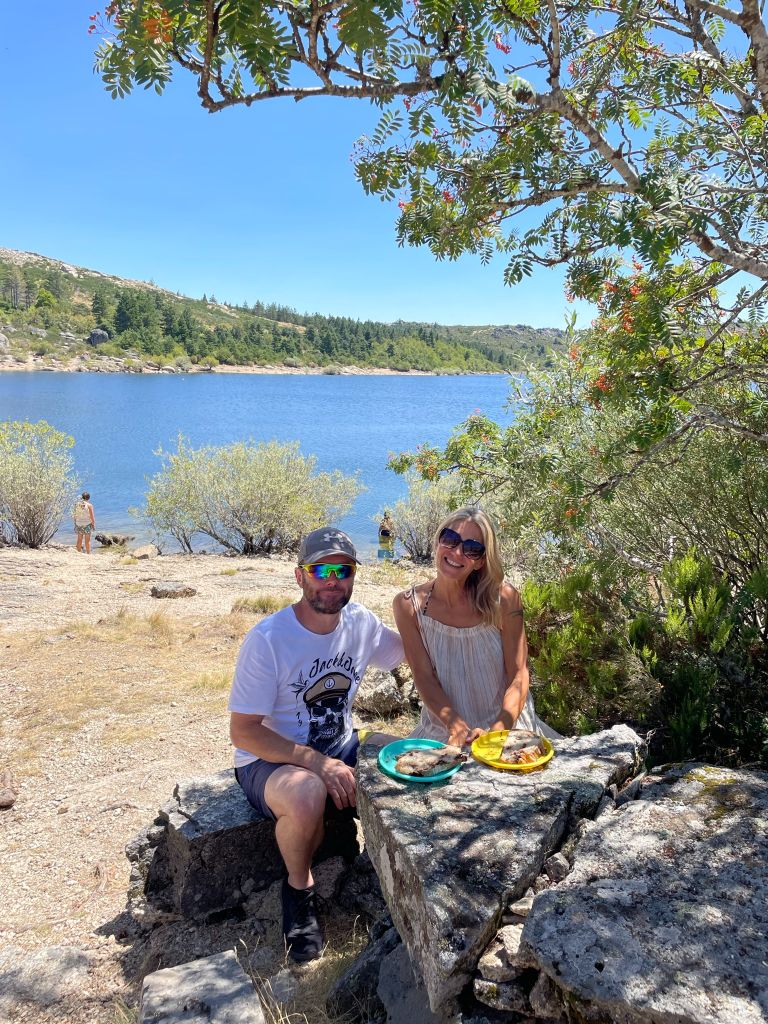 One Life. Live it.
My new Motto!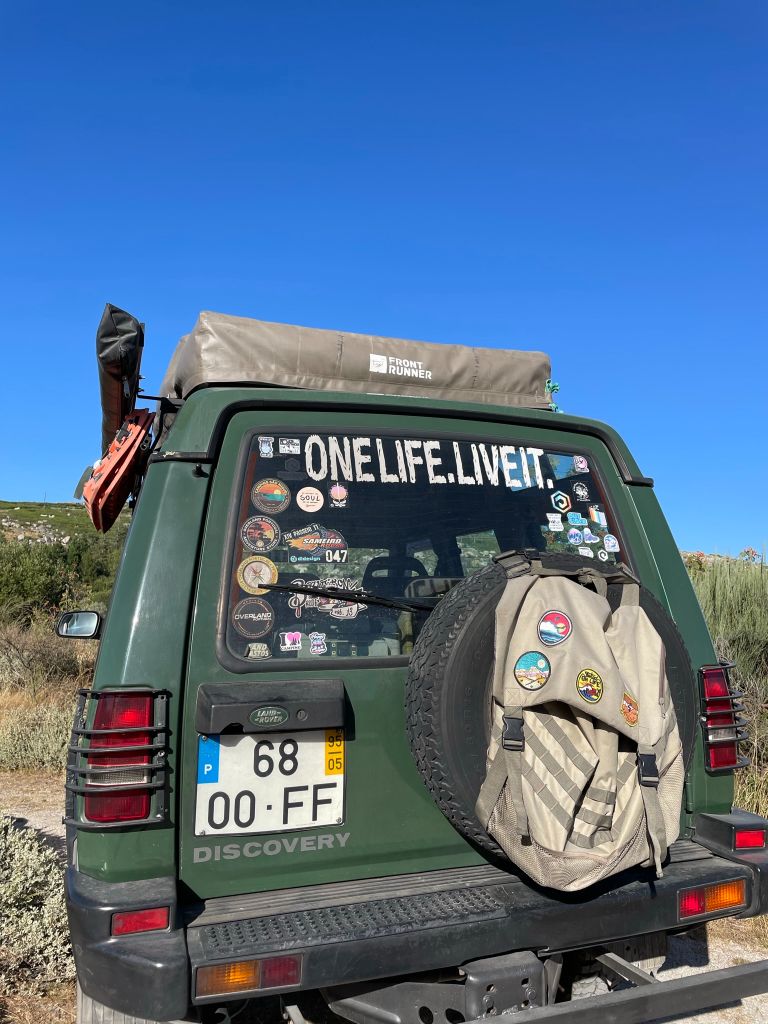 Museu do Pão
On the way to SUP boarding we made a pit stop at the amazing Bread Museum shop to buy chocolate bread. They still have the cushions with your year of birth on. I am not advertising how ancient I am, especially not on a cushion for everyone to see and I'm not paying €85 for a small cushion when that could buy me 25 loaves of chocolate bread (ha ha). My names is Helena and I am addicted to chocolate bread (ha ha).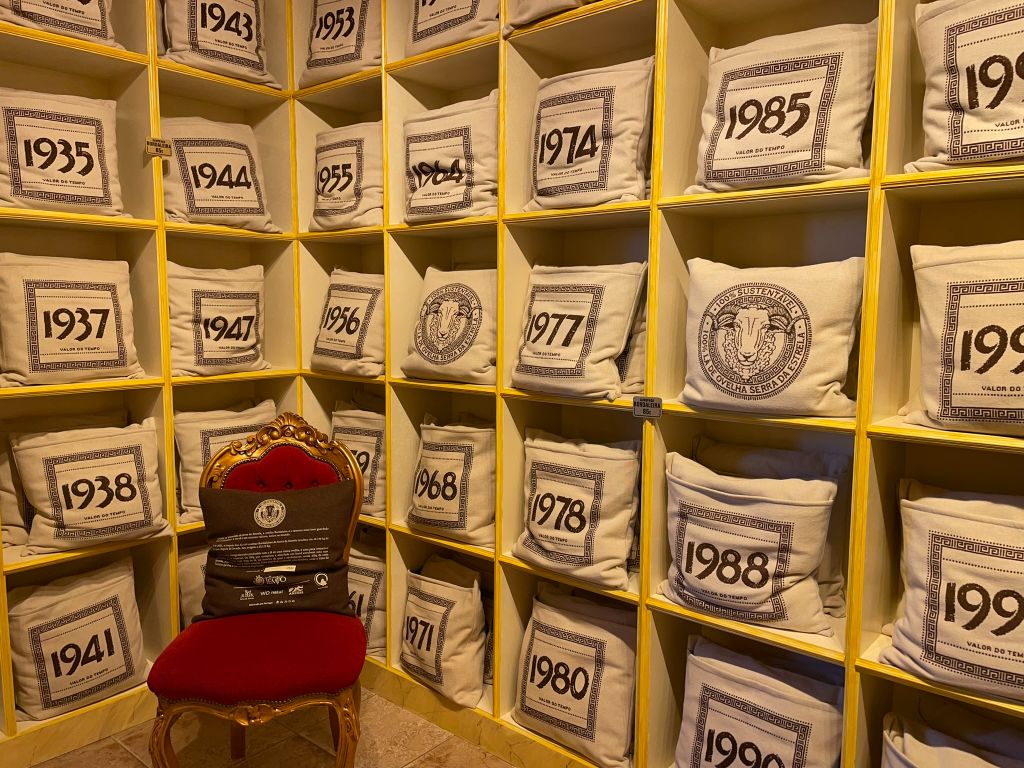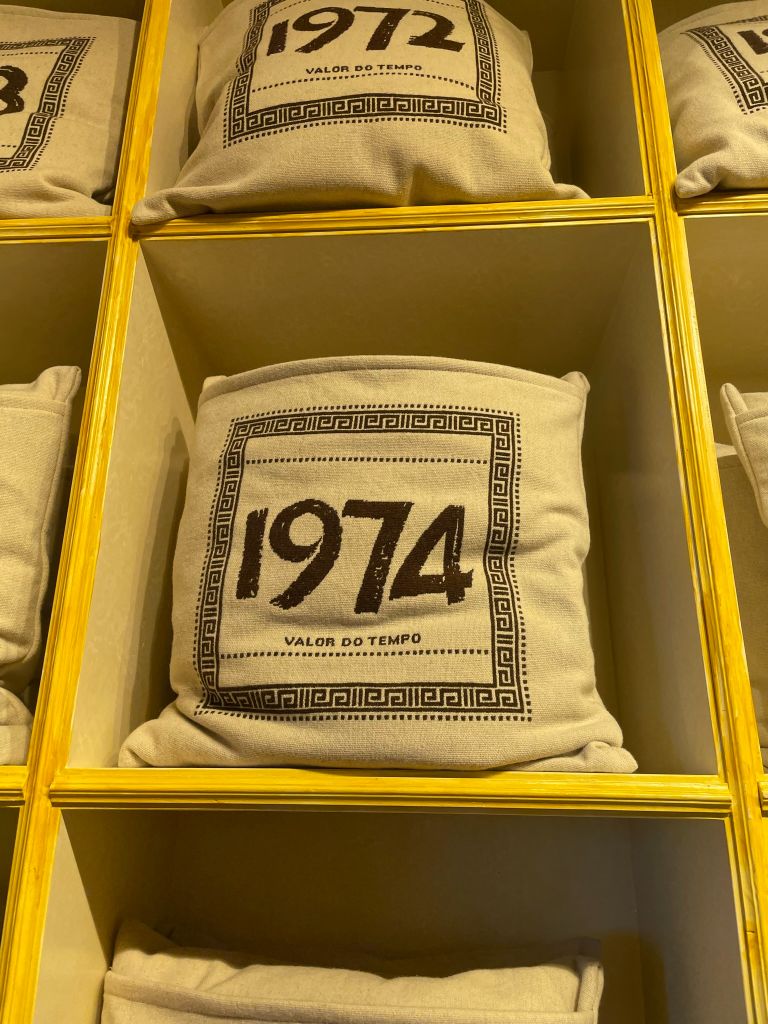 Parque Merendas Senhora da Ribeira
I love this local secluded serene haven. Family fun in the sun and a yummy picnic next to the tranquil Mondego river. There were obviously nata's in the picnic (ha ha). I love SUP boarding through the abandoned chapel, it's such a unique and bizarre experience. This time the water was low so we got to explore the chapel on foot. Gosh life is pretty awesome if you embrace every opportunity. Life is short but the summers are long and lovely. Savour them, soak them up, share them with those you love. Spend your days with those who light up your life and make it feel like an endless summer every day of the year. I took some funny selfies on the water with the dynamic duo (Teanna & hubby) in the background. They look like tiny borrowers (ha ha).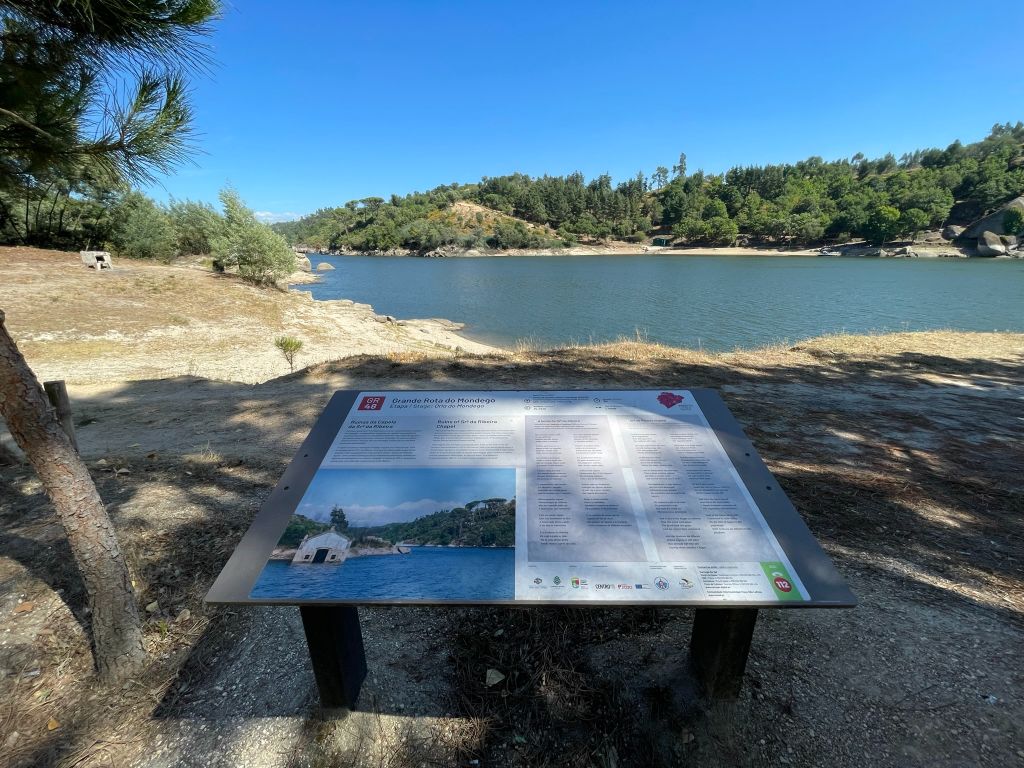 Poço Azul
A sensational aqua family day trip to Poço Azul & Poço Negro. 2 of our favourite places to chill amongst pure nature and crystal clear waters. I could sit and stare at the colour of this water all day long, pure magical. I've never seen it so busy! When it's high 30's everyone wants to submerge their hot sweaty bodies in water (ha ha). We met a sweet dog named Luna and I had a whole lot of fun watching the locals jump from the high rocks and top of the dramatic waterfall. I didn't chance my luck as I'm accident prone and I might lose my bikini mid flight (ha ha). I had so much fun with my beautiful green goddess mermaid. We also met a man with blue hair, it was crazy but very fetching. I asked hubby if he was going to dye his hair blue but he said no, he is sticking with brown with a hint of silver fox grey (ha ha). I LOVE this first photo with the little group of folk positioned in a circle around a huge boulder that resembles an ass complete with ass crack (ha ha).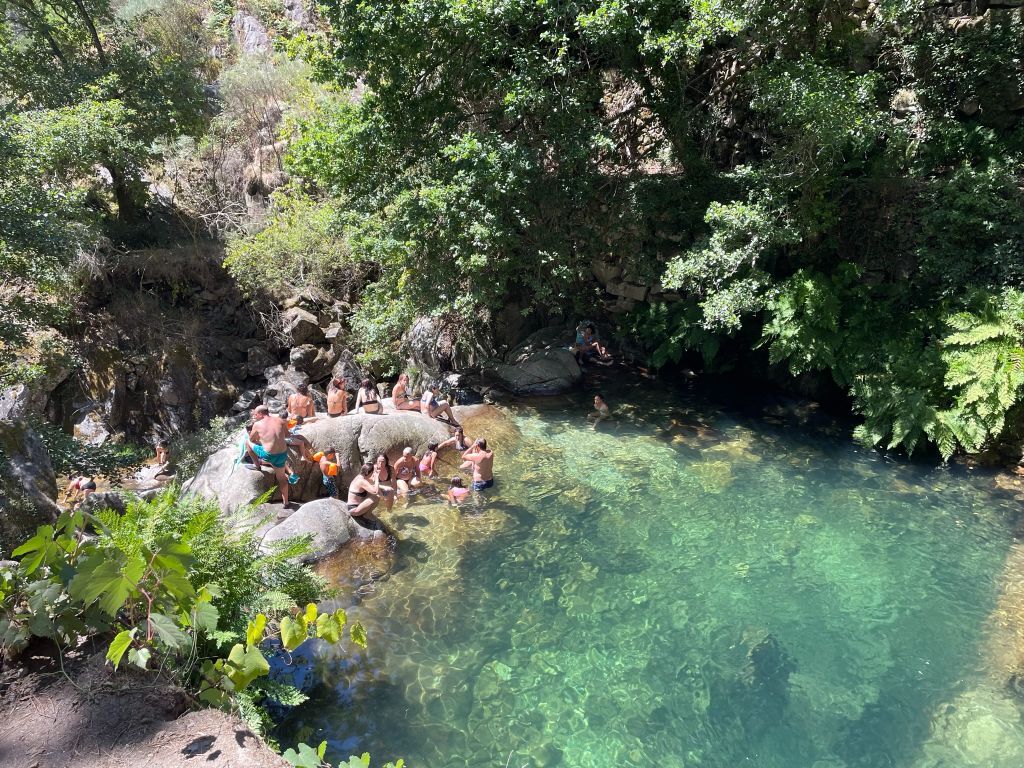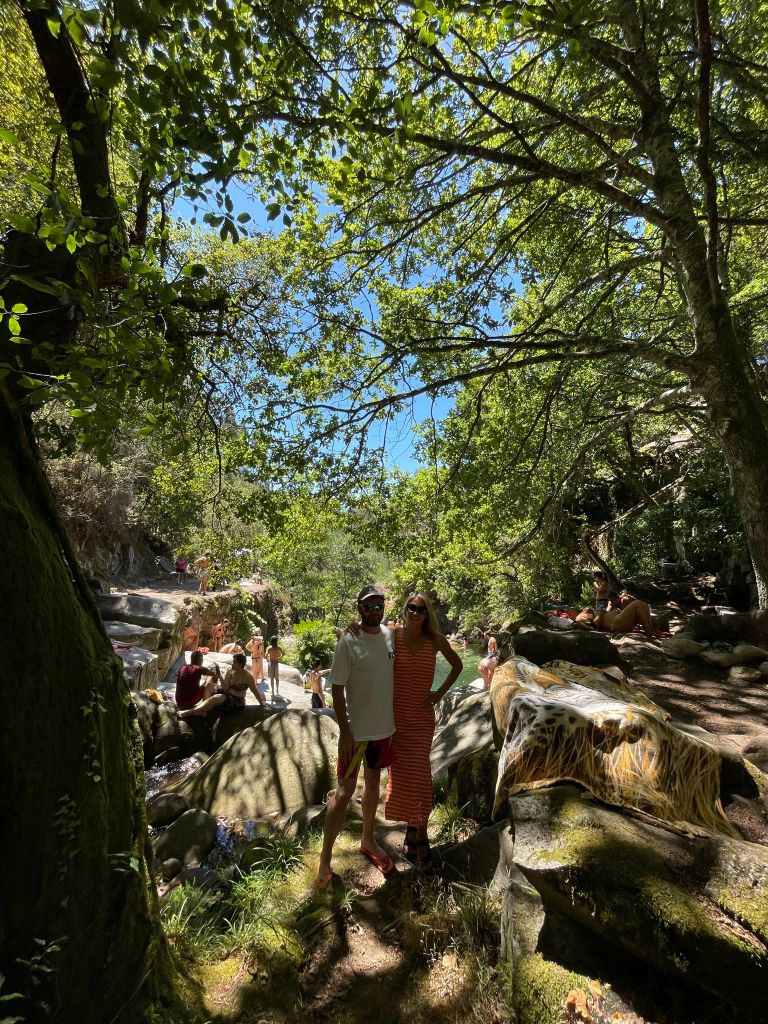 Poço Negro
We swam together as a family right underneath the waterfall! What a unique and precious memory to cherish for a lifetime! There were more brave men jumping from the high rocks, I bet it is such an adrenaline rush! I could watch my green goddess of a daughter swim all day. A daughter by birth, best friend for life and by choice.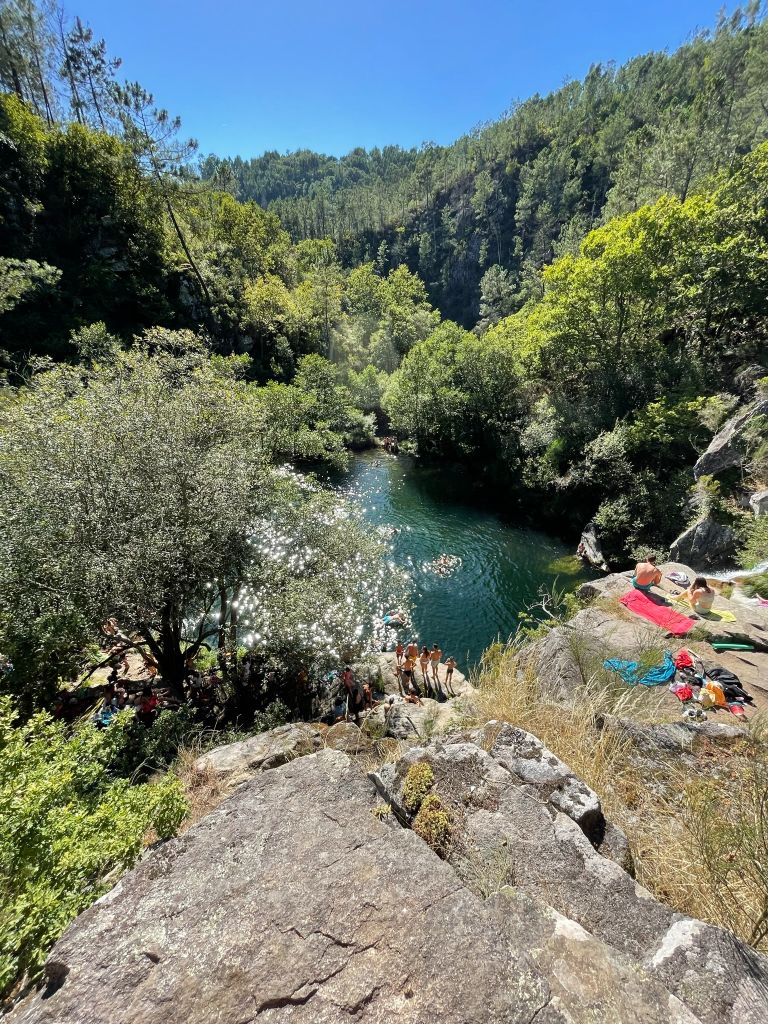 Poço da Broca
Sunday Funday = Poça da Broca. This place is such a rugged nature spot with a tranquil waterfall. We found a shady spot under the bridge for our picnic. The water is so clear that you can see right to the bottom and there are so many glistening stones at the bottom. Teanna and I spent ages treasure hunting for shiny stones and pebbles to make into jewellery. There is a quaint rustic bar and us girlies sampled the strawberry and lime cider which was delicious and very refreshing, so yummy that we went back for a refill. Hubby stuck to his Sagres beer as he once had a very bad experience with cider in the 90's and he can't drink it anymore. We all have that one drink we can't stomach, mine is Pernod and black as well as Baileys (ha ha). We played a few fun card games before heading back home.
What a beautiful day chilling with my 2 favourite people. We braved the muito frio water to swim right under the pounding waterfall because it's not everyday you get to share unique precious mother and daughter moments like this. Teanna was a little scared at first then she adopted her momma's motto of "Risk it for a biscuit" and just went for it. The water is fierce and pounded her body which she said was invigorating and a once in a lifetime experience. There is a funny pulley tray on a rope from the bar that lowers down drinks to the folk in the water (ha ha). How fabulous! We made a pit stop on the way home for yummy ice cream. The icing on the cake was meeting the 2 donkeys that live here. I often see them from a distance but today I got to stroke them and they are super friendly. I wanted to take them home but they wouldn't fit in our car (ha ha). What a breathtaking magical day. There is so much life out there, it's yours, go see it.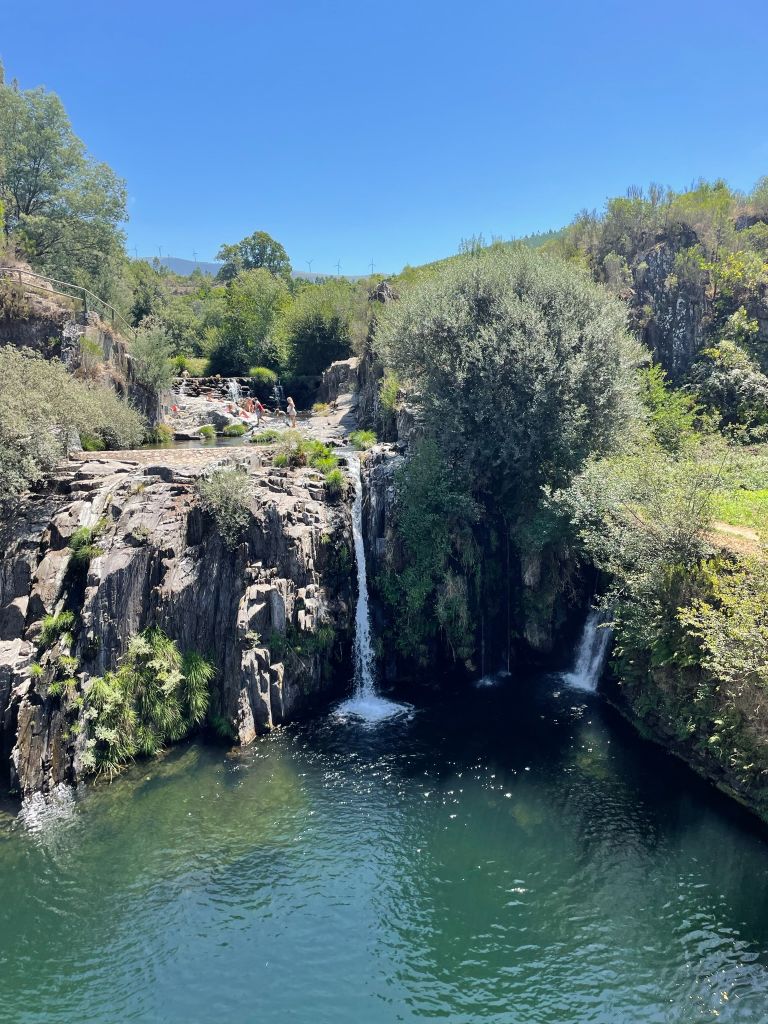 Fraga da Pena
We are so lucky to live just minutes from Fraga da Pena waterfall. A breathtaking serene nature haven. After work family fun, bolo de arroz, mango cider drinks and card games overlooking the fall. I tried to source the strawberry and lime cider that we sampled at Poço da Broca but I cannot find it in any supermarket so had to opt for mango and the berry flavoured. We even enjoyed music from a hippy banjo man. Life is full of beauty. This day was the Assumption of Mary and a public holiday here in Portugal. An important holy day and we are feeling totally blessed.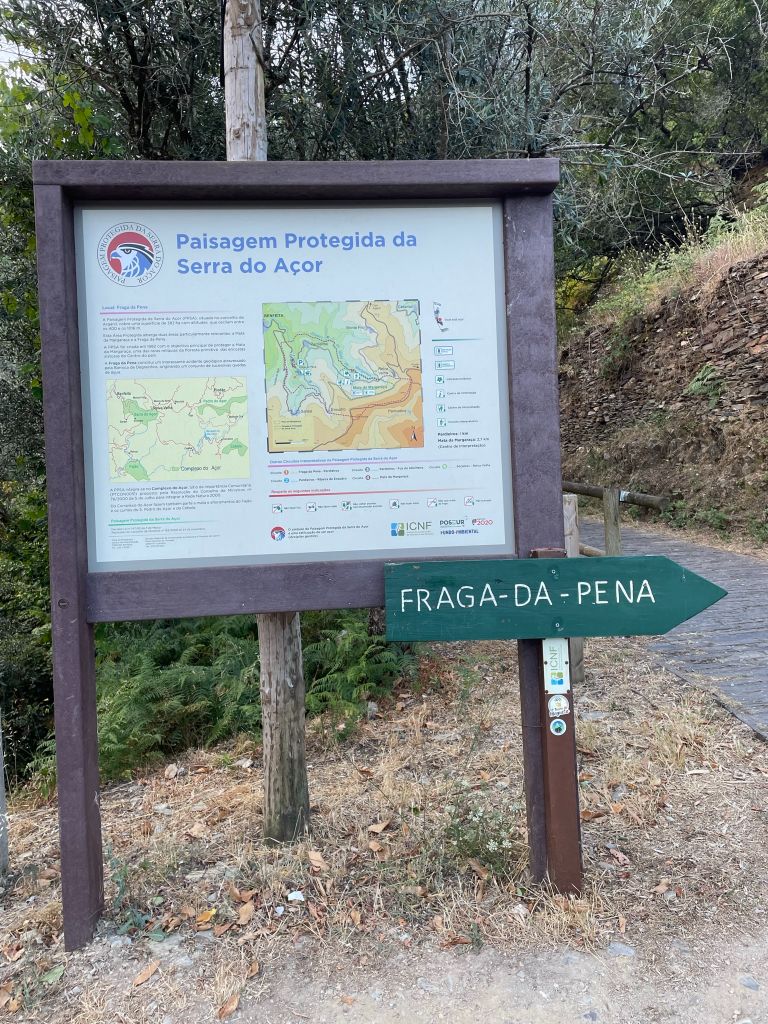 Barbie Babes – Coimbra Retail Therapy
Beautiful British Barbie dolls in Portugal. Mother & Daughter Friday retail therapy at the Forum Mall in Coimbra city. The girl needed more bikinis and so did her Momma. We caught the bus to Coimbra as my driving skills here are pants and I value our lives (ha ha). It is a 1 hour journey and we managed to get the last 2 seats which meant we were not sat next to each other. I was seated next to a young man whose phone continuously beeped and messaged him which was mildly annoying. He also liked to man spread his legs far and wide to the point that I was tempted to close them with my hands (ha ha). We stumbled across The Pink Garden in honour of the new Barbie film. I wish I knew about this place in advance as I would have worn my pink blancmange/mutton dressed as lamb dress (ha ha). I've no desire to watch the film and Tea has already watched it with mates in the UK. A delicious Sushi lunch followed by mall macaroons shortly followed by multiple coffees to summon up enough energy to attend a local festival. I now just need to find Teanna a Portuguese Ken so she will stay in Portugal forever and ever (ha ha). By the way I am joking when I say I want to marry her off. She is way to young for marriage and needs to travel and see the world before she settles down. I'm only saying this because some folk do not get my weird ass sense of humour and I recently got several messages from a man offering his son in marriage and listing his positive attributes and full credentials, I politely declined the offer (ha ha).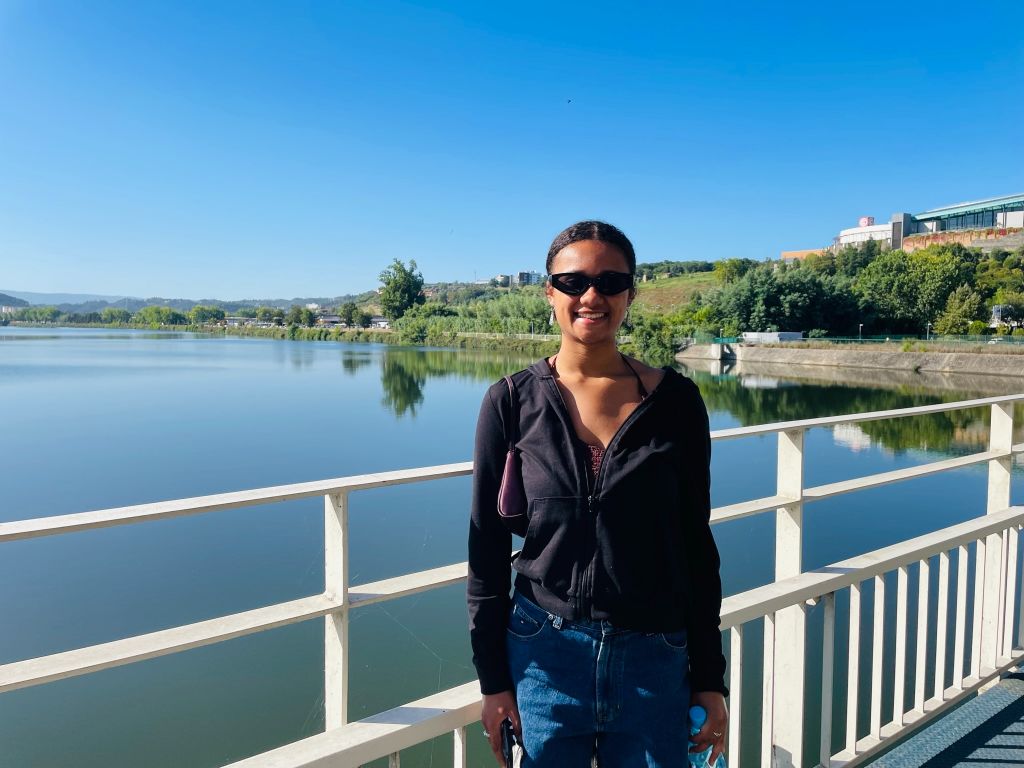 Festival Fun
Pre Party Sunset Balcony Photos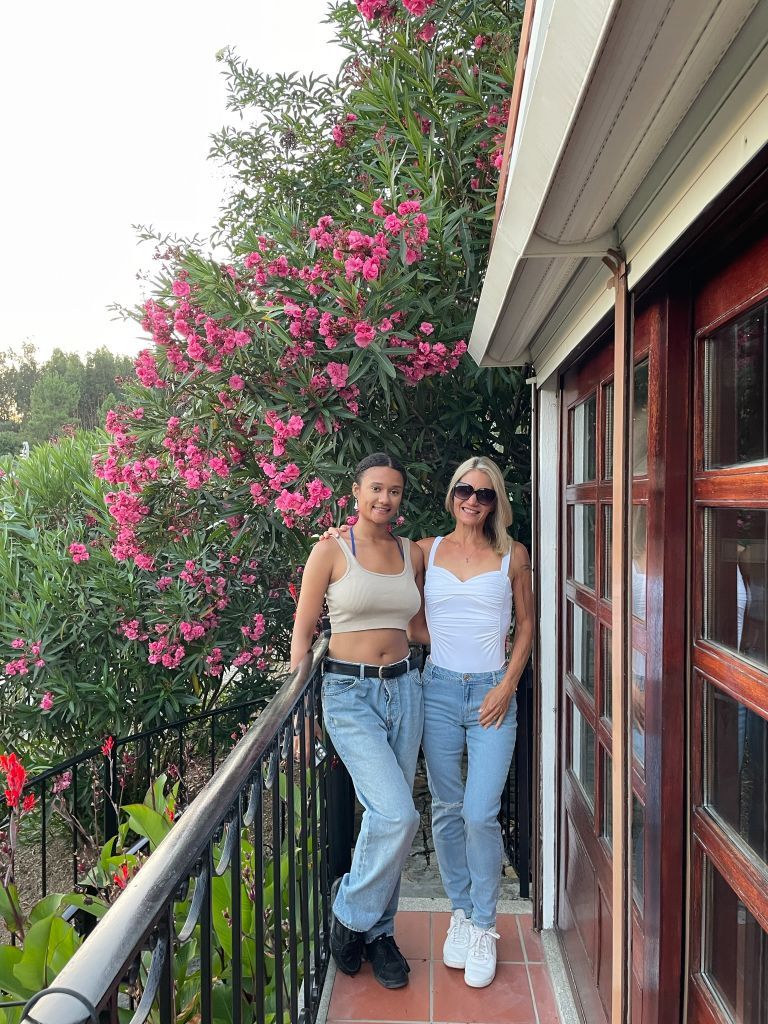 Fava Côja
Friday family fun night: Côja Fava Festival. The formidable 80's band MT80 and plenty of beer and cider because it would be rude not to (ha ha). The night ended with Liliana's fantastic fartura's to soak up all the alcohol (ha ha).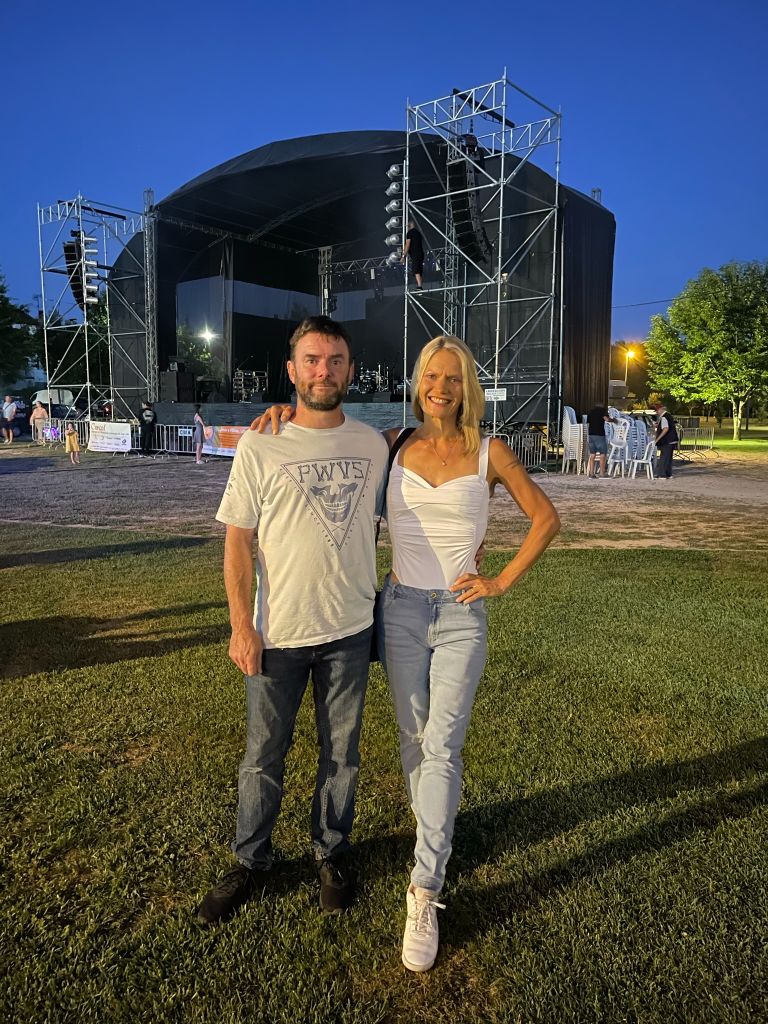 In the Prime of your Life & Prime Position
I LOVE everything that this photo resembles. This old bloke made me laugh so much that I needed the loo! He got there super early and had a secure plan in place, complete with a plastic chair. I have a feeling this will be hubby in 25 years time. The time will come when we cant prep and prepare with just caffeine (coffee), sugar (festival fartura's) and alcohol alone, there will come a time when one needs to sit down for a well deserved rest of the legs (ha ha).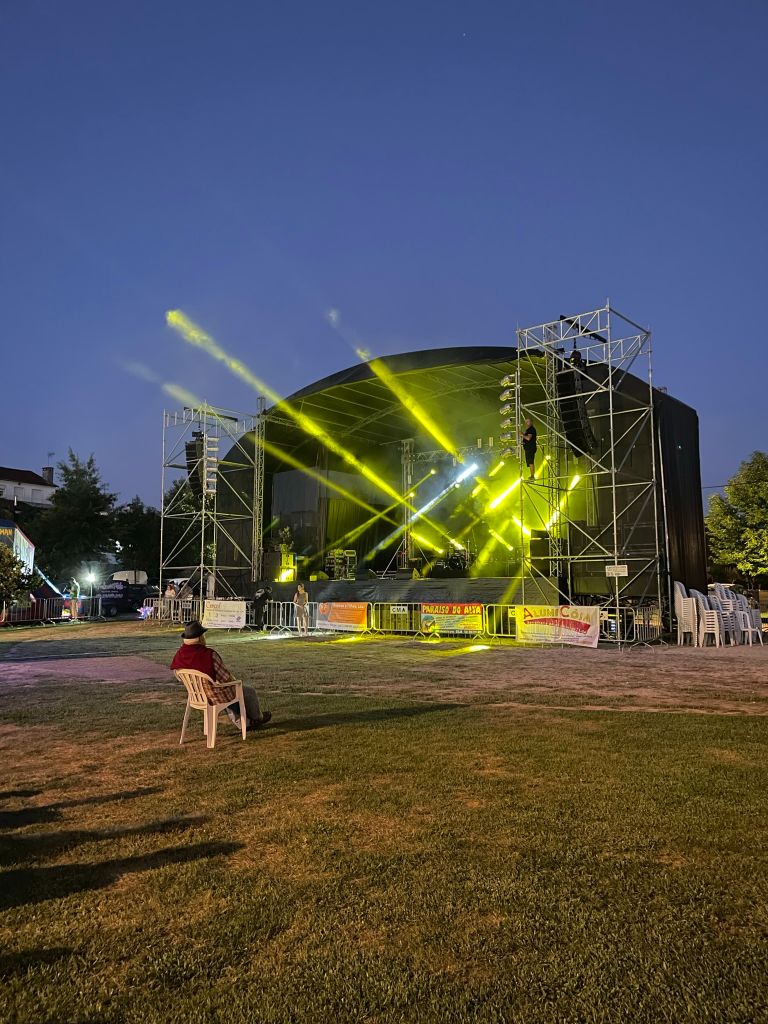 Festas de Verão – Vinhó
Saturday night = Festas de Verão. Our little village of Vinhó organised a 3 day Summer festival! A rare evening out embracing the Portuguese culture and getting to know the local people better and their way of life. €1 beers, live bands and plenty of dodgy dancing (ha ha). Our little rural village is like a step back in time but we have our own stage which I think is beyond cool. Organisers decorated the area with pretty vivid coloured flag bunting and it looked so adorable. It was all going hunky dory until the power cuts (ha ha). So bring your good times and your laughter too we're gonna celebrate your party with you! (Cool and the Gang). I bet your singing the song now (ha ha).
I made these photos BIG on purpose because I am elated that our little village held such a FUN and community spirited event. May there be many more in the near future, I raise a glass, well a bottle of cheapo beer to my gorgeous little village and say CHEERS!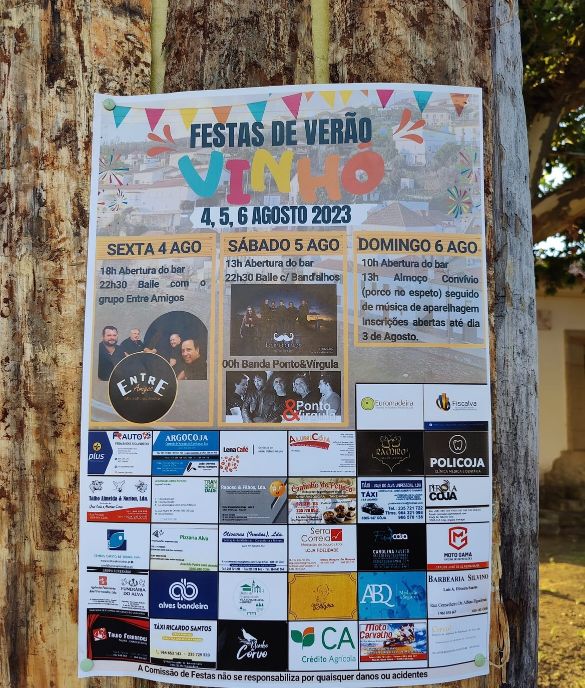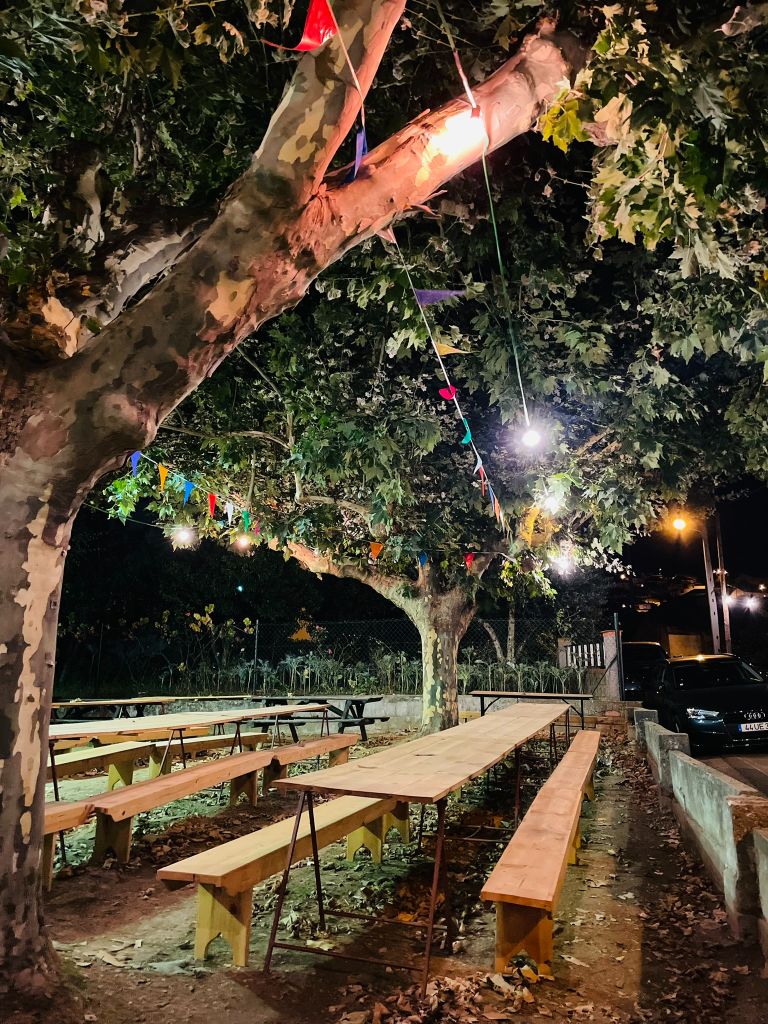 Feira de São Mateus
There are so many local Festivals in Central Portugal this Summer but this festival was on another level! A one hour drive from our house but there were some fabulous musicians performing and tickets for the evening gigs for some very famous artists only cost €10. This old timer survived a music concert and stayed awake into the early hours of the morning, it was epic. I was lured in as hubby mentioned "Beer" and if I whiff a Fartura van, it's game on (ha ha). Happy times my friends. You only live once so I take every opportunity that arises! We stopped off at Rock pizza for our 2nd gigantic pizza as it is not wise for Helena to drink on an empty stomach as hubby cannot carry Helena back to car because he is nearly 50 and not so nifty and she is a chunky monkey (ha ha).
Saturday night = Party time. Feira de São Mateus, Viseu. Wow, what a dazzling huge event. So many artists to choose from we purchased tickets for the gorgeous famous Brazilian singer, songwriter and actress GIULIA BE. Such an amazing performer and unique talent. I LOVE her song "Menina Solta". It was a very late night as the music gig started at 22:00 followed by an After Party at 2am. I loved all the pretty lights and funfair rides. Dinner was another gigantic pizza at Rock Pizza and later there was the obligatory fantastic festival churros with a pot of hot chocolate dipping sauce. I also took one for the team and ate the leftover cold pizza on the hour long car journey home (ha ha). The only negative of the night was that hubby blatantly refused to buy me a scruffy Guinea pig from the market that looked like me. I really wanted to save it and give it a loving home, I fell in love with the fur ball but hubby said No. I was sad because I already love him and had named him Glen the Guinea pig. We name all our animals after TWD. I even tried to fake cry but he was having none of it. I usually get my own way, maybe I'm losing my magic charm. Music is the strongest form of magic. Here's to nights that turn into mornings and friends who turn into family.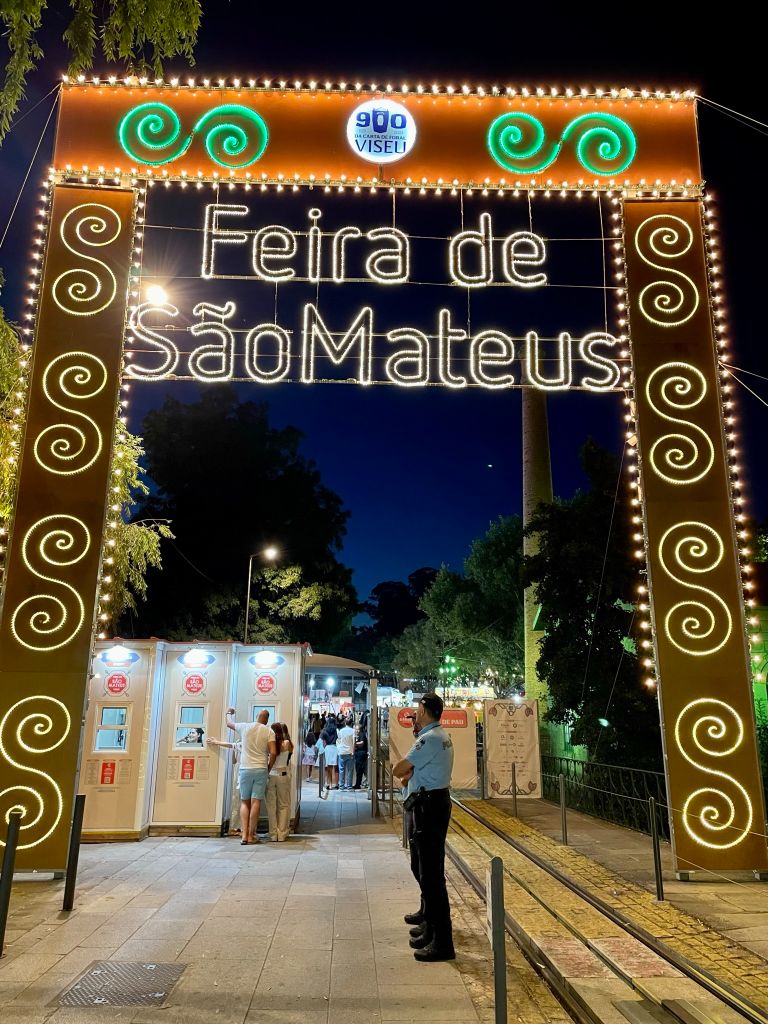 Moinhos de Gavinhos
Teanna's final full day in Portugal ended on absolute high: First a pit stop at Côja market to buy artisan gifts for friends and family in UK. Then the magic began: The breathtaking whimsical windmills "Moinhos de Gavinhos" my favourite scenic windmills in Penacova with a spectacular panoramic view of the mountains and gorgeous monument dedicated to Our Lady of the Immaculate Heart of Mary. This place has such an wonderful atmosphere and is bursting full of Portuguese history and heritage. It was deserted which was very surprising but it was a very hot day and limited shade. Afterwards we took a short drive onto the pretty river beach "Praia fluvial do Vimieiro" and enjoyed a yummy waterside picnic of leftover party food, washed down with more cider and chilled under the shade of a huge tree. I climbed over a wooden fence which was trickier than I anticipated and exposed by ass to a group of young people sat directly behind. I was more than embarrassed as I then had to sit directly in front of them for the whole afternoon and they kindly pointed out that there were in fact a set of steps to walk down so I didn't need to climb and flash my lady bits and put them off their lunch. At least I was wearing my granny knickers (ha ha). Another precious memorable day with my gorgeous girl. What am I going to do without her? A daughter is just a little girl who grows up to be your best friend.