TRILHO DA POMBEIRA HIKING TRAIL (CASTRO DAIRE PR8 CDR)
Another day, another hike, this time the wonderful PR8 CDR 10 km circular Trail of Pombeira. The starting point is from Castro Daire which is located in the district of Viseu, province of Beira Alta and in the Viseu Dão-Lafões sub-region. There are several trails in Castro Daire and I chose this trail as it includes a variety of interesting sights including the magnificent Pombeira waterfall, quaint traditional Portuguese villages, watermills, granaries, rivers with historic bridges and unique stepping stones, dam, picnic park, panoramic viewpoints and ancient chapel. The journey from our casa is 1hr 20mins and 108 km.
GPS Coordinates: 40º 55′ 1.693″ N 7º 56′ 27.492″ W
Points of Interest:
Nossa Senhora dos Remédios also called Igreja Paroquial de Lamelas (Lamelas Parish Church)
Canastro (Granary)
Parque de Merendas (Picnic Park and Viewpoint)
Ponte do Rio Vidoeiro (River bridge)
Alminha (Wayside Shrine)
Poldras do Meio (Stepping stones of the Vidoeiro river)
Barragem (Dam)
Miradouro da Pombeira (Viewpoint)
Cascata da Pombeira (Waterfall)
Moinhos da Pombeira (Watermills)
Villages of Lamelas, Vilar, Codeçais, Lamelas de Cá and Lamelas de Lá
Local Foods/Delicacies
Cabrito assado no forno
Cabrito assado na brasa
Vitela arouquesa
Truta de escabeche do Paiva e Paivó
Enchidos/presunto
Broa de milho
Pao de Lo
Bolo Podre
Roscas de Castro Daire
Trutas doces
Serra de Montemuro
Serra de Montemuro is the eighth highest elevation in mainland Portugal, with an altitude of 1382 metres. It is located in the municipalities of Arouca, Cinfães, Resende, Castro Daire and Lamego and between the regions of Douro Litoral and Beira Alta. The average altitude is 838 meters and you can tell by the state of my hair in the photos that it can get a little windy so high up in the magical mountains even on a sunny day (ha ha).
Nossa Senhora dos Remédios (Church – Sanctuary of Our Lady of Remedies)
The route starts next to the majestic church of Nossa Senhora dos Remédios in Lamelas and follows a trail through the rural core of the village to the top of Portela. Lucky for us the church was open so we ventured inside and spent some quality time reflecting and praying for family and loved ones. The church was empty and the architecture is splendid. I love stained glass windows and this church is blessed with some fine examples of window art. Stained glass windows were once used to educate people who could not read. By looking at the painted scenes in the glass, people could learn valuable stories of the bible and religious teachings. I love how the light pours through the coloured glass and lights up the dark interior of the church. Light is an important symbol in many religions. It represents purity and spirituality.
Traditional Communal Village Washing Area
Canastro (Granary)
Parque de Merendas (Picnic Park)
After passing the Canastro (granary) we followed the trail which led us to a lovely picnic park and viewpoint offering stunning panoramic landscapes of the Montemuro mountain range and the village of Codeçais.
Trail Terrain
The trail offers different terrain underfoot some forest areas, dirt track, grassy fields, stony and some wet boggy areas.
Ponte do Rio Vidoeiro (Vidoeiro River Bridge)
We found a marvellous tranquil spot below the Roman bridge to rest our legs and enjoy our usual protein and caffeine fix. It was a really hot day and the sun was surprisingly fierce for the end of January. The river looked so inviting with the sun glistening on the surface.
Mr and Mrs Bumblebee
Look at us dressed in yellow and black, we look like a gigantic bumblebee (ha ha). At least if we get lost hubby can use his glow in the dark shirt as a flag to seek help. I called him Mr Banana Man all day (ha ha).
The Fishy Fiasco and the Woolly Hat
It wouldn't be a "Helen Hike" without some kind of drama. I reached into my bag for my drink to discover that my can of coke was all greasy and sticky. Today I did not have my usual fresh tuna and egg lunch as we ran out of tuna so hubby cooked me a salmon steak instead. He didn't realise that the tupperware container is not 100% airtight so with my hiking movement and my joyful dancing in the forests, the salmon fat and juice had leaked everywhere and over all the contents of my bag! I tried my best to clean it with the limited supplies I had (hand sanitiser and tissues) but it didn't really work. Hubby felt sorry for me and donated his woolly hat so I could put the container inside his hat to prevent it from leaking any further as I didn't want to ruin my cute panda hat and we still had a couple of hours until lunchtime. It's been a few days and my bag still smells rank like a fishmongers despite me scrubbing it with 4 different cleaning products including bicarbonate of soda and air drying it on the washing line for hours. It's not recommended that I machine wash it so I will just have to suffer the consequences. It is currently on the floor of my bedroom and every time I do my daily abdominal floor exercises I get a putrid whiff of fish (ha ha).
Ken Dodd and the Lost Hairbrush No2
I did it again, I lost another hairbrush! I replaced the original hairbrush that I lost at the bottom of the waterfall on a previous hike but with all the fishy chaos I emptied the contents of my bag out and hairbrush number 2 magically disappeared. I blame hubby as when he packed up our picnic blanket I specifically asked him twice "Do we have everything?" and he said Yes. I was a bit upset as my hair sometimes needs a quick brush before photos as it's so windy otherwise I just look like Ken Dodd (RIP Ken). Anyway from this point onwards I can only apologise profusely for my bad hair day. We have a monthly budget for food and if I lose any more hair brushes I am going to have to have a monthly hairbrush budget (ha ha). The next hiking hairbrush I am buying is going to be bright red or I will buy one with a hole in the handle so I can tie a piece of string to it and attach it to my bag. When I was a child my mum used to tie my gloves on a string of elastic and thread it through the arms of my coat as I continuously lost one glove, god bless the 1980's and my wonderful mum who is in heaven with Kenn Dodd. Well she might not actually be with Ken Dodd but I think they would have got on like a house on fire (ha ha).
Alminha (Wayside Shrine) and Vilar (Village)
After the bridge we passed the Wayside shrine and through the interesting village of Vilar where we got to view old fashioned ox carts, traditional communal washing areas and water fountains which supply the villages with fresh natural drinking water straight from the mountain springs. We followed the water channel to Poldras do Meio (Stepping Stones).
"Poldras do Meio" of the Vidoeiro River (Stepping Stones)
We had way too much fun on the fantastic stepping stones. I didn't expect them to be so high or far apart. It was a bit of a challenge for me to cross with my short stumpy sausage dog legs (ha ha). Hubby crossed very rapidly like an athlete on valium. I on the other hand have the grace of a hippo but what I lacked in finesse I made up for with pure joy and enthusiasm. Hubby said that he accidentally didn't film me so he made me go across and back again. It turns out he did actually get the first footage but it's fine as it was fun and I need all the exercise I can get at my ripe old age. I think he was secretly hoping that I would accidentally fall in and he would capture the moment on video (ha ha). I have our videos on my CasaValhal Facebook page and Instagram if you're interested. The Vidoeiro river is famous for its trout and watermills. I don't want any trout, I can still smell the stinky salmon odour lingering from my backpack with every step I take. I feel a song coming on: Every step I take, every move I make, I can smell FISH (ha ha).
Stepping Stone Selfies
Wet and Wetter
After our awesome stepping stone experience we continued along scenic rural paths and green marsh fields alongside the Pombeira riverbank and onto the dam. We encountered a minor issue en route, a broken pipe which was squirting water high into the sky and had saturated the ground turning it into a mini pond. It was a bit tricky to cross and we got our feet a bit wet. We then crossed a huge grassy field which was very boggy and our feet got even wetter but soon dried out in the sun. The whole area is very misleading as it just looks like grass but as you step onto it you sink down like crazy. I had visions of me disappearing down a sinkhole never to be found again. I wonder if hubby would try to retrieve me or just replace me (ha ha).
Dam and Village Views
After the Dam you will see the village of Codeçais nestled on the hilltop.
Miradouro da Pombeira (Viewpoint) and the Bridge for the Brave
Wow, what a spectacular viewpoint across the mountains. We were surrounded with the most striking 360 panoramic views and gigantic irregular boulder fields and huge exposed slabs of granite and rocky outcrops. I am always amazed at the rock formations and their colour, shape and size. There is a breathtaking view over the ravine and a magnificent birds eye view of the magical waterfall with dramatic landscape. We stood in awe for a while admiring the glorious sight and were wondering how we descend down the cliff side to the waterfall for a closer look. In the distance you can see a bridge which is used by people who love to go canyoning. I don't think I could cross that bridge without having a heart attack! I'm O.K with heights but my balance is equivalent to a cow on crutches (ha ha). As we walked back along the trail we got a glimpse of a local tourist attraction, a huge scenic heart and viewpoint. We decided not to take the detour to view it but to visit later to try and capture a perfect sunset over the mountains.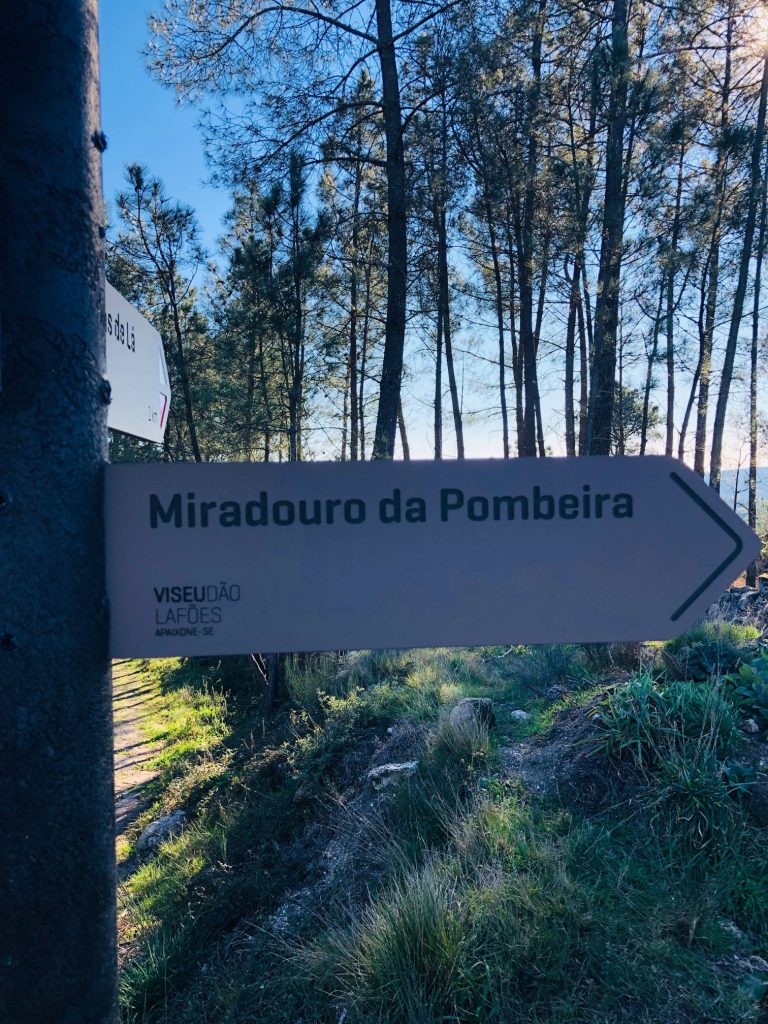 Heavenly Views
The mountain views on the way down to the wonderful waterfall, WOW!
Cascata da Pombeira (Waterfall)
We nearly didn't make it to the waterfall as there is no actual sign to say you need to fork off down a steep slope. There are the red and yellow paint trail markers which you could easily miss and no actual cascata sign until you get further down. The climb down is not difficult and there are safety ropes to assist. On the walk down I saw so many butterflies and beautiful little vivid pink and purple flowers which caught my eye. The waterfall is a very impressive height, it's huge and very serene, a perfect paradise. This area is classified as a geosite, it is located on one of the large granite blocks of Montemuro, where the Pombeiro River "took advantage of" the fracturing of the granite massif, falling in a cascade. Small geoforms can also be observed, what a magical corner of nature.
We climbed down onto the rocks and craggy cliff side and jumped over the gaps and sheer drops to find the most amazing place to lay our picnic blanket down and enjoy lunch. I was so surprised that we had the whole place to ourselves. I kept expecting others to join us but as usual we didn't see anyone on the whole hike. The sun was very strong and the waterfall was set back into the sun kissed rocks so I don't think our photos portray its pure raw beauty but it was stupendous and the water cascading down the granite rocks was blissful and mesmerising to watch. We listened to the powerful roaring water pounding off the granite rugged rocks and forming lacy white patterns in the radiant rock pool below. The water is so clean, dazzling and translucent and would be a perfect place to cool off and take a dip during summer time. I gave up taking photos and just sat, admiring the glory whilst eating my smelly fish (ha ha). Sometimes it's not about the photo but making new memories together and sharing the majestic moment with my loved one and experiencing mother nature in action first hand.
Waterfall Selfies
Moinhos da Pombeira (Watermills)
Located close to the waterfall are various traditional watermill ruins to explore. We are total spiritual adventurers so clambered down to get a closer look inside them. Most are pretty trashed inside which is a result of the elements and many have no roof so are exposed to harsh weather conditions. I always find watermills fascinating and my mind always transports me back in time and I imagine them in fully working mode grinding wheat, rye, and maize into flour. I love exploring abandoned ruins, just watch out for the spiders! Hubby often finds a long tree branch and touches my hair with it from a distance to freak me out. It works and I jump out of my skin, the joy of being married to a practical joker, never a dull moment (ha ha).
Crazy Canyoning and the Daredevil Tightrope
On the climb back up we heard voices and could see 3 adrenaline junkies crossing a daredevil tightrope over the river gorge next to the waterfall. Wow, they are certainly braver than me. This area is known as the Adventure Park and it is a very popular area for canyoning and extreme sports. I read that the municipality of Castro Daire has plans to develop the Pombeira Adventure Park and that construction will soon commence. The plan is to create an epic viewpoint suspended on a 12 meter platform, with 9 of them over the cliff and the Pombeira waterfall, creating the feeling of "floating under the park". The park will offer a series of exploration activities, with particular emphasis on Canyoning. The banks of the river will be connected by 3 Himalayan bridges that will allow a panoramic view of the lakes in the region. I think I will need to revisit once work is completed.
Lamelas de Lá (Village)
In the pastures en route we saw many cows and goats grazing accompanied by a Portuguese farmer. I always find it a little awkward taking photos when an actual human is with their cattle. I don't like to be intrusive or disrespectful and act like a total annoying tourist as they might not want their photo taken. It may appear unique to us to see an old lady in traditional Portuguese dress guiding cattle through a rural village "lost in time" but at the end of the day agriculture is their living and bread and butter. It is also their home so respect is paramount. As we walked through the narrow cobbled village alleyways I heard the distinct jingling of cow bells and witnessed a local elderly woman with a herd of goats and a huge aroucasequa cow which was drinking from the village water fountain trough. I wanted to try and get a close up photo but it literally strolled past me inches from my nervous body and I panicked a little as it was enormous with the biggest horns I have ever seen. I didn't even know that cows have horns, I thought it was just bulls. I had visions of it impaling me like a skewer so apologies, only a distant photo on this occasion as I didn't want to chance my luck and get up close and personal again with Daisy the cow (ha ha).
The Legend of Penedo do Cavaleiro
I do love a good love legend and Portugal has so many. In the village of Lamelas, Castro Daire you will find a unique huge wooden rocking horse/panoramic swing. It is located at a remote mountain destination at the top of a hill close to Penedo do Cavaleiro. Are You Sitting Comfortably? Then I'll Begin. Legend has it that a Lusitanian knight fell in love with a beautiful Moorish woman. He ran away with her and was being pursued by a legion of the Moors. To defend himself between the valleys and mountains he found a steep place to hide and he gathered boulders to throw as missiles at the Moors when they passed by. Exhausted, the couple ended up falling asleep together in each other's arms and the Moors passed without discovering them so the boulders remained in the place where the knight had thrown them. The end.
A Trio of Treasures
We took the short drive to view the legend and a trio of local tourist attractions: Baloiço do Cavaleiro (Knights swing), Coração da Pombeira (Heart) and Penedo do Cavaleiro (Knights boulder). I cannot begin to describe to you how fabulous this viewpoint is. I am not a huge fan of the Baloiços (Swings) as I find them quite touristy and usually very crowded. Also it's a little embarrassing queuing for a turn when there are families with children as swings are often linked with childhood fun. I know the scenic swings have taken off on Instagram and are for all to enjoy including adults but I can only really relax and enjoy the moment if we are the only ones there. I definitely did not expect this to be the case but luck was on our side and we got to witness a sensational sunset over the mountains.
I was beyond excited when I climbed the short steep walk to the top and discovered that we were the only ones there and had the whole epic experience to ourselves. When we arrived the sun was just about to set and was very fiercely bright so unfortunately our Knight's Swing photos could not be taken at the angle with the outstanding idyllic natural landscape view as a backdrop as the brightness saturated our photos into one huge blur and glare, that's nature and sunny weather for you! Again if you're interested I have videos on Facebook and Instagram of us on the rocking horse in action. As usual I am as enthusiastic as a 4 year year old with a bag of sweets and a can of fizzy pop inside me shouting "Yee haw" because I'm a Cowgirl of course. Hubby is his reserved quiet self and I think he was a bit shy and embarrassed to shout "Yee Haw" on the top of a mountain so he is not my Cowboy today (ha ha).
WOW, it was simply magical and a very romantic adventure with sweeping views one can only dream about and an absolute true spectacle! A totally super soulmate Saturday. The only shame is that I look like a bag of shit (ha ha). Most people have photogenic picturesque swing photos with flowing dresses and hair with floppy hats. Then there is me, post 10 km hike, dirty, muddy with bits of leaves and broom stuck to my running tights with my fine fluffy hair all over the place (ha ha). Oh well that's life in the real world and the joy was in the moment, being there and sharing the experience with my hubby. I wish I hadn't lost my hairbrush (again) but I don't think it would have helped anyway as the wind was strong so high up in the mountains. I still like the photos as the sunset is epic and we are mostly silhouettes so you can't really see how dishevelled I actually am. There is a selfie tripod station so we could get a cheesy photo together having a cute kiss which is pretty cool. This really is a special and unique place and I won't forget it in a hurry.
Cowgirl Helen "Yee Haw"
Capture one's Heart
Young at Heart
The Descend Down
Cheap Date – Delicious Doner Kebab
On the way home we made a pit stop at Viseu to visit Leeroy Merlin for DIY supplies and a little retail therapy at Palácio do Gelo Shopping. It was getting late so we stopped for a €6 doner kebab meal in the food hall. What can I say I'm a cheap date (ha ha).
Overview
This trail was an easy route with no difficult terrain or climbs involved. No mountain climbing on all fours today. The route is just over 10 km and the official leaflet states it takes approx. 3 hr 30 mins to complete yet the information board at the start of the trail says 4 hrs, both for the same 10.3 km trail. The church is also called something different in the leaflet. There's nothing like a bit of mild Portuguese confusion to start the day (ha ha). We departed at 11:30 and arrived back at our car at 17:00 and we took our usual rest break and picnic lunch as well as a visit to the church. Hubby has a new phone and his camera is much better than mine so in this post I am sharing photos from both of our phones hence why the colours and quality may differ slightly. We had so much fun on this hike walking through lush forests and rolling green countryside and as usual it was very different to all our other hikes. I really enjoyed the stepping stones and waterfall but my favourite place was the trio of treasures and watching the sunset over the magical mountains whilst hugging hubby. It was such an unforgettable, romantic and harmonious moment to cherish forever and our very own little love story.
What's in a Kiss
I thought I had better leave you with a nicer final photo than the kebab (ha ha).
What's in a kiss
Have you ever wondered just what it is
More perhaps than just a moment of bliss
Tell me what's in a kiss