JOGGING/RUNNING IN CENTRAL PORTUGAL
I used to enjoy my weekly jog in Bristol so re-started jogging in Portugal. It's very hilly around here so it's really hard to jog as every slight hill hurts my bad back and I have to walk up some of the hills. It's beautiful scenery and sunshine if you don't mind the odd barking dog who clearly wants to savage your body parts. As I have mentioned the Portuguese drive like maniacs at high speed and there are no pavements. On my last jog I nearly got killed by a bus so I purchased a neon football bib to go over the top of my jogging clothing. 2 euros from Decathlon and one size fits all! Lightweight and breathable – job done as they can see me coming.
I really dislike jogging on a treadmill and much prefer to jog in the outdoors even in the UK. Sometimes I would use the option of running on a treadmill with the TV screen on and run through a virtual forest for fun. Well I can actually run through a real live forest here which is so amazing.
Our first jog here was in the rain. 10 minutes in to our jog and the skies opened up and we got absolutely soaked. We now only jog in fine weather. We have no difficulty social distancing on our jog. I am always and will always be about 5 metres behind hubby as he is so much fitter than I am.
The Portuguese are very amused in our village when they see us jogging. They think we are mad. I just have to try and avoid all the football talent scouts as if they see me in my football bib they might want to sign me for Porto FA ha ha. Also not sure the Kipsta neon football bib is a fashion statement over the top of my Ivy Park top. I doubt that Beyonce would approve or you will see this look anytime soon in her summer collection!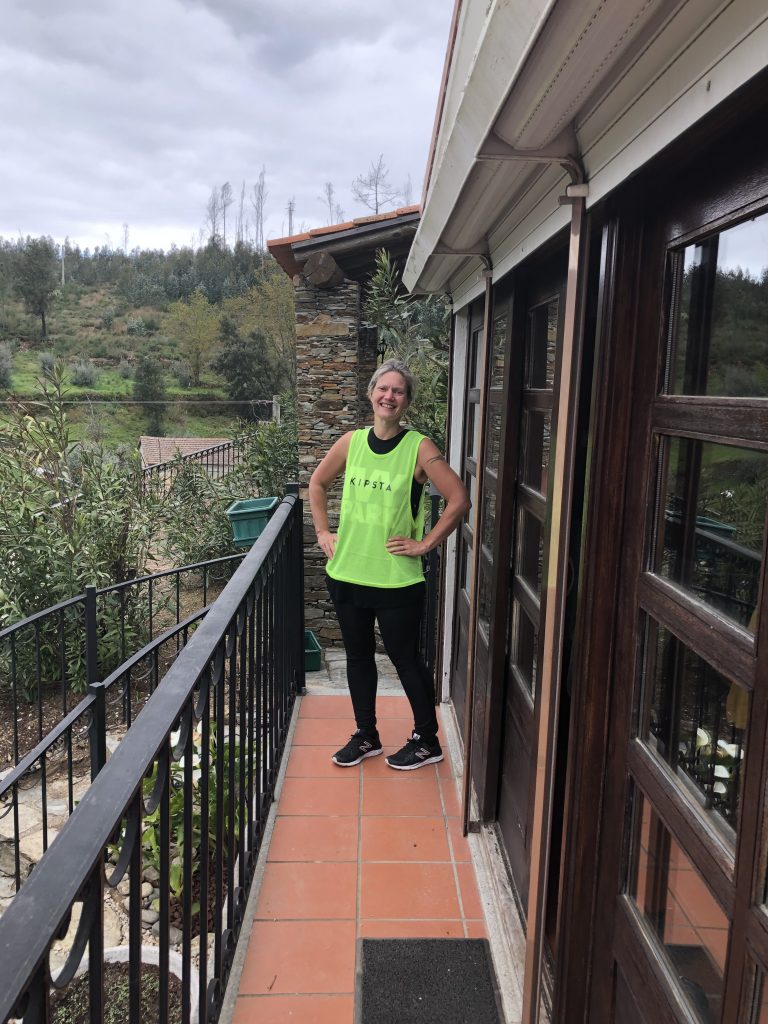 13th August 2020 update
The jogging is going well, I have increased to X3 jogs per week. It's sometimes 30-40 heat so really hard. I still can't jog up any of the hills except for one but it's fine. I have my regular little pit stops on neighbours garden walls or old ruins. I love admiring peoples fruit and veg and just breathing in the fresh air. I do have at least one near miss with a car each jog. People just drive way too fast and nearly run you off of the road. I don't have any issues with stray dogs which is good. We have a lot of tourists visiting in August and I keep getting stopped for directions. They don't bother me whilst I'm jogging but as soon as I stop for a little rest, a car pulls up and asks for directions. Today I got stopped twice and was asked directions to Fraga da Pena. They are always Portuguese so we have the lost in translation situation. Today a couple had teenage sons who spoke good English so I managed to direct them. I even gave them advice on other nearby tourist attractions to visit. The second couple could not understand me at all and the man got a little abrupt with me. WTF, this bloke literally just passed a huge brown sign directing him right towards Fraga da Pena so I wasn't too thrilled with his dumb ass attitude. I directed him back the right way with a fake smile. He didn't thank me and just gave me an evil look, whatever! Do they not have sat nav in their expensive SUV's? The passenger is always holding a map, I do not understand this!
I think I need to get a neon T.Shirt printed with directions to Fraga da Pena waterfall. I will have directions printed onto the front if you are driving via north and directions on the back if you are driving via south, then I don't have to stop. Alternatively I could get a T.Shirt slogan in Portuguese saying "I am English, don't stop for me directions unless you speak a little English" or my favourite would be a plain and simple "Don't ask me for directions" (ha ha).
17th August 2020 update
Two of my jogs I do per week are solo which I don't mind as I get to listen to my epic playlist and let my mind wander without having to communicate with hubby. Not that I dislike talking to him but I always find it hard to talk lots whilst jogging and trying to breathe (ha ha). I keep finding these little acorn stick men at my resting spots. Hubby has made them and positioned them in places I will find along my jogging route. This is just too cute for words. He used to write little funny post it notes for my lunch box when I worked in the U.K but I don't work anymore so this is the new alternative to post it notes, nature acorn men made from acorns on the ground and I love them!
11th September 2020 update
I haven't jogged for nearly 3 weeks due to my daughter's recent visit. God it's hard to get back into after a break. A conewuple of funny experiences to share with you. Firstly I am still getting asked for directions. This time when they discovered that I couldn't speak Portuguese they asked me if I could speak French! I obtained a GCSE grade E in French at school. My limitations are ordering a cheese or ham sandwich, asking directions for the toilet and explaining that there is a lost child on the beach, none of these will help this bloke (ha ha). To be honest he was a solo man of a certain age and I'm not convinced he was asking for directions. I reckon he was after my hot sweaty body as I look so sexy in my neon football bib.
Secondly I have certain resting spots mainly on church walls and old ruins. I'm sat down catching my breath next to the chapel when I see a small clear plastic food bag tied in a knot. I examine it further and it appears to be a tiny bag of cannabis. I am thinking maybe god has rewarded me for my persistence with jogging so I look up at the church and thank god. I carefully open the bag to only find another bag. Double bagged, this stuff must be great and potent. I make a tiny hole in the second bag and go in for a sniff. Big mistake, it's just a tiny bag of shit! Looks like bird or hamster poo but I'm not sure hamsters are a thing here. Anyway I'm obviously gutted and feel someone is playing a cruel trick on me. That will serve me right to open random bags on the floor and sniff them (ha ha). Won't stop me exploring though, just not bags of shit in future.
I have also found a brilliant way of catching my breath after a jog and before hitting the shower. Lilo's in the sun room. Quick stretch then a lie down on a lilo, much better than the cold, hard office floor with a bunny jumping on my head!
25th December 2020
Our Christmas day morning jog before venturing out to a local waterfall for our Christmas Day picnic. the weather was glorious!
25th January 2021 update
I recently increased my X3 weekly jogs to X5 per week as I am determined to increase my fitness and loose weight in 2021. Jogging has become part of my routine now and I really enjoy it. I don't like jogging in the rain but it's not going to stop me from venturing out or reaching my goals. During the winter I have had to wear gloves and woolly hats to keep dry and warm. Not very sexy but practical.
February 2021 update
We have sampled a few new 5K routes recently. The main reasons being that on one occasion we were forced to go in the opposite direction due to a traffic jam of 100 sheep on the road. Another occasion I was nearly attacked by a dog who jumped a fence and chased me 100 metres – I ran like Usain Bolt and definitely met a personal best (ha ha). Some of the new routes are very hilly but have absolutely beautiful views. I returned from one jog and realised that I had ran the whole route looking like a unicorn (ha ha). It's very windy up the hills of Central Portugal!
Sunday Rundays with hubby and a few furry friends
Not all dogs want to savage you! On this jog at the end of February 2021 we met 4 stray doggies. Those hills don't get any bloody easier (ha ha). I was so tempted to take the scruffy dog home with me. He regularly joins me on my jogs and he is my absolute favourite stray.
Sunday Sheep day
The best part about Sunday Runday is it's also Sunday Sheep day. The land opposite our casa is usually empty but every Sunday a local farmer brings his herd of sheep and lambs to graze. It's a little Sunday treat for them and me. I open the lounge curtains and shout "It's Sunday Sheep day" at the top of my lungs (ha ha).
New 7.2K Sunday Runday route
Very hilly but the views are spectacular.
March 2021
It's starting to get hot here now so I am going to have to get up earlier to go on a morning run as midday is way too hot for me. I have started taking my water bottle with me to keep myself hydrated. I only have this cheap pound shop water bottle which says #DADGOALS (ha ha). I love to have a daily tasty fruit protein smoothie post run. I always have it in a pint beer glass so I can pretend to be sipping on a cold one from my favourite spot in the garden. I love the fact that after a freezing cold shower I can sit outside and the sun dries my hair within 10 minutes. I am fluffy and grey, but instantly dry!
September 2021 update
I am still running 6 times per week now. I have a new route which commences with a steep hill.
Mr & Mrs Running: Ever since summertime and it got hot I've swapped my morning run to evening as it's cooler. This means hubby can join me after work. I used to relish my solo running as it was my "me time" but I've come to the conclusion that I now love running with hubby because of the following facts:
1. He is super fast like Mo Farah which makes me go faster even when I'm on my period!
2. When bugs fly into my eyes and stick to my contact lenses, I have someone to extract the bugs legs or wings from my eye.
3. He runs directly in front of me in neon resulting in me not having to wear my neon football bib if I don't want to as it flaps around in the wind and annoys me like hell as they are one size fits all and huge.
4. I have a warrior soldier to fight off all the crazy stray dogs which chase me.
5. I have someone to have a conversation with which makes the time go quicker, when I'm not running up a hill, I can't speak when hill running, I can barely breathe (ha ha).
6. It's safer, I have a buddy to carry me home if I get hit by a car or injure myself.
7. He is a great motivator, I now have a buddy to high five once we make it to the top of the hill. The sheep can't High 5 very well.
8. He is like a human clock, he records all data like speed and pace, I'm not bothered about this stuff but he congratulates me when I think I'm slow but actually it's been my fastest run yet.
9. He always farts whilst running which makes me laugh.
10. It's like having a free personal trainer. I pay him with figs and my fanny (joke, just figs).
11. I have someone to share the joy if I see a rainbow or a humongous vegetable.
12. Technically it means we go out on a date 6 nights per week (ha ha).
I bought a cheap dry fit €5 Decathlon vest with the logo: "Can't stop, Won't stop" on it. Every time I felt like stopping hubby shouted "Can't stop" at me to which I shouted back "Won't stop" it was like our very own mini military Portuguese hill boot camp (ha ha). This may become my new motto but I still like my usual motto of "Risk it for a biscuit and try not to shit myself on the journey" (ha ha). Gosh I look all hot, sweaty and wiped out but still smiling!
Mr & Mrs Neon
We bought new Neon dry fit shirts so although it's highly likely that we will get chased by multiple stray Portuguese dogs whilst running, we won't get hit by a speeding vehicle. Nearly got hit by an ambulance the other night, the irony is hilarious and it's not the first time either! Stay bright, stay safe people. The future is bright, the future is NEON (ha ha). Also it's another Can't Stop, Won't Stop logo which I LOVE.
November 2021 Update
On the 1st November I experienced my very first running accident. I tripped over nothing whilst running at speed with hubby and face planted the concrete. I hit the floor head first and also fell on the whole of my right hand side of my body so injured my head above my right eye, shoulder, back of arm, elbow, hand, hip and knee. My head, shoulder and arm took most of the full impact. It was my first visit to A & E in Central Portugal and they were fabulous. I had X Rays and luckily I did not break any bones. I was in severe pain and prescribed anti-inflammatory drugs as well as anti-biotics. I was so super sad not to be able to go for my daily run and it knocked my confidence a lot. The cuts and scrapes eventually healed but I still could not move my right arm so was sent to a different hospital for an ultrasound which resulted in a diagnosis of tendinitis in my right shoulder. The pain is still present but I am healing slowly. I have resumed my running but am a bit slower than normal. I even ventured out on a solo run without hubby which was very brave of me. It's getting quite cold now so I have had to dig out my sweatshirt, hat and gloves. I still can't believe my first major running injury was caused by clumsy me tripping over nothing. I assumed I would be bit by a dog or hit by a speeding car (ha ha). I LOVE running and it really is the best therapy for me. It's made me strong physically and mentally and given me the confidence to face new challenges in life as well as keeping off a huge weight loss of 7 stones. One run can change your day, Many runs can change your life!
The Epic Injuries
Neon Positive Panda
What doesn't kill you makes you stronger, apparently!
Gorgeous Girl Oreo
My new jogging partner "Oreo".
Gorgeous girl Oreo was mine just for an hour. She found me on my power walk/jog about 1 km from home and followed me all the way home. Fed and watered then returned back to its rightful owner. Dog tags with names and telephone numbers are vital! She was weaving in and out of traffic so was very lucky indeed not to be hit. She lives near Côja so got a fair distance and was super dehydrated. Oreo loved me and the feeling was mutual. We should have sent a ransom request "I got your dog, a dozen pastel de nata's and you can have her back" (ha ha) Tchau Oreo.
Mellow Yellow
It's not hard to exercise when you have all this beauty on your doorstep. Serene yellow mellow 7 km power walk today. I tried to jog a few parts but my foot is still bad. This is my neighbourhood, feeling very blessed.
Hydrated Helen
It has been super hot here with the recent heatwave so i have been trying to get up early and head out by 9am/9.30am for my power walk/jog. My water in my plastic water bottle gets so hot to the point where I literally could have put a tea bag in it and made a cuppa that a British builder would be proud of. I had to do something so I purchased a new lightweight water bottle which is supposed to keep the liquid inside cold or hot depending on what you fill it up with. I have an awesome stainless steel water bottle which keeps water ice cold for paddle boarding but this bottle is to heavy for me to jog with and difficult to grip with my arthritic hands. This new one is much better and lighter but cost €20. I gave it a trial today and so far so good.