FESTA DA CASTANHA ALDEIA DE MONTANHA DE FOLGOSINHO (OUR FIRST CHESTNUT FESTIVAL IN PORTUGAL)
Autumn is a very special and magical season in Portugal. I LOVE this time of year as it's chestnut harvest time. There are so many Chestnut Festivals held in all the small villages and I am tempted to attend them all. Every time I planned to visit one it rained so I had to cancel as bonfires and rain are not a match made in heaven. I was very happy when I found that one was taking place in a rural mountain village located in Serra da Estrela not far from our casa and I just had to plan a visit to celebrate the Portuguese culture, history and traditions with the locals. As well as Chestnut Festivals there are lots of Mushroom Festivals and some events are Chestnut & Honey which is an added bonus as I adore honey, I think I'm related to Winnie the Pooh (ha ha). What is better than roasted chestnuts on an open fire? Honey and chestnuts of course, washed down with chestnut liqueur. It's also nearly the olive harvest season here so we are blessed with many tasty delights to sample. I was very excited to attend my very first Chestnut Festival, I had no idea what to expect.
Foraging Fun
We LOVE to forage for chestnuts and have stumbled across some huge sweet chestnut trees and tons of chestnuts in our local forests and woodland. Roasted chestnuts are so yummy and very soul warming. I really do love their deep, sweet smokiness, perfect texture and abilty to warm my fingertips when the heat of the Portuguese sun goes down and it gets a bit chilly. There is nothing better than snuggling up on the sofa in front of our log fire and eating tasty chestnuts washed down with a tipple from our retro bar. Just remember to score a criss cross in them otherwise they explode in the oven which is very dramatic and makes a shitty mess (ha ha).
Magnificent Magusto
Magusto is an Autumn Portuguese tradition and celebration that takes place annually in November. The Portuguese have a unique way to roast chestnuts. In many villages especially the Beira regions a special ritual occurs. The local people gather together in the main square and a gigantic pile of chestnuts are roasted on a huge fogueira (bonfire). Pine needles are added which emanates the most beautiful aroma. Then they are accompanied by Jeropiga, an alcoholic drink which contains aguardente and "mosto" (must) – freshly squeezed grape juice which is fermented. Água-Pé is an alternative drink which is also consumed and has a lower alcohol content. It is believed that the word "Magusto" comes from the Latin "Magnus ustus" which means "Big fire". The Magusto takes place on the following dates: St. Simon's Day, All Saints' Day or St. Martin's Day. Bring on the Chestnut Festival FUN!
Flavours of Autumn – Festa da Castanha (Folgosinho, Gouveia)
We took a scenic drive up the mountain to our first ever Chestnut Festival (Autumn Flavours) in Folgosinho, Gouveia, Serra da Estrela. Folgosinho is an hour's drive from our home but as we departed from our previous festival in Mangulade it only took just over half an hour to reach our destination. Folgosinho is a perfect, quaint mountain village and just a perfect setting for a chestnut party and traditional community magusto. The event is free and is held over a 3 day period (long weekend). We decided to attend on the Saturday as it was a warm day for November (20 degrees) and rain was predicted for the Sunday. We visited in the afternoon and stayed until the evening to enjoy the festivities. There was another festival on the same day – Feira dos Santos which is located in Mangualde and takes place annually on the first weekend in November. We visited this festival in the morning, I have wrote a separate blog post sharing the joy as it was an awesome event with gastronomy, wines, handicrafts, farming/agricultural machinery, entertainment, music, funfair and fireworks. You can find it here: FEIRA DOS SANTOS (MANGUALDE) 2022 – Casa Valhal
We managed to park right in the village and decided to explore the castle first. Wow, what a beautiful sight! There are so many castles in Portugal and I love each and everyone as they all have their own individual uniqueness and charm. We took a short leisurely stroll around the narrow cobbled streets up to the castle past the ancient pillory, water fountain and little chapel. The whole village was alive and bursting with homemade cute and quirky decorations and displays made from recycled and foraged materials including an autumn themed cosy straw seating area, crazy crochet/yarn bombing on trees and railings, wooden animals carved from tree trunks into the shape of owls, sheep, deer and hedgehogs. There were romantic hearts and festive wreaths swaddled with ferns, moss and red berries hanging on rustic door frames and pretty lights in the trees which sparkled like magic and the smell of crackling fires when the sun goes down was simply divine. I was mesmerised within minutes of arriving. I found a traditional external communal washroom and was shocked to see a lady washing her clothes there. These ancient old traditions still take place today in many of the historical rural mountain villages. Our favourite display was the hilarious Mrs Chestnut lady – A face cut out board where you put your head through. We had way too much fun with this prop (ha ha). Apparently some children had a lot of unsupervised fun too as we witnessed a small group of children playing with Mrs Chestnut and they were throwing tiny polystyrene balls up in the air, it looked like snow and at first I thought it was part of the display and it was interactive. Then I realised that the kids had just undressed Mrs Chestnut and pulled all her stuffing out and made a shitty mess everywhere. The parents were in the marquee drinking bottles of beer and randomly checked on them when they felt like it! I love children, just not other peoples (ha ha).
There was a full agenda of entertainment including: Organised group morning cycle ride and a walking trail, a chestnut confectionery competition, workshops, stand up comedy, music with plenty of dancing and laughter. I think the little old adorable man who was dancing had consumed way too much jeropiga (ha ha). Hubby challenged me €10 to have a dance with him but my concern was that he would injure me by falling on me as he was high as a kite and unsteady on his feet. The last time I danced with a drunk bloke (an ex boyfriend) he twisted me around and his whole body weight fell on top of me breaking my foot and he crushed my spine resulting in me having to have my coccyx removed, 4 months off of work and 25+ years of chronic pain! The accordion band was very talented at playing their instruments. The male singer was great but the lady sounded like a cat being strangled, my sincere apologies but it was painful (ha ha). There was a large marquee with a cafe/bar and lots of stalls selling local delicacies including a variety of food and drinks made from chestnuts. No one spoke English so I couldn't get the names of the cakes we purchased but mine was the red one that looked like a tittie. Hubby's looked more like a nata with puff pastry and a deep creamy chestnut filling. I always seem to buy cakes that resemble titties and penises, I must have a filthy mind (ha ha). Hubby did his magic trick with his bank card again and cut them in half so I could sample both. They were mouthwatering and delicious washed down with an espresso for my caffeine fix. I have random thoughts in the middle of the night and I woke up at 3am and declared to hubby that I think we should invest in a pocket knife to keep in my backpack solely for cake cutting. He reminded me that we have a Swiss army knife in the kitchen drawer that we have never used that was left here by the previous owners as they included all the fixtures and furnishings in the sale of our house. I had forgotten all about it so once I've made it hygienically clean it will become my free trusty knife for cake cutting excursions. I was amazed to find some gigantic squash and melons growing on the top of a wall of an old granite house in the village. I also found a notice board with information for a PR hike which looks fantastic so I might return in the near future to embark on the trail as it is such a beautiful and tranquil place and I'd love to explore this Geosite fully.
Programme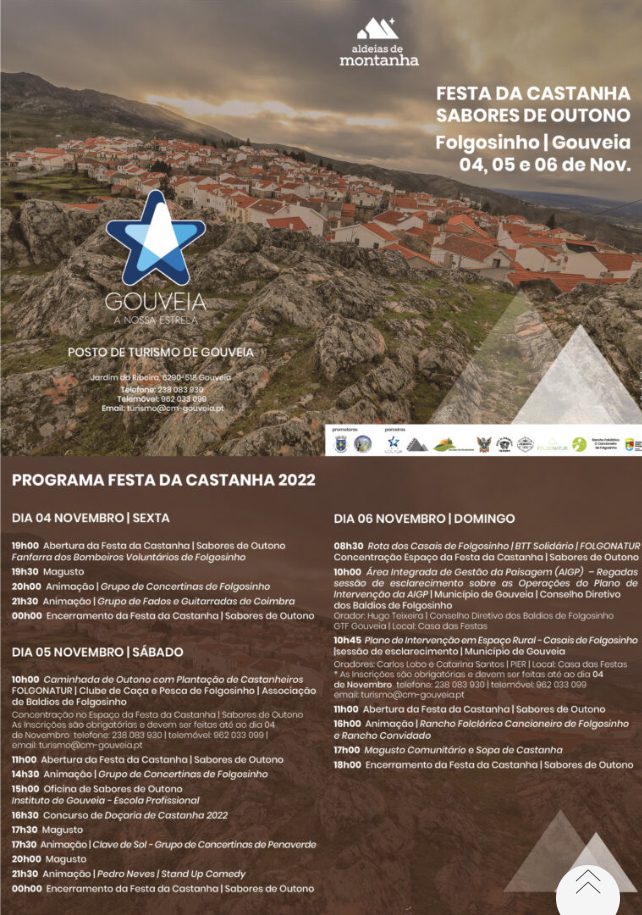 Festa da Castanha Aldeia de Montanha de Folgosinho – Photo Gallery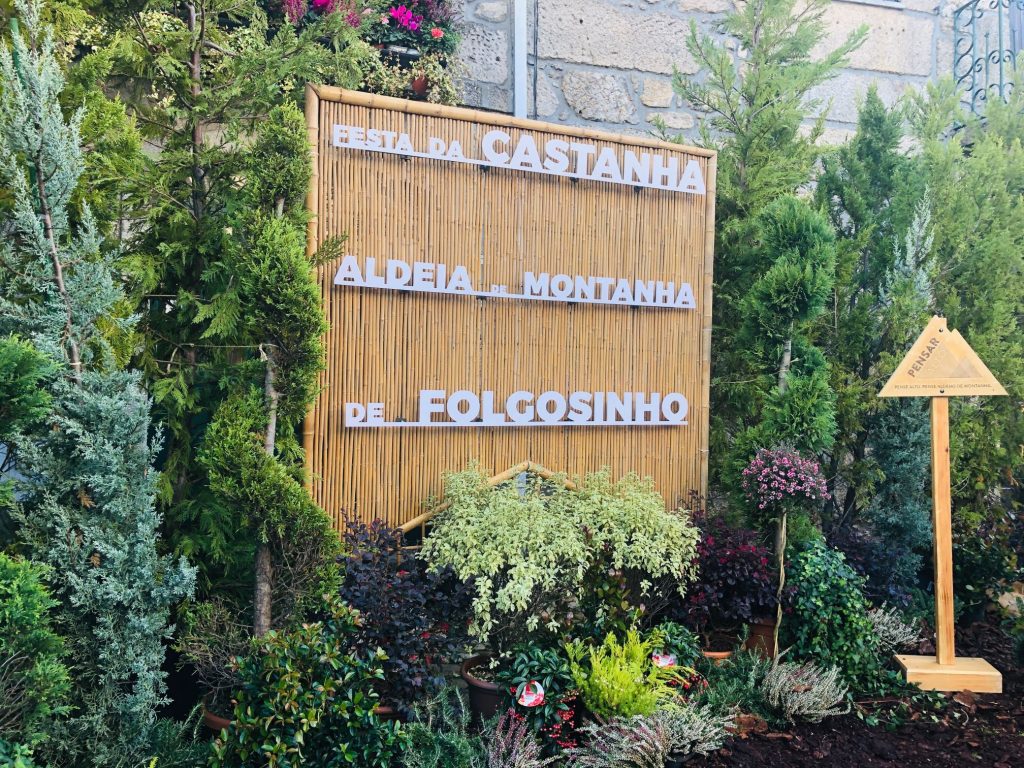 Crazy Castle Fun
The castle was constructed in 1183 under the orders of King Dom Sancho I. The castle is situated on the top of a 930 metre hill consisting of white and red quartz on the flanks of the Serra dos Galhardos, overlooking the valley of Mondego. We had the whole castle to ourselves so took the opportunity to have a mini photo shoot in the pretty courtyard taking full advantage of the spectacular keep and watch towers as well as the stonework merlons. The views from the castle are simply breathtaking and I love the cobbled pathway leading up to the castle, it's all sparkly like me (ha ha).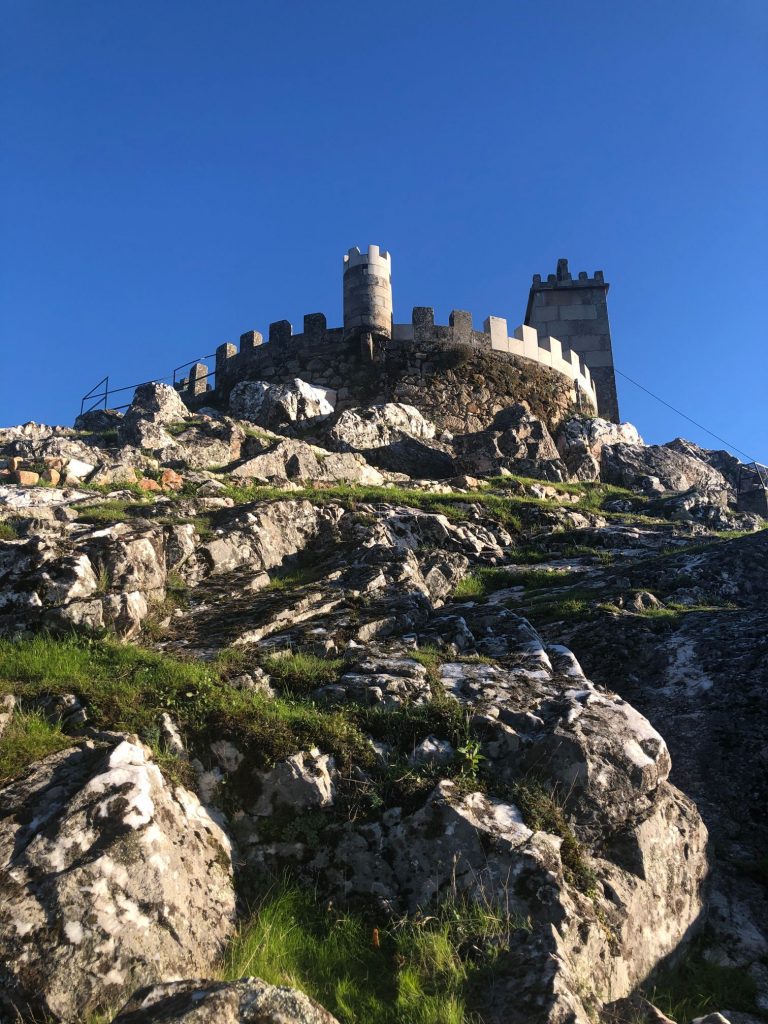 Castle Selfies
Guess who left his sunglasses in the car again? (ha ha).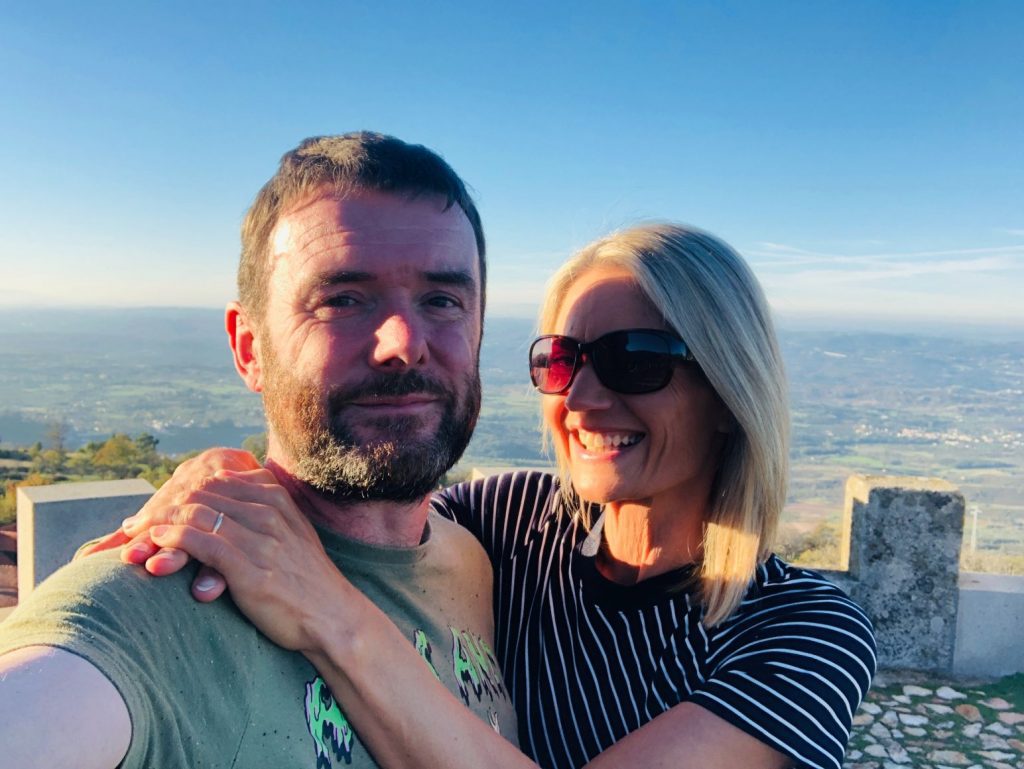 Jumping for Joy
My daughter started a trend a couple of years ago by jumping in the air at Gerês National Park so this is our family tradition and we try to do it at remote, weird and wonderful places if we remember. I took my opportunity and I think I smashed it considering my belly is full of Portuguese cuisine and booze. What I lack in grace I make up for with enthusiasm (ha ha). If you have never tried doing this, I highly recommend it, it's so much FUN.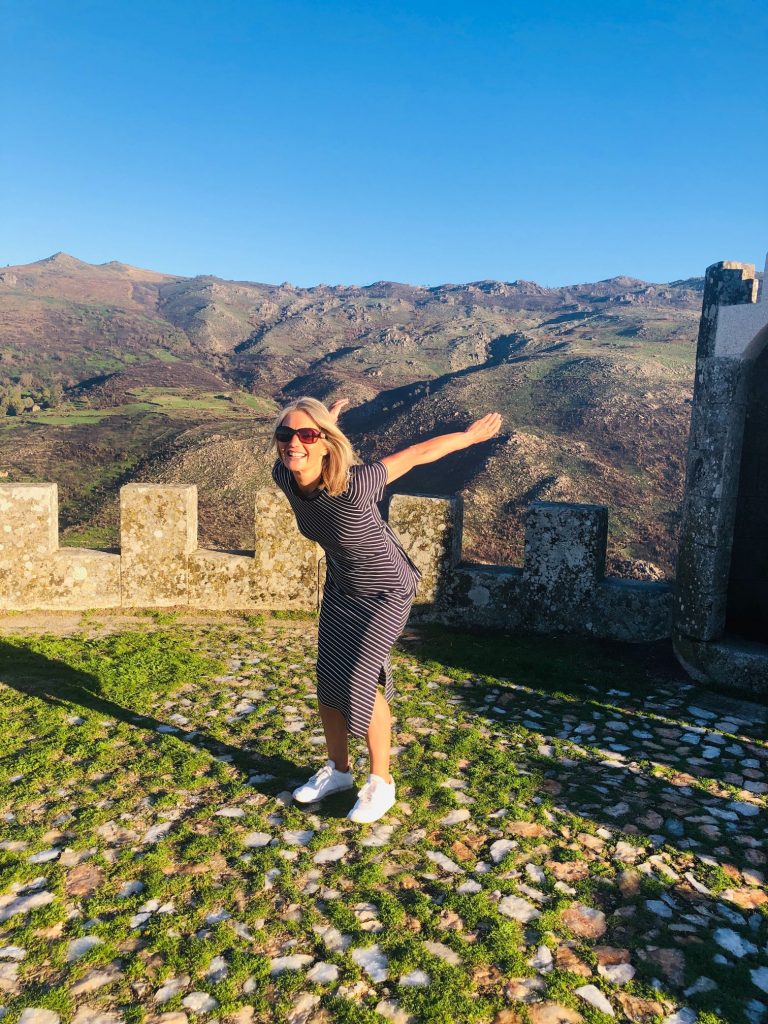 Overview
The highlight of the day was the mesmerising medieval castle, tasty cakes made with chestnuts and obviously the yummy sweet roasted chestnuts too. They are roasted on a huge bonfire until the shells become crisp and blackened then freshly bagged whilst piping hot. I ended up eating way too many as they are so moorish. They are a bit like Pringles, once you pop you can't stop. I think I'm going to pop if I eat anything else. I got completely saturated in soot with very black hands to the point where I had to have a shower when I got home (ha ha). We had great fun celebrating with the locals. I LOVE living in Central Portugal.
We had a blast at this Chestnut Festival and it was an unforgettable experience. The atmosphere was fantastic and everyone was having fun, young and old, mingling together with plenty of chatter, laughter and some wonderful music and crazy dancing. I love how the village all come together to celebrate and keep the ancient traditions alive in these remote rural villages. The pride the villagers have for sharing their culture is truly amazing and I like that there was no tacky plastic decorations. It is absolutely refreshing to be able to attend these local festivals celebrating authentic Portuguese history, culture and traditions. My poor old garden is very neglected at the moment but I don't care as parties are way more fun than gardening and DIY projects. You only live once so live a good life!