A DAY TRIP TO MATA NACIONAL DO BUÇACO
A snipet of History
Buçaco National Forest is an ancient, arboretum in Luso, a protected area located in Serra do Buçaco, parish of Luso, municipality of Mealhada and is a World heritage Site. It covers 105 hectares of land and home to the largest biodiversity reserves in Portugal. It has an incredible collection of native species as well as many exotic collections which many are protected species. There are over 250 tree and shrub species in total. You will see Mexican Cypress, Mountain Ash, Cork oak, Bunya Pine, Common Olive, Soft Tree Fern, Portugal Laurel, Common Holly, Broad-Leaved Aderno, Green Ash, Camellia, Redwood and many more. You may also see Gold Striped Salamander, Common Buzzard, Lesser Horseshoe Bat, Greater Mouse-Eared Bat, Bosca's Newt, Water Lizard, Booted Eagle, Common Genet, Wild Boar and Red Squirrel. One of the gates has text from the 17th century forbidding women to enter and threatening to excommunicate anyone harming the trees! Luso is a 30 minute drive from Coimbra and 1 hrs drive from our casa. The forest used to be home to Discalced Carmelities (Catholic mendicant order) and the monks built a convent, small chapels and created a sacred forest until 1834. At the end of the 19th century much of the convent was demolished to make way for the palace for the Royal Family then it was converted into a luxury hotel, Buçaco Palace. It really does have something to offer everyone, a beautiful forest bringing together historical, religious, military, botanical, flora and fauna, landscape, architectural and cultural links.
The fruits of the Forest
There is no entrance fee which I was amazed at. So many stunning attractions here in Portugal are free so we are very lucky. There is a cost of €5 to enter by car (with up to 5 seats) and park. There are several entrance gates and car parks around the forest. The money from the parking all goes back into the maintenance of the park and this is why I was shocked at so many cars which were parked just outside of the gates. Gosh, some people really are tight asses (ha ha). We took our old 18 year banger of a car into the park and paid, yet a few tourists with their expensive Mercedes didn't want to pay a measly €5. We parked in car park number 1 and took a short stroll to the Information centre/gift shop and bought X2 maps for 50 cents each. The gift shop had some pretty gifts but enforced a 2 person rule due to Covid so we didn't venture inside and the lady came out to sell us the maps. We completed the water trail, relic forest trail and most of the military trail and hiked for over 6 hours. I was absolutely exhausted by the end!
The forest is stunning, such a tranquil, spiritual place to breathe in fresh air, explore and recharge. Allow time not to rush and you will be amazed. We had so much fun in the beautiful ancient, centuries old woodlands with so many birds, taking in the aromas, sights and exploring hidden gems such as stumbling across lakes, waterfalls, fountains, houses, little chapels of devotion, convent, shrines and religious buildings, monuments, forest gates, doors and fences, hermitages and old ruins. The Palace Hotel is spectacular although under some renovation work. The landscaped gardens are also so very beautiful. This place is fantastic and a really lovely spot for nature, history and architecture lovers. There is even a military museum nearby. I love trees so it was the perfect place for me and the trees are gigantic in stature. Don't forget to view the huge tree which is 350 years old! I think it's a Mexican Cypress (Cedar) planted by the monks. I tried to book a night at the Palace Hotel but there was no availability. I'm not sure if it was just full or closed due to renovation.
Hubby took lead as 'Official tour guide and map reader' and did us proud. I read so many reviews about people getting lost but this is one place that we didn't get lost at all! I know, what a surprise (ha ha). My first impressions were absolutely WOW! There are plenty of trees for shade on a hot day. We visited on a Sunday and expected large crowds but there were hardly any people there which made it so peaceful. There were more people at the attractions closer to the centre near the Palace Hotel and cafe. As we ventured deep into the forest we walked for hours without seeing a single person. As you are wandering around the forest in complete silence except from the natural sounds of nature you can imagine back to when the barefooted monks lived here and what a great place it would have been for their meditation. Evidence of their hermitages (old ruins) are fascinating to see. Such a magical day to spend with hubby with plenty of adventure. There were a few cyclists and I imagine it would be a great cycling forest. We stumbled across so many wonderful sights including a log bridge which I was brave enough to venture across whilst filming my feet (which meant I couldn't hold onto the rope), hubby challenged me so it was game on. It was literally like that old T.V show 'Challenge Anneka' with Anneka Rice (ha ha).
We took a picnic and found a great area with panoramic views and I made friends with a fluffy bee. I expected to see more dogs but there were only a few well behaved dogs on leads enjoying the nature. It's not really a great place for small children in pushchairs due to the dirt tracks and cobbled stones under foot. Some of the attractions at the park are accessible for visitors with mobility difficulties. The High Cross and Coimbra Gate Viewpoint have car parking spaces right next to them. I think this is great but when we visited there were only a couple of elderly visitors with walking sticks taking up this opportunity, others were young people dressed very smartly in expensive designer clothing, wearing inappropriate footwear and in my opinion a bit lazy. If you don't have a mobility issue then I highly recommend that you park in one of the car parks and walk around the park as you will miss so much if you drive. There 20 little religious shrines (stations) dotted along the Via Crucis (Way of the Cross), deep within the forest displaying different religious displays of Christ, his disciples and other characters in the crucifixion story. Some of the terracotta figures were in a little disrepair, broken and missing an arm or a leg or in some cases part of their head so needed some TLC. I visited in my old gym wear and trainers fully ready to sit and relax on the ground if necessary. Walking boots are not really needed unless you wish to extensively hike or it's wet, muddy and slippery. We wore trainers as we are yet to purchase our walking boots and we didn't have any slips or falls as the ground was dry from all the great recent weather. I did trip a couple of times over the cobbles and stones but that's just me as I'm accident prone and can quite easily trip over nothing (ha ha).
My favourite places were definitely the majestic Palace Hotel, Cruz Alta (High Cross) which is located 548 meters at the top of the mountain with the best ever sweeping views and Coimbra Gate Viewpoint with great views and 2 messages engraved on the stone tablets dating back to 1622 and 1643. What ever you do, do NOT miss Fonte Fria (Cold Fountain) with it's incredible 144 steps and the pond with the elegant swan in at the bottom. I can only describe it as a cascading water staircase. It took us forever to climb and reach the High Cross but when we got there we were the only ones there so were able to sit at the base of the cross and view the scenes without anyone disturbing us which felt so heavenly and such a treat. I was a little upset to see some graffiti spray paint on the walls, very disrespectful in my eyes. We ended with a walk through Fern Valley, which was a perfect ending to a perfect day and I got to hug a tree. The Aderno deep within the forest displays much remarkable beauty and walking through the dense canopy of greenery you get an almost eerie feeling. If you look closely some of the buildings are decorated in a pattern with tiny little pebble stones, such pretty detail. We also found some mushrooms, don't panic we didn't eat them as we did not fancy having any magic mushroom hallucinating episodes deep in the forest (ha ha).
After our long hike we stopped off at the cafe for coffee and an ice cream. On the way home we passed through a few tiny villages. One house had a few hundred pumpkins displayed in it's front garden. It was a spectacular sight and I made hubby turn the car around so I could go back and video it. Unfortunately my battery on my phone had run out so I used hubby's phone. When we got home we soon realised that we had 3 second footage of the house and 20 seconds of my leg (ha ha). We are returning next week so I will try to remember to go past the pumpkin house as it's such a crazy view I have to share with you all. The spa town of Luso is just 2KM away from the forest and worth a visit. They have a glorious thermal spa and hotel.
Buçaco Forest, is without doubt one of the jewels in the Central Portugal's tourism crown. As José Saramago (Nobel prize for literature) wrote: "Buçaco Forest cannot be described, the best thing is to lose yourself in it".
GPS Coordinates to Palace Hotel: 40°22'34.2″N 8°21'54.2″W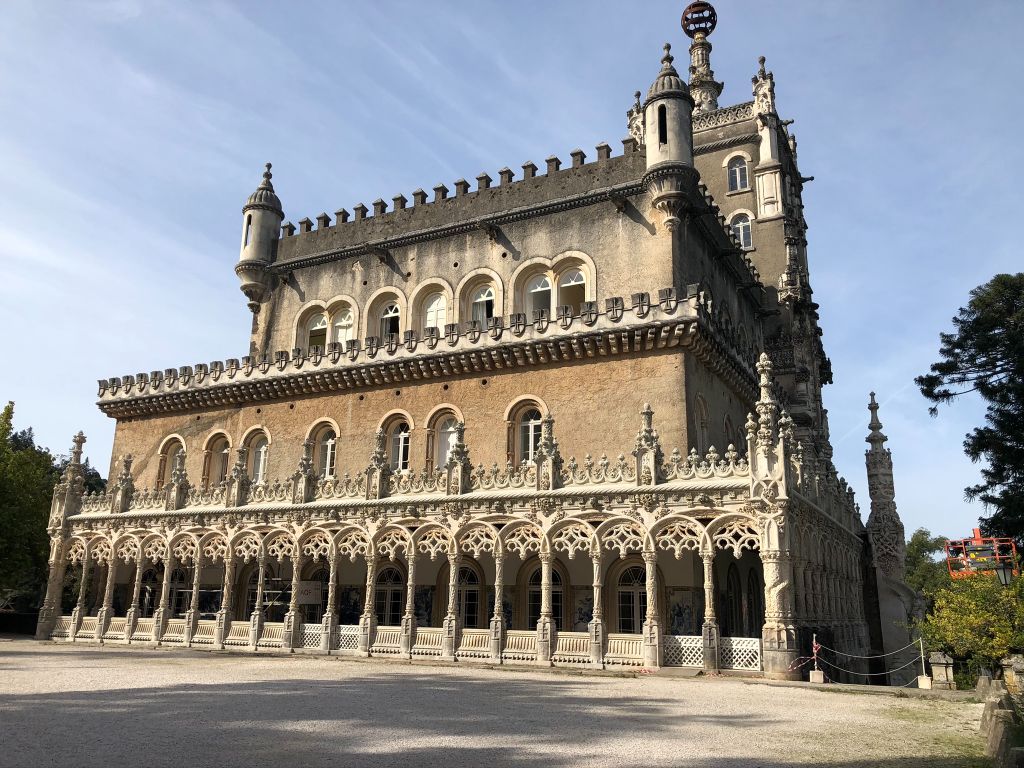 Shrines
Fonte Fria (Cold Fountain)
Coimbra Gate and the two Papal decrees from 1622 and 1643
One states that women are not allowed inside and the other states that anyone who harms the trees and flora, will be ex-communicated.
Update
This place is so very beautiful so we returned with my daughter Teanna during her 2021 8 week summer trip. We had so much fun. Autocorrect keeps on changing Teanna to Deanna (ha ha).