ROTA DA CABRA E DO LOBO HIKING TRAIL (SÃO PEDRO DO SUL PR4 SPS)
Time for a change so instead of chasing more waterfalls I opted for something a little different. I discovered the fantastic 12 km circular PR4 SPS "Route of the Goat and the Wolf" hiking route in the Serra de São Macário, magical mountains. It includes the wild and ancient Livraria da Pena, the quaint 3 authentic Portuguese schist villages of Covas do Rio, Covas do Monte and Aldeia da Pena, which only receives 3 hours of sun during winter time due to it being located at the foot of a majestic mountain. We reached altitudes of 822 Metres plus and the views were breathtaking. Aldeia da Pena is a village in the parish of Covas do Rio, municipality of São Pedro do Sul and district of Viseu. The journey from our casa took 1 hr 40 mins and is 120 km.
GPS Coordinates: 40.8774675, -8.0787908
Points of Interest:
Aldeia da Pena (Village)
Parede de Escalada (Climbing wall)
Covas do Monte (Village)
Vista panorâmica (Panoramic view)
Covas do Rio (Village)
Ribeira da Pena (Pena Creek)
Livraria da Pena (Pena Bookstore)
Old Legends – Names and Sacred Origins
The trail gets its name "Route of the Goat and Wolf" due to a story that there was a goat who killed a wolf on the path by the Ribeira Creek. The goat was being chased by the wolf who slipped and fell on the wolf whilst it was climbing a rocky wall and desparately trying to get away. The trail is also called "Path of the Dead that killed the Living". The original route was much shorter, approximately 3 km and it connected the village of Pena to the village of Covas do Rio. These 3 km are part of the Water and Stone Route. Historically there was no cemetery in Pena so all the deceased had to be transported to Covas do Rio to be buried there. Legend has it that during one of these trips one of the coffin bearers slipped on the schist staircase and the coffin fell and killed one of the coffin bearers.
The Legend of Pena's Snake
Do you believe in giant snakes and divine miracles? Legend reports that a giant snake once lived in Pena. It would only leave it's cave to go to the river to drink water. When it was hungry it would devour people so the locals offered it meat such as goat so it wouldn't get hungry enough to eat the people. Every time the snake started to eat something the villagers got concerned for their lives and exclaimed "What a pity" hence why the village became named Pena = Pity. The villagers got angry and filled the path to the river with knives and when the snake was returning to her cave she got cut and died from her wounds. It is said that there was so much blood that even the river turned red. Some sources say Pena village got its name from the pity and empathy for the people living in such a deep valley with only a few hours of sunlight each day in wintertime.
The Legends of São Macário
In the work of Lendas Lafonenses (1998) by Julio Cruz he mentions that there are 2 legends about São Macário mountain range and the reason behind it's name. There once was a young man named Macário, the son of a rich castellan. They frequently hunted together and on an unlucky day they were chased by a wild boar when Macário accidentally shot his father in the chest with an arrow and he died. Crushed by grief Macário sought refuge and isolated himself high up in the secluded mountains far away from civilization and remained there in harsh penitence becoming a hermit dedicated to prayer and the protection of animals. Sometimes he would leave the safe haven of his cave and visit neighbouring villages for alms and once on his way back up the mountain he was tempted by the devil. He resisted temptation and resumed solitude where he lived to a ripe old age and eventually died. His name was immortalized in the mountain range.
The second legend tells a different reason for Macário fleeing to the mountains. On a very cold and wet day when Macário was not at home his wife was visited by Macário's parents and she invited them in to seek warmth in her bed. When Macário arrived home his wife was absent and he found 2 bodies in his bed. Furious and feeling betrayed he killed the couple and only too late did he discover the truth and that the couple were in fact his parents. There are 2 nearby chapels and caves to view which are not part of this official trail but it was getting late when we returned to our car so we didn't view them on this occasion.
Aldeia da Pena (Pena Village)
The trail starts in the picturesque schist village of Pena where apparently only 6 inhabitants live permanently, one family of 4 (from the restaurant and a retired couple. Pena village belongs to the Aldeias de Portugal (Villages of Portugal) network. The village is hidden in a deep valley at the bottom of Serra de São Macário. As we approached Pena village I made hubby stop the car so I could take a couple of photos from the distance as the little villages always look so beautiful nestled on the mountainside with clusters of houses. We parked in the small car park opposite the information boards, there were many signage boards explaining the route and information on flora, fauna and biodiversity. Much to hubby's delight, the local Pão van selling fresh bread and cakes arrived at exactly the same time as us so we timed our arrival perfectly. Believe me when I say there is nothing more tastier than fresh Portuguese bread and cake after a long tiring hike up the mountains. We were surprised to only find 2 other cars in the car park at 11:30am so I knew we were being spoiled again as there would be few people on the trail to disturb our peace and solitude. Pena village is very endearing and I was amazed to find a couple of restaurants and a tavern offering typical Portuguese cuisine. Their menus are etched on pieces of slate and displayed outside. I really enjoyed exploring the village and animals, we met some friendly flocks of sheep, goats, chickens, roosters and a sweet dog. There are paintings of local wildlife on pieces of slate dotted around the village and traditional granaries. We enjoyed roaming around the narrow alleyways and finding all the art like a mini treasure hunt, simply beautiful. The houses here are made from traditional schist and slate and have been lovingly restored. You will fall in love with their tiny windows and eccentric doors.
Picture Perfect
The Confusing Gate
We wandered past the farming fields full of flocks of sheep. There was a gate with a sign asking people to keep the gate closed so the cattle would not escape but it was firmly wedged open with large rocks. I didn't know if it was open for a reason and kind of wanted to shut it and was unsure of what to do so after much debate we ended up leaving it open. I had visions of us returning to a little village of chaos with animals everywhere and we would have to help the few villagers round up the herds.
Precious Piglets
We took the trail clockwise through the cobbled streets heading northwest. I paused briefly by the signage and to admire the flocks of sheep in a nearby field when all of a sudden a lone sheep ran past us at high speed (Usain Bolt style) with it's little bell jingling as he left us for dust. I think he saw the open gate and ceased the moment, he took his opportunity and was gone like the wind. This sheep should audition for the Fast and Furious 10 film (ha ha). I heard a rustle in the bushes and turned to be surprised by a mummy pig and her 11 piglets strolling along the open pathway. The piglets were so adorable and got really close to us. I didn't touch them as I thought mummy pig might get protective and charge me and I didn't want "Death by crazy pig" written on my death certificate (ha ha). This experience absolutely made my day as I LOVE pigs. I used to collect pig memorabilia as a child and they are my favourite animal (apart from bunnies and chickens of course). Hubby has a love of frogs but obviously pigs are way better and super intelligent, not like me (ha ha).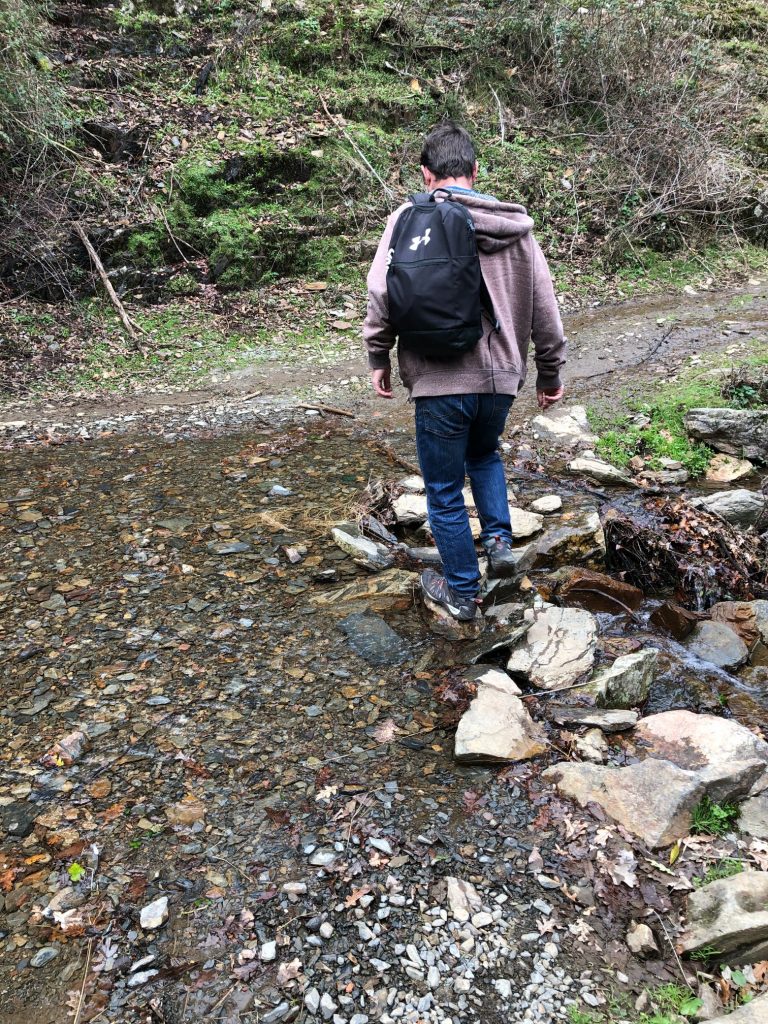 Trifle Mountains
We followed the path up the vast São Macário mountain range and through a delightful magical forest then on through some stoney terrain where the mountain slopes are steep. The initial pathways are quite narrow, with sheer drops, uneven pavement and loose shale underfoot. There are also some slightly wet, marshy and muddy areas where the stream has flooded which you need to jump over. Hiking with stunning mountain landscapes as a backdrop was delightful. I stood in awe staring at the mountains in the distance which I call trifle mountains as they were topped with a line of mist then a layer of bright turquoise sky and a final layer of fluffy ice white clouds that look like marshmallows. This would look astonishing during a sunset but after our last nightmare of hiking in the dark of night I'm not risking any evening trails on purpose or by accident. I time my trails with precision now so we are back before the sun goes down. The higher we climbed the better the view got and when we reached the top it was an unforgettable view and moment. We witnessed a huge bird of prey swoop down on a gigantic glistening quartz rock. I love spotting birds of prey, it doesn't happen that often but we have been lucky on a few recent hikes. I can never seem to catch a photo as they soar off into the sky before I get the chance. The crazy shaped boulders everywhere were such pretty colours and glistened like prized jewels under the sun.
Humans and Honey
The open mountain trail led us onto a tarmac road where we encountered a group of fellow hikers, 4 Portuguese men who were heading in the opposite direction to us. They were having a breather and a well deserved rest and looked absolutely exhausted, bless them. I think they must have embarked on the trail anti-clockwise which would result in more effort and not recommended. You can actually start the trail from one of the other villages but I think Pena is the best starting point. These were the only people we met on the entire hike which surprised me as I had read that it is a popular trail. We met many animals but zero humans which is definitely my kind of hike. I much prefer animals to people, far less drama. The road continues on to Covas do Monte village, through a narrow forest pathway with more stones and crunchy leaves underfoot. Hubby's eagle eye spotted lots of beehives in the distance and we passed by many signs selling local honey. Bee keeping is on my Portugal bucket list! I am intrigued with the whole process and I adore honey. When Covid is a distant memory I am keen to attend a Portuguese honey festival. I have no idea as to what occurs at a honey festival but in my mind there will be colour, big smiles, music, dancing, costumes and a lot of eating and sampling honey and honey related delicacies.
Covas do Monte (Village)
This adorable schist village is nestled deep into the steep slopes and is a rare beauty to see from a distance. It is surrounded by a unique setting of 1000 metre high mountains and springs that throughout the year bring more life to the landscape. The village locals still practice agriculture and herding and this is their main source of income. The cattle are from the mountains and are not dairy cattle. I would say this village is definitely the most traditional and old fashioned, what I call "Old School" village out of the 3 you will visit and they honour old time customs and still slaughter pigs in this village. The cobbled pathways are saturated in sheep and goat poop and the green landscapes and surrounding mountains are magnificent. We took a stroll around the narrow streets admiring the cattle: goats, sheep, cows, pigs and chickens. There are watermills and clusters of traditional schist houses and we walked down to the cute chapel (Capela Azenha Moinhos). If you are feeling a little peckish make a pit stop at the village restaurant (Restaurante da Associação dos Amigos de Covas do Monte) to sample their gastronomic delights, made from recipes passed down from generation to generation. I was amazed to find out that around 40 people live in this tiny village. I still think that from the amount of poop there are way more goats than people. Goats are good as the Iberian wolf can strike at any time and the story is as long as there are goats the wolves will stay away. I love how the mountain animals and locals live side by side in perfect harmony and that the local traditions and customs of the past are still alive. What a lovely village and a true rural portrait of Portugal.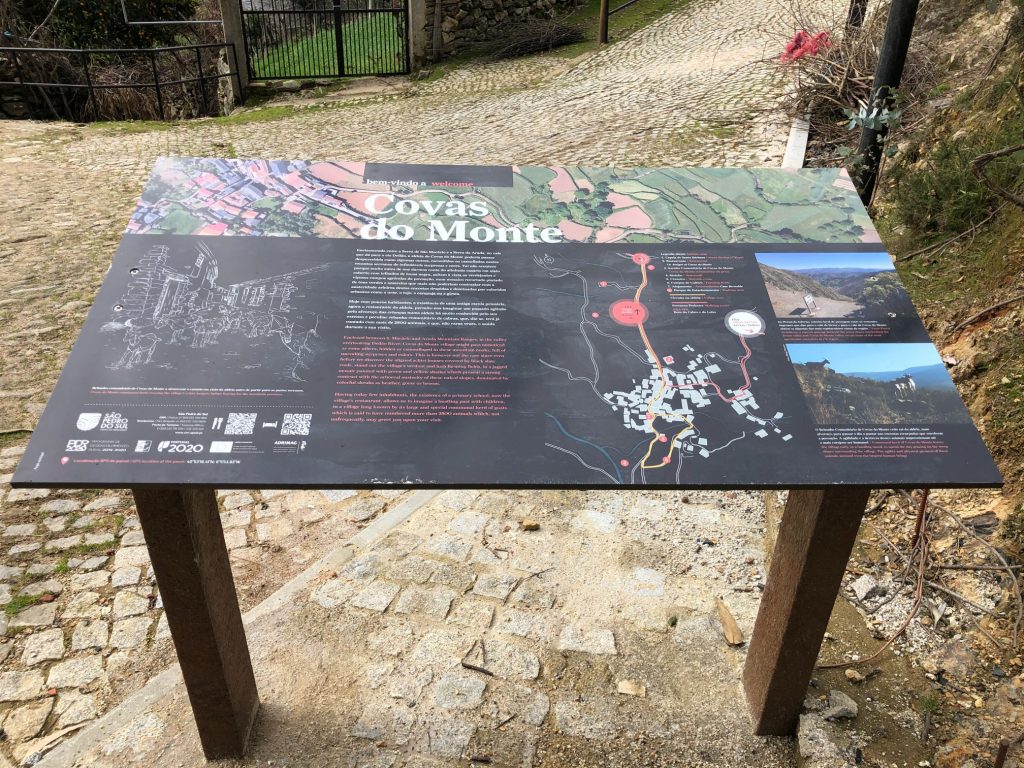 Perfect Panoramic Viewpoint
We always find a perfect spot for our break time and today was no exception. There is a spectacular panoramic viewpoint and the stretching scenery is glorious like a picture postcard. We found the best ever place to lay down our picnic blanket and took some time here to relax, enjoy the views and listen to the silence and appreciate the stillness. As we sit here everything is just completely perfect. Any stresses I may have had no matter how big or small just melt away. We refuelled with a tasty protein bar and caffeine fix to tide us over until lunchtime. I love rocks and their formations always intrigue me. Serra da Estrela has lots of gigantic smooth rounded boulder-like stones which almost look fake as if they are made from polystyrene whereas this mountain range has huge jagged rough sharp rocks which look striking and remarkable but it took me a while to find a spot where we could sit and not get spiked up the ass by a jagged rock (ha ha). I already got spiked in my rear from the natural gorse whilst taking a wild pee pee. I tried to find a bush to hide in but my plan failed dramatically. Gosh I wish I were a man when it comes to peeing in public, men have it so easy, hubby says he is glad I'm not a man which led us on to a whole conversation about hiking diapers and if they are a thing or not. Anyway shed a tear for my rear (ha ha). I have also discovered that I have my Garmin watch is set to auto pause so every time I stop for a break or to take a photo my watch stops recording my distance then takes a while to pick up the GPS when I set off again. This trail is 12 km yet my watch only recorded just under 10 km. Something I'm not too bothered about but still not fair in my eyes especially as I am keeping a record of how many km we run and hike in 2022, I was cheated (ha ha).
Mr and Mrs Mountain Selfies
Portugal Colours in January – No fancy or fake filters
As usual what you see is what you get. I have used no filters whatsoever so these colours are Portugal in mid January. I don't believe in changing nature or brightening up grass or skies. My photos all look different due to lighting and where the sun is positioned when I take a photo. Colours, shades, depth and textures all change with the seasons a bit like our skin. Let's leave things alone and give each photo credit for its natural beauty. Embrace the skin you're in and enjoy nature and it's ever changing appearance. Who wants artificial beauty? Not me.
Covas do Rio (Village)
The trail leading up to the road that takes us on to Covas do Rio has lots of loose stones underfoot. The descend down to the little village has incredible views of the previous village Covas do Monte and we pass through cute bridges and more forest area alongside the stream. I really enjoyed exploring the third village. More fantastic green landscape, with mountains all around and Covas do Rio at the foot. The small village still lives mainly on pastoralism/agriculture and this village has around 120 inhabitants. We enjoyed a lazy stroll around the streets and found a quaint church, tiled water fountain, bandstand and we met some friendly locals. We walked behind the tiled water fountain and witnessed first hand the fresh mountain spring water cascading ferociously down the cliff side. They even have their own Junta de Freguesia. Most of the houses are made from schist but there are a few houses made from concrete and tile. I was amazed to find out that until the 1980's there was no road access to the village or electricity and piped water only arrived in 2001. I love finding bandstands and can't help myself from having a little dance if no one is around. They remind me so much of the film "The sound of music" and the song "16 going on 17" although that was more of a glass gazebo than a bandstand. Unfortunately I am not 16 going on 17, I need to add on 3 decades and a smidgen more. The funniest part of today was that I didn't see the house with the huge open window and Portuguese lady looking with a confused expression on her face until after I had completed my freestyle fusion dance rendition. I was hoping she would mark me out of 10 like Strictly come dancing as my effort came from my heart and soul (ha ha).
In the valley connecting the villages of Covas do Rio and Pena there grows a great variety of trees and shrubs (over 20 species) including common holly, hazel, holm oak, pyrenean pak, pedunculate oak, lote tree, walnut, bay laurel, elderberry, black poplar, ash, black alder, white birch, grey willow, wild cherry, sweet chestnut, maritime pine, blackthorn, alder buckthorn, common hawthorn and rowan. Along the river you can find gold striped salamanders and the Iberian frog (Shhh don't tell hubby, he is crazy mad in love with anything frog related). The stinking hellebore is a rare plant in the region and you may be lucky to spot angel's tears and rocky germander. Hubby was surprised that there wasn't a "Common Helen" I will punish him later for sure (ha ha).
Path of 'The Dead who killed the Living'
We tread over schist pathways and down through agricultural land and forests which leads us onto the ascend towards the famous path "The dead who killed the living". I am not at all surprised that a coffin was dropped as I tripped a few times just hiking by myself with a small backpack. I can't begin to imagine what difficulty a group of men must have encountered negotiating this route of 3 km carrying a coffin with a heavy body on their shoulders. What pure true heroes!
Jeepers Creepers
Never mind the local wildlife we stumbled across some weird and wonderful forest finds including peculiar scarecrows, crazy clowns, eerie dolls and bizarre ornaments positioned in the foliage and crevices of the walls. There were even teddy bears hanging from trees! It started off as so much fun then it got a little creepy. All I can say is I'm glad that it wasn't dark as it gave me the jeepers creepers. If you follow me on my CasaValhal Facebook page or Instagram I have a video if you want a laugh. It's like something from the Blair Witch Project! The excessive beeping at the end of the footage is not me swearing, it is my new Garmin watch picking up my ever increasing rapid heartbeat (ha ha). Don't ask any questions I have no answers (ha ha).
Your Never Alone in the Forest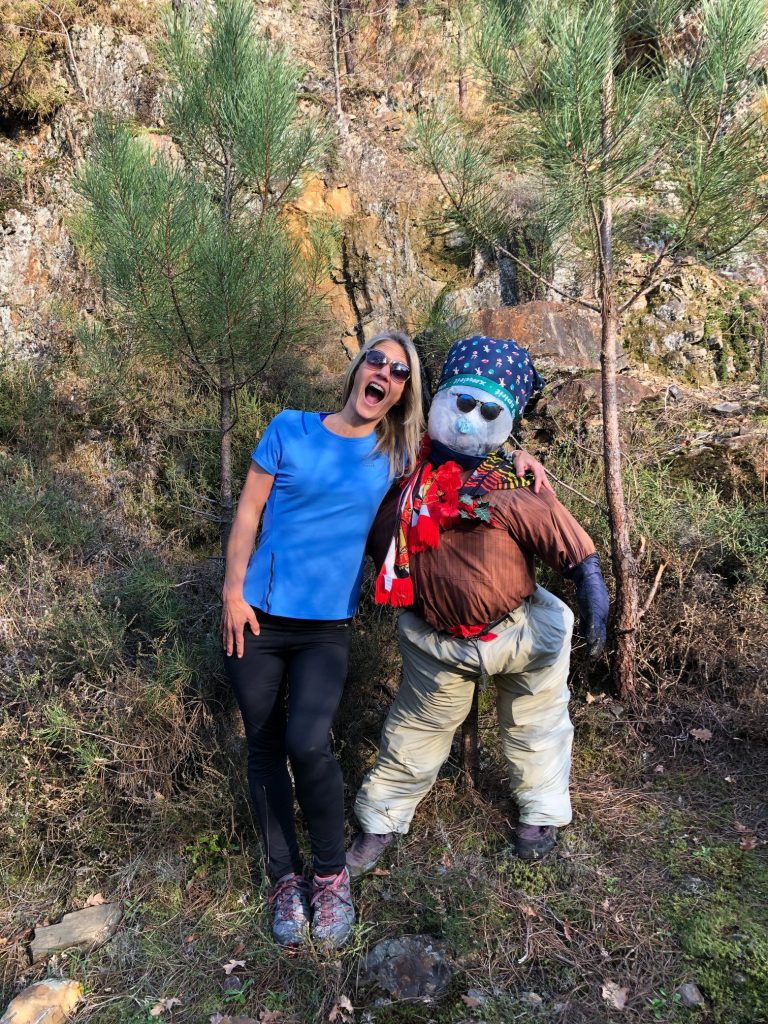 Budgie Smuggler
I know the Portuguese are fond of Speedo's but this guy has the biggest bulge in his chino's that I have ever seen, Oh er Missus (ha ha).
Twins separated at Birth
Apparently this dirty unkempt doll with the big hips in the silver dress looks a lot like me after a night out on the tiles, I don't disagree (ha ha). I hope I'm not cursed now with any voodoo shit because I touched the doll!
Forest Barbie
I certainly felt like Forest Barbie the next day, mildly aching limbs but somehow we managed to motivate ourselves and eventually drag our aching bodies out of bed to go on a 7 km hill run around the Sera do Açor. I'm a glutton for punishment (ha ha). I must point out that I think Barbie entered the forest extremely inappropriately dressed. Her clothing is ridiculous for a winter hike and don't get me started on her footwear, maybe Ken can bring her a change of clothes or at least some underwear (ha ha).
Lunch at Pena Creek
We found the perfect serene picnic spot for our lunch and sat next to the creek deep in the enchanting forest. The sound of the water flowing and happy tweeting of birdsong was very soothing and a calming experience to share. After exploring the area and the huge rocks covered in spongy jade green moss which were shockingly dry and some traditional Helen tree hugging we got to view a succession of awesome tranquil waterfalls and idyllic lagoons.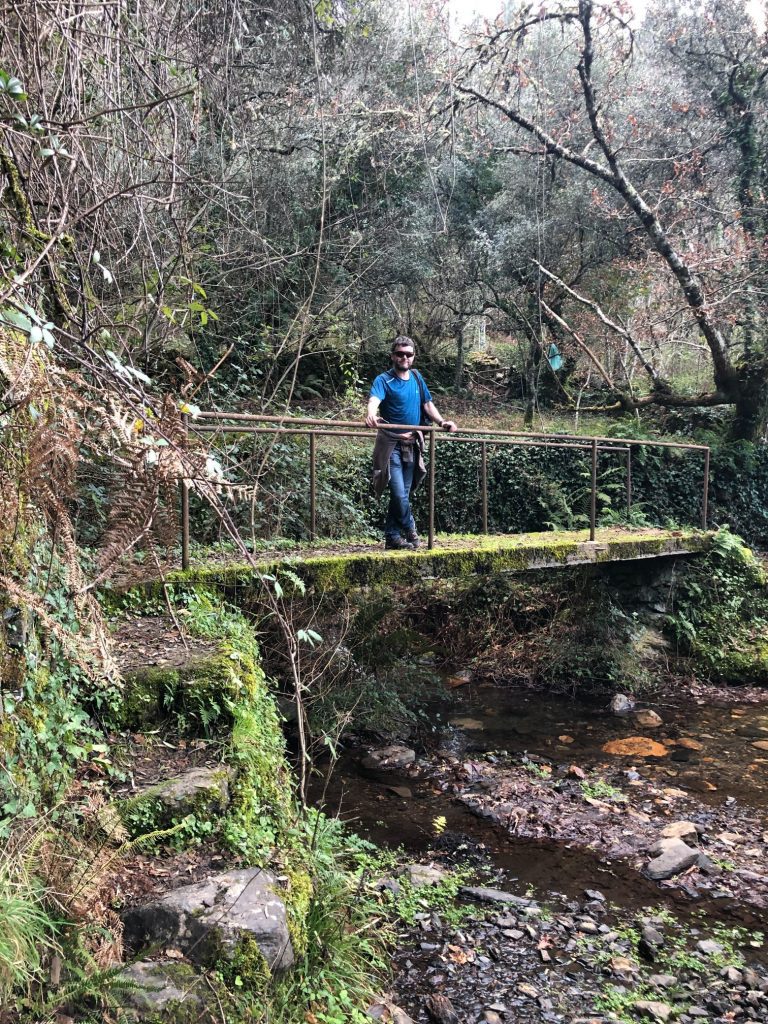 Distance Yourself – True Blue Selfies
We tried our selfie stick for the first time! It also doubles up as a tripod so we now can capture our faces a little further away and include part of our bodies and not just our ugly mug shots (ha ha). After all no one looks great in a selfie unless they are a supermodel. My main aim in a selfie is just to try and capture 1 chin instead of 3 (ha ha). Look at us in our matching true blue tops, not only do we colour coordinate with each other we also match the colour of the sky (ha ha). My dad would be proud as he is a huge Chelsea footie fan and I don't think he owns a top that isn't a shade of blue, LOVE you dad, if you're reading this, you probably are not as you have better things to do in Bristol (ha ha).
Livraria da Pena (Pena Library)
We then encountered a zigzag trail which follows the Ribeira da Pena onto the main event: Livraria da Pena. I found some amazing shaped trees en route. I even caught hubby with his phone in his pocket (for once) and staring up at a tree, shock, horror, I am converting him into a nature geek instead of a computer geek, one hike at a time (ha ha). Wow what an impressive sight! I bet you are wondering what a library is in the middle of a mountain range so let me explain. It is a curious geosite made up of gigantic boulders with quartzite strata resembling a bookcase. These quartzitic layers are vertically positioned to resemble a bookcase and spines of books on display. They are reported to be older than 480 million years! It is a stunning rock formation to view up close in person, my photos do not do it justice. The phenomenon is surrounded by rare trees such as the Wych elm (Ulmus glabra), several endemisms, waterfalls and fossils. We took some time here to stand and stare in astonishment at all the glory. You really have to visit this place in person to appreciate it fully.
Poopy Pathways
Every time I see animal poop on the ground I now just think about my garden compost bin and what a fantastic addition it would be, fresh manure!
Challenging Climb
The trail back to Pena village starts with a very steep incline and ascent over more schist stone and many are loose and are dislodged as you hike the steep hill. The steps that are carved into the rocks are crumbling and the path is not prominent. I kept slipping so hubby had to swap positions with me so that he was up close and personal behind me ready to catch me and push my fat ass when assistance was needed (ha ha). This is the most demanding part of the trail and extra care is needed so you don't slip or trip as it's a long way down. As we returned to Pena, a friendly farmer tending to his sheep initiated a conversation which didn't continue for long as our Portuguese still sucks (ha ha). The locals are hospitable people who love to share their stories, crafts and traditions, always so welcoming with their big smiles and warm hearts. I LOVE living in Central Portugal and I was relieved to NOT find the village full of escaped animals because of the open gate, which was still open on our return!
Overview
I have had a pretty rough start to 2022 with a flare up of my chronic pain so it was so great to venture out and immerse myself in nature and my happy place. This trail was delightful and made a refreshing change from all our waterfall hikes, variety is the spice of life. The trail was well marked with good signage and I really liked that the terrain was a mixture of forest, schist stone, dirt track and tarmac roads. Around 90% of the trail was covered in sheep, goat and boar poop which I found fascinating as it proves that the animals roam wild and free. It was another glorious day with sun and cloud but I packed a coat, gloves and hat, just in case. None were needed and I completed most of the trail in my T.Shirt and sunglasses as it was too hot to wear my sweatshirt.
I would class this trail as moderate with only a couple of high difficulties. The official leaflet estimated a journey time of 5 hr 10 min so on this occasion we used our common sense and woke up early so we could embark on our journey an hour earlier than usual. We set off at 11:30 and got back to our car at 17:30 so we made good timings and took our usual break for a snack and lunch break as well as stopping for photo opportunities along the way which always adds on a further 60-90 minutes. The trail is very symbolic and rich deep in Portuguese culture and history. The 3 schist villages of the Magic Mountains were enchanting and the infinite landscapes and panoramic views were totally mind blowing and breathtaking. There are a few picturesque bridges to cross which are pretty and always make good photos. Even though I live in a little village and an old casa partially constructed of schist stone in a mountain range I still find the schist villages of Portugal totally charming and an honour to visit. Each one holds ancient legends where mysteries and tales are alive. What appeals to me most is that they are off the beaten track, immersed in nature and mostly disconnected from the rest of the world. I adore being an adventurer and exploring every corner of the narrow and winding labyrinth of alleys and staircases. Every village is slightly different and if you live in a city and have not encountered many schist or shale historic traditional rustic houses and authentic Portuguese rural villages then you are in for a real treat. Believe me when I say you will fall in love, it is literally like travelling back in time. I highly recommend that you venture away from the typical beaches and bright lights of the cities and discover a well-preserved piece of Portugal's culture and history.
As I hiked over the mountains with a light fresh breeze in my face I got a sense of freedom as time stood still and the world almost paused whilst nature reconnected with my soul. No crowds or distractions, no intrusions, just pure nature and the best company a girl could ask for. I took a lot of deep breaths on the top of the mountain and felt immense gratitude that my health today on this day was stable and I got to experience such simple pleasure rather than be stuck in my bed sad with a flare up. I think what sets this trail apart from the others we have completed is the FUN factor and UNIQUENESS. The crazy forest finds and animals, especially the piglet encounter resulted in so much fun and the spectacular Livaria da Pena was so unique and priceless. Mountaineering amazes me as I never ever realise how high up I am until I return and my ears pop then unpop on the car journey home. We were a little hungry when we got back to our car so we stopped off on the journey home for tasty Pão com Chouriço, Coffee and a nata. I think my new 2022 motto is going to be: Hike more Worry less!
Bizarre Safety Measures
I will leave you with this final photo which I found funny. As we walked back through the village of Pena and to our car I found an old abandoned ruin and the door had a newish padlock but the building had no roof. Thank goodness that door has a lock so no one can get in (ha ha).