CABREIA CASCATA & MINAS DO BRAÇAL HIKING TRAIL (SEVER DO VOUGA PR2.3 SVV)
I decided to plan an epic day trip for my hubby's birthday. His employer gives everyone their birthday off of work so I had to make the most of this mid week rare treat. I wanted to find another amazing waterfall with a longer hike and stumbled across the fantastic Cascata da Cabreia which is located in the parish of Silva Escura, the municipality of Sever do Vouga and district of Aveiro.
PR2 SVV Trails
There are 3 different circular hiking trails of different lengths and they all start from the Cabreia Leisure Park: GPS Coordinates: 40°45'12.7″N 8°23'29.2″W
PR 2.1 Trail is 3.5km long and includes the Waterfall.
PR 2.2 Trail is 7km long and includes the Waterfall and Malhada Mines.
PR2.3 Trail is 11km long and includes the Waterfall, Malhada Mines and Braçal mines.
I was excited about this hiking trip and very intrigued to view the ancient Roman mines. The drive from our casa took just over 1 hour and 30 mins. We decided upon the longest Pr2.3 trail, in for a penny in for a pound! Knowing our luck, if we chose one of the shorter routes we would only take a wrong turn when faced with a fork in the pathway, get lost and end up joining a different trail, usually a longer route anyway (ha ha). This is the problem when there are variations of a route. You start on one route and can easily end up on a whole different trail. I have read that this route can be confusing and many people end up taking the wrong turn and walking unnecessary kilometres. I read a review from a man who went on an organised tour with an official tour operator and they even got lost! If an official tour guide and his 20 followers can get lost in the woods, I have no hope in hell! (ha ha). The signage is described as not being the best so we tried to pay attention and not daydream too much which is difficult for me to do when I'm hiking through an idyllic forest as my mind wanders. We had all day to explore so were not worried about getting a bit lost and taking detours. If a trail is 11km then in my mind I think that's around 12-13km with wiggle room = getting lost. On some of our fails and detours we have found the most amazing sights so we don't mind. If you are short for time you can always embark on the shorter trail or follow/download a GPS tracker. Due to our epic fail of getting lost in the forest on our last hiking trip and knowing that others have got lost and embarked on the wrong trail we decided to download the GPS route and save it to our phones as I didn't want to get stressed and shout at hubby on his birthday. When we get lost I have visions of us being lost forever in the forest and no one ever rescues us.
The PR2.3 is a beautiful trail which follows the Rio Mau (Bad river). The trail has lots of shade and takes you through traditional Portuguese villages, 2 ancient mines, old water mills, bridges, smaller water courses/waterfalls, stunning dense forest and woods onto a huge majestic waterfall. We got to see many species of trees including eucalyptus, chestnut, oaks, laurels and holly. I found some beautiful patterned fungi which looked like a work of art. The route is totally mesmerising and I'm totally shocked that we didn't see another soul on the whole trek! It's as if I hired the whole forest just for ourselves to celebrate hubby's birthday (ha ha). Despite what I read we found this route very well signposted so I am guessing that the signage has been updated as it really was very good. We didn't get lost at all and only randomly checked our GPS to make sure we were going in the right direction. There was only one minor confusion spot where we had to jump over a small stream with an area that was quite boggy. Just follow the little painted yellow and red markings and you can't go wrong. Be vigilant as some are quite small and painted onto tree trunks and rocks.
Cabreia Waterfall and Picnic Park
We decided to do the trail in reverse order and see the waterfall first mainly because when we arrived at the Leisure Park there was only one other car parked there and we thought that it might get busier later on in the day so it would be best to see the waterfall first. We walked down the trail and found a delightful river beach with a couple of BBQ's and toilets so no wild poncho pee peeing for me on this occasion. We crossed the small bridge where you will find smaller waterfalls and took a slight detour off of the trail to view the waterfall. There was only one family there, a man, lady and a teenage son. The parents were taking photos of the lad in the lagoon at the bottom of the waterfall. He looked absolutely freezing and was quite embarrassed when we arrived as he was only wearing a pair of shorts. He asked his mum if he could get out but she said no as she wanted to take more photos and videos. Bless her, I don't blame her one bit. In no time this lad will leave home and venture off into the big wide world so I stood aside and let this loving mother take as many photos as she liked. They soon left and we had the whole place to ourselves. We climbed across the slippery rocks on all fours like mountain goats to get a better view of the waterfall. It was very slippery so thank god for my walking shoes with a grip that has now saved my life on multiple occasions.
I was hoping this waterfall would be epic and I was not disappointed as the Cabreia waterfall is certainly a little slice of heaven and wrapped in dense vegetation which makes the natural surroundings very beautiful. I stood in awe for a few minutes just staring and enjoying a pure and direct contact with nature, an unforgettable sensation and experience. Apparently in the past it has been the setting for movies and a soap opera! It is around 25 metres in height and formed from the waters of the river Mau. It is different from the previous waterfalls we have visited as there is a gorgeous wooden bridge, old ruin, stone picnic table/bench and the water continues on down further past the lagoon cascading down more rocks. The water appeared very powerful and looked like it was performing a dance as it crashed down the rocky slope and sprayed it's water with great force almost making the photos look blurry. At the top of this fall, the rocks are mostly granitic so they resist erosion, but as it descends, its formation is mostly schist, which leads to greater erosion and a splendid water display. The natural rock pool below forms a huge crystal clear lagoon and was very tempting. I so wanted to take a refreshing dip but it was late October and although a sunny fine day the water was ice cold and I didn't bring my bikini. The waterfall is divine, very serene and we spent endless time enjoying the glory and relaxing on rocks next to the waterfall and losing track of time. I got to annoy hubby by singing "Don't go chasing waterfalls" by TLC (ha ha).
It is such a wonderful open space to be in close contact with nature. There is a splendid stone picnic table and benches right next to the waterfall which would make a great spot for a picnic lunch. I can clearly see why it is classed as one of the best waterfalls in the area. It really is a fairytale and a romantic setting so it was just perfect to celebrate hubby's birthday here. There are several other waterfalls in this area including Cascata da Agualva, Cascata do rio Gresso and Cascata da Fílveda which is also known as Cascata da Frágua da Pena (not to be confused with Fraga da Pena in Arganil). We didn't have time to visit but I'm sure we can make another journey to view them at some point in the near future. What a beautiful unpopulated place with no people to make noise and disturb the peaceful setting. I love finding these hidden gems which are deserted and not invaded by loud tourists.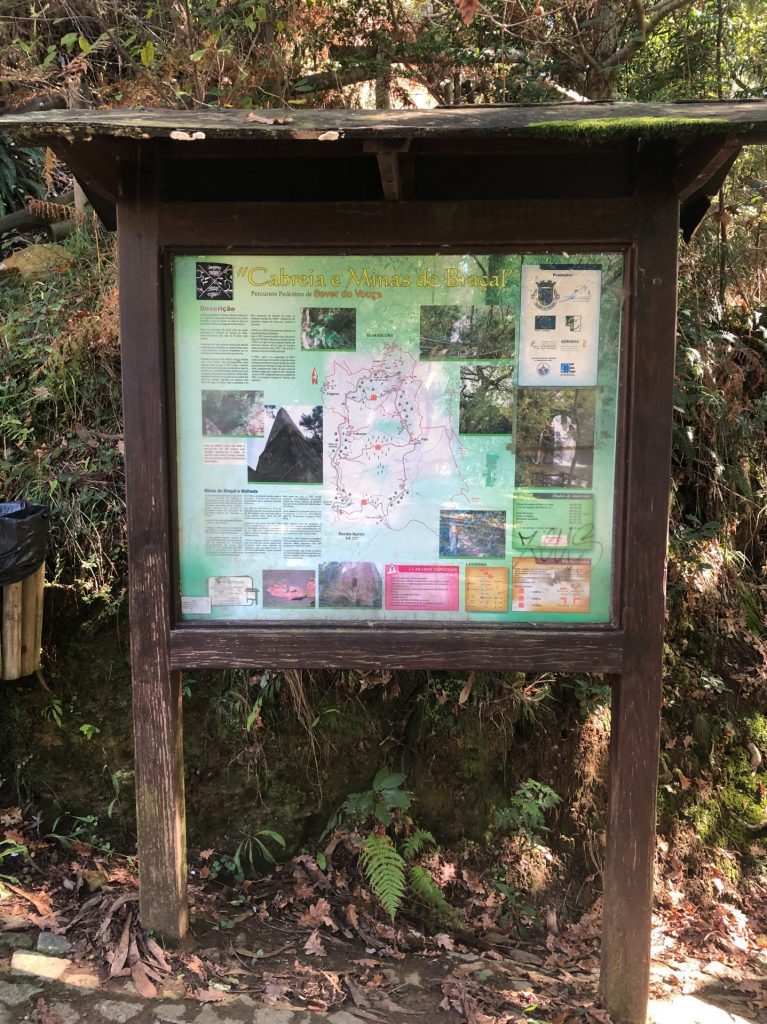 Graffiti – Without you, nothing makes sense
We often find graffiti at these wonderful nature spots and I don't really like it but I think this graffiti had the best intentions. It translates to "Without you, nothing makes sense". I wonder if Cristiana and Magano are still going strong 14 years later (ha ha).
Waterfall Selfies
The abandoned chair
We found it very funny that someone went to the effort of bringing a solid non foldable chair along to the picnic park then abandoned it there!
Trail to the Braçal mines
After our delightful waterfall experience we continued on the trail up the steps through a little village and forest onto the mines. It was a lovely tranquil hike through the canopy of trees with birds singing and insects humming. I had fun kicking the leaves high in the air and hugging trees. Hubby won't hug trees but I'm working on him. He doesn't drink coffee either. So it's my mission to get him to hug a tree and drink coffee by the end of the year. He is missing out on 2 fantastic experiences. The trail is mainly flat with only a few steep ascents and descents. I kept hearing the rustle of small animals but could not see them. I would definitely say it is of moderate difficulty with different terrain and some boggy areas and plenty of wet muddy leaves and rocks beneath our feet, we also had to hop over a little stream which is not easy when you have short fat legs like me.
Braçal Mines
The Braçal and Malhada mining complex was the most important lead mining site in Portugal during Roman times. We loved the Braçal mines and these ancient mines were in my opinion just slightly superior to the Malhada mines so I am very glad that we made the effort to take on the challenge of the longer route. It was such an adventure exploring every nook and cranny and there was a really mystical and magical atmosphere. Such incredible abandoned architectural heritage right in the heart of nature, very captivating and majestic with winding ivy and moss covering everything in sight like a green blanket of pure nature. We decided to climb up the narrow steep steps to explore the upper level. We were certainly feeling brave! Climbing the steps in the mines was both exciting and frightening. It was an eerie experience to have the whole place to ourselves and I had the time of my life.
The steps were covered in wet muddy leaves which were very slippery and there is no handrail so you need to have good balance. Once at the top we got to see a different perspective and bird's eye view. We were a little cautious as the whole place is a crumbling ruin and you can clearly see floors caved in and huge fallen rocks. I had a vision of us falling to our deaths on hubby's birthday! It was way trickier to climb down the steps as there were spiky brambles sticking out of the wall which our backpacks got stuck on and we nearly got catapulted off the edge! Hubby went first and I literally stood at the top and said "I don't think I can do this" but I didn't really have an option did I, what goes up must come down (ha ha). My adrenaline was certainly flowing faster than the river. I had to keep chanting to myself "I can do this, I am strong and brave". Don't let fear stop you from doing wonderful new things and experiences. Break through mental barriers and negative thoughts. I felt such a sense of pride and achievement at being successful and it felt wonderful to try new things at my ripe old age. I loved these mines and I felt like Lara Croft on an incredible journey. It was a thrill seeking experience and so much beauty and history worthy of fairy tales. Opposite the mines there is a huge hole in the ground which is fascinating to peer into if you are brave enough and do not suffer from vertigo. You can hear the water rushing underground just don't go too close to the edge unless you want to disappear into the forest forever.
Smaller waterfalls
After the incredible mines we hiked on through some amazing forest and stumbled across another area with smaller waterfalls, old ruins (worker houses which form part of the mining complex) and a weird brick structure which had collapsed.
Mining Complex
Then we entered through more forest up some steps and onto a pretty portico of trees, up some crumbling stone steps where we found an abandoned building, part of the mining houses complex. We didn't make the detour to view the former foundry with a huge chimney so we just viewed it from a distance. I loved the gigantic palm trees, very tropical looking. There were some amazing aromas in the forest and the deeper we got the more fragrant it became.
Fallen tree drama
We ventured on our journey to find the Malhada Mines which took us alongside the stream. At one point we were faced with a fallen tree and a maze of green and brown. It took a lot of climbing over and weaving in and out of branches to make it through to the other side. At one point hubby stood on a huge branch and thought I was standing on it too. I was but obviously not well enough as when he stood off of it the branch pinged up and hit me in my knee which made me turn the air blue with my rude words (ha ha).
Birthday Picnic – Our little oasis by the stream
Shortly after our tree drama we decided to stop for our picnic lunch and found a tranquil spot right next to the stream. I debated whether to hike over 10km with a birthday cake in my backpack and decided against the idea. I don't think it would have survived the rigorous journey as I often get a bit hipper on these treks and dance around so my food is usually one hot mess by the time I eat it. I did bring a candle and lit hubby's Pão de Deus and sang Happy Birthday to him much to his delight (ha ha). Don't panic, I made sure the candle was properly extinguished so I'm not about to start any forest fires, safety first folk! I will buy hubby a proper celebration birthday cake on the way home and we can celebrate in style later.
Malhada Mines
Once sufficiently fuelled and full of energy we made our way onto the Malhada Mines following the path next to the stream. Make sure you go around the other side of the tunnel and stream as there are more ruins situated here. Then we continued on the route to the Malhada Mines and again climbed up some more dodgy unstable steps to explore the upper areas. The mines are a health and safety risk and an accident waiting to happen but I loved them so much. It's something so unique and different. By the time we got back to the car we had hiked 11.5km. We decided to walk back down to the waterfall as it is so wonderful. The waterfall was empty so we sat and spent some more time here because it's just so magical. Hubby had to drag me away as I could have stayed there forever.
Fungi Art
Overview
What an awesome way to spend a birthday! A tranquil hike within nature and an epic waterfall, great food and even better company with conversation and laughter flowing as fast as the river. I find that waterfalls are some of the most majestic creations of mother nature. It was a truly special place for a special day and the mines were fascinating abandoned places of interest. I just love places like this that make you realise how tiny you and your problems are! I think our leg muscles will ache for a while so god help me as I've planned another hike at Serra da Estrela. My difficulty now is how do I celebrate hubby's birthday next year? I have to up my game and find somewhere even more spectacular. I'm not sure it is possible!