PONTE 516 AROUCA
The 516 bridge in Arouca has been a firm favourite on my bucket list ever since it opened. We already visited Arouca and completed the Passadiços do Paiva Trailhead which is the wooden walkway located on the left bank of the Paiva River. I wrote a post about our experience some time ago so although we also ventured on part of the walkway as well as the bridge I won't be elaborating too much on the walkway as I have shared this information in my previous post. We asked my daughter Teanna if she would like to walk the 516 bridge and she said yes, hence why we didn't cross the bridge on our previous visit, we waited for her 8 week summer visit. I was extremely happy to return to Arouca as it's such a beautiful place and I was looking forward to exploring more of the Geopark too which is known for its extreme water sports.
516 Bridge
The 516 bridge claims to be the longest pedestrian suspension bridge in the world! I actually think that the Baglung Parbat pedestrian suspension bridge in Nepal is longer at 567 metres but who cares! It is made up of railings and steel cables and spans an incredible 516 metres across the Paiva gorge connecting the banks of the river Paiva. It is 1.20 metres wide and 175 metres high. The steel construction is designed by Studio Itecons and the bridge is supported by two V-shaped concrete towers. Its design combines elements of a Tibet-style footbridge, and its floor and side railings are made of metal grids to allow visitors to see all around. It took an incredible 5 years to build from 2016-2021. This bridge is a perfect day trip if you love adventure, nature, engineering and architecture. For those of you who are not total adrenaline junkies I would still recommend a visit purely for the magnificence of the structure. I was so impressed with the beauty of the bridge, it really is a work of art.
At the time when we visited you had to pre book your tickets online in advance. Due to Covid the group numbers are restricted so there are limited tickets available each day. Tickets cost €12 per adult and include entry to the Paiva walkway. You need to specify the date and time you want to cross the bridge when you book. There are 2 starting locations: Canelas or Alvarenga. You cannot cross the bridge by yourself, you go across in small groups with a guide. We started at the Candelas end and parked in the Areinho river beach car park which has a nice cafe and toilets. I thought I might need a caffeine and sugar fix before or after my bridge adventure. If you do decide to park at the Areinho river beach car park make sure you give yourself enough time to walk from the car park to the ticket booth near the bridge as it takes approximately 15 minutes to walk and there are quite a few steps to encounter.
Basic information
Entrance ticket:
Adults (18 to 65 years) €12
Youth/Student (10 to 17 years) €10
Children (6 to 9 years) €10
Seniors (+65 years) €10
* Tickets for the 516 Bridge also provide access to the Passadiços do Paiva.
Opening hours:
April to October 09:00 to 19:00
May to September 08:00 to 20:00
November to March 09:00 to 17:00
Location of car parks:
Alvarenga car park
40.969252, -8.163733
Canelas Parking
40.957260, -8.180557
Not for the faint hearted (Our experience)
I am not that great with heights so you would think that I wouldn't relish crossing a bridge suspended so high in the sky. I have to admit I was a little nervous but my love of nature and adventurous spirit won me over. We arrived 15 minutes early at the ticket office and showed our tickets via mobile phone. You are met by a tour guide who first explains a brief history of the bridge (all in Portuguese) although he did offer to explain in English afterwards for us. We then ventured across the bridge in our small group of about 15 people. It was an incredibly enjoyable experience and the bridge didn't wobble as much as I thought it would and I felt totally safe the whole trip. Another group starts from the other end so you cross paths at the mid way point. Once we made it safely across the bridge we had a short rest at the other end which allowed us to take photos. At this point it started to drizzle with rain, nothing too bad but unexpected for June. Luckily for us there was no mist or fog present so we still got the fabulous views with no obstructions. The views are spectacular and you get to stare in amazement at the surrounding nature and all the glory of the mountains, rocky gorge and Cascata das Aguieiras (spectacular waterfall). It was a surreal experience looking below through the metal grid floor and seeing the Paiva river and it's white crazy water crashing against the rocks from such a height. It took us about 10 mins to cross each way and probably about 5 if you close your eyes, swear and run (ha ha). It really was an unforgettable and exhilarating experience. After all when can you say that you have walked over a bridge 175 metres high over a gorge in the middle of a Portuguese nature reserve?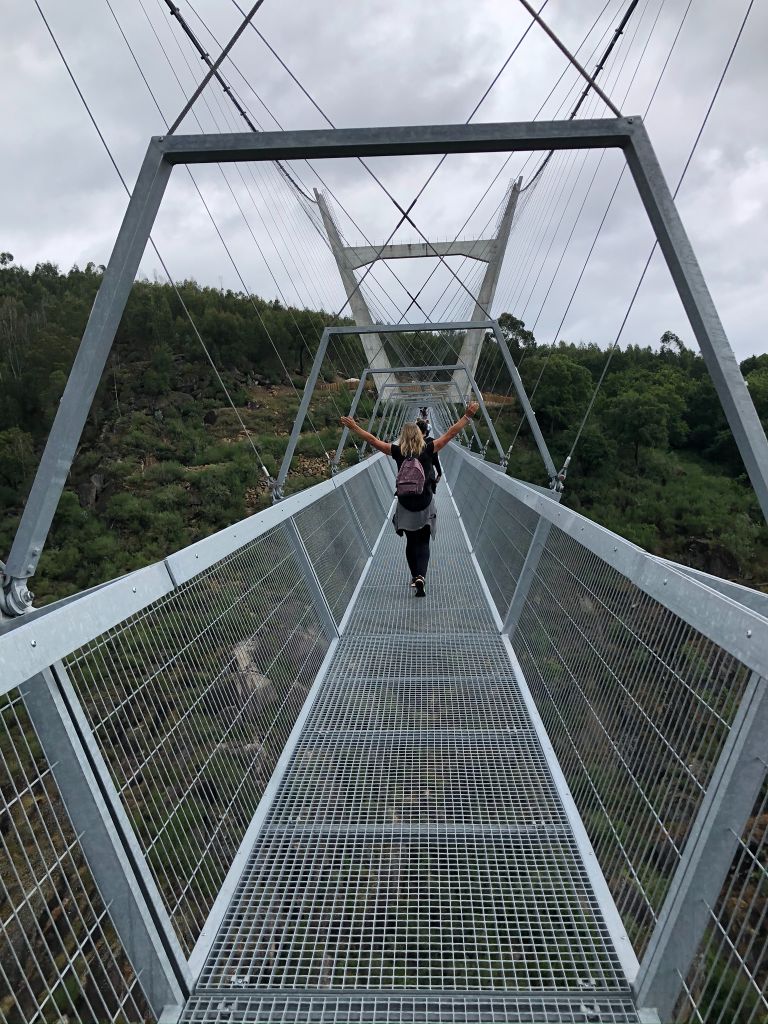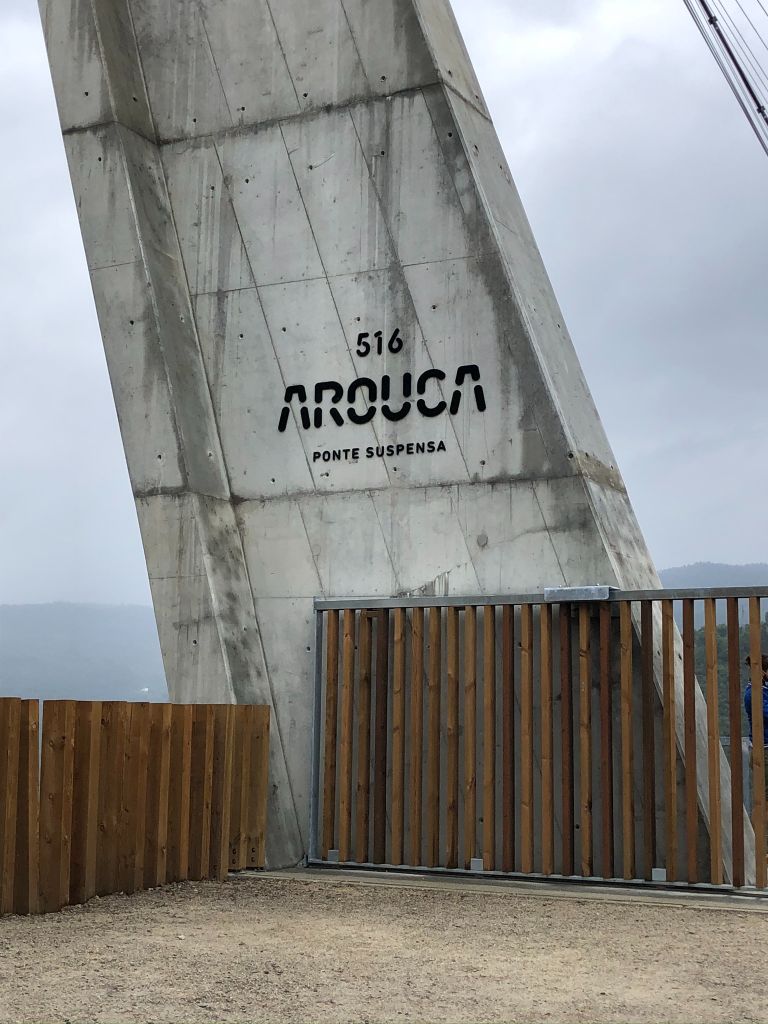 Passadiços do Paiva Trailhead
We then hiked the 4km each way to Vau river beach past the waterfall and small suspension bridge. Last time we visited it was a boiling hot day and I even had a wild swim at the Vau river beach. On this occasion it actually started to drizzle with rain enough that I had to use my umbrella so there was definitely no swimming. The wooden walkway became quite slippery when wet and Teanna had a slight accident. We were walking along upfront and there was one almighty crash of a noise. We looked back and Teanna had just one foot on the walkway and her whole body except this one foot was down the bank. She basically slipped off of the walkway and god only knows how she didn't break a leg or injure herself. She is lucky she has extremely long legs as with my stumpy excuse for legs I would have been gone like the wind and rolled down to the river and in the white water rapids. Thankfully she didn't hurt herself and we had a laugh about it later. I think Arouca might be trying to kill us as I nearly drowned on my last visit. Maybe the secrets of the forest want to silence us (ha ha). On the way back to the car near the bridge, we met a huge herd of friendly goats which made us smile. We had a lot of fun with them and I have never seen such a large herd of wild goats without any goatherder in sight. The weather improved so after a pit stop at the river beach cafe for coffee and ice cream we decided to explore more wonders of the Geopark.
Casacata das Aguieiras
Small suspension bridge, smaller waterfall and Vau river beach
The friendly goats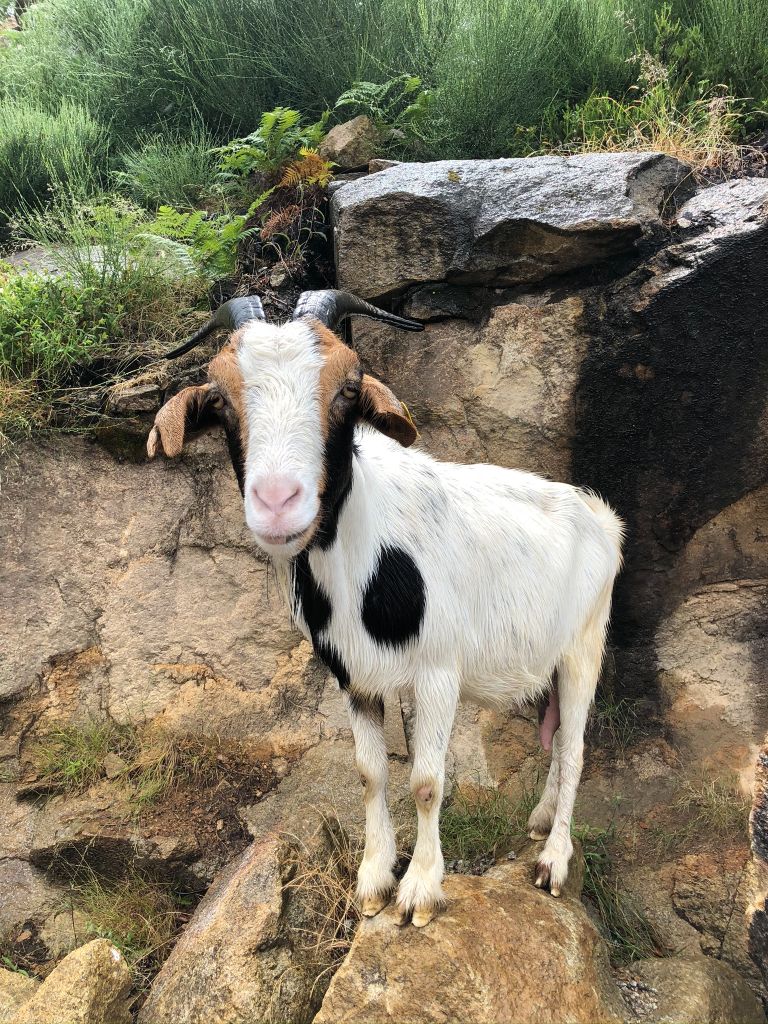 Areinho river beach cafe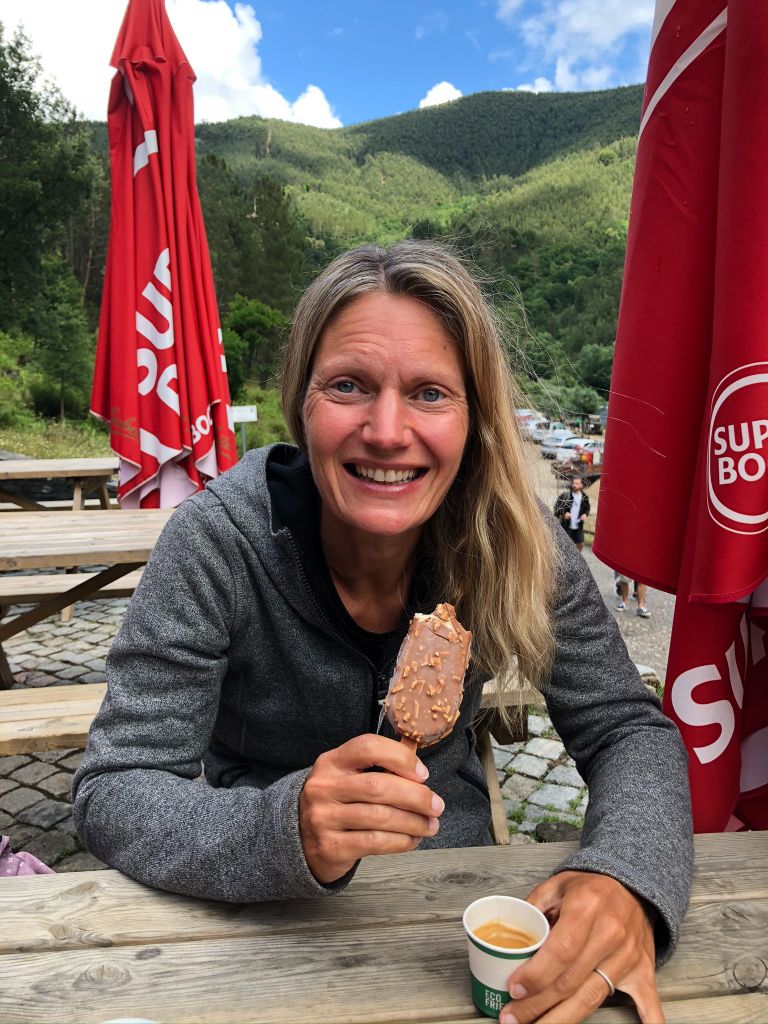 Arouca Geopark
I adore exploring and discovering new wonders of Geoparks. I feel most comfortable in the middle of pure nature so I was delighted to find The Enchanted Mountain (Freita Mountain route) which crosses one of the most beautiful areas of this territory. In the Freita Mountains plateau, located at more than 1000 metre altitude, you'll be able to observe a wide landscape, which covers a substantial part of the north and centre of the country. A trip of almost 22 km by motor vehicle and 3.5 km by foot. Along the "Enchanted Mountain", you can visit 11 geosites, nine of them situated in the Freita Mountains plateau. The whole route is integrated in the natural area classified as Natura 2000 network (Freita and Arada Mountains). The name of this route says it all, what a fantastic enchanted magical day trip. We didn't have time to visit all of the wonderful places so we selected a few of our favourites to visit. We did have a couple of spectacular viewpoints on our itinerary including the Costa da Castanheira viewpoint and the Detrelo da Malhada panoramic viewpoint but when we arrived at both it was just too misty/foggy to see anything which was a shame.
Itinerary
Pedras Parideiras (Birthing stones)
Campo Dobras da Castanheira (Castanheira Fold Field)
Cascata da Frecha da Mizarela (Mizarela Waterfall)
Bread & Onion Rocks
São Pedro Velho Viewpoint
Pedras Parideiras (Birthing stones)
Near a village called Castanheira high up in the Freita mountains you will find the wonders of Pedras Parideiras (Birthing stones). When I read about this rare geological phenomenon I had to add it to our itinerary. The granite outcrop measures 1000 X 600 metres. Small pebble sized nodules are ejected (birthed) from a mother stone of granite. The small stones/rocks can vary in size between 2-12cm in diameter. They have a quartz and potassium feldspathic nucleus surrounded by muscovite (white mica) and, covering this, a thick layer of biotite (black mica) and emanate a shimmering colour of gold. The stones are ejected due to erosion and thermal weathering which causes them to detach. Rain and dew seeps into the cracks and when winter time comes it freezes. Water expands when frozen so each winter the ice is driven deeper and deeper into the biotite until nodules are forced loose from the granite rock. This bizarre phenomenon has been occurring for 320 million years and each stone takes hundreds of years to be born. It is only found in one other place in the whole world! (near St. Petersburg in Russia). There are strict rules about not taking any of the enigmatic stones home with you. A fertility legend says that if a woman wants to become pregnant, she can increase her chances by placing a stone under her pillow at night. Rest assured I left the stones firmly in their rightful place, I'm nearly 50, perimenopausal, we have 10 children between us (the oldest being 28) and hubby has had a vasectomy so that ship has truly sailed for me (ha ha). There is a small information house opposite "Casa das Pedras Parideiras" which is worth a visit.
Campo de Dobras da Castanheira (Castanheira Fold Field)
Whenever anyone uses the word "Folds" I just think of my muffin top and folds of my flab (ha ha). I don't know much about The Folds of Castanheira but my brief understanding is it consists of rock formations that were formed beneath the sea over 500 million years ago. I think the Arouca Geosite website can explain it in more depth so here is the link if you fancy reading it: http://aroucageopark.pt/en/know/geodiversity/geosites/folds-castanheira/
There is a lovely viewpoint platform where you can stand in silence and soak up the ambiance. We saw a couple of huge birds of prey here which were fascinating to watch.
Cascata da Frecha da Mizarela (Mizarela Waterfall)
Wow, what a stunning waterfall to view. This waterfall is located in the middle of the granite rock of the Serra da Freita plateau, at an altitude of about 910 metres. It is fed by the waters of the river Caima and has a height of around 75 metres making it one of the highest waterfalls in Portugal. I love waterfalls and this one was beautiful. Watching the water cascade down the granite cliff side of the Serra da Freita was a truly magical and invigorating experience. There is a lookout point that gives you an amazing view of the waterfall from a distance and the stunning landscape surrounding it. There is a walking path (trail) if you want a closer view. I was a little disappointed that we couldn't view the waterfall up close but it still was a lovely experience even from a distance. The curious explorers (us 3 nutters) decided to drive down a steep unstable dirt track with no barriers to the cliff edge to get a better view of the waterfall. This was a moderate mistake as it was rocky, steep and not really suitable for an old banger of a car nearly 20 years old, you really need a 4 X 4. Long story short, we got stuck, tried to turn around and execute a 3 point turn which actually turned into a 10 point turn and hubby nearly drove off the side of the mountain. Clever Helen could foresee misfortune so she excited the vehicle half way down along with her daughter and stood at a safe distance praying that hubby would not drive off the mountain top and die. A couple of times he put the car in reverse and accidently rolled forward towards the cliff edge, I very nearly pooped my pants! We escaped with our lives intact and we did get a lovely view of the waterfall from a different angle. Was it worth risking our lives? Hell NO (ha ha). You gotta risk it for a biscuit!
Apparently this place is excellent for Canyoning which I thought might mean some Portuguese bloke would fire the crazy Brit (me) from a cannon across the mountain at high speed (I got my canyons mixed up with cannons). It actually combines techniques from rock climbing and abseiling, with hiking, jumping, swimming and even sliding down naturally carved slides to cross and explore rivers. I am not sure my ageing body which is often in chronic pain from hidden disabilities is quite ready for Canyoning and I will stick to SUP boarding for the immediate future (ha ha). Something else that made me laugh was that when I was researching this waterfall I read many reviews which were very positive but one bloke simply wrote 5 words: "Lack of supply in catering" (ha ha). He did give it 4 out of 5 stars, maybe if there was a fartura van it would have got 5 stars! Bless you Guilherme, who ever you are, you sure made me LOL.
Bread and Onion rocks
We had a little difficulty in locating the Onion Rocks and every time one of us said bread and onion we just got more hungrier (ha ha). When we eventually found them due to their location being situated right next to the roadside it wasn't safe to stop so we had a drive by. Not a drive by shooting but a drive by onion rock viewing (ha ha). I am assuming they are called onion rocks due to the layers of rocks which resemble onions. We didn't have time to stop off at the Junqueiro Maize Bread Rocks. Apologies no photos of the Onion Rocks as my drive by photos came out all blurry (ha ha).
Geopark – Beautiful lush green scenery
Driving to each destination we viewed some spectacular green scenery, wild rugged terrain and wild cows. I had to get hubby to keep stopping the car so I could get out and run through the hills obviously singing "The hills are alive with the sound of music" (ha ha). I was tempted to get naked and roll down the hills, just because I can but resisted due to the weather and my shyness.
I love how the reflection of the clouds look in the pool of water below.
São Pedro Velho Viewpoint (We ended on a high, literally!)
I was elated when the mist lifted and we were able to visit a viewpoint. It was evening by the time we reached the location and Teanna was tired so stayed in the car. Hubby and I set off across the marshland in search of the viewpoint. We didn't see the tiny red direction flags so we took a detour through the wilderness. We always get lost but we also always find our final destination in the end. When we eventually saw the viewpoint in the distance, Teanna was half way up the steps (ha ha). She changed her mind and decided to join us for one last adventure of the day. She asked us why we didn't follow the flags! What bloody flags was my response (ha ha). As it was getting late we were the only ones there so had the whole viewpoint to ourselves. I love how all the viewpoints here are so very different. This one was exceptional and very rustic and what I would call quirky with a circular platform and a little concrete tower structure in the middle complete with ladder and graffiti. Apparently it is an old triangulation station (dated 1955) and reminded me of something from the "Lost" T.V series.
The 360 views are amazing and you can see half of portugal! If you look towards the North you will see the Arouca valley, Gamarão mountains, Paiva valley, Montemuro Mountain, the Douro valley and other mountains, such as the Valongo and Gerês Mountains. As you look towards the South, you can see the Vouga valley, Caramulo valley, Mondego valley and the Serra da Estrela Mountain. You can also view the sea flowing westwards from the Aveiro lagoon to Porto and the cute traditional Portuguese villages in the far distance. Wow, what a view! It was very windy but Teanna encouraged us to climb up the tiny metal ladder right to the top of the structure. I must admit I was a little scared but decided to go for it. It's a good job I'm fit as with my short legs it was quite a stretch to the first rung of the ladder. We had so much family fun visiting this viewpoint. I would love to return someday and complete one of the long hiking trails which look fabulous. This was such a great end to our day and although it was evening time we still had a great view. I really enjoyed watching my girl have fun with her stepdad. Teanna has a great bond with her biological dad but I am so happy that she has such a fantastic connection with Adrian. He has been in her life for over a decade now and has played a huge part in her upbringing. Watching them play around and act the fool together was a pleasure to watch. They have forged such a strong relationship, it is beautiful. Blended families ROCK!
A few of my favourite Viewpoint photos: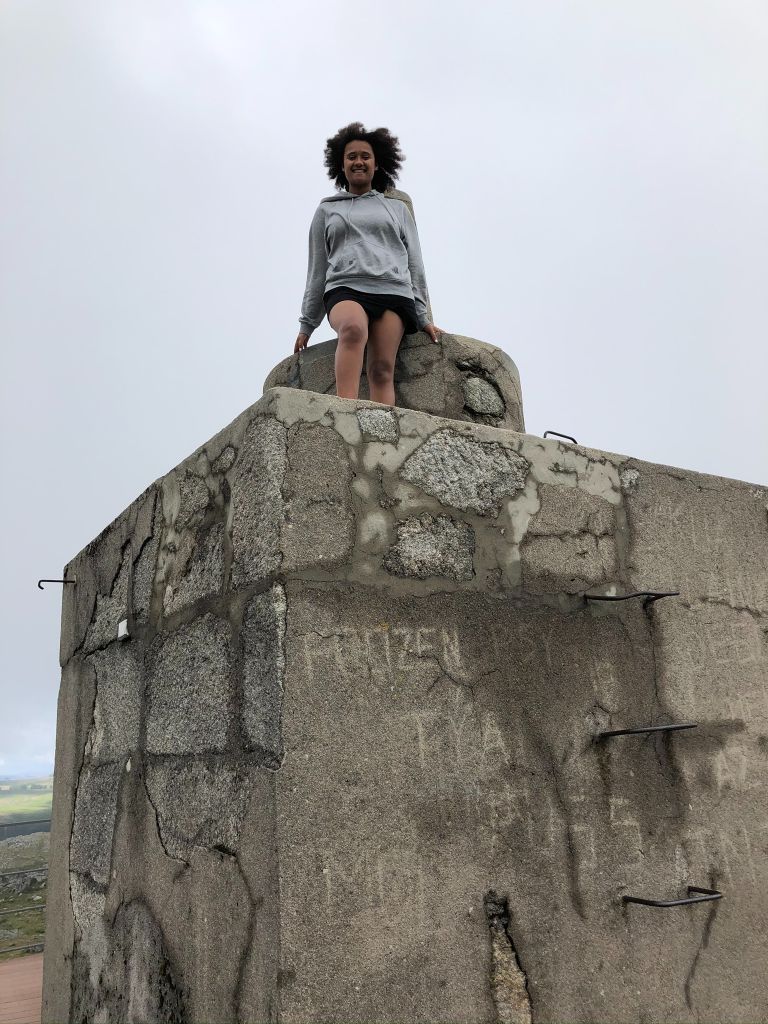 Pizza in the park
We ended the day with a pizza in the park. It's not the first pizza I've had in this park and I very much doubt it will be the last! Another beautiful day with my fantastic family. I eat so much pizza, maybe I should have relocated to Italy instead of Portugal (ha ha).