ROTA DA PINHA E DO PINHÃO HIKING TRAIL (CARREGAL DO SAL PR1 CRS)
I was super excited to venture on the amazing PR1 CRS 7.85 km circular trail which is located in the parish of Oliveira do Conde, Municipality of Carregal do Sal and District of Viseu. This magnificent trail holds the secrets to some of Portugal's archaeological treasures. It intrigued me and looked very different from our previous hikes to waterfalls. It's a Prehistoric circuit where you can explore remarkable bronze age megalithic monuments (graves/tombs) often called dolmens, orcas or tapirs which date back to the 4th Century BC. These prehistoric stone monuments in Portugal are much older than Stonehenge, in England. In fact, they are some of the oldest megalithic monuments in Europe. These stones are ritual monuments and the circular ones served as burial stones which house an underground chamber, created so that the dead could be laid to rest and as a way of remembering and worshipping the dead. Some may find this funerary architecture quite morbid but I thought it was mesmerising. I was not disappointed with the megalithic necropolis and the surrounding beautiful scenery and breathtaking landscapes. My main reason for choosing this trail was the location, only 40 minutes drive from our casa. I am still recovering from my running accident and my right arm and shoulder is still very painful so I was not up to mountain goat climbing on all fours which many hikes require. This route is short, very flat and easy (a bit like me – ha ha) with no tricky areas to risk me falling, slipping on wet ground and injuring myself further. We ended up adding part of the PR2 as well so hiked a total of 14 km and got to see a few more wonders.
Igreja Matriz de São Pedro (Oliveira do Conde)
The hike starts at the Igreja Matriz (Main Chapel) which houses the tomb of the knight Fernão Gomes de Góis. Unfortunately the chapel was closed on a Saturday so we were unable to view the inside. We parked right outside of the Freguesia opposite the chapel and after leaving the quaint village of Oliveira do Conde we were soon hiking through woods and forest areas bursting full of wonderful scented pine, eucalyptus and oak trees. We visited on a Saturday in mid November and the weather was an incredible 20c. I soon had to take off my sweatshirt as the sun was fierce. I packed a hat and gloves but didn't need either, I did however need my sunglasses, I LOVE the Portuguese sunshine. The pine trees were amazing and I kept thinking to myself they would make a lovely Christmas tree, well it's only 5 weeks until Christmas!
Leaf Peeping
Beautiful vivid Autumnal forest colours, amber, russet and crimson, WOW! The sun hit the trees in such a way that the light turned areas of the forest into a shimmering magical fairytale. Apparently Leaf Peeping is an official activity in U.S.A and Canada, people travel to view and photograph the fall foliage in areas where leaves change colours in Autumn. Gosh, I think this is going to be my new Autumn hobby as well as Cloud Spotting.
History of the Dolmens
I am going to refer to the monuments throughout my post as "Dolmens". As not to bore you with my ramblings on all the history that I discovered, I decided to take a photo of each signpost at each site (where possible). These information boards have all the fascinating history of each monument and detail facts like the monuments age in both Portuguese and English and I have scrolled in on the English version. If you are interested in the history then please read the photo text as it really is very captivating and you will find out a lot about Portuguese historical and cultural heritage. Apologies for the quality of these particular photos, I tried to capture the words so they are readable.
Orca da Palheira
The first delight we visited was Orca da Palheira. As we approached the area I could hear a group of men chatting and the smell of burning charcoal. This group had 4 large BBQ's and were busy cooking with huge pots and pans. We exchanged a friendly "Ola, Bom Dia" but to be honest I was in total shock. I wasn't expecting to see such a sight and I'm not sure If I'm being overly sensitive and emotional but I got a little bit angry and upset as the men were resting their pots on the historic tomb stones which I found disrespectful. There are clear signs that say Protected archaeological area and many are also National Monuments. When I visit any religious or cultural place/monument I try my very best to show respect and not to offend so I don't ever climb on any part of it as this could also cause damage. It was a bit awkward as I wanted to take photos but they didn't move out of the way. We walked around the dolmen and were surprised further as at the back area there were a few tables set up for a party meal. Now I know the Portuguese love a picnic with tablecloths etc. and so do I (minus the tablecloth) but this was something else. It looked like a wedding reception was about to take place. The tables were set up with bottles of wine and posh glassware. I have no clue what was going on, it really was all a bit weird and I can't imagine why someone would want to have a celebration party in such a place. I was intrigued to know what it was for but too embarrassed to ask. My final thought was they have several huge BBQ's in the middle of a forest and I was concerned that a forest fire could easily erupt.
After this experience we didn't see another soul on the whole hike except for 2 people on bikes and one car whiz past so it was a very personal and a splendid tranquil day. We are so lucky that we get these amazing tourist attractions all to ourselves and I know there will come a time when we will be sharing the views with other tourists which is why I do not ever take this for granted. I'm not a social butterfly so I'm not relishing the thought of busy/crowded areas in the near future. I was super pleased for the solitary experience as these monuments are fairly small and it was lovely to experience them by ourselves as just a handful of people would make the area seem crowded and break the perfect silence. Some of the trail is accessible by a normal car so technically you could just drive to each dolmen but personally I would never drive around to explore these wonders unless I had mobility difficulties. Why drive when you can hike through such amazing Portuguese landscapes and breathe in fresh air? As long as my legs work, Helen is hiking.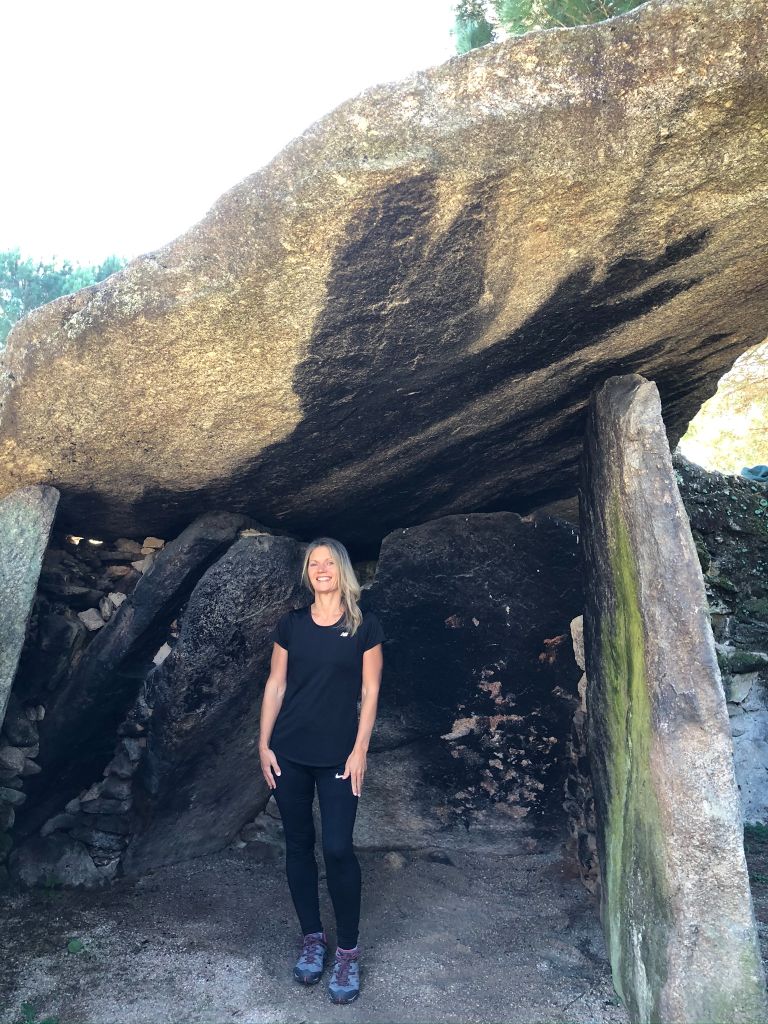 Celebrations
Habitat do Ameal
Circuito Pré-Histórico Fiais/Azenha
In addition to the PR1 and PR2 we stumbled across an information sign for Circuito Pré-Histórico Fias/Azenha. There were a few more dolmens listed on here which were not too far off our route so we decided to add them onto our journey. We viewed No2 & No5 and started to hike to No1 Orca do Outeiro do Rato but turned back as it was no where in sight. It's a good job that we did turn back as it was quite a distance away. What I find really confusing is the fact that often places are called by 2 different names, I think this is on purpose to confuse us British folk (ha ha).
Abrigo da Orca
This was an added bonus as it's not originally on the PR1 trail but it was so worth it. We stopped here for a while to reflect and have a little rest, snack and drink. The panoramic views here are very beautiful and you can see the Serra da Estrela mountains in the distance on the horizon. There was no information board here, just a sign with brief details. I kept expecting people to arrive and ruin our adventure but no one ever did. A little slice of heaven and natural rugged unspoiled beauty.
Dolmen da Orca
This was also another added bonus and in my opinion one of the best dolmens that we viewed during the whole day. It was declared a National Monument in the year I was born!
Orca 1 do Ameal
After viewing a couple of wildcard added extras we headed back onto the PR1 trail.
Orca 2 do Ameal
Tree hugging and Nature
I LOVE hugging trees, I still haven't convinced hubby of the holistic benefits of tree hugging but I'm slowly working on him, one trail at a time (ha ha). He will fold eventually, it's just a matter of time, wait and see. The pine cones are gigantic!
Rupestre do Ameal
This was another added bonus as eagle eyed hubby spotted this rock art and it was literally just a few metres off of the PR1 trail. It's a huge rock which looks like a gigantic wave with carvings on it. It was so large I couldn't fit it all in the photo!
Orquinha da Víbora
This was probably the most intriguing dolmen of all. At one point it was discovered twice as it got overgrown with vegetation and was hidden from sight for a number of years. It looks quite different from the photo on the information board and has clearly suffered from damage over time as the circle pattern of stones is no longer present.
Marco Geodésico da Víbora
This huge rock has a symbolic value highlighted by several legends. The viewpoint here is awesome and the sweeping panoramic views are breathtaking. We chose this spot for our picnic lunch and found a huge boulder amongst the granite outcrops to lay down our picnic blanket. We spent some time here just staring at the incredible views and feeling a sense of pure tranquility. I cannot express how amazing it was to sit here, just the 2 of us and have all this glory to ourselves. I know I often repeat myself by saying this but I do truly feel blessed to live in such a wonderful country. I could have sat here for hours soaking up the ambience and staring at the magnificent mountains and clear blue sky.
The Challenge – Game on
There is always a Mr & Mrs challenge or dare. After lunch hubby challenged me to see who could reach the top of this monument. I still have a lot of arm and shoulder pain from my recent running accident so it probably was not one of my wisest decisions but a challenge is a challenge and I'm always up for an adventure and trying new things. I lost this challenge as I couldn't make it to the top, what can I say, I tried (ha ha).
Boulder Bliss
We found a huge boulder for our picnic spot, just perfect. Hubby needed a little rest after lunch as he is now an old man (ha ha). He didn't know that I took this photo of him, don't tell him, it's a secret (ha ha).
Penedo da Víbora
I must mention that up to this point the signage on this trail was perfect. Once we left the impressive viewpoint we were very confused as we couldn't see any markers or signs for directions. The issue was that the pathway was not visible due to overgrown vegetation so we wandered around a little hoping that we wouldn't get horrendously lost. This was my chance to find a large bush for a wild pee pee. I have no clue how hubby holds his bladder. 1 litre of water and a can of coke zero goes right through my ageing body. I'm actually getting quite used to wild peeing in nature now. Luckily there wasn't another soul in sight to flash my lady bits at. We soon found a marker and with a sigh of relief ventured onto our next dolmen. I loved the Viper Rock and it's mythical legend – make sure you read the legend (last photo).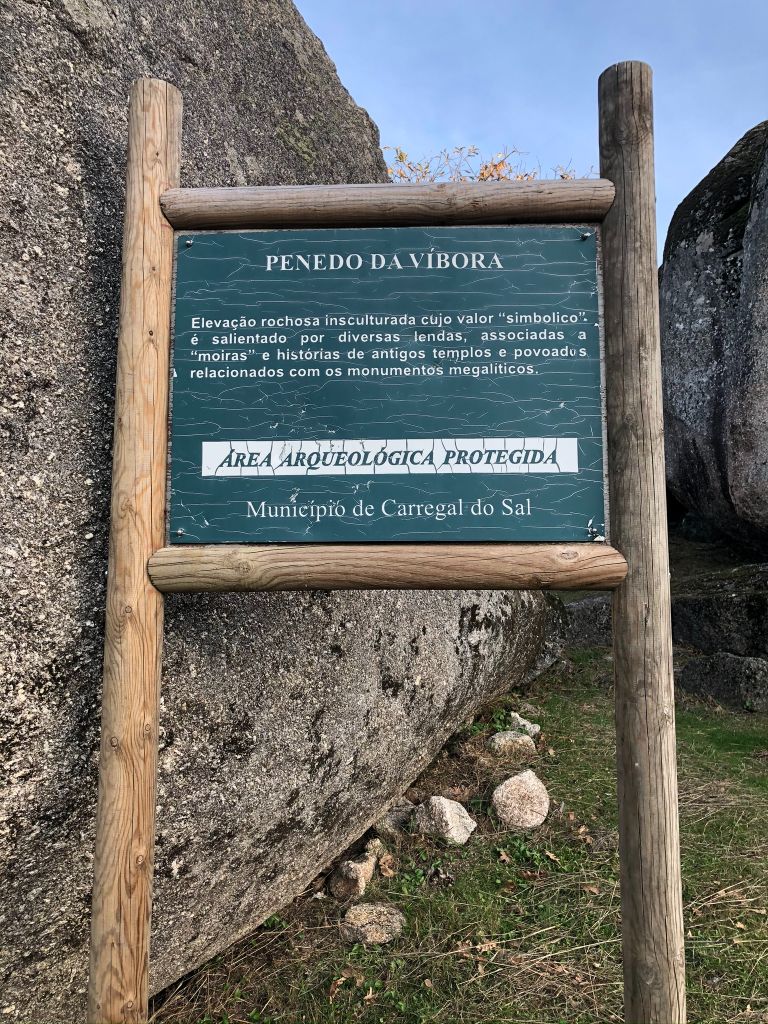 Portuguese Legends – How fabulous!
I think the moral of this story is, if you live in a castle and have surplus rooms and an old lady who is less fortunate than you knocks on your door and asks for help and a room, be kind and share your wealth unless you want her to magically turn you into a snake and destroy your castle and everyone in it.
Sensational Sunset and Marshy terrain
Most of this trail is forest pathways and stoney terrain underfoot but there was one area which was pretty boggy. As we approached the end of our trail we felt very happy and calm and were rewarded with an epic Portuguese sunset, pure bliss!
Casa do Visconde de Oliveira do Conde
We continued on our trail to view the beautiful 18th Century Manor House of the Viscount. It was just under 3km and after passing through the village of Azenha we faced an incline at which point my legs got a bit weary. I wish I had made a pit stop at the village cafe for coffee and a nata. The Manor House led us to an interesting conversation based around the question: What is a Viscount and is it the same as a Lord? I always thought it was a classic British biscuit consisting of a circular biscuit filled with a creamy mint or orange flavour and topped with a layer of milk chocolate (ha ha).
Portuguese Casa
On our way back to the car we stumbled across this fantastic house, how pretty is this Casa?
Penis rock
I know I am usually the one to lower the tone (ha ha). This time it was hubby as he found this stone which is shaped a lot like a male genitalia. He tried to convince me that it was part of the PR1 trail, of significant heritage and a fertility stone. I didn't believe him for a second but it did make me laugh. I am not sure what age one should stop laughing at rude shaped rocks but in my case, I doubt it will be anytime soon. It really does look like a "Muito grande" wonky penis (ha ha). Apparently there is an actual penis rock located in China! True fact. Would I hike several km in the sweaty heat to view it, hell yes!
List of Megalithic monuments in Portugal
It might take me a while to explore all the Megalithic monuments in Portugal! Here is a full list:
https://pt.wikipedia.org/wiki/Lista_de_monumentos_megal%C3%ADticos_de_Portugal
Overview
The whole trail took us 5 hours, we hiked a total of 14 km and took a leisurely snack and lunch break. The basic PR1 should only take around 2 1/2 hours. We departed at 12.30pm and arrived back at our car at 5.30pm. I was very surprised that we got to view so many dolmen as before we set off I was a little apprehensive. My mindset was that we will probably miss a couple and not see everything on the list as we will end up getting lost as usual or just walk past one not realising it's significance. I was delighted as we got to view way more than the original 4 dolmen and not only was the trail clearly signposted the individual dolmens were labelled with excellent information and facts and we didn't get lost, I know shock, horror (ha ha). I really like that the whole experience is free with no cost. Stonehenge in England has a ticket fee of £19.50 without donation and £21.50 with a donation! I love that the Portuguese do not try to rip us off and make money on such marvellous historic tourist attractions. Hiking is a wonderful free hobby, we just need petrol money.
I had such an amazing day exploring all the dolmens and finding out about Portuguese cultural heritage and learning about village life of Portuguese ancestors from the Neolithic period. I got an eerie sense of being transported back in time after reading the famous legend of love between the Christian knight and Moorish Princess and finding out about all the archaeological treasures found in this area. I was hoping to find a bronze age ring or precious artefact. The forest pathways were delightful, bursting full of autumnal colours and other paths were beautiful with so many fossil and crystal-like rocks and stones glistening underfoot. I kept stopping to admire them as I love crystals and their healing powers as I trained in holistic crystal therapy several moons ago. Another glorious hiking trail in Central Portugal and I really enjoyed the uniqueness of this trail and the megalithic marvels. Dare I say "It Rocked" (ha ha).