OUR 12 MONTH MILESTONE
Today is New Year's eve and our 12 month milestone. It is really weird to think that we have been living in Portugal for 1 year now! 1 year ago today we left rainy Bristol with 2 suitcases and a bike for our new life in Central Portugal. It's gone so quick and what a heck of a year! I remember arriving after an Easyjet 4 hour delay, it was very late at night and there were no shops open to buy any food or groceries so we ended up eating a whole tin of Scottish shortbread which we bought over for our neighbour. When I look back to when we first arrived at our lovely quirky old schist casa with the old fashioned decor, furnishings and overgrown garden, I feel immense pride. We have achieved so much considering we have completed all DIY and renovation jobs ourselves except from one small garden job which required a cement mixer. Hubby works long hours Monday-Friday so we have only had dry weekends to do projects so our progress is great.
When you own an old house there will always be jobs to do. We would love to renovate one of the bathrooms in 2021 and finish off the chicken coop and run so we can tend to chickens and have fresh eggs daily. We also have quite a large task of painting the outside of the house as some areas are not schist stone and rendered with white paint finish. We also have all the railings and gates to paint black. We are very happy that we managed to sort all our paperwork out within a couple of months of arriving well before the panic surrounding the B word! (Gotta love Portuguese bureaucracy). We have gained temp residency for 5 years, signed up to the equivalent of NHS healthcare, opened bank accounts, registered for NHR (reduced tax rate), swapped our driving licences, purchased house and car insurance and bought an old car.
We recently sorted our Portuguese Wills with a Notary and had an initial meeting with an accountant regarding our tax return for 2021, so pretty much everything is completed. We have also registered for the new WA biometric card via the SEF website. We sourced a great dentist for us and a fabulous vets for Milo. I recently had medical exams/tests including blood tests to check my thyroid levels and I had a smear test which was a little different from the U.K procedure. I won't go into details but stirrups and a little white cotton wrap around velcro attached skirt was involved (ha ha). I was surprised at how amazing the SNS medical service is here. I have an excellent English speaking family doctor who is super friendly. If you can get past the dragon receptionists then it's all good. I still haven't managed to make the receptionist smile yet although it's difficult to tell with the wearing of facial masks but she did not portray smily eyes.
Are we still living the dream?
Hell yes, even with Covid curfews, restrictions, and cancelled flights we both still feel blessed every single day. My aim was to build a life that I don't need a vacation from and I feel that I have met my goal. When living in Bristol we would save up and visit Las Vegas every couple of years. I have not craved the bright lights of Vegas once since I arrived here. Vegas will always have a special place in our hearts as we got married there in the glorious sunshine. There are so many beautiful areas of Portugal I want to explore when Covid is a distant memory. At present it's all about finding a balance between hubby's work, renovating our house together and visiting safe quiet secluded areas to have some fun.
On an average day I wake up late between 9-10am and make breakfast for myself and hubby. I sit enjoying my morning tea or coffee with the most amazing views every single day. Although it's colder now we are still having some glorious sunny days in December where I can do gardening in a t.shirt and feel the warm rays of sunshine on my arms and face. We also get the prolonged periods of rain too which the garden desperately needs. It's so peaceful here living amongst nature. We have the lovely sounds of a small stream opposite and so many birds. I adore winter here as we stock up on logs and roast chestnuts on the log fire. I cannot express how amazing Portugal is. For those of you who have only been on holiday to the Algarve I strongly recommend that you return one day and explore the delights of Central Portugal and the cities such as Coimbra, Porto and Lisbon. If you have time divert off to some of the less touristy places and enjoy Portugal away from the crowds. Take a wrong turn and get lost, it's so much fun. Central Portugal is so lush and green and it's very affordable too. You can buy a beautiful 3 bedroom house for under 100K. We recently viewed a little 2 bed house in the mountains with a price tag of only 25K. Portuguese houses are known for being dark and sometimes damp and cold. We are so lucky as we have a bright open plan lounge/kitchen with a steady stream of daylight filtering in through the balcony. I enjoy watching the beautiful sunsets from our casa and everyday each one is slightly different. I never ever get bored of watching the sunset.
I love living a more relaxed, stress free life and not having to bother putting on make-up everyday for work and straightening my hair. I don't have to iron clothes or try on multiple work outfits, I can just throw on some leggings or sweat pants with a t.shirt. I don't ever have to wear uncomfortable high heels again, I can live in my flip flops or gardening shoes. I enjoy nature and the outdoors and find gardening so therapeutic. It's such a completely different life to our previous life in the U.K but it's so much better and rewarding. It's such a blessing to live in peace with no shouting neighbours. Our upstairs neighbours in Bristol were crazy and used to argue throughout the night, it really was horrendous especially when my daughter was studying for her G.C.S.E's. I can't imagine ever going back to live in the U.K. Portugal is now my home and I wouldn't swap it for all the marmite in the world! Bunny Milo is also loving it here. He has free roam of the office and sleeps in his cage overnight. You don't need luxury items in Central Portugal, you can replace sparkling jewellery for sparkling rivers and oceans. Owning a house which isn't rammed full of material items sets me free and feels so amazing. For the first time in my life I actually feel content.
We feel very settled here now and are looking forward to 2021. We even viewed some land for sale recently and a 2 bed house in the mountains as we were exploring buying a second holiday home to let out. After a bit of research and going through our finances, we have decided the time is not right for us just yet but who knows what the future holds! We absolutely love Casa Valhal but have been discussing long term options. We both feel that we would be happy living here for the next 10-20 years but in the future, possibly when hubby retires, we would love to relocate to a similar house with a bit more flat land so we can adopt a rescue dog or two and I have always had a dream of owning a Shetland Pony or rescuing a donkey. I also wouldn't say no to a swimming pool, gym, hot tub and sauna (just kidding – ha ha). We have also discussed hubby retiring early or working part time in the future so we can explore Portugal on weekdays. I don't know who decided that we all have to work Monday – Friday and only get 2 days off work! I also don't get the concept of working until retirement age which is around 67. I really think we should all work until we are 45 then get 10 years off then work a further 5 until we are 60 then retire at 60. I very much doubt I will make it much past 67. I want to have fun now but just in case I do live to 97 or 103 we still need to be wise with our money and be able to afford to eat and pay the bills in our old age. I visited the doctors recently. I said to her "I am getting old now" to which she replied "You are not old but you are not young" (ha ha), I nearly pissed my pants laughing. The truth hurts and I love her brutal honesty.
Life in a Portuguese traditional rural village
I absolutely LOVE living in a tiny rural village, it suits me to the ground. I love the view of the Serra do Açor looming in the distance. The Serra do Açor mountain range is famous for it's hills, schist villages, crystal clear rivers, paradise pools, waterfalls, breathtaking scenery and views. We live very close to Mata da Margaraça (forest) a 68 hectare biogenetic reserve bursting with vegetation. I adore the peace and tranquillity, the true sense of privacy and the only traffic jam we get stuck in is a farmer herding their sheep or goats. It's like stepping back in time and completely different from village life in the U.K. Most of my village folk don't even own a car and walk around the village wearing tabards and carrying buckets with cabbages. I have also noticed a lot of people carry stuff on their heads. They have far better balance than me. I love wandering out to our garden and little orchard with a local handmade basket and picking my own organic figs and oranges. I have even got used to the hairpin turns of the village roads and winding mountain top roads with death defying overtaking. So many twists and turns enough to make me dizzy.
We have some amazing local places to visit. Who would have thought that we would have Circus Skills just a few minutes drive away and Quinta Do Cobral art studio which offers so many art and craft courses. There is also a lovely outdoor and inside swimming pool not far away which I plan to make use of once Covid allows. I even found an Indian delivery service (Curry Hut) who deliver on Saturday nights – for Vinhó this is an absolute result (ha ha). If I crave a bit of city life Coimbra is only 1hr drive away and a stunning city. We have so many beautiful attractions close to our home such as the Serra da Estrela mountains (tallest mountain in mainland Portugal and where it snows at winter so you can ski) and the epic Fraga da Pena waterfall with it's paradise pools is just a few minutes drive away. My favourite places to visit in the summer months are the river beaches. There are so many to choose from and the nearest is under a 10 min drive. Autumn and winter time is perfect for exploring the Natural and National Parks of Portugal and there are some great forests too and don't forget the wild swimming.
Traffic jam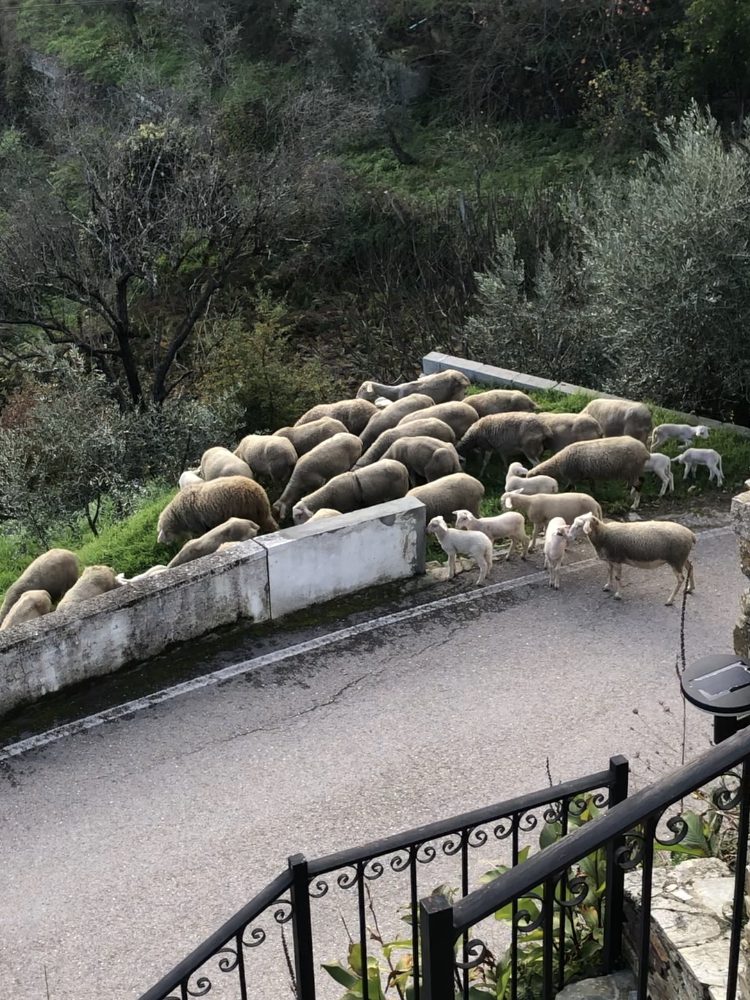 Any regrets?
My biggest regret is not learning the language before I came to Portugal. I so wish I had learnt when I was married to my ex hubby Carlos who is fluent in Portuguese. I stupidly waited for the local school to run the free face to face classes. Apparently they are commencing on 6th January but I will believe it when I see it! I am now starting private online lessons on 7th January which are very affordable and my focus for 2021 is to improve my language skills and be more confident at driving so I can drive myself places which are further afield. My daughter hopes to visit for the summer of 2021 with friends so I need to be able to drive them places further afield. I miss my adult children but as soon as Covid is less of a risk they can visit when ever they like. I also regret not filling my suitcase with Options Belgium hot chocolate drink and 68 jars of marmite (ha ha).
Why I love Portugal so much and have made it my forever home
Casa Valhal
Firstly, I love my home (Casa Valhal), an old schist casa set on the hillside and I absolutely adore my little village of Vinhó. I love the fact that we have no mortgage to pay every month which allowed me to give up work and be a lady of leisure, I am very lucky. Vinhó is such a beautiful quaint little village dotted on a hillside close to the Serra do Açor mountain range.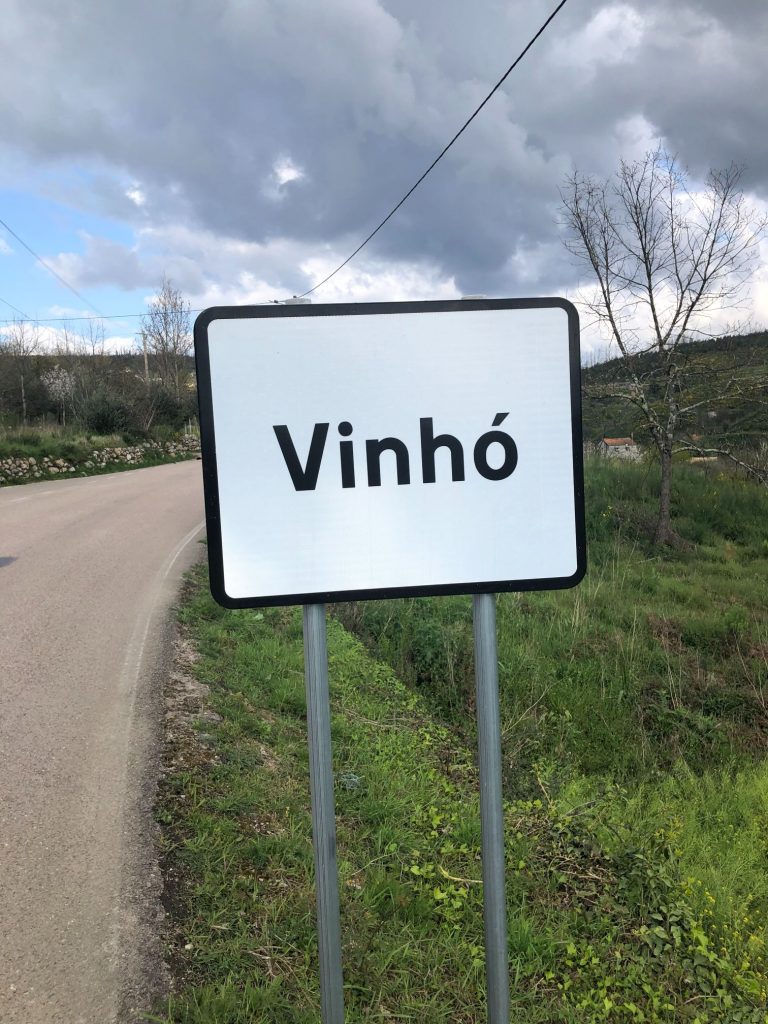 We don't have a shop or cafe but we have a bar! It's not actually open at the moment so we often frequent our lounge bar instead.
I often jog around my village and the next village. The views are spectacular even on a misty December's day.
A walk up the hill from Vinhó and this is what you see – green, green, green
Many people think central Portugal is dry, brown and desert looking. it is not, we get our fair share of rain which makes the countryside so very green and alive. These hills make me want to shout "The hills are alive with the sound of music" (ha ha).
The views
I love the views from my garden and balcony. I really enjoy sitting and admiring the views at different times of the year with a Portuguese glass of wine and a cake or two in hand. There has been a lot of cake eating with a view (ha ha). I felt it my duty to sample every cake then live in pain from the gluten. The views are what initially attracted us to our old schist casa. On my intial viewing of the house I stood still and gazed out at the picturesque landscape with my mouth wide open. The views totally won me over and in a split second I knew this was the house for me. What I love is the fact that I don't have to venture outside to see the views. We have an amazing viewing point from our lounge. It's so wonderful to wake up to this glory every single morning. Sitting outside with the warmth of the morning sun on my face and listening to the sounds of nature is epic. I have to pinch myself some days as it feels like I am on holiday. As I don't have a job or any committments it means I spend so much quality time at home in my garden with these beautiful views. What can I say, I'm a very lucky lady indeed.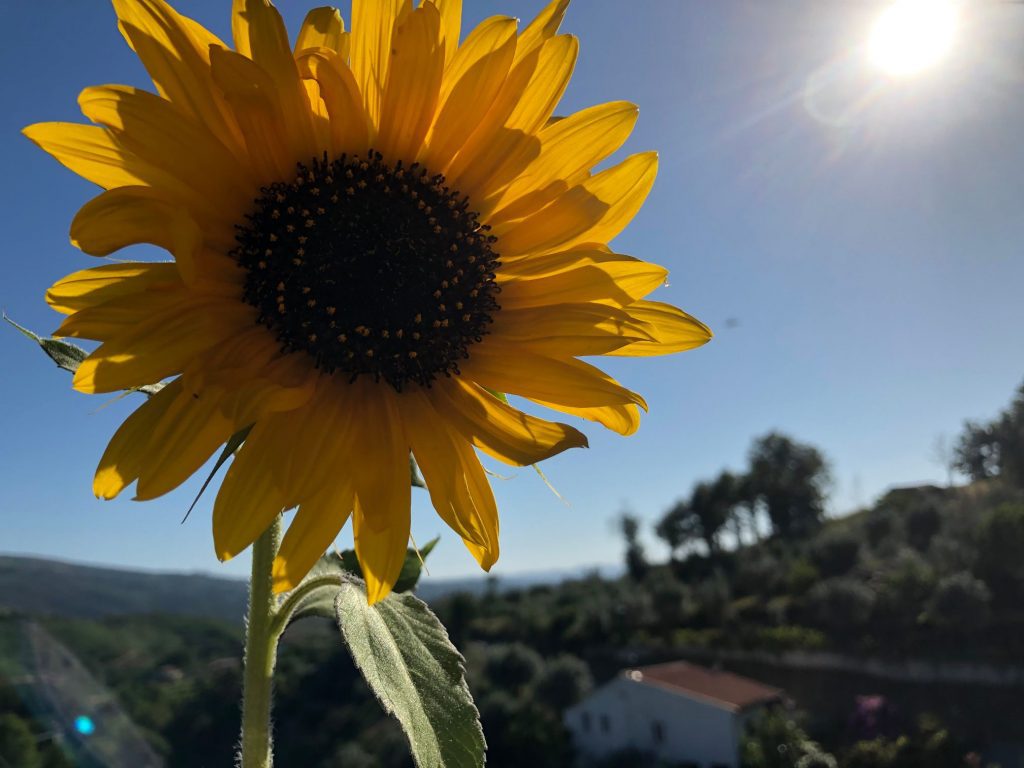 I still love the views in Winter when it's foggy and there is mist on the horizon.
I had a lovely Christmas Eve morning with my coffee admiring the views.
Gardening
I love gardening and spend most of my time outdoors. This year we have experimented with growing different organic varieties of fruit and veg. The highlight of my year was growing melons (Helen's Melons!). My Portuguese cabbage patch is also pretty epic too and Milo appreciates my effort. Next year we plan to grow sweet potatoes and we recently purchased a sweet cherry tree.
Even in December the garden still has colour, beautiful Japanese Camellia.
Planting a cherry tree on the 20th December with the sun shining down on us.
Tending to my cabbage patch on the 30th December. A glorious sunny day in the Casa Valhal garden.
Cooking with organic homegrown produce
I have loved cooking with hubby. He is our Casa Valhal No1 chef and cooks dinner every night. We have enjoyed making Fig jam and Tomato/chilli/garlic pasta sauce. Perfect for the freezer.
Trading/swaps (Edible produce not husbands! ha ha)
The Portuguese are very friendly people. We don't really have any neighbours as the house behind us is a holiday home and our neighbouring house has no occupants. A lovely lady comes to tend the garden and we often trade/swap home grown goodies such as figs, lemons, oranges, tomatoes and chillies. Hopefully we can trade eggs soon. Oh and you don't just get a few items, you get a bucket full (ha ha). Look at all these lemons our neighbour gave us, bring on the gin!
Sunsets
I am still amazed at how different each sunset appears each evening. I see many photos of sunsets that have clearly been photoshopped to death. I never ever photoshop any of my photos. I like to keep it real. Here are a few of my favourite sunsets from my garden. I love the fig tree sunset. One day I might wake up early enough to catch a sunrise.
This is my favourite sunset from the Algarve.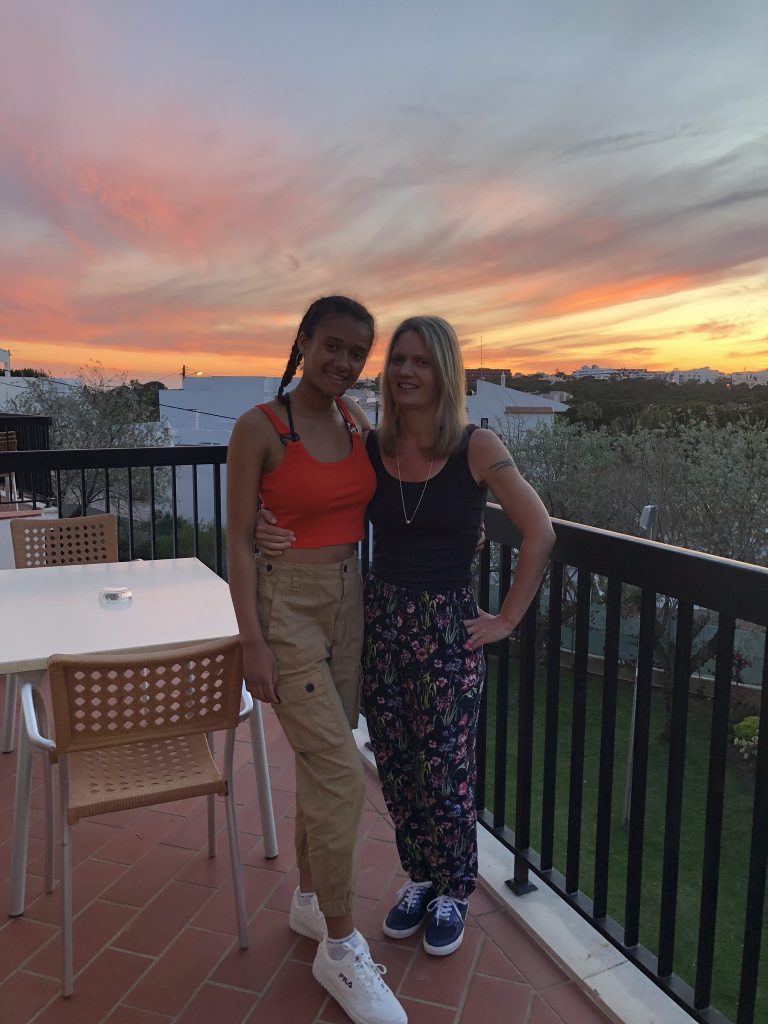 Extreme weather
We obviously get glorious summers here in Portugal but we also get rain. I love the rain and the garden appreciates it greatly after a long dry summer. We occasionally get thunder and lightening which scares me but the view from our balcony is crazy. Hubby took this photo on his phone whilst I hid under the duvet. This episode resulted in an electricity power cut!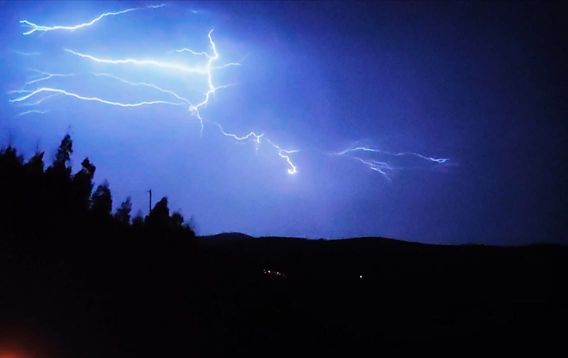 We also get snow at the top of Serra da Estrela! This is us on Boxing Day.
Rainbows
Who doesn't like a rainbow?
The outdoor office
It's so amazing to be able to work outdoors. These photos are from 4pm on 2nd of December and I needed my sunglasses but not my bikini (ha ha).
The Indoor office with a view
My office in Bristol never even had a window! Luckily for me I didn't spend much time in the office as I was always out and about driving to various meetings but there is no lack of fresh air in our new office. I think hubby likes his office and having his own dedicated space. He shares it with Milo who is the main boss bunny boy. I often join him to work on my blog if it's not warm enough to go to the outside office.
Food and drink
I could talk about Portuguese food and drink forever. It's delicious and not good for your waistline, that's all you need to know. Portuguese coffee is superb, strong, stiff and black. I won't make a joke about 'Just like my men' as my new hubby is white (ha ha).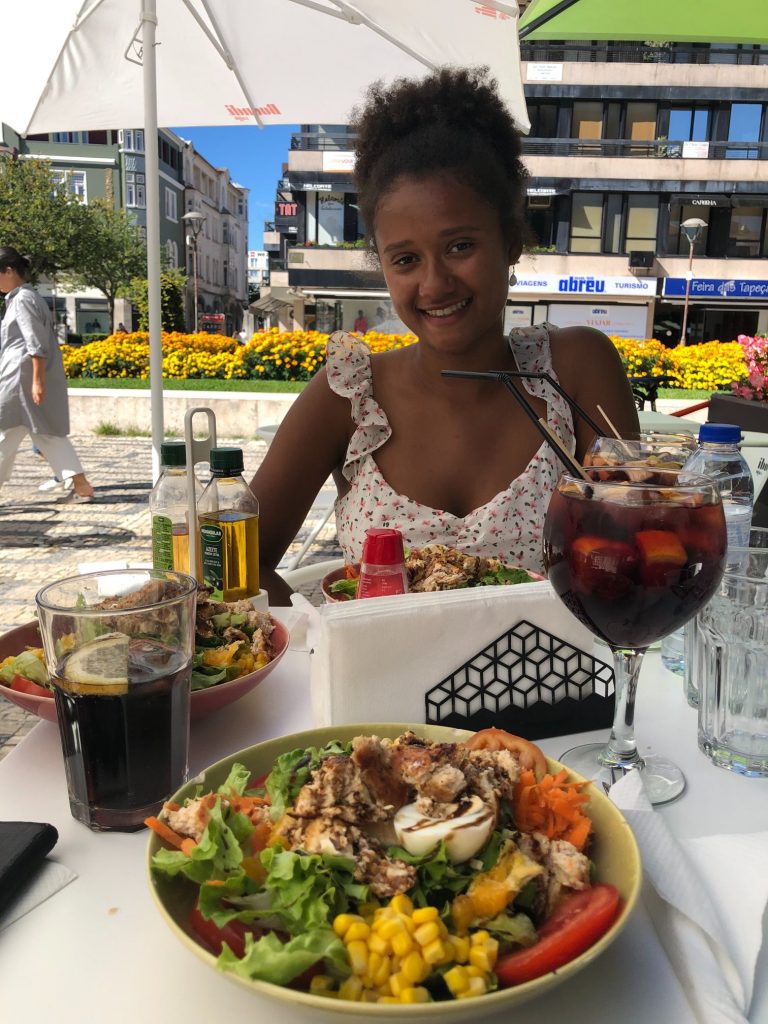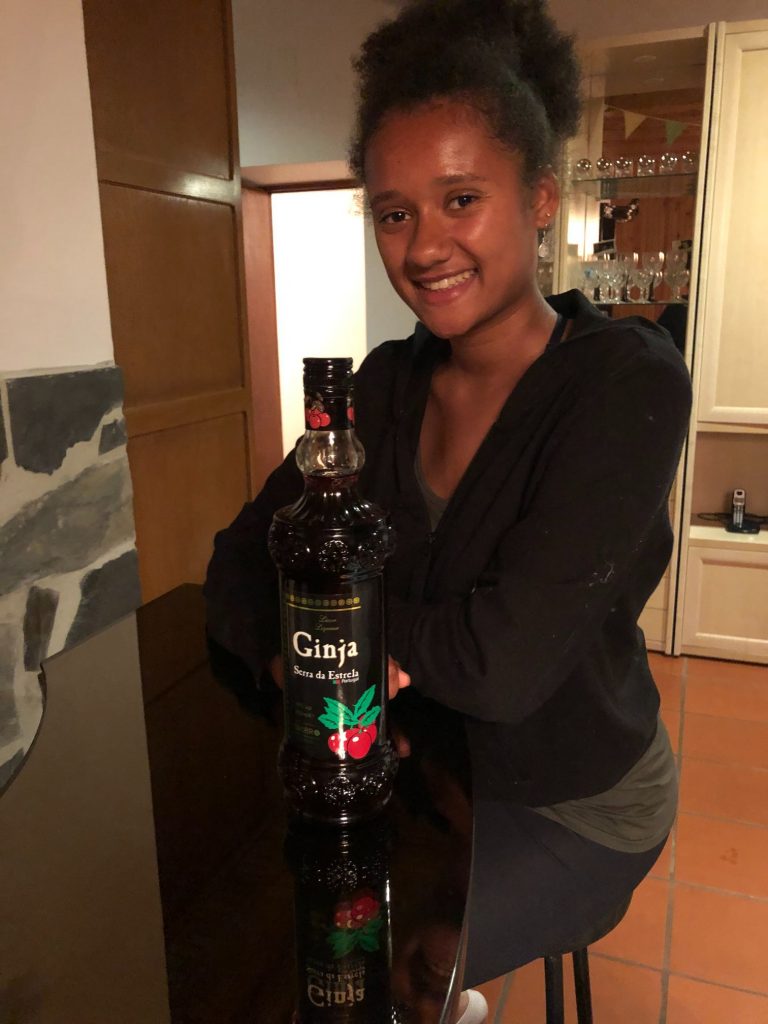 Snuggling up on the sofa with my soul mate hubby, enjoying Bolo Rei, roasting chestnuts on the log fire and a game of Jenga, just perfect for an evening in December.
Wine
I live in a small village called Vinhó so it's not a surprise that I like wine. We are not huge drinkers but the wine here is so amazing and affordable too. I highly recommend a visit to the Douro valley if you haven't ever visited. I know zero about wine so booked a wine tour with a private picnic which was one of the best trips I have ventured on this year.
Markets
I love the local markets and it was sad that many markets had to close due to Covid but some are starting to re-open now which is great. The produce is fantastic, tasty and affordable. I also love the selection of products including arts and crafts like handmade baskets. This photo is Arganil Thursday market.
Watersports
So many to choose from. We loved kayaking at Peneda-Gerês National Park and can't wait to have surfing lessons next year at Nazaré.
Nature and Wildlife
I love meeting new wildlife in my garden every day. So many birds and other creatures. My favourite brush with wildlife in 2020 was when a Robin made a nest in our fig tree. It was so surreal watching the journey of the eggs hatching. I have also met some huge snakes and I still scream my pants off (ha ha).
We have visited so many places bursting with nature including Coimbra Botanical Gardens, Buçaco National Forest, Peneda-Gerês National Park, Serra da Estrela and many more places.
Picnics
I love a picnic within nature. We bought a backpack with freezer blocks to keep our picnics cool. The Portuguese love a picnic and often you will see huge families with a pretty picnic basket and even a tablecloth! This looks epic but not really practical for us as we like to hike. The backpack picnic works for us.
Our Christmas day picnic at Fraga da Pena
Christmas day at this waterfall with a picnic was a unique and very special experience. One I will never forget in a hurry.
Boxing Day picnic
Al fresco eating
Eating outside is the best feeling ever. This was the temp at the beginning of December.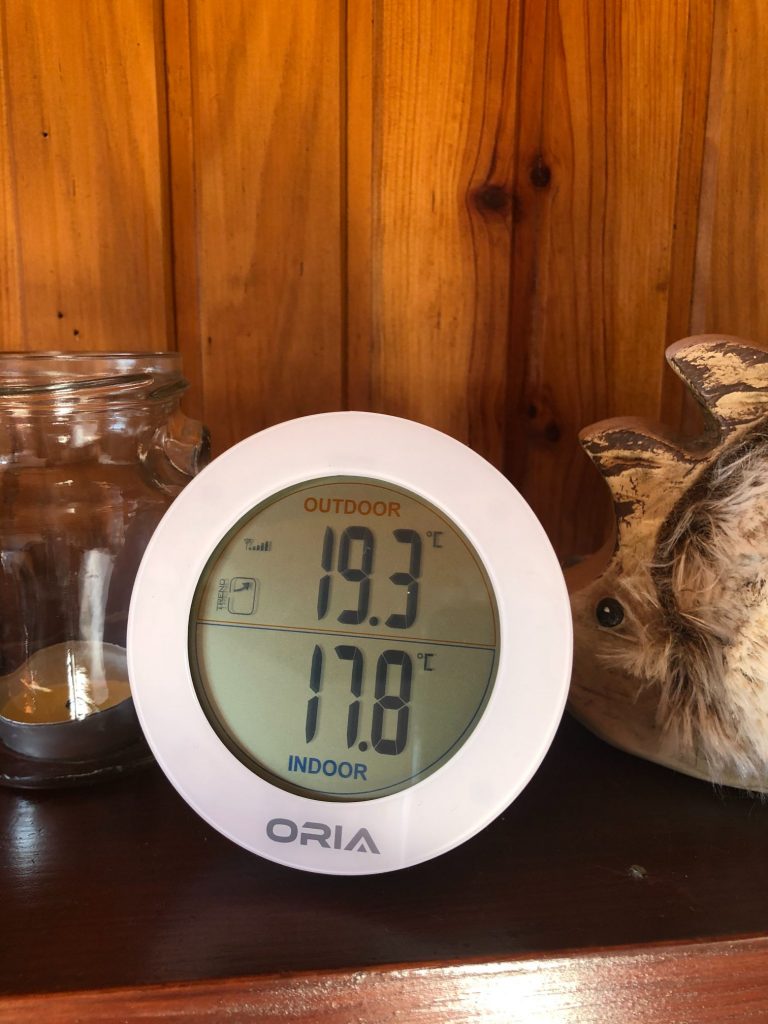 River beaches
This is my favourite summer pastime. I love floating around the rivers on my lilo and people watching.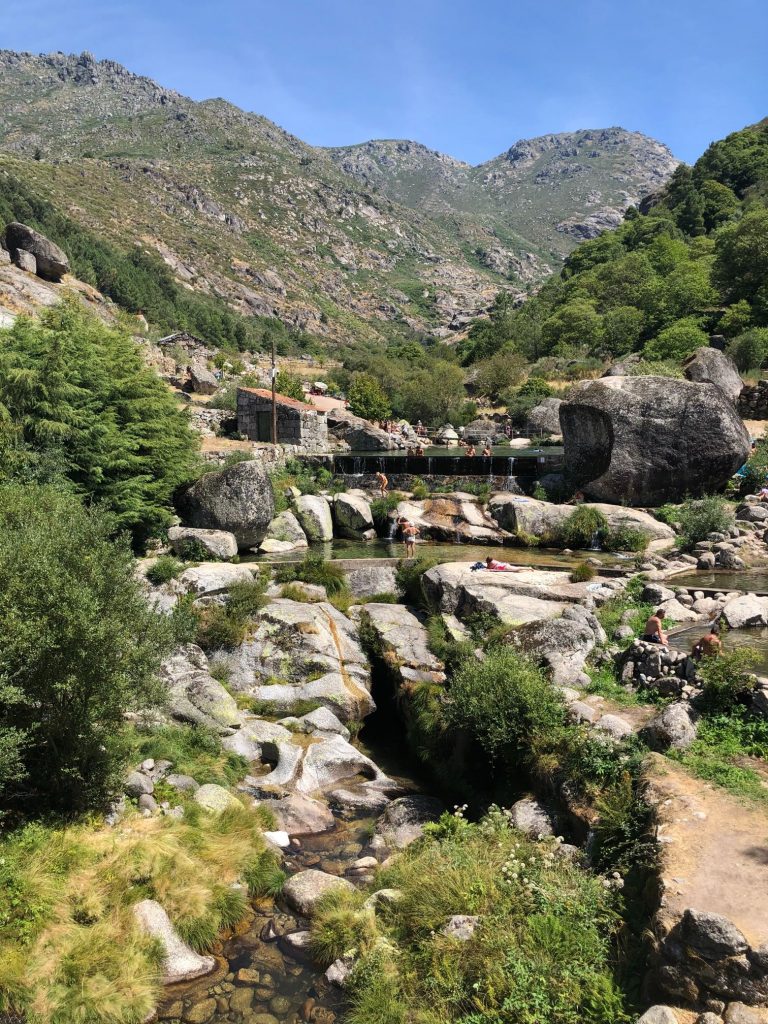 Beaches
I love coastal beaches especially Nazaré but I prefer to swim in the river beaches with no salty water or waves crashing in my face. Our nearest beaches are in Figueira da Foz and we have also visited Costa Nova.
Waterfalls
I love water and waterfalls. This waterfall – Fraga da Pena is only a 16 minutes drive from our home and perfect for a picnic. We also visited Tahiti Waterfall at the National Park and Poço da Broca.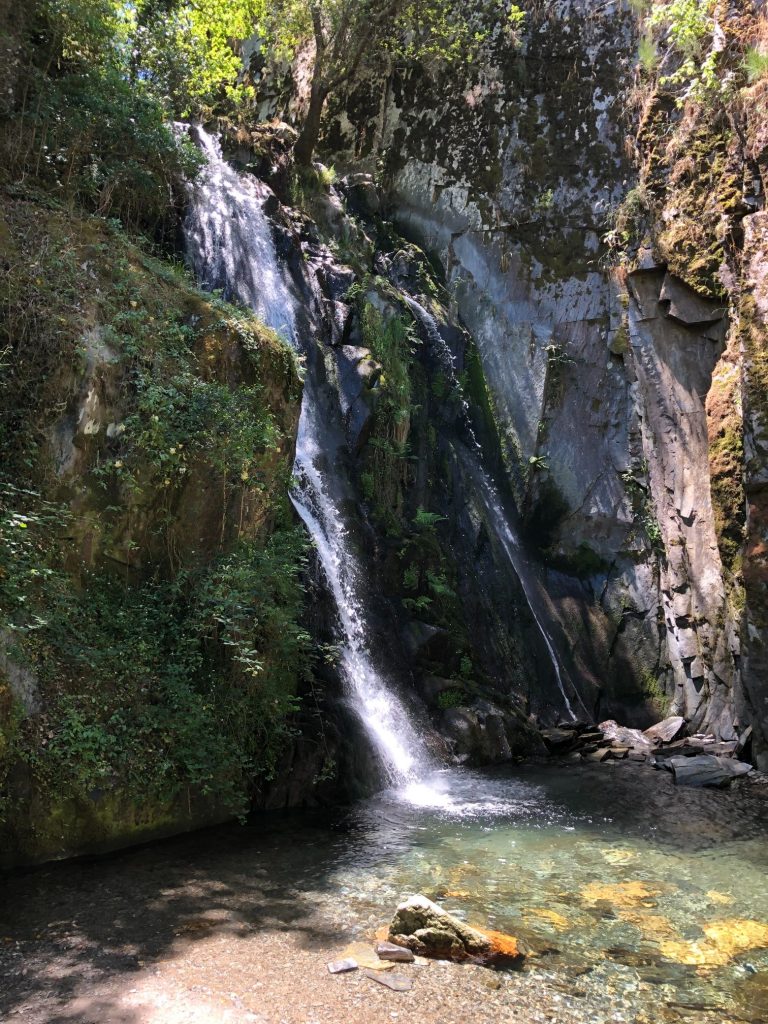 Wild Swimming
There are so many small waterfalls and paradise pools near our home for wild swimming. There are jump and dive areas from huge rock cliffs (I'm not brave enough to jump from the top!). I love this place: Poço da Cesta which is only a 30 min drive.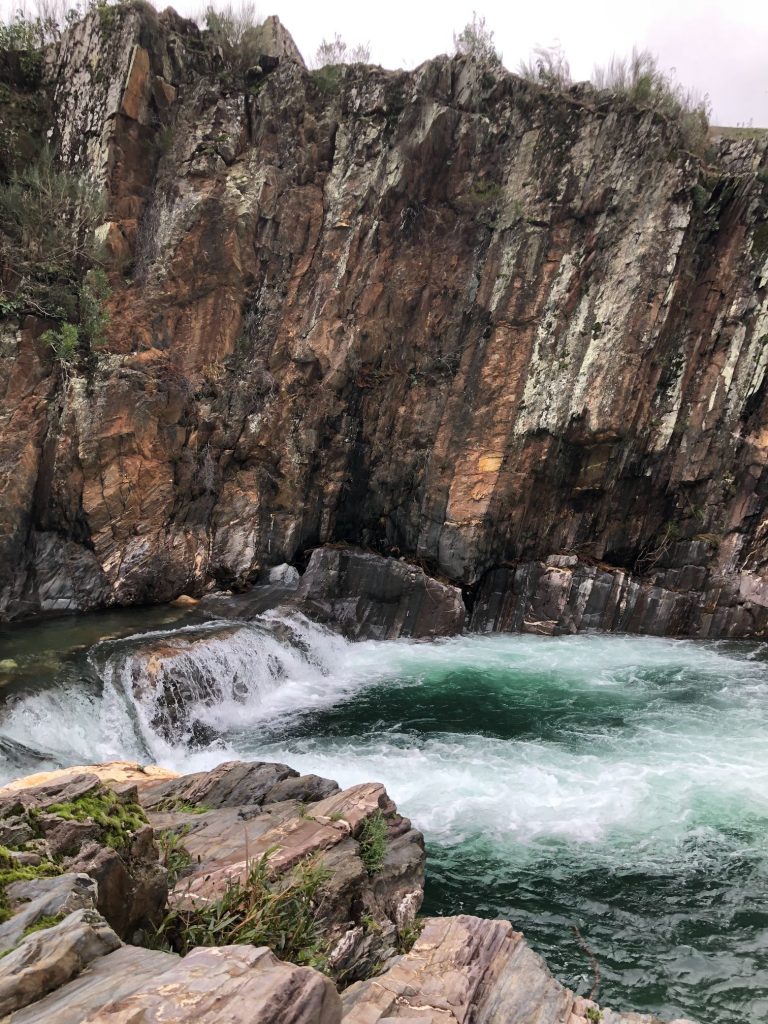 Hiking
I love hiking and nature. There are so many ancient trails in Portugal for all abilities. There are many Natural Parks and we visited the only National Park – Peneda-Gerês National Park which was such a delight. We are definitely going to buy walking boots next year and increase our distance.
History – Archaeological treasures
I love the bridges, castles, old ruins, palaces, towers, cathedrals, churches, canals and monasteries. This summer we were lucky enough to plan a 2 week holiday for my daughter. We visited so many wonderful places on day trips including some of these historic treasures.