A VISIT TO MUSEU DO BRINQUEDO (TOY MUSEUM) SEIA
I recently accompanied hubby on the Granfondo Serra da Estrela (Cycle race) and had over 5 hours to kill so I decided to visit the local Toy Museum. There are quite a few museums in Seia and we have already visited the Bread Museum so I thought the Toy Museum might be fun, I wasn't wrong. With so many people in the area for the big race and families attending to support their loved ones I fully expected the museum to be packed full of parents and kids but I had the whole place to myself! I was very excited to visit this museum as I love old fashioned wooden toys. Toys are so joyful and it takes me right back to the 70's and fond childhood memories of my special toys. My earliest memory of my toys is of an old wooden dog on a string which had a spring for a tail. I remember pulling that little wooden dog along and taking it everywhere I went. I must have only been about 3 years old but the memory is strong and a happy one. It squeaked like hell but my mum would spray a little oil on it as the noise drove her crazy (ha ha). I wonder what happened to my little wooden doggy. My mum used to hand make the most fantastic upside down rag dolls. One end would be a servant with scruffy dull clothing and when you flipped her skirt she would transform into a Cinderella princess. I loved my dolls and my local area where I lived had a doll hospital for all my plastic dolls. If the head or a limb would fall off (because I played to vigourously with them) my mum would take me to the doll hospital store and they would fix my doll for a small fee. I was always too rough with my toys. I still play hard and now I'm nearly 50 (ha ha).
GPS: 40.418739, -7.702364 / 40°25'07.5″N 7°42'08.5″W
Opening Hours
Tuesday to Sunday: 10:00 – 18:00
Open on Carnival Monday
Closed on: January 1st, Easter Sunday, May 1st, November 1st, December 24th and 25th
Ticket prices
Adults €3.00
Young people (from 4 to 17 years old) and seniors (over 65 years old) €2.00
For organized groups (minimum 6 people, by appointment) – per person €2.00
For school groups (minimum 6 people, by appointment) – per person €1.50
Children up to 3 years old and accompanying Teachers (with the institution's credentials) – Free of charge
Family Ticket:
Families (2 adults + 1 young person) €6.00
Families (2 adults + 2 young people) €7.50
Families (2 adults + 3 young people) €8.50
Families (2 adults + 4 young people) €9.00
Joint Ticket (CISE and Municipal Museums) Valid for 3 days
Adults €7.50
Young people (from 4 to 17 years old) and Seniors (over 65 years old) €5.00
For organized groups (minimum 15 people, by appointment) – per person €5.00
For school groups (minimum 15 people, by appointment) – per person €3.00
All about the Museum
The museum was opened in 2002 and was born with the aim of valuing childhood, a period of life that is fundamental for the global development of the human being. It seeks to popularize toys from various eras, reminding everyone how relevant these playful objects have been, over time, for the child's social, emotional and cognitive development. It is through games and toys that one feels, thinks and acts, reproduces and recreates the surrounding environment, enabling the realisation of dreams and fantasies. The Toy Museum, by valuing childhood, also aims to highlight playful activity and the right to play, preserving memories, customs and beliefs of ancient and current times, while consolidating cultural ties between times between different eras and countries.
Rooms
The Museum is organised into 6 rooms with different themes:
Discovering the World at Play
Here you will find various toys from different continents, allowing visitors to explore different cultures and childhood play in many areas in the world.
Childhood Memories
These two rooms are dedicated to all those who wanted to share their childhood memories. A room where memories and nostalgia can be breathed. There are dolls, bells, prams, animals, that were, and will always be, the beloved companions of children.
Education
An educational setting (classroom) with life size models. I had way too much fun in this room (ha ha).
Decades of Play (Portugal)
In all cultures, children learned to grow up with certain objects that served as a stimulus for their play. These playful materials, sometimes intentionally elaborated, other times used by the child themselves, are indispensable when playing and allow their diversification and enrichment, therefore, the toy is as old and universal as children's play itself. This collection is made up of old Portuguese toys, some of which are handmade, from paper, clay, wood, reeds, cork and tinplate recovered from cans. Portuguese toys are, therefore, an example of our cultural identity and are also a challenge to the imagination.
Reduce, Reuse, Recycle
This is a room dedicated to recycling. There is fantastic art work displayed on the walls and exhibitions.
Other Spaces
There is also a room dedicated to temporary exhibitions; a mini-auditorium intended for viewing films and which also functions as a space for playing; a workshop for the creation of pieces that can be purchased as souvenirs at the "sales point" located in the room next to the workshop and where there is a cafeteria. In this workshop, children can also participate by doing small craft work.
My Experience
The 2 ladies on reception were super friendly and very welcoming. One of the staff walked with me into the first room and explained the layout of the Museum and the 6 different areas to view. She also explained the old fashioned Portuguese utensil that was used to punish naughty children. Once she knew I had a passion for Russian dolls and upside down dolls she personally showed me some delightful Portuguese examples. There was one upside doll that was black on one side and white on the other. I was amazed to see many dolls from around the world and of different ethnicities. When my mixed race daughter was small it was very different to find black dolls in shops. Everything was Barbie dolls, blonde hair and blue eyed dolls. I had to buy her dolls off the internet. fast forward 20 years and things have changed a lot. Diversity positivity is present and you now have a lot more options to make your child feel inclusive.
To view all the 6 different rooms you follow the arrows on the floor which will take you downstairs and you exit at the bottom through the cafeteria where the toilets are located. If it is a hot day I highly recommend heading to the back of the Toy Museum where there is seating and picnic tables. I found a perfect spot under a huge tree and it was so delightfully cool that I didn't want to move. The only negative was tiny flower blossoms kept landing all over me and in my hair and a few tiny bugs decided to land on me too. I had a lot of fun and I thought I might get a bit lonely by myself but I had a blast. Seeing as I was the only one in the whole museum I took the opportunity to take some silly selfies in the education room. Can you believe that I used to work in education? (ha ha). I worked for many years with SEND children and young adults. It was a challenging job but very rewarding. I can honestly say that I have never laid a hand on any child or got arrested (ha ha). I had to abide by the rules to pass my CRB check. Now is a different story, I can scale walls, break and enter into churches with the safe knowledge that I don't have any paid employment so I can risk getting arrested if I wish. Hubby is the breadwinner and I'm the bread eater especially if it's chocolate bread (ha ha).
Toys with History – Photo Gallery
A lot of the display cabinets are glass so apologies for the glare or if you see me in the reflection. I am also crap at taking Selfies as I have short arms. Hubby is the Mr & Mrs Selfie photo taker but he was half way up a mountain on a bike (ha ha).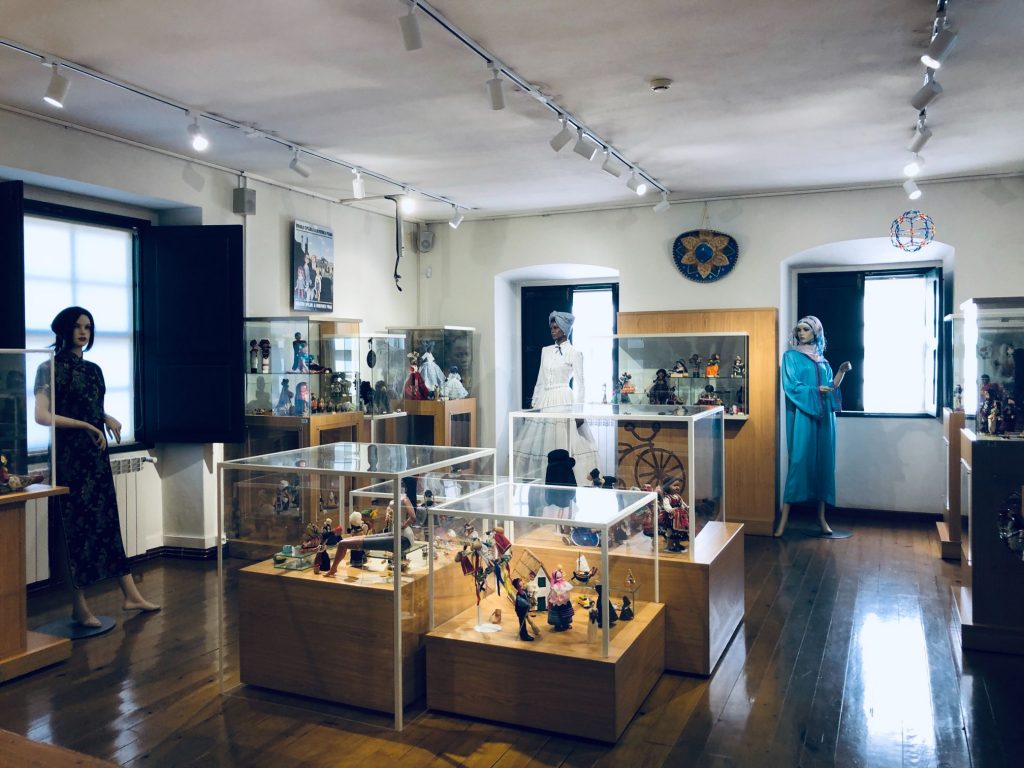 Creepy or Cute?
I will let you decide. I must admit some of these vintage dolls gave me the jeepers creepers. Some dolls, clowns and masks freak me out a bit. I should never have watched the Chucky films (ha ha). There is something about old fashioned dolls that creeps me out BIG TIME. The doll on the bottom right looks like a baby Boris Johnson (ha ha).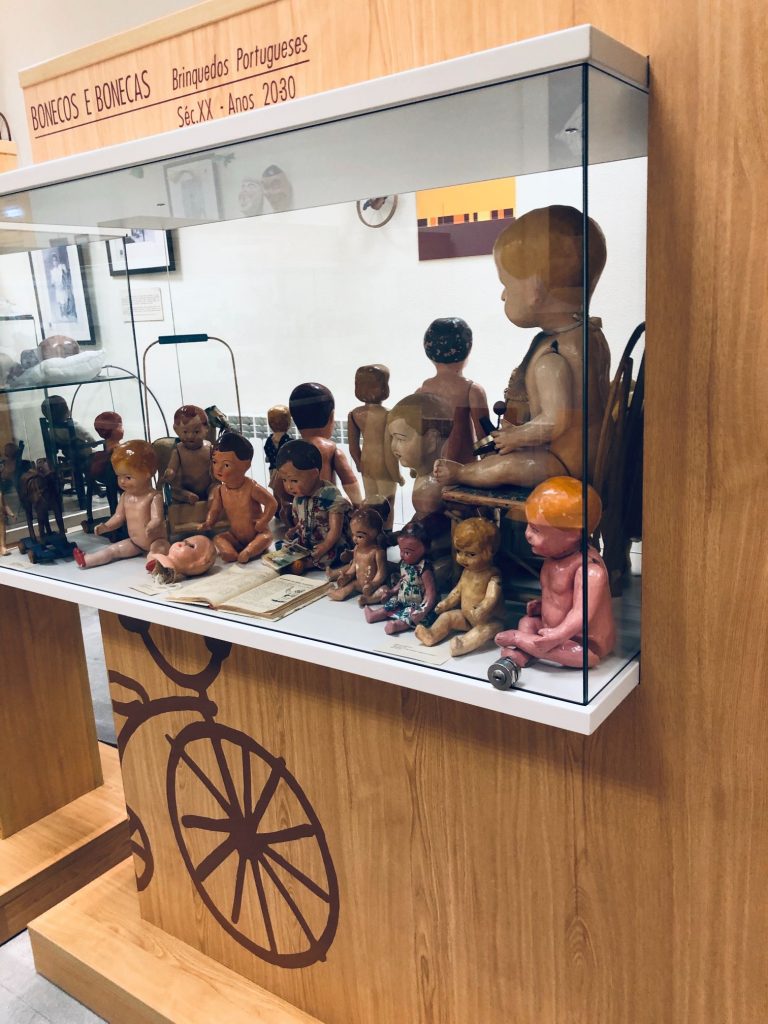 Creativity is Making Marvelous out of the Discarded
This was my absolute favourite recycled creative artwork. Just look at the detail. SPECTACULAR!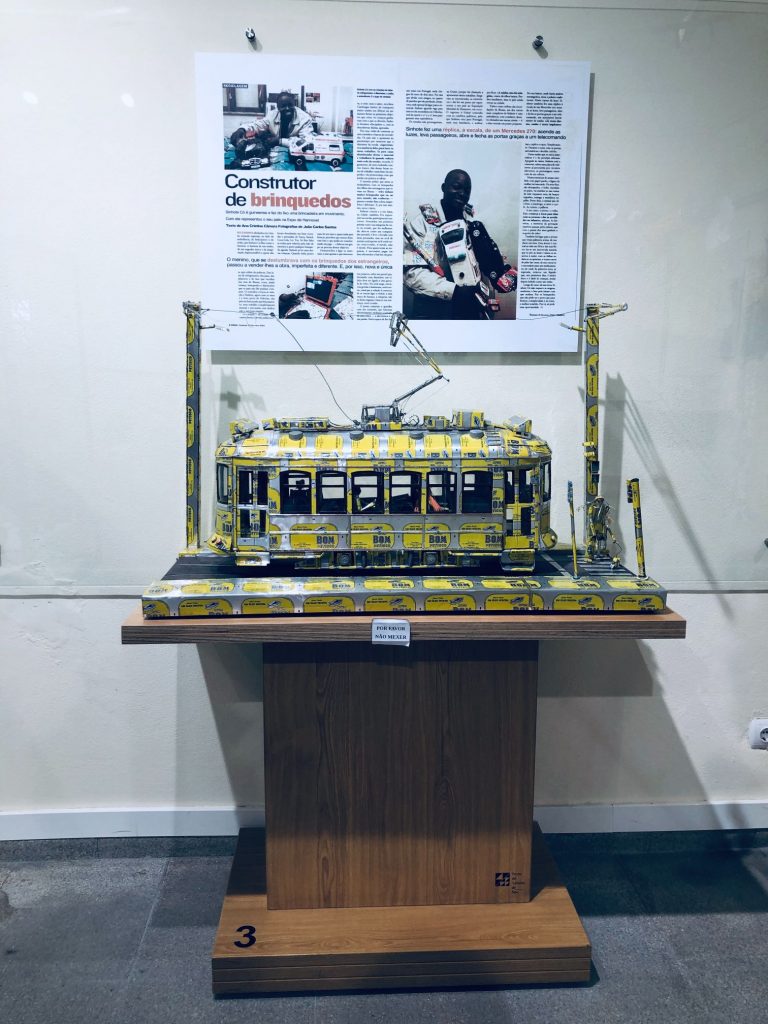 Away with the Fairies
There were many stories, poems, notices and photographs on the walls but I was instantly drawn to this one. I didn't even know that the word Fadas translates to Fairies. I adore everything Fairy and my 2nd tattoo that I had inked over 25 years ago is of a fairy. She may be a faded fairy but I still love her. I have a vivid imagination and I like to believe that fairies are real and live happily in the magical forest in tiny toadstool houses and sprinkle their sparkle and magic upon anyone who passes through nature. My daughter used to collect fairy books when she was younger and she would read aloud to me chapters from the books at bedtime. Each book was about a different Fairy and they each had a name and unique power. I took the effort to translate this poem when I returned home because I was intrigued. It is such a cute poem.
Penny Farthing Fatality
On the way out I found a Penny Farthing and another row of sporty looking fun toys. I was tempted to have a go on both but resisted as I'm very accident prone and a ride on a penny farthing would mostly result in me spending several hundred € at the local hospital and many weeks in agony (ha ha).
Credits
Thanks to www.visitseia.pt for my factual information on the Museum.
Overview
My visit to the Toy Museum was an interesting and fun experience with friendly staff who went out of their way to give me an amazing visit. All the toys were very well organised into different sections and clearly cherished. I was very surprised at the amount of toys from all over the world, from the past to the present. A remarkable 10,000 toys in total! It was definetely worth the small entry fee of €3 and a total journey through time. It was so refreshing to see so many traditional wooden toys as nowadays it's all plastic tat. Children of today spend hours in front of T.V screens, computers and phones so it was great to get a reminder of what children played with before the era of technology. My children are 29 and 20 this year and although they both enjoyed limited screen time and computer games growing up they also loved other toys. My son used to love marbles and had a passion for Thomas the Tank Engine toy trains. He could name everyone by the time he was 3. My daughter went through a stage where she wouldn't go anywhere without her Yo Yo. We are also a family who love a good traditional board game. I am so glad I decided to visit this museum in Seia. It might be small and compact but it is packed full of nostalgia and historical fascination.