A DAY TRIP TO AGITÁGUEDA
We should have been collecting my daughter from Porto airport on the 5th July for her 2 week stay but No passport = No Mother & Daughter family time. I am obviously gutted beyond belief and I can tell you that I have personally gone through every emotion possible: Frustration, Anger, Disbelief, Confusion, Sadness and Guilt. The passport office has now had her simple passport renewal for over 10 weeks and she missed her flight and holiday in Portugal. It's a daily ongoing drama and I have phoned the Passport office over 100 times and it's absolutely impossible to get an answer or check the progress of her application. We are desperately trying to escalate the application but can't get through to this department and my last attempt yesterday resulted in me being put on hold for 1 hr 48 mins so I gave up and hit the lounge bar to drown my sorrows. I'm not going to lie, yesterday I kind of lost my shit whilst on the 3 way call with my daughter and the passport office. Relocating to Portugal has helped reduce my stress levels but this ordeal is hellish and I am at my wits' end. Maybe I should fly to Newport and handcuff myself to a radiator and demand action (ha ha). Can you feel my frustration! In the end there was nothing I could do about the situation so I decided to make the most of hubby's day off work. I planned an awesome day trip to beautiful Águeda. The AgitÁgueda Art Festival runs from 2-23rd July 2022. If you love urban art, umbrella sky project, animation, dance, theatre, interactive workshops, street performers, live music/concerts, D.J's, local artisan handicrafts, open air restaurants and taverns for fantastic food options, then this is the place for you. This will be our 2nd trip to Águeda as we visited at Christmas to view the urban art and the worlds biggest Santa. I fell in love with all the sparkly umbrellas suspended from the sky and the magical atmosphere so hubby promised to bring me back in 2022 so I could attend the festival and view the pretty colourful summer umbrella displays.
Baloiço (Scenic Swings)
We made a pit stop en route in Anadia to visit 2 scenic swings: Baloiço Maria Gomes & Baloiço Pista XCO. I adored the wine barrel swing with the cute red and white windmill and view over the vineyards because I love wine and hubby enjoyed the bike swing because he's a cycle nerd, I mean enthusiast (ha ha). I can't believe that we had both swings all to ourselves! I really wanted to wear a long flowing elegant summer frock and sandals as this swing is very photogenic but I knew it was going to be hot and that I'd be walking miles and that I would get dirty climbing on swings so I needed something old, cheap and practical, a bit like me (ha ha). An outfit that I could climb in as the windmill window looked like a challenge and I wasn't wrong (ha ha). So a cheap old dress and my €1 flip flops was the outfit of the day then I changed into my trusty comfy trainers for walking around Águeda.
Baloiço Pista XCO
This swing is located in Tamengos, Anadia and was installed by the Portuguese Cycling Federation. The swing was built from recycled wood and adorned with a mountain bike. The location of the swing could not be better, at the top of the slope, from where you can enjoy a beautiful landscape of the country. There is an Olympic Cross Country track in Tamengos and it works as an extension of the CAR/Velodromo Nacional de Anadia, located in Sangalhos. It has all the conditions to host major international competitions, as well as stages for different teams and national teams.
The Olympic track, 4 km long, was built in accordance with the regulations of the UCI – Union Cycliste Internationale – and other regulations of the Portuguese Cycling Federation. The XCO is a branch of cycling that is growing at an international level, especially since it obtained the status of Olympic sport. The track is of great national interest, promoting the development of the high performance of the Olympic speciality of BTT and the promotion of XCO in Portugal. (Information sourced from the Municipality of Anadia). I really needed a pee pee at this swing but I could see 2 cyclists in the distance at the start of the track and I didn't want to flash my lady bits at them. On the short walk back down I found 2 porta loos which somehow I missed on the walk up. I was dreading to use it so I sent hubby in to check out the hygiene situation and they were immaculate! Both had toilet paper and were so clean and fresh.
Flower Confetti
Hubby parked right underneath this beautiful flowering plant and as I got back into car I tripped in my flip flops and dramatically fell into it and transported half of the bush back into the car with me, I was saturated in pink blossom and so is the car. If this is your bush and you have returned home wondering where it's gone, I'm sincerely sorry, accidents happen in flip flops. Hubby now calls them trip flops (ha ha).
Baloiço Maria Gomes
This breathtaking scenic swing is located in São Lourenço do Bairro, Anadia and was created by two friends, Patrícia Oliveira and Margarete Varandas. It is dedicated to wine and champagne traditions and pays tribute to the history and heritage of one of the most distinguished wine regions in Portugal. There are fantastic natural landscape views over the Buçaco and Caramulo Mountains and the vineyards of the Bairrada wine region, famous for its exceptional sparkling wines.
Fernão Pires is a white Portuguese wine grape grown throughout Portugal, especially in the Tejo and Bairrada, where it is also known as "Maria Gomes". Hence the swing's name and why it's a wine barrel. Gosh I love learning new facts about Portugal at my ripe old age. Obviously I can't get the name of the swing right so I call it Selena Gomez (ha ha). We had so much fun at this amazing swing, it is stunningly beautiful like hubby (ha ha). We did a cheesy couple photo shoot together then a funny one but our selfie stick/tripod malfunctioned and we didn't get any of the photos which made me sad as I stubbed my toe on the barrel in the process for nothing (ha ha). The tripod worked at the Bike Swing so I think it might be the battery. You will just have to cope with our photos of each other and a few up close and personal selfies. I never know how to pose on swings so I try out multiple positions, some work better than others (ha ha).
It was a struggle climbing up to the windmill window and hubby had to give me a "bunk up" which nearly made me wet myself laughing. I kept making jokes about us acting like a couple of 10 year old boys exploring places that we weren't allowed to go on our BMX's, back in the 80's when we grew up. I pretended to be Adrian's best friend Brian and kept saying "Hello Mrs Allen, Can Adrian come out to play? Great, come on Adrian, give me a bunk up so I can peer through the window to see the naked ladies". I'm not sure if this actually sounds funny when written but it was hilarious at the time because I did the accent and everything (ha ha). Getting down was even more tricky, I jumped and hubby caught me but somehow my arms got left behind, it was very nearly a disaster (ha ha). As well as nearly ripping both my arms off I stubbed my big toe on the wine barrel because I was barefoot for a while as I lost my flip flops climbing up to the window (ha ha). It was super hot and we couldn't see what we were taking photos of so although I don't think we should become photographers any time soon, they ain't half shabby! We took a lot of photos to share as this place is unique, very special and romantic.
Swing Selfies
Love Prisoner by Millo
Our first stop in Águeda was to view the wonderful piece "Love Prisoner" by the famous artist Millo. We didn't get to see this on our last visit as it got too dark as it's about a 5 min car journey from the centre and all the other attractions. It is situated right near a main road so it is very difficult to photograph especially with passing cars and the bright sunlight. I took the opportunity to cross over the busy road to capture the magnificent masterpiece at all different angles, much to hubby's delight (ha ha). I loved it but I didn't love the stinky ass overflowing bins located right below. We then drove on to Águeda and parked in the free car park close to where the music stadium, the Municipal market and skateboard park is located.
Umbrella Sky Project
The Umbrella Sky Project was born in the year of 2012 and is celebrating its 10 year anniversary this year. It runs from 1st July until 30th of September and is a collaboration between the municipality of Águeda and a local company "Impactplan". Their motto is "Colouring life, bringing colour to grey spaces and making people smile". It is composed of several colourful art installations spread all around the city. The most picturesque area of this project is the sky of umbrellas that seem to float from the sky, bringing colour and protection whilst transporting us into a fantasy world.
Colour & Creativity – AgitÁgueda (2nd – 24th July 2022)
Urban Street Art Map:
https://www.agitagueda.com/wp-content/uploads/2022/06/Roteiro-Mapa-2022-PT-3.pdf
AgitÁgueda runs for 3 weeks during July and the whole city is transformed into an awesome fun festival and open art gallery. The activities are related to culture, art, music and sport and is composed of several colourful artistic installations scattered around the city. One of the main attractions is the Urban Street Art trail which is fabulous. We printed off the official 2022 AgitÁgueda map and took a self guided walking tour of all the impressive sights. We didn't bother viewing the art that we previously viewed last December but if you interested in my previous visit and viewing the giant Santa you can find my post here: https://casavalhal.com/a-pre-christmas-trip-to-agueda-umbrella-sky-project/
There are several fun parades and events to attend such as a silent party, sunset with living statues, body painting, circus skills and a mad parade linked to the mad Max futuristic theme not just a parade for mad people like me (ha ha). If like me, you fancy attending the Carnaval Fora D'Horas (Out of Hours) and Colour Day it is on 17th July. There are no T.Shirts left so make sure to wear your own white shirt if you want to get saturated in colour. Make sure to check out the official Website programme so you can plan your day or alternatively visit the Tourist Information Centre and they will give you a programme and map. The man in the office was super friendly and spoke good English. The lady only spoke Portuguese which puzzled me senseless. It is a Tourist Information Office and I know they will get tourist visitors from Portugal but there are many tourists from all over the world that will highly likely only speak English so I just thought it was a bit odd for someone to work there and not speak English.
I LOVED the Umbrella Sky Project, Magic Carpet and Colour Rain all by Impactplan. An array of beautiful bright summer colours against the bright Portuguese blue sky. The sea of umbrellas form a unique geometric pattern overhead and crazy shadow patterns on the ground below. I was mesmerised by the Magic Carpet which projects beautiful colours onto the floor when the sun shines through. Depending on what time of the day you pass through the kaleidoscope of colours can be on the floor, hence why it's called a magic carpet or on the buildings, a really unique sight. I also found Rainbow Street with the vibrant hanging springs incredible as well as the 2 staircases: "Mona Lisa" and "Statue of Liberty". I obviously had to try and recreate the Statue of Liberty pose (ha ha). Everything was spectacular and it's such a photogenic place with the picturesque painted benches, lamp posts, bicycles with flowers and giant umbrellas. It was great to view all the artwork that we missed on our previous visit. On our last visit it was Christmas time so it got dark earlier and we couldn't get to see everything. I marked off the map all the artwork that we had already viewed and we walked around the city viewing the few pieces that we previously missed. If you want to see more urban street art then please read my other Águeda post as I didn't bother taking photos of all the art again. I adored the Lighted Wild Cat and The Salamander by one of my favourite Portuguese artists Bordalo II. If you love Bordalo as much as I do make sure you take a stroll by the riverside to view Pisco (The Robin).
We ate our favourite gigantic Cachorro (hot dogs) for lunch at a street cafe underneath the Colourful Rain canopy. It is so huge you need a knife and fork to eat it! I have a thing for big Portuguese sausages (ha ha). It was way too hot to eat cake so I didn't sample any regional cake but we had a refreshing ice cream in a cafe whilst watching the world go by then relaxed in my favourite park. We climbed the little tower in the park because we didn't get to do this last time as there was a couple at the top and they weren't moving even though I hinted heavily (ha ha). Hubby also challenged me to cross the high ropes and it probably wasn't the best idea to attempt this in a dress but a challenge is a challenge. Game on, I lost! I found a perfect shady area by the lake and spotted many leaping frogs. It was way too hot to dance in the bandstand so apologies, no dancing spinning photos of me today (ha ha).
After the temperature had cooled down a little we wandered down to the music stadium and ate churros whilst listening to the band warm up for their evening gig. Be sure to check out the music gig program online as they have some talented performers to cater for all different music lovers. The stadium has hundreds of brightly coloured umbrellas too which are so pretty and there are gorgeous bars selling alcohol. I was tempted with a cocktail! After our rather large hot dog, I wasn't that hungry so I didn't fancy a huge filled fartura so suggested churros instead which are usually a lot smaller. If I'm being totally honest, the churros were not great. I've never had a bad fartura or churro but these were cold, greasy and had no chocolate dip. They tasted a bit stale. We paid for 6 but were given 8 so either she couldn't count or she knew they had been pre cooked and sat for a while and they were going in the bin anyway which is where they actually belong. I managed to force down 3 and hubby ate the rest. Tony's Churros SUCK. Next time I will sample the delights from Nuno. I don't know who Tony is but I have one word for Tony: "DISAPPOINTING". There are plenty of other street food options, pop up stalls and restaurants so you are spoiled for choice when it comes to food and drink. One thing I love about Portugal tourist attractions is the fact that they don't rip you off. We purchased bottles of water for 50 cents! It was so hot and I didn't want the hassle of carrying around my heavy reusable water bottle so we decided to just buy water when we needed it and fill up from water fountains if we found one. If this was an event in the U.K e.g. Bristol Balloon Fiesta, bottled water would have cost at least £2-3 a bottle. It's so refreshing to live in a country that doesn't rip tourists off. There were lots of souvenirs to purchase and I was very nearly tempted to buy the little umbrella that attaches to your head for sun shade and is secured via a head band and a velcro strap under your chin but I didn't want to look like a total tourist idiot. It was a bargain at €2.50 and would have kept the sun rays off my face so I think I missed an opportunity (ha ha). I expected Águeda to be packed full of tourists but it was very empty and tranquil. I think visiting on a weekday (Tuesday) helped. I just picked the day where the temperature was predicted the coolest as I knew we would be walking around a lot.
Colour Me Happy – Photo Gallery
Here is my awesome photo gallery. Yes, I take a lot of photos, No, I don't think I take too many. Photos are snippets of perfect summer soulmate days and when I'm feeling low I can look over my photos and instantly be transported back in time to that exact treasured moment. Not everything in life is a photo opportunity but if taking photos makes you happy then do it, there are a lot of worse things you could be doing with your life as opposed to capturing epic times with your treasured family. I remembered to ask 2 different strangers to take our photo so we have a couple of photos together that aren't up close and personal selfies. We did wander back over certain places so visited some areas more than once. I will share my photo gallery in the order of our day so you can see our time frame of awesomeness. I hope you enjoy viewing these photos as much as we both enjoyed our festival of fun. I have made the photos large because this place is ALL THINGS BRIGHT AND BEAUTIFUL! I try my best to live a happy and colourful life and Águeda made my heart smile BIG!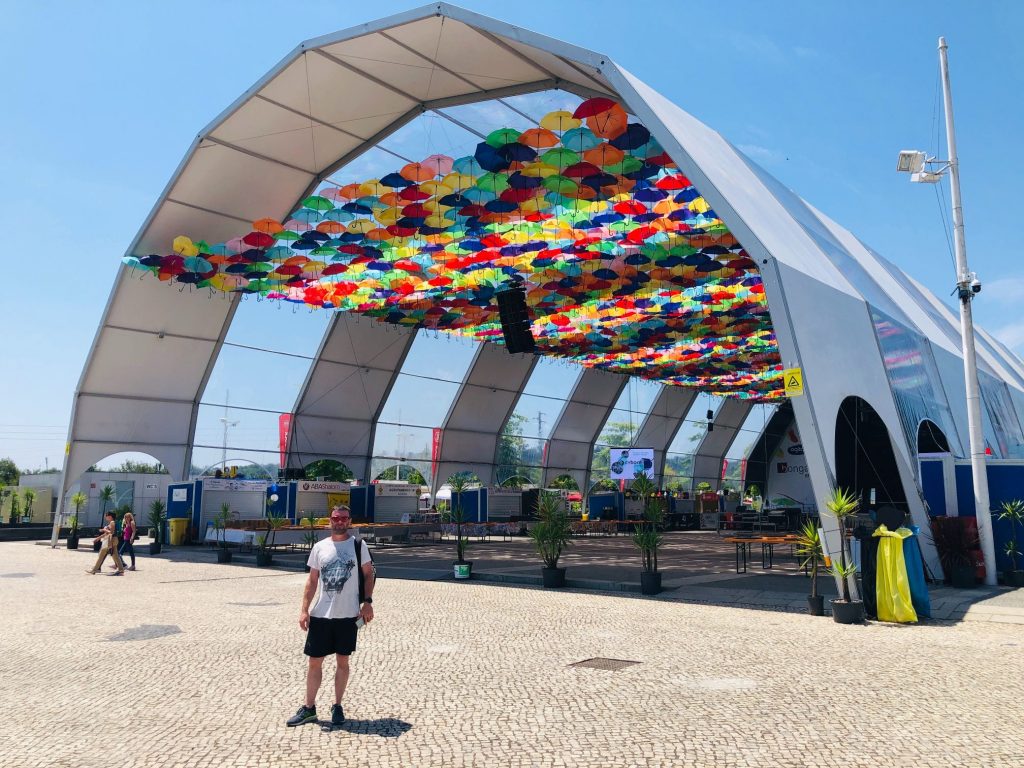 Umbrella Selfie Time
They are not great but we captured the moment and had fun on the flamboyant famous street. Obviously I somehow got Rhianna's song "Umbrella" stuck in my head and sung it on a loop. "Under my umbrella, ella, ella, eh, eh, eh". My rendition did not feat. hubby as Jay-Z as he is more into rock music than rap (ha ha). My OCD and anxiety made me want to climb up and fix the umbrella's that had moved out of place as I found it mildly unsettling (ha ha).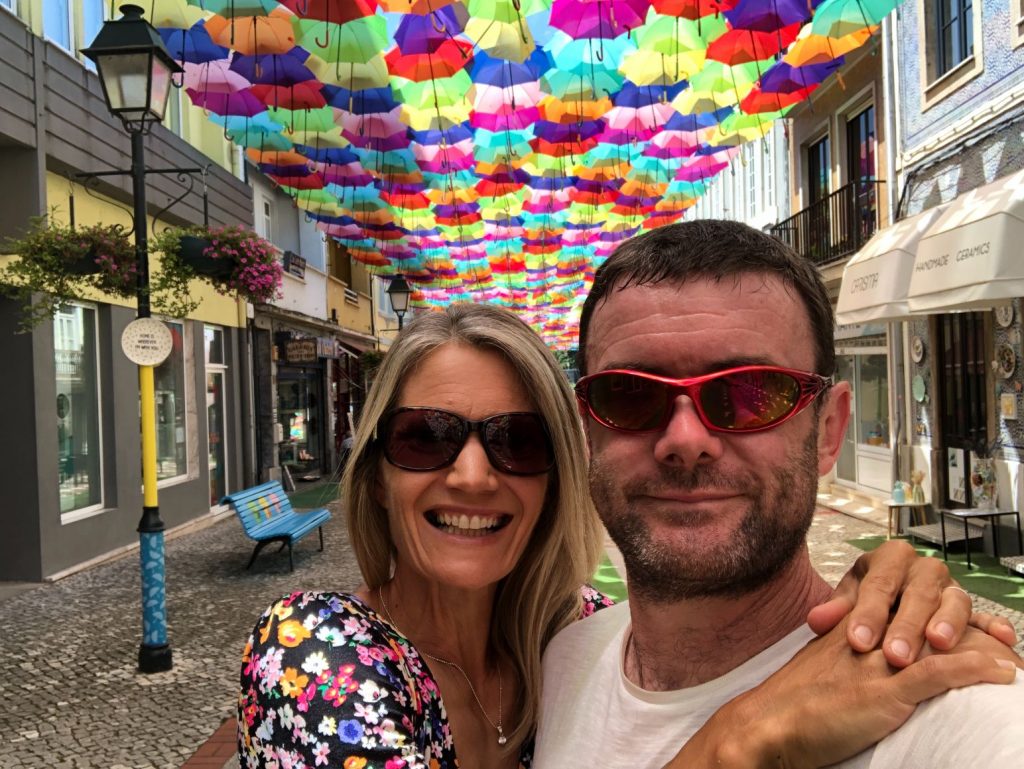 Overview
We both LOVED our epic walking tour of Águeda and viewing the spectacular art installations and wandering around the streets all colours of the rainbow. Everywhere you turn there is an explosion of colour and the umbrellas that float from the sky are just magical. In all honesty we probably walked way too far and long in the soaring heat but we love to explore and I have to see everything on the map. I really enjoy viewing art and have immense gratitude for the artist and their special talent. I understand that art can be very subjective and not every piece will be everyone's cup of tea but I really enjoy exploring the name of the installation and the story behind it. Art intrigues me and makes my mind wander. Art makes me feel happy and joyful but sometimes confused (ha ha). I especially enjoy street art and murals which add a vibrant splash of colour to a plain grey wall. It can cheer you up on your daily commute to work. Street Art stands for freedom, creativity and I love how it pushes boundaries. It also unites communities, promotes expression and diversity.
I am from Bristol, U.K, hometown of the famous Banksy so I got into urban street art as a young adult exploring the area where I was born. I find it fascinating how art can evoke emotions and mystery, it makes me want to ask questions and often artists use the power of art to portray their feelings and make their voice heard on important real life issues affecting the world today. I also love that anything can be art. I tried telling hubby that when I dropped a container of cocktail sticks in the kitchen after one too many Margaritas. They fell onto the floor into a unique pattern which resembled a bird. I saw a majestic bird, he just saw one hot mess on the floor to pick up. I felt guilty and tried to help him but lost my balance and fell on the floor. This is why I rarely drink alcohol (ha ha).
Águeda certainly is a colourful city that gives more colour to the life of those who pass by! In my opinion it offers much more than just the festival as its beautiful landscapes are breathtaking and there are many hiking routes to enjoy. We have previously visited the wonderful Pateira de Fermentelos (Lagoon) which is an idyllic spot with a scenic swing, lagoon bar and is a bird watchers haven. It's also a great spot for paddle boarding. What another gorgeous sunny day with my soulmate. I only wish I could have shared the fun with Teanna, maybe next year. If you hear on the news that some middle aged crazy lady has scaled the walls of Newport passport office and has got arrested for handcuffing themselves to a radiator it's just little old me. I'm not brave enough to do a dirty protest and my IBS won't let me poop on demand (ha ha).
I don't want to leave you with a sentence about poo so here is a lovely quote and my 3 favourite colourful sky photos of the day:
Colour is a power which directly influences the soul.