MARVELLOUS MILO – TRANSPORTING A RABBIT FROM UK TO PORTUGAL
All about Milo
I am a dog lover but I am not keen on cats unless they are the lucky cat variety (waving good fortune) cats. We are also a crazy bunny loving family. Milo is my daughters bunny rabbit and the plan has always been for us to take care of Milo whilst my daughter goes off to university as she can't keep him in the student accommodation. He is just over 3 years old now and a house bunny so he has free reign of the house and is housed in a large cage overnight for safety. We previously had a lovely bunny named Stuart who we adopted at age 1 but he died and after a couple of years of time grieving we decided to get a new bundle of fluff to entertain our lives. Milo is a mini lop eared rabbit, grey in colour and is our baby. When we relocated to Portugal Milo and Teanna (daughter) moved in with her dad in Bristol. This was supposed to be for 6 months, then after her A level exams she was supposed to come visit us for the whole summer and bring Milo. Covid-19 put a hold on our plans and I have been trying to find a pet transport company who will deliver Milo safely to us here in Portugal.
Sourcing a pet travel company (that will take rabbits)
Finding a pet transport company has proved very difficult as most pet companies only take dogs and cats. Many ferries also will not accept a rabbit so options are to fly him out or by land (van). The airlines that I know of who take rabbits are British Airways and Tap Air. Tap Air are the most cost effective and only charge €100 on top of your flight but they don't fly from Bristol so this would mean a long car journey to a London airport. The main concern for me was the fact that they don't accept rabbits in the cabin, they have to go in the hold. I don't think this is fair as airlines accept small dogs and cats on the plane (cabin) in a carrier that will slot under the seat or go on your lap. I think this is bunny discrimination. After all a bunny just sits in their pet carrier and doesn't even make a noise. I will never understand this. Rabbits are not a popular pet here in Portugal and Portuguese people generally eat rabbit. I have seen excessive amounts of rabbits stuffed into a small cage at local markets and I wanted to save them all and buy them but hubby wouldn't let me. I don't think Milo would have survived the journey in the hold of a plane and I did not want to risk it. He gets really nervous whenever he goes in his pet carrier as he thinks he is going to the vet and sometimes he doesn't eat for a day when he returns home so he is quite a nervous little bunny boy which is why I would not want to put him in the hold of a plane.
Through a Facebook Portugal group I managed to locate a fantastic company called 'Purrfect Pet Transport'. They transport rabbits door to door service to reduce stress and only charge £150. They also have a shelter, help rehouse stray dogs and find them a forever loving home. They transport the animals by road (van). A previous company I contacted (PetAir UK) quoted me £968.43 for silver service and £1273.43 for gold!!!!! This was to fly with British Airways and London – Porto. I did source an alternative company who would transport him by land (van) but the nearest place they can drop off is close to Lisbon which is a really long car journey for us to collect Milo.
I highly recommend this Pet Transport Service: www.purrfectpettransport.com
Paperwork & process
https://www.gov.uk/export-health-certificates/export-pet-rabbits-to-portugal-certificate-4194
Finding out what paperwork a rabbit needs to travel from the U.K to Portugal has been challenging. Most pet travel companies say they need nothing only a fit to travel letter from the vet a few days before departure date. Portugal websites say the same that they don't require any pet passport or special paperwork. Gov.UK say different, they confirm that exporting a pet rabbit from the U.K to Portugal requires an EHC Export Health Certificate. It took me all day to try and establish if this is what I required as I am not purchasing him but just transporting our pet rabbit. Animal and Plant Health Agency (APHA) confirmed that Milo needed the EHC. Rabbits DO NOT require a pet passport. The paperwork was difficult for me to understand but long story short the process is as follows:
Download and complete the application form for EHC and email it to your vets with a covering email explaining where you are relocating to and book an appointment for your pet to have a check-up. The vet must be an OV Vet who holds the OCQ CA and APHA can email you a list of Vets near you.
Submit by email the completed EHC4194 V3 application form to APHA at: [email protected] along with form EXA01 and any supplementary forms. Check you have the correct version, mine was version 3.
If you want the cert to be sent by special delivery you need to follow instructions in email from APHA and pay for this.
You may need a different cert for each country of transit en-route to your destination e.g. France and Spain. It's the same cert but translated into each countries language that you pass through.
APHA will forward the actual EHC cert directly to your vets (usually around 7 days before departure travel transportation date).
You need to book an appointment for your rabbit to see the vet within 48 hours before departure date. All vaccinations need to be up to date but rabbits do NOT need a microchip, rabies shot or a pet passport.
Vet will date and stamp the cert and the cert is valid for 10 days and needs to travel with the rabbit. There will be a fee for this. The stamp needs to be in any colour but NOT black ink.
I am still really unsure if I needed this cert but I didn't want Milo rejected at Calais. Also I asked APHA and Milo's vet in Bristol and they both confirmed that this is what was required. I am really glad we managed to transport Milo before the end of the year as I have read that after Brexit transition date pets may require a whole lot more documentation e.g. blood tests etc.
The vet advised me to treat Milo with Rearguard and Advantage flea treatment just as a precaution. I ordered this online and had it delivered directly to my daughter's address in Bristol and she administered it. Although Milo is an indoor house bunny, diseases can be transported from open windows and flies entering the house.
Milo had his check up appointment the day before he set off to travel. Everything was fine and they stamped the certificate. My daughter was charged £60 which I thought was a little steep in price for a quick check up and a stamp and date on one certificate. It's a good job we love our pets isn't it as they end up costing us a small fortune!
Departure and journey
Milo left the UK on Tuesday 4th August (afternoon) and arrived with us on Friday 7th August (morning).
The journey was by land through France and Spain.
The staff (Jan and Mark) who transported Milo were super friendly and helped my daughter settle him into the cage. His pet carrier was placed into the large cage on the van so he has plenty of room but a smaller area to feel safe and not slide around all over the place. He had water, plenty of food (nuggets), hay, veg and his own toilet tray.
Here are a trio of photos of Milo on-route with Purrfect Pets Transport. They are fantastic and take photos during the journey and upload to their Facebook page so we can see how our little furry friends are getting on. He looks a little sad in the first photo but that is to be expected. It's a traumatic journey for a nervous bunny but he was looked after and treated like a king bunny. He also made friends with a ginger and white guinea pig named Vanilla who is so adorable. They also have climate controlled van and a GPS live tracker so you can follow your pets journey if you wish.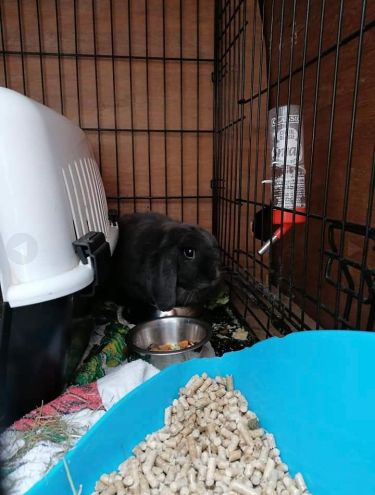 Sourcing bunny equipment/supplies
Sourcing bunny equipment here in Portugal is a nightmare. I located a couple of pet stores in Coimbra but neither of them sale rabbit stuff. I eventually found a pet store called Ornimundo at Mondego retail park near Coimbra. It sells rabbit cages and accessories as well as actual bunny rabbits. The biggest cage they have was 100cm in length and cost €60. Milo is used to a large cage 119cm in length and although he is a mini lop, rabbits do require space so it's best to buy the biggest cage you can afford. I looked online at Amazon and directly with Ferflast but it appears that the best deal on a cage was to buy from the same company that I bought his cage from in the U.K: Zooplus. The cage I purchased in the U.K (Skyline Maxi XXL) was only £36.99 and has lasted 3 years until now and is perfect condition. Unfortunately the pet travel company do not have space to bring his current cage so I decided to re-buy the same cage. It cost €49.99 with free delivery to Portugal and I managed to buy the cage and all his accessories e.g. food bowl, water bottle, corner toilet tray etc. for €60 with free postage. I also think Milo will appreciate having some form of normality and consistency of the same cage that he is familiar with. The accessories were delivered by GLS who are usually quite a poor delivery company. We have often had items returned to U.K as by this courier but this time everything was good. They phoned hubby to see if he could meet them in a nearby village but he couldn't due to work commitments so they delivered parcel to a nearby petrol station for us to collect later. The cage was delivered separately by DPD.
I have also found that it is difficult to source Milo's food: nuggets so I had to buy a muesli type instead. I hope he likes it as when I bought this in U.K he wouldn't eat it. Let's hope he doesn't go on hunger strike or even worse a dirty protest as my walls are all white! (ha ha). The toilet litter stuff (wooden pellets with dust extracted) is really expensive here and so is the food. In the U.K the litter stuff was £3-£4 for a huge bag and the food was £4-£5 but here it's €10.99 for each and much smaller bags. Due to flies, I will need to change the litter tray more frequently so this is quite a pain. A lot of the cat litter stuff here is not the wood pellets but looks like sand/grit and I can't risk Milo eating it. I managed to source compressed wood stove pellets from Leeroy Merlin and I got a huge bag for a very cheap price which is fantastic. It's important to avoid clay (clumping) based litter as this can cause blockages in bunny's digestive tract as they are nibblers.
Zoo Plus:
Settling in
I think the long journey was un settling for Milo but he was a brave bunny soldier. I was actually really concerned he might die on the journey and I had to tell my daughter that this was a possibility which obviously upset her a lot. Luckily for us Purrfect Pets Transport did a fantastic job in looking after him and he arrived safe and sound. I made his cage up and let him settle into his cage and after a hop around the office he jumped straight into his cage. I sat beside him and just talked to him whilst stroking him and explained the Portugal rules: No eating my rugs or sofa throw but he can chew the old sofa to his hearts content (ha ha). We decided to put his cage in hubby's office as it is really cool downstairs and hubby works long hours Monday-Friday so Milo can hop around the office all day long to his hearts content. There is a lovely cool spot under hubby's desk for his cage so it's a little hideaway. I just need to replace the new rug with a more basic, less fluffy rug as the current rug is fluffy and he may chew it and get ill. He needs a rug as his feet can get a bit sore on hard tiled floors.
If he was in the lounge I wouldn't be able to leave the patio door open as he could go outside and bungee bunny jump off of the balcony. I also am outdoors a lot working in the garden so he would be stuck in his cage with no one to monitor him. So Milo is now hubby's new office pet. Some offices have a pet dog but we have a bunny! Milo seems to have settled in well and is enjoying his Portuguese life. He will also be reunited with his mummy Teanna soon when she arrives for her visit. Milo is already munching away on cabbage leaves from the garden, bless him. I also now have someone to give my vegetable peelings to as I currently compost them. Milo can also eat my banana anus – the end of a banana which I sometimes don't eat (I know I'm weird!). Milo loves the occasional banana anus! He has also already hopped onto the bottom shelf of corner unit and he is so curious about the two doors and where they lead to. I also must remember to move my flip flops off of the floor as he's got a bit of a fetish for rubber (Milo NOT hubby – naughty bunny boy!).
I missed Milo so much. I was worried he might have forgotten me but I don't think he has. We have a special bond and a little thing where I put my hand just resting on his head and say booja and he raises his head and touches my hand, bless him, he won't do it for anyone else, just me. Theres nothing like the love of a pet. Milo although very small in size makes up for this with his feisty personality. He doesn't take no for answer so you have to give him what he wants or he will pester you into submission. We are very keen to adopt a dog from a shelter here but we need Milo to settle in first and make sure Milo would get along with a dog. We are also getting chickens/hens in the autumn or when ever we finish the coop. We are now debating if we should wait until hubby retires to adopt a shelter dog. This will probably be the best way forward.
Next chore is to find a local English speaking vet, source pet insurance and cancel U.K pet insurance, wish me luck! A lot of people have recommended a good English speaking, affordable vets in Tábua which I think I will register Milo with. I need to find out what insurance companies they accept as apparently here in Portugal some vets will only deal with one insurer. Also having a rabbit as a pet here in Portugal is quite a new thing so some vets are not experienced in handling rabbits. I have emailed them and am awaiting a reply. I might have to just pop in and ask as no one replies to emails here. Right I'm off to roll around on the floor with Milo, bye X
Bristolian Milo photos: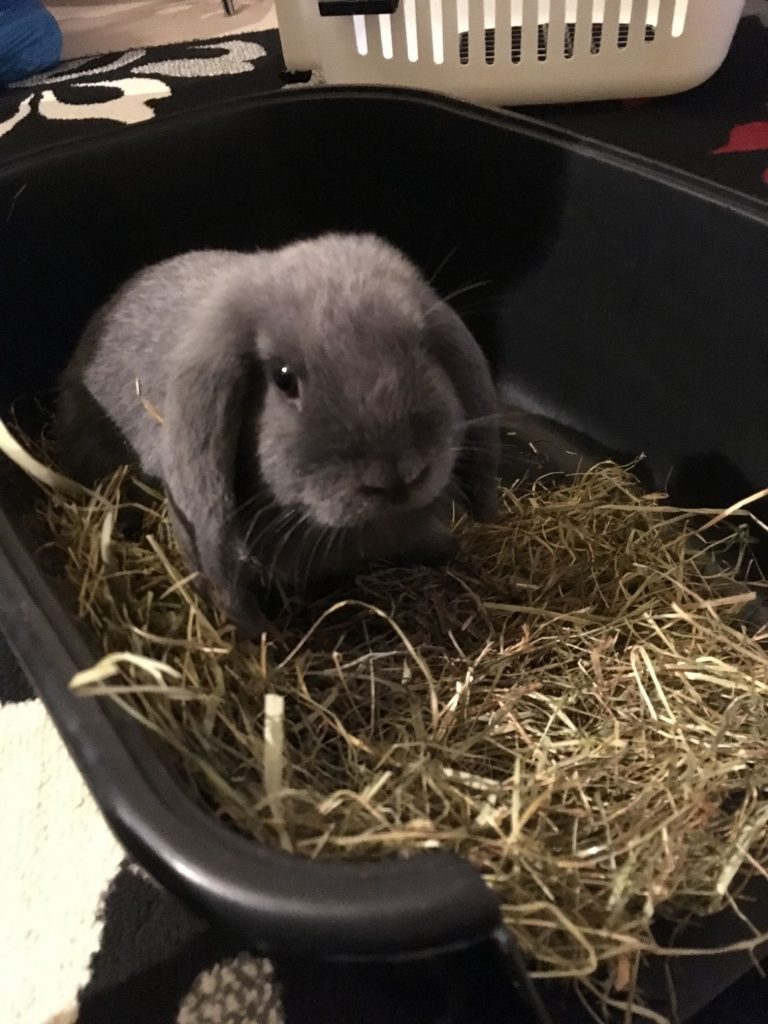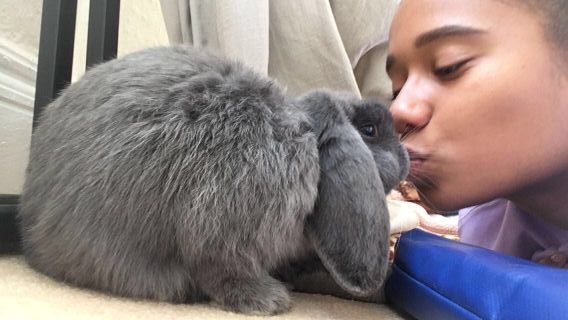 Portuguese Milo photos:
Milo is a bit scruffy and moulting like crazy but I'm going to let him settle in for a couple of days before I start pestering him with grooming his fur.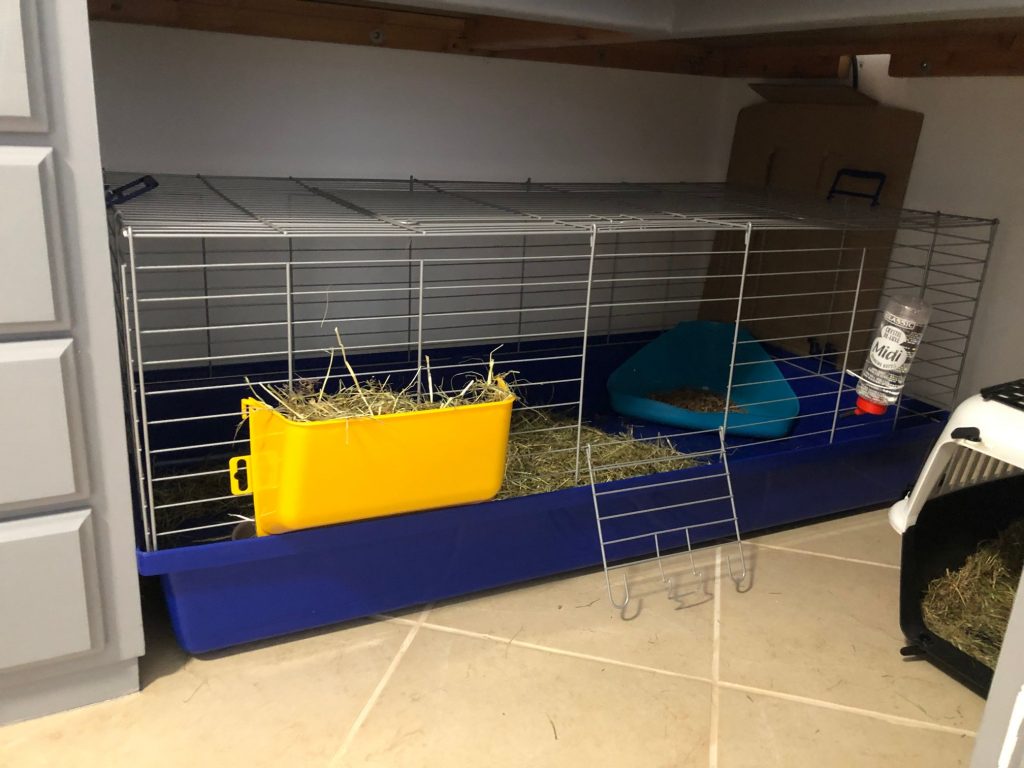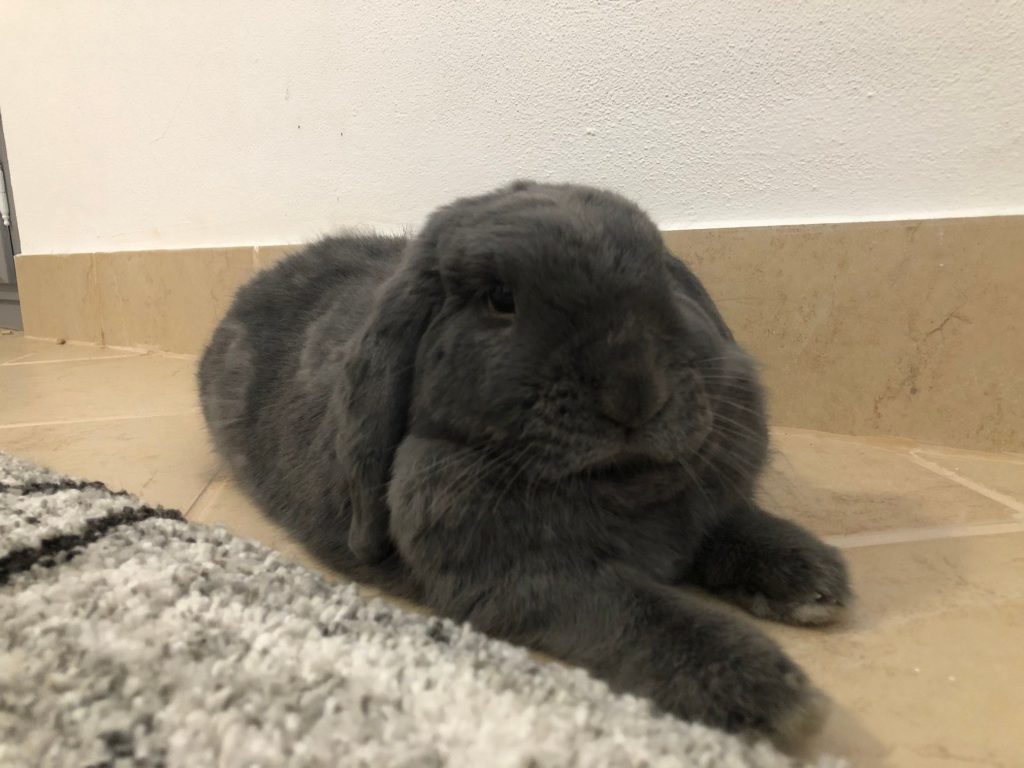 Christmas day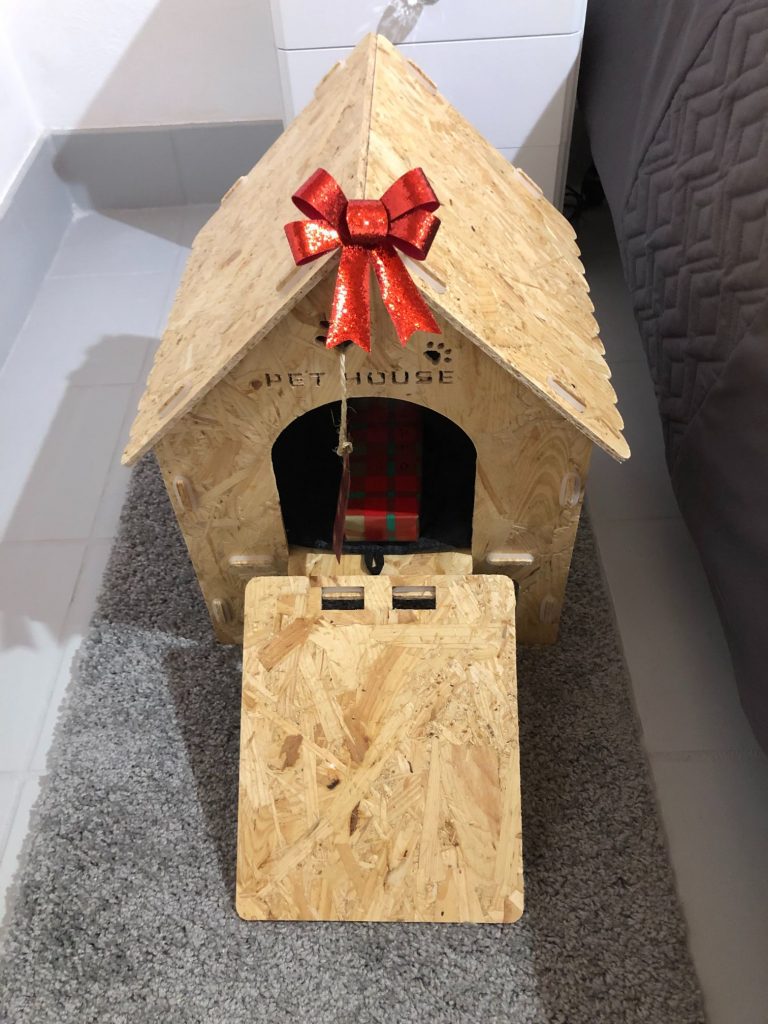 Snack time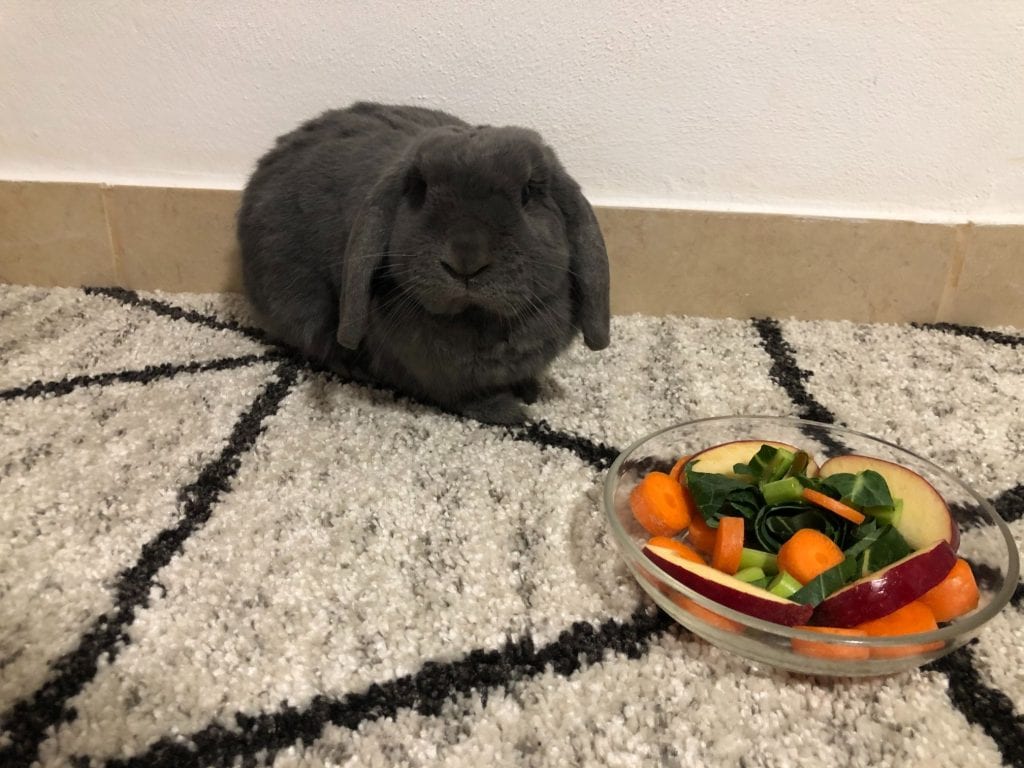 Milo enjoying a Portuguese cabbage leaf on Valentine's day 2021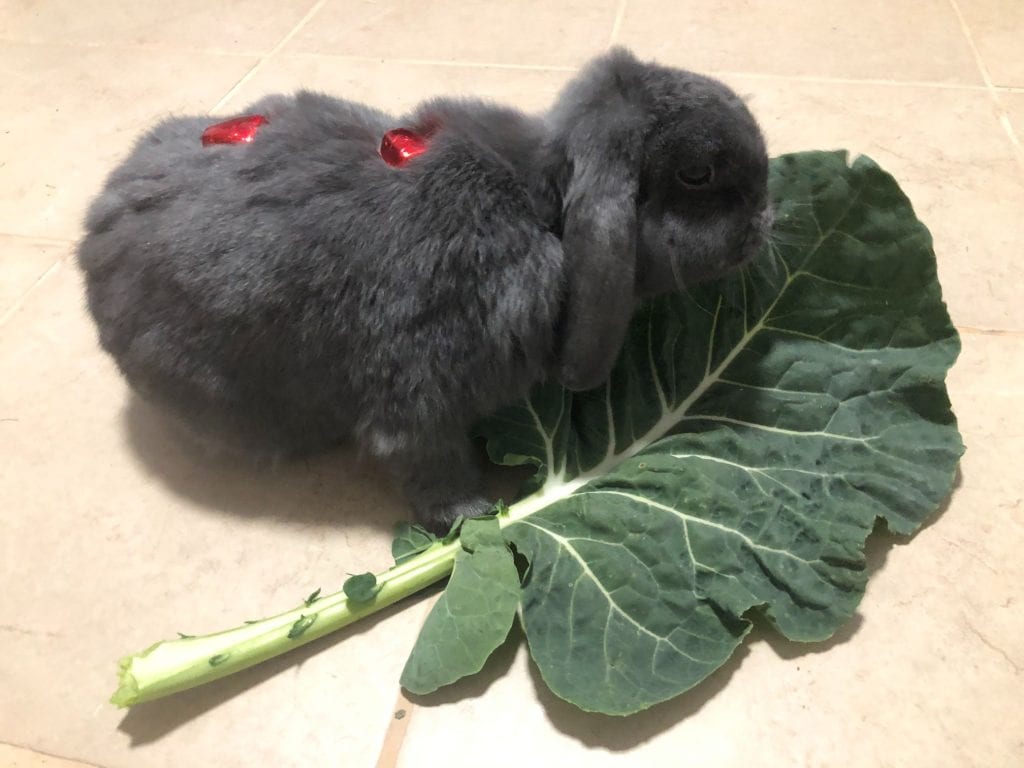 Fun 'egg'citing times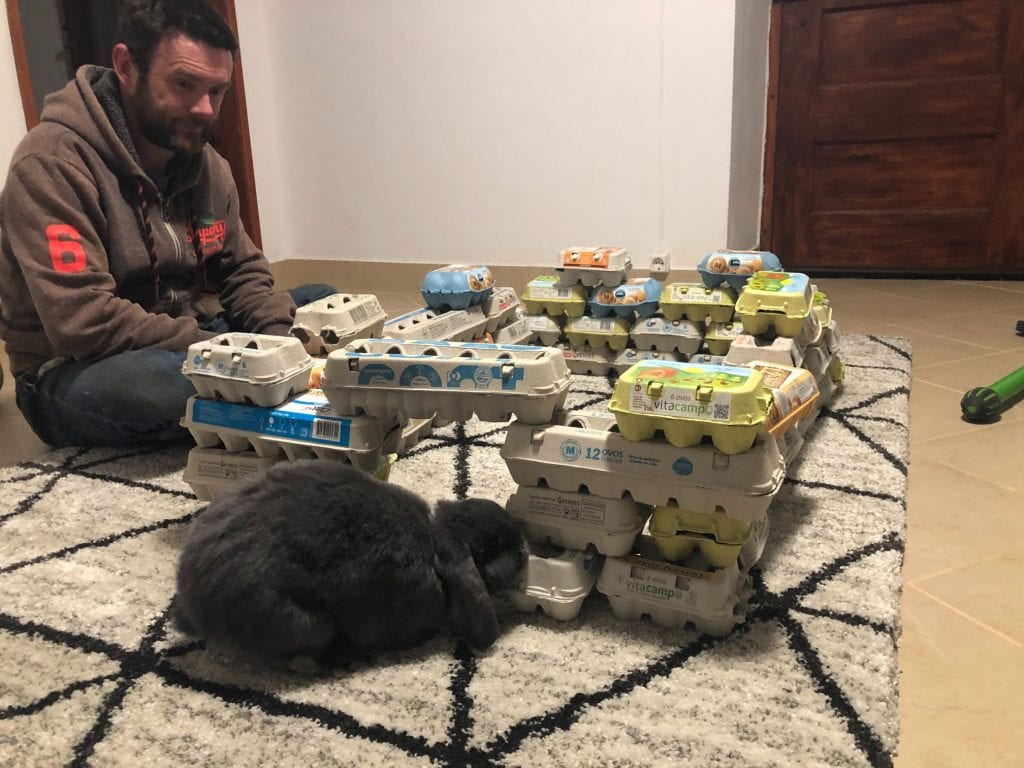 Milo update April 2021
Milo is still loving life in Portugal. I sometimes bring him upstairs for cuddles on our bed especially when I am feeling poorly with my chronic pain, he is my therapy bunny and instantly makes me feel happy. He even has his own Netflix account, a kids account of course as he is only 3 years old! He doesn't want to chose a film as he is still traumatised from watching Watership Down (ha ha).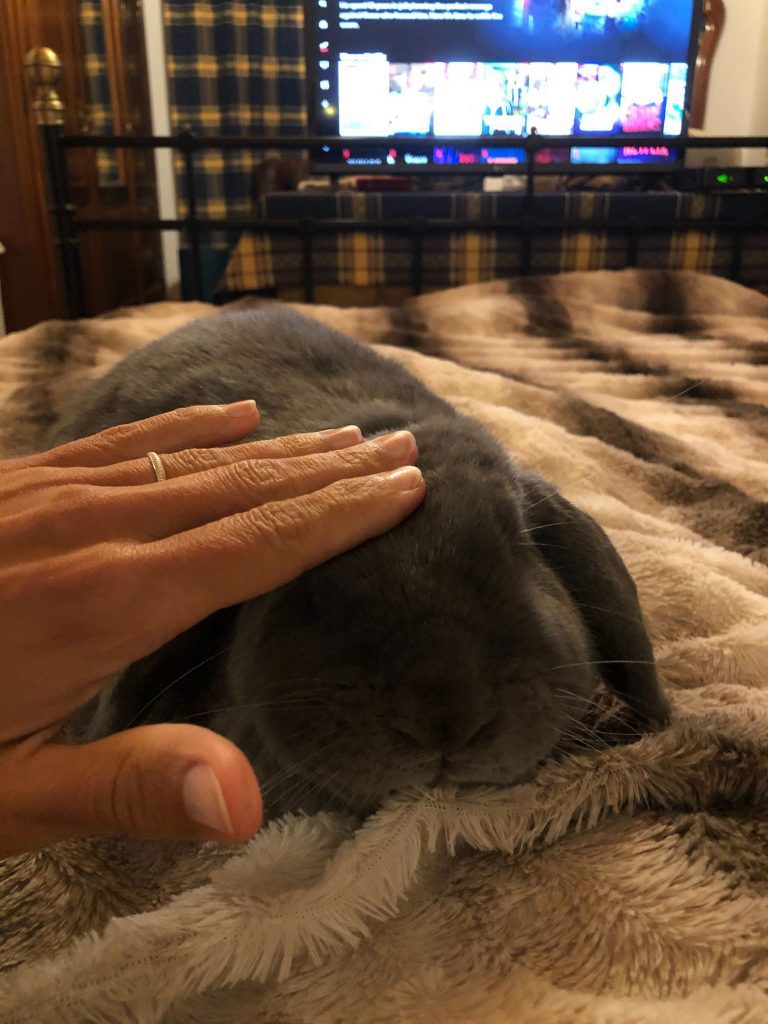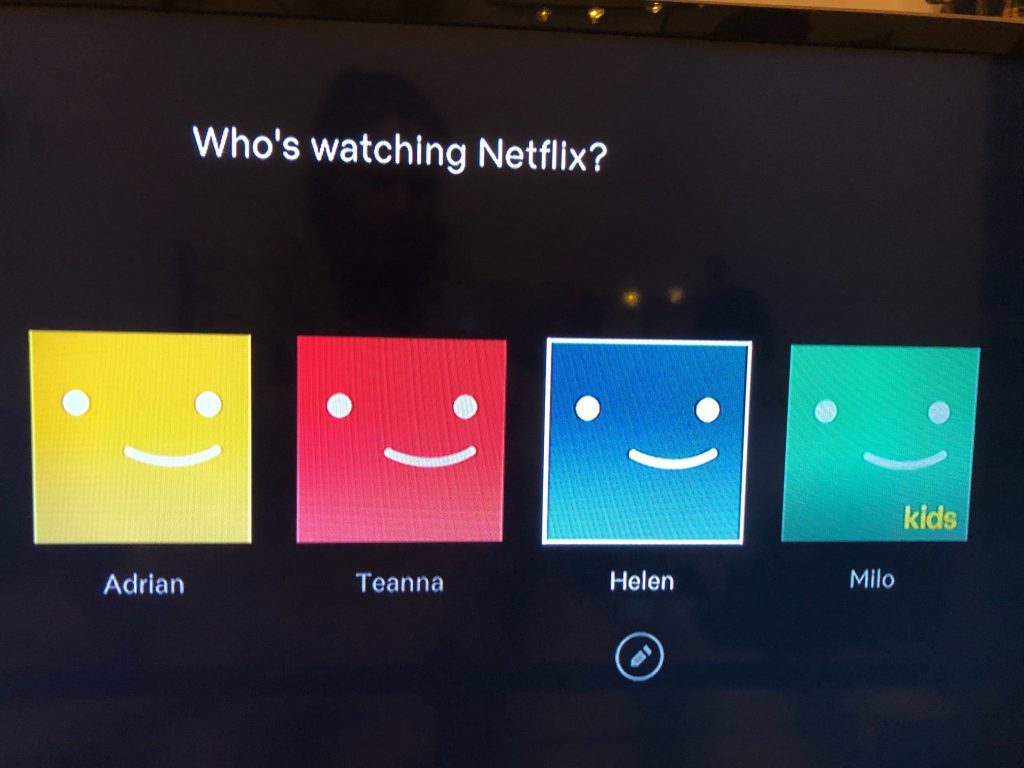 Easter 2022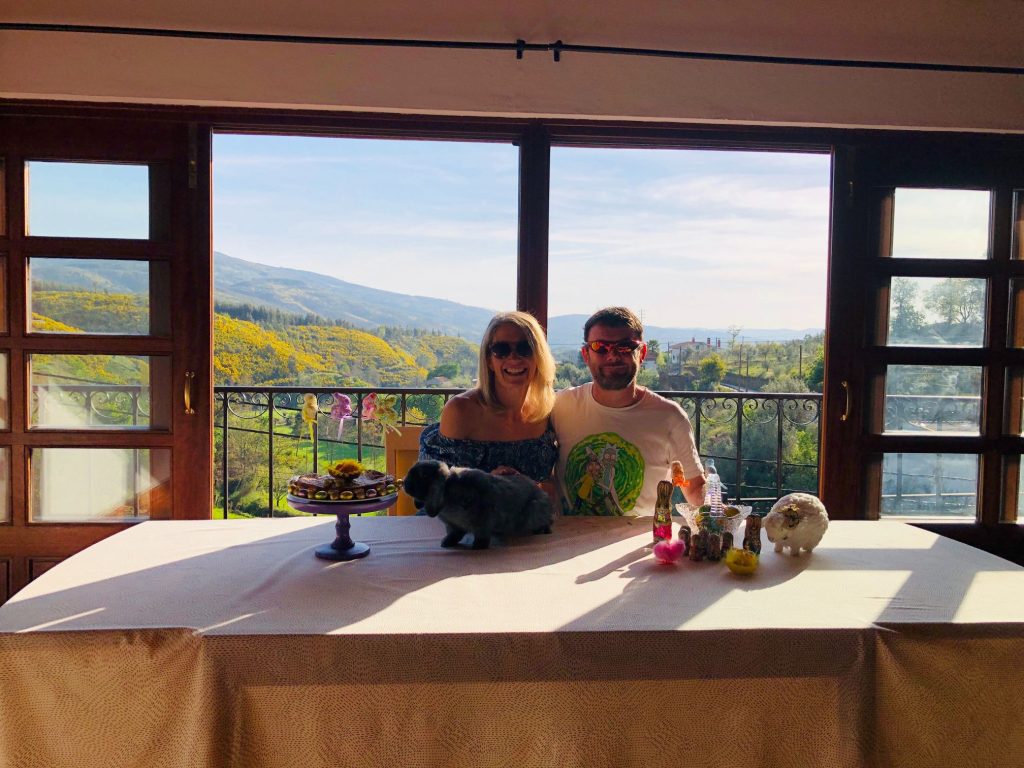 Pet Store
Our favourite pet store at Mondego Retail Park has changed names. It used to be called Ornimundo but now it is called Kiwoko.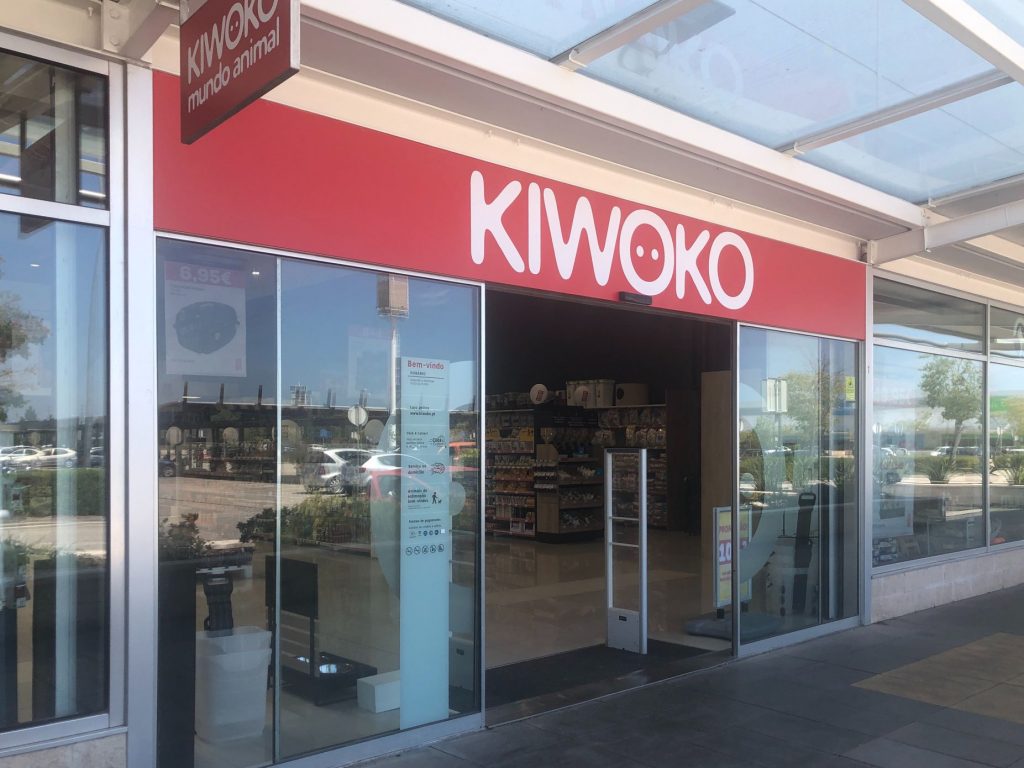 Milo Update September 2023
Marvelous Milo is fine and dandy. I feel a little guilty as i have a Photo Gallery for our Chickens and Guinea Pigs but not Milo so I thought I'd add a few photos of Milo here as a little update. Milo is happy and healthy and now classed as a Senior as he is 6 years old. He is a grumpy grey old man (ha ha).