2 DAY TRIP: PARQUE NATURAL DO DOURO INTERNACIONAL
Portugal only has one official National Park (Peneda-Gerês) but it has several Natural Parks which are equally as impressive and I am slowly making my way around them all. The Douro International Natural Park has been a firm favourite on my bucket list for a while now. We have visited the Douro Valley a few times so I know how beautiful the area is and I was so excited to travel so close to the Spain border. It was really difficult to plan an itinerary as there are so many wonderful attractions to see. My aim was to visit all 4 municipalities: Mogadouro, Miranda do Douro, Freixo de Espada á Cinta and Figueira de Castelo Rodrigo and to view a mixture of attractions including nature, historic and cultural delights. I knew I wouldn't be able to do this as a day trip so planned an overnight stay in a hotel so we had 2 days to explore. After a little research I had the difficult decision of either embarking on a small group tour visiting the Coa Valley's amazing archaeological rock carvings or a river cruise. After much debating we opted for the river cruise. The journey took 2 hours 50 mins from our casa and was over 200km.
On the day of our mini trip we found out that Lidl were selling epic Stand Up Paddle (SUP) board package deals for an incredible price. We made a pit stop at Lidl, Arganil and purchased 2 paddle boards which stayed in our car boot for the entire trip. We didn't want to waste a further 45 mins in returning them to our home so they came with us on our adventure. To be honest this stop off contributed in us being a little behind schedule but it was so worth it in the long run.
SUP Boards
When you pop into Lidl for a Pain au Chocolate and exit with 2 paddle boards, I LOVE my new life (ha ha).
Itinerary Day 1
Mogadouro
Miradouro do Santuário de São Cristovão
We started our epic mini rural adventure with a visit to the Sanctuary of São Cristovão which is home to a pretty quaint chapel, awesome viewpoint and 3 swings, which the Portuguese call "baloiços". We parked at the bottom of the hill and took the short steep incredibly hot and sweaty climb to the top of the Serra da Figueira which is 900 metres in altitude. We were the only ones at this Sanctuary and it was epic. There are amazing panoramic views over the village and you can enjoy an exquisite view over the mountains of Reboredo, Bornes and Nogueira, as well as the Mirandese plateau. The swings were so much fun and the views were truly captivating. There was a lady parked at the bottom of the hill eating a picnic on her own at a pretty picnic table. I love the fact that she had a box of wine, not a bottle or a glass but a whole box (ha ha). Probably not the best option as she was driving.
When we left hubby accidentally rolled the car towards her which left us all in sheer panic mode as we were rapidly rolling towards the lady, a stone picnic table and heading off a steep mountain cliff edge! We stopped just in time and the lady found it all rather amusing (probably due to the wine she consumed) whereas I nearly pooped my pants (ha ha). Teanna left her sunglasses at the top and only realised when we were back in the car. Hubby offered to go and fetch them but she wasn't too bothered so we left them there. Teanna explained that they were slightly bent so they were too big for her head and kept falling off anyway. If you found a pair of sunglasses at this place, enjoy, you are welcome and I hope you have a large head to accommodate them. This story reminds me of when Teanna bought a pair of "designer" €5 sunglasses in the Algarve. The designer name on the arm was "Ray-Bon" instead of "Ray-Ban" (ha ha). We tried our best to get some cheesy (prom like) photos on the swings and I fell off one in the process (ha ha).
Castelo de Mogadouro
The Castle of Mogadouro was built in the 11th century and one of the first lines of castles that defended the northeast of Portugal. Shortly after its construction, it was donated by the King to the Templars and a few years later passed to the Order of Christ. In the 14th century it underwent several renovations and in the 15th century it became the palatial residence of the Távora family in Mogadouro. In the 17th century the clock tower was built, which, many years later, was severely damaged by weather. Today it is classed as a National Monument. We spent some time here admiring the wonderful medieval castle and views over the Trás-os-Montes countryside. It was very surreal to view the ruins and a few remnants of the walls. As usual we were the only ones at the castle which always makes it more tranquil and special.
Igreja Matriz de Mogadouro
What a beautiful church located close to the castle. We didn't get to view the interior as it was closed but we loved the exterior and bell tower.
Mogadouro town centre
We stopped for lunch in a quaint little cafe. The owner of the restaurant sat outside on an old chair next to a cage of birds. We then had a wander around admiring the colourful pretty flowers, traditional patterned pavements and explored various attractions including the Convento de São Francisco, where the Municipality of Mogadouro is currently located.
Convento de São Francisco
The church was built on the orders from a nobleman of the Távoras family in the 17th century and the convent was built in the 15th century. The church has a Manueline façade and a Latin cross with 3 naves. It is now home to the Paços do Concelho (local municipality/town hall).
Challenge of the day
Who can slot their head the furthest, I lost again and I'm not sure the monk is impressed (ha ha).
Beautiful views and plenty of cloud spotting opportunity on the way to Picote
Picote
We made a pit stop at Picote to view a traditional Trás-os-Montes village with historic schist houses. We had fun wandering around the maze of cobbled streets and exploring the corners of the village with it's water and olive oil mills. It really is like turning back the hands of time. There is a quaint little church, a stunning bandstand and historic zoomorphic sculpture.
Porca de Picote (berrão of protohistory)
This zoomorphic Pre-Roman sculpture is located in the main square and is a famous archaeological monument.
Fraga do Puio (Viewpoint)
Wow, what a stunning unique modern viewpoint! This is one of the most elaborate and amazing viewpoints I have ever visited. It has a spectacular wooden platform, pretty glass balcony and the views are jaw-dropping! The scenery of the gorges of the granite massif are incredible and plenty of fauna and flora to see. When we arrived there was 1 very large and loud French family visiting. I was trying to video the epic views but they kept chatting really loudly in the background. It appeared that they had finished viewing the beauty and taking their photos yet still decided to sit on the wooden platform bench and use their phones whilst shouting. I'm not sure what they were talking about as my GCSE grade E in French didn't assist me much (ha ha). They didn't take our subtle hints so we had to wait some time for them to eventually leave and then we had the whole place to ourselves. I often find that my enjoyment of a trip really does depend on the other people that are also at the location. It only takes one loud obnoxious person to ruin a tranquil moment. We have been really lucky overall and very spoiled at having places to ourselves so maybe we just need to get used to the loud tourists. Teanna looked down at the beautiful curve in the river and wanted to go paddle boarding (ha ha).
The next viewpoint on our route to visit in the Douro International Natural Park was the wild Freixiosa Viewpoint, located just over 1 km from the village of Freixiosa. Unfortunately we ran out of time so didn't get to view it. I think it involved a bit of a forest trek to reach it and we were all way to hot for a hike.
Miranda do Douro
I was so excited to visit the historic city of Miranda do Douro with it's origins that date back to the Bronze age. I was totally amazed to find out that the inhabitants of Miranda do Douro do not speak Portuguese but their own unique language of Mirandese, how fascinating!
Castelo de Miranda do Douro
Another day, another castle! I never get bored of exploring castles and this one was very unique. The Castle of Miranda do Douro was the most important fort on the region's borders and built during the second phase of the Tras-os-Montes settlement. It was restored by King Dinis during the 12th century with further improvements made by King João IV who ordered the reconstruction of the defence walls which were not strong enough to withhold the Spanish attacks. The castle was destroyed again in 1762 when it went up in gunpowder smoke in an explosion. The only castle remains are some of the citadel walls, ruined turrets and the Porta da Traição. We really enjoyed viewing the barbican and iconic keep tower up close. There is a well in the courtyard and I resisted the temptation in pushing the 2 idiots down there, they were leaning over way too far (ha ha). Until the Episcopal Palace was constructed, this castle was the residence of the Bishops. It is now a National Monument and surrounded by pretty gardens. The walls of the castle encircle the old historic town and have 3 gateways and are definitely worth exploring if you have the time, you won't be disappointed. Again we had the place to ourselves and only saw a couple of other people when we were exiting. We are so lucky!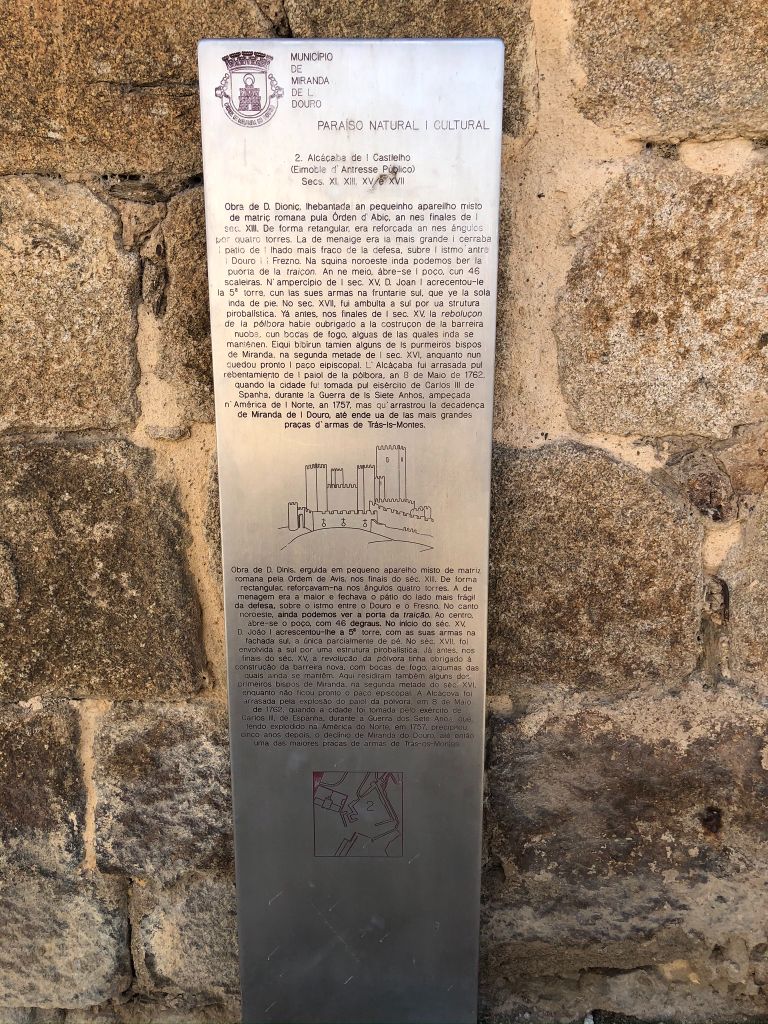 Historic Centre of Miranda do Douro
Our next stop was the Historic Centre of Miranda do Douro. We took a leisurely stroll along the famous streets: Rua Mouzinho de Albuquerque, Rua de la Costanielha and Praça D. João III (Town Square) where you will find life size statues of Mirandese couple, Paços do Concelho building, Solar de ls Ordazes, the Museu da Terra de Miranda as well as cafes/restaurants.
Concathedral de Miranda do Douro
The Cathedral was built of Manueline and Baroque architecture in the second half of the 16th century on the site of the former Old Church of Santa Maria, by order of King João III. The Cathedral of Miranda do Douro is also known for keeping an icon of popular religiosity – the Menino Jesus da Cartolinha. This small 18th century image can be seen in an oratory in baroque gilded woodwork. The Cathedral is the largest religious temple in the region of Trás-os-Montes and is classified as a National Monument of Portugal. It is a stunning building with a mannerist façade flanked by two powerful rectangular bell towers and topped with a wrought iron cross. As you walk around the side of the Cathedral you will find the Old Convent of the Trinos Friars, which currently houses the Municipal Library. There is a beautiful viewpoint behind the former Cathedral which gives spectacular views over the river canyon of the Douro river. We also took some time to walk along the historic pre-Roman walls.
Ruínas do Paço Episcopal
The ruins of the 17th century Episcopal Palace were such a hidden gem. The first bishops resided in the castle then relocated when the palace was built. At the palace entrance there is a memorial plaque engraved with the names of the bishops. We really enjoyed exploring the ruins of the former residence of the bishops of Miranda do Douro and strolling through the Jardim dos Padres Trinos and admiring all the stone sculptures. The Palace was developed around a central courtyard, surrounded by a cloister and columns. It was damaged by the fires in the 17th and 18th centuries and it eventually became ruins with the Diocese's headquarters transfer to Bragança, in 1780. It was fascinating to view the magnificent monolithic columns and walk beneath the historic arches. So rich in history, I just adore places like this.
Capela de Santa Cruz
A beautiful baroque chapel, dating from the 17th century.
There was one final Viewpoint to visit: São João das Arribas, which is located near the village of Aldeia Nova but unfortunately we did not have time to visit it. We checked into our hotel (Flor do Douro) and once refreshed we ventured back out for a tasty dinner.
Day 2
Environmental river cruise 
I extensively researched boat trips and found this place to offer the best tour to suit my needs. I didn't want a tacky tourist boat tour. We pre booked online tickets for the 1 hour river cruise with port wine tasting. The cruise departs from the International Biological Station in Miranda do Douro. I was a little apprehensive and nervous about the river cruise as although I love water and nature I don't particularly enjoy boat journeys and I have a super dodgy IBS weak stomach. We embarked on a cave tour boat experience whilst on holiday in The Algarve some time ago and it was the boat journey from hell! 90% of the boat's visitors severely vomited for the whole 4 hour round trip! There were children puking, mums, dads and even the loud burly group of men were shamelessly puking their beer up! The staff member had to keep hosing down the inside of the boat and the smell was so vile. It was horrendous and although I was one of the few not to puke my guts up, it wasn't a nice experience to watch or smell (ha ha).
I had nothing to worry about this time as the river was calm and no one got motion sickness. Not even the cat which a tourist bought with her in a bag! I have no idea how or why a cat came on the cruise, maybe it's her therapy cat. All I know is a lady bought a cat with her on the cruise, we found it hilarious and I spent about 10 minutes trying to discreetly take a photo of the feline. It is really cool to view the river and 200 metre high cliffs from a different perspective than from the usual above viewpoints. I saw some birds of prey in the distance, I think golden eagle. The tour guide was very knowledgeable and explained about the geology, fauna and flora of the place. She pointed out different areas of interest along the outward journey and on the return journey we were allowed to enter the top of the boat area to view the glory and take photos. Unfortunately the talk was all delivered in the Portuguese language but we managed to understand snippets. When we booked the cruise it had a 11am or 4pm Portuguese departure time and cost €18 per adult. One amazing weird thing happened to us (apart from the cat), our mobile phones changed to Spanish time! As we were so close to Spain our phones thought that we were actually in Spain. We all found this crazy but seeing as there was only a river dividing Portugal and Spain, I can see why it occurred. The Biological Centre is home to an animal therapy centre and we got to see some cute otters and there is a therapy pool which looked so inviting that I almost wished I was an injured animal so I could be lowered slowly into the pool via a hoist for some holistic aqua therapy.
Information Leaflet
After the river cruise we did plan to visit Bemposta and Faia da Água Alta (Waterfall) which is located 2km from the village of Lamoso but we just didn't have time. It involves a bit of a hike and it was a scorching hot day. We also had a feeling that the waterfall might be dried up and have no water and that was a risk we didn't want to take. We also live minutes from the famous epic Fraga da Pena waterfall so we are often left a little disappointed when we view waterfalls which are not as spectacular. We had a little family chat and decided we could either visit the waterfall or the river beach later on in the day and all agreed upon the river beach.
Miradouro do Colado (Viewpoint)
This viewpoint is located right next to the road so it has great easy access. It is a small viewpoint and a natural one so no swings or fancy balconies. Such fabulous views over the Douro river and the village of Mazouco where apparently you can visit rock engravings. It is absolutely beautiful yet very windy! It's so tricky to get a nice photo of me at the top of mountains as strong wind + fine hair = one hell of a hot mess. I made the mistake of saying to Teanna "I wish I had your afro as it doesn't move in the wind" and as soon as the words came out of my mouth, I instantly regretted them (ha ha). Not only would I look like an idiot with an afro but I feel Teanna's pain as her hair is so tricky to style and believe me I spent the best part of 18 years buying ridiculously expensive black hair products and we have been through the straightening stage, braiding stage: cornrows, box braids, French plaits and now she is thankfully embracing her natural curls. I actually prefer her hair natural in a giant afro pom pom but I respect her choices in life and hair. At least I was wearing trousers today so no lady garden flashing (ha ha). I was really hot in trousers but I was also hot in yesterday's outfit: black denim dress. I think it's time to invest in shorts but I hate my sausage legs so much.
Freixo de Espada á Cinta
Magnificent Manueline village
Freixo de Espada à Cinta is known as the most Manueline village in Portugal and is famous for it's tradition of silk, still manufactured today in a 100% artisan way and highlighted at the Silk and Territory Museum. There are many attractions to view and we took a stroll around the streets and alleys admiring all the Manueline doors, interesting sculptures and monuments. As well as the famous castle we also viewed the interesting Ash tree with sword strapped to it and other delights such as the majestic Igreja Matriz, the Pelourinho de Freixo de Espada à Cinta (Pillory), the interesting Silk and Territory Museum and Igreja do Convento de São Filipe Néry.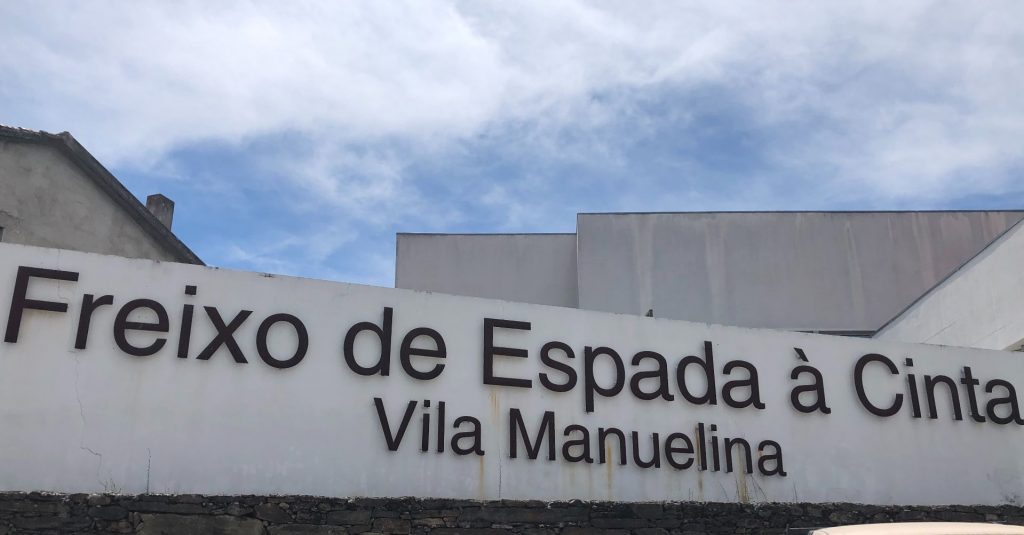 Castelo de Freixo de Espada à Cinta
According to the General Directorate of Cultural Heritage, the Castle of Freixo de Espada à Cinta, classified as a national monument since 1910, is one of the oldest fortresses in Trás-os-Montes dating back to the 12th century. We arrived at this amazing castle to find it deserted. It was very strange and due to the fact that you can enter the inside of the tower and there are artefacts there that could get tampered with, I just assumed there would be a member of staff monitoring the place. There wasn't so we got the whole place to ourselves (again). We had a lot of fun climbing the narrow winding staircase to the top of the enigmatic 25 metre high heptagonal tower named Torre do Galo (Tower of the rooster) and ringing the bell! The castle has dramatic panoramic views and there is a cemetery below which is immaculately kept. Apparently The Municipality of Freixo de Espada à Cinta has applied for a Cultural Heritage grant and plans an extensive renovation project to rebuild 4 steel towers and the 300 metre walls to enable a walkway for visitors to view this historic treasure.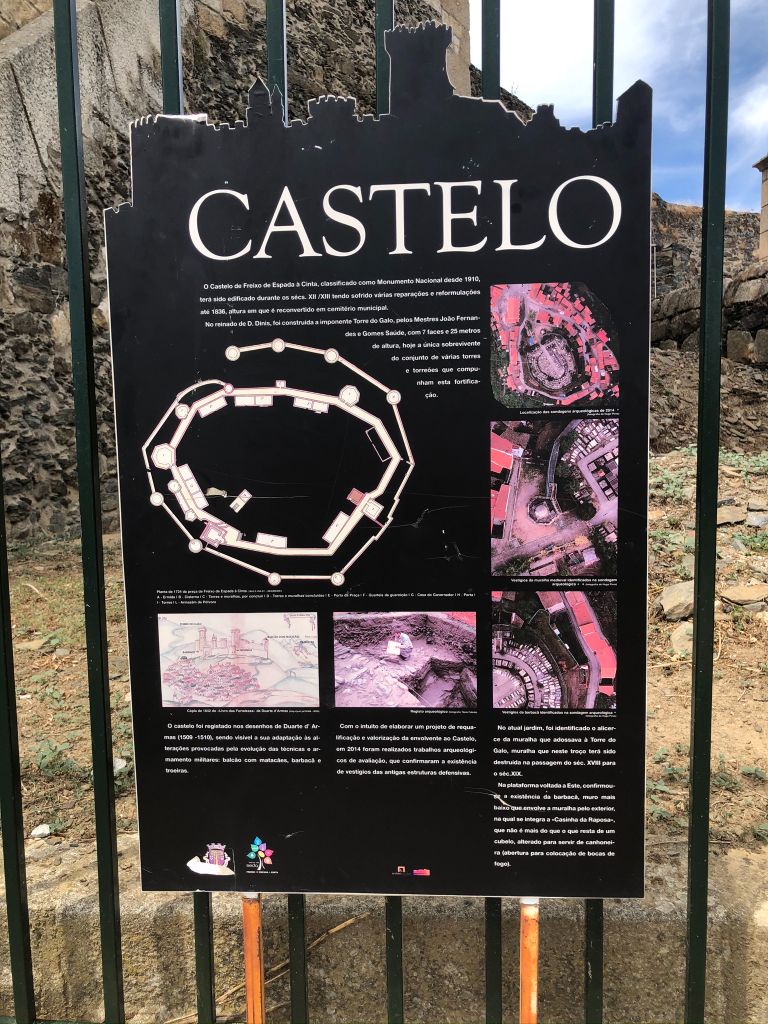 Freixo Duarte de Armas
I was totally mesmerised by the gigantic Ash tree with a sword strapped against it by a belt. Freixo de Espada á Cinta literally translates to "Ash sword to the strap". There are various legends, some claim that the town's original founder had both an ash tree and a sword on his coat of arms which resulted in the name. Others believe that a Gothic Nobleman named Espadacinta (Swordsman) found shade under an ash tree after battle with the Moors and hung his sword on the tree whilst resting. Another myth is that the King took a rest here after battle with his son and nailed his belt with his sword to the tree. There is also a myth that a Christian knight hid amongst the branches of the tree whilst being pursued by a large group, he hung his sword in the tree and because his enemies saw the ash tree with a sword, they fled filled with dread and fear. I'm not sure which legend to believe if any but I do know that the 3 noble musketeers and weary travellers (Helen, Adrian and Teanna) took a well deserved siesta here under the shade of an old ash tree in August 2021.
Manueline doors
I fell in love with the intricately carved Manueline doorways. In fact, I fell in love with all the doorways, even the antique scruffy doors. I basically had a photo shoot by this door because I LOVED it so very much (ha ha).
Praia fluvial da Congida
I adore river beaches and instantly fell in love with this one immediately. It is surrounded by the exuberant nature of the Douro International Natural Park and located in the large reservoir formed by the Saucelle Dam, next to the Spanish border. It is part of a leisure complex which includes a floating pool, municipal swimming pool, sporting equipment and a fluvial pier offering boat tours. The cafe overlooking the river is amazing and we enjoyed delicious coffee and ice cream whilst watching the world go by. We took a peaceful stroll to view the boats and sat in the shade of the pretty willow trees.
It was late afternoon by the time we arrived and we were very tempted to strip off and dive in as it was super hot. We saw a couple of guys paddle boarding and were so tempted to set our paddle boards up but Teanna didn't have a life saving jacket and we were a little unsure of how to set them up for the first time and didn't want to waste valuable time reading the manual but it was so tempting with them just sat in the boot of our car. Teanna wanted to paddle across the river into Spain (ha ha). We decided to cool off by dipping our feet in the water which was refreshing and invigorating.
The hilarious long name sign
We LOVE having our photos took next to the town name signs. This sign was located at the river beach and we laughed so much because someone somewhere thought this would be a good idea. I get Tomar and Braga but Freixo de Espada á Cinta is just hilarious and hubby had great difficulty trying to get every letter in the photo (ha ha).
Miradouro do Penedo Durão (Viewpoint)
The Penedo Durão is a huge rock that rises over the right bank of the Douro river 550 metres high and you will find the spacious viewpoint right at the top. Wow, what another fantastic harmonious viewpoint! It is very different from the other ones we viewed on this trip. There is a large picnic area, monuments, a swing and even a seesaw! This viewpoint is a true paradise for bird watching lovers as there are so many birds of prey nestled on the cliff tops and soaring high up amongst the fluffy white clouds. What a phenomenal place! You can see 2 countries from this viewpoint both Portugal and Spain. It was really cool to see the Spanish Saucelle Dam and the Spanish river Huebra which meets the Douro. There are such wonderful views over the Douro canyon and the light catching the schist mountains is so enchanting. We had so much fun acting like children here on the swing flying high with the Douro river at our feet. The seesaw was an added bonus, Teanna and I laughed so much we nearly wet our panties! Guess what? We had the whole place to ourselves, again. Such perfect privacy to enjoy such a haven of nature.
Recreating the statue pose
We loved the Nossa Senhora do Douro monument and Teanna liked the fact it was founded in 2002 which is her year of birth. I tried to pick Teanna up to properly recreate and capture the sculpture's essence but I failed as I have a bad back (ha ha).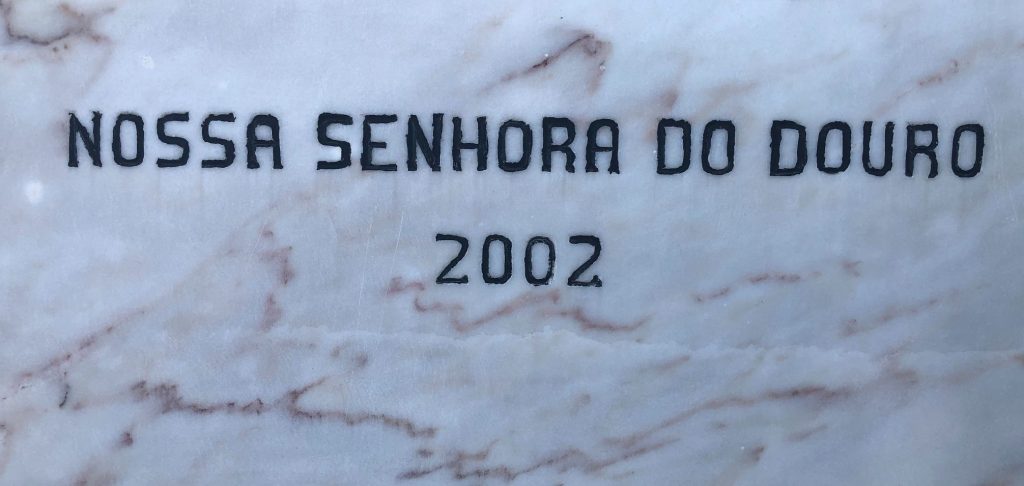 Figueira de Castelo Rodrigo
It was early evening by the time we reached Figueira de Castelo Rodrigo but I was still hoping we would get to explore some of the following delights on my itinerary: The Castle and Towers, Pelourinho (Pillory), Medieval Cistern, Igreja Matriz and the ruins of the Cristóvão de Moura Palace.
Convento de Santa Maria de Aguiar and the delightful donkeys
Our final stop was Castelo Rodrigo and our unpredictable Sat Nav took us over 5km in the wrong direction which resulted in us arriving in the middle of nowhere! We literally arrived to find a not so attractive dirt track. I seriously think someone is having a laugh at our expense, what is going on? We eventually re-set the Sat Nav and on the way to the castle we stumbled across a convent and a field of donkeys. To be honest, it's the donkeys which caught my eye first. I love donkeys and am hoping to re-home a couple in the near future if and when we buy our next house with some flat land. Anyway, I saw donkeys and shouted "DONKEYS" much to hubby's delight. He quickly made a U turn so we could go and investigate the donkey situation. We found a lovely Romanesque and Gothic style convent next to the field of donkeys and it didn't take long for the friendly animals to come over and say hi to us. After a little research I established that the complex consists of a church and monastery and was built in the 12th century and although it is commonly known as a convent it was actually a monastery. Afterwards we made our way to the castle and we all agreed that getting lost was an added bonus because if we hadn't got lost we would not have found the delightful donkeys.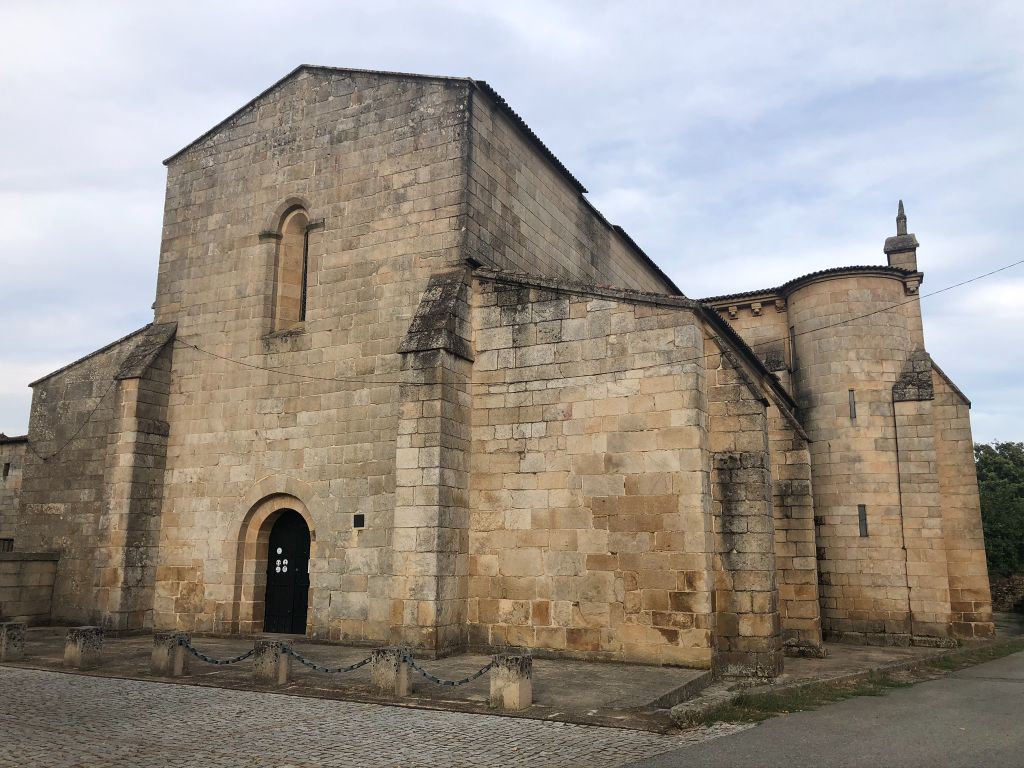 This particular donkey "Denzel" took quite a fancy to Teanna (ha ha).
Castelo Rodrigo
It is believed that the castle was founded in the 11th century based on legends. After the village was conquered by Alfonso IX of León he ordered to build the castle and reinforce the defensive line. The name of the village, as well as the castle comes from the name of the Count Rodrigo Gonzalez de Girón who was responsible for the defence of the castle. The Castelo Rodrigo was incorporated into the Kingdom of Portugal in 1297 with the Treaty of Alcañices between King Dinis of Portugal and King Fernando IV of Castile. The fortress and walled fence were rebuilt, and 13 turrets, Menagem Tower (Keep), a barbican and moats were constructed by King Denis in the 14th century. It has been listed as a National Monument since 1922.
Unfortunately the castle was closed by the time we arrived but that didn't stop us from exploring the exterior and we also climbed up a wall to get a peek inside which was most likely a breach of health and safety rules but I live by my new motto: "You gotta risk it for a biscuit and try not to shit yourself on the journey" (ha ha). I made it down safely with thankfully no code brown incidents. I was totally confused yet intrigued by the red crash mats inside the castle (see photos). I can only assume that they may hold some kind of medieval reenactment and toss and tumble during some dramatic battle scene. I actually have no idea but if this is true it would be great to see, especially if the actors dress up in traditional clothing and there is an old fashioned banquet of gastronomy on offer. There are incredible views from the castle as it is 820 metres high. You can see the Serra da Marofa, the village of Figueira de Castelo Rodrigo and a vast landscape that reaches into neighbouring Spain. I loved this place, such cute, quirky little cobbled streets to explore, it's a shame there are not more hours in the day! I hate to say it because I feel like I am showing off now but we had the place to ourselves again (ha ha).
One thing that amazes me about Portugal is the fact that many of the castles here are free to visit. I know I have most likely mentioned this before in previous posts but it is so refreshing that Portugal makes these wonderful historic and cultural attractions available for all to view. If it were the U.K they would fence off the attraction, charge an entrance fee, charge a car parking fee, charge for a program or map and make you exit via a tacky gift shop on the way out. Also the U.K would never allow people to just wander around old ruins and climb precarious steps with high risks of falling off the edge as it would be a health and safety risk and a law suit waiting to happen, where theres blame, theres a claim attitude. Portugal is amazing and I love viewing all the castles as each one is different and has a unique vibe. The ginja liquor drink seemed to be quite popular here like in Óbidos. Hubby rapidly ushered (dragged) me into the car before I had chance to sample the alcoholic cherry delight. I don't think he wanted me puking in the car on the way home, I don't blame him one bit, it would be like the Algarve river cruise all over again (ha ha). I love that although it was the end of a long trip Teanna still had the enthusiasm and spirit to dance, jump in the air and be jolly.
Overview and the Sensational drive by Sunset
We had so much family fun with plenty of smiles and laughter on this 2 day trip and I am happy that all my extensive itinerary planning was successful. There is so much beauty to view in the Douro International Natural Park that I couldn't really choose a favourite place. We loved every second of our rural adventure and didn't want to leave. We left Castelo Rodrigo as the sun set and reluctantly climbed in our car for the long journey home. I was extremely exhausted but delighted that we had yet again experienced another amazing family trip making memories to last a lifetime. I would really love to return to Miranda Do Douro once Covid is a distant memory and attend one of the amazing festivals such as the traditional "Pauliteiros de Miranda" with traditional Mirandese dress, dance and music with drummers and pipers and singing in Mirandês. I might even challenge hubby to a dance, he doesn't dance so it might result in an awkward shuffle instead (ha ha). We viewed a sensational rich sunset over the castle walls and the skies rapidly changed such pretty colours as the sun disappeared below the horizon. Teanna and I kept taking photos out of the window of the car as hubby was driving us home. We were travelling so fast and it was super crazy windy, so we nearly lost our phones out of the window (ha ha). I will leave you with a series of our "Sensational drive by Sunset" photos, just heavenly. There's nothing like a beautiful sunset to end a perfect day.