A DAY TRIP TO PRAIA FLUVIAL DO CASTELO (ILHA DOS AMORES)
I am over the moon to share this awesome day trip with you. After extensive research I found our very own Love Island! Praia Fluvial do Castelo has a desert island named "Ilha dos Amores" (Island of Love). When Teanna visited for the summer she had started to watch a T.V show called Love Island. I don't watch T.V here in Portugal, we only have Netflix so I'm not really aware of this show except that I think it is some kind of reality dating show with beautiful young people. I suppose it's the 2021 version of Cilla Black's Blind Date but on an island with skimpy bikinis and six packs (ha ha). I debated for a while if to travel the long 2 ¼ hours each way for just a day trip to a river beach but I viewed the epic photos and it looked like an idyllic romantic paradise so we decided to take the risk and OMG it was so worth it. I also found an amazing swing in the middle of an oasis of rock pools and an epic viewpoint in Cinfães to stop off on the way to break the journey up.
Baloiço do Bestança
Our first stop was the hidden gem of Baloiço do Bestança which translates to "Beast's Swing". The swing is located in Canhão de Pias, Cinfães next to the Pias Canyon and is a little oasis of nature with rock pools and waterfalls. The Bestança river (which is considered one of the cleanest rivers in Europe) rises at an altitude of 1229 meters in the middle of the Montemuro mountain range and flows into the Douro river. Gosh this place is absolutely stunning with such crystal clear waters you can see the bottom. Without doubt one of the most beautiful natural places I have ever visited, unique beauty and nature at its best. It's tricky to get to and you have to swim or wade through the water to reach the swing and first negotiate a tricky climb across a narrow high wall exploding with water so very slippery (which I did clasping onto hubby's hand really tightly). One slip and it could be the end especially if you hit your head on a rock! When you reach the paradise retreat it will leave you speechless. It really is such a haven of tranquility with different areas of calm waters to swim and sparkling flowing waterfalls cascading down the rocks. It is a little slice of heaven and I didn't want to leave. This was my first ever proper wild swim and I LOVED it.
We had the whole place to ourselves and we saw baby piglets and a trout farm on the descent down. The tranquil waters were so refreshing and we took a serene wild swim and waded through the waters to the swing. There is also a swing rope where we practised our aerobatic skills. The area is fairly small and would not accommodate a lot of people at once so we were so thankful to have the whole area to ourselves. I don't think we would have had such an awesome experience if it were crowded. Apologies, us ladies look a little disheveled with no make-up and our messy fluffy hair but we had so much fun in the water. I don't think this place is very well known and I think that maybe it should be kept a hidden secret.
The balancing act (scary climb across the ledge)
Oasis of Paradise
Mother & Daughter FUN
Miradouro de Teixeirô (Viewpoint)
Our next stop was the stunning viewpoint in Teixeirô. As we approached the viewpoint we saw a young man taking a pee pee and he didn't seem at all bothered that we could see him and the full glory of his little man! I find this really disrespectful, not only is this a place of beauty and very public but he didn't even have the decency to put it away when a family arrived with their teenage daughter. Maybe he was proud of his bits and bobs, I'm not sure why, it wasn't that impressive to be honest (ha ha). He then joined his girlfriend and mother at the viewpoint. Some people have no shame. He didn't even go into the bushes, he just peed on the floor right next to the beautiful viewpoint. Luckily for us they left pretty soon so we had the whole viewpoint to ourselves.
What an impressive viewpoint, one of the best in the territory of the Route of the Romanesque. We stood still admiring the picturesque panoramic views over the Douro river and the mouth of the Bestança river. You can see the wonderful municipalities of Baião and Cinfães and the the villages of Porto Manso and Boassas, the dam and reservoir, a grand Monastery in the distance, the Douro railway line, the Mosteirô bridge, designed by the famous engineer Edgar Cardoso and the Porto Antigo pier where Rabelo boats used to stop off when carrying port wine from the Douro Valley wine region to Cais de Gaia. I was a little amazed that some people had discarded their rubbish over the wall. Don't be lazy litterers, take your rubbish with you, it's not difficult to find a bin!
A visit to our very own love island
Praia fluvial do Castelo is located in Castelo de Paiva, right at the mouth of the river Paiva which flows into the river Douro. Before the construction of the Crestuma-Lever Dam, it was possible to reach the island on foot but today the island is only accessible by vessel such as boat, kayak, canoe or paddle board, which I think makes it more appealing. The municipality received its name because of the discovery of the ruins of the castle that once stood there. Ilha dos Amores was also a place of worship in the medieval period and even had a chapel dedicated to São Pedro.
It's not as far as I thought to reach the island from the river beach and I reckon I could have easily swam there too if I had wanted to but I was scared of the sharks. Just kidding, no sharks in Portugal just snakes (ha ha). We were so excited to trial our paddle boards out for the very first time. What a fantastic place to christen our boards! I was so happy when we arrived at the car park and set eyes on this incredible river beach. Teanna hired her own stand up paddle board and safety vest for a couple of hours and the crazy British trio set off towards the island. As we approached the island and tethered our boards to the small dock a dog jumped on Teanna's paddle board which was hilarious. The island is so cute and we explored every inch of it. Afterwards we paddle boarded around to another secluded beach then headed back for a tasty Portuguese picnic with pastel de nata and a cafe visit for coffee and ice cream. We enjoyed watching the youngsters jump off from the high rocks into the waters below, I'm no where near brave enough to try this. At my age I'd likely dislocate a joint or just have a code brown accident (ha ha).
The myths and Legend
An old legend tells a love story of forbidden love very similar to the famous Pedro and Inês. A young farmer fell in love with a noblewoman who had a very strict father. One day a nobleman asked for her hand in marriage. The famer was heartbroken in the thought of losing the love of his life so in an act of crazy madness, he killed and threw his beloved's new man into the Douro river. Scared of the consequences and knowing he would be the number one murder suspect he fled to the island. His love was still strong so he returned and asked the noblewoman to live with him on the island. They crossed the river in a small boat and before long the skies opened and a storm swallowed the boat and they did not survive the journey to the island. It is said that it was the spirit of the nobleman that avenged his death. Despite this tragic story of romance, the island is a destination for many young couples and a great spot for watersports. We are definetely NOT a young couple but we had an amazing adventure exploring the island and enjoyed christening our paddle boards here. We are young at heart and love has no age barrier!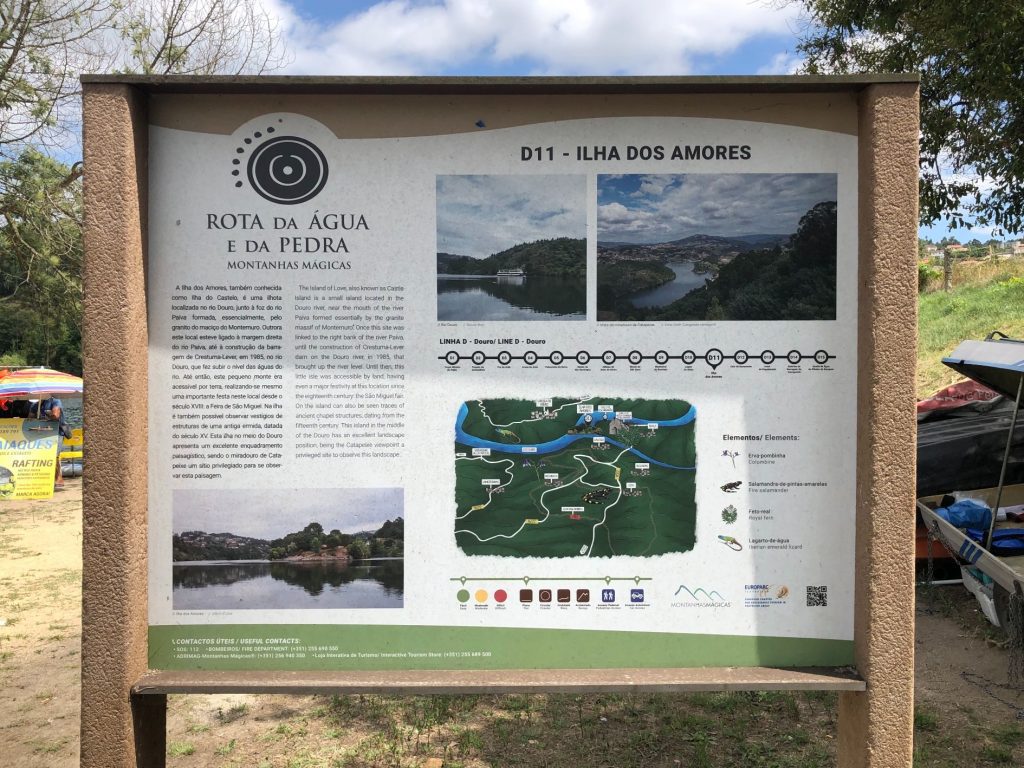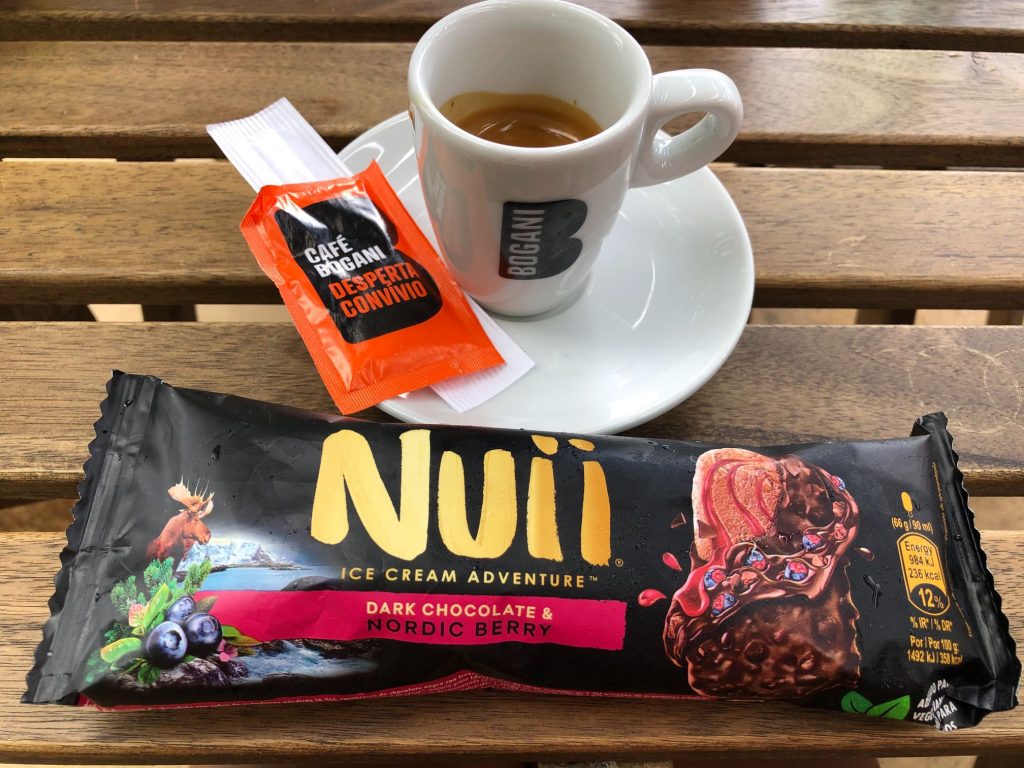 Ilha dos Amores (Love Island)
Here are the photos taken at the island. There were a few people sat on the dock but the island was empty so we had a lot of fun. What a fantastic unique experience! It was so awesome to explore this desert island. Several thoughts were going through my mind and I couldn't help but think of all the ship wrecked books and films such as Robinson Crusoe, Castaway, Lord of the Flies and our conversation turned rapidly to the topic of survival of the fittest and cannilbalism (ha ha).
The paddle boarding dog
This cute dog jumped on Teanna's paddle board. So funny and what a cutie! He seems to like the lilo too.
Monteiro girl
The girl did it again! Teanna found something with her surname on again, this time a boat! She is thrilled although it's not exactly a 5 star yacht (ha ha).
The phantom pregnancy
Teanna makes me laugh so much. We were trying to pose for some nice photos on Love Island but we all felt a little chubby after our summer of fun and eating a lot of Portuguese delights. Teanna said she looks pregnant so wanted to do a joke pregnancy pose like those people who pay a professional photographer to take cheesy pregnancy shots in a park. Anyway here is Teanna's pregnancy pose but it's really just a baby pastel de nata in her tummy, thank god (ha ha).
Wilson
We stopped off at Decathlon on the way home to buy Teanna her own safety jacket and bought a bat and ball so we can look like the Portuguese locals playing ball on the beach. We are integrating very well (ha ha). I very nearly bought a Wilson ball from the Castaway film with Tom Hanks. How very fitting as we just visited a desert island (ha ha).
Overview
This day trip was definitely one of my best days ever of Teanna's 8 week summer visit. Finding hidden gems like the Baloiço do Bestança and paddle boarding to a romantic paradise desert island is such a unique experience and one I will never forget. We had a whole bucket and spade full of family fun discussing what 3 things we would take to a desert island. I'm not sure a pack of 6 pastel de nata's is a sensible choice and I'm sure a pen knife or matches might be a better survival tool (ha ha). Another incredible simple yet perfect day trip and without a doubt a little oasis of pure paradise.