AN AFTERNOON TRIP TO PARQUE E PALÁCIO DE MONSERRATE
I really wanted to visit Monserrate Palace during our 2021 trip to Sintra but we just didn't have enough time so a return trip was always on the cards. This magnificent Palace is located in São Martinho, nestled in the mountains of Sintra, in the district of Lisbon. Just a short 4 km from the historic centre of Sintra. It's quite a long drive from our casa, just over 3 hours each way and 300 km but I had a nearby private medical appointment so I thought I would team up the consultation with an afternoon of palace fun and adventure. I have heard so many great things about Monserrate Palace and Gardens and the photos I have viewed look like something from an ancient fairytale. We enjoyed Pena Palace, Quinta Regaleira and Sintra Moorish Castle so much, I was beyond excited to visit the palace to explore all the idyllic delights, especially all the different themed gardens and chapel ruins.
Information
GPS Coordinates: 38°47'39.3″N 9°25'14.2″W
Opening Hours:
PARK 09:00 – 19:00
LAST TICKET AND LAST ENTRY 18:00
PALACE 09:30 – 18:30
LAST TICKET 17:30 AND LAST ENTRY 18:00
Online Entry Price:
Adult ticket (from 18 to 64 years old) €8
Youth ticket (from 6 to 17 years old) €6.50
Senior ticket (over 65 years old) €6.50
Family ticket (2 adults + 2 young people) €26
New Format
I have decided to change my format of how I write my blog posts by posting a Photo Gallery at the end. This way people can scroll past my words if they just fancy a scan through the wonderful photos. Not everyone wants to read my ranting and gets my sense of humour as it is an acquired taste (ha ha). It also saves me a shed load of time.
History with British Links
Monserrate has a long and fascinating history dating back to 1093 when legend has it that Afonso Henriques, the first king of Portugal, dedicated a chapel to the Virgin Mary. In 1540 Our Lady of Montserrat Chapel was constructed. Gerard de Visme, a wealthy and cultured English merchant, rented the farm in 1789 and built a Neo-Gothic house over the ruins of the chapel. In 1793 until 1794 the English novelist William Thomas Beckford sub-leased the property and started renovating the palace and creating a landscaped garden. Lord Byron, an Anglo-Scottish poet visited the property in 1809 and by this time the palace was already in ruins and was an inspiration for the poet and his poem "Childe Harold's Pilgrimage" which portrays the beauty of Monserrate and afterwards many foreign travellers visited. One of these visitors was Sir Francis Cook, another wealthy English merchant and Viscount of Monserrate. The Palace was built by the order of Cook and was designed by architects Thomas Knowles and James Knowles (Father and son). It was the summer residence of the Cook family. The style is of Portuguese Romanticism with Moorish, Neo-Gothic and Oriental influences. The palace appeared in the T.V series "Gulliver's Travels" from 1996 and the Palace exteriors were used extensively in the filming of the Spanish pornographic film "Aberraciones sexuales de una mujer casada" (sexual aberrations of a married woman) directed by Jesús Franco, which premiered in 1981 (ha ha).
The estate and the Palace were bought by the Portuguese State in 1949, were classified as a Property of Public Interest in 1993 and included in the Cultural Landscape of Sintra, which has been classified by UNESCO as World Heritage since 1995. In 2000, responsibility for the management of the estate was transferred to Parques de Sintra, which embarked upon a profound programme of recovery and restoration work. This has made it possible to reopen the Palace to the public, while returning the Park's historic gardens to their former glory. In 2013, the Park of Monserrate was distinguished with a European Garden Award under the category of the "Best Development of a Historic Park or Garden".
Architecture
The architectural design is a masterpiece of Romanticism and combines Neo-Gothic influences with Moorish suggestions and the interior offers an Oriental feel. It is totally exuberant and eccentric and I loved the grand interiors, stunning delicate lace like arches, elaborate coloured vaulted ceilings, stained glass windows, exotic foliage motifs on the plastering and mouldings, intricately carved rose marble columns, Portuguese tiles, stone staircases, grand terraces, bridges, statues, chapel ruins, scented paths, fountains, water features with koi fish and the spectacular waterfall. There is so much to see, it really is a sheer delight and you will be spoilt for choice.
What's in a Name
The name Monserrate dates back to a time when a local friar visited an abbey in the Montserrat mountain in Catalonia. Upon returning to Sintra he had a chapel built on this site. Francis Cook acquired the chapel and turned its surroundings into one of the most exotic gardens of the Victorian era.
Famous Poets
The famous Poet Lord Byron was smitten with Monserrate on his visit to the Palace in 1809 and he made mention of Monserrate Palace in one of the verses of this poem called "'Childe Harold's Pilgrimage".
"On sloping mounds, or in the vale beneath,
Are domes where whilom kings did make repair;
But now the wild flowers round them only breathe:
Yet ruined splendour still is lingering there.
And yonder towers the prince's palace fair:
There thou, too, Vathek! England's wealthiest son,
Once formed thy Paradise, as not aware
When wanton Wealth her mightiest deeds hath done,
Meek Peace voluptuous lures was ever wont to shun."
Doctors & Dash
During the long drive towards Lisbon it rained continuously. We decided that it probably wasn't the best idea to visit a Palace and Park in the rain as we just wouldn't enjoy ourselves as much as in the sun and we might get all muddy. I was absolutely gutted but that's life and we tried to find a Plan B and to view something inside. I came up with the idea of Mafra Palace but it's closed on Tuesdays. We waited until we exited my consultants appointment to make a final decision and as if by magic the rain stopped and the sun came out to play. I was so happy as it's a long way to drive and very costly with petrol and €40 in tolls to just attend an appointment for 40 minutes. I know we could have viewed the Palace interior if there was heavy rain but I wanted to enjoy our picnic lunch and get lost in the gardens and explore each and every corner. The funniest part of our morning was when I left the clinic without paying the €90 consultation fee and the receptionist chased us outside. I was mortified beyond belief and it was a pure accident, I was all nervous about stripping off in front of a surgeon and I don't have the best of memories at the moment. I haven't dashed off without paying since the 90's when I ate in the diner Wimpy and left without paying. I thought I had paid in advance. Gosh, I miss Wimpy, they did the best knicker bocker glory! Then there was one time I visited Cosmo all you can eat Chinese buffet in Clifton, Bristol and hubby went to collect the car at the end of the meal as it was on a meter and running out of ticket time. They only saw me by myself so billed me for just one person. I paid by card and didn't realise until I had left. They were doing a secret 2 for the price of 1 that day but just for us (ha ha).
Points of Interest
Beckford's Waterfall
Vathek's Arch (Attributed to William Beckford, named after a character in his famous novel, Vathek)
Indian Arch (Aquired by Sir Francis Cook from Charles Canning, Governor General of India, following the Indian Rebellion of 1857)
Old Chapel Ruins
Cromlech
Chimera
Boulder House
Gardens. Rose, Japanese and Mexican
Fern Valley
Lakes
Loggia (Veranda)
Lawn area
Tea Room
Interior and Exterior of Palace – key feature (Dome) modelled on Brunelleschi's Duomo in Florence
Fountain
Staircase on Scented Path
Water Mines
Chasing Fairytales – Palace Exterior
As soon as we arrived at the Palace I knew from the empty spaces in the car park that there was going to be a lack of tourists and we would enjoy another outstanding and peaceful afternoon with hardly any people around. I was surprised that the ticket booth didn't have any paper maps but we downloaded the digital one fine. I fell in love with the design of the exterior, the soft pink hue and the majestic dome all decorated with beautiful bright orange and vivid pink flowers. It certainly entices you in and makes you want to explore the delights of the interior. It is such an exotic setting surrounded by a huge rolling green lawn and a haven of flowering fragrances. I didn't see any "Keep off the grass" signs so I swapped my heels for my €1 gold flip flops and I ran across the lawn, my feet brushing past the fluffy grass like I was an extra from The Sound of Music film (ha ha). The lawn was the first lawn laid in Portugal!
Viewing the palace from a distance was amazing and I just stood in awe marvelling at the labour of past generations and at the blue sky dotted with clouds stretching over the dynamic dome. I can see why it's a popular venue for weddings. I would love one of my children to get married here in the future or maybe I should get divorced so I can get married again (ha ha). I am actually considering renewing my wedding vows here in the future, well I was until I saw the price! There is a scenic fountain outside of the palace and we met a friendly cat basking in the sunshine. It was so lovely to enjoy peace and quiet away from the bustling crowds of Sintra and we only saw a handful of people, mostly American and Dutch. A lovely American lady told me I looked beautiful, bless her. She said in her very American accent "You look so pretty you should be in the photo". To which her daughter replied "She was", I think she saw me twirling around in front of the palace and hubby frantically trying to get a non blurred photo (ha ha). Hubby is developing my skill for seeing shapes in things and he saw a penis and a Pikachu Pokemon in the intricate stonework (ha ha).
The Grand & Opulent Gardens
The Gardens are lush and sumptuous and to be honest is the main reason why I wanted to visit. I do love Palaces but nature will win over my heart and soul every time. It was wonderful to see a classical English garden design and a little slice of England. The park covers over 50 hectares and is home to over 3000 exotic species from all over the world including a botanical collection and has serene waterfalls and ornamental lakes as well as impressive stone arches and crumbling chapel ruins. There are so many trees, plants, flowers and indigenous species including the tree-sized arbutus, Cork Oak, Yuccas, Ferns, Holly, Bamboo, Palms, Agaves, Arboreal Strawberry, Camellias, Rhododendrons, Azaleas and many more. The different areas of interest include a fantastic dreamy Fern Valley as well as Mexican, Japanese and a Rose Garden. The aroma of the pergolas flanked with wisteria and jasmine were delightful. My favourite garden area was Fern Valley with all the delightful trickling waterfalls which made it so refreshing on a hot day. The lush green landscape, the warmth of the sunlight and sound of the chorus of birds was beautiful. I particularly liked the terrific trees and the pattern of the leafs, different shades of green and how the leaf shapes mixed with the sunlight and produced a combination of perfect shadows, a magical light show and quirky shapes on the pathways and tree trunks in the glorious valley.
There were so many frogs on lily pads in the Mexican Garden lake and we met some ducks with their baby ducklings which was cute. The mirror effect of the reflection on the water were spectacular. There are so many different species of plants and diverse origins and I found a huge tree with hanging vegetation that resembled the end of a broomstick, so weird and wonderful that I couldn't stop staring at it. I have to admit I did expect to see more roses in the Rose Garden but this is my only negative of the whole day. Just imagine all this glory of the Palace, park and gardens being your summer residence! I had to contend with Butlins, Minehead as a kid growing up in the 80's (ha ha). I take my hat off (literally) to the landscape garden designer William Stockdale, the botanist William Neville and the master gardener James Burt and not forgetting the romantic spirit of Francis Cook who commissioned the work. Covering an area of around two hectares, with indigenous trees and its own watercourse, the Farmyard of Monserrate on the adjoining property recreates a small farm holding with areas given over to different types of crops and animals, as well as a renewable energy system that has rendered it entirely independent from the energy point of view. In times past, this was a small farm that served the Park and Palace of Monserrate. 
Marvel at the Marble – Palace Interior
Rooms to explore: Entrance Hall, Central Gallery, Dining Room, Library, Sacred Art Room, Octagon Hall, Staircase, Billiards Room, Sitting Room, Music Room, Bedrooms and Kitchen.
The Palace interior is one of the most dazzling and extravagant I have laid my eyes on. Gosh where do I start, each room has a story to tell and I was intrigued as there are no doors on any of the rooms except for the Library and Bedrooms. Apparently this was on purpose, they didn't run out of money and it was so visitors would feel welcome to roam around the Palace without any feeling of restriction. It kind of reminds me of when I threatened to remove my teenage son's door off of his bedroom because he had an unhealthy addiction to his Xbox and Grand Theft Auto game. I never followed through on the threat as it seemed like too much hard work but on one occasion I got mad and removed the Xbox, T.V and every cable to teach him a lesson. It kind of backfired as he was and still is an avid reader so he just read his Philip K Dick Science Fiction novels and wasn't phased so I returned everything the same evening. Sometimes being a single parent is hard and you make some bad choices in life and epic fails. It took me 2 hours to try and reconnect every cable whilst he sat on his bed all smug (ha ha). 
Back to the Palace, It was so very regal with bright vivid rich jewelled coloured vaulted ceilings, mosaic flooring, pink rose marble columns, decadent geometric patterns and such intricate fine filigree of leaves, stems, birds and flower detail is everywhere you look. The design and architecture is breathtaking and will literally leave you speechless. I spent way too long inside viewing all the fine detail in the architecture and exploring all the history. The way the light bounces off everything portraying perfect harmony is truly blissful. The octagonal shaped central atrium is dominated by an astonishing central fountain and the natural light that pours in through the majestic main dome (cupola) above is exquisite and forms shadows among the luxurious foliage motifs that decorate the walls. You will get dizzy and neck ache from looking upwards! The gallery (central corridor) of the Palace that runs from one end to the other and interconnects the diverse rooms is a masterpiece. It is lined with a rich ensemble of highly decorated arches and columns with skylights between the arches to illuminate the area which produces pink, orange and bluish tones. I have always wanted a palace silhouette rear photo of me walking down a palace corridor as if I were floating and now I have one, actually I have more than one (ha ha). I was blown away by the mellow yellow Music Room decorated with busts of Apollo, The Muses and Saint Cecelia (Patron Saint of Music). I bet the acoustics are brilliant. It's a shame there is no piano as I wanted to play my rendition of "3 Blind Mice" (ha ha).
The Library was also gorgeous and one of my favourite rooms lined with walnut bookshelves and an awesome walnut carved door which is a true piece of art and is decorated with the classical theme of Diana, the Goddess of Hunting and just so happens to be my mum's name. I love the fact that a small part of the old ceiling is left to show the comparison before the restoration work was completed. There is even a billiards room, it was like a real life game of Cluedo without the murder. I could visualise Colonel Mustard in the Music Room seeing as it's very yellow (ha ha). The huge stained glass window in the Sacred Art Room is unbelievable! The captivating views from the arched windows of green hillsides and nature peeking through is heavenly. Unfortunately, the palace was emptied of its furniture and collections in the middle of the 20th Century so there are no palace artefacts to see which in my eyes makes it a bit desolate and sad but on the other hand being so bare and naked it accentuates the beautiful floors, walls and ceilings. Also it means that I only saw one member of staff on guard patrolling the Palace so I could touch stuff without getting told off. There are photographs by David Knights-Whittome taken in 1905 and exhibited in different rooms to show what the palace looked like back in the day when the Cook family lived there. There is also a little model of the palace which is interesting to view.
The Lavish Loggia
I fell in love with this area that encircles the palace. I can just picture myself sitting here in the shade of summer with a tall cold drink and enjoying some tasty tapas looking out over the stunning green lawn and landscape beyond. The ancient stone benches are very quaint and the whole area is very calm and scenic. There are cute little red and white striped canopies and it's a stunning area for photos. A lovely man from Switzerland offered to take our photo which was very kind of him. He thought we were Australians which makes us wonder what the hell my Bristolian and Hubby's mix match of Essex and Stroud accents sound like (ha ha). I jumped up onto the wall for a photo and as I hopped down I grabbed onto the stone planter which one would assume would be fixed to the wall, it wasn't and I very nearly caused a dramatic scene (ha ha).
Nature & Fusion – The Captivating Chapel
This was my absolute favourite area in the gardens, what a hidden gem. Designed by Francis Cook and created out of the chapel built by Gerard de Visme in replacement of the former Chapel of Our Lady of Monserrate. Engulfed by vegetation, one corner of the ruin has been overtaken by nature, swallowed by the roots of an Australian rubber tree which was mind blowing, so amazing and unique to see. A pure scene of romantic abandonment. The Chapel niche once contained three Etruscan sarcophagi that served as garden ornaments. Today, these are in the collections of the São Miguel de Odrinhas Archaeological Museum in Sintra. The area was described in detail in Thomas Cargill's lyric poem about Monserrate called "Fairy Life in Fairy Land" published in 1870. An amateur botanist, Cargill had quite an influence on the development of the garden. Wow, what an epic place! 
Staircase and Sumptuous Scented Path
Recently subject to restoration, the Staircase on the Scented Path repeats the decoration features on the balustrades on the terraces around the Palace and makes a connection with the garden, taking advantage of the scenic effect generated by the water mirror provided by the Fish Tank. The date of its construction has not yet been determined although all the evidence points to its integration into the park corresponding to the final works restructuring the garden carried out by Francis Cook in the closing decades of the 19th Century. This stands alongside a pathway flanked by pergolas ornamented with Wisteria and Jasmine, flowers with intense and highly pleasing aromas.
Fear of Florals – The Grown Up Lady Outfit & Henrietta the Hat (Take 2)
Well I did it folks, as promised I purchased a lady floral dress and hat. It wasn't an easy feat as the shopping mall has a lot of young fashion. I did see some beautiful dresses in Zara perfect for weddings but all the dresses I liked were around €60 and the frugal me didn't want to spend €60+ of hubby's hard earned money on a dress that I would only occasionally wear. I live in old leggings for DIY and gardening day to day and when we do venture out it's usually on a hike where I wear workout clothing or paddle boarding which requires a bikini and men's surfing shorts (they are longer and don't ride up) so for me personally it would just be a waste of money. I don't mind splashing the cash on an outfit for my daughter's graduation next year but for now it's bargain basement all the way.
Our other day trips always include exploring ruins and involve a lot of climbing so I always have to team any outfit with trainers to be comfy and for safety reasons. In the end I opted for this Lefties €12.99 floral dress and Primark €4 hat. In all honesty it wasn't my first choice and the sole reason why I took it into the changing room was because I only had 2 other dresses to try on that I liked. At my age it's such an effort to strip off in a changing room so my aim is always to take 3 items otherwise it's just not worth the faff of undressing (ha ha). When I saw it on the hanger I did think it looked like a frumpy old ladies dress and something a middle aged 55 year old woman might wear, then I realised that is me and I'm middle aged (ha ha). It turned out to be the best of all 3 outfits as one of the dresses was completely see through and that is definitely not the look I am going for (ha ha). I felt like a right plonker trying to pose all lady-like and proper with my hat and hubby kept making me laugh to the point I nearly wet myself again (ha ha) but at least I tried my best. The heels didn't last long as I can't walk in them. I was prepared like a keen boy scout with trainers and flip flops which was good as I look like a cow on crutches trying to walk in heels and I'm paranoid about tripping and falling into a fountain (ha ha). I did stand out like a sore thumb as most tourists were dressed for rain and comfort as they had highly likely already visited one of the other attractions in Sintra and it was pouring down in the morning. I don't actually mind the odd person staring as it's not like I am ever going to bump into these people again anytime soon.
I don't particularly like my dress, I just feel old and unattractive and it's just not (me). It's also very slightly see-through! I wore black underwear as I had a prior medical appointment and my black knickers are my biggest, I didn't want to wear skimpy panties in front of the male doctor and I couldn't be bothered to landscape my own lady garden prior to my appointment. I now wish I had bought the short pink dress but I was afraid I would look like Miss Piggy from The Muppets (ha ha). I was trying to look like Princess Diana but ended up looking like the Duchess of Cornwall's younger sister, oh well, I am from Bristol (ha ha). Funnily enough the Rose Garden was inaugurated by His Royal Highness the Prince of Wales and the Duchess of Cornwall.
This hat wearing is a one time event people, back to my comfy clothes and trainers for the future and Henrietta can hide in the back of my wardrobe. I don't think I suit bold patterns and fussy prints. I like one solid colour preferably black. I am trying to step outside my comfort zone and experiment with colour but I will always be a fan of black. Maybe I should be a Goth (ha ha). My hat got a bit squished in the boot car on the journey home and it also got a few splodges of wet stains from moss stone benches and now it resembles a soggy cowboy hat so if I ever decide to wear it a 3rd time I'm going to look like Woody from the Toy Story movie (ha ha).
Pants at Posing
I just thought I would also explain that a lot of my hat photos are funny posing photos and we are not taking ourselves seriously. I had a laugh trying to recreate some Instagram poses but most failed frantically. I'm just pants at posing, I find it really tricky to pose for a camera and I feel awkward. My posture is terrible due to my chronic pain. I know I have worked hard on my diet and fitness but I still often still see that sad old me, the 235 lb lady always wearing black and trying to be invisible. The mum who has virtually zero photos of myself with my kids growing up because I was ashamed of being fat and obese in a photo because looking at a photo made it real. I was ashamed of my body and still am to a degree. I wish I could learn more self love and body positively but it's something I will always struggle with. So today at nearly 50 I embrace life and take as many photos as I want because no matter what I look like, life is for living and enjoying. So my advice to everyone is never shy away from a camera, take the photo so you have a beautiful memory of that perfect magical day.
Oh Crumbs – Monserrate Tea House
Close to the Boulder House is the marvellous Monserrate Tea House. This pleasant Tea House is located in the Old Stables building. It was definitely Caffeine O'Clock and I just had to sample a "Travesseiro", Sintra's famous pillow shaped pastry (the word literally means pillow). These delicate, light as air pastries are made of puff pastry filled with a sweet, eggy almond cream and dusted with caster sugar on top. They have a pocket of air on top of the almond cream and melt in the mouth. I made a shitty mess with all the crumbs and hubby was embarrassed. We shared the cake and after seeing the mess I made hubby waited for me to finish my half before he ate his so he could have the plate. I do try my best to be a lady, honestly. It's fine as the birds will eat my crumbs. The cafe was a bit pricey and 1 coke, 1 coffee (espresso) and 1 sweet pastry was just over €5 but the pastry was so yummy and I'm not usually a big fan of puff pastry.
Husband No3 – Laughs and Giggles
We had a few funny moments as usual. Firstly, as I previously mentioned, I managed to leave my doctor's appointment without paying the €90 consultation fee and the receptionist had to chase us outside. I was mortified and it was a genuine mistake as I was in a world of my own. When we arrived at The Palace I had to change outfits because I had worn a dress with buttons all the way down the front to my medical as I knew I would have to strip off and the buttons gave me easy access so I didn't have to pull anything over my head and risk falling over in my heels. Outfit 2 meant I had to get naked and change in the car park, apologies if I flashed anyone, there is no easy way of changing in a car. Then I was having way too much fun with a marble column and a member of staff came out to see what I was doing which was a little awkward as I was posing ridiculously for a photo. At the end of the day we visited the toilets and there was a stench of poop all down the stairway. I said to hubby I don't want to go in the ladies' room as there are only 2 toilets and no one is in there and if someone walks in they are going to think that I was the culprit. I gave him my hat and bag to hold and he blurted out really loudly "Don't worry, if anyone comes past me to use the loo I will tell them that the smell isn't you" he is so embarrassing at times but I did laugh. When I went into the toilets I had a 50/50 chance of entering the poopy toilet and guess which one I entered? (ha ha). 
My phone ran out of battery so hubby went back to the car to retrieve the battery charger and he got lost. He left me for a while and I nearly obtained husband number 3 (ha ha). A nice older Dutch gentleman thought I was on my own and single to mingle. I think it was the hat that enticed him over or maybe it was my adorable aura (ha ha). It was more likely that he got lured over by the sweet scented aroma of the pretty purple lilac wisteria that I was sitting underneath. He may have assumed that this aroma was emanating from my body when really all I was expelling was a hint of Helen (Lady glow from the Portuguese heat). When hubby returned he was delighted to have stumbled across a strange Boulder House and he was very excited to show me its glory. Today, the Boulder House is used as the head offices of Parques de Sintra-Monte da Lua. In the past, the top floor was used as a carpenter's shop, while the bottom floor served as a cow shed.
Macacos me Mordam – Monkeys are Biting Me!
This is a typical Portuguese idiom which is very apt for this Palace. It is used when someone is intrigued by or surprised by something. As if being bitten by a monkey would bring you back to reality. This sums up this whole place as I experienced multiple WOW and WTF moments where I just stood in complete disbelief at how very beautiful this Palace is. I felt very blessed to experience another wonderful warm and dreamy fun day with my soulmate. This is my favourite photo of the day, just WOW! Look at the architecture of the palace and the bright pink flowers clashing so wonderfully with the orange birds of paradise. I think PARADISE is the perfect word, simply breathtaking.
Photo Gallery
This place is so awesome I had to make my photos LARGE. I don't particularly like sharing big photos of myself as believe it or not I am actually quite self conscious and you will know why if you have read any of my weight loss posts. I did do a lot of posing for photos on this trip which I found awkward as hell. Luckily there was no one around (or so I thought) to see me twirling around outside of the palace like a ballerina on speed (ha ha).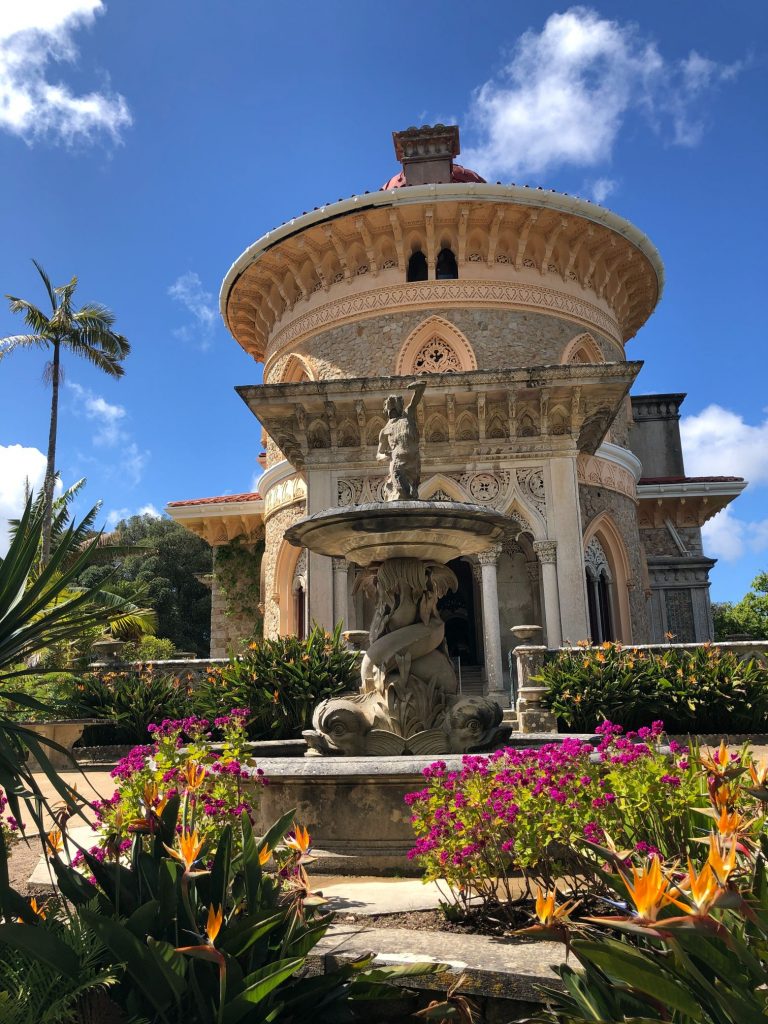 Lord & Lady of the Manor Selfies
My hat has a mind of it's own and moves so I resemble a pirate in the last photos (ha ha). We abolished the faff of the selfie stick and just persevered with the "How far can hubby's arm stretch?" Up close and personal selfies.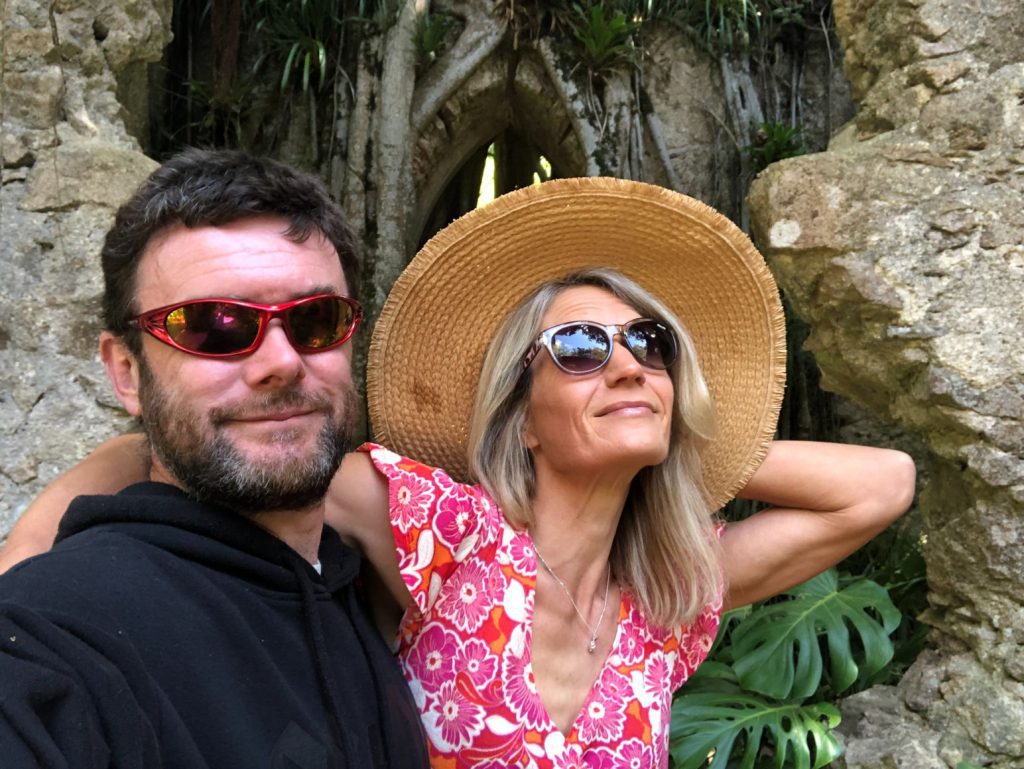 Library Walnut Door Selfies
I LOVE this door, as I said, probably way more than I should (ha ha).
Hat wearing Hubby
I think hubby modelled my hat better than I did (ha ha). He made me laugh so much with his posing. I'm not sure it matches with his ACDC hoodie (ha ha).
Shady Lady
We both will be wearing sunglasses in every outside photo due to 2 reasons. Hubby always blinks in photos so when I return home and look at my photos, the nice ones of me always have him blinking and the only ones where he can keep his eyes open (because it's such a hard task), he looks fine and I look like a bag of shit (ha ha). Secondly the bright Portuguese sun is so strong that one has to squint so every photo just has us with screwed up squinting expressions which does nothing for our ageing wrinkled faces, I mean laughter lines. The frugal me doesn't believe in wasting money on botox and fillers, I like to be able to move my face and keep it real. I know people who have had botox and their whole face has changed to the point that I don't even recognise them anymore (ha ha). Here is the only one photo of me minus my sunnies, see what I mean! (ha ha).
Princess Swirling & Twirling
I couldn't do my family thing of jumping high in the air wearing heels so I decided to do something more ladylike and twirl and swirl around like a princess. I twirled and swirled in 4 separate locations! It's very hard to spin around in heels and not fall over. Hubby thinks it's equally as difficult to take photos of someone spinning around in circles like a hamster on a wheel. It wasn't any better with the hat off either, in fact it was worse (ha ha).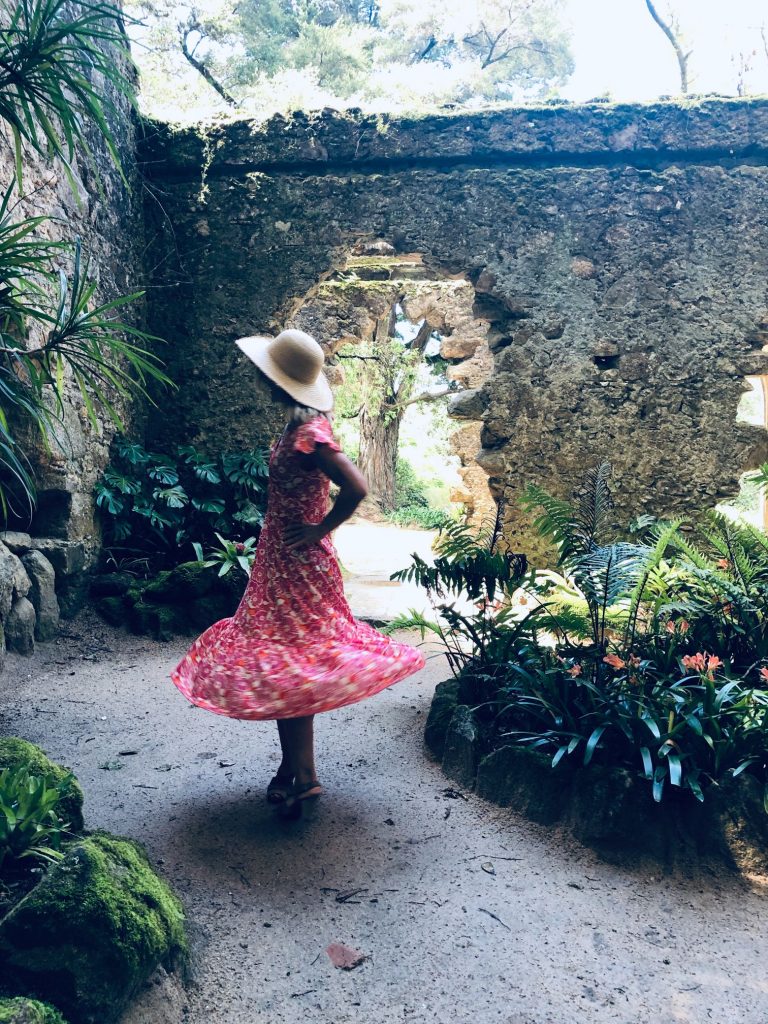 The one I don't actually HATE
Mainly because my face is dark and invisible (ha ha).
The Kindness of Strangers
Here are the photos that complete strangers took of us, bless them. I always find it hard to pose and smile for strangers but it's so refreshing and nice to have photos together that do not consist of Selfies. I think I am going to ask a stranger to take at least one photo of us during all future day trips. Hubby apologises for his belly as he looks like he has ate all the pies (ha ha). I think it's a combination of the white shirt and the angle as he isn't a chubster and only weighs 11 stone.
Overview
It was so marvellous and overwhelming to enjoy all this glory and incredible setting in peace without any bustling crowds of tourists. We only saw a handful of other people so it was a real treat and delight to be graced with such luck again. Tickets cost €10 but if you buy them in advance online they are only €8 which in my opinion is an absolute bargain. They were actually only €7.20 each when we bought them as for some unknown reason we got a further 10% off and the tickets once purchased are valid for one year. If you are not driving then make sure you have plenty of energy to climb the steep hill to the Palace and save some energy for all the princess twirling of course!
It is apparently one of the least visited palaces in Sintra as most tourists opt for Pena Palace, Sintra Palace or Quinta de Regaleira which are located right in the heart of Sintra. This makes Monserrate Palace a great option as there are less tourists and plenty of parking spots. I loved everything about Monserrate Park and Palace. I have never seen anything quite like it before in my life and enjoyed a solid 5 hours here. It really is a feast for the eyes and an awe inspiring experience. The whole place is immaculately maintained and I was hypnotised by all the huge trees and brightly coloured flowers everywhere. The whole place could be the basis for a romantic novel and I can totally see why so many writers escaped to this harmonious retreat for inspiration and tranquillity.
We even got some folk to take our photo so we have a couple of nice shots together that are not the dreaded close up selfies. I loved the fact that we didn't have to wear a Covid facemask inside the interior of the Palace. I don't usually take many photos of us inside Portuguese famous tourist attraction buildings as I don't like to view photos with us wearing a mask. I would rather just take photos of the interior building but as the face mask rule has just eased we were able to take some lovely photos of us enjoying the interior marvel. We even managed to get some great photos of each other by the fancy fountain. This usually isn't possible as there are too many tourists but the inside was like the park area, pretty empty so it felt spacious and safe. I think the only thing that would have made the day any better would have been a horse drawn carriage ride with a glass of pink champagne in hand (ha ha). On the way home we stopped off at Coimbra for some tasty dinner.
Monserrate Palace and Park is one of the most breathtaking and serene places I have ever visited and without a shadow of a doubt one of the most beautiful architectural and landscape creations of Romanticism in Portugal. It is small but well preserved and has such a unique subtropical vibe. It was an absolutely unforgettable experience and we had many special romantic moments as well as some ethereal zen moments too. You will get some incredible photos to treasure a lifetime. We had so much fun strolling around the mystical winding paths and discovering all the varied delights. How can anyone not fall madly and deeply in love with this Palace and dynamic dome. A perfect tranquil paradise and fusion of colour. I felt like a princess in my very own fairytale fantasy.