A DAY TRIP TO CASA DE MATEUS
We took a beautiful day trip to The Palácio de Mateus (Matthew's Palace) also known as Casa de Mateus (Matthew's House), located in Mateus just 3km from Vila Real. I was excited to visit the palace that is the image on the famous Mateus Rose wine bottle label. The early Renaissance and Italian Baroque style Casa de Mateus was built in the first half of the 18th century by António José Botelho Mourão (3rd Count of Mateus). The chapel was built and completed in 1750 by his son Luís António de Sousa Botelho. The house was designed by Italian architect Nicolau Nasoni and is managed by the Sousa Botelho foundation. The palace consists of the main grand house, the gardens, winery and chapel, it has been a National Monument since 1910.
Many people who review this place complain that it is overpriced as the gardens are not that big. I must admit at first I also thought it was a little expensive and more on par with Lisbon tourist attraction pricing but then I had a rethink and came to the conclusion that although it cost €13 per adult to view the house and gardens this did include a guided tour. We have viewed a few interiors of Portugal palaces/stately homes and we have never ever had a guided tour before, so in fact I don't think it was that overpriced but compared with places like Pena Palace and Quinta da Regaleira, yes I agree it was a little expensive hence why we didn't do the full attractions and pay €20 per adult. We have visited a few wineries and most chapels here in Portugal are free to view so I didn't think it was worth paying an extra €19.25 a total of €55 to view all the attractions. We were happy to pay a total of €35.75 to view the house and gardens. I think you also have to bear in mind that the descendants of the Sousa Botelho family still live in part of the main house and the electricity bill must be huge (ha ha). Jokes aside, it must cost a substantial amount of money to upkeep and maintain the magnificent buildings.
Tickets
There was a choice of tickets and we opted for just the house and gardens. You cannot visit the interior of the house unaccompanied; you must book one of the guided tours. It was open from 9.00-19.30 when we visited in summer.
Guided tour of house 50 mins, chapel, bottle box, gardens
Adult: €20
Children 6-12 y: €10
Students upto 25: €15
Guided tour of house 30 mins and gardens (This is what we purchased)
Adult: €13
Children 6-12 y: €6.50
Students upto 25: €9.75
Gardens only
Adult: €9.50
Children: €4.75
Students upto 25: €7.00
Firstly my top tip is do not park inside as there is a cost, you can easily park outside really close by for free. There are also discounts for families and they offer various wine tasting for an additional cost. You can also book a Sunday brunch if you wish. The guided tour can be delivered in Portuguese, Spanish, French, German or English, we opted for English (ha ha). You need to pre book and specify which language you want the tour in and choose a time slot. You may know by now that I dislike group tours and excursions. I suffer from social anxiety and much prefer just exploring places by ourselves so I was a little apprehensive about the group tour but seeing as it was only 30 minutes, I knew I would cope and it is nice to have someone who has a strong knowledge of the place so you can ask questions if needed.
When we arrived there was a small queue of about 4 families in front of us. We arrived 30 minutes before the time slot for the house tour as advised on their website but it became apparent that we would not enter in time as there was only one member of staff in the ticket office and he was taking at least 10 minutes with each family explaining god only knows what. When we reached the front we had missed our time slot for the house tour and the next tour in English was a 90 minute wait which was fine as we explored the gardens prior to the tour. We purchased our tickets online in advance and opted for the guided tour of the house and then explored the gardens by ourselves. 
The lake
When you enter you are faced with the most spectacular view of the house overlooking the lake which acts like a mirror and the reflection of the splendid house in the lake is so beautiful. There is a sculpture of a sleeping lady in the lake which was created by João Cutileiro in 1981. The lake is so pretty and surrounded by huge chestnut and oak trees.
The gardens and exterior
The gardens are absolutely beautifully designed, very tranquil and intriguing with cute winding garden paths and hedges shaped as arches and I loved the garden design of the symmetrical patterns. They are immaculately kept and the flowerbeds are so pretty with roses and camellias in full bloom. The huge palm trees look very exotic and the tunnels of cedars are enchanting. We played a perfect enthusiastic game of Hide and Seek in the gardens because we are children at heart or maybe we are just childish (ha ha). There were very few people visiting so the gardens were very peaceful.
We loved the tunnel of tree branches, just magical.
The guided tour of the house
The tour was a small group of about 8 people including us three and our tour guide was very friendly and knowledgeable. My favourite area was the library which is home to an illustrated edition of Os Lusíadas by Luís de Camões from 1816. I also fell in love with the intricately carved wooden ceilings and ornate staircases.
I fell in love with the fine detail of this Ivory Christ sculpture, wow!
The chapel
After the house tour we explored the gardens some more and the outside of the chapel.
Pizza lunch
Afterwards we enjoyed a lovely pizza lunch then continued onto exploring more of the nearby delights.
Santuário de Panóias
We accidently stumbled across this place whilst trying to locate one of the viewpoints. It is also called Fragas de Panóias and is one of the largest and best preserved rock sanctuaries of the Iberian Peninsula. It consists of 3 granite outcrops, stone stairs and sacrificial sinks. There is a small cost of €2 per person to visit which we were not expecting as usually these places are free to visit but this time there was a fence around the area and a man came out to explain there was a small fee to enter. I just love finding hidden treasure off of the beaten track. We were the only ones there so had the whole place to ourselves. 
Santuário de Panóias is a Roman religious sanctuary where sacrifices were carried out 2000 years ago. It is a fascinating place and we spent some time here exploring the site and trying to locate the Latin and Greek inscriptions on the granite stones. It was very surreal to visit such a unique, rare and sacred place. It had a mystical aura and there are several myths and legends associated to this sacred place.
Régua
I couldn't pass through the beautiful Régua without stopping for a stroll along the waterfront. Then I found 2 amazing viewpoints to stand and stare at the glorious panoramic views of the Douro Valley.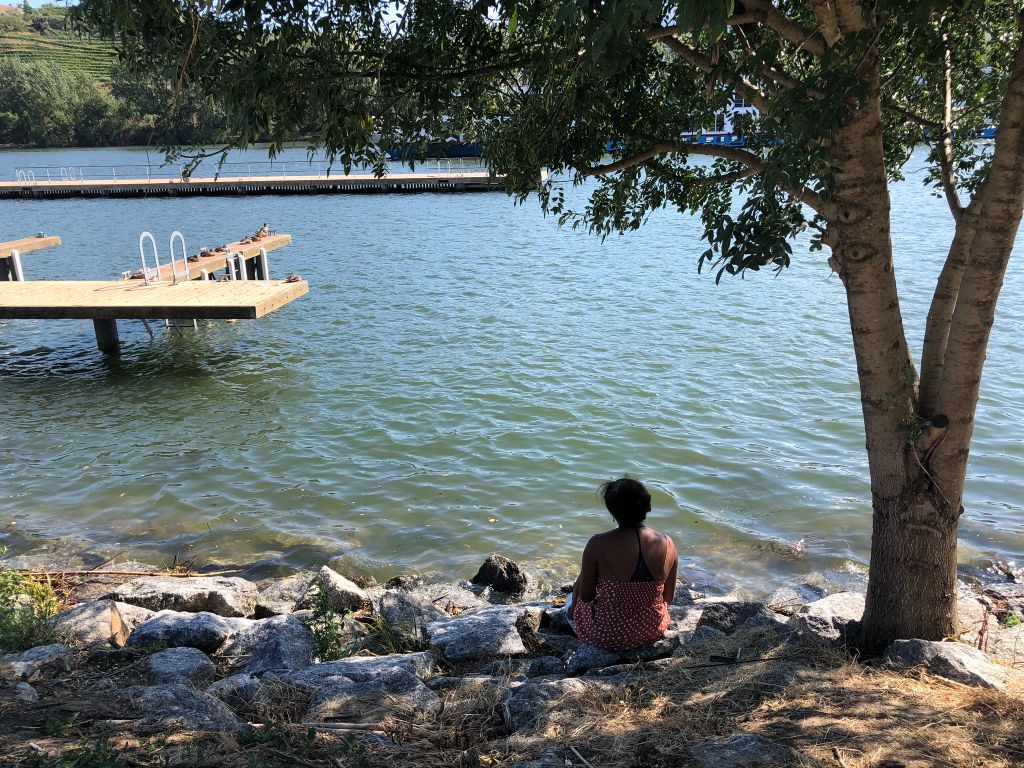 Miradouro de São Domingos
What an absolutely stunning viewpoint and chapel, we were the only ones there so had this spectacular place all to ourselves! The views are amazing and you can see the districts of Viseu, Vila Real and Porto as well as the mountain range: Serra do Marão and the Douro river running alongside Peso da Régua. You can even see the sanctuary of Nossa Senhora dos Remédios, in Lamego. We had so much fun here and had an enthusiastic game of Mr & Mrs arm wrestle challenge, I lost but i prefer to say I came a proud 2nd, which is a silver medal – don't ask (ha ha).
Miradouro de São Leonardo de Galafura
In Galafura, just a few km from Peso da Régua is this magical viewpoint and chapel. It is such a breathtaking dramatic landscape of the Douro river, hillsides and vineyards. There were only a handful of tourists here so a very tranquil place to stand still and admire the epic views. This wonderful place inspired the poet Miguel Torga who played tribute to this parish by dedicating a poem to it. He referred to this place in his diary as "an excess of nature". I was totally intrigued by this tile panel near the viewpoint with words from the famous Miguel Torga. He mentions the horizons stretched beyond plausible thresholds of vision and the silence, eternal harmony, serenity and absolute beauty. I think he got it spot on!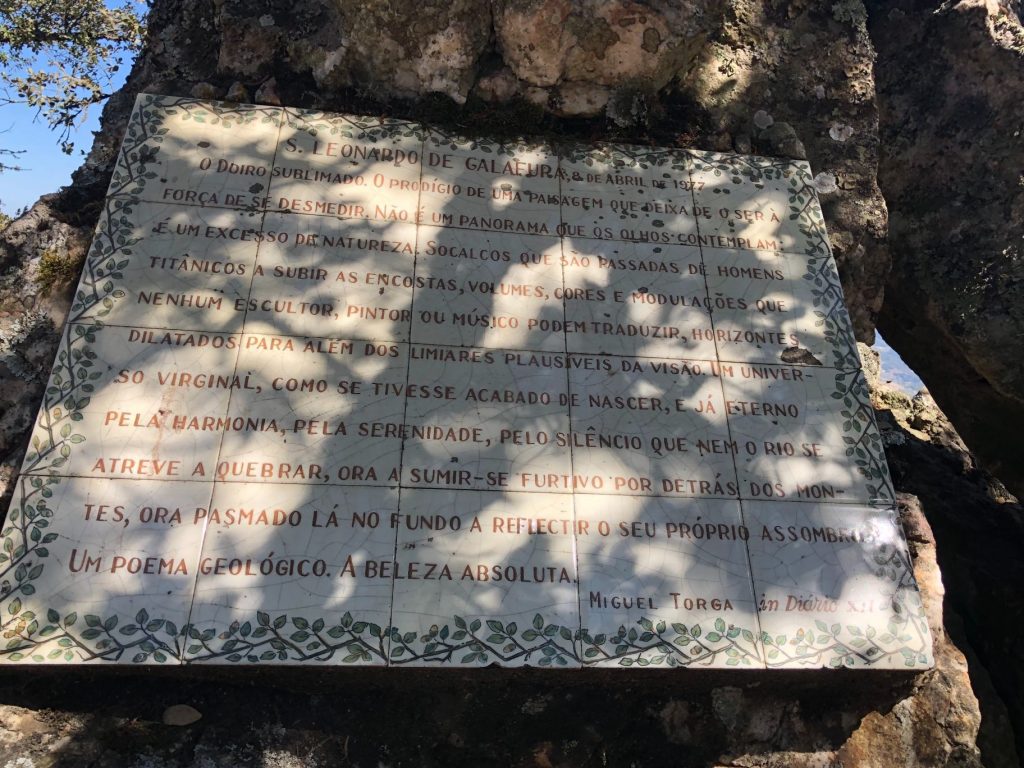 Overview
We had so much fun visiting Casa de Mateus and the delightful attractions of the Douro Valley. This final photo above sums up our adventure LAUGHTER & FAMILY FUN. We absolutely love the Douro Valley and this is our 3rd visit. Shortly after this day trip we returned for a 2 day trip to the Douro International Natural Park and embarked on a fantastic river cruise – new post coming shortly. I am now off for a glass or two of cool Mateus Rose wine, anyone want to join me? I can bore you to death with the history of Mateus wine with my new found facts after my visit to Casa de Mateus or we can just drink to excess and arm wrestle, your choice (ha ha).