A DAY TRIP TO CABRIL DO CEIRA GORGE & CASCATA DO CANDAL
I love exploring gorges, canyons and waterfalls so I planned a super Saturday visiting the wonderful Lousã. We love the area of Serra da Lousã and have already enjoyed an epic schist village hiking trail and visited the castle and nearby river beach as well as one of the famous swings nestled on the mountainside with sweeping panoramic views (Baloiço do Trevim viewpoint).
Cabril do Ceira Gorge
GPS Coordinates: 40° 10'35.1″N  8°10'29.5″W 
The Cabril do Ceira gorge also called the Garganta do Rio Ceira is an absolutely amazing little paradise with breathtaking views. The rugged landscape at the foot of the mountain is a very special sight indeed with the high quartzite walls of the gorge and Ceira river flowing between. It looks like someone has taken a knife and sliced the cliff in two. What a force of nature and natural treasure. It consists of a gorge/canyon, valley, river beach and a natural pool with crystal clear water. To access the gorge we had to drive down 2km of dirt track which is not in the best condition but just about manageable in a normal car. I really wish I had the budget to buy a 4 X 4 as so many hidden gems are located at the end of a poorly maintained dirt track. If you are precious about your car you can always park at the top of the slope near to the chapel of Senhora da Candosa and follow the path down by foot through the rocky canyon. There are not many parking spaces at the bottom but we managed fine as there were only a couple of other cars and about half a dozen people there.
The valley is covered in lush green trees including eucalyptus and pine and the aroma is fantastic. We spent some time here just breathing in and out and relaxing by the waters edge. It was an extremely tranquil experience and I can imagine during the summer months this place would be full of locals and tourists swinging on the rope swing and jumping from the high cliff edges into the refreshing water below. It is very shaded by all the trees and the water was "Muito frio" so there was some screaming from the crazy Brit (ha ha). We took a little dip because in my opinion it was a fun experience not to be missed as I have never in my lifetime had the opportunity to swim at the foot of a canyon in such a beautiful setting. We crossed the water to the other side and found a quirky little teepee that someone had lovingly handmade. I would recommend that you wear water shoes to cross the river as the rocks are very slippery and sharp with bare feet. I nearly lost my balance at one point. I loved this place and I really found it wonderful how the walls of the canyon form a mirror effect, bouncing the reflection of the surrounding beauty onto the water, so very surreal to view. I resisted the urge to pump up our paddle boards and paddle through the gorge as although the water is deep enough to jump in from the cliffs above it was quite shallow at the entry point and I don't think we would have been able to paddle for very far without hitting obstacles and possibly a dead end.
Cabril tunnel – There is light at the end of the tunel
We had tons of fun exploring the mystical cave (unfinished railway tunnel) which is on the left bank and was built with the intention to connect Serpins with Arganil. The small tunnel is approx. 20 metres long and 3.5 metres high. At the end there is a wooden ladder which we climbed to access the upper area. Here we found a hole to view the outside world! The ladder is not very sturdy and in disrepair and I'm sure we broke a few health and safety rules by climbing it but we are adventurers and like to live life on the edge, in this case the edge of a ladder but makes a change from the usual edge of a mountain (ha ha).
Cascata do Candal
GPS Coordinates: 40º 04′ 50.78" N   8º12'12.15″ W
The Candal Waterfall is located in the schist village of Candal, Lousã. The route to the waterfall begins in this village by the small bridge. When we arrived at the bridge at around 1pm we were shocked to find several cars parked in this tiny village on each side of the bridge. I was gutted as I was hoping that there wouldn't be many people hiking to the waterfall as I hate crowded places. Just next to the bridge we found a water fountain to top up our drinking water supply, a friendly cat and a lovely restaurant which has a shop/cafe. We stopped to use the toilet and hubby ordered a coke whilst I enjoyed a double espresso which gave me a much needed injection of caffeine for the hike. As we sat outside enjoying our drinks I saw many people climb down the steps, some with towels and I was so deflated as I assumed they were all hiking to the waterfall and I just knew it would be really busy. I very nearly changed my mind and went somewhere else. I am so glad that I gave it a chance as I clearly misjudged the situation.
The linear hike to the waterfall is approx. 3km there and back in total and is well signposted up to a certain point (red and yellow paint markings and signs saying "Cascata"). We only got lost once as the path is not well defined so it's not always obvious if you need to turn left or right. The trail is very beautiful and you start with a walk down steps where you will find an information board for the PR3 LSA official trail. You need to turn right here and follow the path down towards the schist house and cross over the little stone bridge which follows a flat path alongside the Ribeira de São João. When you reach a fork make sure you take the left path, there should be a wooden sign on the tree pointing left. From here onwards the route is now descending downwards and is no longer flat. We hiked through a magnificent pine forest rich in vegetation with quaint schist houses, ruins, water mills and a bridge. When you reach the opening the views of the valley are truly breathtaking. The caffeine soon kicked in and I was practically dancing my way through the forest with the biggest smile on my face. We visited on a dry sunny day in October and the terrain underfoot can get slippery as you walk over rocks and moist leaves on an uneven slope as you approach the waterfall so I would recommend sturdy footwear with a good grip. Also be prepared to grab and hold onto rocks to stabilize yourself, you will likely get muddy. The trail follows a downward decline/gradient and due to the latter part I would say this trail is of moderate difficulty and not for people with mobility difficulties. The journey there took us around 45 minutes as we had to take care not to slip and fall which slowed us down. We also stopped randomly to take photos. We completed the hike in trainers as we still haven't purchased our walking boots/trail shoes yet. The PR3 LSA Levada Trail in Serra da Lousã looks very inviting indeed. It links the village of Cerdeira to the Castle, passing through Candal.
When you arrive at the waterfall you will see it in the distance and hear the amazing sounds of nature. You will find some steep schist stone steps carved into the cliffside. We walked straight past the last row of steps initially and missed them as they are not easy to find. Make sure you climb down the steps right to the bottom to gain access to the foot of the waterfall to see all the glory up close. Beware these steps are positioned quite far apart and 1 is missing so it's a bit tricky especially if you have short legs like me. After climbing down the final flight of steps there is a steep slope and I nearly had an accident as although I didn't slip or trip I kind of thrusted forwards with the natural force of gravity and was saved by a tree. I love nature, especially trees and now I have a favourite tree because it saved my life! I hurtled down the hill at lightening speed and grabbed the first thing to hand which just happened to be a tree which thankfully stopped me in my tracks. God bless this tree trunk, I must have looked like a shocked koala bear clinging onto that tree. I certainly hugged it hard and said a little prayer. I have a feeling this tree has saved many lives.
I was not sure what to expect from this waterfall and I was so amazed by its size and beauty, what a wonder of nature! It certainly is an enchanted and hidden place nestled in the Lousã mountains. The water cascading down the granite rocks is a pleasure to view and the large glistening ecstasy rock pool beneath was just too inviting and I needed to wash off all the mud so I took a dip in the crystal clear water then sat beside the waterfall on a huge boulder to eat our picnic. Hubby didn't venture in the water because he is a pussy, I on the other hand am caveman Dave and very brave (ha ha). The best part about having the whole place to ourselves is not only do we get fantastic photos of the waterfall and backdrop with no one else in the background but we also get to mess around and act like children. I took the opportunity to splash the water high up into the air and enjoyed the feeling of freedom and being a free spirit. I most likely looked like an idiot but I don't care, it was so much fun (ha ha). I really wanted to stand directly under the water flow to feel the water pound my head and body and purify my soul but resisted as it was a forceful flow and freezing cold so it would have highly likely resulted in me purifying my pants rather than my soul (ha ha). The area is very shaded and the water although freezing cold was super invigorating.
I was very shocked to find the waterfall deserted. I kept expecting people to show up but we stayed for over an hour and enjoyed the solitude. It felt like we were rich millionaires and that we had paid officials to hire the whole forest and have the luxury of it without having to share the peacefulness with others. We still are a bit confused as to where all the people went as we saw many people descend down the steps but we didn't see another soul on the whole hike there or back. I think they must have followed the longer official trail which takes one in a different direction otherwise it's spooky as hell as they entered the forest then disappeared! Maybe it's a magical forest, some kind or quantum leap or the basis for a "wrong turn" horror movie (ha ha). I am so glad no one else arrived as it's not a huge area at the foot of the waterfall so it would have got crowded very easily. I also stripped off so it was good as no one got to see me undress and I didn't put anyone off of their food (ha ha). I am so amazed that we keep getting these epic places all to ourselves. I definitely feel very lucky and blessed indeed to live in such a wonderful country. I always leave a waterfall hike boosting with energy and happiness. Apologies if I have mud smeared across my face on the photos. I did try my best to wash off all the dirt in the waterfall but it wasn't until we returned to our car that hubby decided to tell me I had a streak of mud on my face right across my cheek. Better late than never and it's fine as it can be my warrior princess face paint. I'm not sure how anyone gets glamorous waterfall photos after hiking through a forest. I just arrive all hot and sweaty Betty with fluffy hair and apparently mud on my face (ha ha).
The schist stone steps
These are the schist stone steps you need to negotiate and a photo of the terrain underfoot which can become wet and slippery. Be careful when grabbing onto stones in this wall as some are not fixed and can move which makes it a challenging adventure.
Fungi fun
The hike back although uphill on an incline was much easier to negotiate. It took us around 25 minutes to return to our car and we found these gigantic mushrooms on the way back. Someone had picked 2 and just abandoned them in the forest. It's weird as I didn't spot them on the way down. I had way too much fun with these mushrooms. I am hoping they are magic mushrooms and will take me on a psychedelic trip of a lifetime. I left the shrooms in the forest as knowing my luck they won't be magic just poisonous and I will die if I eat them which would leave hubby distraught as he is quite fond of hyper caffeinated Helen and my enthusiasm for life, I can tell by the look of pure joy in his eyes (ha ha). Hubby would not touch me after my mushroom playtime. He made me wash my hands and use hand sanitiser before he would hold my hand (ha ha). He is not a fan of mushrooms. It stems from a childhood school trip where he was eating a chicken meal and picked up what he thought was a mushroom on the end of his fork. It wasn't a mushroom but part of the chickens insides which freaked him out. I still don't get why he doesn't like mushrooms. It wasn't even a mushroom but he can't eat them which is a huge shame as I want to go on an official mushroom walk being organised locally. As part of the day you get to forage for wild mushrooms with an expert then eat a mushroom risotto together so hubby is not keen, bless him.
They look like breasts complete with nipples! I only wish my boobies were this big (ha ha).
Candal schist village
After the hike we explored Candal schist village. Here are photos of the village, bridge, restuarant, water fountain and village cat.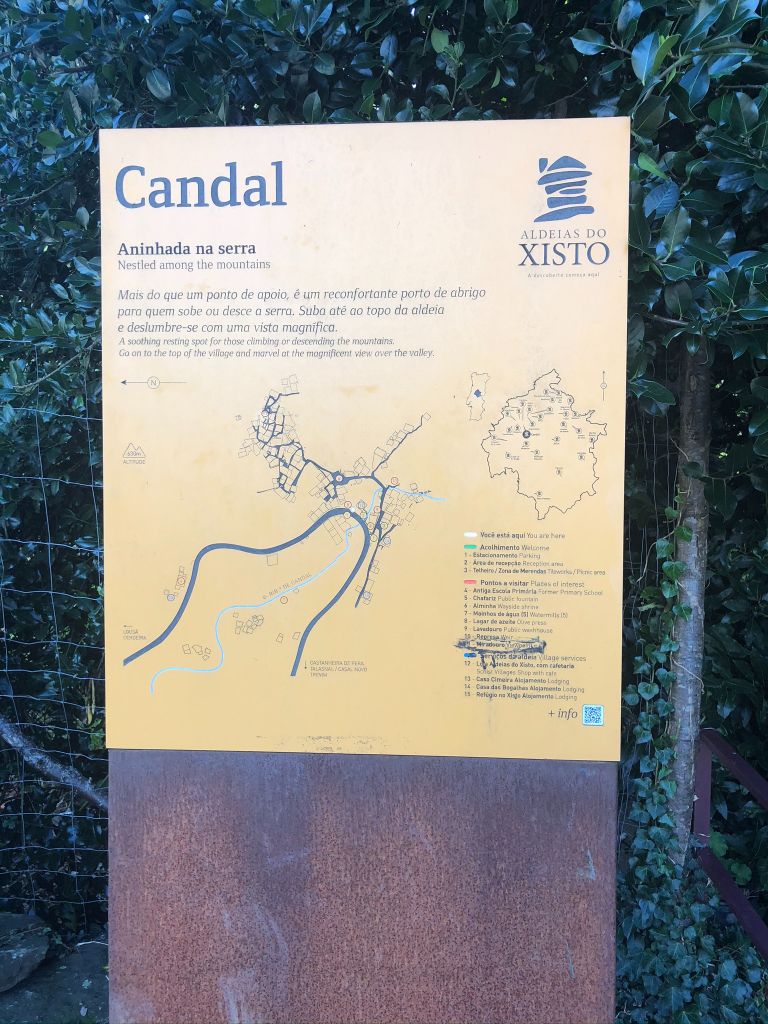 Santuário de Nossa Senhora da Candosa
We ended the day at the wondrous Sanctuary of Our Lady of Candosa which is a spectacular viewpoint close to Vila Nova de Ceira, with a quaint chapel and old bandstand. It was evening time but still absolutely perfect. I love to dance and twirl in bandstands until I am dizzy. Luckily for us there was no one else around so I got to dance and sing songs from The sound of Music much to hubbys delight (ha ha). I was amazed to find that a passadiços (wooden walkway) was in the process of being built.
Viewpoint and the new Passadiços (Wooden walkway)
I can't wait for this Passadiços to be completed. I am so excited as I LOVE to hike the wooden walkways of Portugal. I wonder how many km this one will be. Just look at the fantastic views!
Sensational sunset
We stayed to watch the magical sun set behind the Lousã mountains. I always get sad when I have to return home after a fun day exploring. Then I remember that I'm not on holiday and I actually live here so can return any time I wish.
Overview
What an astounding day viewing these 3 breathtaking places. The awesome gorge, waterfall and viewpoint are truly spectacular. Amazing sights right in the heart of nature. If you haven't visited Lousã, I highly recommend it. If you love nature, hikes, cycling, trail running, schist villages, castles, waterfalls, swings and super sunsets then this is the place for you. I really should be hard at work on several gardening and DIY tasks around the house but when the weather is 27 in October there is no way I'm wasting the last of the Portuguese sunshine on manual tasks when I can be out and about exploring wonderful places and eating delicious picnics next to tranquil waterfalls. I am also going to enjoy the joy of paddle boarding for as long as I can and may even buy wetsuits when the weather temperature drops. The jobs around the house and garden will always be here. My garden may look a little dishevelled at the moment (a bit like me at the waterfall) but I don't care. I'm having way too much fun visiting epic hidden spots with my soul mate which brings me so much joy.
Get a grip Helen
I have purchased Mr & Mrs matching Merrell hiking footwear as a gift to hubby for his birthday which is in a couple of weeks so no more hurtling at lightening speed down forest pathways and no more clinging to trees like a koala bear unless I feel the urge to hug a tree (ha ha). I am beyond excited to eventually own shoes with a proper grip. Hopefully if the weather stays good we can christen our hiking shoes on the weekend. I´m not going to bother to wrap them up as I can´t be bothered and in my eyes I'm saving the planet by not contributing to paper waste. Instead I recycled a Christmas bow and tied the laces in a knot together. I was aiming for "The true lover's knot" which is a simple and clear knot made up of two overhand knots, linked together. The completed knot symbolises our future, two becoming one, working in unity and secure in the knowledge our relationship will continue to be strong like the knot despite the inevitable changes life brings. I hope I can unfasten the knot otherwise we will be hiking like we are participants in a 3 legged race and I'm not sure I want to be physically tied to hubby it was just meant to be a heart felt symbolic gesture (ha ha). I also bought some epic gortex trail running shoes as I wore my trainers out after only 6 months from all my hill running!