AN AFTERNOON TRIP TO PRAIA FLUVIAL DE AVÔ
Avô river beach is located in Ilha do Picoto, Avô, a small idyllic mountain village located close to Oliveira do Hospital. It lies between the mountain ranges of Estrela, Caramulo and Açor and where the Alva river meets the Ribeira de Pomares, forming the island of Picoto. It's a short 16 min drive and 7.5km from our casa. There are a few bendy narrow roads to get there but we are well used to this now and the scenery along the drive of hillsides and forests are spectacular. This area is another which has been affected by historic forest fires but the vegetation is lush and repairing well. I nearly did not visit this river beach as I read Google reviews and one review from 2 months ago said this: What happened to our favourite beach? We went here until late in the summer last year, loving this place. Now we come back for the first time and it's a mess. It changed completely and not for the better. A great beach got ruined. What a bummer! I have no clue what this person was thinking as this river beach is amazing. I can only think they reviewed the wrong one or they are significantly short sighted as it's epic. I have really high standards and am quite hard to please so if I say it's epic then it really is the bee's knees (ha ha).
There is a small car park near one of the entrances and you can drive right down and park really close if you have disabilities. They are a couple of entrances one at the top of the hill and one at the bottom. We just parked on a side road and walked 2 minutes to the entrance. This is my absolute favourite river beach so far. I really like the beautiful lush green valley where you can witness the best nature has to offer. The combination of both sandy and grassy areas gives plenty areas to sunbathe, it has a children's pool and the landscape over the hills is stunning. The houses on the hillside are very pretty, just imagine owning one of these houses! It offers plenty of shade on the grassy area due to the shadows of alders, willows and mimosas and we managed to secure a free parasol on the sandy beach. A picnic area is located at the top overlooking the river where we enjoyed our usual afternoon picnic. There is a small island and a stone arch bridge from the 18th century linking it with the village and river bank so a great opportunity to go for a wander if you are fed up with swimming and sun bathing. I love that you can swim under the stone arch bridge. The village of Avô is worth a visit to get lost in the cobbled streets and view the little granite houses. There are the usual rocks that brave hearted people were jumping and back flipping off. It has a cute board walk and a life guard on duty.
The water as always is crystal clear but this time it was very cold. I had so much fun swimming in the river with hubby. There is an ice cream/drink stand near the beach area. You can hire canoes to explore the river or just go around in circles like I usually do (ha ha). It also has a cafe/terrace bar with beautiful views so ice creams all round and it has changing rooms available which is a bonus. You need to wear a face mask when entering the cafe but can take it off once outside. We found a lovely picnic table and bench at the back of the cafe. If you walk to the back of the cafe you will find a more secret secluded area of the river if you want to enjoy some alone time. There were 2 people fishing in this area which was cool to watch. We arrived at 1.30pm and there was only about 15 people on the sandy beach area as most people were on the grass or in the cafe. For me this is a real bonus as I really hate crowds. If this was a beach in the U.K it would be rammed full of people on a glorious day like this. I was so amazed at the low numbers of people. By 3pm more people arrived but it was still really low in occupancy and did not feel busy at all. There was one Portuguese family with small children who arrived and decided to play a stereo with dodgy dance music. The music got louder as they consumed more beers. I don't know why people do that and subject others to their awful choice of music. Luckily they didn't stay long. I also got a waft of marijuana from their direction which was just rude. If your having a joint at least spread the joy and share (ha ha).
This river beach unlike many others has great accessibility for people with mobility difficulties and an amphibious chair which allows all people with reduced mobility to access the water with lifeguard support. Due to floods in 2016 it was renovated and installed with a special aid so all people can enjoy the water which is great news for us. I am interested in such information as hubby has two sons who are wheelchair users (cerebral palsy) and when they visit next year we will need to source local attractions that they can easily get to and enjoy. Otherwise it's a case of struggle over rocks and sand with a wheelchair, run at high speed and launch them like a catapult into the water (just kidding!). Always respect health and safety folks! There are apparently over 30 river beaches in my area that have accessibility for people with mobility restrictions which is fantastic.
Accessible beach link
https://www.visitportugal.com/en/encontre-tipo?context=404&f[0]=bm_field_ma_praia_acess_vel%3Atrue
I have persuaded hubby to order a couple of lilo's from Amazon so I can float down the river. We have also ordered one of those sun shade pop up tents for 2-3 people as although river beaches have lot's of shade from the trees our pending visits to beaches on the coast will have little shade. God only knows what we are going to look like on our bright coloured lilo's, bloody Brits, can't take them anywhere (ha ha). I am sure we will lower the tone with our synthetic fibred inflatable air beds but I don't care. It's gonna be epic! It also could be a lot worse as I did see a rather attractive inflatable sparkly pink flamingo online which I thought suited my personality as unicorns are so 2019. I could have experienced hours of fun and it would have portrayed 'A bird on a bird' but hubby said NO! Personally I don't see the issue it's not like I wanted to float down the river on a giant inflatable penis! (ha ha).
I don't actually need to visit anymore river beaches or beaches as hubby shook his towel in our bedroom so now I have at least 1/2 kilo of sand on my bedroom floor. Just need to buy a paddling pool and we have out very own river beach with our bed as the island (ha ha). I also managed to burn my thighs! The sun did not seem that hot and I used a high factor sun cream but it's obviously misleading. I now have red thighs which resemble a pair of jumbo pork sausages. It hurts like hell, burning so hot I could fry an egg on each one, it also hurts a lot to pull my knickers up and down, not that I pull them down a lot, just for the loo (ha ha).
Photos:
It's pretty common for us to visit beautiful nature spots but I must say that this river beach was so stunning, it literally took my breath away.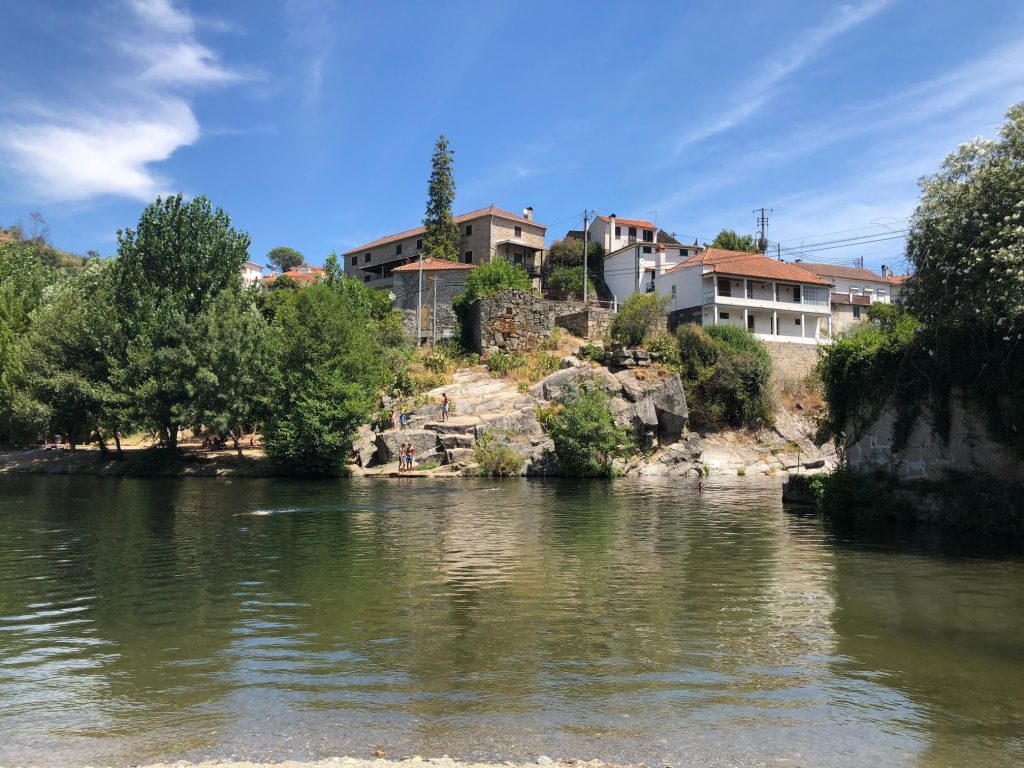 Coordinates:
GPS coordinates: 40 ° 17'38.8 ″ N 7 ° 54'20.9 ″ W
Update August 2020:
I love this place so much I returned with my daughter during her 2 week holiday here. We had so much fun floating around the river on our inflatable lilo and doughnut.
I also love the nature here, look at this little frog I found in a rock pool: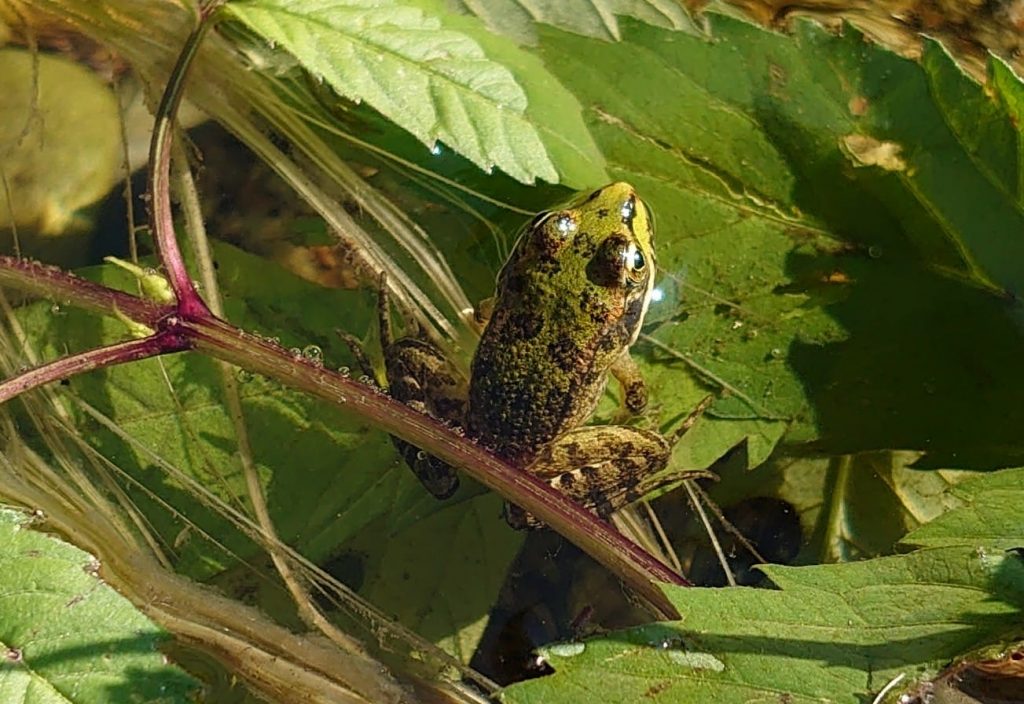 Kayak hire is only €5 per hour!