ROTEIRO DO ARISTA (PENACOVA)
Penacova is such a hidden treasure of raw beauty that I just had to return to complete the Roteiro do Arista. This trail consists of a selection of eight amazing tourist attractions. At each location you will find a letter of the alphabet which spells out the word P.E.N.A.C.O.V.A. We visited the tourist information centre in Penacova to find out more information and were given a "Passport" which is a little booklet explaining each attraction. It's a bit like a treasure hunt but the letters are not hidden which is great for me because I can't see for shit (ha ha). If you want to you can get your passport stamped at each location or you can alternatively download an App to obtain the digital version. I do not quite get the concept of the paper passport as the only place one can physically get a member of staff to stamp it is at the Monastery. Most of the other attractions are viewpoints with no staff present so how one gets a stamp is confusing and impossible unless I'm missing something. I highly recommend that you download the App which allows you to take a photo at each location which then uploads and saves instantly. Upon completion of the trail you will receive a digital stamp that certifies that you have completed the trail. You can then return to the tourist information centre to claim your prize (free gift). At this stage I had no clue as to what the free gift was, all will be revealed further down in the post. I was hoping it will be Portuguese coffee and a cake and not a keyring, pen or worse, a lanyard to hang all my non existent keys on around my neck (ha ha). I'm was not that bothered about returning for the free gift but my curious mind morphed into overdrive mode and I was intrigued as to what the free gift could be. Frugal me loves free things. The App also designs a mosaic postcard with each of your 8 photos with a cute logo, making it immediately available to share on social media networks which is very cool. Unfortunately hubby's App didn't work. He has a new Android phone and I have an old iphone. The App is available on both iOS and Android so I'm not sure why his didn't work but it just wouldn't upload his photos which was a shame. I took a photo of him at each letter location as proof of the trail completion because he wanted the free gift too.
One important factor to mention is that you have to be at the exact GPS location for the uploading of photo on the App to work. I assumed I would be able to upload my photos from home that I have already previously taken at the couple of places we have already visited but this won't work. It kind of makes sense as otherwise one could steal someone else's photos quite easily. I just assumed because I was physically in my photos standing next to the letters that it would be O.K but unfortunately it doesn't work this way. This meant that we had to re-visit all 8 tourist attractions if we wanted to play the game and claim the prize. We didn't mind doing this and when you take the photo you instantly save it to the App and you also get the opportunity to retake the photo if your significant other is shit at taking photos and you don't like the first photo. My hubby is not the best photographer and often takes a photo of me which makes me look like I have either 2 gigantic asses or 5 chins (ha ha). We initially found out about this trail by accidently stumbling across the Letter A at the wonderful Livraria do Mondego back in the summer. I took a photo of hubby next to it as I thought it was cute that it was a letter A for Adrian which is hubby's given name. I know, I always refer to him as hubby, it's just easier. Seeing as we have already visited a few of the tourist attractions we added on an incredible trip to 2 more whimsical windmill sites.
Penacova – One Foot in the Grave
Did you know that Penacova translates to "One foot in the grave!". Pe = Foot, Na = In and Cova = Grave. This got us chatting about the old 1990's British sitcom One foot in the grave with Victor Meldrew played by Richard Wilson and his long suffering wife Margaret played by actress Annette Crosbie. We have our own names for places here in Portugal and we always call Penacova "Panic Over" and usually say it with a Northern accent, I have no idea why, I think we are going slightly bonkers in our old age (ha ha).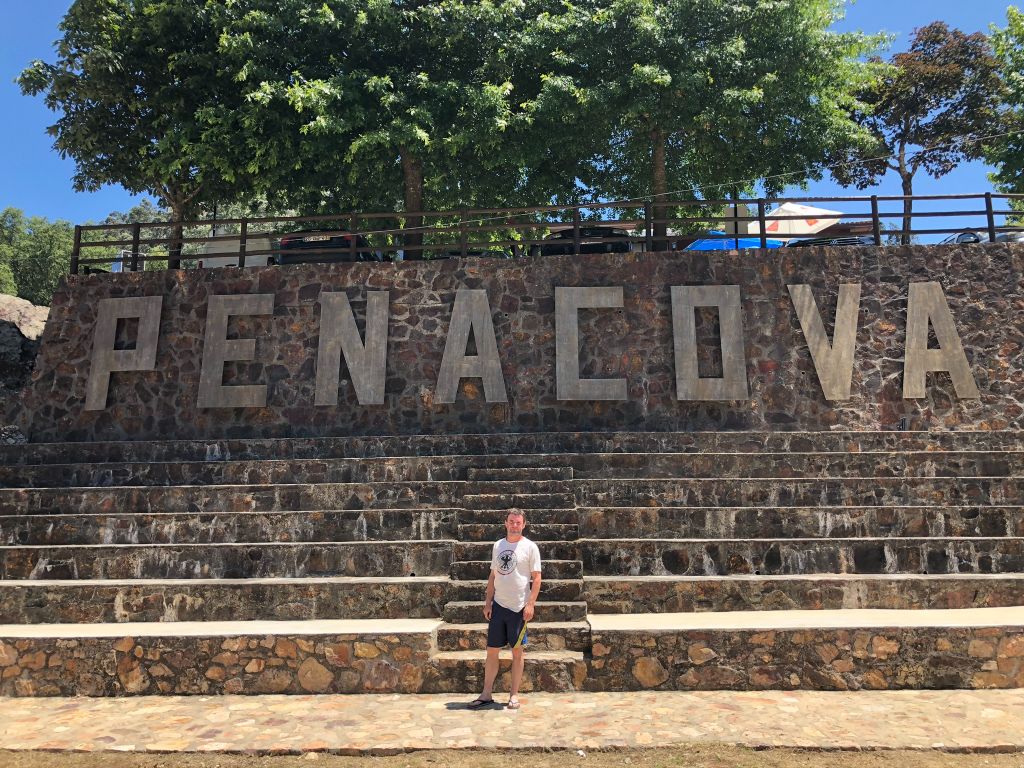 Locations
I am not sharing individual GPS locations as the App has all this information. I highly recommend you instal the App then you just click on each place and it brings up the map with directions, how wonderful. Gotta love technology! I remember growing up in the 80's and helping my mum navigate in the car. We had to rely on an A-Z book and a huge paper road map that my mum always used to hold upside down then wonder why we got lost (ha ha). We didn't view the letters in the order listed below but for the purpose of this blog post I will share the tourist attractions in this order as it starts with the Letter P and spells out the word PENACOVA.
Penedo de Castro (Quartzite Boulder Viewpoint) (P)
Mosteiro de Lorvão (Monastery) (E)
Fornos da Cal do Casal de Santo Amaro (Ancient Ovens/Lime Kilns) (N)
Mirante Emygdio da Silva also known as Emídio da Silva (Terrace/Viewpoint) (A)
Praia Fluvial do Reconquinho (River Beach) (C)
Moinhos de Gavinhos (Windmills) (O)
Praia Fluvial do Vimieiro (River Beach) (V)
Livraria do Mondego (Quartzite Rock Viewpoint – Resembles a Bookshelf) (A)
The Name of the Game
The name of the trail "Roteiro do Arista" originates from ancient times when Penacova was visited by those looking for a break from the city life, quality fresh air to breathe and views of the village to rejuvenate and restore their minds and bodies. These seasonal folk were known as "Aristas". More than a hundred years later, the search for good air continues to be a reality in Penacova. Leisure and nature sports are today the way to escape the routine of work, the hectic life of cities, finding here the perfect space to breathe "Pure air". The specific altitude climate of Penacova, which was once fundamental for the healing process (in contact with nature), is today the same that attracts visitors to walk the trails, places and corners of a territory with a remarkable natural landscape heritage.
Transport Options
In my opinion the route is best undertaken by car, motorbike or cycle. It is possible to carry out the trail by train or foot if your feeling energetic but it's a long way! If you are fit and brave enough to walk the route I would definitely split it into 2 separate trails over 2 days. Just don't take this bus as I don't think it will get you anywhere fast anytime soon and the lady driver on the first shift drives like a maniac (ha ha).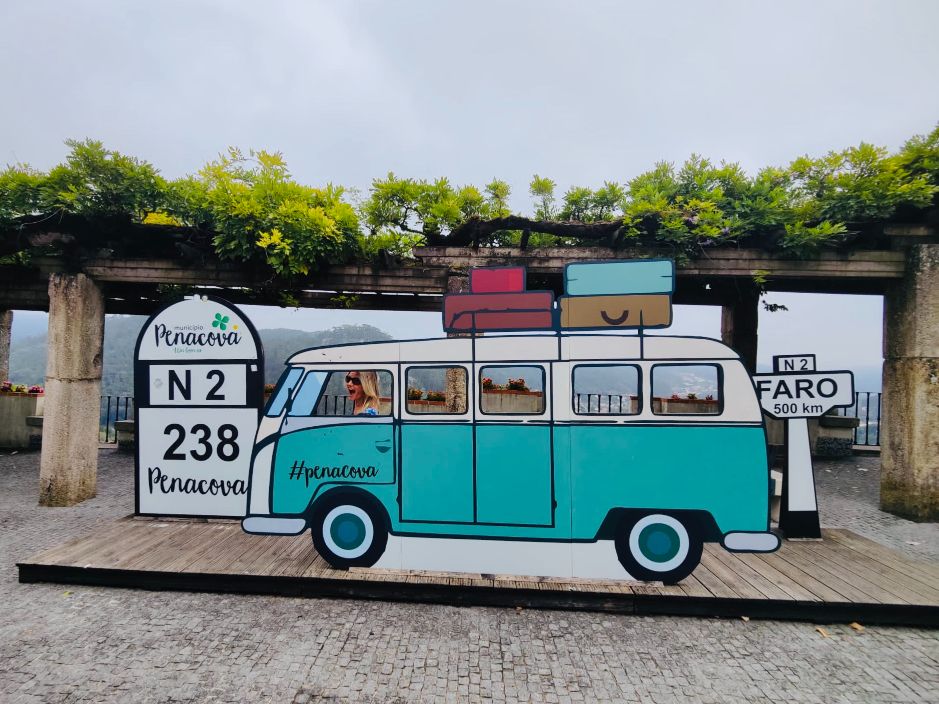 Penacova Passport
The only physical stamp we obtained was from the Monastery.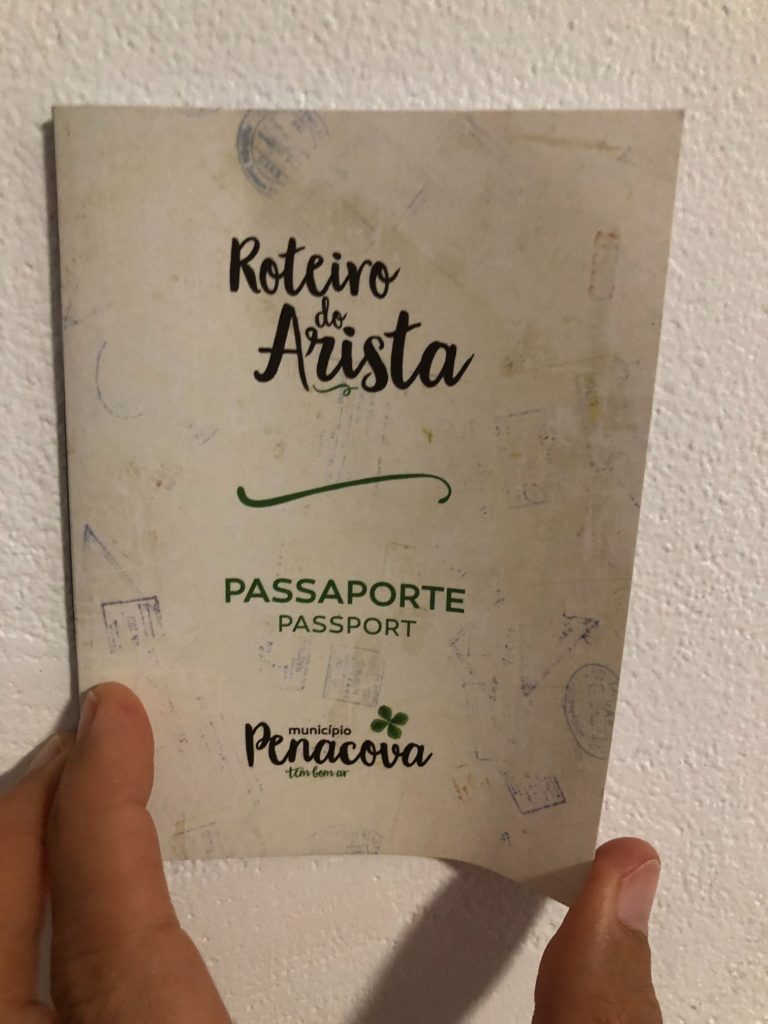 P.E.N.A.C.O.V.A
My Digital Passport, how cute!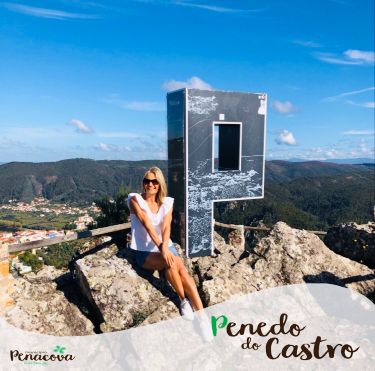 Handsome Hubby
It's a shame hubby's App didn't work but here is my handsome hubby posing the best he can as he only has one posing position for photos. I did tell him to try different positions to mix it up a bit and he tried his best. At least he didn't forget his sunglasses so he is not "Blinky Bill" in any of them (ha ha). His phone camera is a lot nicer than my old iphone, I might have to accidently drop my phone in a river so he buys me a new one!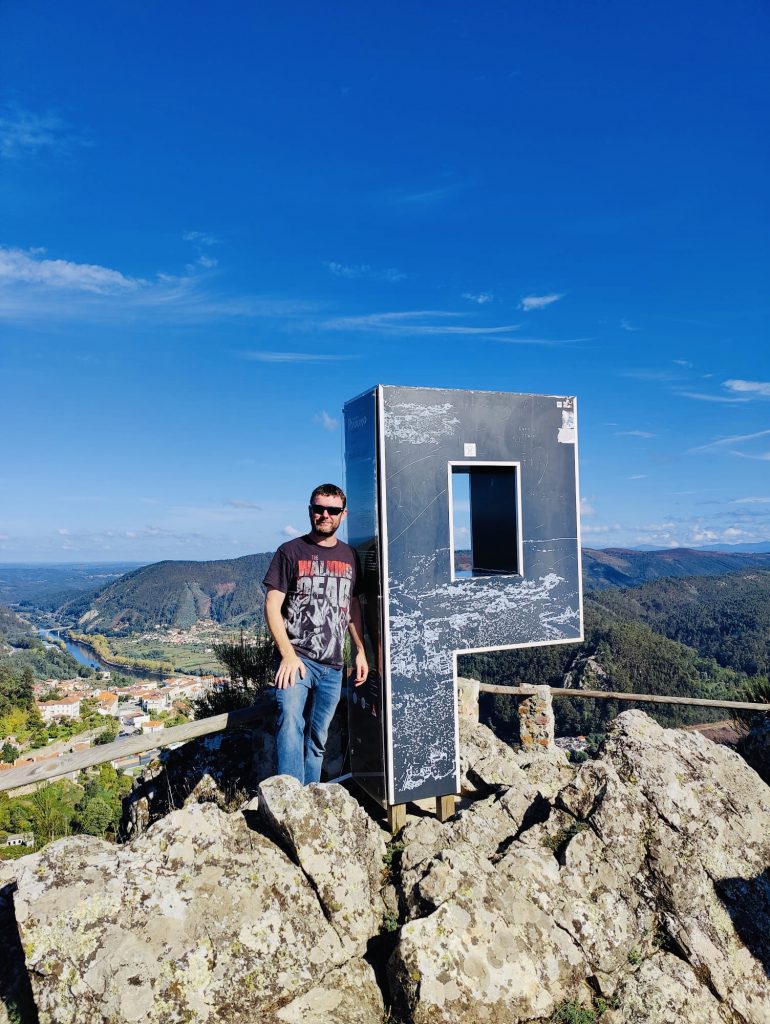 (P) Miradouro do Penedo do Castro (1st Visit)
This Viewpoint is one of the must-see viewpoints located in the upper part of the village. Penedo do Castro is a rare beauty due to its imposing quartzite wall that is suitable for climbing and abseiling. It began by being called Penedo do Cheira, as it was located above the village of Cheira. The name Penedo do Castro was given to it on 30th May 1908, in honour of the writer Augusto Mendes Simões Castro, one of the oldest propagandists in the region. This place is marked with a tombstone designed by Raúl Lino, offering one of the most impressive panoramic views of Penacova transmitting a feeling of vastness of the village and the surrounding valley of the Mondego river. It was more than a bit foggy on our 1st visit so we returned on another day to admire the magnificent views. I am not ever defeated! (ha ha). It's one thing visiting windmills in the fog and they might still be fun as they portray an eerie ghost like atmosphere all white and misty but a viewpoint in the mist or fog is pointless in my eyes unless you are partial to a view of vast whiteness (ha ha). It's also very dangerous as you have to watch your footing at these places due to all the stones and rocks. It's an accident waiting to happen in the fog for clumsy ass me and I think hubby might be a bit upset if I stepped off the edge and was never found again. I wonder how long it would take him before he alerts the authorities and reports me missing (ha ha).
Carnival Tradition
Fun true fact: Once upon a time there was an old Portuguese tradition called "Pulha ou Passajolas". Some random people using a speaker, climbed to the top of this viewpoint and screamed embarrassing stories about other Penacova inhabitants. I can visualise Maria climbing to the top and ranting gossip about Filomena and how she is shagging around on her hubby with Pedro the farmers hand. It's more likely that she was just disrespecting her cooking skills and how shit her bacalhau soup is (ha ha). I was intrigued about this so did a little research when I got home because I'm a bit weird and not a normal person who can let stuff go. I found a newspaper article which confirmed that in 2002 a group of young people, using a sound system, climbed the Penedo da Carvoeira and set up a loudspeaker facing the village and valley. They shouted out stories including love adventures and infedelity about businessmen and jet setters, nothing escapes the tongue of the carnival artists. I got my fun fact from the App but now I'm not sure if someone made an error as it appears to have taken place at a different viewpoint in Penacova. Oh well, people are human, mistakes are made, I should know I am one huge mistake (ha ha).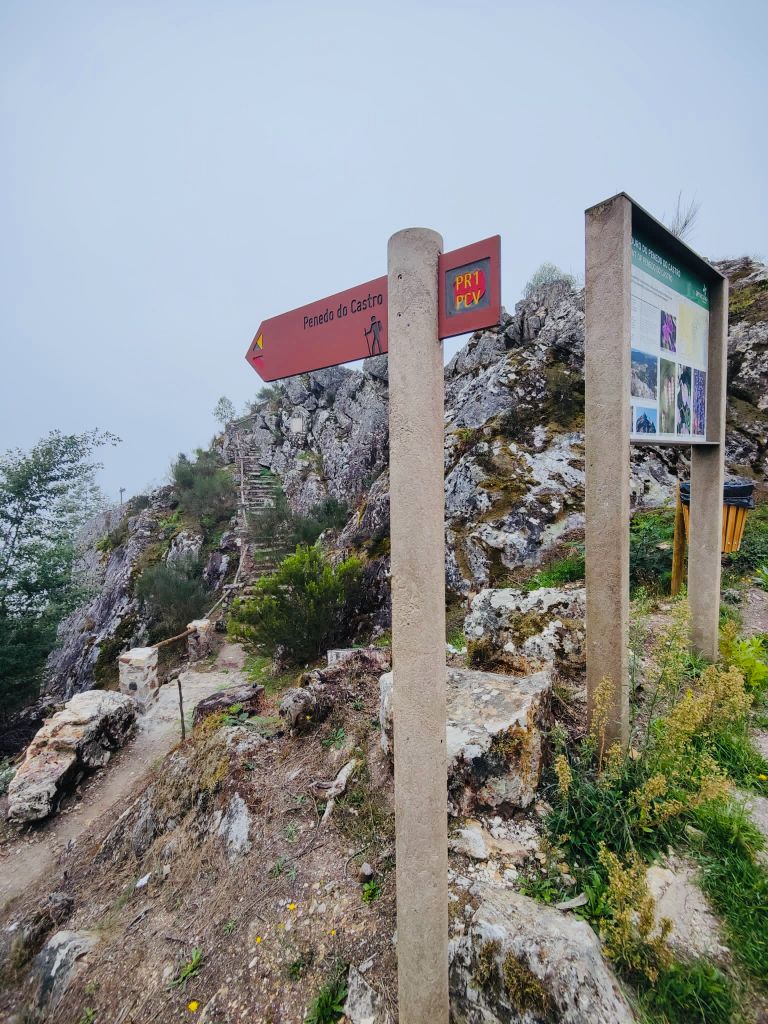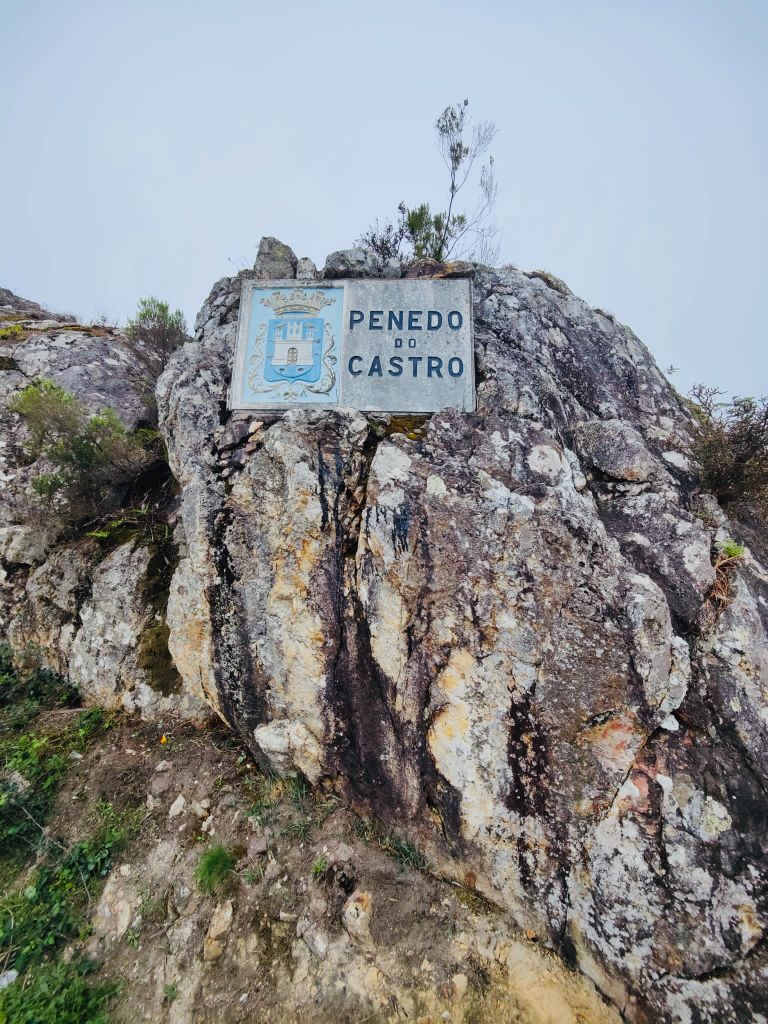 (P) Miradouro do Penedo do Castro (2nd Visit)
Wow, what a difference a day makes! Bright blue skies and views stretching far and wide which are as big as my smile.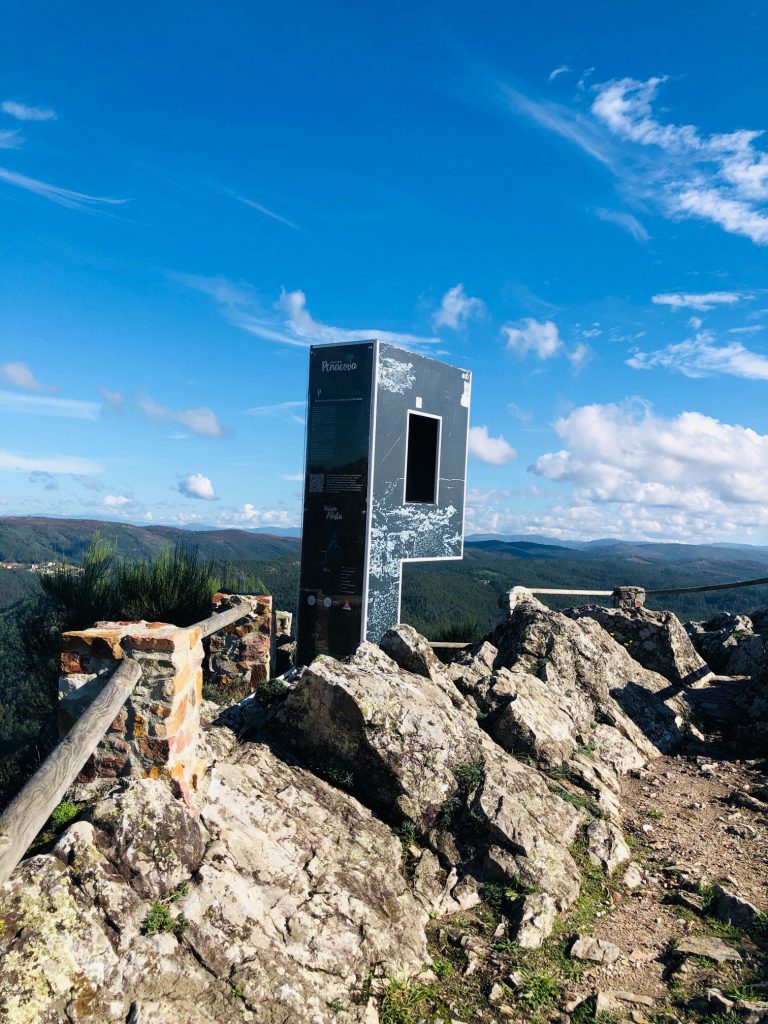 Breathtaking Views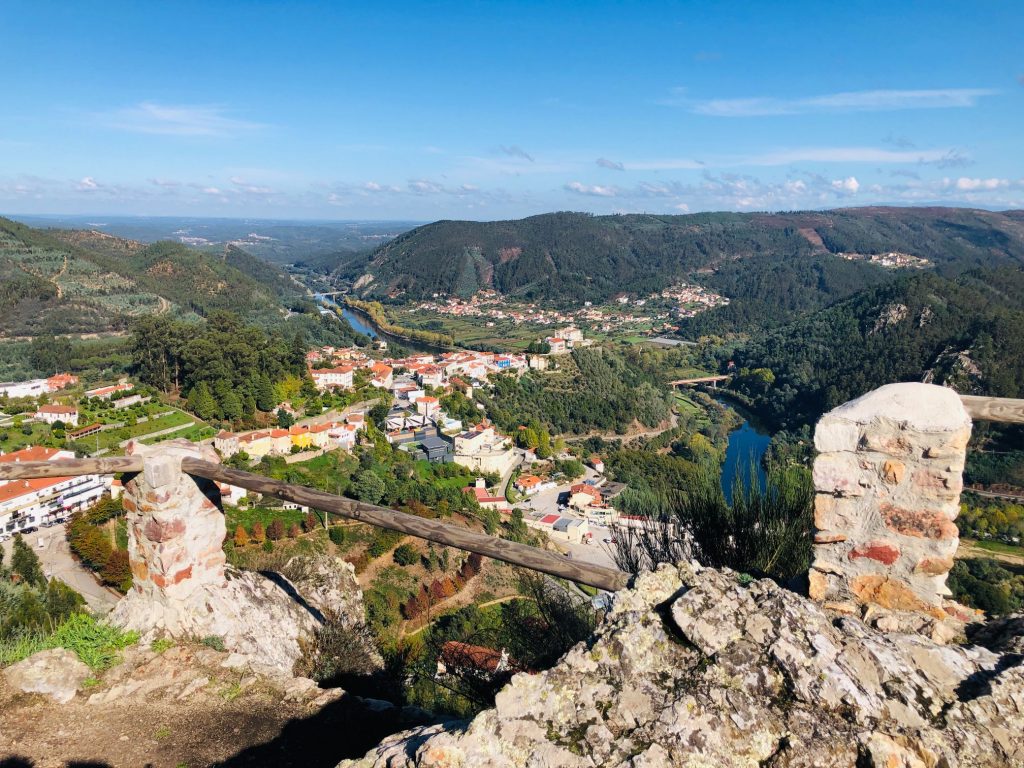 (E) Mosteiro do Lorvão
Shrouded in legends, the Monastery of Lorvão is believed to be founded in the 6th Century. The Monastery is also known as The Monastery of Santa Maria de Lorvão. It is one of the most ancient Monasteries located in Europe and is situated in the majestic Lorvão Valley amongst mountains and an abundance of fresh air to breathe. It was once a male monastery for Cistercian monks, then a female convent for nuns, then eerily a psychiatric hospital which closed in 2012, which brings us to the present day: A beautiful restored Monastery and Museum of sacred art. It was declared a National Monument in 1910 and there are plans to transform the wings of the Monastery where the psychiatric hospital was into a five-star hotel. It was an important Monastery and production centre for illuminated manuscripts in the 12th Century. There were so many interesting features to see, where do I start! It is home to the magnificent silver Tombs of Sancha of Portugal (Lady of Alenquer) and Teresa of Portugal (Queen of León) made in 1715 by the Porto goldsmith Manuel Carneiro da Silva.
I fell in love with the altars, all the gilded bronze, gold and wood. My firm favourites were the unique ornate wrought iron and gold grille (railing) that separates the church and choir. Above it there is an organ with 2 extraordinary rococo style façades built by António Xavier Machado Cerveira in 1795. I also have a thing for wood and doors so I was impressed by the main black wood and bronze entrance door and the delicately sculpted handmade high backed choir chairs made from walnut and jacaranda wood from Brazil with figures of the Holy Saints surrounded by foliage intricately carved into them. There is also an impressive figure of the Virgin Mary and a 14th Century statue of Nossa Senhora da Vila located on one of the side altars of the choir, also known as Santa Maria de Lorvão and Our lady of Life. We couldn't have timed our visit any better as the weekend of our 1st visit the Monastery was hosting "Mostra Nacional de Doçaria Conventual" located in the Cloister. A yummy convent sweets and cake convention. I just had to buy a "Doce Fálico de S.Gonçalo" Penis shaped pastry! I have a separate blog post titled "A day trip to Mosteiro do Lorvão" if you fancy reading it, you can find it here: https://casavalhal.com/a-day-trip-to-mosteiro-de-lorvao-penacova/
Outer Beauty Pleases the Eye, Inner Beauty Captivates the Heart
Monastery Exterior
This garden is so pretty and I love the little fountain and all the crazy crochet/yarn bombing, how cute!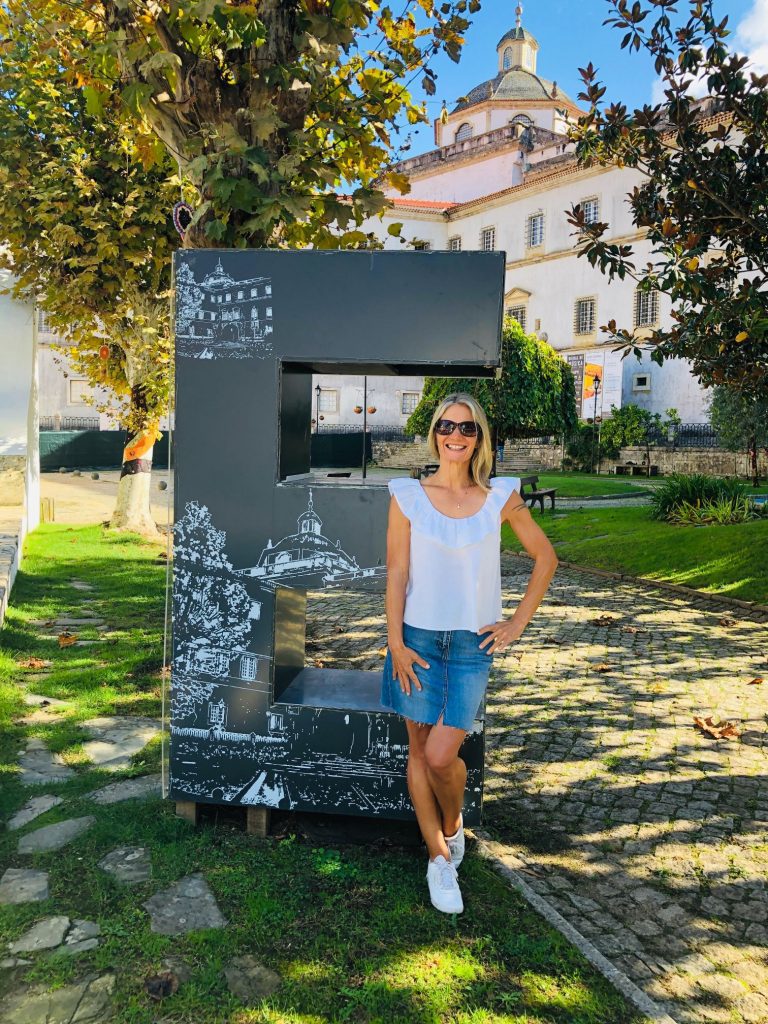 Monastery – Interior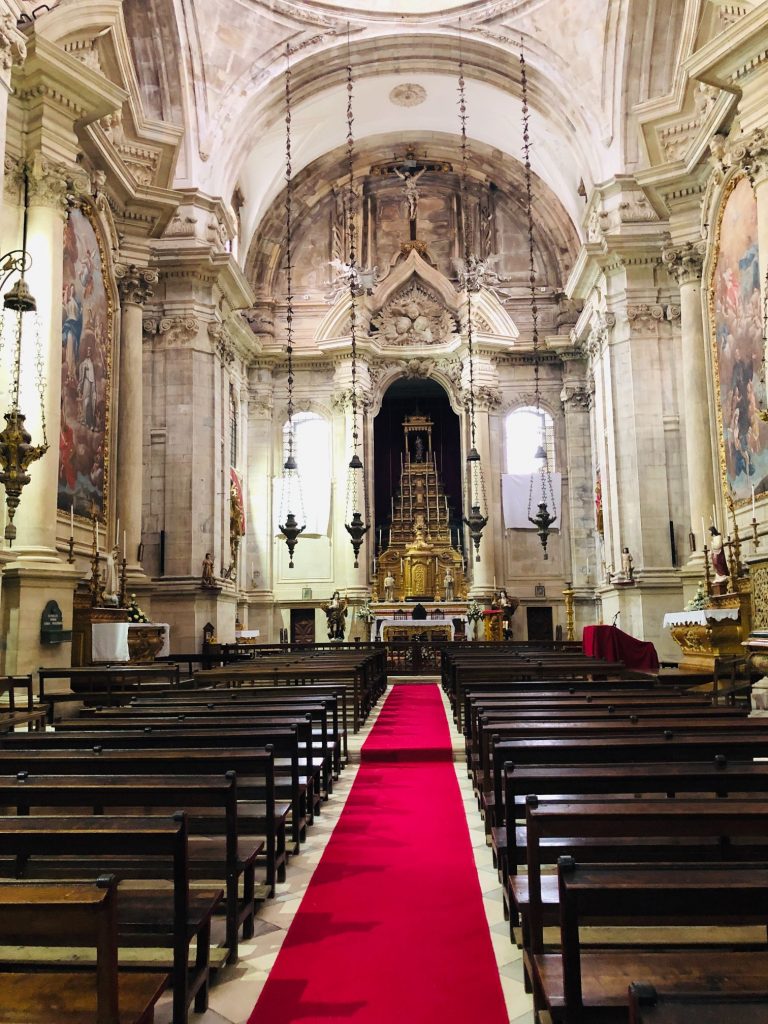 Pastelaria do Mosteiro
On our 2nd visit we purchased yummy regional convent cakes from Pastelaria do Mosteiro and ate them at Moinhos do Gavinhos after our picnic.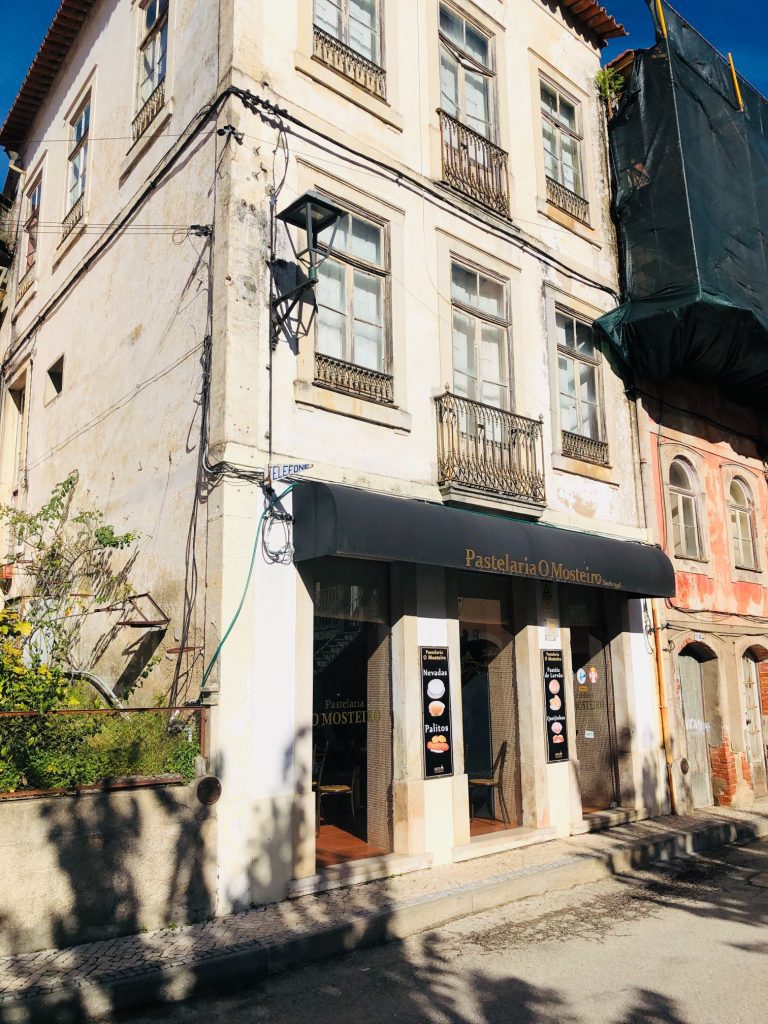 (N) Fornos da Cal do Casal de Santo Amaro
The history of lime production in the municipality of Penacova dates back to the 17th and 18th Century, when the Pisão kiln is said to have been built near Lorvão, to meet the needs of the Monastery. Albeit in different states of conservation, the 23 kilns in the municipality clearly illustrate the importance of the industry and can still be visited today in Ferrodosa, Sernelha, Arroeiras-Riba de Cima, Lorvão, Carrage-Friúmes, Galiana and obviously Casal de Santo Amaro with the biggest and best preserved set of 10 ovens. What a fascinating place to explore! This was actually our last stop of the trail. Parking is easy and right on the roadside.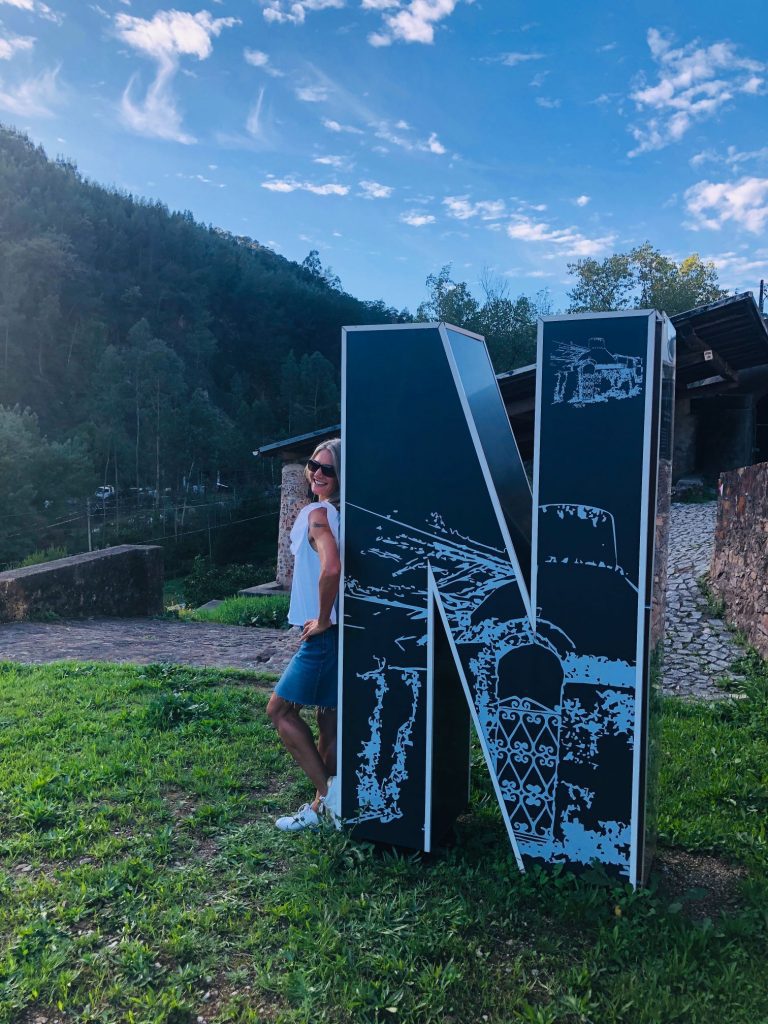 (A) Mirante Emygdio da Silva also known as Emídio da Silva
Wow! This viewpoint was my absolute favourite. It was built in the beginning of the 20th Century, by a politician with the same name. The Emydgio da Silva Terrace is located next to the Preventório (Prevention Hospital) and is a project designed by Venetian architect Nicolau Bigaglia. Inaugurated on 31st May 1908, the terrace resembles a pagoda built at the most extreme point of the cliff. Vitorino Nemésio later wrote that it was like looking at the cathedral from the pulpit. Built on the site where the Castle and the Chapel of Nossa Senhora da Guia once stood, under the original stone columns of the Lorvão Monastery, the astonishing view of the Mondego river sweeps us off our feet. The whole place was empty so we got to spend plenty of quality time here admiring the green landscapes and breathtaking views over the Mondego river and Reconquinho river beach. I fell in love with the yellow tiles and the architecture of the pagoda. We climbed down the steep steps to explore the whole area. I absolutely fell in LOVE with this viewpoint it's dazzling and such a romantic, calm and pleasant place to reflect life.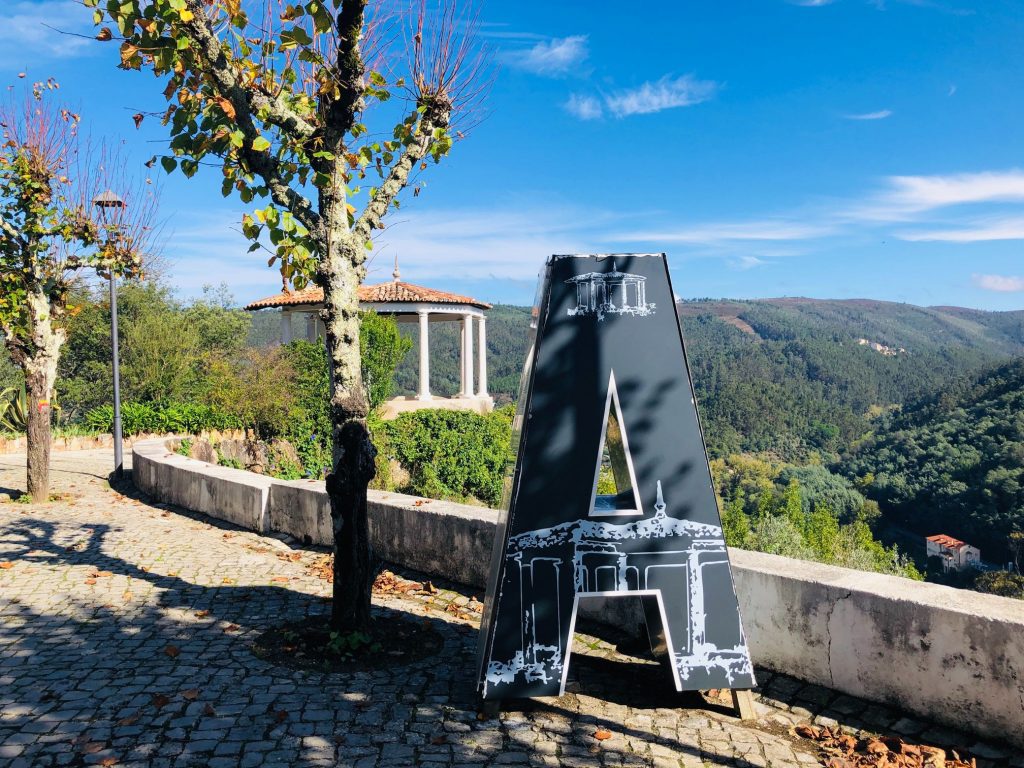 Spot the Difference – Selfie Time
If you are a regular reader of my posts you will 100% know that hubby has one pose for photos. So this half a dozen selfies are unique, can you spot the difference and the odd one out? I made him switch sides on photo 6 but the irony is he still has the same pose, different position but same old pose (ha ha).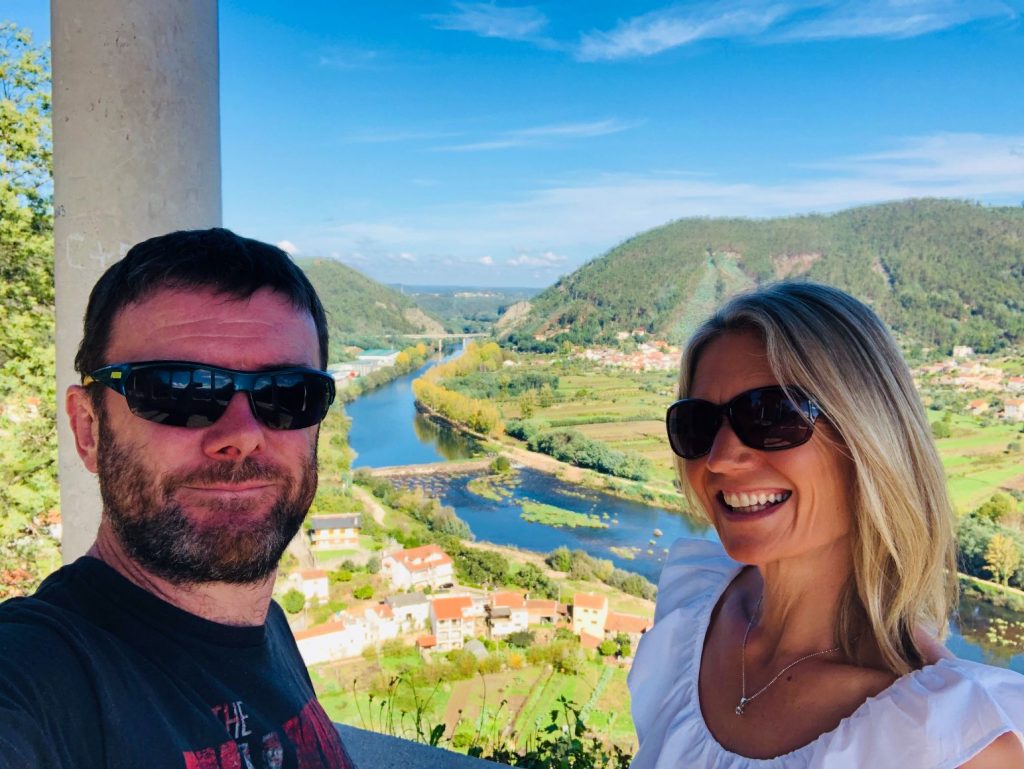 My Trio of Favourite (Letter A) Photos
Wow, just look at this place, STUNNING! It is absolutely captivating. I could sit here all day if hubby would let me (ha ha).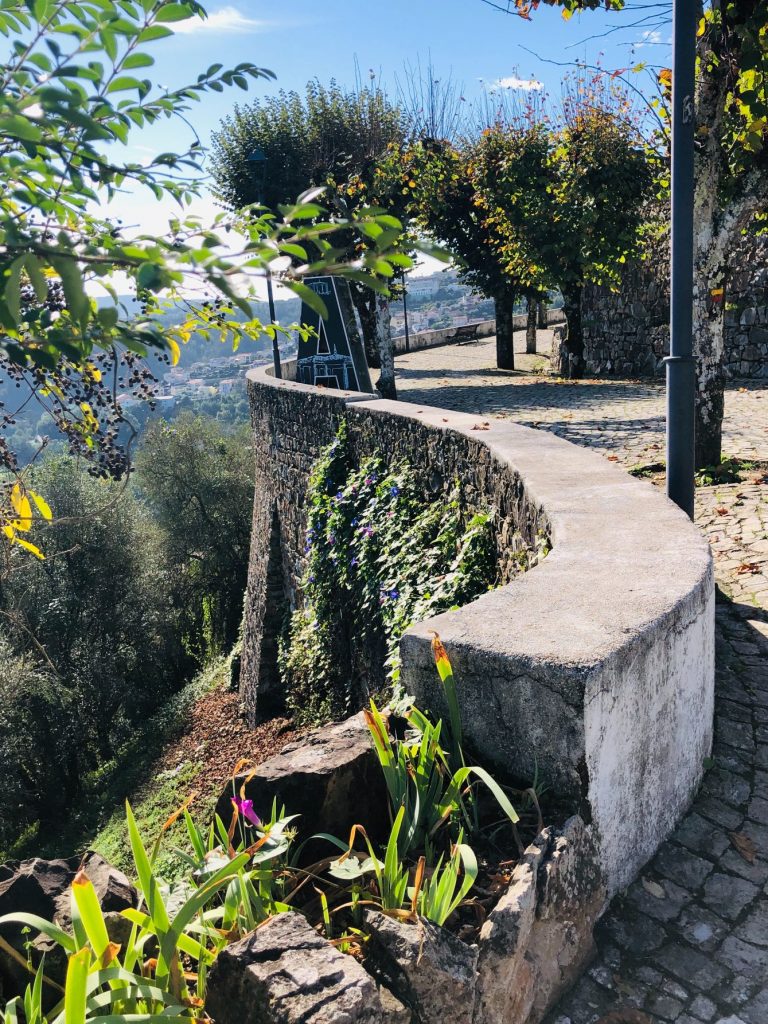 Hotel Helena
You can't drive right up to the viewpoint so it's necessary to park your car and complete the final couple of hundred metres by foot. It's a lovely scenic walk past the post office and street lined with pretty trees. There is an abandoned hotel which you will pass by and I can't help but feel sad when I see such potential in disrepair. It's a shame that it has gone to ruin as it's in such a prime location. You can see this hotel and viewpoint from quite a distance away if you look up and it's a spectacular sight and stands tall and proud very close to the cliff edge. Hubby asked if I wanted to buy it and embark on a new adventure. He is crazy as running a hotel would be my worst nightmare, I can barely run a bath and I expect it would cost a small fortune. On the walk back to the car we stumbled across an ancient stone pillory and hubby found a cafe/bar for sale and again asked me if I wanted to buy it. Hell no, I couldn't think of anything worse, having to socialise with people on a daily basis, I think I'd rather stay a happy homesteading country girl and talk to my animals. I am beginning to think he has secretly won the lottery as he keeps on wanting to buy me abandoned ruined buildings (ha ha). I did find some interesting poetic graffiti which translates to: "Even after you go there's a whole world" How profound! The funniest graffiti was the green spray paint on the windows of the hotel which say "Hello Germ". I have a sneaky suspicion it might actually read "Hello Germany" or maybe Germ is someones tag name. Hubby researched the pub when we got home and it's for sale at a whopping €197,450! No thankyou.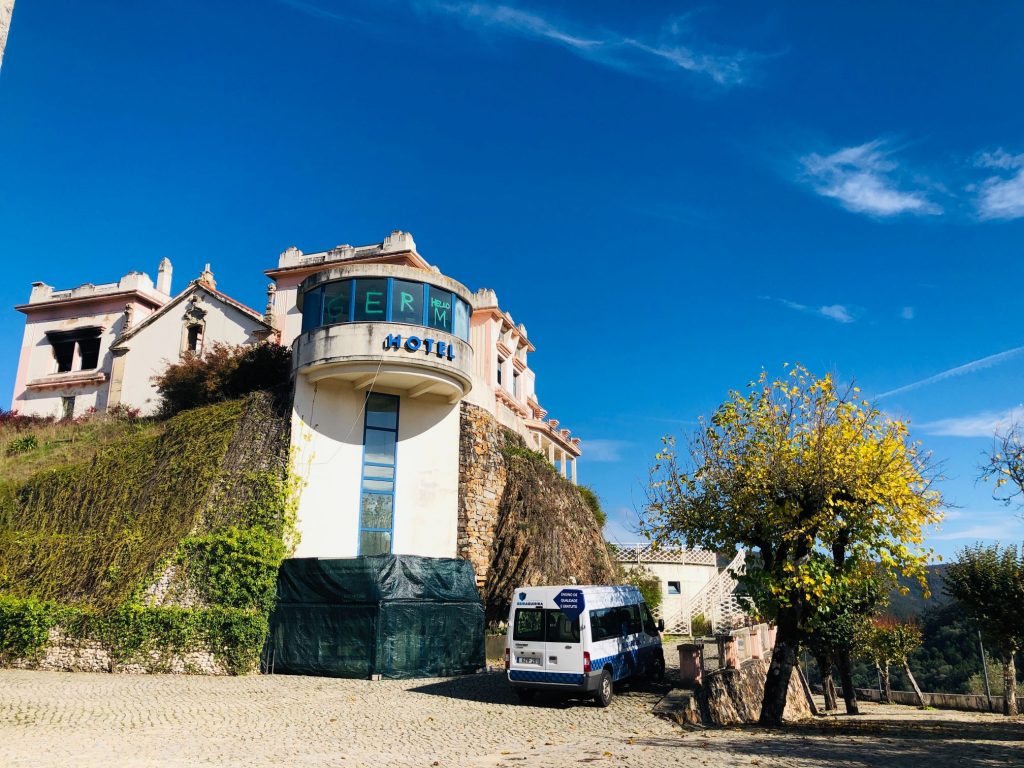 (C) Praia Fluvial do Reconquinho
This river beach is located on the left bank of the Mondego river, in front of the village of Penacova. Reconquinho river beach is ideal for spending a pleasant day in Summer, the wide stretch of sand is gorgeous and very inviting. It was awarded with the Blue Flag award for the first time in 2013. I love the beautiful lush green natural landscape and the cute wooden footbridge which takes you to the other side of the river bank and you can also dive off or belly flop in my case (ha ha). My daughter loved this river beach too and spent quality time with her stepdad floating around the river on her lilo. What is different about this river beach is the fact that during Summer time and the river beach season, it has a boat named TARECO, (Serranas do Mondego), an old fashioned mountain range barge offering amazing boat rides along the river. It is run by two brothers Vitor and Luis Seco. One of them has a very loud voice and sort of does this singing chanting noise command "O da Roda!" which translates to "Wheel" when the boat is about to depart so the lifeguard can lift the bridge up so the boat can pass through. Apparently it's an old tradition from years gone by. You can buy a ticket for the boat ride and they even do a special offer with traditional Portuguese cuisine: cheese, sausage, olives and wine. There is a lovely cafe, a picnic area and it's an amazing place to SUP. It's also home to the Carlos Sá trail running centre. We have visited this river beach quite a few times and returned to take photos of the Letter C.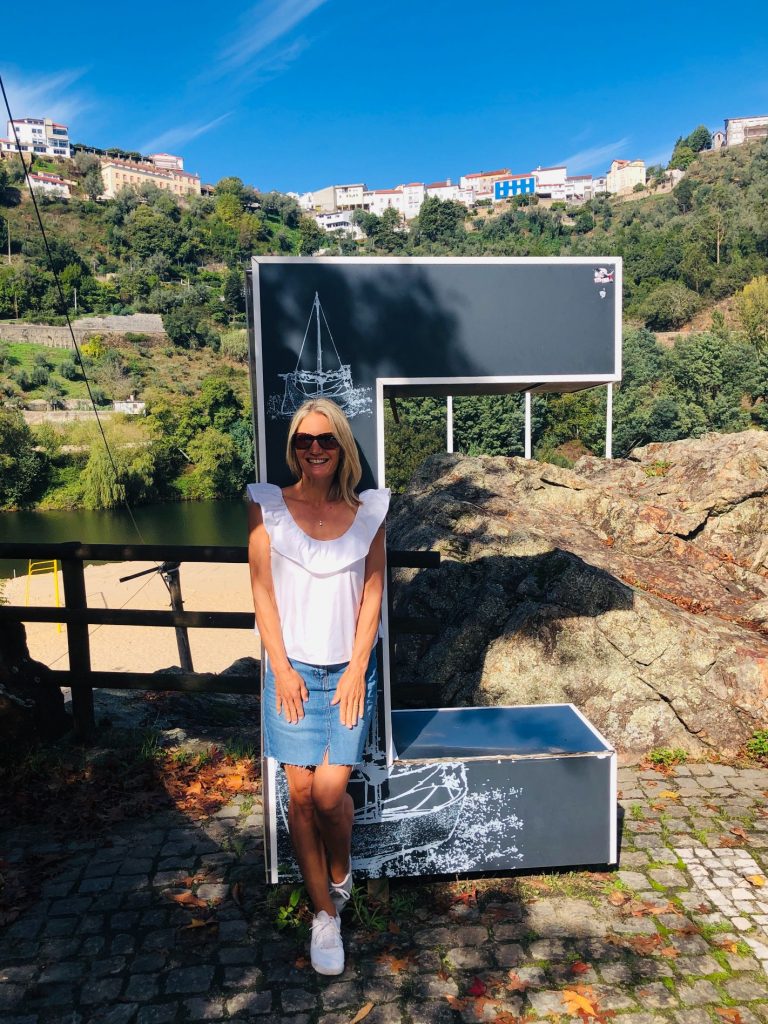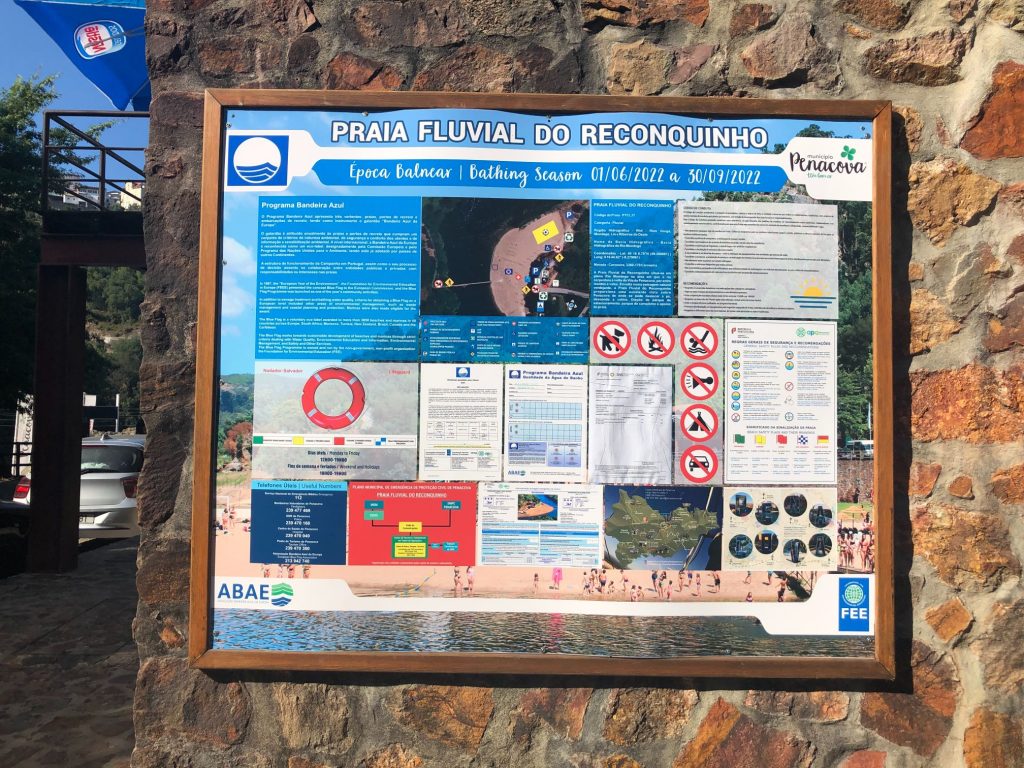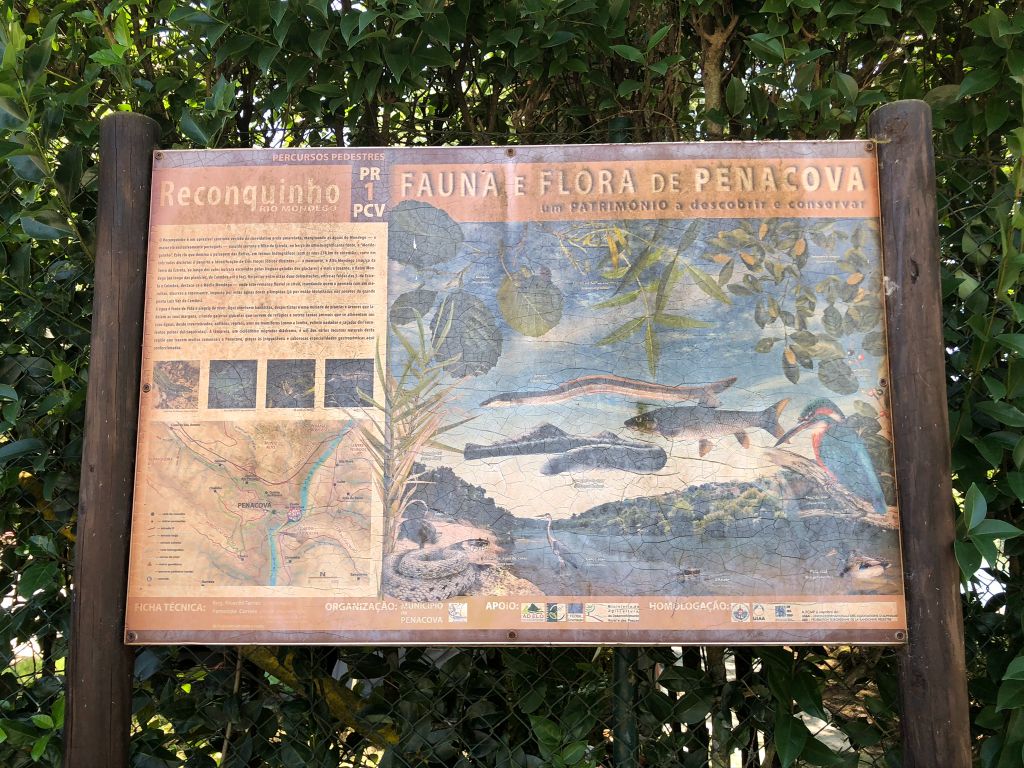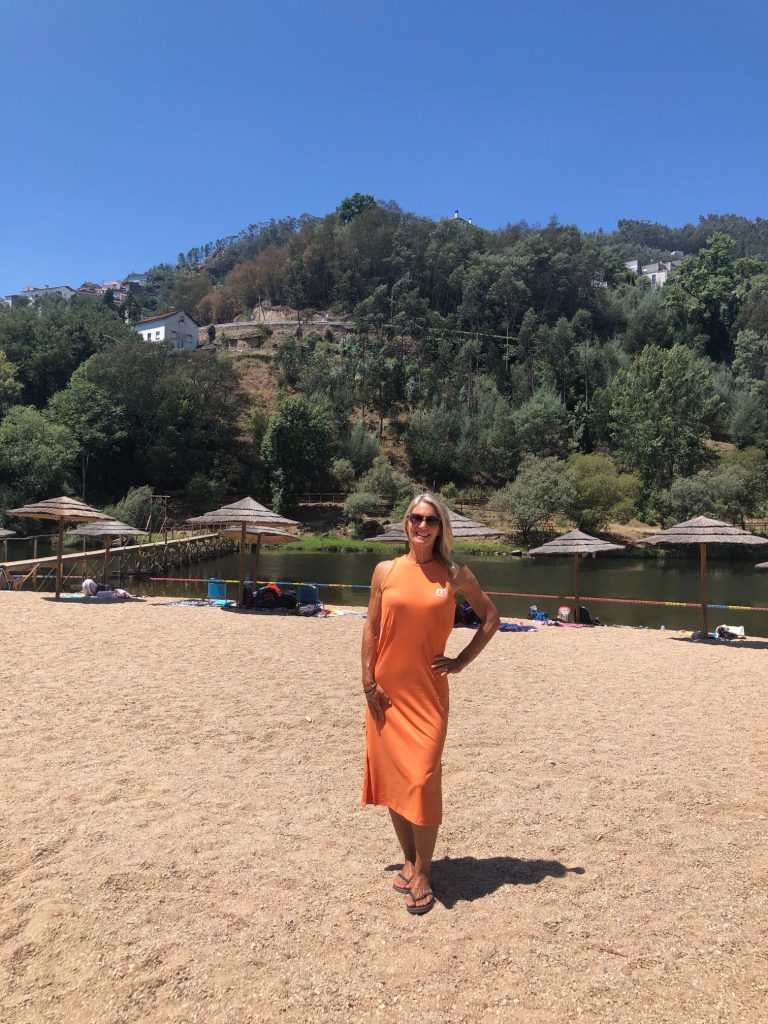 (O) Moinhos do Gavinhos
Penacova is blessed with one of the largest collections of Windmills in Central Portugal. The geographical location, as well as the altitude and the existence of windy areas allowed the inhabitants of the municipality, with its essentially agricultural economy, mostly dedicated to the cultivation of vines, olive trees and cereals to take advantage of the forces of nature by building windmills for grinding cereals. With 14 mills in total and surrounded by a breathtaking view, it offers visitors the unique opportunity to watch the millers hard at work grinding cereals into flour (May – October). An ancient tradition which is still practised today.
I spotted the windmills and the incredible monument from quite a distance away and got very excited. Similar to the previous site we were able to drive right up to the site via paved roads and no dirt tracks. Wow, this place is truly enchanting. There are 14 windmills and apparently 3 are working mills which is cool but only 1 is used as a working mill today. They are a different design than the previous site and a mixture of stone, concrete with metal roofs. Some of the metal roofs are in disrepair and one metal panel was flapping in the wind and it looked very precarious indeed. I didn't get too close to it as knowing my luck a piece would come flying off and take me out for the count (ha ha). I loved the windmills with the pale blue doors and we even got to venture inside some of them. The stairs were rotten and it was an absolute health and safety risk but what can I say, we live on the edge (ha ha). I had a lot of fun with the Letter O. Photo 5 & 6 are hilarious as I poked my head around the corner and completely forgot that the letter O has a hole in the middle. So instead of just seeing my head you get to see my legs in the air as well. Hubby thought this was hilarious when I explained it to him. Life is hard, but it's harder when you're stupid (ha ha). I also filmed a couple of great videos here for my daughter. One consists of me running around the mills and hurtling down the hillside at great speed whilst dancing and singing a rendition of "The hills are alive" from the Sound of Music, it was obviously a dazzling performance and I was brilliant. I think a Portuguese guy was impressed with my talent as I made him smile. His wife was a bit miserable and I think he wanted to participate in a wife swap but I'm satisfied with my man for now as he buys me cake and does all the cooking at home so he's a keeper (ha ha). I reckon I could give Julie Andrews a run for her money, my talents are endless (ha ha). Did you know that Julie Andrews is now 87! Wow, she looks amazing, I hope I can age as gracefully. I have a sneaky suspicion that I'm more likely going to look like Gollum from The Lord of the Rings (ha ha).
There is a gigantic statue (monument), dedicated to the Immaculate Heart of Mary and in all honesty I was gobsmacked as I did not expect it to be so huge and awesome. Its towering presence is truly a remarkable sight. We climbed the steps to the top for the best ever mesmerising views. Wow, it was fabulous, I was transfixed by the raw beauty. She stands in a tall and prominant position overlooking the lands below as if blessing the winds, the village and the work of the mills. We decided to have our picnic lunch here because it is just so very charming and picturesque with gorgeous idyllic sweeping views over the Serra do Buçaco and Serra da Aveleira mountains and countryside. It was strange to see the old mills with the wind turbines in the background, old and new, side by side. I wanted to stay longer as the sun was strong and I was enjoying my Vitamin D after a fortnight of constant rain but hubby said we needed to make a move which made me sad. Fun true fact: With the object of raising funds for the monument in 1968 there was an egg campaign. People donated eggs to the church and the money raised from the sale of these eggs raised enough money and funding to build the Sacred Heart of Mary monument. All I can think is that they must have sold tons of eggs because today half a dozen free range eggs sell for around €1 and this monument is of epic proportions and looks like it cost a bob or two to design, build and erect. If you LOVE Windmills as much as I do be sure to read my blog post "A day trip exploring the Windmills of Central Portugal" where I share our experience of visiting 5 different Windmill locations in Penacova. You can find it here: https://casavalhal.com/a-day-trip-exploring-the-windmills-of-penacova/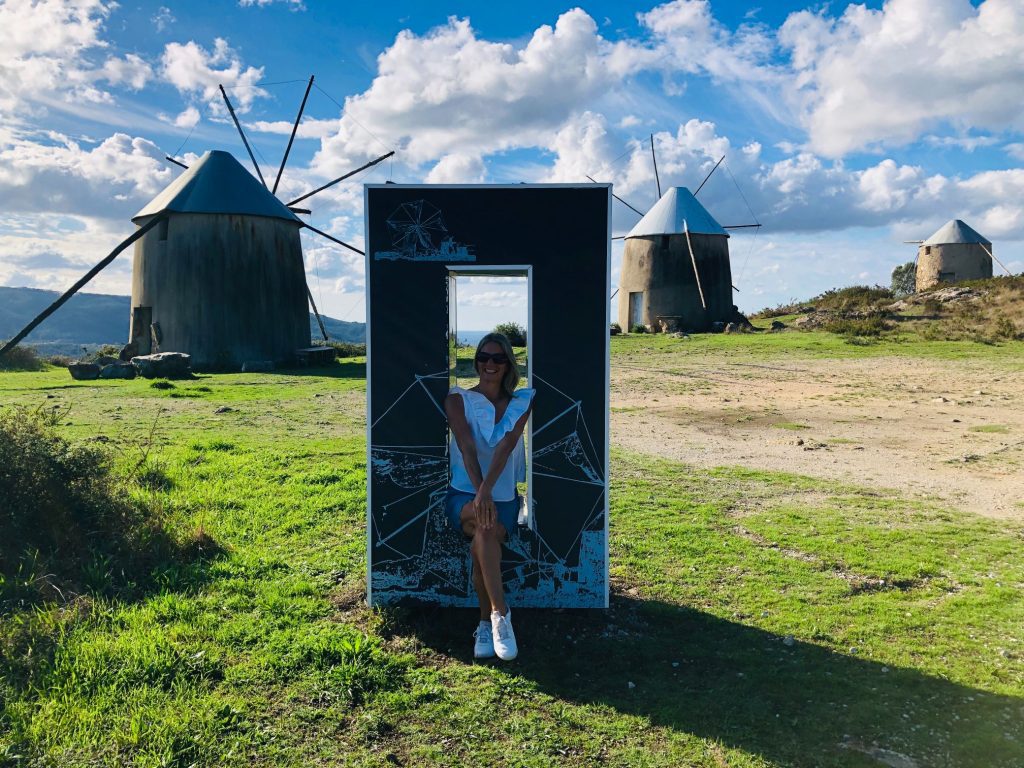 Whimsical Windmills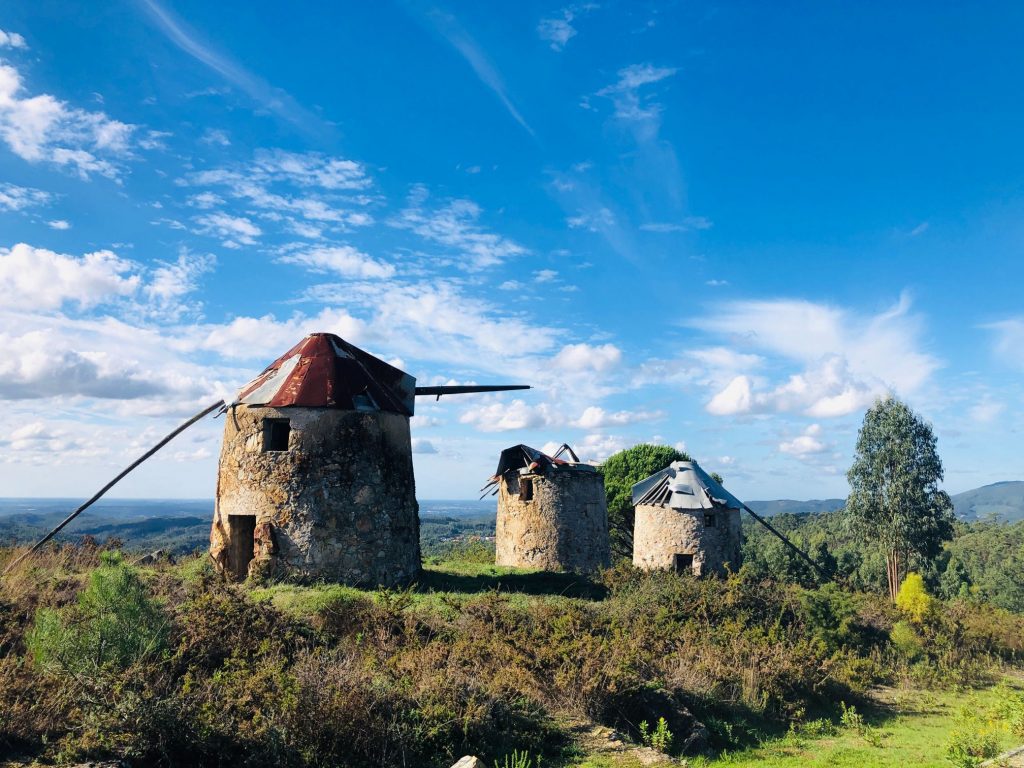 Picturesque Perfection & Portuguese Pastries
Whilst visiting the Monastery and Letter E we made a pit stop at the Pastelaria O Mosteiro to buy regional convent cakes. This time we chose Nevadas and Pastéis de Lorvão. Oh my gosh they were so delicious and the funniest part was I decided I wanted to try both so asked hubby to cut them both in half. He didn't have a knife on him because he is not in a gang, so he used an old Activo bank card he found in his wallet. We no longer use this bank ever since our bank fraud drama earlier this year and it made a great cutting device. Most folk cut cocaine with credit cards but my hubby cuts cake (ha ha). Just look at this perfect picnic spot I found on the cliff edge. One direction gives the most awesome view of the mills in the distance and the Letter O and the other direction shares the best ever views over the mountains and wind turbines. I wanted to stay here longer to saviour the cakes and delightful sight. I just adore the fluffy white clouds and cloud spotting.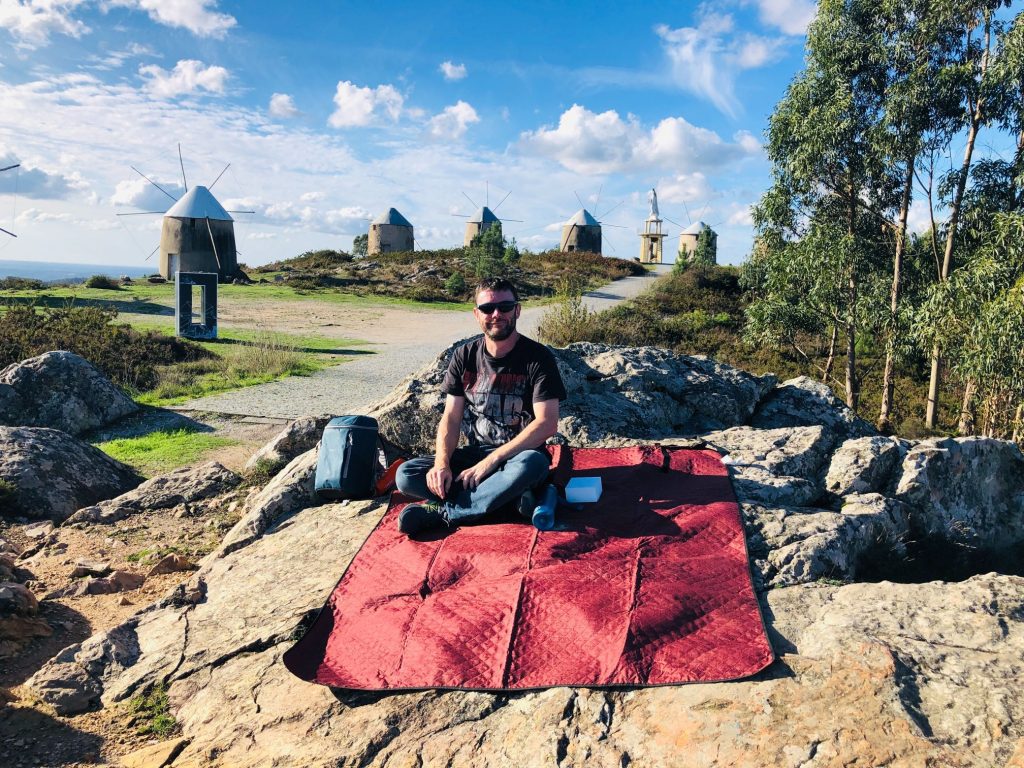 Convent Cakes with a View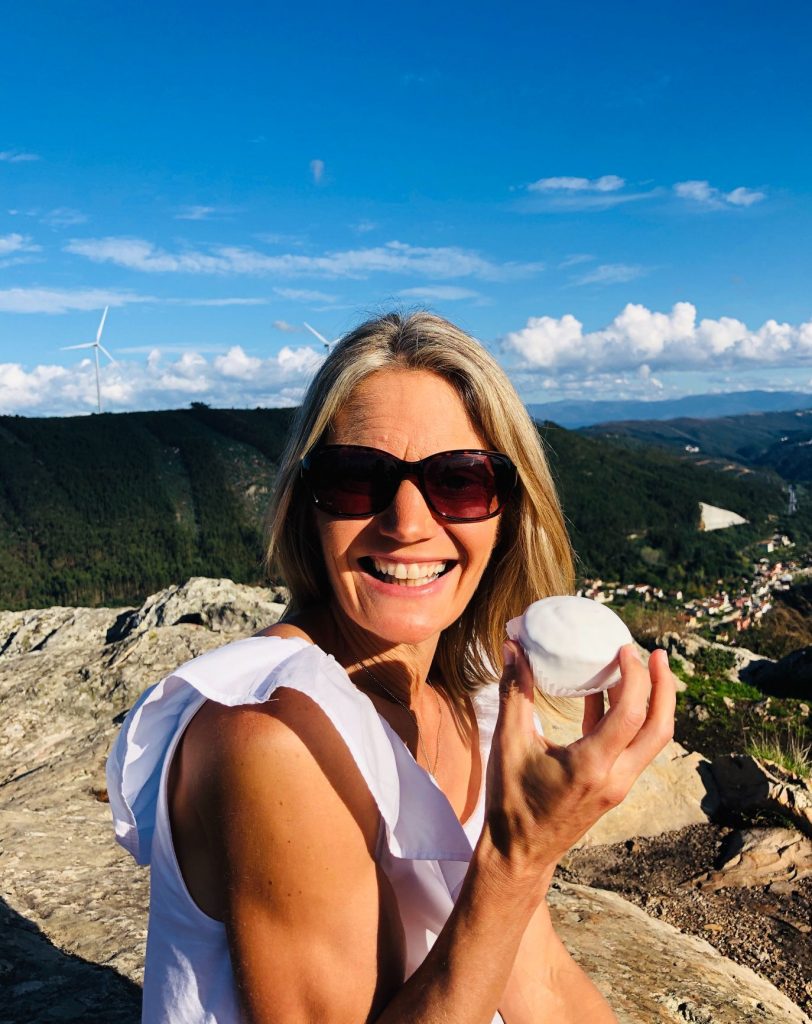 (V) Praia Fluvial do Vimieiro
This river beach is located alongside the river Alva and is a place of exceptional beauty. It offers vast crystal clear waters and is embraced by lush green nature and bucolic landscape. It has a lovely restaurant/bar, the cleanest and fully stocked toilets I've seen in a while and a spacious car park. In 2017 it was awarded its first Blue Flag award. I fell in love with this river beach and idyllic setting especially all the mirror images of fluffy white clouds reflecting off the river. I can't believe that I didn't know it existed and it's just a short 30 min drive from our casa! There is a water mill and iron wheel to explore, plenty of picnic tables and a cute wooden bench inscribed with "Estive Aqui Vimiero" which translates to "I Was Here – Vimiero". There are a group of traditional houses located here which you can rent if you fancy a break amongst nature. We visited for the first time in October, it was empty (we get so lucky) and there were so many cute heart shaped leaves everywhere, simply magical. I had way too much fun here eating my "Doce Fálico de S.Gonçalo" Penis shaped pastry! It was so big I'm not sure how I managed to fit it in my delicate little mouth. Maybe I'm used to massive penises or maybe I just have a huge cake hole for a mouth (ha ha). It even had custard in the end of the penis which squirted out everywhere when I bit into it, very realistic indeed! It was gigantic so I shared it with hubby and gave him the left ball sack and the tip of the penis (ha ha). We returned for our 2nd visit to take a photo of the Letter V for the App.