NAZARÉ
Nazaré beach, with a mild climate and natural beauty, has one of the oldest traditions in Portugal linked to fishing. The long, crescent-shaped sandy beach (seafront) is spectacular and is famous for it's waves, surfing and body boarding. We ventured on another walking tour guided by GPSmyCity and it was amazing. It wasn't as long as some of the others but we also had a wander through the town, shops and market which opens during the morning. It was really difficult to park in Nazaré, all the car parks were full so we ended up parking right at one end of the beach in a free car park and walked to the start of our tour. Teanna found a huge vehicle with part of her surname on it which she found funny. 'Monteiro' is a popular name here but quite unusual in the U.K. We started by heading towards the funicular but decided to walk up the many steps instead. We probably should have took a ride on the funicular on the way up and walked back down but we walked the whole tour as we love walking and exploring different sights. I have a thing about hugging trees along the way (ha ha).
The tour was stunning and we got to view many local attractions. It is quite hilly and a steep trek so wear sturdy shoes. The highlight for me was the fort and lighthouse overlooking the misty Praia do Norte beach and watching the surfers and the huge waves hit the beach. The Guinness world record for the biggest wave ever surfed was broken here. There was a small queue to gain entry and I wasn't expecting much for the €1 entry fee but I was so happy when we got inside. It has a whole surfing museum so if your into surfing like my hubby, don't miss this opportunity. If the walk is too much there are lot's of tuk tuks and jeeps offering rides for a small cost. We walked as I don't think my bad back would have endured a bumpy ride in a vehicle.
'O Sitio' was incredible and has the most stunning panoramic views of the Portuguese coast. There are many new modern apartment blocks popping up but still an abundance of orange-roofed houses that still dominate the view from the headland. The church is also spectacular. You can take a ride on old traditional horse and cart and browse for souvenirs in the many shops and stalls offering local produce situated in the square. There are so many amazing view points and the huge waves are out of this world. There are many restaurants to enjoy freshly prepared seafood and we found an amazing ice-cream parlour and the ice cream was so delicious. Teanna eats very slowly and it got a bit runny in the heat and she ended up with it all over her like a 5 year old, nothing really changes (ha ha). Specialities of the region include barnacles and polvo à lagareiro (a whole octopus) oven-roasted in garlic and olive oil, usually served with potatoes. If you have all day here definitely stay to watch the sunset.
I am returning next year for surfing lessons. As well as the walking tour we relaxed on Nazaré beach and took a stroll through the narrow streets of the town and purchased surfing T.shirts. Make sure to check out the lady selling dried fish and you can see and smell the salted fish left drying on racks in the sun right on the beach near the sand sculptures. Also take time out to admire the traditional fishing boats. We had such a laugh on this day trip. Teanna spotted a beautiful lady gazing out from her balcony only to quickly realise that it was actually a mannequin which we all found hilarious. I want one for my balcony but can't decide between Idris Elba or Denzil Washington (ha ha). I think Teanna would prefer Stormzy! Hubby wants a Claudia Schiffer (in his dreams – ha ha). I said he can have Trevor McDonald instead!
GPS Coordinates (Free car park): 39°35'22.2″N 9°04'28.2″W
Walking tour:
This tour sounds brief but there is so much to see along the way and at the Sitio. You can also take a ride on the funicular.
Praia da Nazaré
Igreja Nossa Senhora da Nazaré
O Sitio
Lighthouse point
O Forte de São Miguel and Nazaré lighthouse
Praia de Norte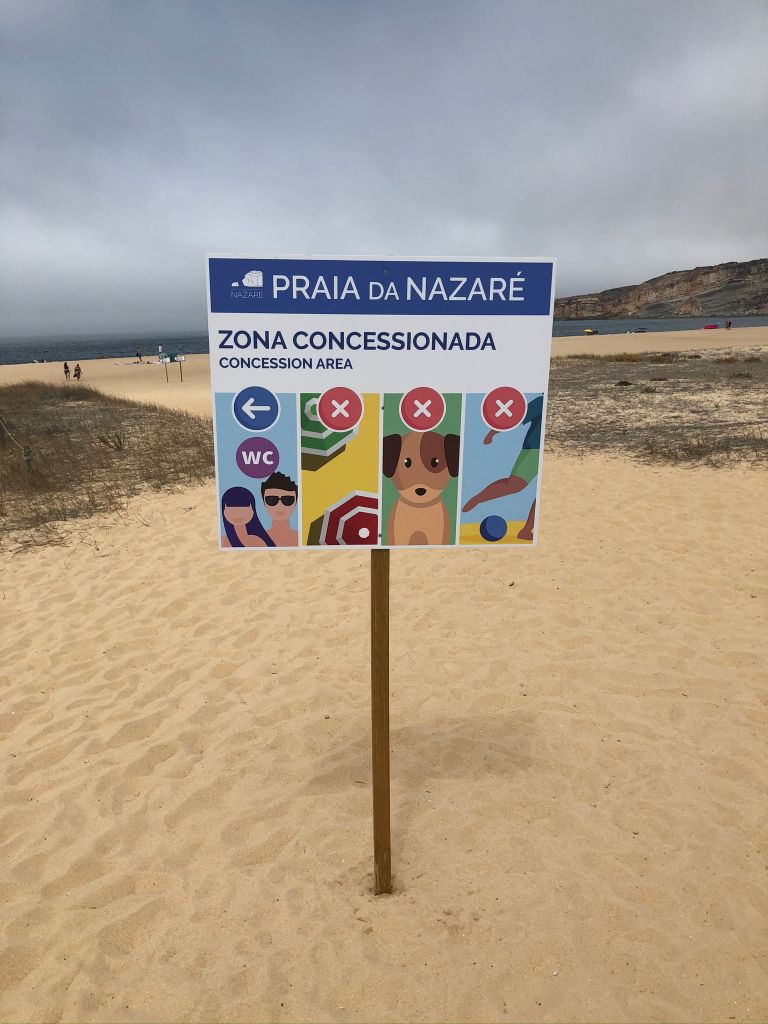 Fun and plenty of laughs
Whilst waiting in the queue to enter the Lighthouse I found myself drawn to this man's tattoo. I love tattoo's but can not think why anyone would want a tattoo of a corn on the cob (ha ha). Maybe it has some deep significant meaning that I am not aware of!
Then there is the beautiful lady gazing out from her balcony which turns out to be a mannequin, I love Portugal!
Lastly, Welcome to the Monteiro family (ha ha).