AN AFTERNOON TRIP TO CALHÃO MOGUEIRO (LORIGA, SERRA DA ESTRELA)
After we tested negative for Covid my body was aching and eager to be submerged in fresh invigorating mountain spring water and I craved some Portuguese sunshine on my pale face. I found a sensational local Waterfall on a Cascata Facebook Group that I am a member of and I couldn't believe my eyes. I am not sure how I have never heard about this place before but somehow in the past 4 years of living here I have never visited this hidden gem. I've spent many a glorious sunny day at the Loriga River Beach oblivious to this waterfall located just a few minutes away, I feel totally robbed (ha ha). We decided to embark on a Saturday Soulmate Aqua Therapy day. Nausea and exhaustion prevented me from dancing the night away at our local Beer Fest but chasing waterfalls is far more beneficial to my health and Covid recovery than alcohol. We got drunk on Mother Nature! It was a perfect glorious 30 degrees in October and what better way to recuperate and re-energise!
Magnificent Mural
On the drive to the waterfall we passed by this magnificent mural in Vide so I obviously made hubby stop the car so I could get a closer look. How stunningly spectacular. The artwork illustrates Portuguese culture and history. I especially liked the Serra da Estrela dogs, bakers making bread, cheesemakers and the local washerwomen cleaning their laundry in the stream. I was glad to get 5 minutes of fresh air as I felt rather queasy from the winding mountain roads.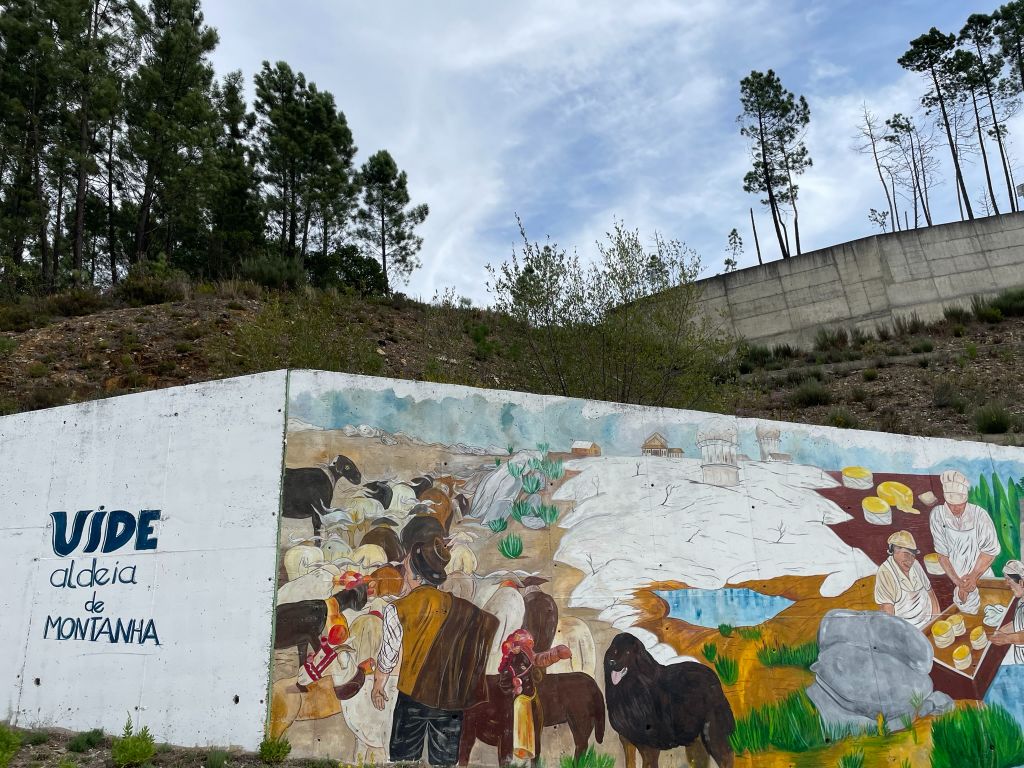 Loriga River Beach
The journey from our casa by car to Loriga river Beach is 40 km and takes about 1 hour. We got stuck behind a slow moving truck and couldn't safely overtake on the narrow mountain roads for ages so it look a little longer. We arrived at the river beach around midday and after a quick sugar energy fix of a Snickers bar we made a pit stop at the river beach. I was surprised to see quite a few cars parked along the roadside. The river beach was not crowded but there were a few people enjoying the sunshine and braving the water for a refreshing swim. I was also shocked that the cafe was open as well as the toilets. It is not officially river beach season anymore as it's October so I assumed all the facilities would be closed. There is no lifeguard available out of season so you need to be careful and try not to drown like accident prone Helena. I have experienced 3 near death drowning nightmares since relocating here. I thought that there would be signposts with directions to the waterfall or at least a sign with an arrow and distance but there wasn't. From looking at Google maps the waterfall appeared to be just a short walk from the starting point (river beach). We started walking in the right direction and then we got a little confused. I sent hubby back to ask for directions in the cafe and he soon returned with the correct information. It turned out that we were heading in the right direction after all, thankfully. I am not sure why there isn't any signage. It all seems a bit top secret but the fewer people who know about this waterfall the better in my eyes because it means it will be peaceful and less crowded.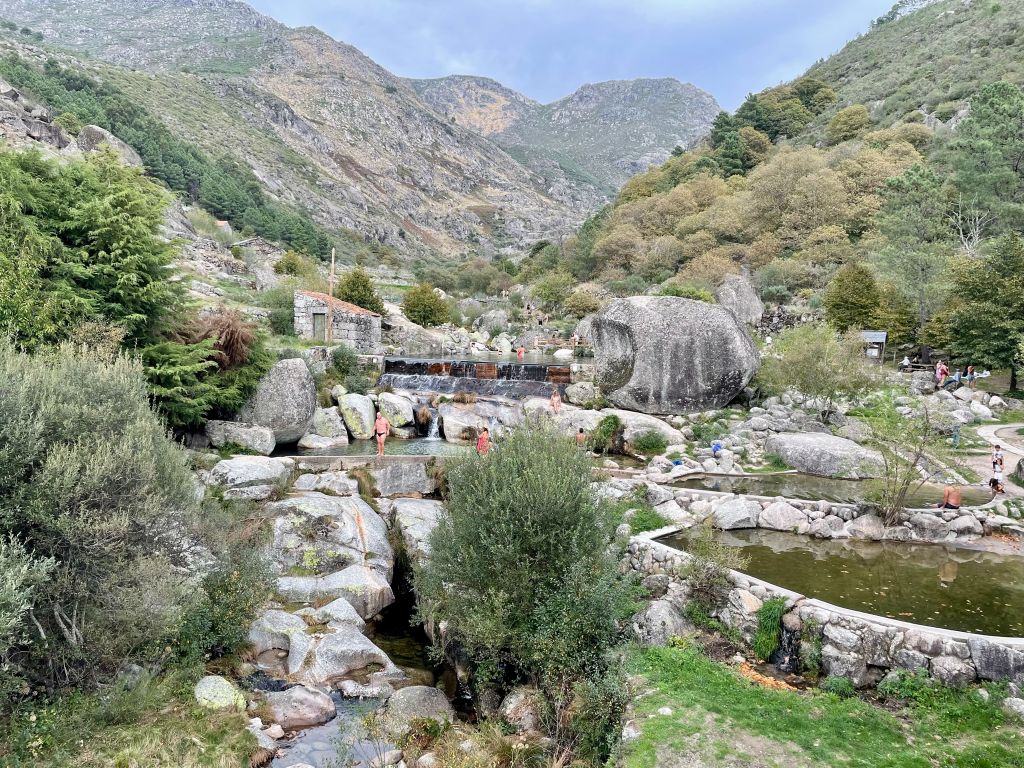 The Scenic Trail
It took us a short 25 min walk upstream from the famous river beach to reach the fall. The trail is slightly uphill and not very challenging but I wouldn't recommend it for small children or people with mobility difficulties as you do have to clamber up and down rocks and through gaps of boulders/caves. It is quite a narrow path at times and one can easily topple over the edge. The later of the walk is very scenic as you follow the path of the stream and every now and then you are presented with mini waterfalls and gorgeous little romantic spots. After leaving the river beach we walked around 200 metres and encountered a young couple. I was chatting rather loudly to hubby about some nonsense and they jumped up out of the bushes and appeared very startled. I think they were getting a bit frisky amongst the fern. Each to their own but hubby better not get any funny ideas as my frolicking in the forest days are sadly over. At my ripe old age I prefer a comfy bed as my back isn't what it used to be (ha ha).
We saw so many butterflies on the trail and strange pretty purple flowers everywhere. I got a bit concerned that we were going the wrong way as we didn't encounter another soul on the whole walk there which we thought was a little strange seeing as it was a Sunday and 30 degree heat. Although the walk is short we were exhausted when we arrived as we are still battling our Covid recovery and I feel a heavy chest and slightly breathless with any exertion or inclines at present. We took it easy and ambled along at a snails pace and eventually got there.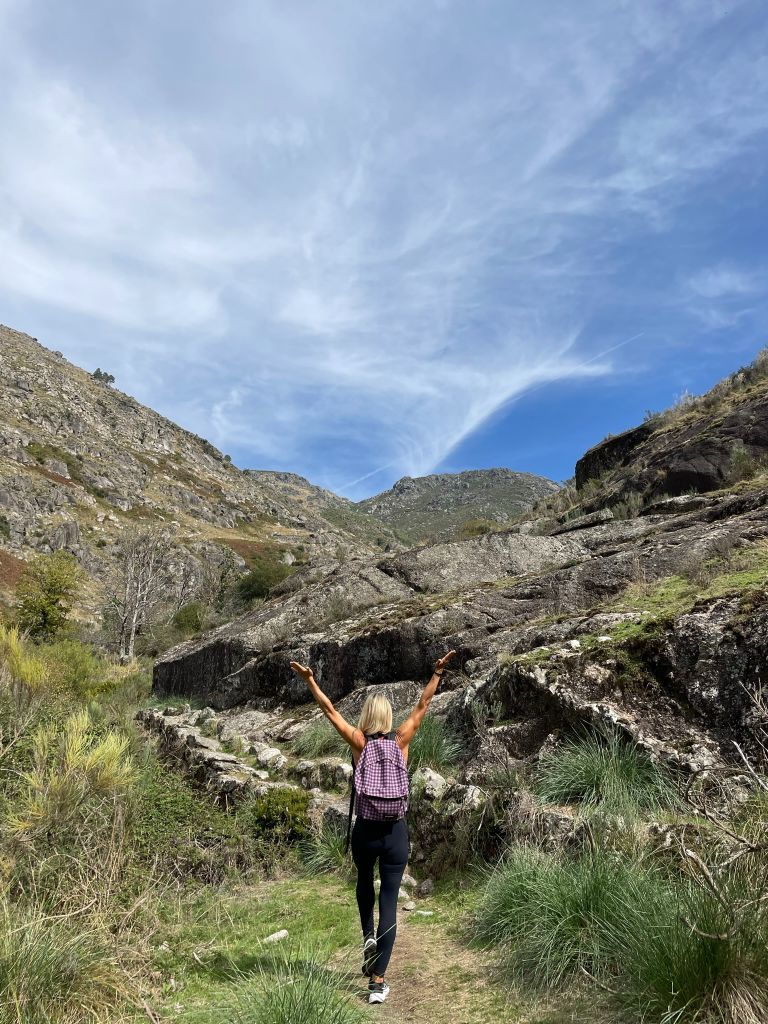 Bleating Beauty (Mountain Sheep)
OMG we met some super friendly sheep! I was so happy to stumble across a flock of mountain sheep, it made my day, pure bliss. I heard their jingle bells from a distance then all of a sudden we were surrounded by a loads of sheep. How marvellous! The sheep roam freely in the mountains grazing on grass. This region is very famous for its Serra da Estrela cheese which is made from Bordaleira sheep's milk and has a rich and intense flavour. There is a special way to open this cheese. You carve a circle out of the top to form a lid then you enjoy spoonful's of gooey goodness. I'm not a huge cheese fan but I like to try all the regional culinary delights when I can.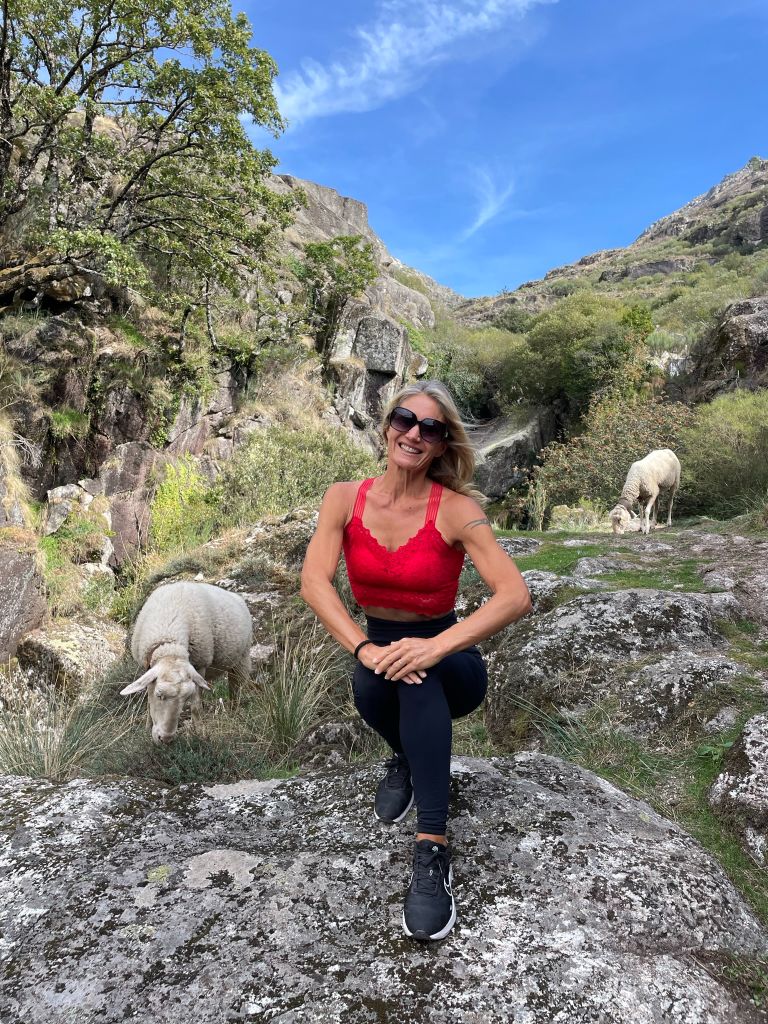 I LOVE Ewe – Sheep Selfies
Hubby took the grand total of 2 photos of the whole trip on his phone. They consist of 2 Sheep Selfies! (ha ha).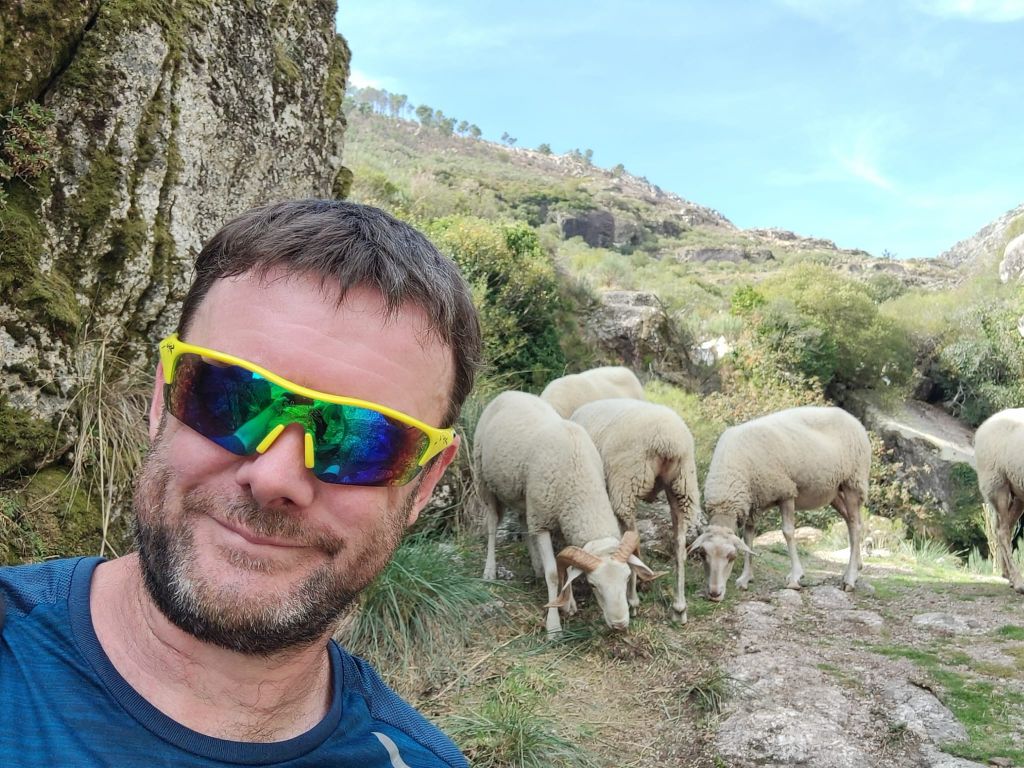 Rock Art
As the waterfall is very shaded we climbed up onto the grass for our picnic lunch to enjoy the sparkling sunshine and dry off. When I say picnic lunch we actually ate a banana sandwich (ha ha). We are still struggling with food and experiencing nausea. Ginger and bananas are very beneficial for my nausea. We had fun spotting all the different shapes in the rocks. This one looks like a huge face! I bet you thought I was going to say ass (ha ha). If you don't see the face, you clearly have no vision.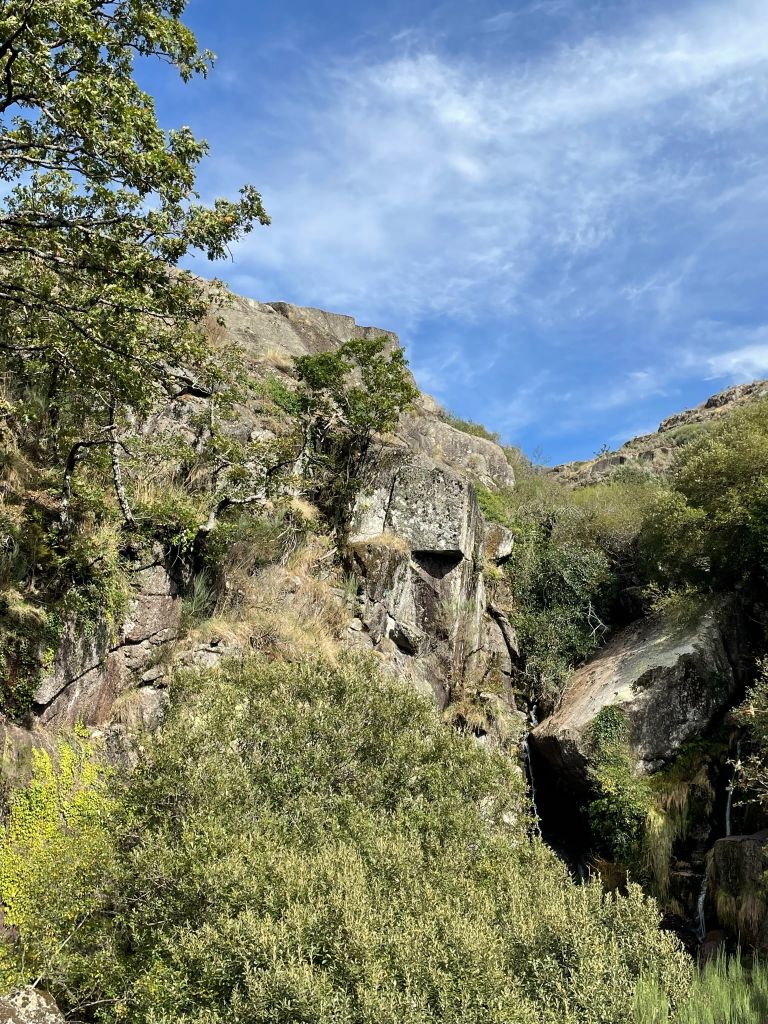 Calhão Mogueiro (Waterfall)
Calhão Mogueiro is a beautiful 10 metre high waterfall located in the middle of the Loriga Glacial Valley, a short 25 min walk upstream from the famous river beach. The tranquil waterfall forms a pool of crystal clear water before the stream continues its course through a canyon embedded between granite outcrops, towards the fields of Loriga. As we approached the fall and we were still quite a distance away from the main attraction, I could hear the dramatic thunderous roar of the crashing water pounding the rocks and the thrashing of the water and then I laid eyes on the wonderous place. Wow, what a glorious sight! I literally gasped in astonishment and stood still in awe for a moment, lost in time as I admired the simplicity and beauty surrounding me. The roaring ferocious water hitting the rocks was such an amazing sight and sound. It took me a while for my senses to become fully attuned. It is a truly inspiring place.
I honestly wasn't expecting this fall to be so gigantic and amazing. It is breathtaking and just picture perfect. It certainly captured our imagination and evoked a sense of tranquility. It captivated our senses and reminded us just how enchanting raw nature is and how Portugal offers so much untamed beauty all around us. The waterfall is tiered and plunged down the mountain at a rapid speed into depths of a serenity pool at the base forming a fabulous frothy foamy lather which was captivating to watch. The backdrop and surrounding area is one of glory with rocky outcroppings, huge granite boulders, green foliage including grasses, ferns, moss, trees, red berries and pretty plants and flowers. There were so many birds in the bright blue sky. The aroma of the plants and tweeting of the birds made it just idyllic. The lagoon at the foot of the fall is the perfect place for a refreshing dip surrounded by a bucolic peace. I got roasting hot on the walk to the waterfall but luckily the area was super shady so I cooled down in no time. I kind of regretted not jumping straight in the water when I first arrived as I was dripping with sweat. The water at the base of the fall was crystal clear, cold and deep, like me (ha ha).
We climbed down the sun baked rocks to explore the area and get a better view of the fall. From a closer position we could hear the powerful roaring echoing off the granite cliffs. The birdsong blended harmoniously with the waterfall's roar. The whole ambiance was surreal and the sun poking through the trees made the water look all glittery, silver and gave it a trance like quality. I slipped on the rocks on the way back up as my trainers got a little wet and with zero grip they become a hazard. The only negative is the fact that there is not a lot of space to place your towel. I can imagine it getting very crowded with just a handful of people. We struck gold again as we didn't see another person on the entire walk there and we had the whole waterfall to ourselves for a few hours, pure heaven. I kept expecting folk to arrive but we were blessed again with complete solitude which really does make the day so special. It also made it private so I could whip off my leggings and panties and change into my bikini bottoms without having to wrap a towel around me and strategically undress underneath like an elaborate magic trick. I am not a people person and have sensory issues so I don't cope well with large crowds or loud people. I don't think we would have experienced such a wonderful afternoon here if the place had been busy. It's strange how timing is everything and strangers can make or break your day. Funnily enough on our return journey around 17:00 we saw quite a few people heading in the opposite direction towards the fall so I think we got lucky and timed it just perfectly!
Waterfall Selfies
It wouldn't be a proper waterfall experience without a few crazy selfies.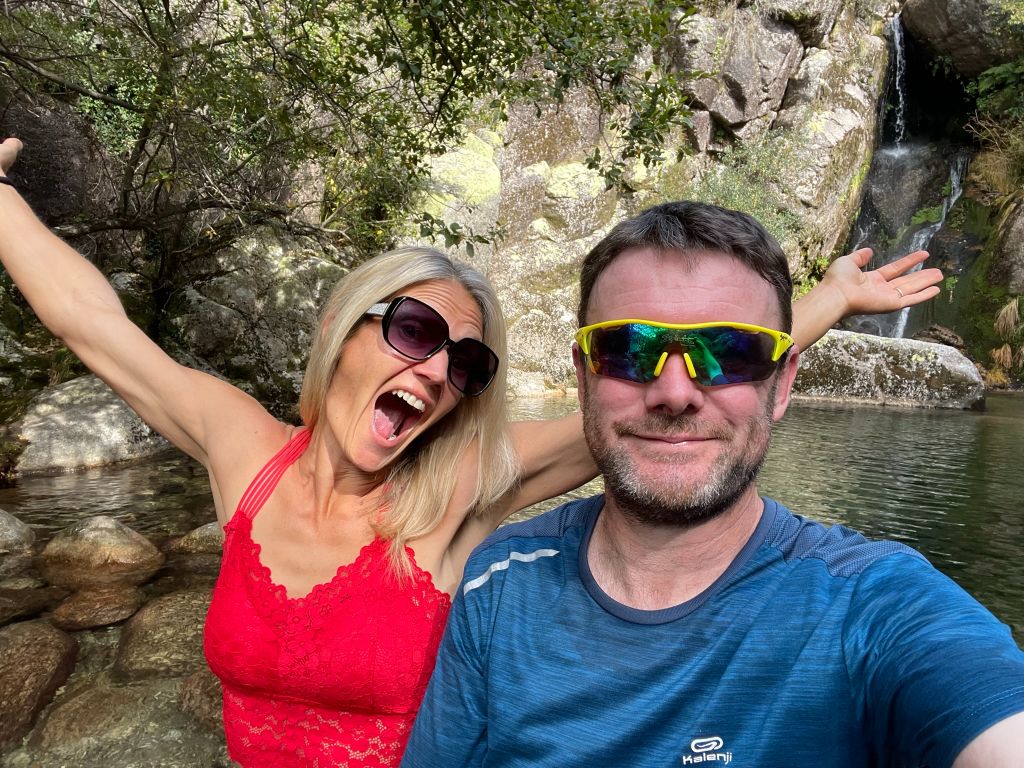 Mr & Mrs Braveheart
There is nothing like getting in touch with the mountain to put you in reset mode. We braved the ice cold water for a refreshing dip. Hubby's tactic is to dive right in and the shock on his face was utterly hilarious. I have a video of the funny action on my Casa Valhal Facebook page and Instagram. I submerge myself inch by inch, slowly but surely then I ponder for a while adjusting to the temperature and finally I give myself a little pep talk, then I go for it (ha ha). Wading into the water wasn't too bad and I expected it to be colder as it's very high up in altitude. The issue was our staying power. Usually one's body adjusts to the cooler temperature over time but for some weird reason it just got colder and colder the longer we stayed in there, hence to say it was a brief swim. If it were warmer I would have swam right underneath the pounding water of the fall but I was not feeling 100% and there is a precarious balanced boulder hanging off the edge of the cliffs directly above the lagoon and flowing water. It obviously has eroded over time and I really think that it is going to fall someday soon. Hence why I didn't risk swimming directly below it! I can't check out of the world just yet as I have lots of things to tick off my Portugal bucket list before I die!
I always take every opportunity presented to me and one thing I love to do is swim at the bottom of wonderful waterfalls because it's not a regular occurrence or something I would ever do when I lived in the UK. Life is way too short and who knows how long we have left on this planet! I am so grateful that I have the opportunity to embrace these special unique moments as when I was obese and heavier I could not have even made the short walk to a waterfall because my fitness levels were so poor. Weight loss and focusing on my fitness has opened up so many doors of opportunity. One non scale victory is having the strength and energy to hike to remote waterfalls in Portugal. A simple joy yet so rewarding.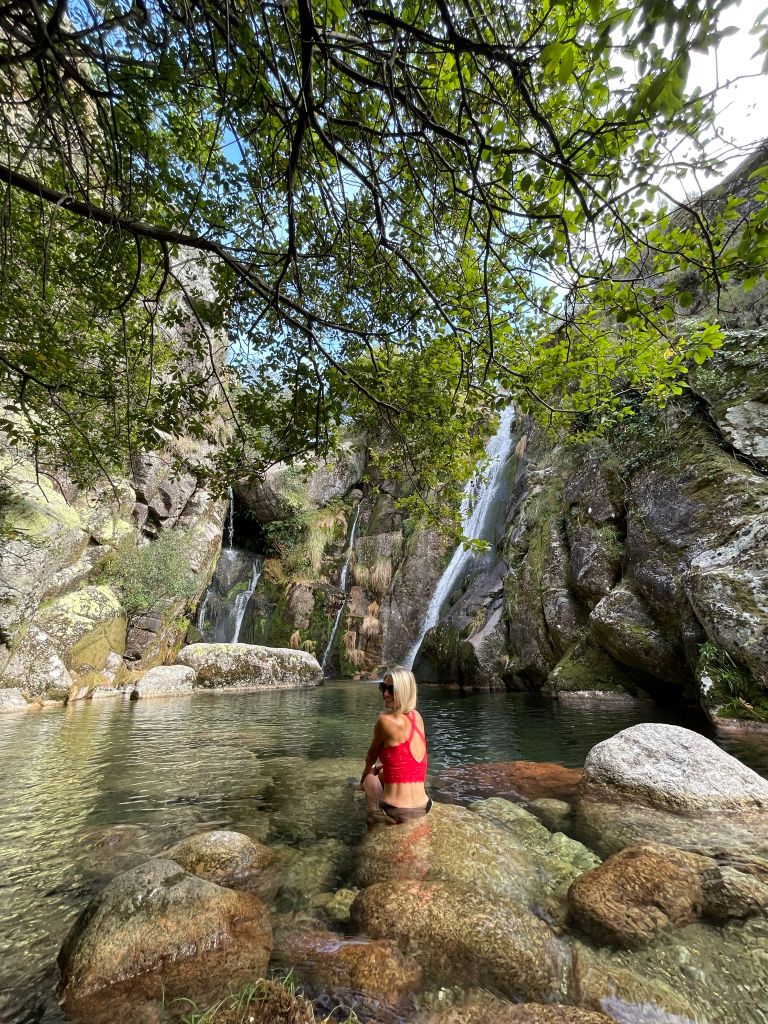 Splish Splash Saturday
One of my favourite water activities apart from swimming is creating waves by splashing the cool water high up in the air, it's so much fun and photos make you look like an angel with water wings. It's hard to get a decent photo as they are action shots so the movement often makes the photos blurry. When you need and crave a little splish splash in your life I highly recommend a trip to a waterfall.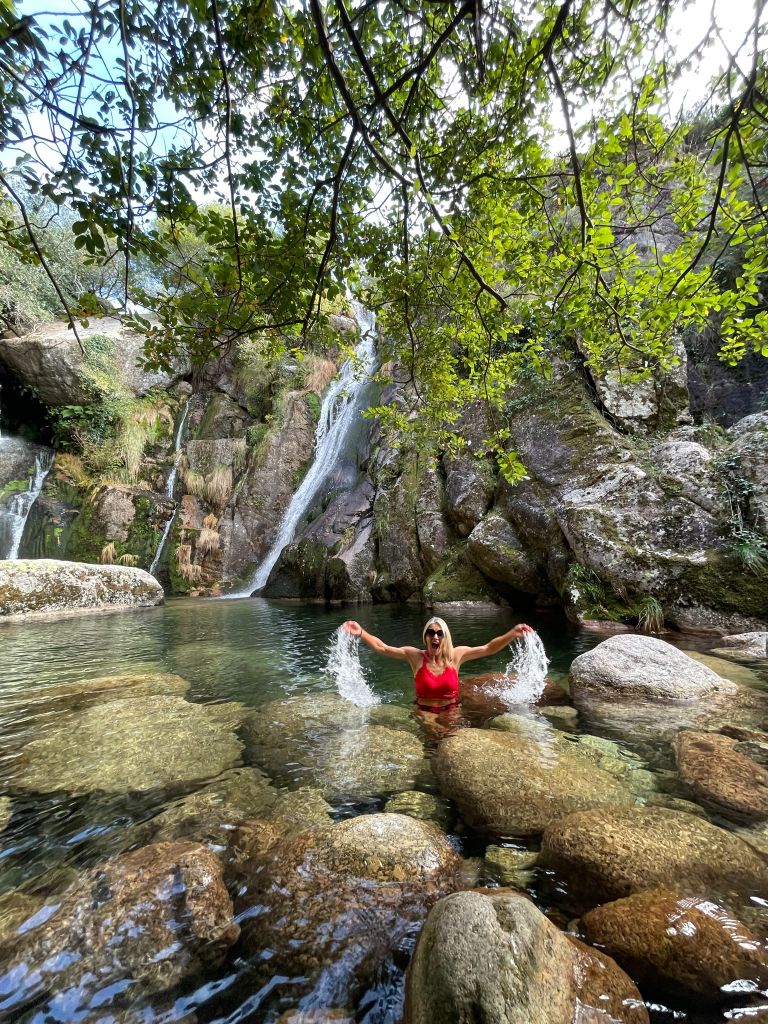 Overview
Gosh I adore living in picturesque Portugal. How often do you get a whole secluded romantic waterfall all to yourselves for an afternoon? What a perfect place to unwind and reconnect with nature. Another sensational Soulmate Sunday with my buddy. It was lovely to throw on some leisure wear and not bother applying make-up and just embrace the warm sun and mountain breeze on my face. It was just what I needed and such a serene spot. The gigantic majestic waterfall was mesmerising and a pristine little slice of paradise. When my world gets turned upside down, I love to go on a nature walk as nature and water feeds my soul. I am currently feeling so exhausted, weary and worn out from our Covid hell and nature is the best medicine and cure for a speedy recovery. A river cuts through rock, not because of its power, but because of its persistence. I am sure with rest and time I will make a full recovery in no time and be back to my perky princess old self causing chaos and havoc wherever I go (ha ha).
Lessons from a waterfall – Keep moving, and you will eventually get over it.