WINE TASTING EXPERIENCE IN LAMEGO (DOURO VALLEY)
We had such fun last August wine tasting in the Douro Valley we decided to return for a wine tasting experience at the spectacular Quinta da Pacheca in Lamego. There are so many wineries and vineyards to choose from you are spoiled with choice. Last year we visited Quinta do Pôpa and experienced the wine tour with private picnic. It was superb to visit a smaller relatively new family run winery. This year I decided to visit the famous Quinta da Pacheca in Lamego which is a 1 hour 30 min drive from our casa. I booked our tour for the afternoon so we had some spare time to visit the delights of Lamego. We visited the pretty attractions of Lamego including Museu de Lamego, Castelo de Lamego, Sé Catedral de Lamego, the famous Pastelaria de Sé and Santuário de Nossa Senhora dos Remédios.
If you have not visited the Douro Valley, I highly recommend it. You will be absolutely dazzled by its beauty. The landscapes and magnificent viewpoints are the best I have ever seen in my entire life.
Sanctuary of Nossa Senhora dos Remédios
The Sanctuary of Nossa dos Remédios is a very striking and beautiful hilltop shrine. It is located on the hill of St Stephen and built between the 18th and 20th centuries, this shrine is visited by pilgrims from all over the country. The city's traditional festival and pilgrimage of Our Lady of Remedies occurs annually between 6th and 8th September and many pilgrims will visit during this time. The sanctuary is surrounded by dense leafy forest and the park of St Stephen which is a lovely spot to relax and unwind. It totally reminds me of a smaller version of Braga's Bom Jesus. It was a boiling hot day but we climbed the whole 686 steps of the baroque staircase to the top and back down to the stunning Avenida Dr Alfredo Sousa where we had lunch and Portuguese cake. At the very top you will get to see incredible views over the city and a 700 year old chestnut tree! We took some time out here to fully appreciate the beauty and history. As you walk up the different levels you will get to view many sculptures, statues, fountains, art and Portuguese tiles. Although it was very hot, it was a fantastic experience walking up and down the steps and the church at the top has beautiful architecture inside and out.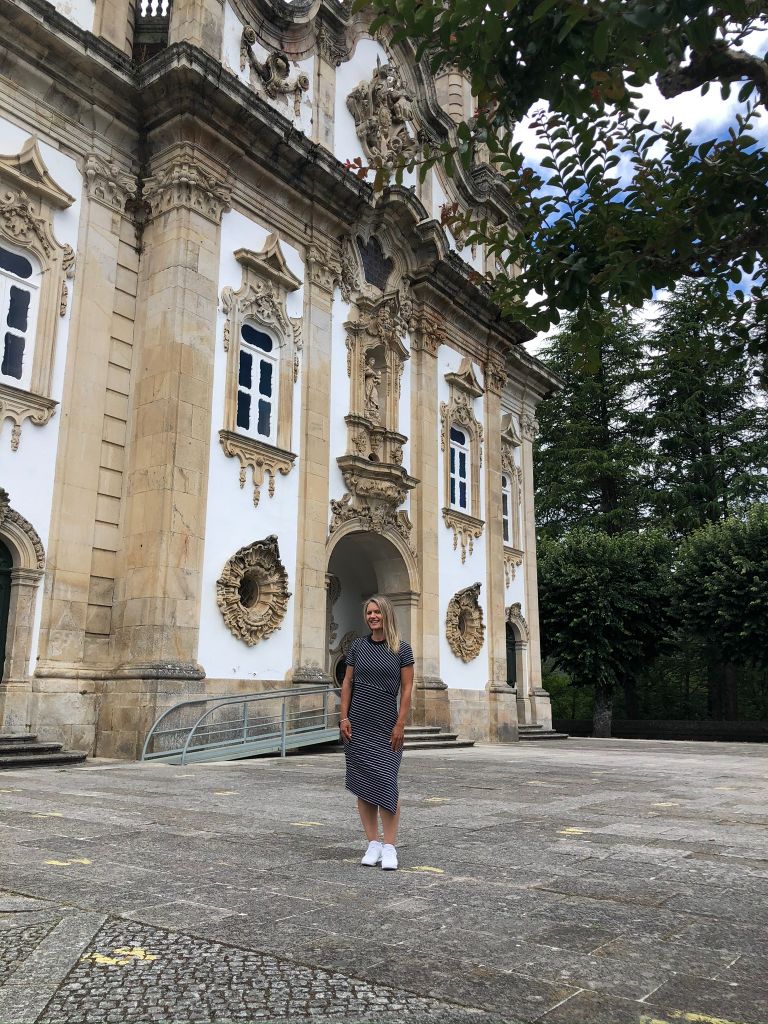 Avenida Dr Alfredo Sousa 
Once you reach the bottom of the steps of Sanctuary of Nossa Senhora dos Remédios you will immediately see this Avenue. It is such a pretty avenue with trees each side, statues, fountains and monuments in the middle. It reminded me of the famous Avenues in Paris. We stopped at one of the many cafes here for lunch and Portuguese cake and coffee. From here you can easily walk to the Museum, Cathedral and explore the historic old town. We absolutely loved Lamego, it is so elegant and the baroque style is so highly decorative, rich and grand.
Pastelaria da Sé 
Whilst strolling down the Avenue don't miss the opportunity to visit this historic 1966 Pastelaria for the tastiest Portuguese sweets and cakes.
Lamego Castelo
We were the only ones at the castle so got to explore the wonders all by ourselves again. The member of staff took our temperature upon entrance and we were all a little worried after walking up the steep hill and arriving all hot and sweaty Betty.
Wine tasting tour at Quinta da Pacheca
This place is so very beautiful. I was in awe from the moment we stepped out of the car. This Quinta is also a luxury hotel with a restaurant and a vineyard spa and it would make a perfect location for a wedding. It is one of the best estates in the Douro region, one of the first properties to bottle wine under its own label and winegrowers since 1738. Our tour guide (Hugo) was extremely knowledgeable and friendly. He explained the history of Quinta da Pacheca vineyard which dates back to the XVI century when it was a collection of vines that belonged to the Monasteries of Salzedas and St. João de Tarouca. I learnt that "Pacheca", is a feminine form of the old family name Pacheco and the estate is now owned by Paulo Pereira and Maria do Céu Gonçalves, partners with a long and successful record in international food and wine distribution. Hugo explained the whole wine making process which is very complicated indeed. We were a small group of 8 people and accompanied by the Quinta's friendly dog which I think is called Aqua. We got to view the pretty vineyard and gardens and the wine cellars. There is an impressive olive tree that is 1000 years old and a majestic peacock and lady friend who had laid some eggs. Whilst we were in the vineyard the famous steam train passed by and I even managed to get a photo! At the end of our tour we sampled the outstanding wines. I was intrigued and amazed to find out that all the grapes are still picked by hand today, what an exhausting task. I get all hot and sweaty picking a few figs per day!
The tour can be booked in Portuguese or English and they offer a variety of experiences including wine tasting with cheese pairing, cooking classes, private picnics and grape harvest experiences with the traditional stomping on grapes with your feet. Our tour lasted around 45 minutes not including the wine tasting and it cost €15 per person. It can be booked for either 10.30-12.00 or 14.30-16.00. We got to sample 4 amazing wines, 2 red, 1 white and 1 port wine. I think one was vintage a bit like me (ha ha). We then got to view the lovely shop and buy some wine to take home with us. I was trying to buy a bottle of wine from 2002 (Teanna's birth year) but apparently that was a bad year for harvesting grapes! I really want to return to Quinta da Pacheca and experience a romantic night in one of their idyllic gigantic wine barrels and wake up to the sounds of nature and panoramic views over the vineyard. One for my Portugal bucket list. It's really expensive but I am hoping hubby will treat me on one of our birthdays or our wedding anniversary. I LOVE the Douro Valley often referred to as the Enchanted Valley and the wine tasting experience was such a great way to discover the local culture and taste delicious Portuguese wine.